---
01/30/2010 Just over a year ago, when Palatov Motorsport was officially formed, I envisioned a product line of four different trackday models. The dp4 would be the entry-level track machine and racer, the dp1 is the over-the-top ultimate lightweight car with crazy power/weight. Additionally I felt that a two-seater would appeal to many people and some would like to be able to register cars for street use as kits. So the dp2 became the two-seat solution and dp3 is a single-seat, lightweight derivative that would provide formula car experience on the street (when built as a kit). An early picture of the planned lineup is shown below.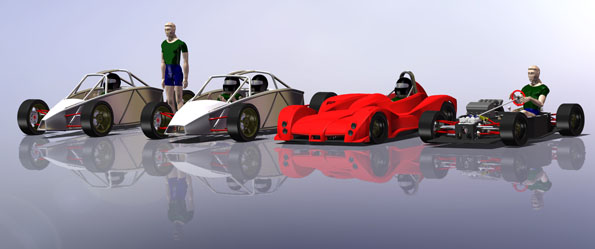 Much has changed since then and with the dp4 taking the top priority, that design has evolved the most. The dp1 has changed a lot too. With the dp4 entering production it is now time to address the other designs a bit further.
From the beginning I have been a fan of the concept and the styling of the Ariel Atom and truly consider the exo-skeletal design a breakthrough. After more than a century of automotive development those are hard to come by. This is why I had bought one, but my experience with the car has left me frustrated. I had to redesign the uprights, bellcranks, try to stiffen the chassis and so on. And even after all that the car is, in my personal opinion, still compromised. So not being one to just sit back and complain about how other people do things I set out to do better. Some early developmental renderings from a year ago show the concept: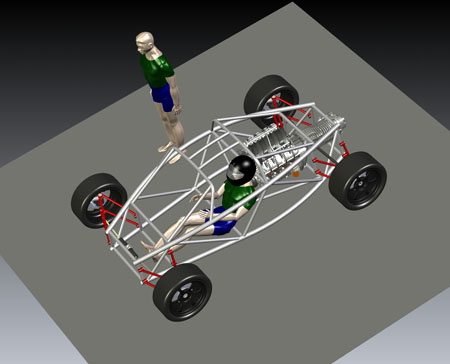 The goals of the design are basically to address what I personally consider to be the main shortcomings of the Atom. The most important objective is to provide a rigid, safe 'survival cell' for the occupants. To that end the dp2 features an integrated rollover structure that isn't an afterthought. The chassis extends all the way to the floor of the car and is braced underneath and across. There is also a provision to add a windshield (and later a fully enclosed cockpit) that is a part of the design from the start.
Besides addressing safety and rigidity I wanted to accommodate a wide range of engine choices and higher horsepower levels, up to 600+. So the design was created around the Chevy LS 'crate motor' located longitudinally midships. With enough room for an engine this size, other smaller powerplants (including transverse ones like Honda K20) will fit easily.
The next challenge was to properly enclose the cockpit while still allowing the chassis to be an elegant part of the visual design. A set of carbon body panels that fill in the spaces between the tubes but still stay on the inside of the chassis is my solution.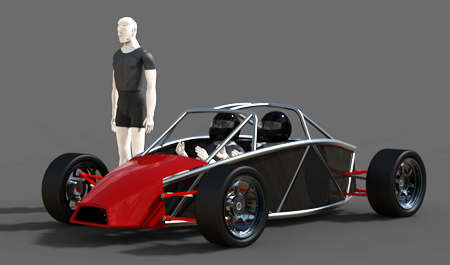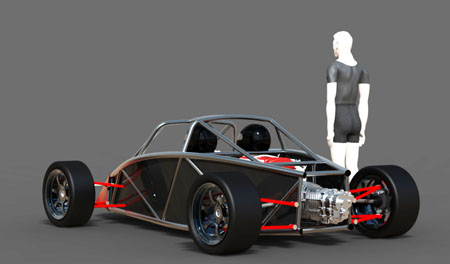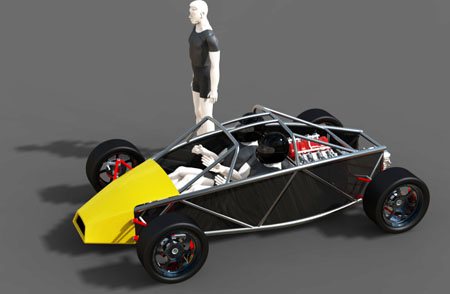 Having developed the concept to this stage I had set it aside for a year to focus on the dp4 and other projects. In particular, I learned a lot from doing the upgrades for the Atom. As a result of this experience I have developed a modular upright design using a large sealed bearing with high strength hub and CV. Over time the design has evolved into a solution I'm happy with and is now entering production. Its key characteristic is the ability to easily adapt to a wide range of geometries and use production balljoints or spherical bearings, as appropriate for the application. Camber is adjustable with shims without afecting toe settings.The design allows for raised lower suspension arms to make room for underbody aerodynamics if desired. These uprights will serve as a foundation for the dp2/dp3 designs. They will also be available to people buliding their own cars (look for details on the Palatov site soon).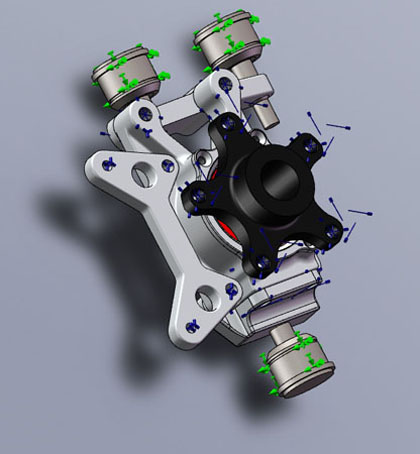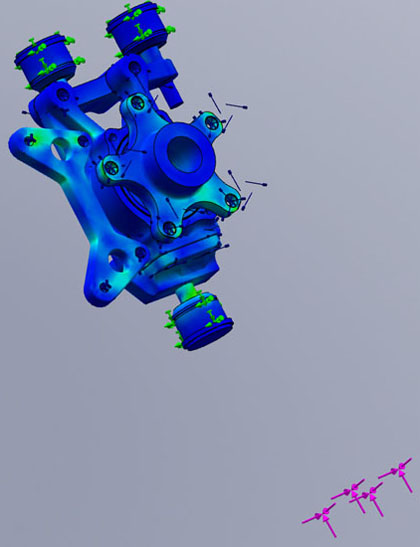 The design goal is to be able to offer a range of geometry and component options as well as high strength and stiffness with the ability to support full-on race cars up to 2,000 lbs with over 600 hp. The FEA plots above show the test case - using a 25" OD wheel/tire at 5 degrees caster and 1" scrub radius. A 2,000 lb load is applied upwards. Simultaneously another 2,000 lb load is applied laterally and an additional 2,000 lbs longitudinally (this is over 2,000 lb-ft braking torque!). This equates to roughly 4g loading on the suspension at top weight and is a very extreme case (like hitting a curb with outside wheel at maximum cornering force with brakes near lockup). The results indicate that the design is strong enough for the test case and experiences only 0.5 degree twist at this load. The entire assembly, including upright, bearing, hub, steering arm and caliper bracket is almost exactly 7 lbs in weight. The uprights will be made from aircraft-quality heat treated billet alloy to avoid potential porosity and other issues of castings.
So, the dp2 is now officially back on the development track. Look for more on the uprights shortly, then other news will follow.
---
02/05/2010 As promised, here's some info on the uprights. The first version is designed for cars of dp2 size and power (up to 2,000 lbs and up to 600+hp). The exact specs can be downloaded in pdf form here. The pricing will be similar to the Atom uprights at $750/corner including upright, steering arm, camber shims, lower bracket, bearing and hub. Wilwood brake packages will be available at about $650/corner complete for 11" vented rotor setup with 4-piston radial-mount calipers. These uprights use large sealed bearings (82mm OD), have shim-style camber adjustment (allowing camber changes without affecting toe), the ability to use a raised lower suspension arm for clearance of underbody aero and weigh about 7 lbs complete with no brakes. Their modular nature allows them to be easily adapted to an almost unlimited range of geometries and mounting styles.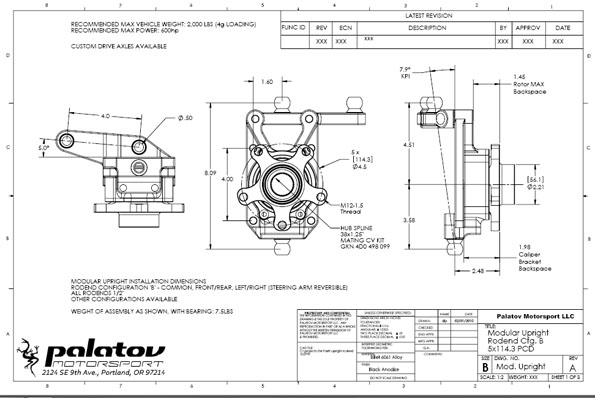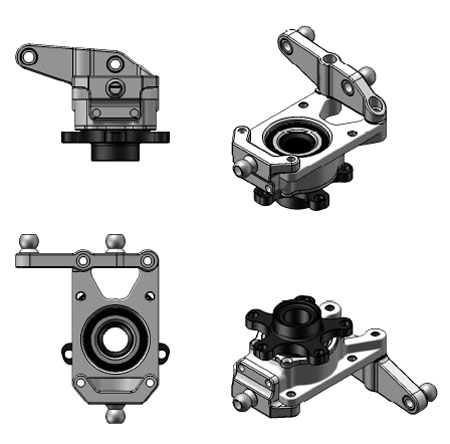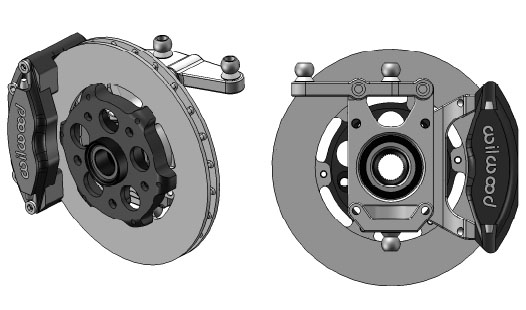 Other configurations will follow soon including those using balljoints for street applications, 4x100 hubs, Ducati pin drive hubs, 10.25" vented brake packages for lighter cars, etc. Custom drive axles will also be available with a variety of CV options. Email me for details.
---
03/01/10 Among all the other stuff, progress continues on the uprights. It's amazing how many things I find that need changing after I step away from the design for a couple of days and then get back to it. All part of the process. So in all this I've come to realize that I need two different 'lines' of uprights (well, ok, I kind of knew it all along but was hoping to get away with just one - wishful thinking).
So now there are the 'GT' uprights, sporting a 5x114.3 bolt pattern, a massive bearing and large CV with 1.25" spline. The weight without brakes is 8.0lbs and with the 11" brake package it's 19lbs (12.19" rotors can be used with approximately 4 lb weight penalty). These according to FEA are good for cars up to 2,000 lbs and over 600hp per axle using 4g as the load test. Heavier cars can be accommodated if lower loads are acceptable but I'm not sure why anyone would want to.
The second line is the 'LT' series geared towards cars under 1,500 lbs and under 300 hp per axle. They have a 4x100 bolt pattern, a more appropriately sized (but still very generous) bearing and more compact/lighter CVs. Weight is 5.75 lbs without brakes and 16lbs with 10.25" vented setup (smaller/lighter is possible).
All weights listed are without CVs. CV eliminator adapters are available for non-driven axles for both designs.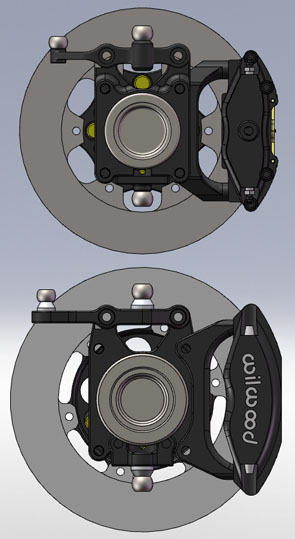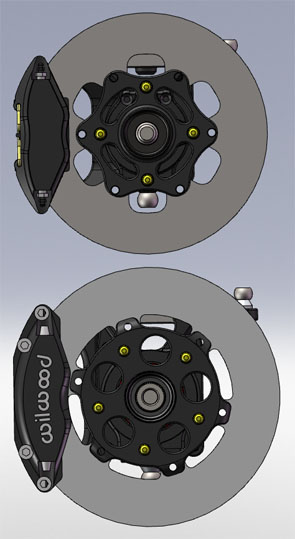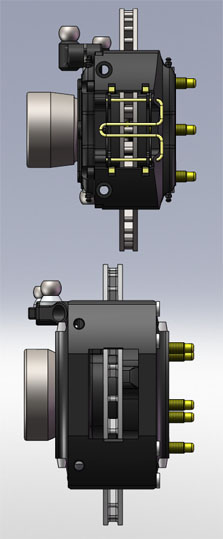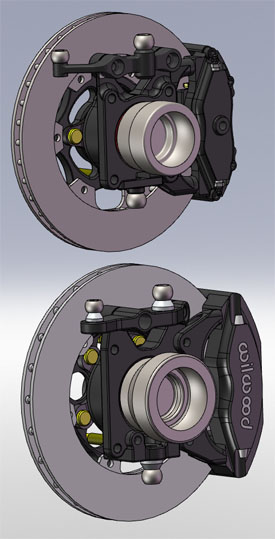 The wheel studs are now press-in ARP pieces, similar to but longer than the ones I use on the Atom uprights. Both uprights have shims for camber adjustment without affecting toe.
The updated pdf dimension drawings and installation 3D CAD in IGES format can be downloaded here. These are the current 'standard' configurations but an almost unlimited variety of others is possible. Email me with any questions.
---
04/27/10 I now have a few sets of the GT uprights in stock and the first set of 4 has been shipped, with a couple more scheduled to ship in the next few days. The uprights are modular and therefore easily configurable but this is the base configuration: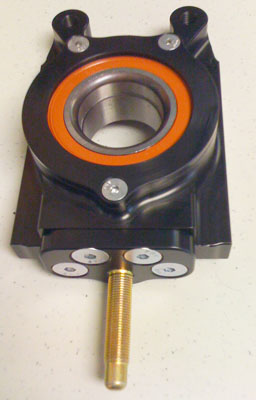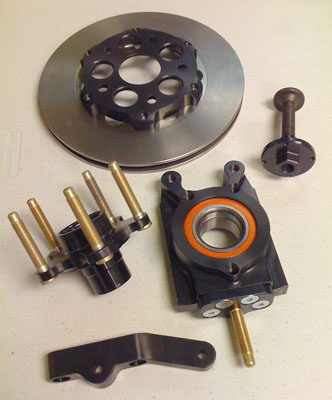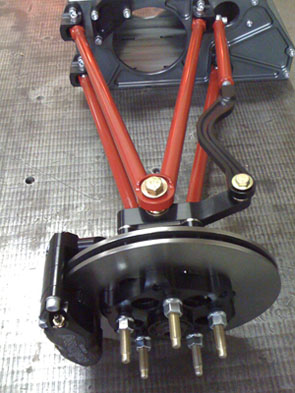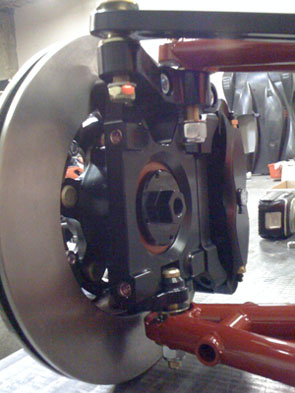 All the hardware is included - bolts, rodend safety washers, camber shims, locknuts, wheel studs and even lugnuts. Fronts also include 'CV eliminator' kit using an M16 bolt and a custom 4340 steel flange nut to hold the hub together. A typical set of uprights comes with all of the parts shown below (except that unless requested otherwise the uprights come fully assembled).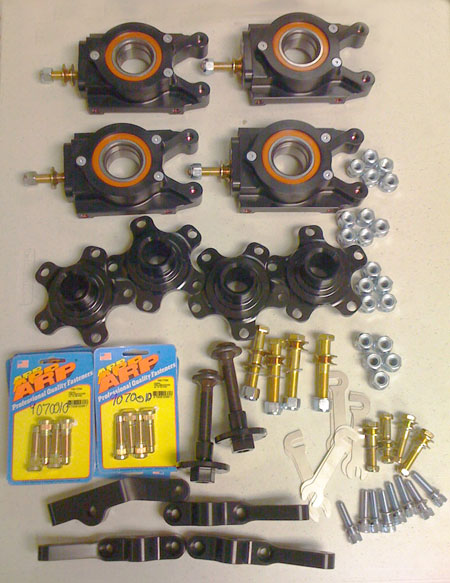 The optional Wilwood brake package includes DynaPro radial mount 4-piston calipers with custom mounting brackets, BP-10 pads and 11" ULHP rotors with custom hats. All aluminum parts are black anodized and steel parts like hubs and CV eliminator flange nuts are black zinc plated for corrosion resistance. Wheel speed sensor rings are optional and I'm working with Wilwood on an optional handbrake package - more on that when it's ready.
Sharp eyes will notice differences between actual parts and the initial CAD pictures posted on previous pages. Yes, it takes a number of revisions to arrive at a product I'm happy with. The parts that actually got made are approximately the 5th design iteration, based on everything I've learned so far. The design at this point is good enough that I wouldn't hesitate to put it on my own 600+hp car (which of course is the point of this particular blog :). The modular nature of this approach means that I can accommodate specific customer requirements with relative ease and these will serve as a foundation for a number of products down the line. Some are already in the works.
---
03/03/11 One of the things I try to do is leverage the efforts across several projects. So while dp2 is not being directly worked on at the moment, there is a customer project using many of the same components and technologies which is moving forward rather nicely.
For that, we just took delivery of a GM 'E-Rod kit' which is a complete 430hp LS3 engine with ECU, harness, sensors, headers and catalytic converters. A car built using this kit is 50-state emissions legal. For streetable custom cars it's hard to beat.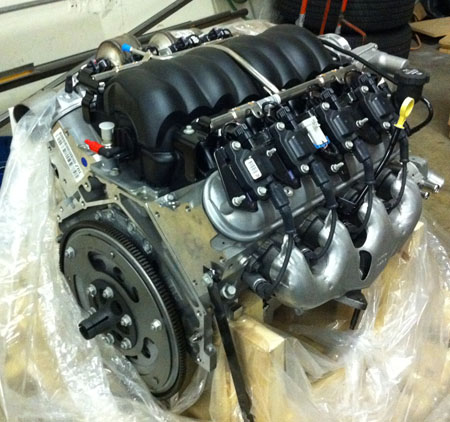 The engine has the same power as the Hartley H1 used in the dp1 but it's considerably larger, more than double in displacement and nearly 2.5x heavier. On the other hand it's a lot cheaper and EPA legal. Each is perfect for its intended application. Horses for courses, as the saying goes. It's fun to do projects using each approach and seeing how the tradeoffs play out.
So yes, the dp2 will be using these engines and yes when built as a kit it will be street legal. Still targeting about 1,600 lb weight. Have a few more styling ideas in my head, too, so eventually I'll get them in CAD. When that happens expect to see more updates here, and much more progress. My goal is to have the first dp2 running by late summer/early fall of this year. Stay tuned.
---
04/28/11 Today is a significant milestone for the dp2 project - we now officially have a Lead Customer! This is the third implementation of the program - we normally have one Lead Customer per car model, with dp4 and dp1 being the first two. Among other things the program gives the buyer an opportunity to influence the design as it's being finalized by providing feedback on features, specs and styling. Being fairly public about the development process we do get a lot of input from people who follow us on the web but the Lead Customer program gives us a unique opportunity to hear from enthusiasts who have a real vested interest in the outcome, at a time when changes can still be made with relative ease.
What this means for the project overall is that there will be a lot more progress to talk about soon. I'm rather excited about it - this car is different from our first two offerings by being a two-seater and by being a streetable design, built around an emissions-compliant powertrain package. This makes it much more of an all-around enthusiast's car than the intensely track-focused dp1/dp4.
---
05/08/11 Work on the dp2 design is progressing. I'm now finalizing chassis and suspension details, making additional room for components and tweaking the overall architecture. A key goal is to provide a very strong 'survival cell', an area in which the Atom design is sorely lacking in my opinion (in fact this is the primary motivation behind doing my own 'exoskeletal' car). The overall layout actually lends itself to this quite well and the resulting structure is fairly elegant. Should be very stiff as well. Naturally, like in my other cars, all tubing is aircraft-grade seamless 4130.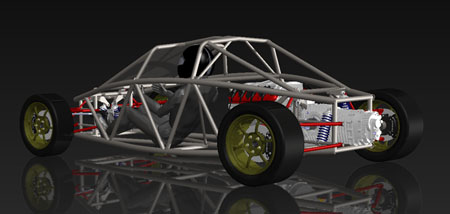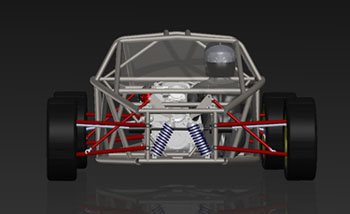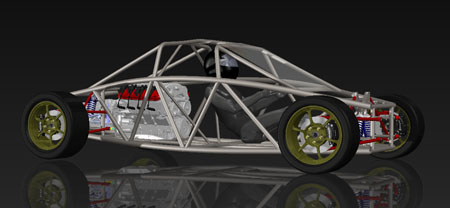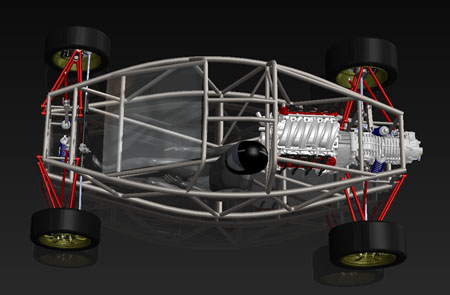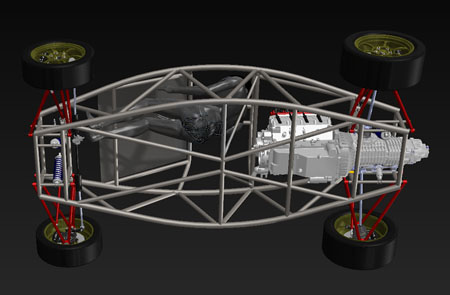 Windshield will be a standard feature on the dp2, using slightly curved (not flat!) safety glass that is DOT compliant. Gull-wing 'doors' and additional panels/glazing will be optional to enclose the cockpit if desired. Once the chassis is more-or-less nailed down I'm going to spend some time on various styling options including 'pontoon' fenders. The design will be a natural for customization which I think will be rather fun.
Overall dimensions are looking like the following:
Wheelbase 100"
Length 140"
Width 76"
Height 44"
As a way of comparison, the dp2 will be 6" shorter, 3" lower and 9" wider than a Lotus Elise. And of course about 400 lbs lighter with 2.5x the power :)
Of course this is all still work in progress so take it as such, but with the target first drive at the end of August developments should unfold pretty quickly.
---
05/24/11 Pretty close to finalizing the exterior styling and overall packaging. Much detail work still remains but this is pretty much what the car is going to look like: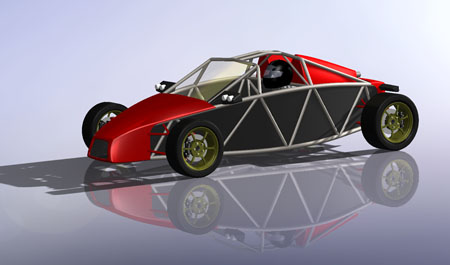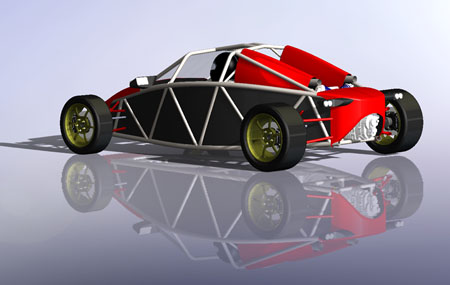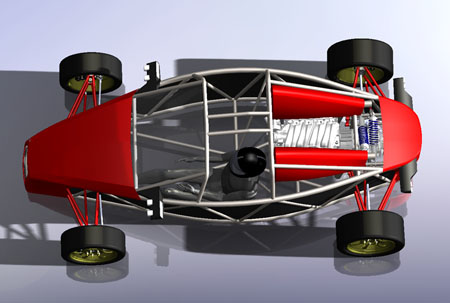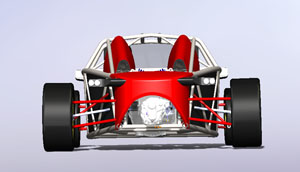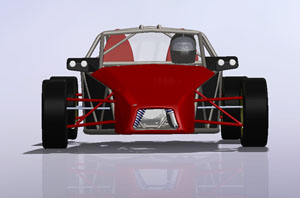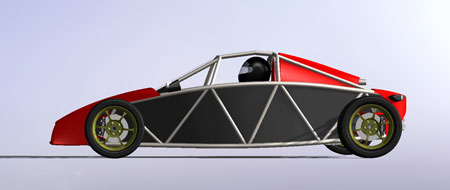 There will be a diffuser in the back and a full floor (probably both optional). And yes, those are headlights in the mirrors - 50mm halogen projector units. Still a few tweaks to be made to the shape and packaging but I think it'll work well. It's the cleanest way to get them over 24" from the ground which is a requirement in many states.
Overall I'm quite happy with how the design is turning out, things are falling into place nicely.
---