---
8/18/01 Received confirmation of my Westfield kit's arrival in Texas. It is due in Portland the first week of September. The kit is a Lotus 7 replica with a number of modern enhancements, like double-wishbone suspension front and rear. This version of the kit is powered by a motorcycle engine, a 1.3L unit from a Suzuki Hayabusa (the fastest production streetbike at 196mph). With a 12K rpm redline it cranks out 175 horses. A six-speed sequential gearbox is included. My kit has a number of options: dry sump system for the motor, limited slip diff, alloy front uprights, 4-piston vented disk brakes, adjustable antiroll bars front and rear, racing shocks and springs. Although the basic kit comes without a windshield, I decided to get the windshield with wipers, a heater and a removable top. This is the Northwest, afterall ;)
According to factory specs, this thing is supposed to be insanely fast, and should be able to run the 1/4 mile significantly ahead of either of my bikes at 9.8 seconds (so far i've run the M Coupe at 13.4 seconds and the Elise at 13.8 although the latter was not running right at the time). Whether or not my car will live up to spec, it will certainly be entertaining! Assembly time is supposed to be about 100 hours. A nice winter project.
The engine and wheels/tires are the only things not included in the kit. I have found a source for the engine in Orange County, and have decided on wheels/tires (although the hubs will need to be machined to fit the wheels). All is set, and the lift in the garage is ready and waiting for the crate to show up. I ordered the kit from England in May.
---
8/29/01 While in California stopped by JCMotors, a 'recycler' of sportbikes, and picked out an engine. It's from a '00 Hayabusa, 2300 miles. They had five to choose from (not surprising, given that anyone who can qualify for a $10K loan can walk into a Suzuki showrom and walk out with a 175hp, 196mph motorcycle). I believe all five had less than 3000 miles on them. Unlike most used bike engines, this one doesn't seem to have a scratch on it. It comes with everything needed to make it run and of course a 6-speed sequential gearbox and multiplate clutch are built into the case. The motor is now in a crate, on its way to Oregon. Should be arriving about the same time as the kit itself.
---
9/5/01 The motor showed up, along with its associated box of parts. Pretty cool. Only weighs about 150lb with gearbox included. Amazing that this little thing puts out 175hp, almost the same as the big six-cylinder in the 325i. Also got a call that the rest of the kit is in town, must now rent a U-Haul and go pick it up at the trucking company terminal tomorrow.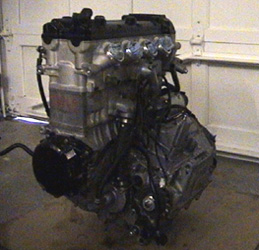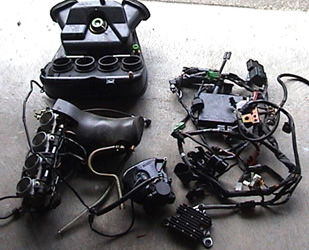 ---
9/6/01 Picked up the kit. First thing I realized is that the trucking company saw fit to ship the crate on its side. Bad move, with components flying around loose all over the place. Fortunately no major damage, but a few things scraped up. Have to find out what can be done about it. Stay away from ABF freight, is my advice. At least they were expensive :(
Now to the process - a LOAD of work. I rented a truck to pick up the crate thinking it is way too big, but it was conveniently available, so why not. Good thing - the crate barely fit, with only a foot or less to spare on each side and front-to-back: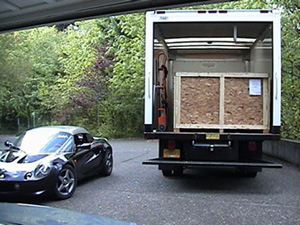 Of course the components were all piled up to one side, with many boxes broken and stuff all over the place...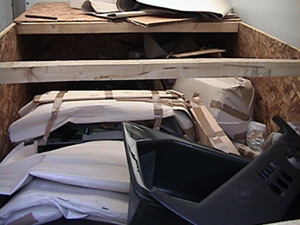 I was fortunate enough to secure the help of a friend and fellow Lotus owner, which made the job possible - but not easy! Almost three hours of sweat and running up and down the ramp the crate was finally empty...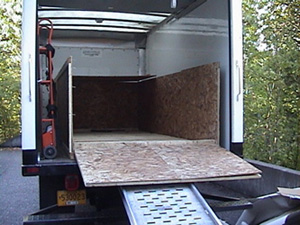 And the kit in its dozens of boxes is stored safely on the lift in the garage. Even the rest of the toys still fit.... barely. This is going to be quite an undertaking!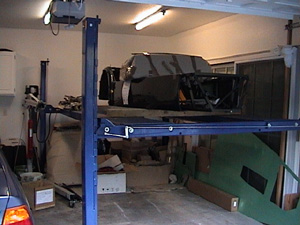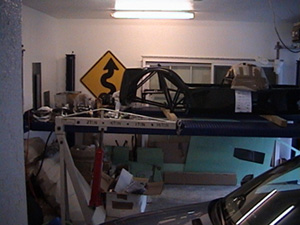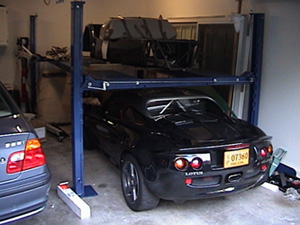 Whew. Now back to the real world. Work awaits, so I will need to put the kit out of my mind for a while. Difficult, you might think? Well, I for one have had my fill for the day.
To be continued.... :)
---
9/27/01 Not much time to work on the kit so far, spent a lot of it in California and even when here the workload is a bit heavy... Today finally decided to do at least an hour's worth, so I moved all the bodywork down to the guestroom, out of harm's way (ah, the benefits of single life ;)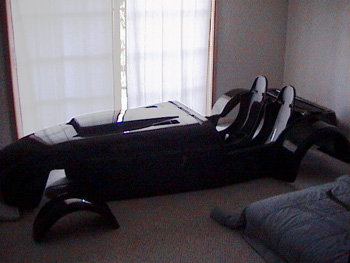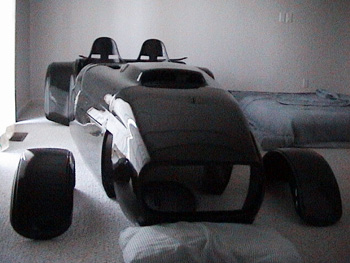 The frame is now ready to be worked on, whenever I get the time that is. The small size is an advantage, so that I can park the 325 underneath and just move it outside whenever actually working on the kit...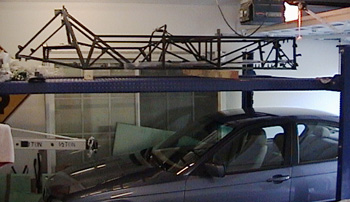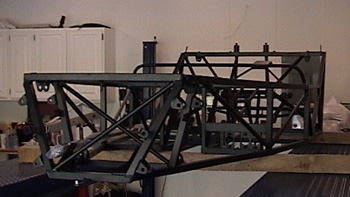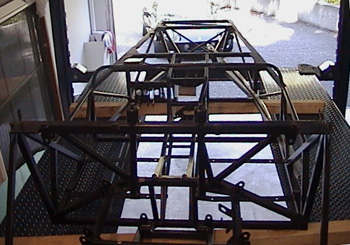 ---
10/17/01 Finally received wheels and tires. I went with SSR Competition forged wheels (15x7, 9.5 lb weight) and Hoosier DOT-legal road race tires, 205/50-15 front and 225/45-15 rear.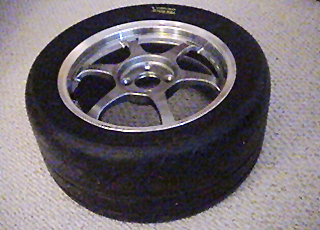 The tires have barely any tread, and are extremely sticky. Basically racing slicks for the road and track. They'll be entertaining. Unfortunately the wheels have the wrong bolt pattern, and offset is a bit off. This means that I'll have to get the hubs machined to fit. Oh well, it's a tinkering project afterall. All wheels I could find in proper bolt pattern were at least 6 lb heavier (except pure magnesium ones which are the same weight but twice the price). Since low weight is a high priority, I decided to go this route. I really like the look of the wheels, too. Very high quality stuff.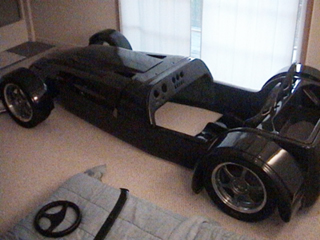 I set the wheels next to the bodywork to see what it would look like. I like it! Yes, anyone walking into the guest bedroom in the next few months will be rather surprised!
---
12/02/01 At long last I got around to working on the kit. This is going to be a LOT of effort... I started by drilling some of the holes for the countless rivets that hold the aluminum panels to the steel frame.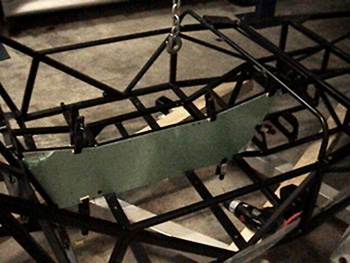 After several hours of drilling, I decided that I needed to mount at least one panel to make it look like there's progress. After silicon sealant is applied, pop rivets are set.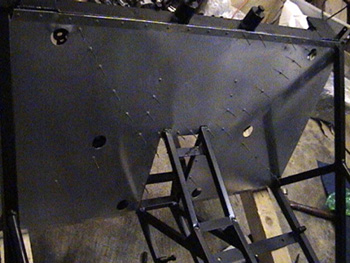 The rivets are industrial strength and take a lot of effort to pop. After doing just half the panel my wrists were getting rather sore, and I was really looking forward to calling it an evening. Finally, the panel is done!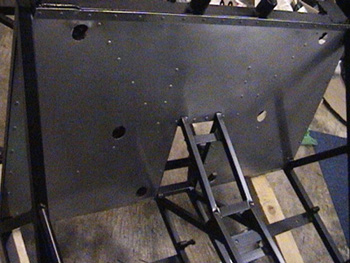 Not perfect, but reasonable. I now have a new appreciation for people who put entire airplanes together out of aluminum. It is a rather unforgiving medium, at least in that it's easy to bend, dent and scratch... Looking at all the triangulation of frame tubes, I suspect the aluminum is not stressed too highly. Probably just as well. Whew, a bit over 6 hours of work and I am rather tired and sore. Good thing I have all winter for this!
---
12/04/01 Doing some more drilling (no end in sight). Discovered that a couple of the aluminum panels I received are for a right-hand-drive car. Contacted the distributor via e-mail, we'll see what they say.... Overall panel fit seems quite good so far, looks like the chassis is built to pretty decent tolerances.
---
12/06/01 More drilling and riveting. Got the floorpan attached, which is the largest and most rivet-filled of the panels. There are a couple small dents in the panel from shipping damage, but hopefully this will not cause any problems.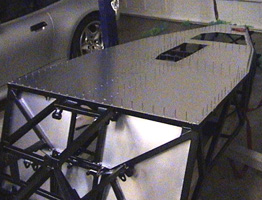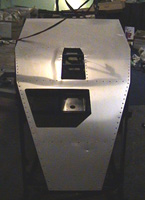 ---
12/07/01 After much rivet popping, I'm out of rivets. I still have a few panels to go. My best guess is that I need 120 more of the infernal things. Made a request to the distributor (Alamo Sports Cars in Texas, who have been great to deal with so far).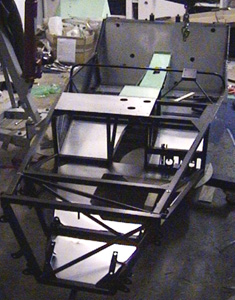 Fortunately there are quite a few things I can work on while waiting for the parts to come in. I certainly hope that things go faster from here forward. At 30 hours so far, the chassis has most of the aluminum panels attached, but none of the components are mounted yet. Bending and attaching brake and fuel lines is next.
---