---
02/22/10-02/23/10 A quick visit to New York. It's been a while since we got to get away. The preferred plan is to do two foreign trips a year but as busy as we've been lately we chose to set that aside - a situation we need to remedy soon. In the meantime, since we were 'in the neighborhood' visiting family on the east coast, we thought we'd at least hop on the Acela train and spend a couple of days in Manhattan. It's foreign enough for now, I guess.
I haven't been to New York in almost a decade and it's the first visit for M. So the plan for the trip was just to pop in, look around and see what's what (to the extent possible given the timeframe). My typical 'strobe light travel' in other words. Arriving by train meant a hotel near Penn Station would be convenient. We ended up booking a room at the Ace Hotel (they also have one in Portland so we've had a bit of a preview). Great place. Lots of charm and a bit of attitude (in a good way), with clean (but small) rooms, interesting fixtures, a convenient location and a Stumptown Coffee shop inside. The lobby is conducive to kicking back and socializing (or people-watching which we prefer). It always seems full. The room has a bit of a view, too.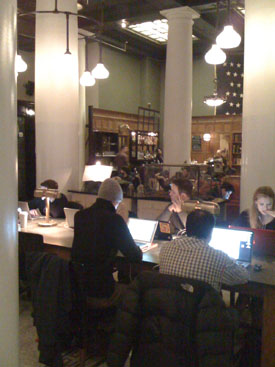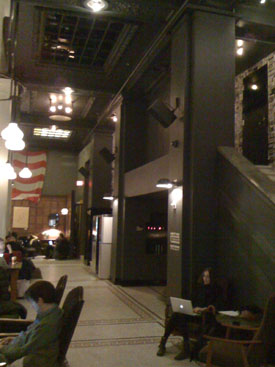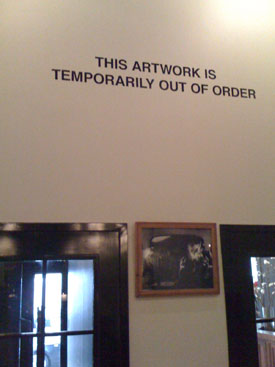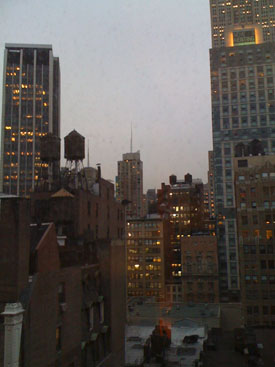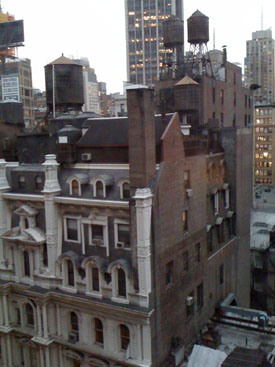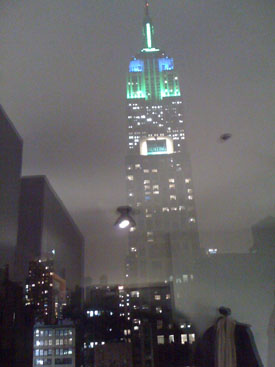 The train pulled in at 10:30am and it was only a 10-minute walk to the hotel. Midtown Manhattan has a unique feel to it. There's no doubt we've traveled somewhere which is good. This isn't Portland anymore. After dropping off our sole bag at the hotel (the difference between NYC and PDX locations of the Ace mirrors the difference between the cities, which is appropriate) we headed out. First on the list is a walk up Broadway to the Museum of Modern Art to see the Tim Burton exhibit. Both M and I enjoy his movies, drawings and poems so it was very cool to see. He is one of the people I'd like to meet at some point (along with Brian Warner/Marilyn Manson and Bill Gates). There is a lot to the exhibit - Tim Burton has certainly created a lot of cool stuff.

As cool as all this is, museum going is tiring business and having seen the exhibit we skipped the rest of MoMA and headed for Central Park on foot. The walk from the hotel and then wondering around MoMA in freezing weather (thankfully no rain) made the horse-drawn carriage option very appealing. We seldom do touristy stuff like this but sitting back with a warm blanket over our legs was impossible to resist. It's a quaint half-hour excursion, nothing to write home about in and of itself but in the circumstances it was perfect. Plus the driver had some useful tips, like taking the Staten Island ferry for a good view of the city. Which is exactly what we proceeded to do next. The view is better than the pictures here but I was too lazy to take better ones. There are tons of posters of New York from this perspective so no big loss.

After a stop at the hotel we headed out to East Village for some Indian food, stopping on the way at a liquor store to get a bottle of wine which I then stuffed into my coat pocket for later. The hotel staff had recommended a particular place on 1st Avenue. It is a single building housing four separate Indian restaurants and when potential customers approach, waiters from all four leap out and each try to guide you into their restaurant. I've only seen this in much seedier settings before. The particular establishment recommended to us is the one on the far right when facing the building so we let ourselves be ushered there. The interior is tiny with a crazy combination of sparkling red walls and hanging lights. Cool! The food proves to be excellent and very reasonably priced. It really hits the spot - perfect. A great experience.
Stuffed full of spicy Indian food the walk back to the subway is much warmer. It is still fairly early, about 10pm, so we decide to go a couple stops further to Times Square, peek out and see what's there. It is the stereotypical image of New York as most outsiders (including ourselves) see it.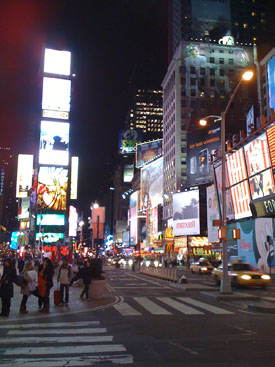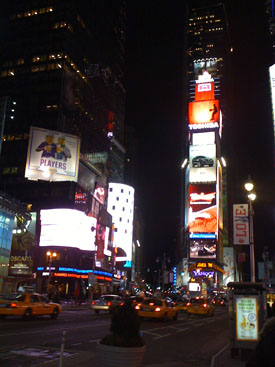 Being a geek I can't help but marvel at the giant billboard/display technology. This stuff is amazing, basically a whole building can be a high-brightness full-color screen with full-motion video.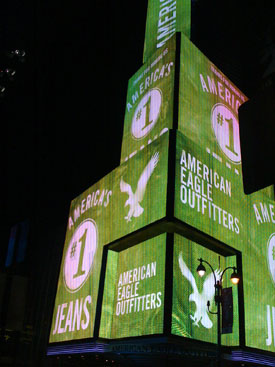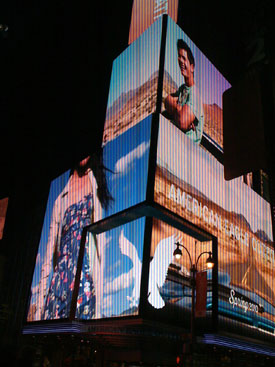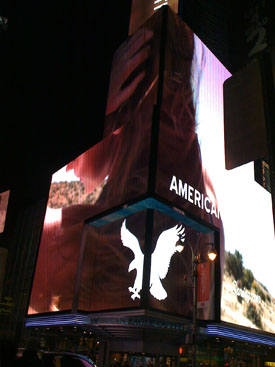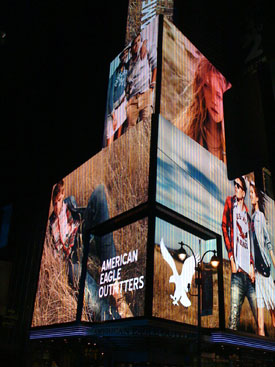 All this can't be cheap and B of A seems proud to show where our pennies are going....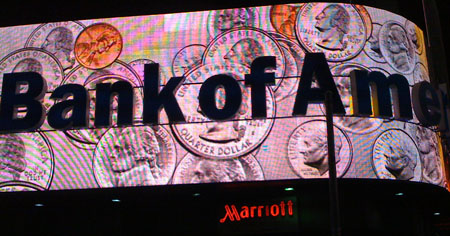 Then a quick ride back to the hotel to relax and get ready for the next day, just as it's finally starting to rain. M tuns on the TV and flips to BBC America only to find a Top Gear episode starting. I generally don't watch TV but this I can deal with :)
In the morning the rain is there to stay so the plan is very low-key. A bit of shopping on 5th Avenue just a few steps outside the door then a subway ride to the Natural History Museum to see the dinosaur stuff. I love the dinosaur exhibits - looking at the skeletons it's neat to see the mechanics of how the bones are arranged into a functional whole, how the entire creature is configured for its mission in life (which is basically acquiring food and consuming it while avoiding becoming food for others). Yes, I'm a geek.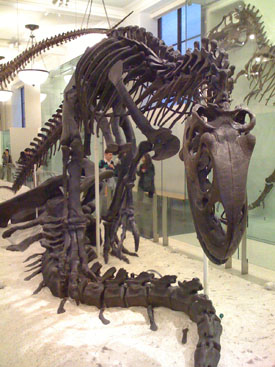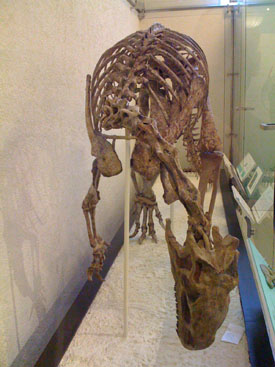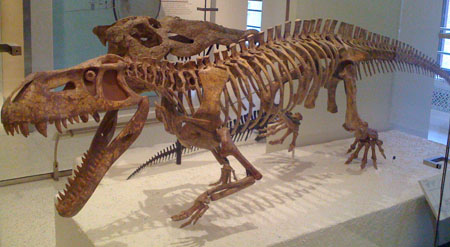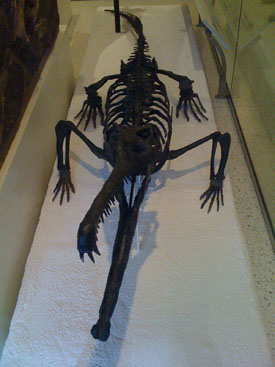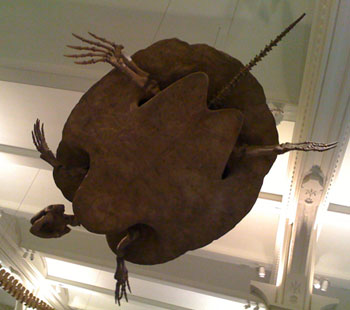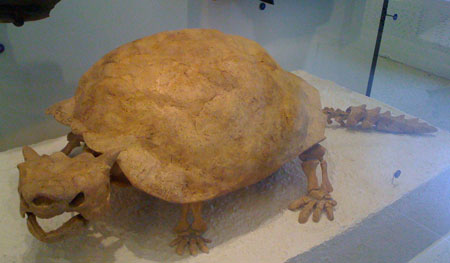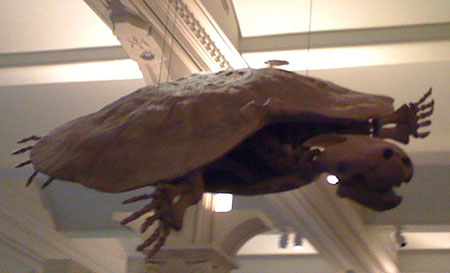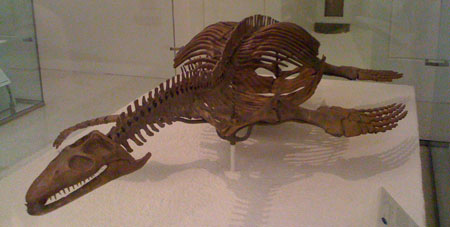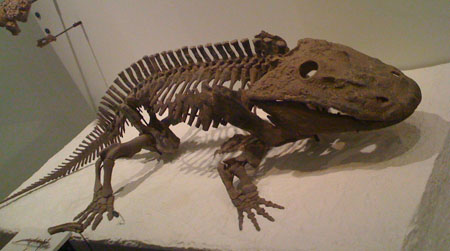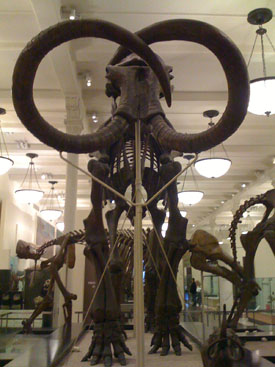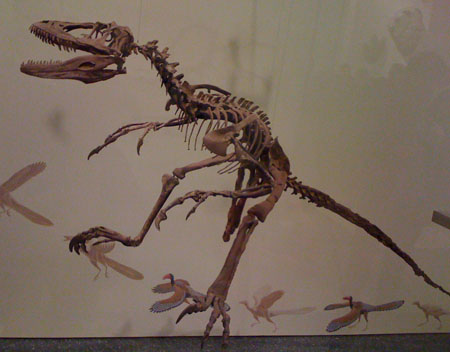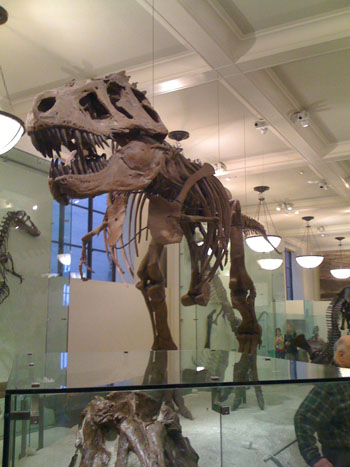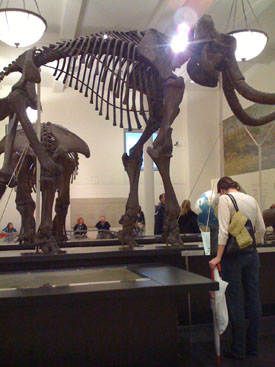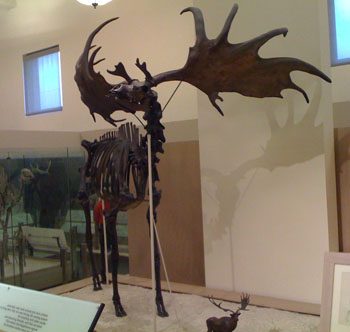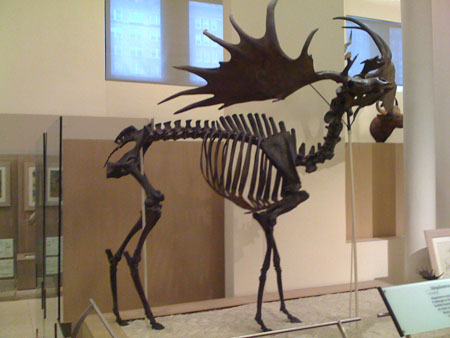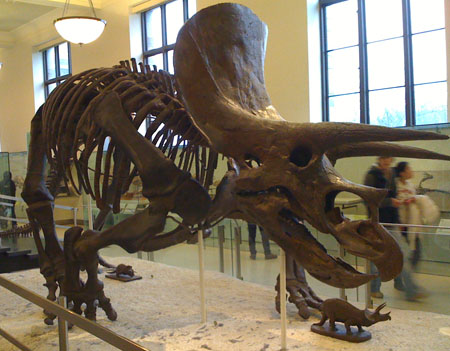 After the museum just a quick subway ride to Penn Station, a rushed meal of fairly decent calzone at one of the food shops and then it's back on the train for the return trip. The train ride is a good time to write the blog while memories are still fresh and even provides free wi-fi to upload it. Overall a brief visit but somehow very satisfying and quite memorable. Perfect.
---