---
02/08/06-02/14/06 A trip to Hong Kong. The only place I've been to in Asia so far is Tokyo and I've been meaning to check out a bit more. So when Northwest Airlines sent me an e-mail with discount fares to HK I started seriously thinking about it. Then, only a couple of days later, talking to my friend Paul I learned that he travels to HK quite frequently and is in fact going there in early February. Having guidance from someone who's been there is a great thing so that did it - I went home and booked the ticket that same night. Before the trip, Paul made a few suggestions and pointed me to an online review he wrote. I even bought a Cantonese language course on CD but quickly realized that trying to learn any of it in less than one month is pretty hopeless. The language is tonal, meaning that same words can have a number of very different meanings depending on the tone with which they are pronounced. I don't have an ear for that so it would take me years. Oh well, fortunately I'm told English is sufficient to get around (and it indeed proved to be the case).
Finally the departure day arrived and at 9 in the morning I headed downhill to catch the train to the airport. One benefit of taking short trips (only 5 days in this case) is that I can travel light - only a single carry-on bag - so getting around is quite easy, even if I have to walk or take public transport. The flights take me from Portland to Tokyo's Narita airport in about 10 hours, then a two-hour layover and a 5-hour flight to Hong Kong. The first leg is uneventful and I spend it alternating between sketching bodywork designs for a car project I'm helping with, making some progress on two patent applications I've been working on, watching a couple on-demand moves and generally relaxing. We are traveling with the sun so it's daylight the entire way and the view out the window never changes. Blue sky, silver wing and a picturesque red wingtip. The pale moon does move a bit throughout the flight.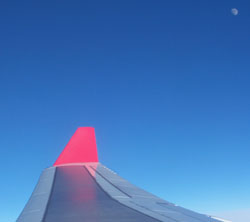 The layover is short and the departing gate is only a few feet from the one I arrived at so the transfer is painless. Upon boarding the flight I learn that I got upgraded to Business Class - sweet! Northwest is quite good that way. I've never sat in the front row of a 747 before. Lots of room and the fully reclining seat was a great treat, I could actually catch a couple of hours of sleep. Comfortably. Imagine that. Departing Tokyo and later arriving in Hong Kong the views from the window are spectacular but the pictures don't come out at all. It's all blurry. Oh well.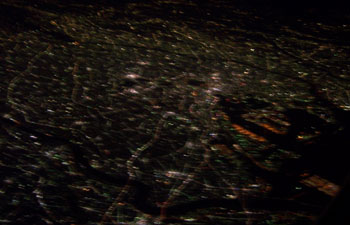 Paul had advised to walk quickly on arrival to beat the crowds and it paid off - I breezed through passport check with no line at all and walked right through customs to the train station. Airport Express train runs every 12 minutes and takes about 25 minutes to get me to Kowloon where the hotel is. I ask a couple people for directions and eventually find a young man who speaks English and is very helpful. He had just dropped off his girlfriend at the station and was going to catch a bus home, so he walked with me all the way to the hotel which is about 15 minutes away. So far, people here are very friendly. Despite it being midnight local time there are quite a few people out on the streets and a fair bit of traffic. Finally, checked into the hotel and after a much-needed shower, some sleep.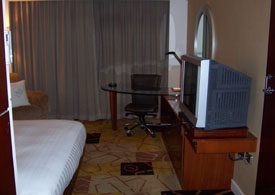 Day 1. Woke up pretty early. Ended up walking out of the room around 7:30. The weather is very pleasant, ranging from 60F at night to 75F during the day. There is an early haze that dissipates quickly. Humidity is not too bad either. I'm told this is the best time of year to be here and it certainly looks that way. Took the Star Ferry over to HK Central and walked around some. The ferry itself is very cheap, only HK$1.70 - about $0.20 US. Of course when getting change from an HK$50 bill I only get the coins and neglect to grab the $40 in bills so the ride ends up costing me more like $5.20 US. Oh well. Should have just used the Octopus card. The Octopus is basically an electronic wallet. You can get the card at any MTR station and can put as much money as you need into it by just sticking it in the 'Add Value' machine and feeding some bills in. To use the card, simply place it on the appropriately labeled pad wherever it's accepted and the correct amount is automatically deducted. The amount taken and the amount remaining are displayed. The Octopus can be used for all public transportation and many other places such as convenience stores. Saves fumbling around with change and generally makes the paying a lot quicker and more efficient.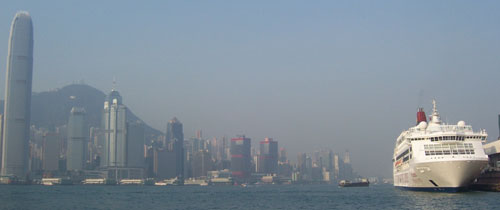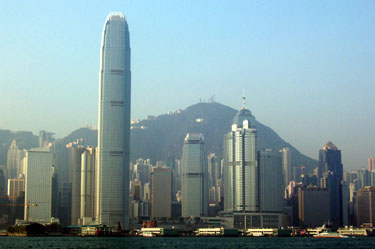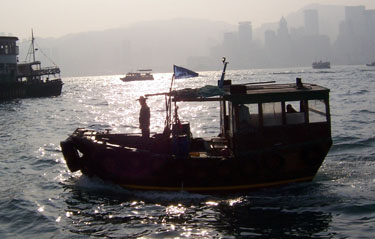 The ferry is a quick and scenic trip, a lot nicer than the subway (and cheaper too). Not that the subway is bad - on the contrary, both the trains and the stations are very clean and efficient. It's just that going over water is nicer than under it. Once on the island I walk along the waterfront a bit and then head uphill to the Peak Tram station. There is an escalator, claimed to be the world's longest, that runs from Central up to Mid Levels. Of course in the morning it's down only, reversing direction at 10:20 am for the rest of the day, so I end up walking up the adjacent stairs the entire way. It's quite a workout. The pedestrian walks in Central are elevated above the streets which reduces traffic congestion and makes it easier to walk around. Speaking of traffic, it consists of about 80% taxis, 10% buses and 10% Mercedes. There's very little else on the roads that I could see. Streets are tight and chaotic though traffic does seem to flow reasonably well given the circumstances. At any rate, I certainly wouldn't want to drive here.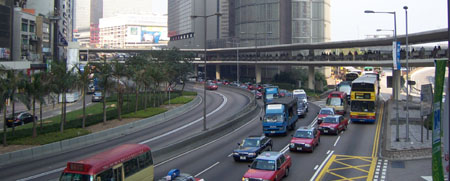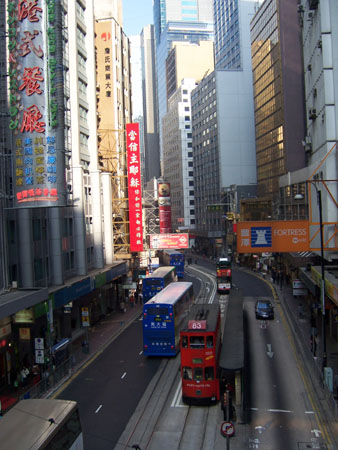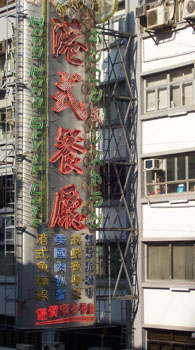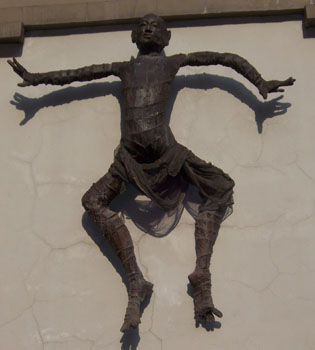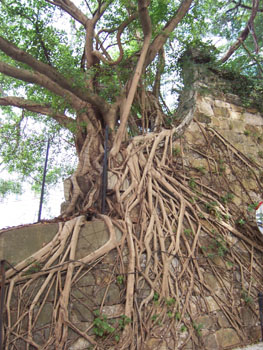 At the tram station I meet up with Paul and we take the tram up to the Peak for some photos. The views from up there are indeed spectacular - I'll need to come back at night.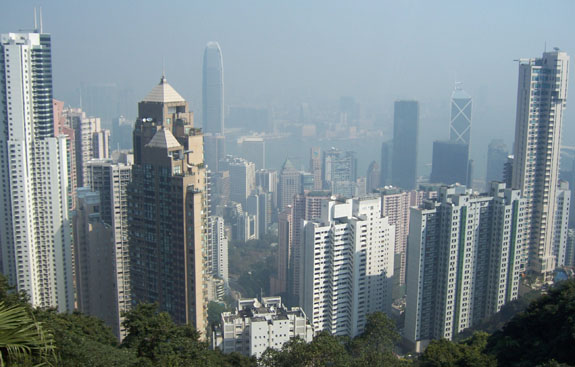 Then back down for a walk through town, a quick bite at a fish-and-chips joint and on to the pier to buy turbo cat tickets to Macau for Monday. After which, around 1 pm, Paul goes to get ready for his trip to Bangkok later in the evening and I go back to the hotel for a nap. This time I take the subway across the bay. The train cars don't have any partitions between them so the train appears as one continuous container that seems to go on forever. When it twists through the tunnel it feels odd, like being inside a giant snake. Well, in a way that's exactly what it is. There is a lot of walking to get around inside the stations and the train takes a while.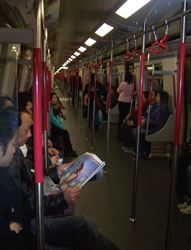 Interesting experience but the ferry is better in my opinion, at least as far as getting across the bay goes.
Waking up around 6 pm I sit around some, then head up to the Sky Lounge on top of the hotel. Between 8PM and 8:18pm there is a nightly light show on both sides of the bay and the already-colorful skyline looks even more spectacular (I also took a short video clip of a portion of the light show later).
Of course the prices at the bar are spectacular also - a double martini ends up costing me HK$157 with tip, or about US$20. But at least it's good and it does do the job. Once done with the martini and the light show, it's back on the ferry over to Central. Then a meander through the elevated walkways leads me to the tram station and I end up on top of the Peak again. Impressive.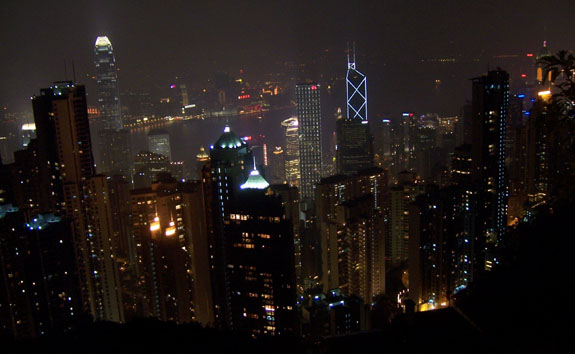 My original plan was to check out the town some more at night (it's quite clean and appears safe, with lots of people on the streets a ways past midnight). Once back down from the Peak, however, I realize that I'm getting quite tired and the jetlag is taking its toll. Overall, it is much easier for me to travel West than East (jetlag is a lot worse for me in Europe) but I do have my limits. The martini probably had an effect as well. So it's once again on the ferry and a short walk to the hotel. No agenda for tomorrow, we'll just see what's there to do.
Day 2. Took a ferry out to Lamma island. There are two ferry terminals on Lamma. Sok Kwu Wan is roughly in the middle and Yung Sue Wan is on the Northwest corner. The two are connected by a walking trail that takes about an hour at a reasonable pace. I chose to start in the middle and go north. Sok Kwu Wan is a tiny village consisting of about a half-dozen seafood restaurants and as many residential buildings. Not a whole lot there, in other words. The seafood looks interesting but I decide to skip it for now and head north on the trail.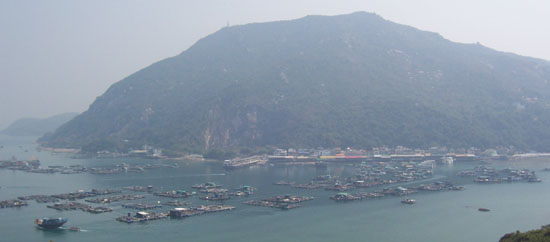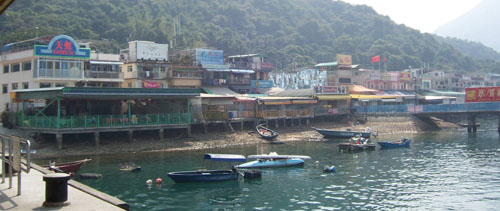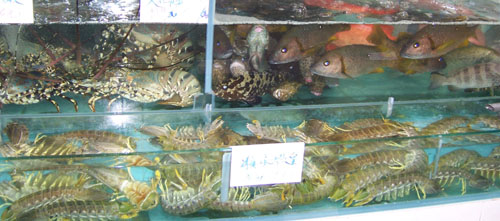 The trail itself is a concrete-paved path and is not particularly scenic. It is being repaved with stones in some spots, I suppose to make it more rustic. The island scenery is mostly reminiscent of Channel Islands off California coast. The temperatures are in the mid 70s F and thankfully insects are completely absent. The hike is a good exercise but I wouldn't do just for the scenery- it's only ok. At some point the trail passes through a 10-building village where the conditions are very basic. Not much happens here.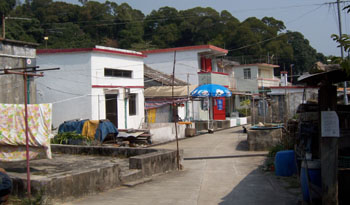 Approaching the Northern part of the island the view is dominated by massive smokestacks of some kind of industrial plant. Yung Sue Wan is a good-sized village with dozens of shops and restaurants crammed together on narrow streets. I check the ferry schedule and decide to finally try some local food (up to now I've been living on Balance bars, as always). I pick a seafront restaurant and order some prawns and a beer. The meal is tasty and priced reasonably but not cheap - HK $165, or about twenty bucks American. In keeping with long-running tradition I call Dave back in California on my cellphone. The connection is amazing and there's hardly any lag. Sounds like I'm just a few blocks away.


There are two ferry routes from Yung Sue Wan, one going back to Central and another to Aberdeen, a fishing 'village' on the south side of Hong Kong island. I decide to take the latter, with the intention of exploring the island away from the skyscraper forest of Central. On approach Aberdeen looks interesting, with countless fishing boats tied up along the bay. I'm told in the mornings the fish market is something to see, but otherwise there isn't much that is of interest here.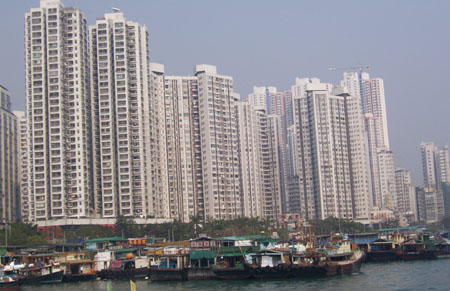 So I take a bus to Stanley, another small city on the Southernmost tip of HK island. The road along the Southern coast reminds me quite a bit of the Mediterranean coast along the Riviera. Roads wind tightly along the cliffs, with countless houses clinging to the slopes and carports stuffed with Mercedes, Porsches and Ferraris. Stanley itself seems to be all about shopping. There is a traditional market, with countless stalls crammed together, selling everything from fruits to t-shirts. Not far from it is a massive multi-level shopping mall. I walk around some, sit on a rock near the water for a bit, then catch a bus back to Central.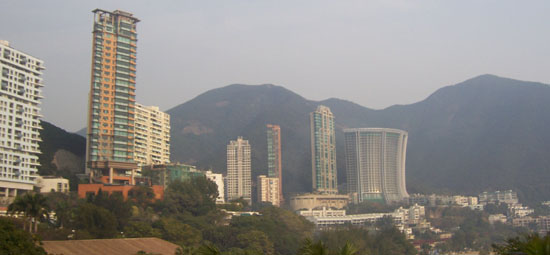 Riding on the upper deck of a bus along these twisty roads is an interesting experience, especially since the bus moves right along. The views are always interesting and at times spectacular. Hong Kong is very vertical, from narrow towers of office and apartment buildings to double-decked busses and trams. This is definitely the most concerted effort I've seen to cram as much as possible into the smallest footprint.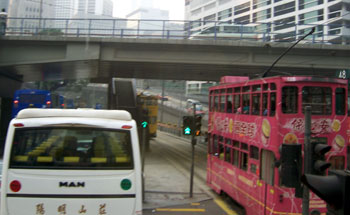 Back in Central, I catch the ferry across, pick up a bottle of wine at a 7-eleven and head back to the hotel to take a break... At which point jetlag catches up with me and I end up just passing out. A good day, overall.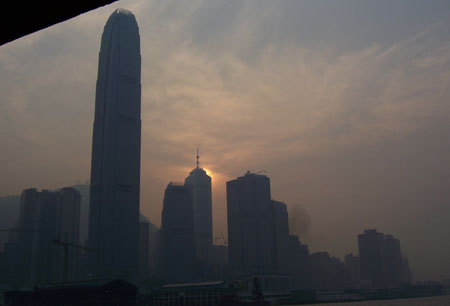 Day 3. Apparently there is a marathon going on today. They start prepping for it at 2 am outside, with loudspeakers and all. At 6 there is a crowd, by 9 am all the people and the barricades are gone and everything is back to normal.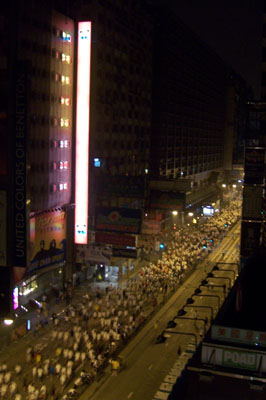 I decide to make it an easy day, to take a break from all the walking. And as it turns out a day of convenient timing. First, I stroll over to the nearby Kowloon park and watch a bunch of people practice martial arts with various weapons.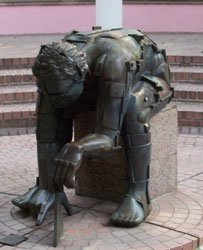 Then a leisurely walk over to the ferry terminal to take a harbor cruise. Just in time to catch the first one for the day. The cruise takes a touch over an hour and is a very worthwhile outing - sitting here across the bay from Central it is easy to think the city just ends around the next hill... But it goes on, and on, and on.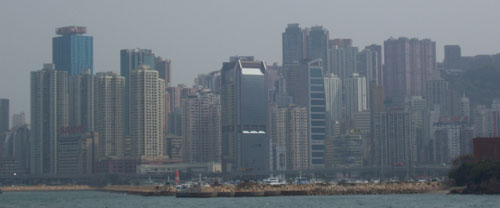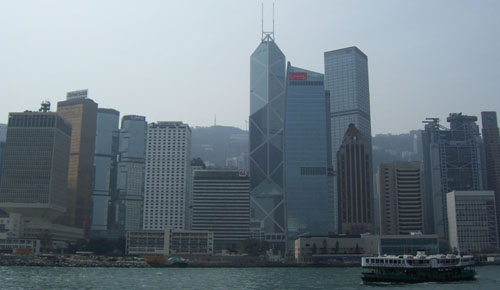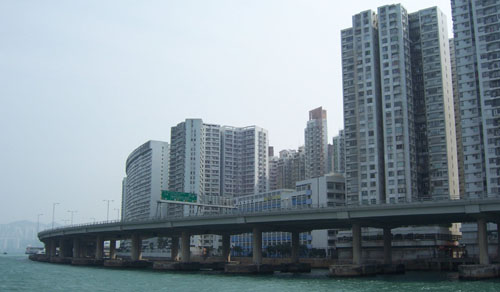 The loop around the bay really shows the scope of development and the endless heaps of skyscrapers that make up HK. Done with the cruise, it's over to ferry terminal 6 to head out to Lantau, to check out the huge Budda statue. Again, well timed to catch a ferry departing in 10 minutes. The ferry trip takes about an hour and amazingly the phone service is good throughout. I make a couple of phone calls and send some text messages. Arriving on Lantau I'm one of the first off the ferry and just walk over to a waiting bus, being one of the first to board. In HK it generally pays to be the first off any kind of transport, especially if you have connections to make or customs to deal with. The bus ride is not particularly interesting. Lantau is a much greener island than the others I've visited so far, but it is also much less affluent. This is where the cheap cars are. While HK Central I've found to be relatively clean (side alleys excepted), this place isn't so much. Feels much more third-world, or at least 2.5 world-ish. On the way I get a call from Tracy and she says to rub the Budda's belly for luck. Seeing how the thing is something like 80 feet tall I reply that I doubt I could jump that high. We end up text messaging back and forth for a while - technology is great. We'll see what the cost of such amusement is. At the destination, the monastery is quite touristy although the Budda statue itself is impressive.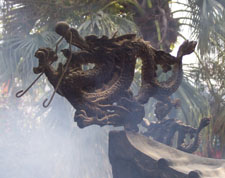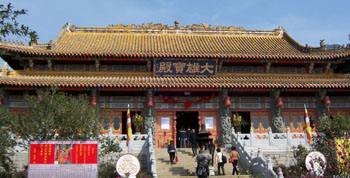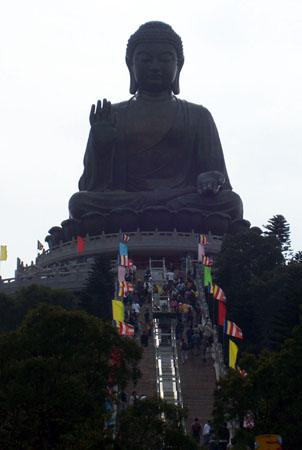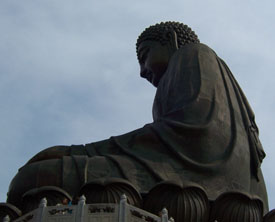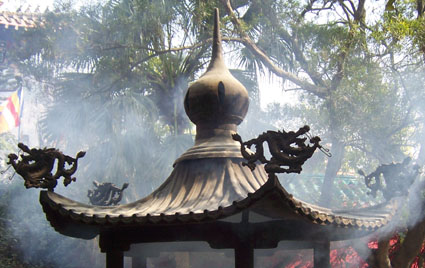 Definitely no rubbing to be done, not even toes. I hike up to its base and take a few pictures instead and go back down to check out the monastery. Eeeehh. So I walk over to the bus stop and conveniently stroll onto a bus about to depart, taking the last remaining seat. Return ride is uneventful and I'm one of the first out the door, just in time to catch the ferry departing in 12 minutes. The next one is in two hours. Smooth. Crossing the bay back to Central is interesting - there are lots of cargo ships being loaded and unloaded. A typical port has terminal facilities where the ships pull in to transfer their cargo and HK is no exception - those facilities can be seen from the airport express train. However, it seems that in many cases the containers are transferred via barges between port and ships anchored in the bay.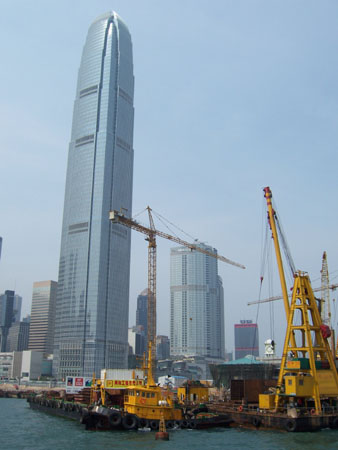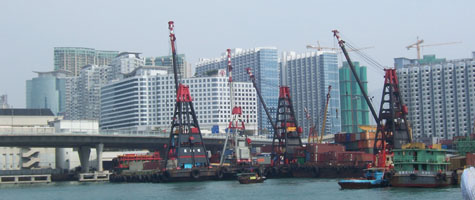 Interesting. I also spot a couple hydrofoil ferries that go back and forth to Macau. That's tomorrow's journey. Back at central, a short walk over to the star ferry terminal again being one of the last to walk on to a departing vessel. If only the important things in life would occasionally go like this... Well, whatever, I'll take what I can get.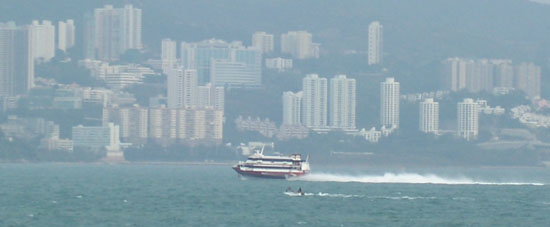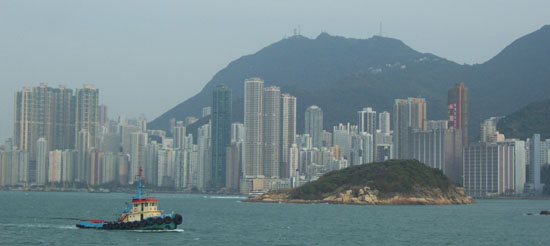 Back at the hotel, a bit of a break before heading out for the evening. At 8pm watched the nightly light show, then went over to Central to see what's happening there. Not much, it turns out. Maybe this is because it's Sunday night but there were few people around and most shops and restaurants were closed. So it's back over to Kowloon side, the ferries presenting themselves just in time in both directions, in keeping with the spirit of the day. On Nathan Avenue on which the hotel sits and the nearby streets there is a lot more activity. The sidewalks are crowded and there are lots of shops, bars and restaurants doing a brisk business.

At this point I'm rather tired though so after walking around for a bit I end up back at the hotel and quickly fall asleep. The entire night I dream that I've won a huge lottery jackpot. Weird.
Final day. In the morning, met up with Paul and took the jet boat to Macau. Good thing he had reminded me that I'll need my passport for this - Macau is a separate state. Apparently there's a big push by Vegas casinos to expand to the island and it shows - there is a whole area near the ferry terminal that's being constructed in the gaudiest fake Vegas style with mish-mash of themed casinos ranging from volcano islands to venetian palaces and everything in between. It's on a smaller scale than Vegas and looks rather sad, to my eye anyway.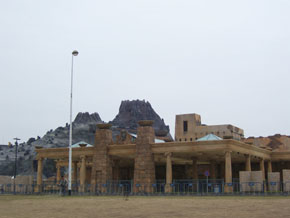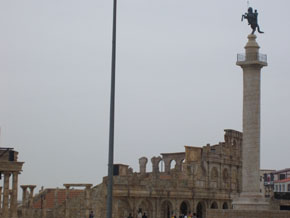 We took a taxi to an old Portugese fort on top of a hill and then walked down through narrow streets to a temple near the water.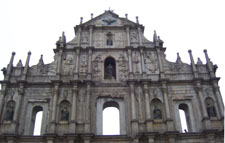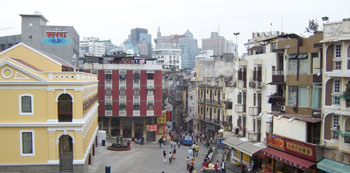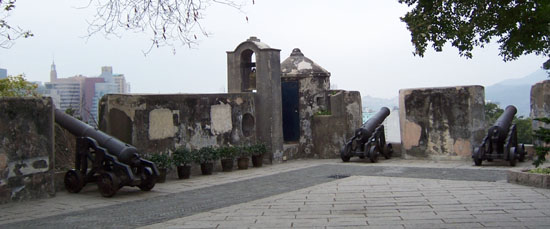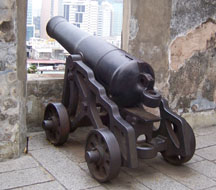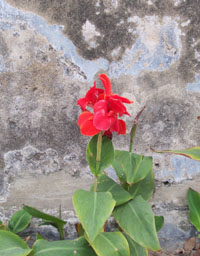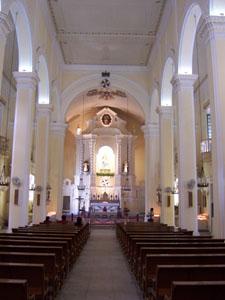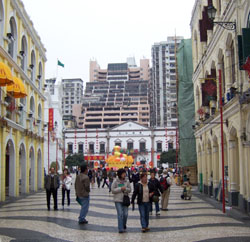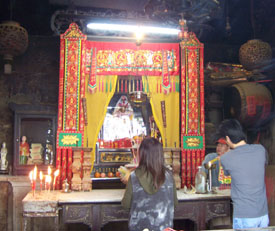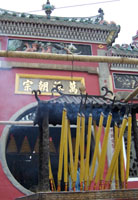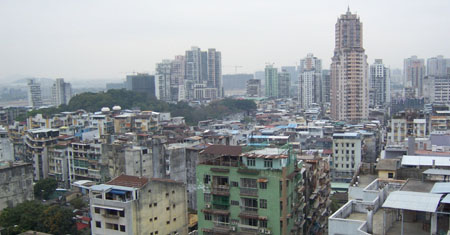 Overall the island has a well-worn look and feel to it. The temperatures are in the upper 70s F and humidity is high but bearable. I certainly wouldn't want to be here in the summer. Unless you're going to gamble there isn't a whole lot to do so we spend a couple hours total on the island, then catch an earlier boat back to Hong Kong. I head back to the hotel for an afternoon nap (jetlag still manifesting itself), then meet Paul and some of his friends for dinner. Today the restaurant area in Central is much livelier than yesterday, there are lots of people out and about. We have some drinks at a bar/restaurant and then head over to another place for some Indian food. The meal is quite good and fairly inexpensive. A nice conclusion to the trip.
The return flights are shorter than the outbound ones due to significant tailwinds. No upgrades, unfortunately, but I manage to catch a few naps nevertheless. Door-to-door the return trip only takes 18 hours, 5 less than outbound. Back in Portland it's raining and cold. But it's good to be home.

---