---
02/21/08-02/28/08 A trip to Hong Kong, China and Macau - what would prove to be one of the tougher trips I've taken. This was M's first visit to Asia and was meant to be a mixture of business and a pseudo-honeymoon for us. But it did not start smoothly. Leaving Tokyo on the connecting flight, we taxi out to the runway, start the takeoff run, then the engines shut down. Apparently there is a problem with the landing gear. We taxi back to the gate and spend the next three hours couped up with 430 other people in a plane with no air conditioning. Eventually we get going again and get into HK about 2am. All transportation has stopped but the airline arranges a shuttle to the island. We have to take a cab from the dropoff to the hotel. I am amazed when after asking a woman on the street where we can change money at this hour she just hands us cab fare and refuses to take anything in exchange. Some people here are very cool. At this point we are both extremely tired and just want to get there. So getting out of the cab I start heading to the hotel lobby, then realize I don't have my laptop. It's too late - the cab is gone and the laptop will never be seen again. Damn. A bunch of stressed-out running about, phone calls to cab company and police, all to no avail. Finally at 5 am I am able to pass out. The following morning a persistent cough indicates that time spent sitting around on the plane did not work in my favor. But we head out on the town anyway and still manage to enjoy quite a bit of it. A lot of construction has taken place since I was here last, including a massive new shopping center at the top of Victoria Peak.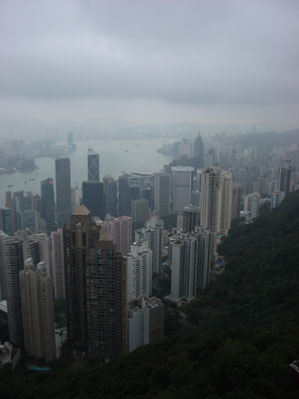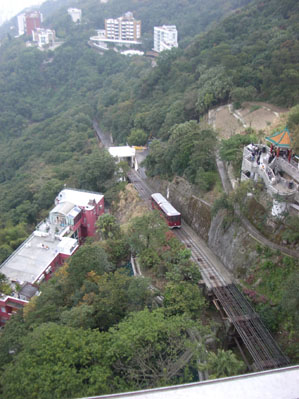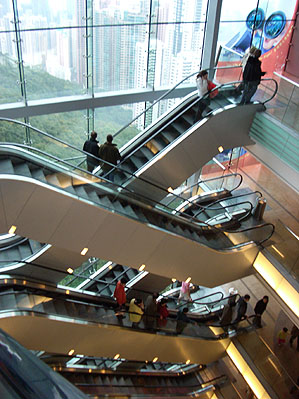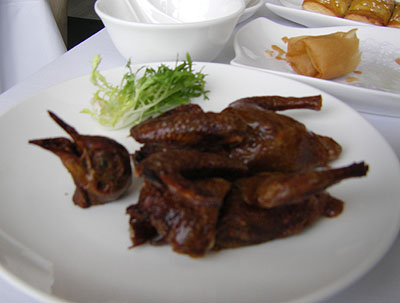 There are several nice restaurants up there with great views and we ate at one of them. Of course I couldn't resist something called 'crispy pigeon' - quite tasty, actually. No I didn't eat the head. After the meal, some more roaming around town and a trip on the Star ferry across the bay to watch the nightly light show.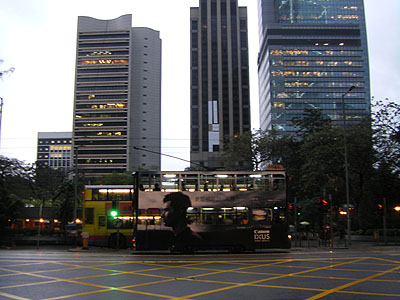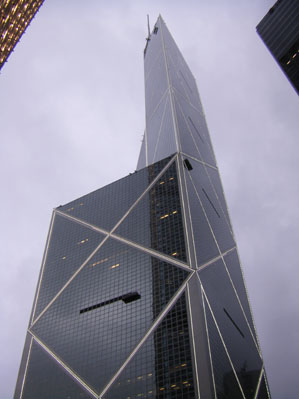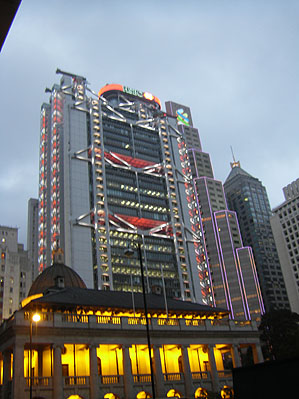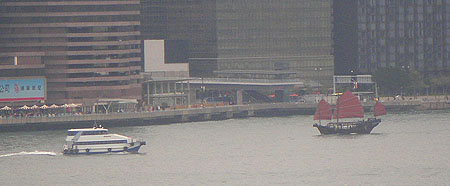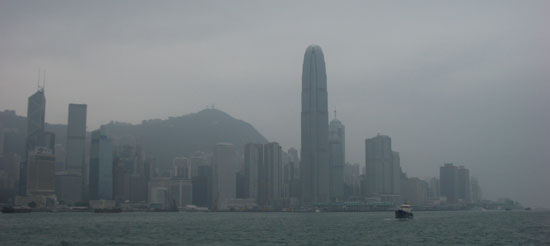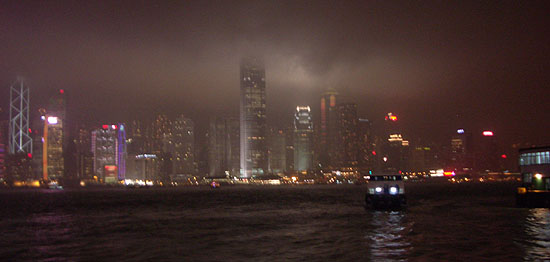 The second day brings with it the full onset of the flu. Thankfully M is resisting it so far, so at least she is able to enjoy the sites a bit more than I. I've seen them already anyway but good company makes it more interesting and I try not to let the sickness get me down. We switch hotels and try a couple more restaurants. The park in the middle of town is nice.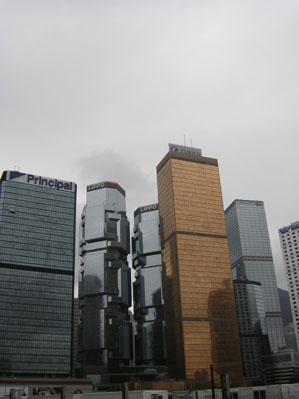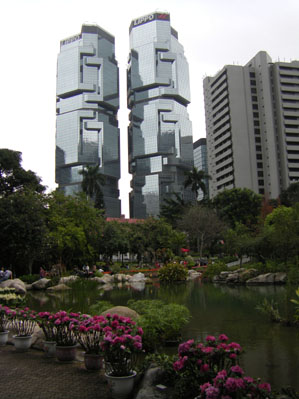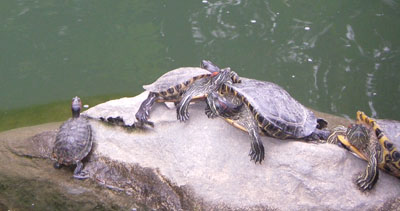 Monday we go to the Mainland to meet Steve. Steve is an American who has lived in China for over two decades and has a factory there. He is making some parts for one of the projects I'm working on and has kindly offered to show us around and tell us what's what. The plan is to make a loop around the Pearl River Delta, a very rapidly growing industrial zone where a lot of manufacturing takes place. We take a bus over to Shenzhen Bay and they meet us on the other side of the border. While HK is pretty much a Western town (due to it having been a British colony until 1997), crossing the border leaves no doubt that we are now in Communist territory. Save for the Chinese signs everywhere, the surroundings remind me a lot of the outskirts of St. Petersburg, right down to the air that tastes bitter and thick. Buildings are shabby, streets poorly maintained. But at least they have surveilance cameras everywhere - there is not a single intersection that doesn't have at least two. Same goes for buildings, alleyways, factories, shops, etc.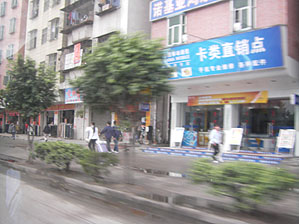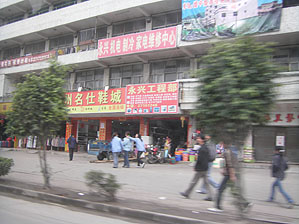 The factory visit itself is quite educational. About 200 people work there, with dorms right in the back of the building where many of the workers live. Very clever custom machinery is used where needed, lots of hand labor where appropriate. It's an efficient use of available resources to get the job done. Steve's insights on business workings in China are very enlightening.
After a few hours at the factory it's on with the rest of the 'tour'. Pearl River Delta is home to over 60,000,000 people and it all has been built up within the last couple decades. Prior to that there was only primitive farmland here. Now there are unending (and rather uninspired) stretches of factories and apartment blocks. A fair percentage of the world's manufacturing happens here.
Today's trip concludes in Zhuhai - a resort town right next door to Macau. It also happens to have a racetrack. The original plan was for me to drive Steve's Atom on the track but neither of us is ready - the car due to its recent encounter with the wall and me due to a fully developed case of the flu. So we just walk around and take some pictures. The place is fascinating, full of everything from supercars to race cars of all levels. We are shown some pretty cool titanum and carbon bits. Some people spend quite a bit on their toys here.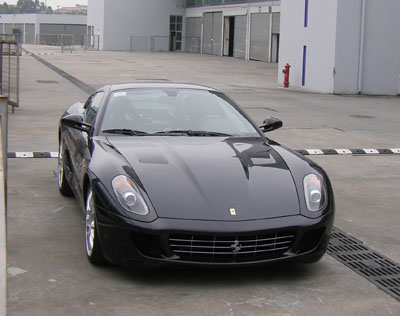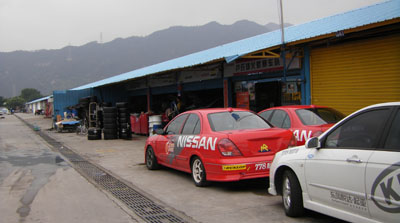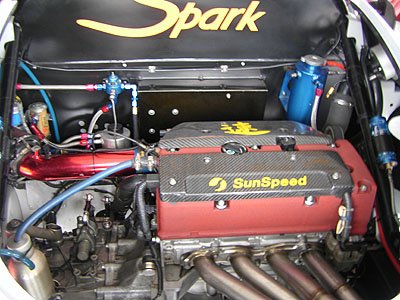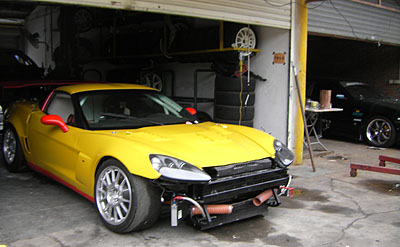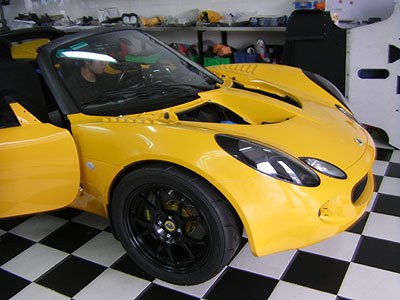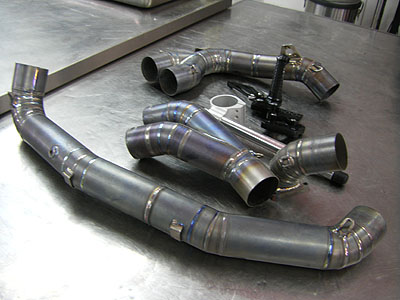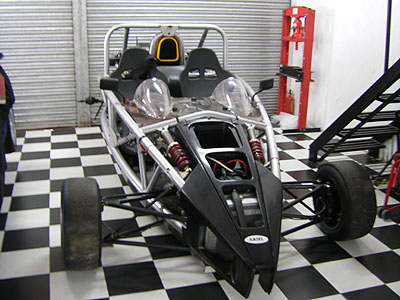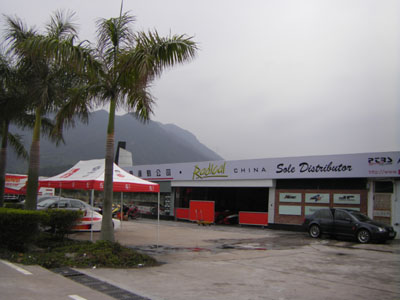 Below is a good illustration of why putting rodends in bending on the lower suspension arm is not a good idea. Yes, I can and will do better.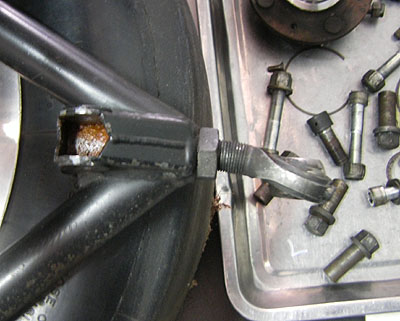 When the day is done we check into a very nice hotel (also happens to be quite inexpensive, we're talking 5 stars at $50/night). Pretty interesting artwork in the lobby. View outside is kind of what you'd expect.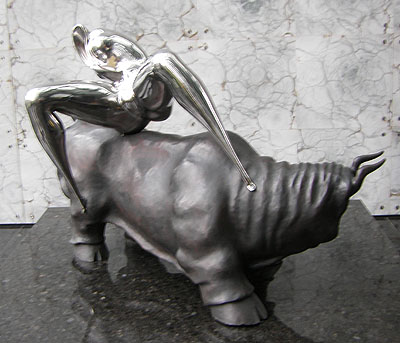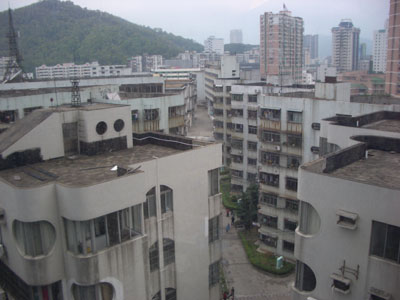 A nice Mongolian dinner, again very inexpensive, and we're done for the night. M is starting to feel flu symptoms as well and mine are in full swing. Joy.
In the morning we cross the border to Macau. Steve's friend Neville has a shop here and we go directly to it. Nev is an Australian who just happens to have run extensively at Portland and knows a number of people in the vintage racing community around town. Small world. His shop is full of Loti, Mallocs, Minis and a few oddball machines of vaguely British origin.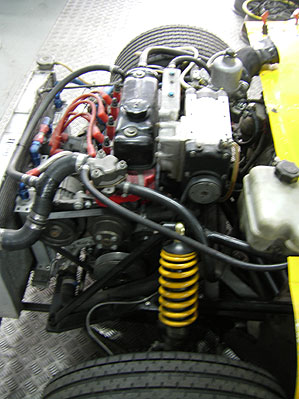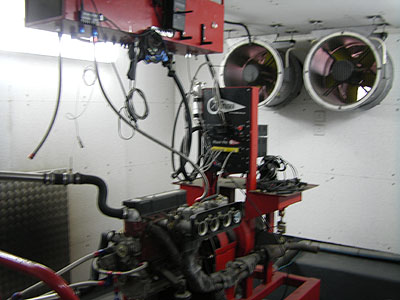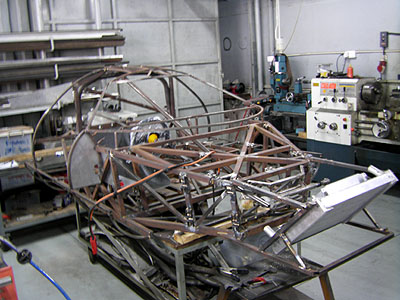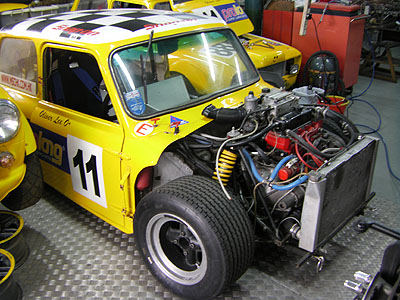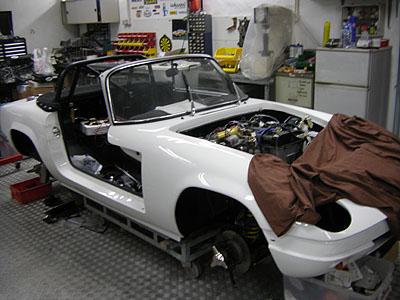 A great meal at a local Portugese restaurant, accompanied by numerous car stories, and we're ready to head out on the town. Nev and his wife graciously invite us to stay with them so we head over to their apartment to drop off the bags. We then go out to an excellent Italian restaurant for dinner after which the fatigue and general lack of wellness catch up with me so we go back and pass out while Steve and friends go out to party. Wish I were in better shape for this, it could have been quite entertaining. Maybe another time.
In the morning we take a ferry back to HK. I do my best to sneak past thermal scanners on arrival and succeed. Our last hotel is a ways in the New Territories and we have to take the MTR rail to the end of the line to get there, followed by a few blocks' walk. The hotel itself is quite nice and we end up on the 39th floor with a panoramic view. There is also a new building being consructed right next door and I'm once again reminded of the fact that even the tallest skyscrapers here are built with bamboo scaffolding. It's a curious mixture of high tech and tradition. I guess it works, the rate at which they build things here is nothing short of amazing.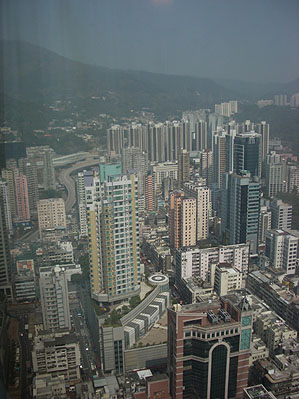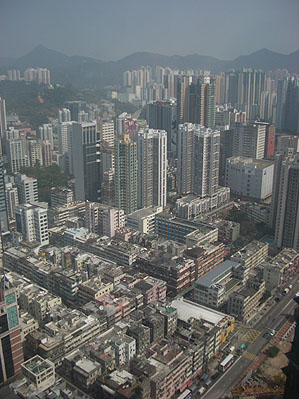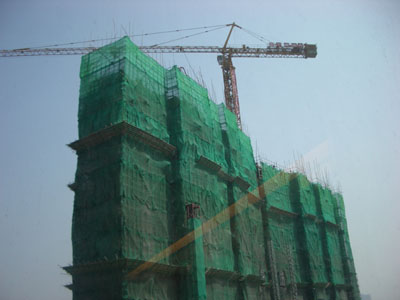 In the evening we are invited to visit another of Steve's friends. Clive is a partner in a company manufacturing high-end scale car models and is an avid collector himself. The display cases at his house are quite amazing.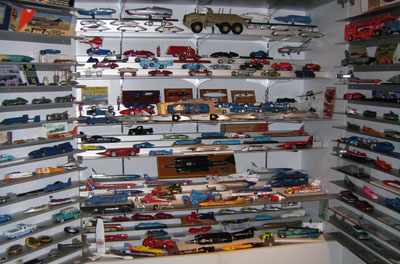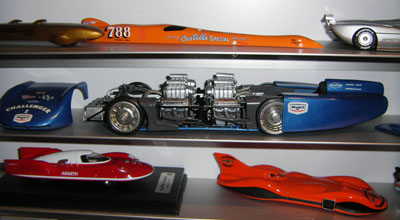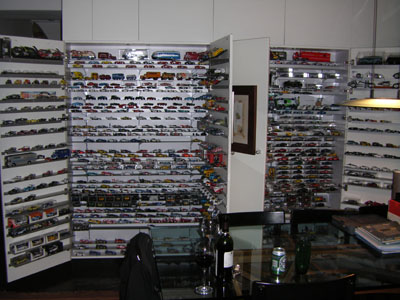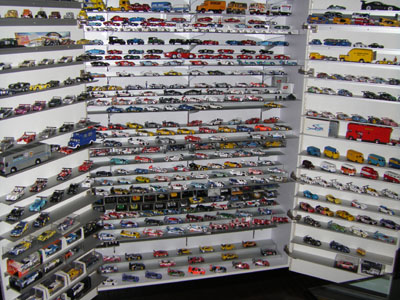 A lot more car-related talk takes place over an excellent dinner. We have met some amazing people on this trip and I hope we have a chance to see them again. Car fanatics are a unique group - it's interesting how quickly we find a common language despite very different backgrounds.
The return trip is uneventful and long. Arriving back in Portland the very first thing we notice is the air - it is amazingly clean! I could gulp it for hours. Now if only M and I could get rid of the souvenier flu. I guess we'll live. Yes, the world is an interesting place and travel opens up new horizons, but we are lucky to call this town home.
---