---
08/27/05 A day trip to Alaska. That's right, just one day. I've been meaning to go for years and suddenly I came to realize that another summer is about to slip away without me going there, so on the spot I decided to make plans. Of course mileage reward tickets are a real pain to deal with and the only time I could get any kind of a useful round-trip was arriving in Anchorage just before Midnight on Friday the 26th and departing just after Midnight on Sunday the 28th. So a total of twenty-five hours on the ground. Could be enough, if not much of it is wasted on sleep. So I booked a rentacar and didn't bother with a hotel. Looking at possible itineraries I settled on a seven hour glacier/wildlife cruise from Seward. It would take about three hours to drive down from Anchorage and as much again to get back. Supposedly the scenery is cool so the drive would be an event in itself. All preparations taken care of with a week to go I checked the forecast. Basically ten days of solid rain with Saturday being the only standout calling for sunny weather. Yeah, right, like that's going to happen. So I assumed it would rain. Oh well. Due to the dry summer we've been having I hadn't seen rain since Italy anyway so maybe it would be refreshing.
On Friday, checking the weather online it seems that indeed the rain is stopping and tomorrow should be sunny, followed by more rain starting Sunday. A minor miracle, this. An uneventful evening flight puts me in Anchorage at a quarter to Midnight. Hertz sees fit to 'upgrade' me to a Taurus. Why can't they ever just give me a Focus like I keep asking? First order of business is to drive around a bit and find a spot to park for a short nap. The plan is to watch the sunrise from a ridge some 40 miles to the north, so the nap would indeed be short. On the map it looks like Northern Lights boulevard ends at the water so maybe that would be a good spot? Sadly the road is closed by construction and I end up in some residential neighborhood, tantalizingly close to the bay but with no public access to it. Looking up I'm greeted with actual Northern Lights. It's a banner-like ribbon made up of pale, shimmering vertical stripes, stretching across more than half the visible sky. I guess it's fairly unusual for this time of year. As I drive around trying to get a better vantage point to attempt a picture the lights disappear . Oh well, at least I got to see them. Being pretty tired at this point I decide that this neighborhood is as good a nap spot as any so I set the cellphone alarm for 4:45 am and doze off. It's not comfortable, but I do manage some sleep, waking up a few minutes before the alarm is set to go off. Then it's a drive through downtown to find my way onto highway 1 and on to Eagle River. Getting there is not difficult and doesn't take long. Finding a spot from which sunrise would be visible proves hard, however. The views of the valleys are mostly obstructed by trees and I don't feel like going on a long hike through the woods at this time of day.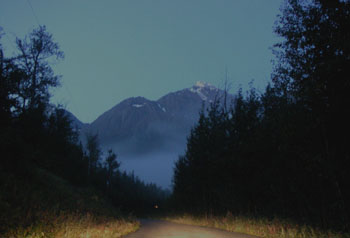 So I might as well head South. Back through Anchorage (the place is fairly big and modern, it even has a well-stocked Porsche dealer which surprised me), then on 1 again towards Seward. The road sweeps along the bay and then down some valleys for about 120 miles. The Alaska Railroad runs along it most of the way.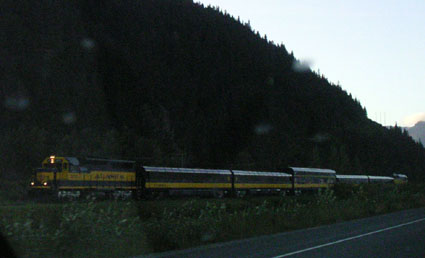 The scenery is impressive and I make a couple of stops to snap some pictures. Photos don't do it justice though. The light changes as the day rolls in...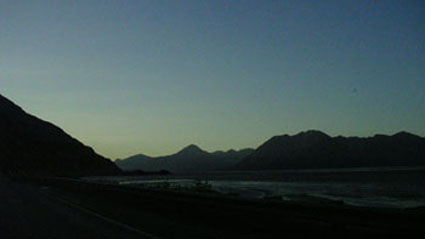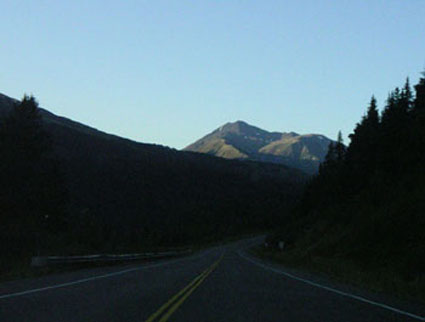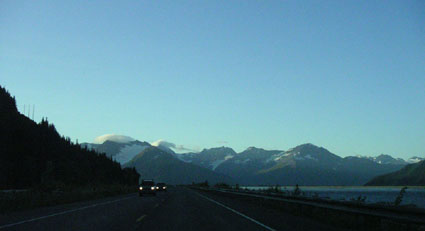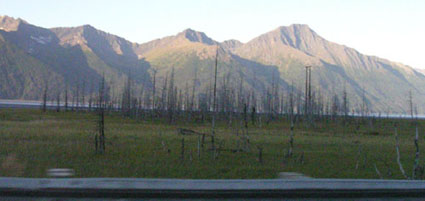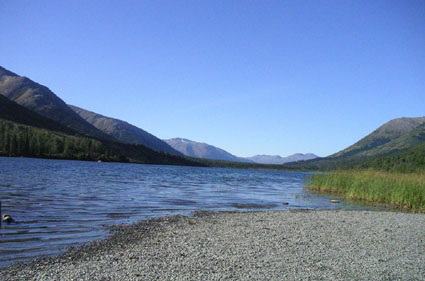 In terms of interesting wildlife the highlight is a couple of Bald Eagles, one sitting in a tree right by the road. It's a huge bird. I've seen them before (one lives in Portland a couple miles from downtown and sometimes cruises by my house) but these are much larger than what I'd previously encountered. Neat. The boat cruise departs Seward at 11:45 am and due to my fairly quick progress, despite sticking within 5 mph of the limits (it's the Taurus effect), I find some time for another quick nap next to a roadside cafe - just an hour. Again waking up a couple minutes before the alarm I walk in for a triple shot of espresso and continue on to Seward. It's a quaint-looking town, with the industrial area well removed from the main town which sits on the harbor.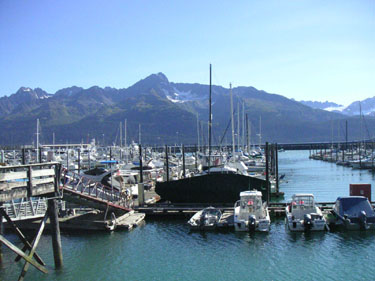 The tour company, Major Marine, is easy to locate and we're soon on the boat and underway.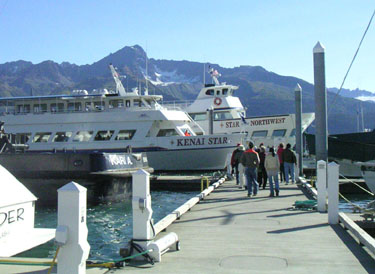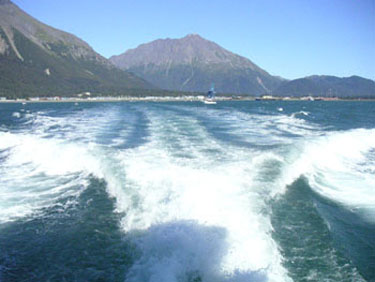 Resurrection Bay in which Seward sits is a long and deep glacial fjord, and according to the park ranger narrating the cruise it's ice-free year round, owing primarily to its depth of some 1,500 feet. The whole region is shaped by movement of glaciers that once spanned hundreds of miles, then melted away with the ocean filling the massive gouges left by the ice. Nature has been at work on its temperature cycles for millions of years - where mankind gets off taking credit for global warming I don't get. Yeah, we can poison ecosystems and exterminate species, but as far as our impact on global climate I personally think we need to be a bit more humble. Nature is a bit more powerful than we are and has been doing its thing a little longer. We've been having global warming since the Ice Age and I think the woolly mammoth are to blame - they were too damned woolly. Maybe we should all join hands, sing along and shave the mammoth. But that's just my opinion (so take it as such and hold the e-mails). On the subject of Nature and species, we soon encounter a sea otter lounging around on the light waves.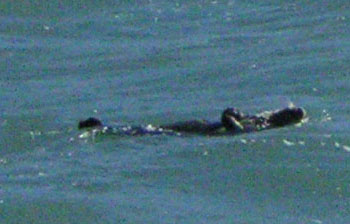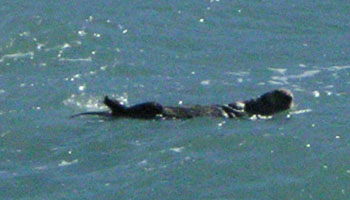 The weather is perfect. Not a cloud in the sky, wind is brisk but not excessive and temperatures are around 70F whenever the wind is not a factor. The ranger calls it 'rain failure' seeing how it normally rains 85 days out of every 100. Pass the shears. The cruise follows Resurrection Bay, then briefly into open ocean and then another fjord to get a close look at some glaciers.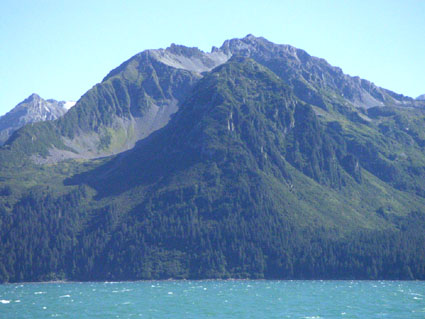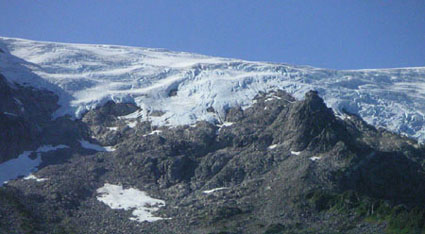 One place we do encounter significant wind is right at the glacier. It is the result of warm air coming in contact with the ice, rapidly cooling and descending. It's pouring off the glacier at some 50 mph which the ranger says is the strongest she's seen in ten years of doing these trips.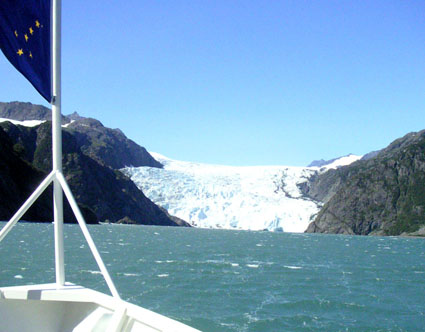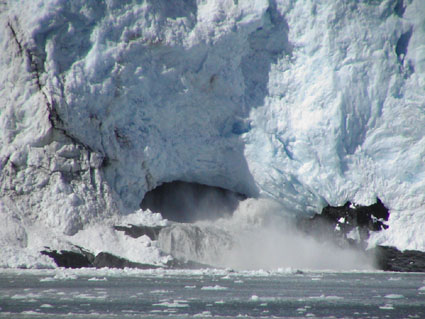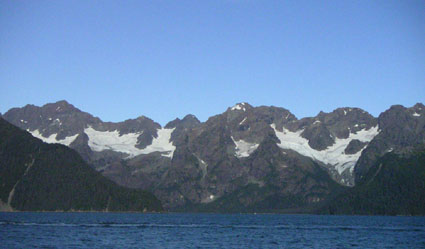 The crew fish out a big chunk of glacial ice and start making glacial Margaritas at the bar. Of course I have to have one and so I do. The neat thing about glacial ice is that it melts very slowly, not diluting the drink at all. Dilution is the main reason I hate using regular ice in drinks, so perhaps if I could find a source of the glacial stuff I'd change my mind. I wonder if someone somewhere sells it? After I'm done with the Margarita I wait for the ice to melt (this takes literally over an hour) and drink the water. It has a slight mineral taste to it and maybe a touch of very fine grit. Interesting.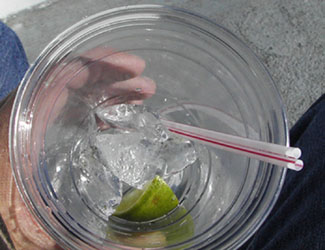 The return portion of the trip meanders through some islands, taking a close look at various bird life, sea lions and a couple of humpback whales feeding in the area.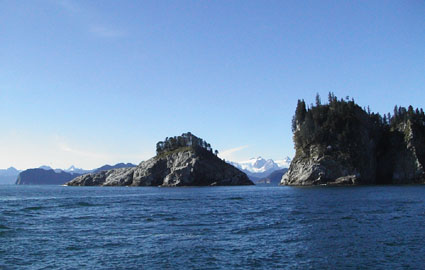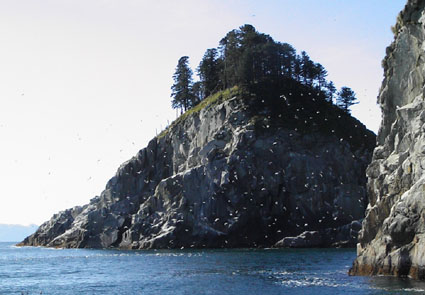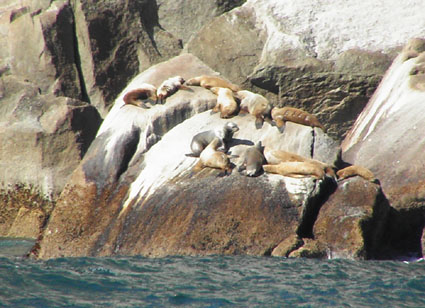 The whales are especially cool to see, though quite hard to get a decent picture of because you just never know where they're going to surface.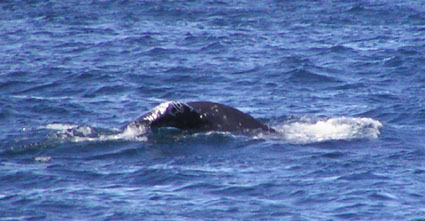 Upon return to Seward, back in the car for the 120 mile return trip to Anchorage. I had been hoping to see some moose but no such luck. Guess I'll have to come back sometime and spend a bit more than a day up here. It's certainly a beautiful part of the world. It's remote, and it feels the part. I've had a long-standing idea (let's not call it a dream, it's more than that) of building a floatplane from a kit and taking it on a couple months' journey up into these parts. Give me a few years. I already have the aircraft in mind.
Back in Anchorage with a couple hours to spare I grab a beer and a snack at a downtown bar/restaurant, then go return the rentacar and catch the 1 am flight back South. I remember reclining the seat as the plane cliimbs out, the next thing I know we're minutes from landing. Yes, I actually managed to sleep on a plane. Well. It's been a long day. And the next day it does rain.
---