---
02/15/2013 With the 2012 race well behind us, it is time to make plans for what's next for the Pikes Peak car. One decision we have made is that we are not going to run this year. Last year was a huge effort and it took a lot out of us, including setting our production car programs back a few months. We owe it to our customers to follow through on the D2 and other commitments so this now takes priority.
That doesn't mean that the D4PPS will sit idle. We have a comprehensive development program planned and are looking for someone to partner with us in doing so (and own the car). We've put together a brochure that explains the details. Our goal is to be back on the Mountain in 2014 going for a new overall win and record.
Meanwhile, an opportunity came up to show the car at the Ryan James Gallery in Bellevue, Washington. I've always thought of my cars as a form of self-expression which in my mind qualifies them as art :) Good to see others agree.
So a couple days ago we transported the car up to the venue. Getting it inside proved to be a challenge. The two separate sets of double doors we had to pass through are 65" wide. The car is 67" and it would take some major disassembly to make it narrower (just taking the wheels off wouldn't do it). Fortunately we brought our gantry and some dollies but neither were really meant for moving the car any distance. Still, with some help we got it done.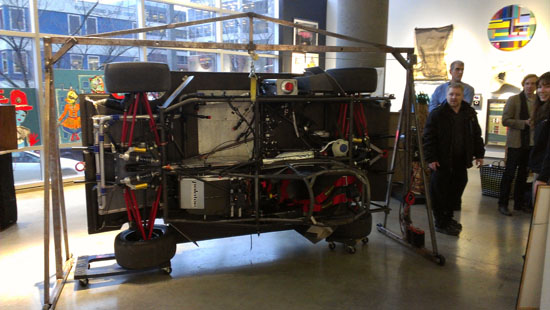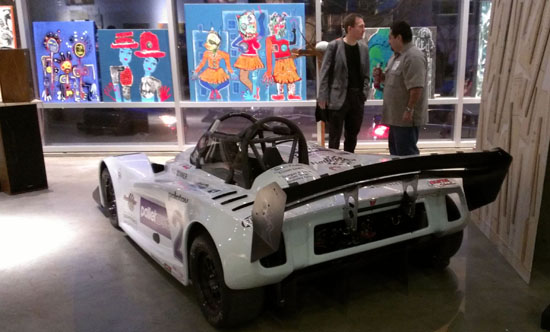 It looks right at home actually :) After the installation we drove back to Portland and returned for the official opening today.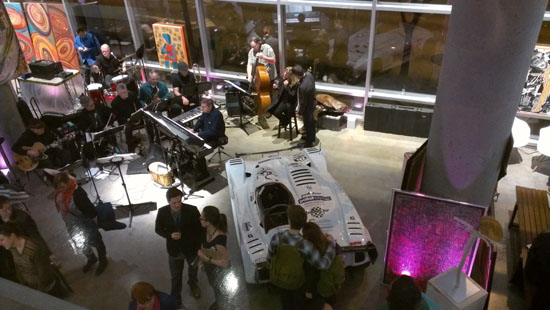 It was a well-attended event with vast majority of the crowd not being familiar with Pikes Peak or what the car is. For us it's a way to reach a different audience and it's interesting to get the reactions from people who look at the car as an art piece rather than a tool for the job of competing in a race. Gratifyingly, the response has been very positive. We'll see what ultimately comes of it but an interesting experience regardless. The D4PPS will be on display for the next couple of months until we're ready to jump back into development and/or someone buys it. If you are in Seattle area, check it out.
---