---
First, the big news - WE WON!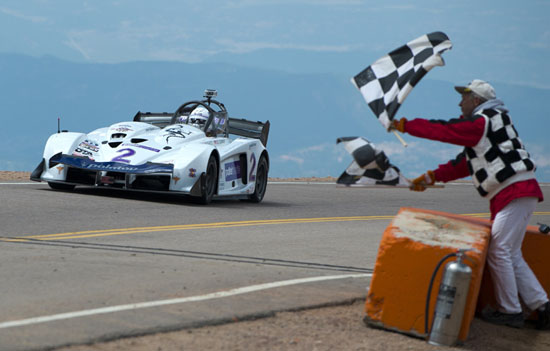 David Donner drove our D4 PPS to a first-place finish in the Unlimited Class of the 2012 Pikes Peak International Hillclimb. We placed 5th overall (out of over 160 competitors from all over the world) with a time of 10:04.652 which is only 18 seconds off the new overall record. Below are the events of the last two days leading up to it and the race itself.
August 10, 2012
Today we test on the middle section from Glen Cove. It's one of our favorite spots on the course and you can see almost all the way up to the summit. In the morning the parking lot is crowded so we just set up right in the middle. We get three runs, mostly to give David more time to get used to the car. The runs are uneventful. The Geartronics shifter is working well but some items in the drivetrain will need a bit of maintenance before the race.
Once we're back at David's shop, Tristan, Surjan and Bromley spring into action. They take things apart, replace some components with spares and make a few adjustments. We decide that it would be a good idea to do one more test at PPIR so David arranges that.
One of the goals is to try and find some more downforce. In our earlier testing in Oregon we had gone from virtually no downforce to around 400 lbs at 100mph but we need much more to give David the confidence he needs to push the car in the bumpy high-speed sweepers of the top section.
Quite coincidentally David happened to have some old BMW F1 wings laying around the shop and one of them looked like it was designed specifically for our car, so we installed it. It is strange how well the size and shape of the wing fit with the bodywork contours. The car looks even meaner now.
In the evening we head out to the Fan Fest downtown Colorado Springs. We have a booth space reserved and set up the car on display. It's an opportunity to talk to people about the car as well as check out all the stuff going on including other cars, motorcycle stunt riders and so on. I finaly get to see Tajima's electic car and it's monstrous - much bigger than I would have thought from the pictures I saw on the internet. We qualified some 3 seconds faster than him. Some of the other electric and gas cars are here and it's good to check them out.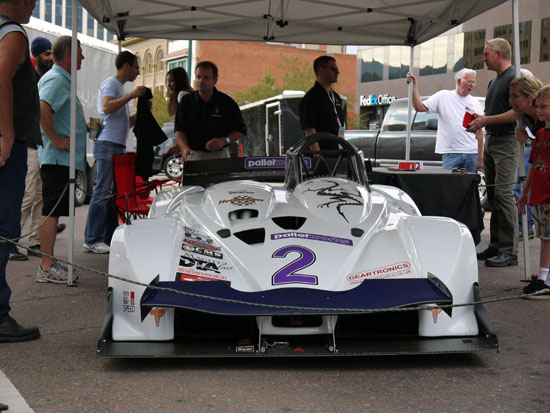 August 11, 2012
The only test time we could get was 6-8am at PPIR. After this week's early morning tests on the Mountain getting up at 5 seems like sleeping in...
A few runs allow us to look at the data and figure out what configuration we want to run tomorrow. The wing doesn't add a whole lot (nor was I expecting it to) but it does add something - we'll take it. Some changes to the rear wing net us a few more pounds and we're now as ready as we're going to be.
In the afternoon we trailer up to the pits on the Mountain. This year all the cars have to be up the day before the event. Arriving there it is immediately clear that it's an excellent idea - there are lots of competitors, very little space and much confusion. Trying to do this at 3 am in the dark on race day would be a disaster.
Soon everything is in place and we take some time to do a touristy thing - ride the cog railway from Manitou Springs to the summit and back. Its 10 mph pace and amazing views are a different perspective on the Mountain. On the way back down we're greeted with a huge double rainbow. I take it as a good sign.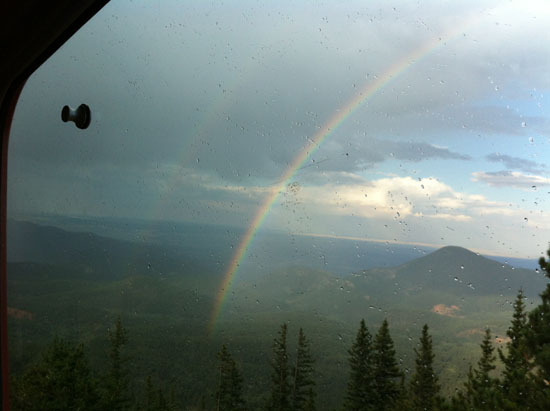 August 12 - RACE DAY
First thing in the morning we set up our pit space and try to figure out the schedule.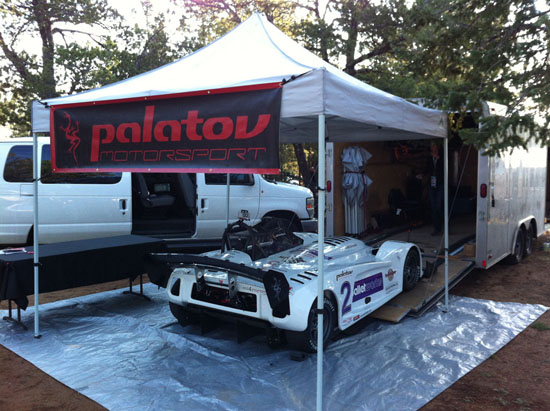 Officially the Unlimited class is scheduled to run last and with the anticipated afternoon rain it gives us some concern. The rules do state that the fastest qualifier (Jean Philippe Dayraut in Renault factory-backed Dacia) can choose when during the day his entire class will run. We fully expect to be moved, just don't know when or how much notice we'll get. The bikes go first so we use the time to warm up the car, make sure the battery is charged and all is ready.
Soon we get news that our class will run right after the bikes. Nice! This ensures we run in good weather. We get prepped and line up, taking a few photos along the way.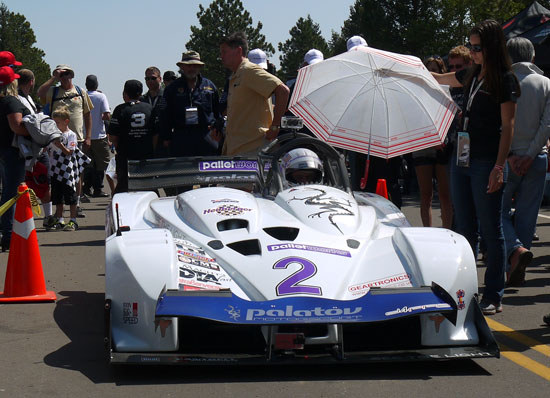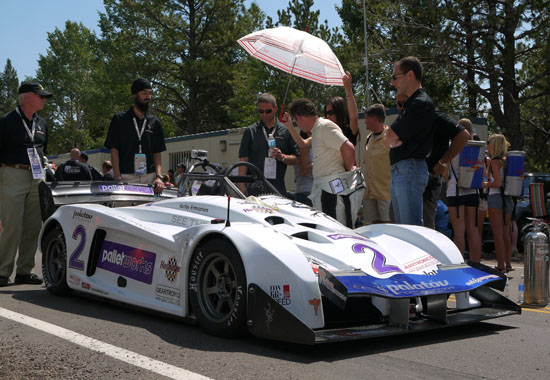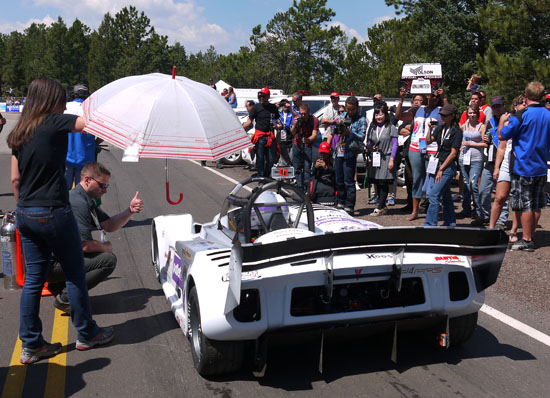 Dayraut is off first, then Paul Dallenbach in his 1,400 hp monster. We're up next. About 30 seconds after Paul blasts off the red flag comes out and emergency vehicles roll. Paul has crashed not far from the start. David is very concerned and we all anxiously await word on Paul's condition. After several very tense minutes we are told that Paul is injured but not life-threatening and that he is going to be helicoptered to a hospital to be checked out.
We shut down and wait. Several minutes later we hear that Dayraut is out with a mechanical failure on the upper portion of the course. This means that the top two qualifiers in our class are out of the race. David is shaken by Paul's crash. We discuss strategy and are in full agreement that our priorities are first not to crash, second to get the car to the top mechanically and third to post a reasonable time but not worry about the overall record. From qualifying we know that Millen and Dumas are going to be fighting over that and we choose to just focus on a possible class win. This means being a bit more conservative but we don't want to leave too muh time on the table since the 850hp RS200 qualified only a couple seconds behind us, with the other RS200 and the LoveFab NSX being less of a concern based on qualifying.
Eventually the track goes green and David launches the car on his run to the top. It is a very long 10 minutes. We try to listen to the broadcast but annoyingly the commentators are talking about David's family history and not giving us updates. Save the human interst stuff for post-race guys, when the car is on course please focus on what's happening!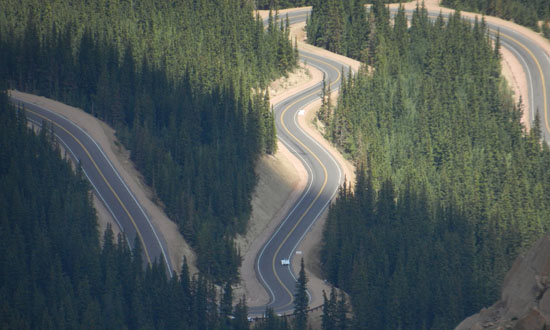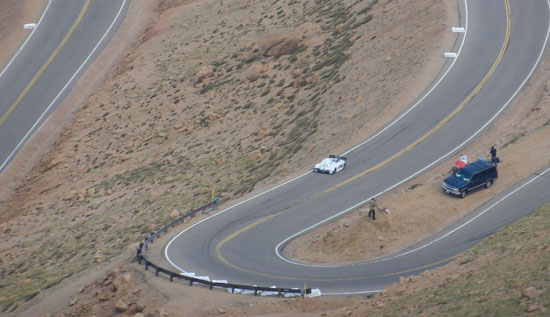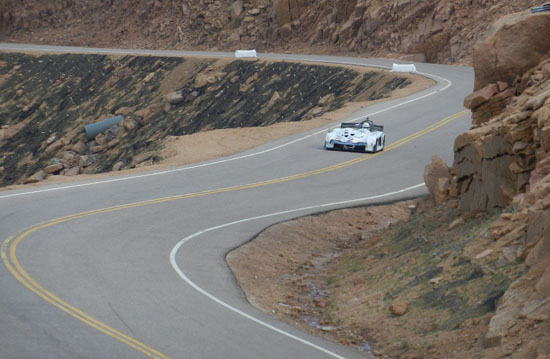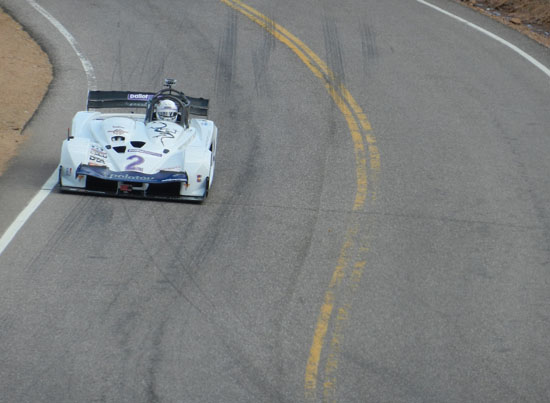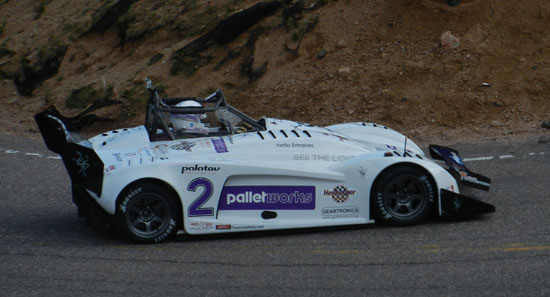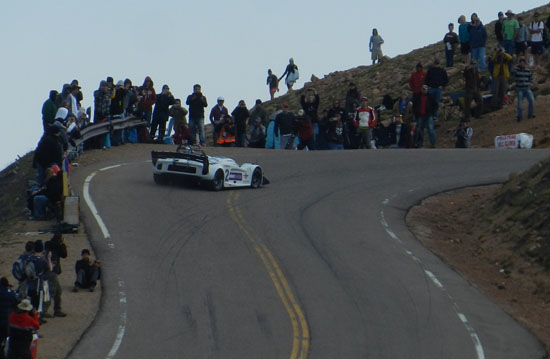 (Pictures courtesy Carey Kriger)
Soon we get word that David finished with a time of 10:04. It's a huge relief. Here's a video of the full run, taken with the CMS Lap Timer. We have now done all we can, just have to see what the other competitors do. The black RS200 takes off and his first section time is only a fraction of a second behind ours. But the second section time never comes up and we learn he is off with a mechanical. The 850hp LoveFab NSX makes it to the top but they're about a minute and 30 seconds behind. The second RS200 breaks down and the crazy mid-engine supercharged Chevy truck never starts.
So it's official - we win the Unlimited class! Yet another confirmation that to finish first one must first finish. Racing is not only about going fast, it's also about designing, building and prepping the car that can go the distance. We're very happy with the result. We've accomplished exactly what we set out to do this morning. Sure, it would have been nice to break the record on our first try but we'll save that for next year :)
It is only mid-day and lots more cars to run. Weather is starting to turn. Millen and Dumas make their runs, with the former wrestling the new record from the latter by a mere 0.02 seconds. They are only 18 seconds ahead of us on a 10-minute run. Not bad although from qualifying times I expect Dayraut would have been faster had he finished. We hear Dumas is not pleased about the run order but hey, if he had read the rules he could have entered in the Unlimited class and ran in better weather. Unless he was betting on qualifying fastest? Who knows. That's all part of race strategy and preparation.
We already know that the two Ducati riders are ahead of us in the overall standings with sub-10 times. As much as I admire the skill and courage of top drivers like David, to do sub-10 on a bike up here is superhuman. My hat is off to them! In the remaining car field only the Electrics and Open Wheel are potential threats. Tajima breaks down but Mitsubishi posts an impressive 10:30 and Toyota improves on that with 10:15. Electrics are a class to watch next year but today we're still 5th overall.
The atrition is high - some people go off, many break down. Eventually the finish line is moved down to Glen Cove for the last 15 cars in order to beat the approaching darkness. This is the Open Wheel class so our overall standing is safe, although based on qualifying results it most likely would have been anyway. Then the race is done and the cars descend through rain-soaked curves back to the start line.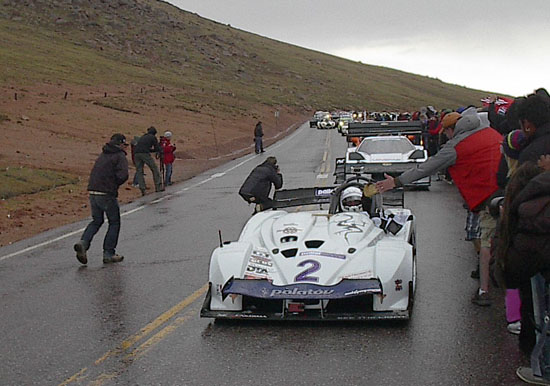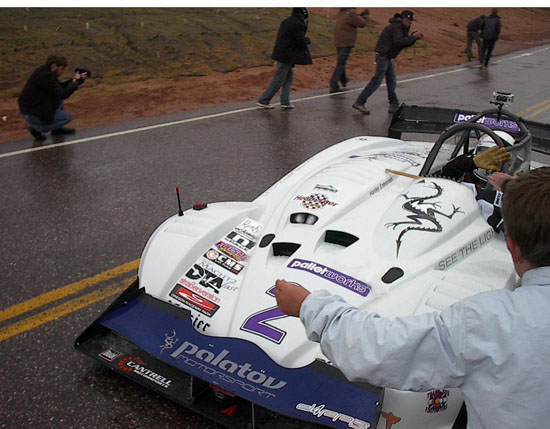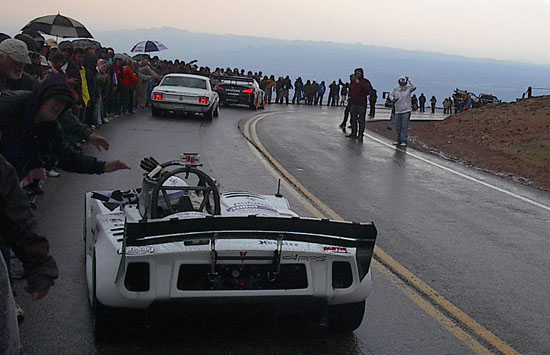 After the awards ceremony held in a big VIP tent near the start line, we descend the Mountain in darkness. This has been a very long day! Much accomplished though and we hope that now that we've shown what we can do, other opportunities will develop. We're looking forward to it. Monday is a 25 hour return drive to Oregon, then it's back to work on our regular projects. And planning for next year! :)
My most sincere gratitude goes out to David for an incredible drive and his valuable input in development, to Tristan for building the winning car, to Morgan for handling logistics, administration and countless other essential functions throughout the year and to Karl without whom none of this would be posible. Also to our intern crew Surjan and Bromley for tireless work on the car and making sure it's up to the task.
We deeply appreciate the support and encouragement given to us by all our sponsors, both corporate and individual. Thank you for being a part of our Quest!
---