---
July 11, 2012
Since we have the time, might as well test a few more things (and learn some more). Not the most friendly weather for it today, 94F ambient. But it's a good test of the cooling systems which turn out to be up to the task. Quite happy with the suspension and engine, too, and likewise the brakes. The last remaining thing to work on is aero. Of course that is a huge task and having the strain gages installed on the pushrods makes it possible - otherwise it would just be subjective feel kind of stuff, which i suppose would still be better than nothing but nowhere near as useful as having actual hard data. Some video cameras and good old-fashioned wool yarn help too (we need stronger yarn!). To suspect what the flow is doing is one thing, to actually see it is quite another.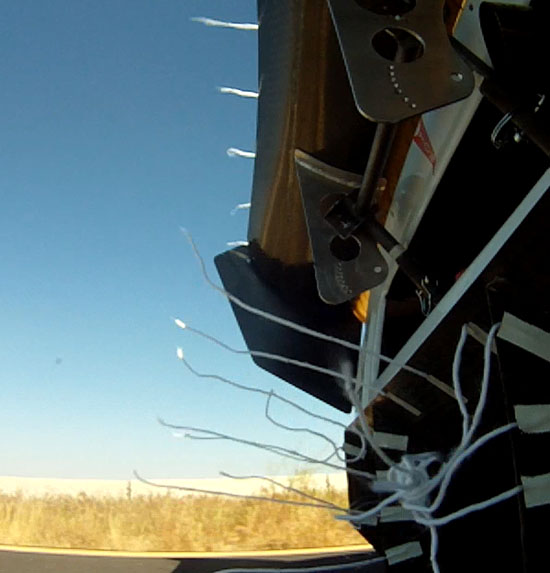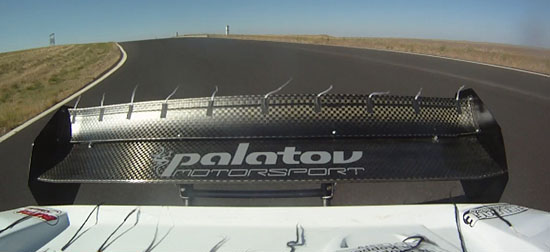 We tried a number of configurations and learned much. The good news is that we've so far gained some 130 lbs of downforce at 100 mph vs the configuration we tested on the mountain, despite running 100% higher ride height. The sobering part is that we need to get much more. To that end we have some testing on an airport runway scheduled next week and plenty of things planned to try.
There is also some aerial photography in process of being worked out (more when it's ready) and we're experimenting with different locations for the CMS lap timer - see the latest video. This is another personal best by a slim margin and the data overlay really shows how much time i'm still leaving on the table. I do rather like this camera placement.
A hot and tiring day but a day well spent. Now back to the shop to make progress on other stuff like the D2s, then more testing next week. No rest for the wicked.
---
July 18, 2012
With most other systems pretty well sorted, the remaining big area where performance gains could be had is aerodynamics. In the previous post I've talked about some aero testing we had done at ORP but with the large elevation changes there are significant vertical forces that make dedicated aero testing a challenge. So to make efficient progress in aero we found a different venue - a disused airport runway.
I've had a long list of things to try for a while. In order to test them all (about 20 separate runs) we came up with a plan and made sure that we have all the pieces and necessary tools to make it happen. The key item that makes it all possible of course is the strain gages that tell us the force on the suspension. Without hard data we'd be just burning gas and time.
Arriving at the facility we immediately realized that there was a LOT of sand embedded in the runway surface. This actually turned out to be a good thing because the sand kicked up by the car helps visualize airflow. To make it even more visible we put down some powdered chalk - it's the white powder seen in the pictures below and in the video.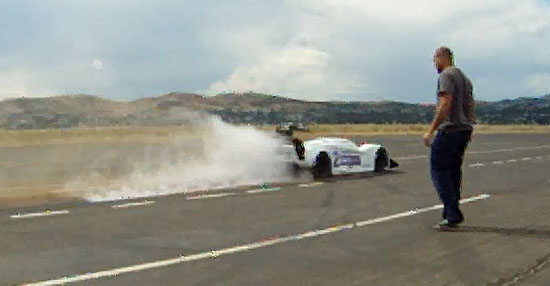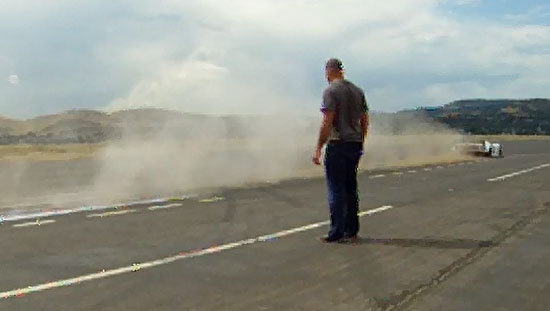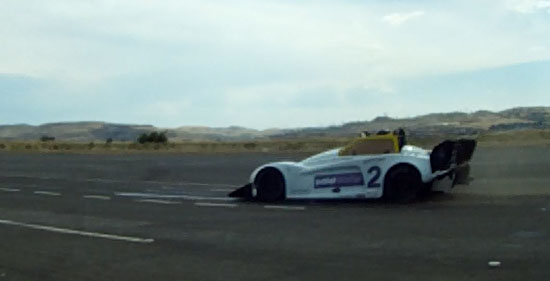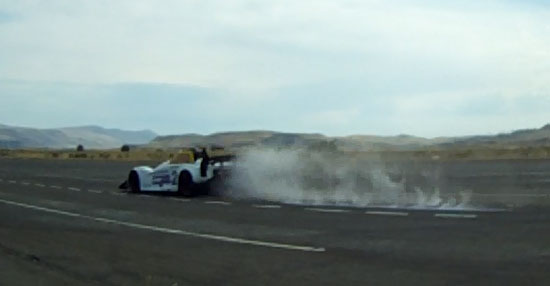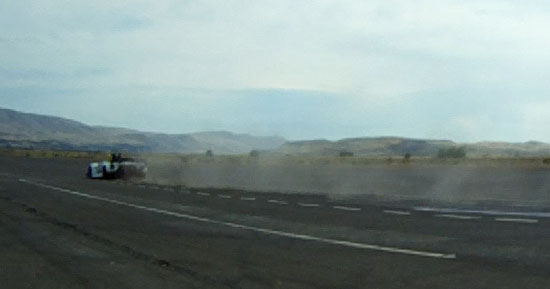 Being set up right on the runway makes for efficient configuration changes - many times I just stayed in the car between runs and we got everything done in about 6 hours.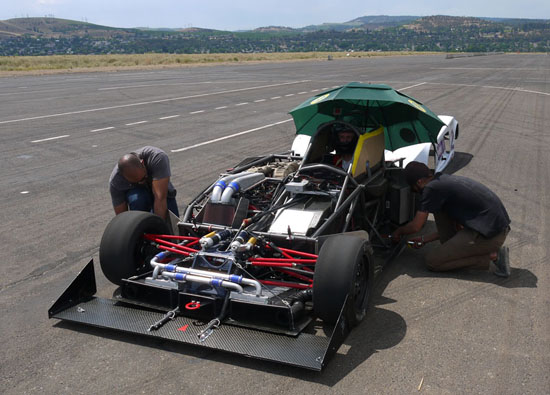 Going into the test we had 400 lbs of downforce at 100mph as a goal and I'm happy to say we came within 20 lbs of that, more than doubling overall downforce in the process. The reason for the number is that the car already has excellent mechanical grip (we've seen over 2.0g cornering with no aero). Mostly what we need from downforce is high speed stability and balance. We don't need to use aero as a bandaid for chassis deficiencies, so we need less of it.
We made 17 bi-directional runs, gathered a lot of data and learned a number of thngs that will of course be applied to all of our cars going forward. Some interesting tidbits - the impressive looking carbon front splitter is only good for about 25 lbs downforce (still, we'll take it!) - which is in line with what was expected based on rough calculations. However a pair of strategically placed pieces of cardboard gave us 60 lbs, and a couple strips of rubber sheet netted another 100 lbs. Obviously those pieces don't generate downforce by themselves, they change how existing parts interact. Aerodynamics is a subtle art and is often non-obvious, especially when applied to cars where you're almost never dealing with clean air, the flow is very 3-dimensional and interactions/interferences are countless. For example if you watch the video you'll see that in that particular configuration a good portion of the air on top of the bodywork was moving FORWARD. Not a desirable condition obviously and we did fix it.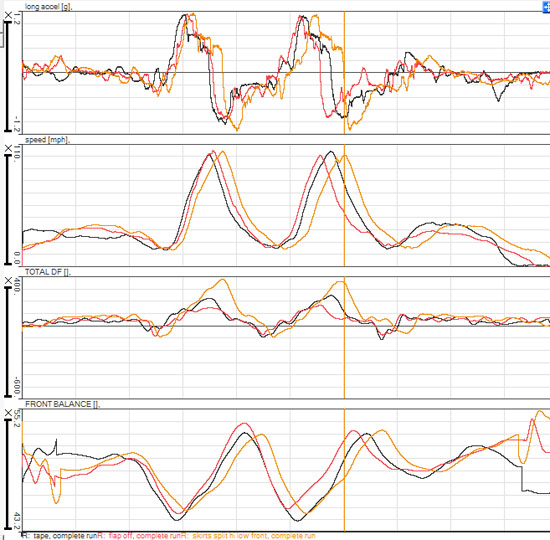 Above is an example of the typical data analysis. The traces are acceleration, speed, downforce and balance. The plots are a comparison of three different runs and yes, that's 1.2g sustained forward acceleration in 1st gear. I only used rolling starts and squeezed the throttle on instead of mashing it. So the car can definitely do more but it was sufficient for the testing we were doing. We don't have any plans to do standing-start acceleration tests because that isn't useful to the race program. For those curious the data shows that a smooth rolling start 20-100 mph takes 5.1 sec and 480 feet. This includes 2 shifts which you can see in the plots. With some dedication (and a willingness to abuse the drivetrain) a sub-5 sec 0-100mph time looks to be possible but as I mentioned we won't be doing that.
Now we need to spend some time tidying everything up, converting temporary 'let's try it' solutions to permanent and generally making the car as ready as we can. As of right now the next test will most likely take place on the mountain but this is not final, if we determine more track testing would be useful we'll do it.
As a final note we got some good photos from our last ORP session. Click on the picture below for a wallpaper-sized image.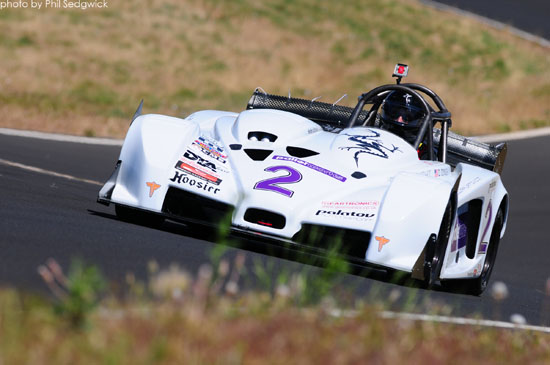 ---
August 7, 2012
Well, this is where the rubber meets the road. We're now in Colorado, after another 26 hour straight-through drive, and today was the first event of the week - tech inspection. It took place at PPIR which is a great venue for it. This was a good chance to take a look at some of the competition and get focused on the tasks ahead.
In line we were in front of the LoveFab NSX - the pictures really show the difference in philosphy. Their front splitter is as big as our entire car :) This is one of the great things about the Unlimited class - anything goes and the Mountain is the final judge of what works.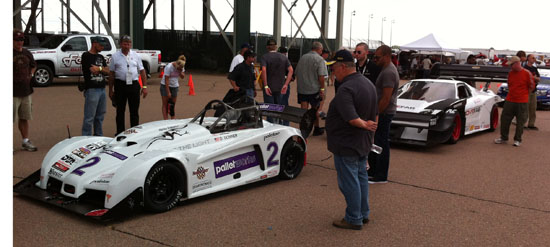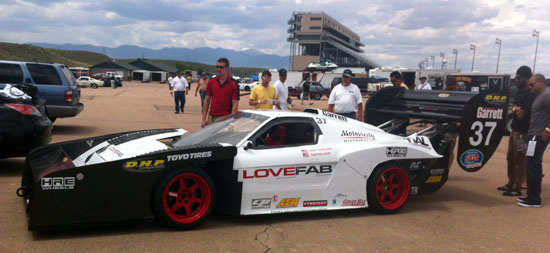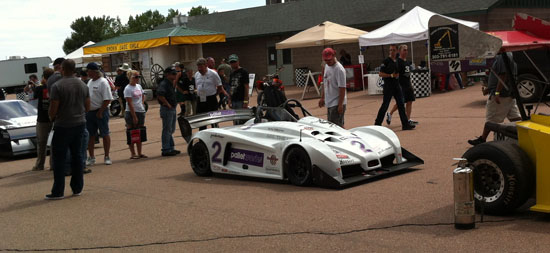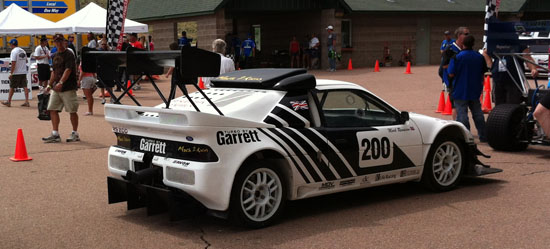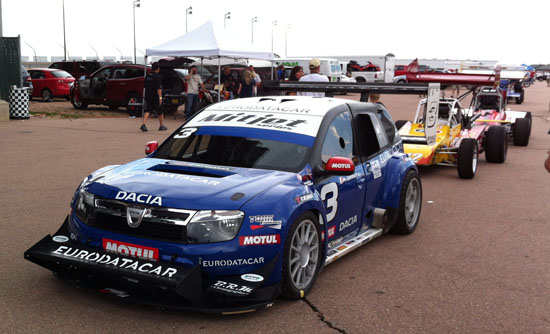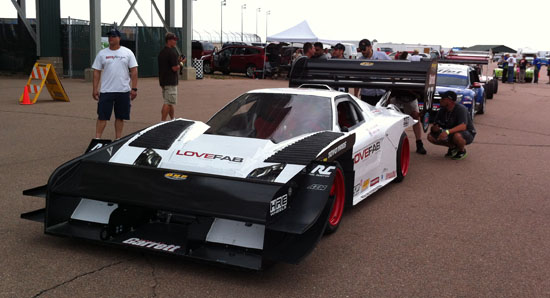 The inspection itself presented no surprises (aside from a sudden and violent downpour just as we got done). We passed with flying colors. There was a fair bit of homework involved of course, but that was all done back at the shop. This week is all about the results.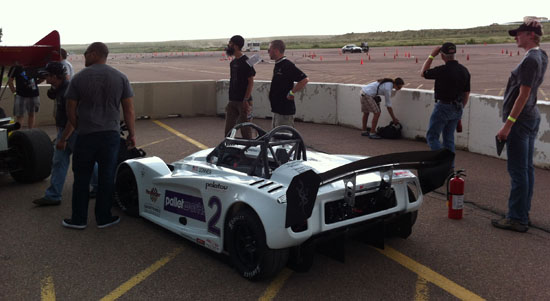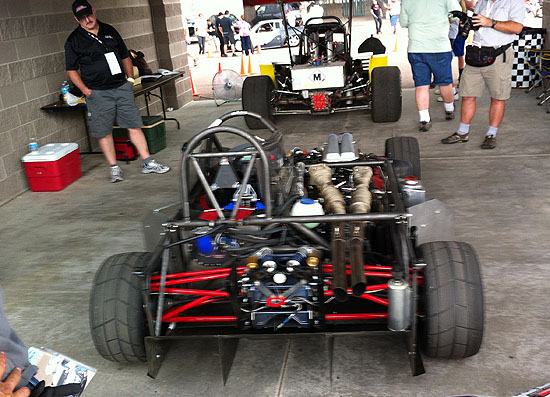 Tomorrow we're on the Mountain at 4am for the first of three days of testing. Our group is running the top section first. The bottom section is the only one that is officially timed with transponders and when we run it (Thursday?) the time we post will be used as qualifying time.
The ultimate test is Sunday. There are so many variables there is no way to account for them all. The biggest is the Mountain itself - it has a variety of climates it could throw at us. On the previously scheduled race day there were clouds half way up and snow on the ground at the summit. This week? Anyone's guess. All we can do is be as prepared as we can.
---
Things are happening fast so this entry is for two days and the next one will most likely be after the race...
August 8, 2012
The first day of testing on the Mountain. Due to the very large number of entries we are split up into three groups - two car groups and one for bikes. On each of the test days, each group runs a different section of the course and today our group - Open Wheel, Time Attack and Unlimited - are on the top section. This means getting up the mountain even earlier so we arrive at the Pikes Peak Highway toll gate just after 3 am to find a traffic jam working its way up. One of the many unknowns is whether our van will be able to pull the trailer all the way up to the staging area at 16 Mile. The going does get slow, a mere 20 mph at full throttle near our destination, but make it we do. Same can't be said for some others sidelined and spewing coolant short of the goal. We set up in the dark, crowded gravel parking lot. Temperature is 30F with a healthy wind.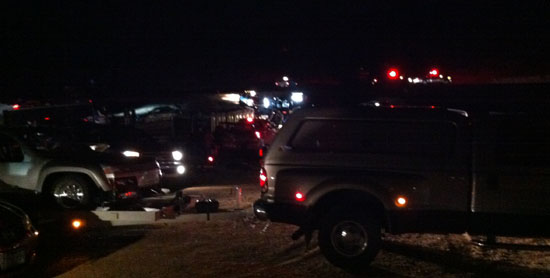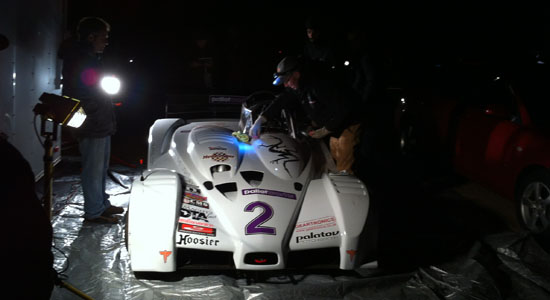 When everyone is ready we wait for the first sun and at around 5:45 the first cars are off on their run to the summit. The large Time Attack group goes first, Open Wheel and Unlimited follow. We find a spot on the road to operate from rather than going back and forth across the bumpy gravel lot. The sun rises quickly.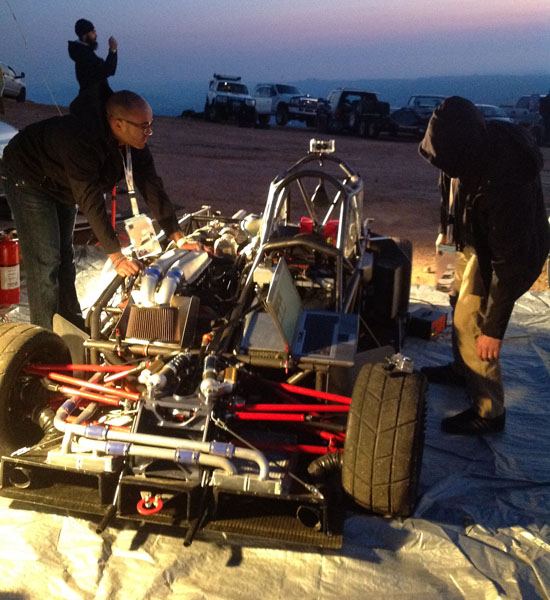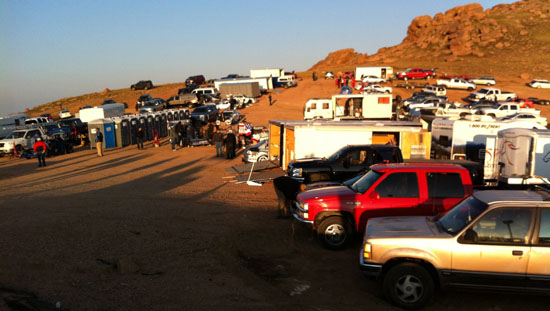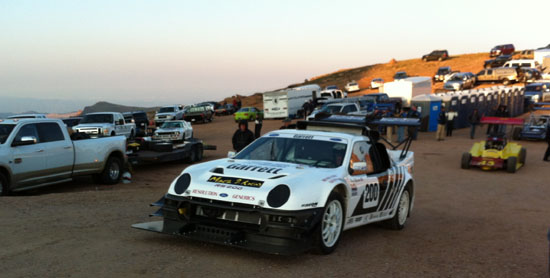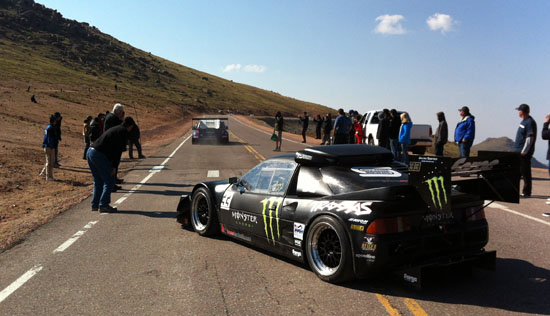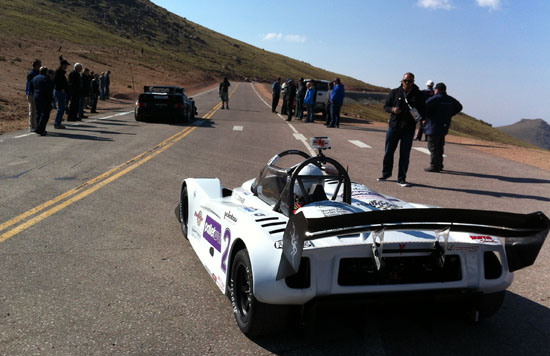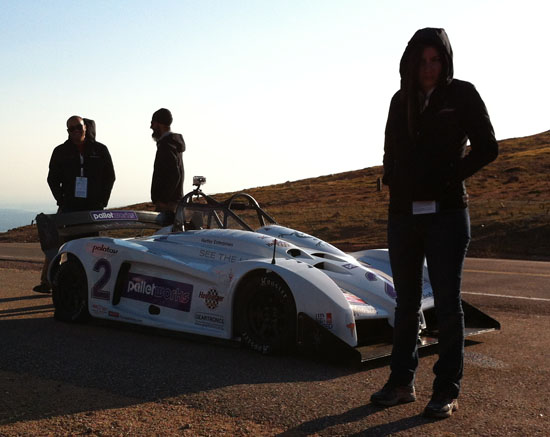 We get three runs, with David gradually working up to speed. The car is changed significantly since the last time he drove it. Also it is cold and windy but thankfully there is no sign of precipitation or clouds. The first two runs go smoothly - here's a 3D video of the second one. The on the third and final run we get word that he is stopped short of the summit and we have to go and retrieve him. This is the highest that the van has traveled with the trailer, well above 13,000 feet. We get to the car, load it, find a place to turn around (not as easy as one might think) and head back down.
There is an issue with the gearbox that we'll have to resolve. Tomorrow is qualifying, same time in the morning on the lower section, and we can't miss it if we want to run in the race. By noon we're back at David's shop, unload and start diagnosing the issue. It can be anything from wiring to an internal gearbox issue. The latter would most likely put an early end to our efforts.
Tristan soon identifies the problem. We had originally installed the shifter solenoid valves in a location that was well shielded from heat and vibration. However during the car's development we had to enlarge and relocate the oil cooler and the hot air coming out of it was now blowing on two of the valves. It had been enough to overheat them and cause them to stick and leak. We have a spare set of valves back in Oregon but that doesn't do us any good for tomorrow 3 am.
Fortunately Tristan is able to get the system working properly by disassembling, cleaning and reassembling the unit, then relocating it to a new spot away from the heat. Hopefully this will last long enough for qualifying. One of our friends back in Porltand (THANK YOU DAVID!) overnights us the spare valves so we can use them in the race. Some more tweaking and we're ready for another day.
August 9, 2012
When each of the three groups runs on the lower section of the course the times posted are used as qualifying times for the race. Generally qualifying at Pikes Peak determines whether a particular competitor is allowed to run in the race, it doesn't really create as much of an advantage as road race qualifying. So the emphasis is more on completing the run at a reasonable pace rather than necessarily going all-out. Still, it's a good opprotunity to see how we measure up against the competition and so a brisk pace is called for.
This being the lower section it is not nearly as cold as yesterday, nor is it as much of a traffic jam getting up to the start line since we could arrive a little later. Setup is as usual in the dark and first cars are off as soon as there's enough light.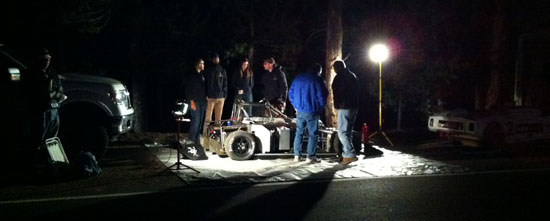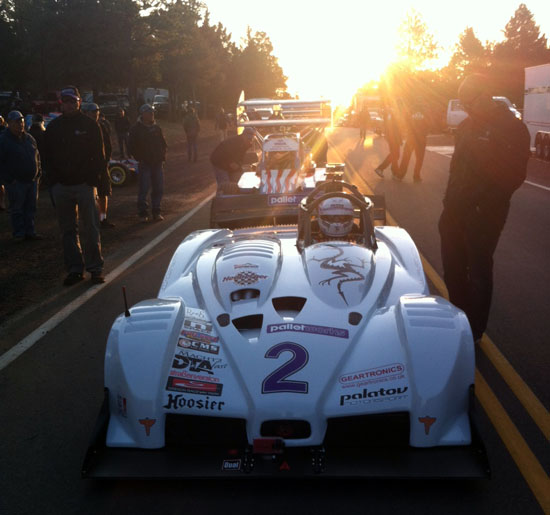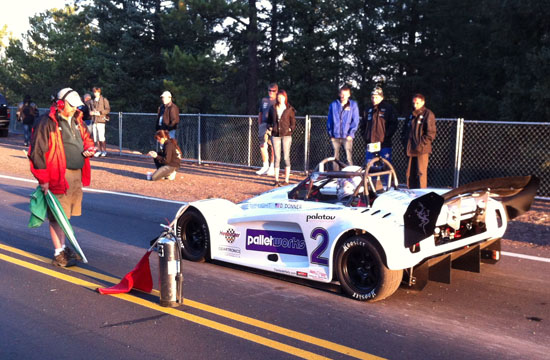 Fortunatly Tristan's repairs to the solenoid valves work well and we are able to complete the necessary runs (same cannot be said of several other entrants).
Since the lower section is the longest it takes more time for each complete run and we only get two. On the first one David posts a 4:17 and the second is considerably faster at 4:10. This puts us third in the Unlimited class and I believe 5th overall. It also tells us that while we have some time to gain we could potentially be in the running for the overall. Anything can happen on raceday and the biggest factors are reliability, road condition and weather. Here's a 3D video of the qualifying run.
After the morning runs it's back to the shop for more maintenance, including the installation of the spare solenoids which arrived early afternoon. Tomorrow is another test, this time on the middle section, but it does not affect qualifying times. It will be an opportunity for David to get more seat time in the car and for us to make any last-minute tweaks. Then, we race!
---