---
June 8, 2012
This is where the real adventure begins! First up is a 25-hour drive from Portland to Colorado Springs. We depart around 6:30 PM, greeted by a bright rainbow. Must be a good sign... The drive is uneventful and I do most of the driving. Morgan takes over for a few hours in the morning but I can't sleep so instead I try to capture the picture of our shadow cast by the rising sun across the Wyoming high plains.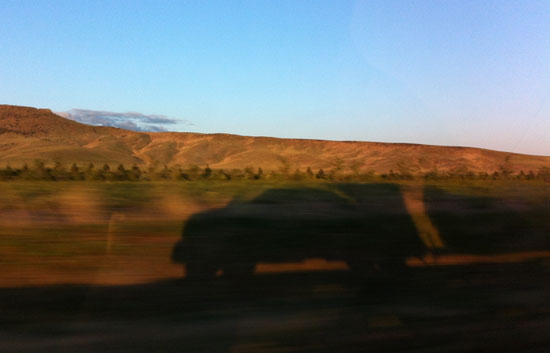 We switch back and forth a couple more times and Morgan gets the final portion of the drive through Denver rush hour traffic. Our arrival in Colorado Springs is marked by a spectacular double rainbow, to complement the one on departure. Cool.
As we park at David's shop we hear something hit the roof of the trailer, as if someone threw a rock at it. Then another hit. Then hundreds more! We are being pummeled by golfball-sized hail. Literally.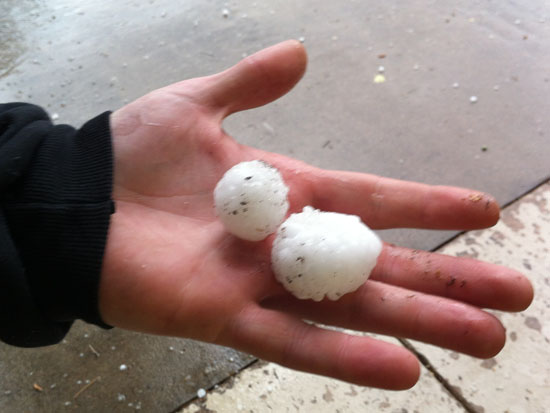 As we wait out the storm plans are made. Thursday we test at the Pikes Peak International Raceway, a nearby racetrack. This will let us make sure any glitches are worked out on the freshly put together car before we tackle the mountain. Friday, Saturday and Sunday are the available test days on the Pikes Peak course and we're booked for all three. The goal is to see how the car behaves at altitude and whether cooling, engine, gearbox, chassis and tires are up to the task. Running at altitude presents a very unique set of challenges.
Thursday we head out to PPIR. It's only a half hour drive and the track is a very good test facility. It has a banked oval that is a bit over a mile long and a short infield course. A couple other teams are there as well. We unload and get to work. It's the first time we've had a chance to see the completed car outside the shop and I like how it looks. Only a couple short months ago this was nothing but a set of computer renderings. We've come quite a ways since then.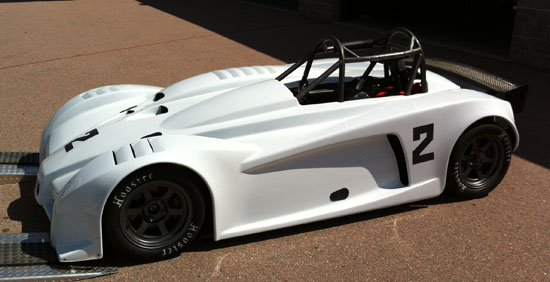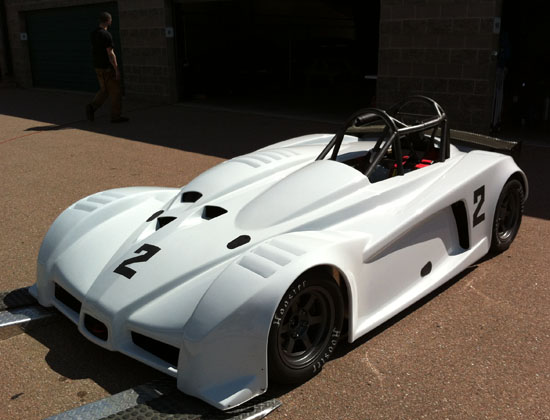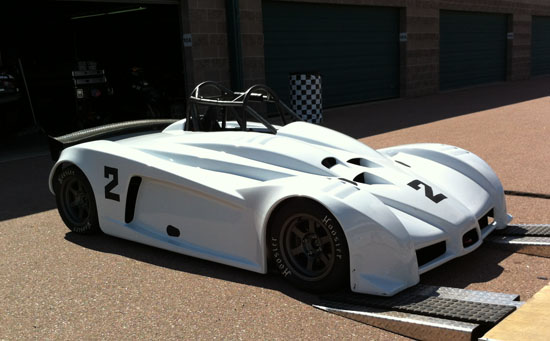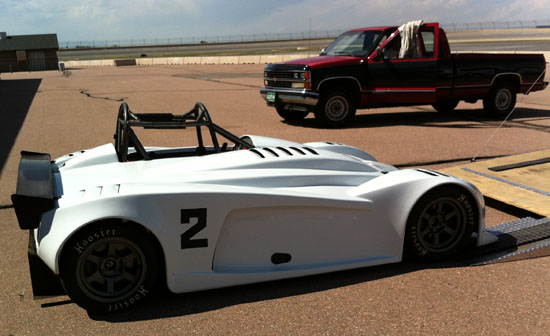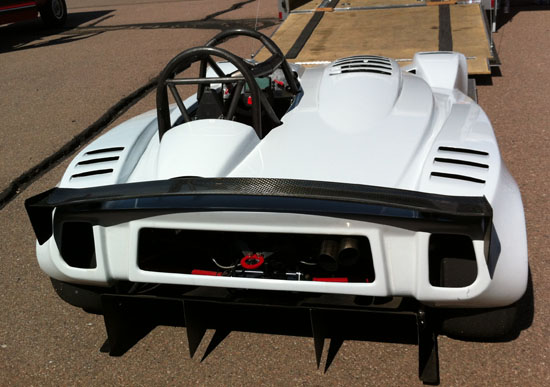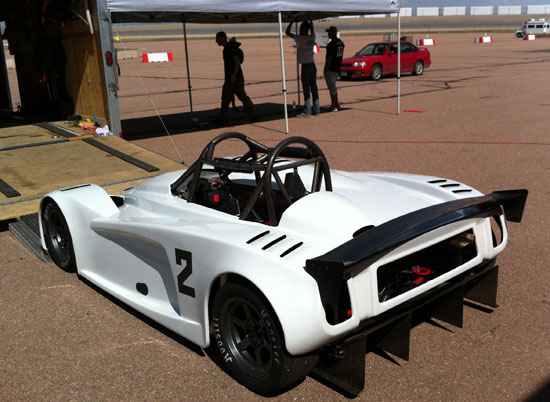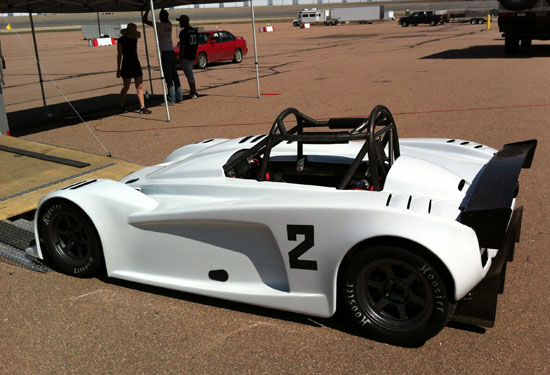 The other teams come over to check us out, with somewhat casual curiosity that quickly turns to a bit of concern once we start running. Our car is FAST and we overhear the French guys say something about it being the 'upsetter'. They are worried. Good :)
We do find a couple glitches but resolve them quickly. It's great that we are able to do this here, if we had to do the debugging on the mountain we most likely would have lost at least one test day doing so. At the track where we can pull on and off at our convenience changes are easy to make and validate.
After a couple hours we have enough confidence that the car is ready and call it a day, wrapping it up by making a few tweaks back at David's shop.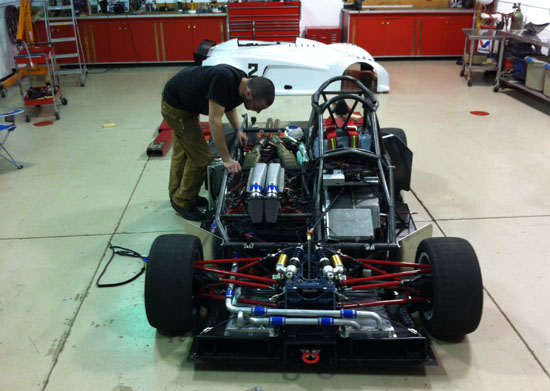 Friday's test is a tough one. We have to be through the tollgate by 4:15 AM and first run is as soon as there's enough light to do so. Which means the prep is in the dark, on the side of the road with generator-powered lights. We are told we can't test on slicks so we have to switch to the Hoosier rain tires that we brought along for the test. There are some concerns as to whether the super-soft compound will last a full run but that's why we're here - to test things.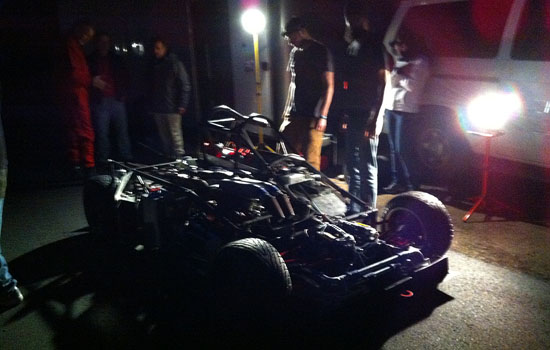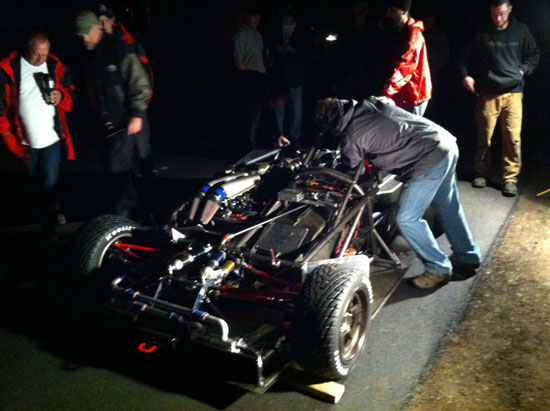 Our interns Bromley and Surjan, are a great help and handle the many tasks efficiently. Slowly, daylight filters in and we're ready to go.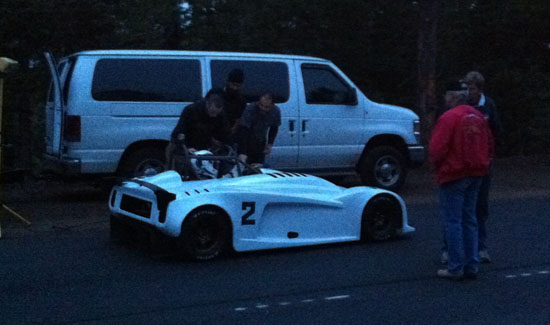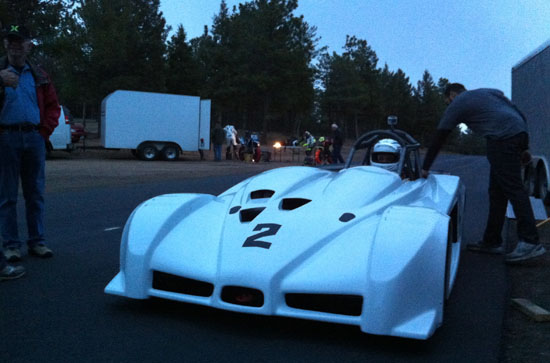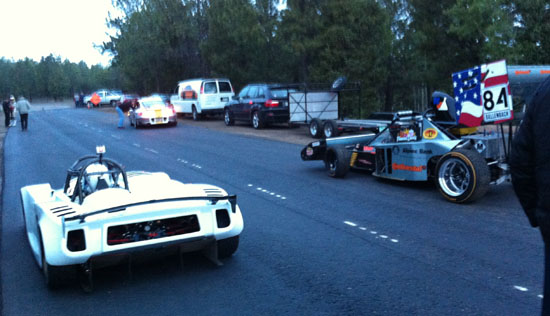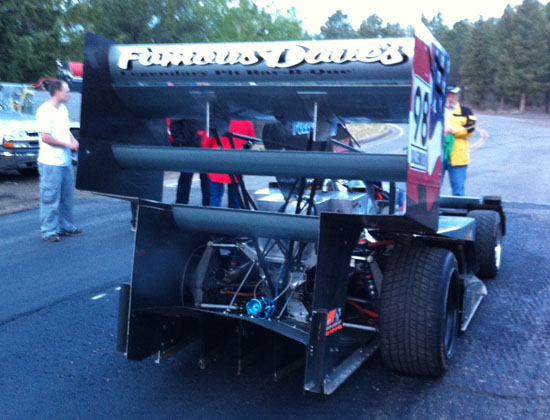 There is a lot of very diverse competition in Unlimited class this year. like Paul Dallenbach's 1400 hp monster pictured above. It's going to be fun! The first run is up to Glen Cove, the second is up a bit farther. After the first run the cars and bikes come back to the start, then we follow them up to Glen Cove lodge and the third run is from there to the top. I'm too tired and disoriented to be nervous (glad I'm not the one who has to drive!) but the wait for word of whether David finished each run is a long one. Fortunately the car performs well (not all teams are this lucky) and around 7 am we head back down to the start for the day's final run which is the full course, all the way to the top.
Already having the datalogs and video from the earlier partial runs I hesitate as to whether we should attempt it - we have already made a list of improvements we need to make and I'm concerned about stressing the car further until we do make them. But, we're here so let's go for it! With the run window closing fast, a few last-minute tweaks and David is the last car to cross the start line for the run to the top. We have agreed that if he sees any issues he'll pull off and not complete the run and I basically expect that this is what's going to happent. I'm therefore very happy to get word that he did go all the way to the summit! We're not ready to share the full video (or the time) quite yet, however a clip with some highligts of the run can be found HERE. Let's just say I'm very pleased with the results and we definitely made a lot of people take notice! :)
By 8 am the test is done and the road is reopened to the public. We take the opportunity to ride up to the summit and see first hand what the course looks like. It's quite an eye-opener!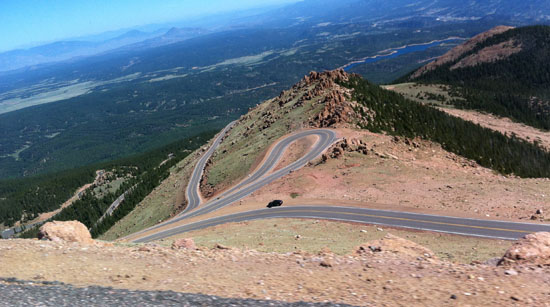 It's one thing to read about it, watch videos or even run it in the sim. Being there, struggling to breathe in the thin air and looking out over the dramatic views is quite another. Going up and then standing on the edge gave me a whole new appreciation of what David does when he charges up the mountain at full speed. I can confidently say that even putting aside the nontrivial issue of skill, I could never work up the courage and commitment to do anything more than 6/10ths in our car here. Lesser machinery, maybe someday. But nothing this fast. It is perfect then that we've teamed up with David for this effort. He can definitely get the job done and it's on us to give him the best car we can.
To that end all the data we've gathered today will help us finish the development over the next three weeks. We have our work cut out for us! The strain gages on the pushrods are working great and overall we now have the info we need to move forward. I'll post updates as they happen.
---
June 17, 2012
We walked away from the June 8 test with a huge amount of data and lots of new knowledge. We had put a 2-day-old car on the mountain and it worked fairly well, all things considered. We definitely have lots of work to do and we need to be about 10% faster than our early test pace to be in contention for the overall. Quite doable, considering how unsorted the car was when it ran. It's the equivalent of taking 10 sec off a 1:30 early test lap time which we've done at about every track we've gone to. And now we know exactly what needs to happen to do it.
We were initially going to skip the Saturday and Sunday tests but after taking Saturday to spectate decided to run Sunday afterall. Gathered some more data and uncovered a couple more issues to address but nothing specifically noteworthy.
Overall what we learned from the testing is just how different and demanding the Mountain is. When we showed up the car was set up for a road course, with the assumption that pavement is pavement and it'll get us in the ballpark... Well, not quite. Pikes Peak even in its paved state presents some pretty unique challenges and we will have to alter the setup very significantly to adapt. Looking closely at the video and data it becomes apparent that the car was virtually undrivable on some sections of the course. The fact that David was able to not only keep it on the road but post a decent time speaks a lot of his skill and commitment.
We now know what conditions to test for and I have some places in mind back home to replicate them. Speaking of which, on the drive back when I first saw Mt. Hood ahead it put the whole Pikes Peak adventure in stark perspective.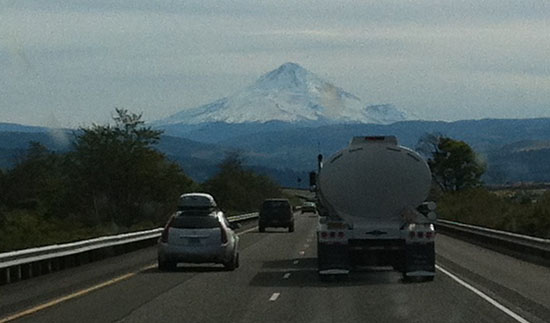 Mt. Hood is 'only' 11,250 feet tall. So to visualize the race, picture starting 2,000 feet below the peak and blasting to 3,000 feet above it, at 120+ mph. Yep, pretty crazy.
From the beginning this project has been about resource management and risk management. There are lots of unknowns and lots of factors we don't control. That's why we ran the tests with the V8 instead of the turbo 4 (many thanks to Karl for enabling this!). On our return the final bits for the turbo arrived and we're now scrambling to build that engine. We will first run it in the D1 chassis and only swap it into the race car if we feel confident enough that it will be reliable AND give us an advantage. Otherwise we'll run the race with the V8. The turbo engine is 100 lbs lighter and should maintain power much better than the normally aspirated V8 but it is a huge unknown at this point and time is running short.
Below are some in-progress pictures of the exhaust manifold construction. Tristan has done a beautiful job of welding it up, using a spare Hayabusa head for fixturing. Tubing is 321 stainless - pricey stuff and hard to get, too! We were only able to find just enough for the manifold with no room for error. Fortunately there were no mistakes. The intake is being fabricated now (and yes the wastegate is still to be added).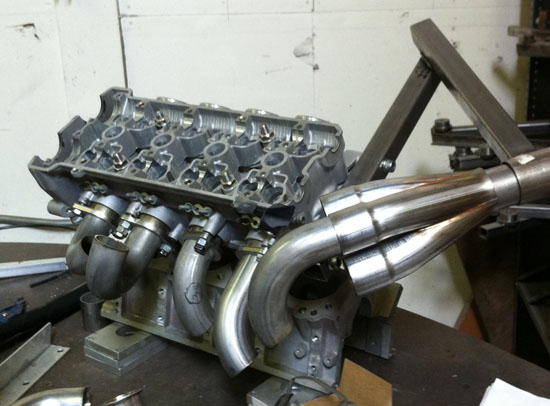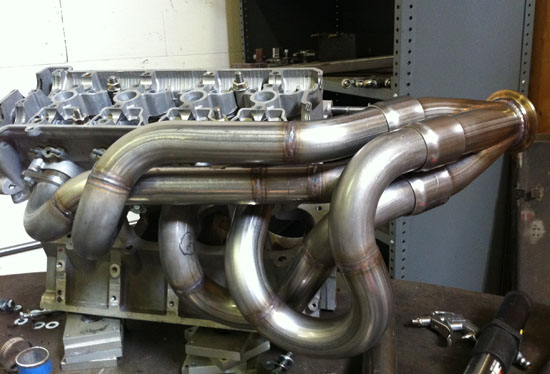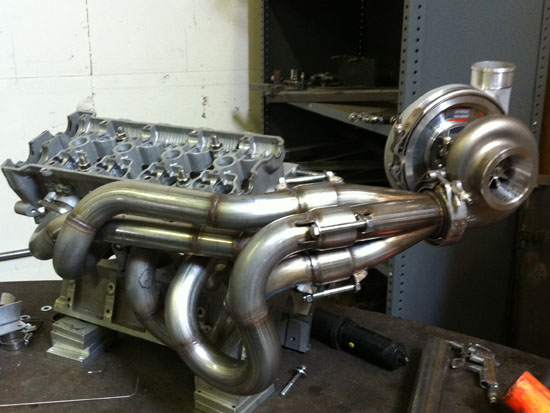 The other changes we're making are to the suspension and aero. I won't go into too many details here but let's just say they're pretty significant. Here's a picture of one of the strake setups we're trying on the underbody: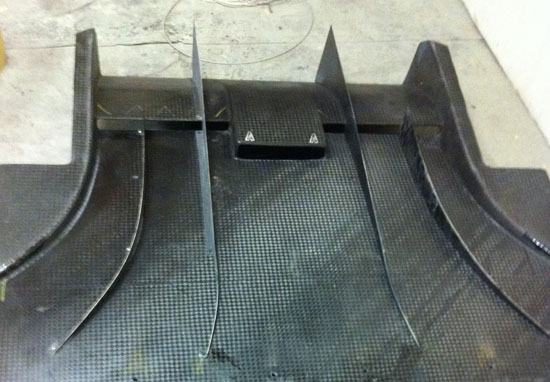 We have two more tests at ORP scheduled, on the 20th and 26th, and the plan is to do additional testing at other venues as well. Two weeks left until we pack up and head to Colorado for the race. Massive amounts of work remain to be done before then. Wish us luck!
---