---
02/23/15 383 days since my last post!
It's been gogogo around here -
dp got a cold and promptly gave this cold to me. It's a doozy too, a head cold that kicks your butt for a week! Anyway I was almost recovered when we had to jump on the plane to LA. dp, Tristan and I flew down there to update the least updated and first created D2 (Alex's car) at the Sector111 shop in Temecula. Also to meet with Sector111 about the Drakan project which is coming right along.
While the guys have been packing up the parts to be installed onto Alex's car and shipping tools that couldn't be taken through the airport, I was dealing with booking travel and rental car insurance. We have a wonderful insurance agent but still, any time I have to do anything with insurance it tends to be an ordeal. It's because we have so many different policies, and they all renew at different times and the billing cycle is different for everyone. Then dealing with the rental car company and rental car insurance. We ended up going with a hybrid of one of our policies and additional coverage from protectyourbubble.com - they are kind of cool ~$20 and we were covered for three days. dp found a car rental place (Black and White Car Rental) that was the cheapest and had some very interesting or exotic cars to rent. He choose a Fiat 500L, a very strange car or is it a micro van? Nothing like our Fiat 500 except in name. In any case I'd be fine never seeing one of those things again. He liked it for what it is though.
dp said I should come along to CA so I could take the day off, maybe see the beach and relax. Thursday was the day, with Wed and Fri being travel days- it just worked out that the plane tix were cheapest this way. Tristan had a FULL day of updating Alex's car (9am to well past midnight) and dp had various meetings with Sector111 and potential vendors. I discussed local and not so local activities with the locals, and planned out my day. I decided to drive down to San Diego. I row crew so I thought it would be nice to see the rowing facilities down there. San Diego hosts a large regatta the San Diego Crew Classic, in a way this regatta kicks off the race season in March. I also love the water so I thought even if I couldn't see the boat house I could hang on the beach or find a nice marina.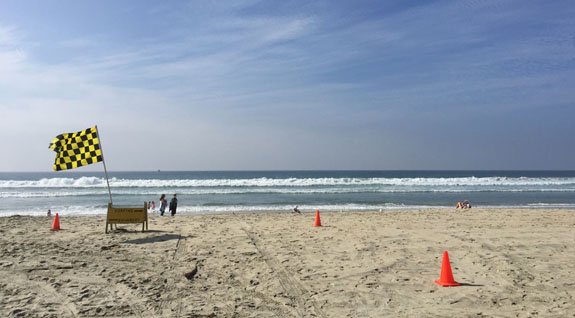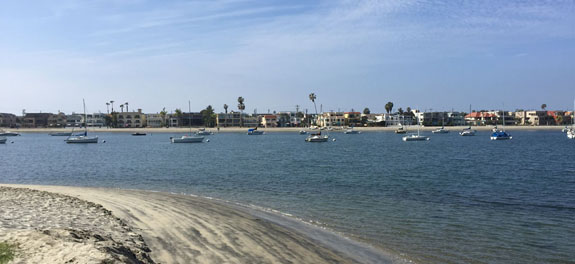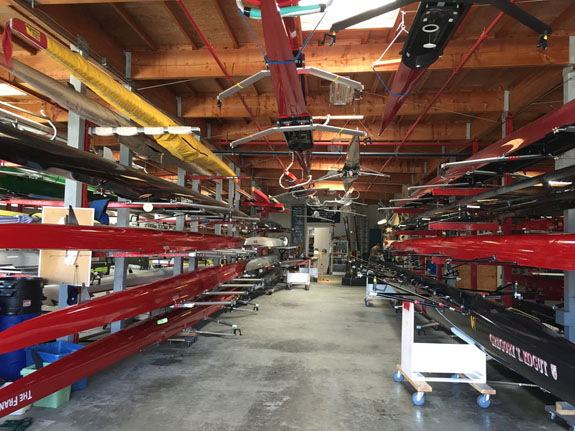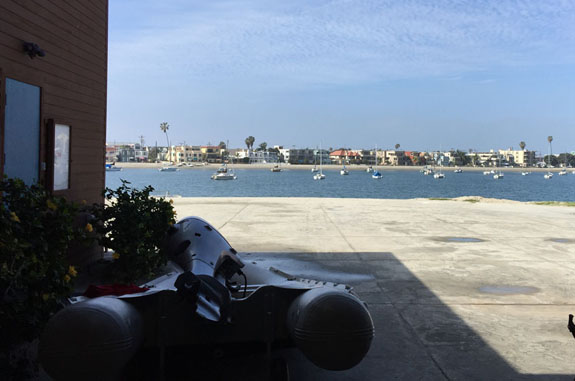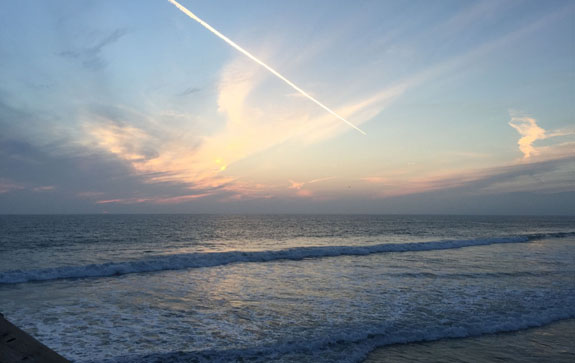 It was a great day. I even made in back to Sector111 just in time to get everyone drinks and dinner (despite the hideous CA traffic).
We stayed in Lake Elsinore which happens to be right off the Ortega hwy. Whenever dp and I travel we try to find twisty, fun roads to drive and this trip was no exception :) Diehard dpcars.net fans might know the first ever video dp posted was on the Ortega hwy. with the 900. The view from the overlook into Lake Elsinore is cool.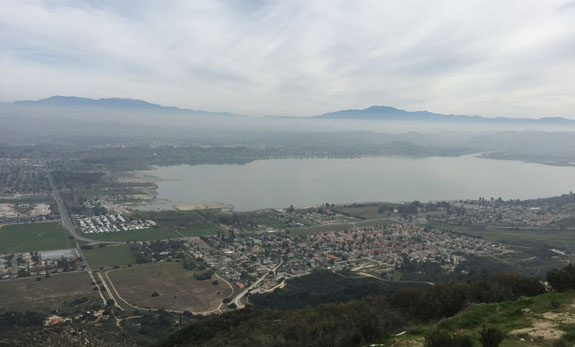 This is the beginning of the ping pong ball style travel we will be doing this whole year. There will be multiple trips to California and Colorado and probably other places too. Unfortunately most of this travel will be done by driving - towing more specifically. The most recent travel schedule was hectic - CA Wednesday to Friday late night then ORP very early Saturday to Sunday night. The trip to ORP was to test the newly finished D4 trailer and give our customers some track time. We sold the D1 to a wonderful couple Neil & Valerie - it's always great to see another husband/wife team where both are track drivers. We invited them out to ORP so Neil could drive the D4 in preparation of taking delivery of the D1 soon, after we make some updates. (watch out PIR the D1 is coming your way! :))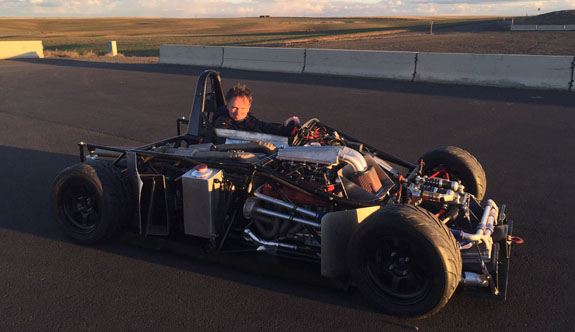 The Fiat as a tow vehicle is strange, it doesn't look right- it's too...cute. I towed the new trailer with the Fiat, dp towed the D1 and Tristan drove the D2 out. Quite the caravan of cars for other drivers to look at. I received lots of waves and thumbs up from people, including a truck/trailer of rowing race shells from Gonzaga University. Rowing is everywhere :)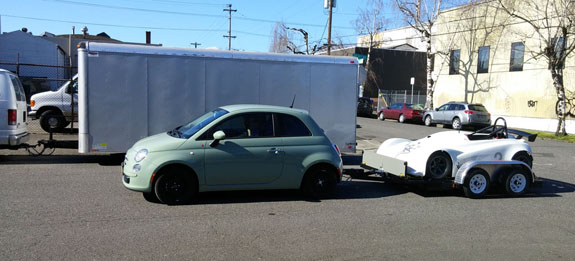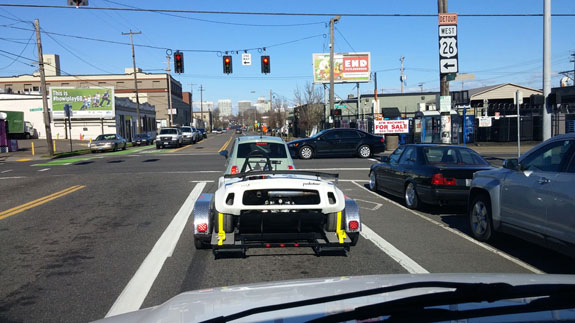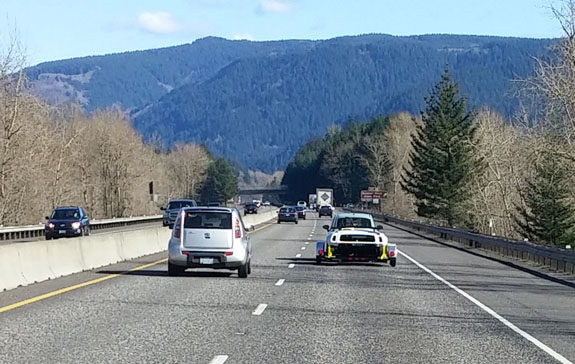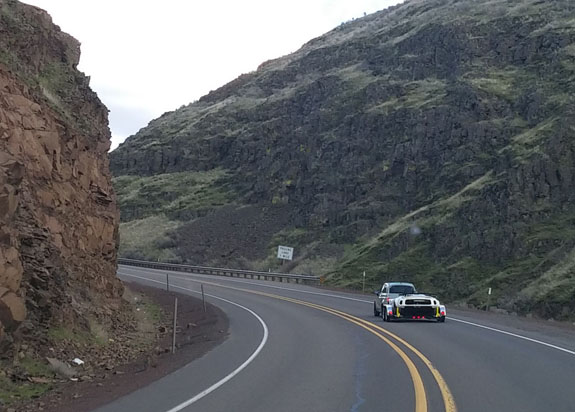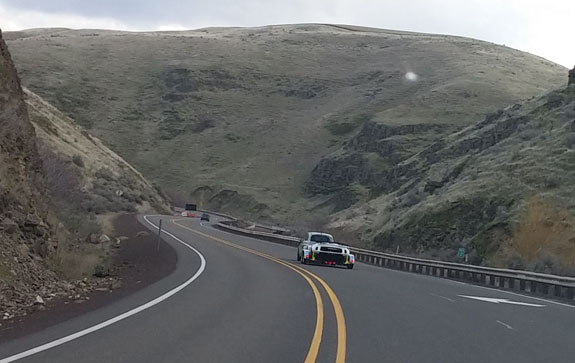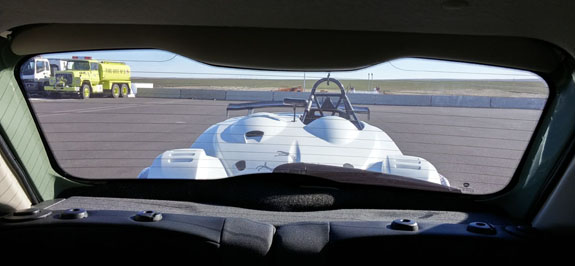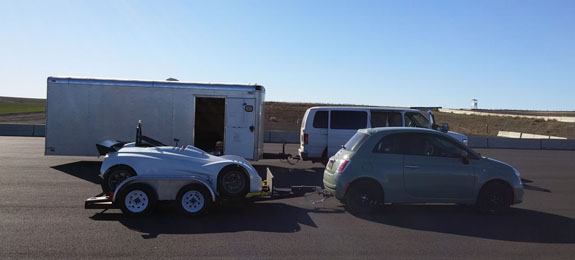 Towing with the Fiat is just fine, the trailer does what it should and you soon forget that you are towing anything - except for the people passing by and taking pictures. For the time being towing the new trailer and D4 makes me a little nervous. I rarely tow anything and due to yet another vendor issue we don't have a spare tire for it yet. The Fiat is too small to have a spare, all it has is a repair kit. But fortunately the tow out and back were fine. One of our customers has a garage at ORP and he let us use it overnight. The Fiat with trailer and the D2 fit with room to spare.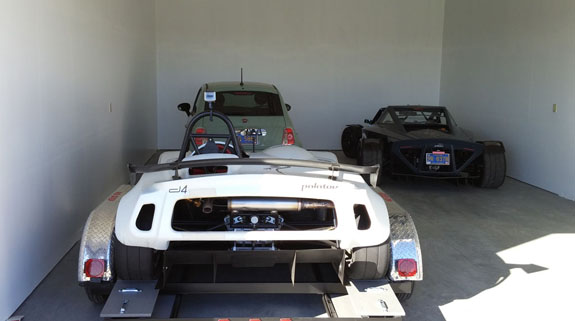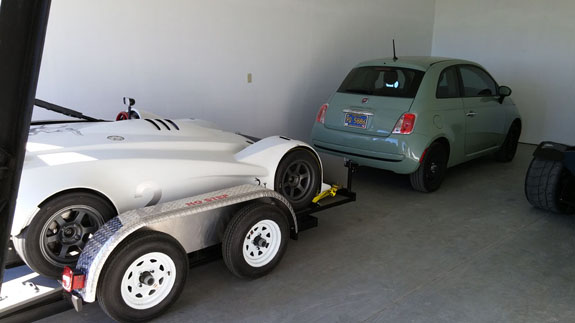 We were the last ORP trackday (December 13) of 2014 and the first trackday (February 22) of 2015. This weekend's weather was beautiful but freezing! Even saw a few random flakes of snow. From mid 70s temps in CA to 30s minus the wind chill at ORP. Days like this past weekend really remind me that we at PM have dream jobs. Yeah, so we get paid pennies but sometimes it's all worth it. We have an amazing 'track family' and it keeps growing with every car we sell.
Have you heard? We are going to Pikes Peak this year! dp will post all the details shortly. The year is only two months in and it's been crazy, with even more busy/crazy/insanity to come. In other news this Sunday we are driving to the bay area CA to deliver the D4 and trailer to Jonathan Frost. He's one lucky guy to get a D4 delivered to him but we are also very lucky to have a great driver on our team.
There's a lot of fun (and stressful!) stuff to look forward to. Let's see if I can make it less than a year before the next post.
---