---
01/14/10 This has been a long winter already and it's not over yet. I've been a busy little bee with inventory and the BOOKS! (QuickBooks that is). My projects are more of a behind-the-scenes type of thing but I've finally finished a huge project so I thought I would share.
During the rush to build the dp4 before the September trackday we all bought inventory from a multitude of vendors and installed it on the car. All of that was hard to keep track of then. Most of this purchased inventory was received as just one "bulk" item from the vendor. For example Tristan and dp would walk over to General Threaded (it's two blocks away - convenient huh?) to buy bolts/nuts/washers and come back with a receipt for the total and a sandwich baggy full of random fasteners. While this was great for them to physically build the car it turned out to be hell for me. These little trips to the bolt store became hundreds of dollars. (If you are falling asleep by now reading this- yeah I have the same problem when I'm dealing with accounting but someone has to do it and I got volunteered).
After all of this was done and I was able to catch up I saw that my physical inventory was way off of reality and I still hadn't "built" the prototype dp4 in QB. So began the process of updating the actual items in each assembly that was already on the car. Then updating the cost of each inventory part and the quantity on hand. While I'm trying to do this dp is changing assemblies and making new parts faster than I can catch up.
On the second day of "building" the assemblies in QB, the program stops working. I am able to use QB for everything but building assemblies. So I just spent almost three weeks talking with tech support of a third party software that allows me to build multi level assemblies. They helped me resolve the issue (turned out to be QB itself and not their program) and today I was finally able to "build" the dp4 in the computer. A historic moment of sorts. It is if we are to be able to manufacture complex things like cars. The dp4 BOM is over 12 single-spaced pages long and still needs to grow some (the entire engine assembly is just a couple line items for now, as an example). And I know that the frame requires 1,500" of chromoly tubing :)
At the same time I organized the inventory we have in stock. Until now Tristan has had trouble finding the nuts/bolts he needed for any given project because of my previously hodgepodge way of placing the parts on the shelf as they were received. Now all the parts are organized by size for hardware (3/8"-16, 5/8"-11) and type for everything else (dowel pins, dp1 upright parts). Now I need to make labels for all the parts and then I can do physical inventory. Even thinking about barcoding systems.
Such fun. At least, unlike most beancounters, I get to drive the result on the track come springtime :)
---
02/12/10 Well this year's track schedule is half way planned! We have 3 days at ORP booked - more to come. The confirmed dates so far are June 1st, June 28th and July 26th. June is going to be crazy! In the meantime I spent the day updating all the info and posting the new days and registration details on MotorsportReg. Tristan updated the Palatov site too - check it out.
This is all somewhat bittersweet because we don't have any of our regular track toys anymore. Also hosting trackdays is a ton of work. But on the other hand we should have two dp4s to play with by the first trackday and hopefully I will get to drive more than one session this season.
Overall I'm excited and can't wait! This should be an amazing season.
While planning and managing our new track season I also need to focus on fine-tuning the production of the dp4. We are organized and ready to build cars, but I still need to do a lot of ongoing maintenance of inventory, BOMs, stay current with the new parts and kits dp is designing, order parts for current builds and ship out the orders. All this stuff requires me to walk through the shop a lot and I can't help smiling when I see the dp4 on its side, being worked on - it looks like a toy. Which it is, of course :) Just weird seeing the car there like that.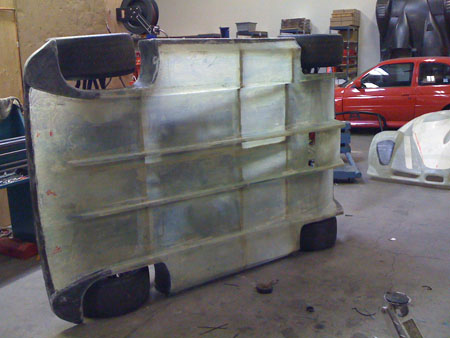 ---
06/05/10 Our first trackday for the year had lots of new things happening - the first track outing for the dp4 and the first time we used the Mothership. New things mean lots to learn and lots to do but we managed and the day went very well. We worried about the weather so we brought umbrellas, jackets and tents - if we go to all this trouble surely we won't need them. That's how it's supposed to work, right? It worked! We got a dry day with only a couple short sprinkles, not enough to wet the pavement.
Karl started out driving the dp4 in the first couple sessions but we had to bring him in with an electrical glitch. Once that was fixed a potential customer took the car out for some demo laps, then dp went out for a session. When he pulled in there was need for more maintenance and I was starting to think that I won't get to drive... But Tristan is a many-time Lemons and ChumpCar racer and knows a thing or two about repairs at the track (his team is "Squirrels of Fury"). He got it done and I'd get to drive afterall.
In preparation for driving the dp4 CCW for the first time I started seeking rides. Since I haven't been on the track in this direction in a year I needed to figure out where the line is and being a passenger is a good way to do that. I felt like I was back to the good old days of begging for rides at PIR : ) Many thanks to Adam, Dave and Joshua for letting me ride along!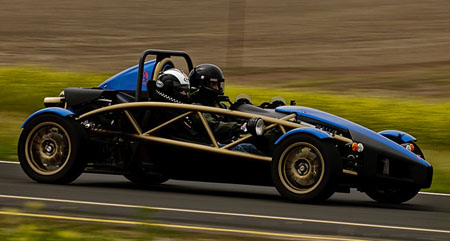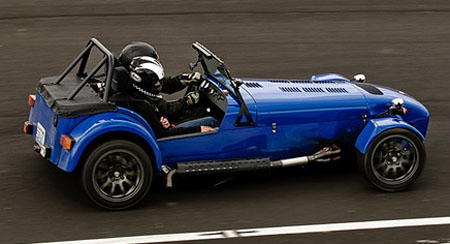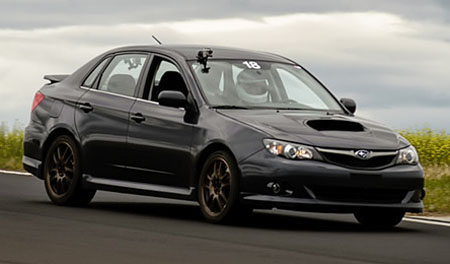 In the last car session of the day, Tristan went out in the dp4 first and halfway through it was finally my turn! I don't have enough adjectives in my vocabulary to describe how fun the car is. I got comfortable with it very quickly and was able to run a 2:01 in just a few laps (which sadly is all I could get). My previous laps in this direction were late May last year in the Mini and I had only managed a 2:17 then. The Mini was a fast and fun car but dp4 is in a whole different universe!
I've always had a long list of cars that I would like to own at least for a while just for fun (Elise, Aston Martin, Morgan), but after I drove the dp4 I no longer really care if I ever get any of them! They would still be nice to look at and drive occasionally but at this point all I want is a dp4. When I told dp this he said "OK, we can do that." :)
ORP has come a long way from being some pavement in the middle of nowhere with many improvements to the track surface and some to facilities. But the number one improvement we had repeatedly asked for last year was corner worker training and it has really paid off! They did an outstanding job and were a pleasure to work with. So I have to say thank you to the corner workers, this track day would be impossible without your help!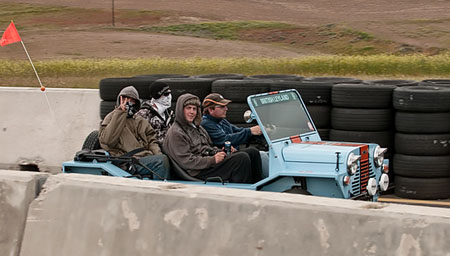 Putting on a track day is a lot of work and we truly appreciate all those who have helped us get it done. Special thanks go out to:
Issac of Antic for designing our trackday shirts and helping out,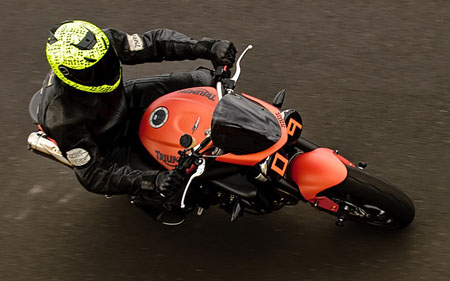 Ben of www.xqsmephotography.com for coming out and taking wonderful pictures,
Jeremy for pace car duty in his Moke and lots of help throughout and after the event,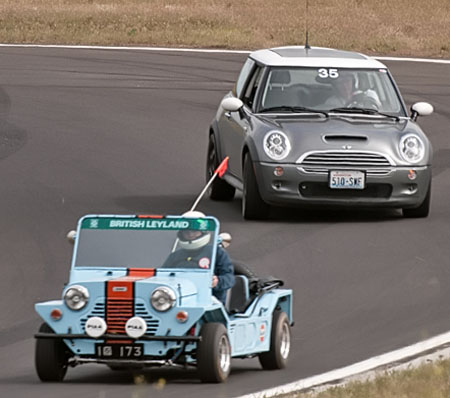 Mark for helping us with the ORP gate issue,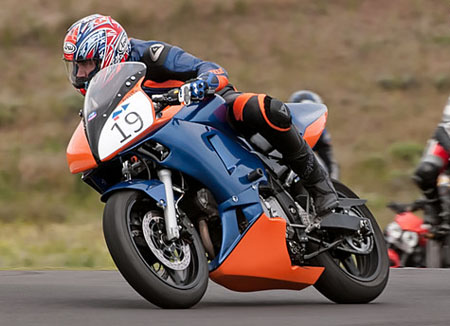 And last but not least to all of our participants for coming out and making it a fun and safe event.
After a few days to unwind from all the trackday activity I've recovered and I'm now focused on our June 28th day. I have a ton of work to do and hopefully the lessons learned will make things a little easier. I'm also attempting to post some of our goings-on to Facebook so look for us there.
---
10/06/10 It's been a while since my last update, dp sums it all up so efficiently that I don't feel the need to prattle on about my view on things.
Have I mentioned how much I love driving the dp4? Well it's amazing, nothing compares. The first few times I drove this car I was so intimidated and nervous that it took all I had just to keep the car on the track – which I failed to do a few times. Also without the wing the car was way beyond my driving skills. I should say that the dp4 isn't intimidating to me because of what it is- it's intimidating because of what it isn't - the Mini. I think I've said this before: the majority of my driving experience has been at PIR with the Mini, and that's how and where I know to drive. So being thrown onto ORP in the dp4 was well… freaky for me. Then I was pushed on to Laguna Seca with the dp4, only it wasn't the dp4 I had driven a few times before on ORP by then. It was still fun but nerve racking. Every time I hop into the dp4 it has undergone quite a few changes due to its role as a prototype.
My skill set as a driver has been limited to street cars (ok just the Mini) mostly on one track- same car same track, the only thing that changes is the weather and the speed at which I'm driving (well kind of). I developed a certain "style" of driving the Mini, and so I never got past 1:35 at PIR. Which is quite good for a stock Mini but not so good for a car like dp4.
After driving the dp4 at PIR a month ago at Lotus day, with the test wing, I felt like I could do anything with the car. The car was so stable! It was such a pleasure to drive and so easy! But even with my new found confidence, according to GPS I only did a 1:35. So here I am driving the dp4 on PIR again and now setting times only 1 second faster than my best Mini time. I'm not one to look for excuses when my lap times and/or driving sucks but it is a fact that I didn't get a clean lap all day. I made a comment to dp the day before the AROO day that we haven't done a 'normal' trackday in quite a while. By normal I mean BMW, Alfa, Porsche, with a lot of cars and three run groups (including novice), with a more 'regular' crowd than the hardcore track junkies at Lotus and our own days. I still had a blast! I was driving in the Intermediate group and it was crowded, but it turns out passing people is fun :)

Below is a comparison of my best lap at Lotus day (red) and this Alfa day (blue). I'm driving faster on the straights and braking later (but sometimes braking too much). And cornering at over 1.6g which all explains why I'm 1.5 secods faster. But dp is 10 seconds faster still and in the Mini I was within half a second of his time in that car.
dp has talked about 'recalibrating' his driving because the car is capable of speeds and g-forces that he isn't accustomed to. Well it's obvious I need to do the same, GPS helps with this tremendously. I knew I was put-putting through turns 10 and 11 but the GPS data surprised me. I know I can pull through 10 -11 at 85 mph in the Mini, so why was 65 mph the best I did all day? I know the dp4 is way above my driving skill level, I'm woman enough to admit that.
So is this all yet another mental hurdle I need to jump? Am I back to my days of 1:38 lap ruts in the Mini? Or do I just need to "Woman up" and floor it!! : )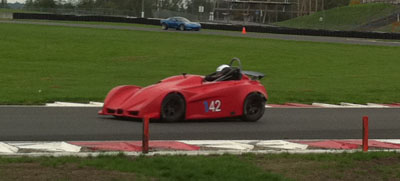 I was able to drive three sessions, 20 minutes each. Aside from the hassle of changing dp's foam seat out for mine before I could drive, it was quite nice to hop into a 'warm' car. The tires were still warm by the time I got back on track. Each session felt better than the last and I was getting into a groove. While I was belting myself into the car, dp and Tristan decided to change the airtabs out for the endplates that Tristan and I cut up in the pits. All this made me feel like a real race car driver : ) I'm nowhere near being a test driver but it sure is fun pretending!
Then came my déjà vu moment, I heard a pop and then I had no power, this all happened in the same place as the 748's engine died, where I went straight off the track (the entrance to turn 4). Later I found out that the chain broke. In the meantime I knew that with the low floor and the speed I was still carrying going straight off into the grass would not be good. So I coasted to turn 6 and as gently as I could and 'parked' it. The session was pretty much over anyway and shortly the track crew came to tow me in - my first tow.
The next time I drive the car it will be all different again, with new aero setup and probably other changes too. I'm looking forward to it.
---