---
April 18, 2009 Alright, this is a late post, but I've been busy- ordering 748 parts, following up with a certain vendor that's a month late (Atom uprights), and attempting to make the company run as smoothly as possible.
By now you've probably read the RUX update about the latest track mis-adventure. With the 748 torn apart in plain sight on the shop tables, it's a very clear reminder of last bike track day when the motor failed. Now this. On top of that I'm more rusty that I thought I was, wow!
Like dp said I was pretty conservative to say the least. Part of me wants to stay away from our machines for a while, until I can lift my bad juju. Can anyone tell me who I should make a sacrifice to - is there a racing god? ; ) Maybe I'll stick to gardening.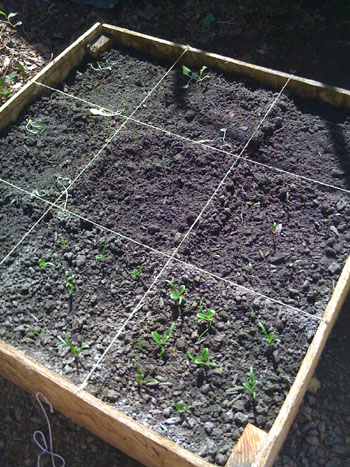 The RUX is disappointing on the track, and I knew this before Monday, but after checking the weather report I was willing to give it a second chance. In the first session with the Mini I wasn't able to get back into a groove on heat-cycled tires in the wet. The second session I switched to the RUX and was just trying not to kill my daily driver and adjusting to the dry, all wheel drive and no brakes. But in the end I did kill my daily driver - well not killed, but shot in the foot!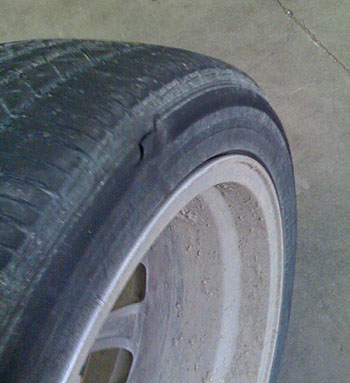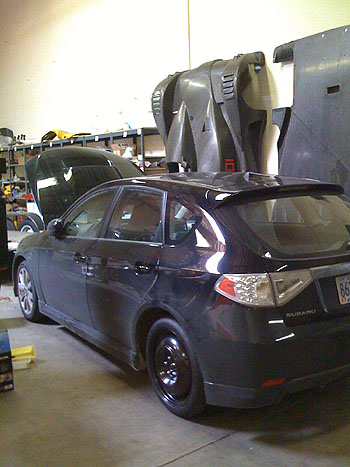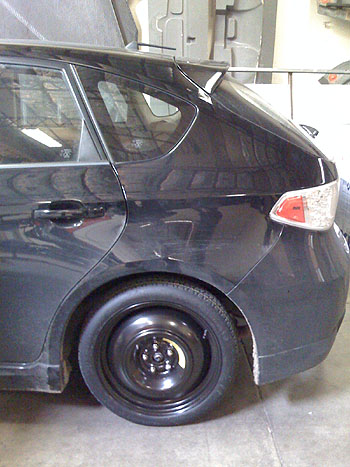 Overall this day was a bust for me (and the RUX). Two sessions and a lot of passenger seat time. I did learn some by riding with Karl then dp back to back. They have different driving styles, it just proves to me that there isn't one single way around the track. I'm determined to get back out there
and find my own style, soon.
---
April 20, 2009 My first solo day! dp had to work - the Atom uprights are ready to ship, among many other things that needed his attention. I even changed the brake pads from street to track and back and rotated tires all by myself.
Since last Monday was lame for me dp suggested I sign up for the Motocorsa day today. Motocorsa has the same setup we have planned May 29th at ORP- bikes and cars, advanced and intermediate only.
I couldn't have asked for better weather! 85ish for most of the day with not a cloud in the sky. And a sunburn to go with it, of course.
Today was more geared towards bikes so we didn't have the chicane. There were two bike rungroups and only one car group with big differences in experience and speed. It's interesting how bike and car guys don't really mix and keep to themselves. Same goes for Ferrari/Maserati and Mini/Focus crowds. Except that dp seems to be equally involved in all of them.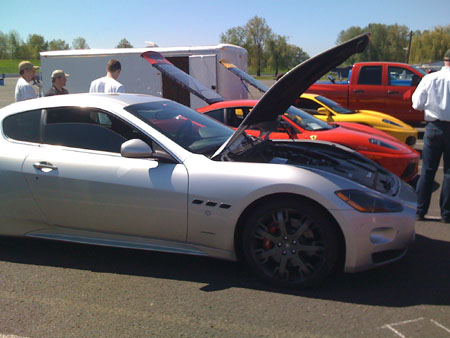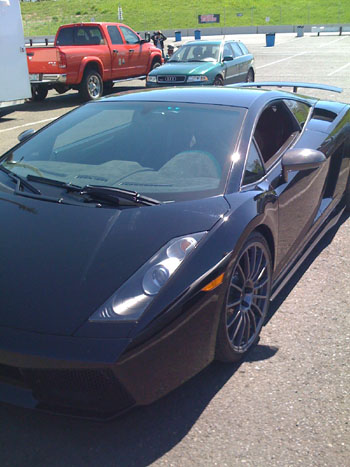 This was also my first car day without the chicane. Aside from learning a new braking zone at the entrance to what I know as turn 4, all was the same. Without the chicane the front straight is very long and very fast, well for the GT40, the two Ferraris, a Lamborghini, and the many Loti, it was a fast straight. For me in the Mini it meant less corners, and an uncomfortable braking zone from a higher speed than normal (123 instead of 85).
My best lap was 1:27.3 and I'm told chicane is usually worth about 10 seconds so it would be same as a 1:37 lap on a normal car trackday. dp moved the lap marker to the entrance of turn 4 so we can still compare data for most of the lap. My trace is black and dp on a 1:35.7 lap is red.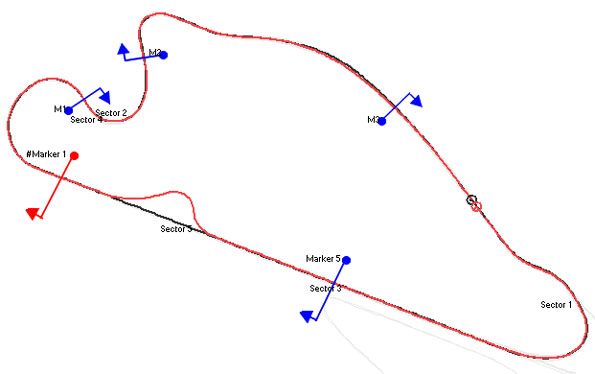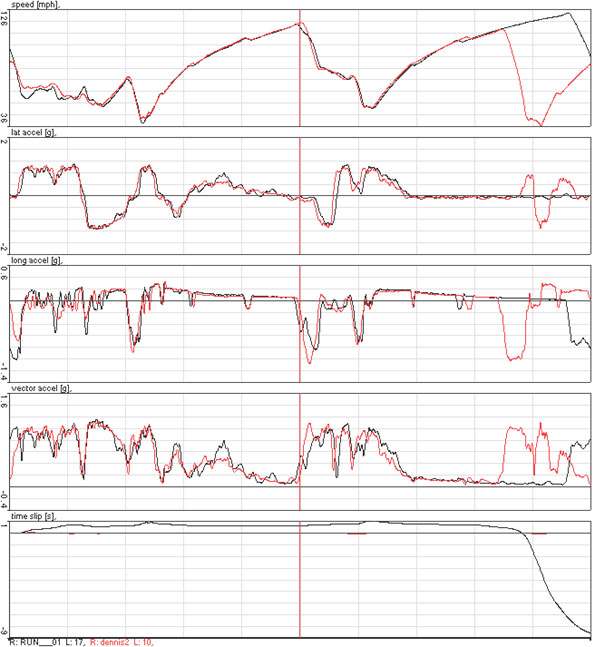 Yes, I overbrake for turn 4 because of higher speed going into it. Time slip shows I lose about a second right there but then I keep up with dp's 1:35.7 lap pretty well. The end of the trace shows why chicane is worth 10 seconds.
A good day all in all and I even instructed informally when I worked with a relatively newbie Elise driver to help her get around the track. I led her on a few laps at her speed to show the line and gave pointers. She said it was helpful. I told dp we'll both be instructing someday. He said it's inevitable and a good idea because teaching is the best way to learn.
Oh and I want an Elise even more now!
---
May 25, 2009. Friday was Lotus day. I love Lotus day, it's a first class show. I'm doing everything I can to make our day at ORP next week run as smoothly as a Lotus day.
I think I need a different car to play with. Don't get me wrong I love the mini but I want horsepower! I still have plenty to learn and the mini is up to task but if I were thrown into a different car right now I think I could benefit from it. I ran a 1:35.6 -as my best of the day and my best so far oh and half a sec off dp's time. Considering Karl jumped into the mini and ran a 1:35.9 first thing (Hi Karl!), I figure he could shave another second or so off. But essentially on these tires this is about all the mini is capable of, give or take. We just ordered another set of these tires (Dunlop Direzza Star Spec) and they seam to last for 12 to 13 track days, so I'm most likely going to continue running 1:35s. I will endeavor to do my best, work on smoothing out my driving style and slowly, hopefully skim off fractions of seconds. Comparatively I'm reasonably quick now, keeping up with Exiges/Elises on many occasions and even catching some (but not today). There were a couple Viper GTS guys out there who took over 6 laps to catch me and then held me up in the corners for a few more.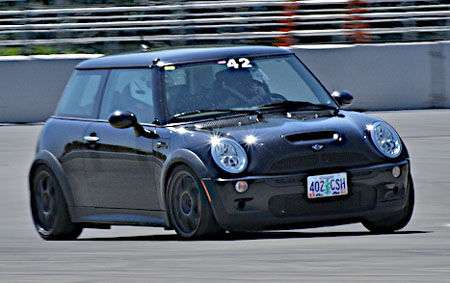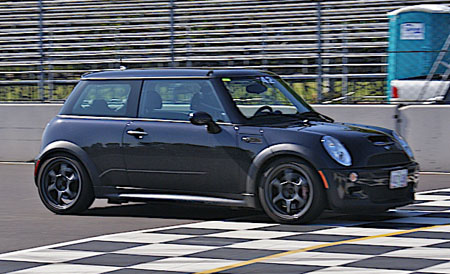 (Thanks to Scott for the photos). The mini is fun and fast but a powerful rear-driver would be nice at this point. Not ready for Bikini, though!
Alright, now for Bikini! Speechless doesn't begin to cover it.
Before on the street it was giggle-inducing but now it just takes my breath away in the very best way! Halfway down the front straight on the first full lap all I could manage to think was - note to self, cinch the helmet strap tighter. After I got past that and figured out that I had to help my head stay straight with my hand, I couldn't get enough. Bikini is scary fast, but so smooth (aside from the wind). Maybe it's Bikini's fault the mini appeared to be so slow and underpowered today. It's 30 mph faster on the straights at 147 vs 117 but still brakes at the same 400 foot marker. Not having any foot support I felt like a rag doll hanging from the belts under brakes, 1.6g max. Some day I will drive this too.
Now on to bikes. Yesterday was a short ride on the 900, about 60 miles of twisty roads at good pace. I just looked it up, the last time I was on a bike was 9/9 of last year. This ride was kinda hard, I was a novice all over again - well more realistically I never graduated from being a novice. I wore my leathers because I've been stressing about fitting back into them after the winter, and I have to wear them on the 29th. They were slightly more loose but also I was more comfortable in them and that made a huge diff. I didn't drop the bike or even come close once, I did scratch it though - it was hot so I had the zipper down on my leathers and when I was against the gas tank the zipper pull-tab did a little damage. dp has some clear-bra stuff on the tank but unfortunately it wasn't high enough. Mind your zippers is the moral of the story. Over all it was a good ride. Now I really have the bike bug! : )
I hope to ride a few more times before the 29th, but we'll see. This week is going to be crazy! May 29th is going to be a personal test for me. With an anticipated 7 sessions at 20 min each, I'm not sure how long I can last physically running the mini and the 900 (oh and being a passenger in Bikini). And then there's all the administrative stuff making the day happen. Hopefully I'll have some help.
---
September 3, 2009. If you are reading my little blog then by now you probably know about our
ORP trackdays. I had a blast at ORP last week. This track is beyond-words-awesome!
Since the Mini is for sale we left it home again, so that meant bikes only for me. It took me all morning to talk myself up to riding, then it took me 15 minutes to get into my leathers (they are ridiculously tight!). By the time I felt somewhat ready the last morning session was more than half way over and lunch was next. To say I'm rusty on bikes would be a huge understatement and lately it seems like I hurt myself and/or the bike every time I ride so that doesn't help. I'm scared out of my mind of bikes (my mom says that's a good thing :)). So it took a lot of mental energy to get myself on the bike Monday.
At least I now have the ability to recognize how I learn and what I need to do to accomplish what I want to accomplish. dp and I are fortunate in that we have met Rob Burch, a motorcycle racer / excellent teacher / trackday junkie, who has been our partner in hosting the ORP trackdays. Rob takes care of the motorcycle side of things. I spoke with Rob before the trackday and asked him to help me get comfortable on the bike. My upper body tenses up and I can't help but fight the bike the whole way through turns. dp set it up so Rob and I would go out over lunch (no fast riders for me to hold up) and he would lead me around.
After I told him my obstacles (all mental) and he told me what would help we did a few laps. We pulled in and we talked more, I was feeling better but I just couldn't make the changes happen. Rob suggested that we do a lap two-up so I could see first hand how to be on the bike. I've been a passenger on a motorcycle at close to full trackday speed at PIR before and it was fun but scary. So I was hesitant to do it again (especially with the elevation changes at ORP - rollercoaster!) but ended up going for it.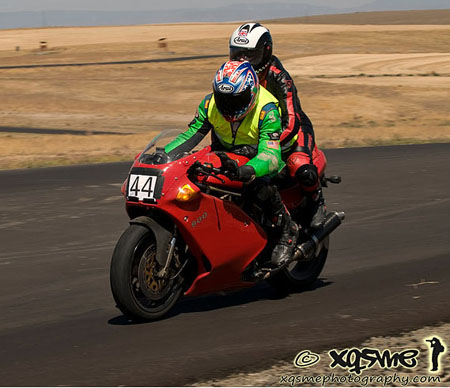 Rob and I did 2 laps two-up and half way through the first lap I realized I didn't need to hang on to him, then I realized he wasn't really hanging on, then I felt that the bike was pretty much turning by itself and Rob wasn't fighting it or constantly correcting it like I try to. Having someone (dp) tell me these things is great until I try to put them into practice. Feeling it and seeing it first hand made all the difference in the world for me. It's the equivalent to dp telling me I can go faster in turn 10 at PIR and then being in the passenger seat feeling it and seeing it lap after lap with GPS data to back it up.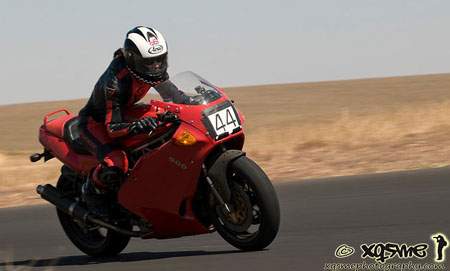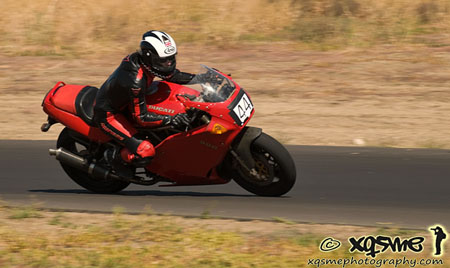 After the lunchtime outing I did about 3 full sessions and I was done. It feels like I made progress, thanks to Rob, his understanding and teaching. Looking forward to being out there again at the end of September.
Oh and I miss the Mini! But once it is sold the goal is to get an Elise as my primary track car for next year (and as a test car for some upgrades dp wants to do for it).
On the way back dp drove so I snapped a few pictures of the sunset - and a really neat shadow of our truck on the dry high-desert grass.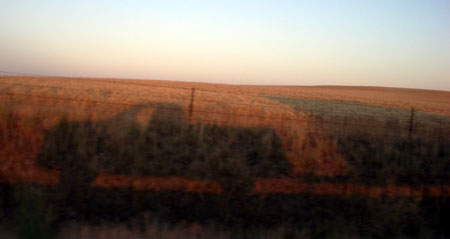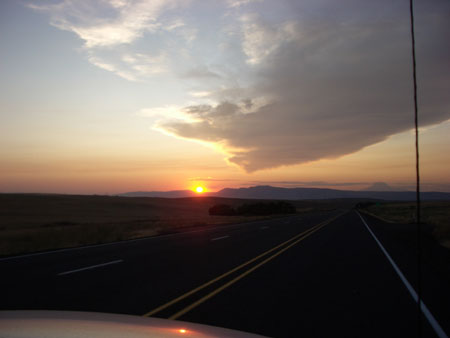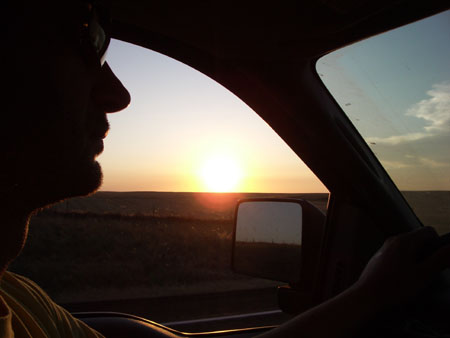 ---