---
July 31st, 2008 (pix added August 2) YAY! I survived my first bike track day! Well, I did more than just survive it, I also learned a lot about riding and managed to have fun. I stayed on the track surface and kept the bike shiny side up! Cascade Track Time puts on a good event.
I was very nervous about this trackday, but after the first session I was feeling fine. dp's push-me-until-I-crack teaching methods have paid off once more. He pushes me hard because he knows I can do it, he wants me to learn from his mistakes, and that way I can't develop bad habits that I will have to un-learn later. Today on the track I had the correct body position and I was able to learn throughout the day thanks to his instruction. dp's goal is to give his students the tools they need to move forward and learn on their own, and it works.
I started the day out with an appalling lap time of 1:50. To put it in perspective, I would be 23 seconds faster in the Mini. After a while I was able to keep up with some other riders in the corners although I'm still very hesitant with the throttle and haven't fully opened it up even once. It's a lot of power! What I found to be interesting was that when I was in a position to pass someone in a corner I couldn't, it was a mental block. All the car trackdays, wishing I could pass the guy in front of me, and now when I finally could I didn't because I have been "programmed" for no passing except on the straights. I wanted to kick myself when I realized the real reason I didn't complete the pass.
My day began on the 748 and after a coolant issue I finished on the 900 (see those pages). At first I was not comfortable with the new bike but got more used to it as time went on. And even my back didn't hurt! So the leathers are indeed livable for 20 minutes at a time.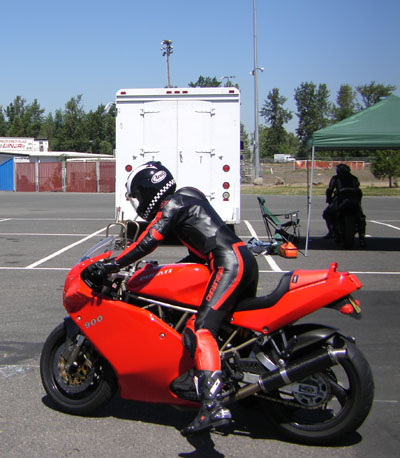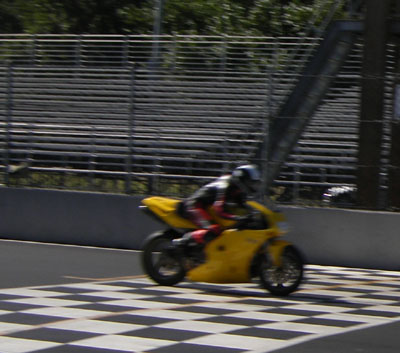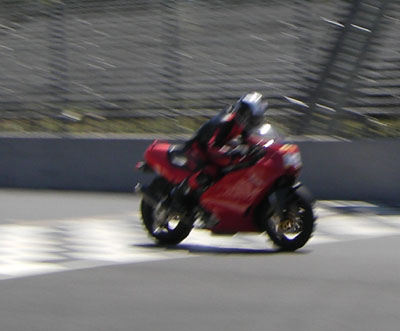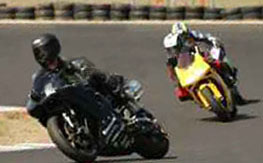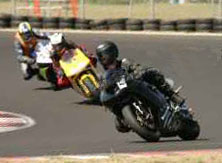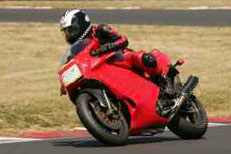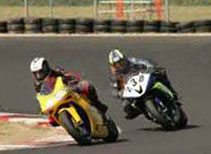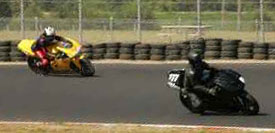 My best laptime ended up being a 1.48 despite the 900 being a considerably slower bike than the 748. It's about what could be expected for a beginner. Leaving the track today I have a new list of things to work on. Next time on the track I need to actually use the throttle on the straights :) and I'll shave almost 10 seconds off my time. I was able to become more comfortable on both bikes though and that feels great. I will definitely be doing this again and hopefully it will be soon.
---
8/24/08 A day of firsts for me. Today was my first long ride and my first ride in the rain. I've wanted to do a coast ride for quite some time now, so with the weather looking better (a short-lived break in the rain) we went for it. We didn't make it to the coast due to the rain arriving two hours earlier than scheduled, then doubling its intensity. Still, the ride ended up being 140 miles in a mix of conditions.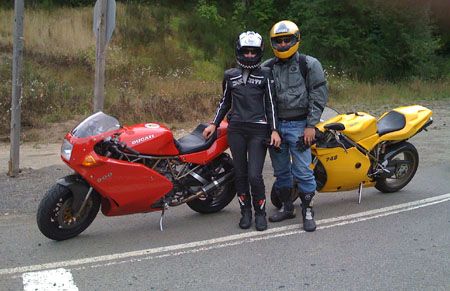 This ride has made me more comfortable on the 748. I love the bike, even at my modest speeds and skills it's great. We took the fun way to the coast - the twisty roads ;)
Earlier I thought I was looking through the turns as far as I could but it turns out I've been focusing on the bike/car in front of me. Looking through the turns all the way makes all the difference in the world. My speeds increased, the bike felt better, and I gained confidence. Lately the weather has been indicating that summer is over here in the Great North West, but now that I feel good on a bike I don't want it to go. Although on this ride I found that riding in the -warm- rain isn't too bad.
---
8/25/08 Another BMW track day! I took my lesson learned from the previous day's bike ride and transferred it to the track with the Mini- LOOK ALL THE WAY THROUGH THE TURNS! With bikes I've been focusing on the car/bike in front of me and on the track I look at the apex cone. This has limited my driving/riding significantly. In the Mini by looking through the turns I feel more comfortable to go faster in the corners and the turn in points are clearer to me. I still have a lot of speed to gain but I feel better on the track.
This being my second track day in the advanced group, I am now the Queen of the Blue flag (check your mirrors flag/passing flag). I'm being passed constantly; there was some crazy horsepower in my group today. (I'm not using this as an excuse, but wow they pass me on the straight like I'm standing still). I was able to keep up in the corners with a few of them though. Did a best of 1:37.6, about half second slower than before but still ok, all things considered.
I'm still working on smooth transitions from braking to throttle and using the brakes properly. I'm not quite sure what my issues are with the brakes but I do know I'm not consistent with them. The GPS data helps but braking is more of a seat of the pants - gut feeling, than something you can learn how to do from data (just my opinion).
Friday will be very exciting! It's a Lotus day. Lotus days are good for rare cars and amazing drivers. I will finally get to see the dp1 prototype run on the track. On top of that, Bikini is good to go, dp has found what we both hope to be the solution to the oil leak. Now the only question is how do we get 3 cars to the track?
---
8/29/08 - Lotus Day.
I'm stuck in a 1:38 rut! I don't know what else to say except - ggrrr 1:38! Well, I did manage a 1:37.08 exactly a month ago but haven't been able to repeat it since.
Overall today's trackday was great (not so much for dp though). I finally got to give my Mom and Jared (my brother) a ride on the track. We are truly a car enthusiast family. My Mom has always loved Lotuses and my brother has earned much more than just a ride on the track by helping dp with all the car assembly issues. I think I terrified my Mother :) but I know she enjoyed the ride. It feels great to be able to share a passion of mine with some of the family.
The first three sessions of the day were spent in the intermediate group (the advanced group was full), and I thought since it's a Lotus day it won't be too bad. Wow, it was like taking a Sunday drive! Except for two other drivers who were quick, everyone was stuck together in a ducks-in-a-row/parade lap formation. I was very surprised to see this novice-like driving from a Lotus day. Most of the group I could not pass on the straights due to the other drivers not lifting (the Mini just doesn't have the HP) so I was stuck behind them in the corners. I'm not complaining nor am I saying that I'm superior to them (afterall I'm stuck at 1:38!!), it's just that I expected more from a Lotus day. Finally a few people left and dp tracked down Mark Viskov for the approval (Thanks Mark!) and I was able to get into the advanced run group.
Once I was in the advanced group the real fun began. With dp in the passenger seat (it's good to have a witness) I set out to do a few really good laps. I was able to catch and keep up with a couple Elise drivers and this being the advanced group that felt good. As the driver of an Atom recounted to me afterwards, I pulled away from him going through turn 10! He also said he followed me for a while because I 'have the line'. YAY! I was right on his bumper again after he passed me on the back straight. Even Darin, the other Atom driver who ran 1:23 in the race group, wasn't going any faster through 10 at 83 mph according to GPS. He was a lot faster everywhere else of course! Subjectively it felt pretty good at times (and stressful at others) but the data later showed a best of only 1:38.07. Damn!
Having a passenger as a victim and/or witness is one thing but having a passenger (dp) that 'screams' at you to track out on exit of a turn, then shows you the data from the GPS data logger to prove that you should track out is quite another all together. This is what dp had to say about my driving:
here is a table comparing your two best laps (1:37.08 from a month ago and 1:38.07 from this day) to my 1:35.19 at the earlier event, showing how far behind you are at some key points around the track:
| | | | |
| --- | --- | --- | --- |
| turn | 1:37 lap | 1:38 lap | comment |
| chicane in | 0.5s | 0.5s | braking too early - lose 0.5s |
| turn 5 exit | 0.64s | 1.22s | not enough speed in 4,5 - lose 0.14s/0.72s, you were better a month ago |
| turn 6 exit | 0.93s | 1.35s | not tracking out! - lose 0.3s/0.13s, you're better now |
| turn 8 exit | 1.1s | 1.73s | overbraking for 7, not accelerating hard enough on the way out - lose 0.2s/0.4s |
| turn 10 in | 1.29s | 2.05s | shifting too low rpm on the straight, lose 0.19s/0.3s |
| turn 12 exit | 1.68s | 2.65s | brake too early for 10, OK speed in 10 but overbrake for 12 - lose 0.4s/0.6s |
| start/finish | 1.89s | 2.88s | again shifting too early on straight, lose 0.2s in both cases |
so there you go. there's at least 3 seconds out there. almost 0.5 sec is on the straights and around 1.0 sec is in the braking, the rest is corner speed.
I know these things and how to do them, I just have some mental block preventing me from actually putting it into practice (or so I thought until I saw the data, it's more than that). I've overcome these blocks before, take the last two track days for example, I was going through turn 10 and 11 at 70ish now I'm doing over 80! These turns freak me out at 80+ so I just have to force myself. So now I need to force myself to look through the turns in order to track out of corners properly so I can get on the throttle faster. Everything is connected! After I can make myself do those things better I'll be able to break out of the 1:38s and hopefully into 1:36s....
I apologize for the lack of track pictures. I'm awful about remembering to use my camera. If you have any pictures of dp and/or me at the track please email me - thanks!
---
9/7/2008- Short ride.
In an effort to make some riding-buddy friends, I went on an all-girl ride today. This turned into a long-way-to-the-beach-for-a-swim ride. It was hot so a swim sounded appealing except I didn't know that was the point of this outing until I got to where we were meeting and was ill prepared for swimming. Oh well, I still managed to put my feet in the water and cool down.
I realized today there are many different kinds of rides. Today was a ride to a destination for a purpose (the river for swimming). The ones I have gone on before have always been rides for the sake of riding. I much prefer the latter, we find the best roads and go, and it's all about the experience of riding. When riding to a destination for a purpose, you eventually have to get there so this means you are limited to certain roads and it's more focused on the end result (swimming in this case). I had fun today but I wanted to get off the straight roads and find some twisties. Also the 748 doesn't like to be in traffic (I just sat there watching the temp rise). The seating position of the 748 and the roads we were on made my whole body hurt. With a trackday coming up that's not good.
I also realized vintage motorcycles and Superbike Ducs just don't mix well. Everyone I was riding with was on some sort of vintage machine, with the exception of one SV. I was trying to make the 748 do the job of a commuter (not fun for me or the bike). We did encounter a few switchbacks with 180 deg. turns that were very intimidating. I was able to keep my head, not freak out and take the turn properly - by looking through the turn all the way and committing to a line/lean angle. So overall I learned some things and was able to put into practice what I had been struggling with. Although, I think I'll stick to trackdays and my twisty roads with no destination.
---
09/09/08 (posted 09/18/08) - PSSR trackday
My first impression of PSSR was that this should have been my first bike track day. As I was told many times throughout the day every club that hosts trackdays has its own strengths. PSSR's being the very helpful and patient instructors; this is why I think it would have been better for my first two-wheel track event. Cascade Track Time was my previous track outing, their strength is as much on-track time as possible. Of course CTT also has instruction and although it's not as organized as PSSR's, I did learn a lot that day.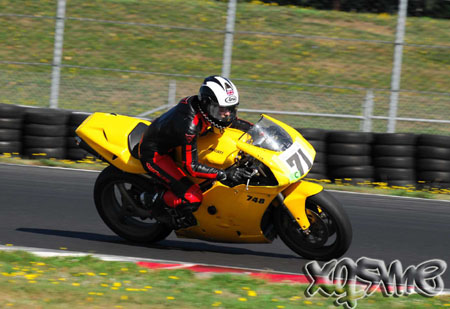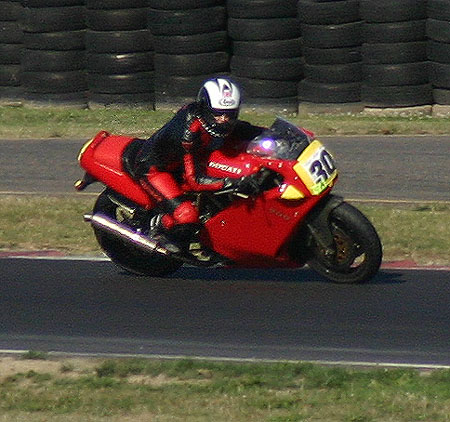 Looking at the pictures of me from today, I realize that I've hung off more in the past on the street! Or probably not, but it feels that way. I barely moved an inch. Although dp said that's exactly how he felt and looked a few years ago so I guess this is normal for a track novice: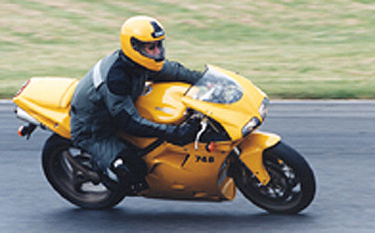 I could feel the difference today, I had zero confidence to start with, then I was freaked out by the 748 dying twice (check the 748 page). After lunch I didn't feel like getting on any bike (I'd just break it, I thought). I rode the 900 for the rest of the day, switching bikes didn't help my confidence or the freaking out part. The 900 makes me feel like it's going to vibrate me to pieces (and not in a good way)
I pulled a best lap time of 1:44. While it's a 4 second improvement over previous best, I'm still 7 seconds faster in the Mini with the chicane than on a bike without!!!! Wow! I suck on bikes. I did improve through out the day but I'm not anywhere near what I think I should be. I just need to stick with it and remember that riding motorcycles is a lot more difficult than driving. The data shows where I have the most to gain - just using the throttle in a straight line is harder than it sounds. Black trace is previous best (1:48), red is current best (1:44), orange is dp at 1:25.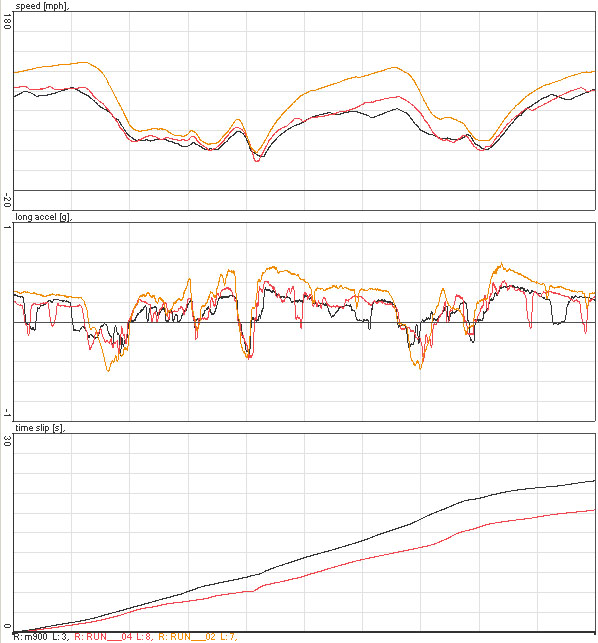 ---
Sept 22, 2008. I'm now officially out of my 1:37 rut! I took two seconds off my lap time
today. My best of the day was 1:35.72! Ha! Just half a second off of dp's time. :)
I had a lot of fun in spite of the cold, wind, and rain, oh right and the huge puddles on the track surface. My first session of the day was extremely wet. I still managed to enjoy it though. Besides myself and an Audi RS4 everyone was doing parade speed laps for this soggy session. When I pulled in I realized that I hadn't checked the tire pressure, the left front tire was at 15lbs. Yikes! I fixed the pressures all around. The second session of the day had a 'dry line' on the track, the speeds picked up a little. Over lunch we swapped pads and rotors, when we took the driver-side front wheel off we found a nail in the tread (that explains the 15lbs of air). So we moved that wheel to the back, it'll get fixed later. The third session gave me my best time of the day. I put into practice everything I've learned over the last few track outings (bike days included). dp's summary of my data from the Lotus event hit home this time. I looked all the way through turns, tracked out on exit, shifted properly, and worked on my braking areas. I would not be where I am as a driver right now without the datalogger, for me it's been an essential tool.
Of course I still have plenty to learn and more seconds to shave away. :) Until I can resolve the issues I have with braking, I am going to dub myself 'The indecisive braker'. The data shows that I brake early in almost every braking zone but then I let up just to brake more -sometimes-. Other
laps I brake early but not hard enough so I carry more speed than dp in the chicane. In turn 7, the turn I thought I had down pat, I'm missing my turn-in point and over-braking, also I'm 3 mph slower than dp there.
I still have a ton to work on and as I improve certain aspects of my driving, the track changes and becomes a new set of challenges at the higher speed. This is what I love about driving, it's never the same lap.
---
February 18, 2009 It's been a while since the last update. There isn't much going on driving-wise in the Winter. I've been busy doing my part in getting Palatov Motorsport up and running. Everything from setting up QuickBooks and inventory to getting T-shirts made and hundreds of other tasks.
I've always had an interest in gardening. Nothing to do with cars or bikes but a good hobby to have and surprisingly good exercise. It will help make sure I fit in my leathers in the Spring :). Our house is on a steep hill right above downtown but there is a small leveled area where the previous owner had a greenhouse. It's just big enough for a couple raised beds. What started the whole process was the fact that there were several empty crates taking up space around the shop. As my first project the lathe stand crate became a compost box, with a bit of work.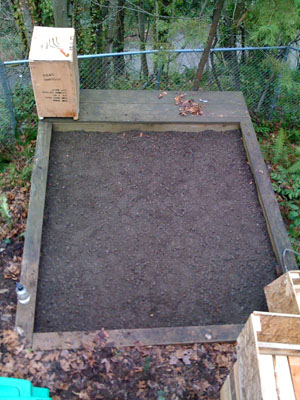 I did a lot of research and planning of the space and what's going to be planted where. When the design was complete it was time to cut apart the large crate that the dp1 chassis panels came in and make some raised bed containers. I did the measuring and took apart the empty crate, dp did the cutting and assembly.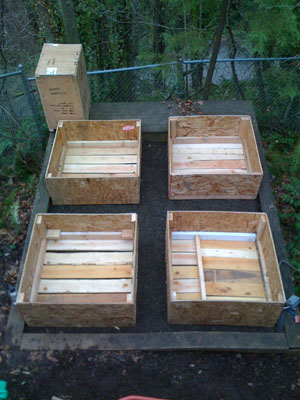 Then came the dirt. I first thought I would need about 3 cubic yards. I found a place that sells various types of soil and we took the truck there to pick some up. With one yard in the back the truck was sagging a lot and the loader guy was uncertain about putting more in. We ended up deciding to get 1/2 yard more and clearly underestimated what that would do. The rear tires distorted and the back of the truck dropped within inches of the ground and the nose went up. But it looked drivable and we did make it home never going faster than 35mph. Exact opposite of riding a motorcycle on the track!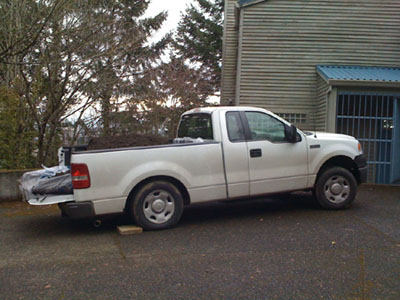 It only took a couple hours to unload all the dirt and now the garden is ready for planting. Turns out 1-1/2 yards was more than enough dirt and the truck seems to have survived so all is good.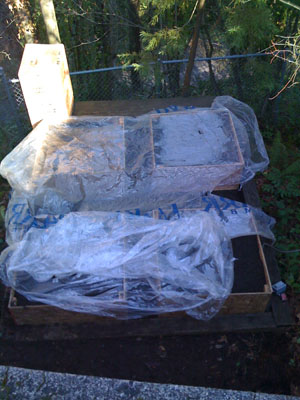 ---