---
01/07/04-01/22/04 A trip to New Zealand. Never been there before, so decided to go check it out. The original plan was to go to Los Angeles on the 7th, spend a few days with friends and fly to Auckland on the 10th. Well, there's plans and then there's...
Day 1
We are in the midst of the worst snow storm in Portland in over a decade. We hardly ever get snow here so this is a big deal. I've lived in places where this amount of accumulation wouldn't be anything more than a minor inconvenience but here all comes to a standstill. They can't even plow the freeways because of lane-divider dots. The airport was closed yesterday, and in the morning things do not look encouraging..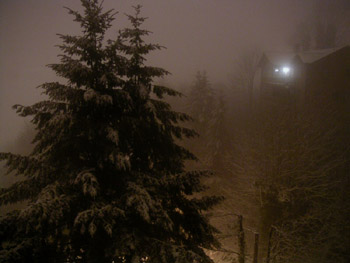 Still the airline website shows the flight on time and so, giving myself an extra hour to get there, I set out for the airport. Since I knew no taxi could make it up the hill I live on, I walked down into the city with my two rather weighty bags, planning to take the train to the airport. Walking away from the house I looked over my shoulder and decided to take a picture, somehow getting the feeling things were not going to go as planned...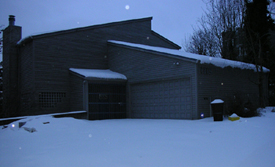 Arriving downtown and seeing the motionless trains parked in the snow it is apparent that another plan is needed.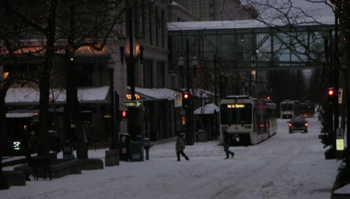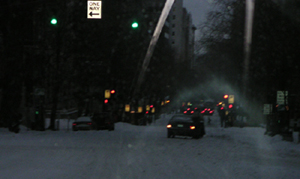 After finding a taxi and accepting the double fare to take me to the airport I settled in for a slow and slippery one-hour ride (which takes 15 minutes in normal conditions). Downtown, the freeways and the airport are nearly deserted despite it being 8:30 AM on a weekday. Not a good sign. At the airport, I'm one of two people going through security, even as the monitor still shows my flight to be on time... But of course that doesn't last. At first the flight is delayed, then hours later all flights for the day are canceled and I spend almost 3 hours getting home. Bummer.
Day 2
Still no flights. The airline reschedules me for the following day. The snow is now turning to ice which makes things even more of a pain.
Day 3
About to head out, I call to check on flight status (it's unavailable online). Canceled again. Well, at least I didn't go to all the trouble of going to the airport. Tomorrow is the critical date since that is when my NZ flight departs from LA. Crossing my fingers that I can make it. In the meantime temperatures here are rising and snow is starting to melt. Of course it means that it's sliding off my roof and taking the gutters with it. Guess I'll have to replace those when I get back.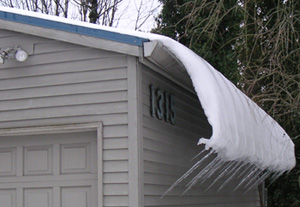 The airport is still closed. If they open it tomorrow it will be a mess. At least I still have power at home (for now) - many people in the area are without. This is starting to border on ridiculous because it hasn't snowed in two days now and temperatures have been above freezing for a day. Plus there never was all that much snow to begin with. Yes, the ice and freezing rain have been a factor but still... Portland is just totally unprepared for it.
Day 4
I was ready for the worst (like having to drive to Seattle to catch a flight to LA) but things actually went pretty smoothly. A friend gave me a ride to the airport which was surprisingly uncrowded. Only two people in line at the counter and maybe a dozen through security. The flight is on time and I even get an exit row seat. Once in California I get to spend a full day with friends, enjoying the weather that had just turned pleasant the day before. Then off to LAX and an uneventful flight to Auckland. I even managed to sleep through most of it so the twelve hours went rather painlessly. Perhaps fate has decided I've earned it ;)
Day 5
In the morning the sun comes up behind the plane shortly after we cross the International Date Line, losing one calendar day. On approach to Auckland the terrain looks quite exotic. It is clearly volcanic in nature but covered with lush greenery. It also turns out to be rather humid, with temperatures around 70F.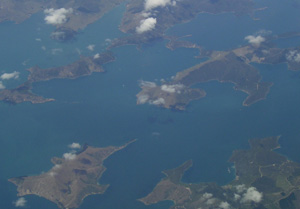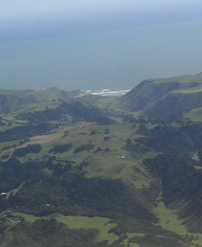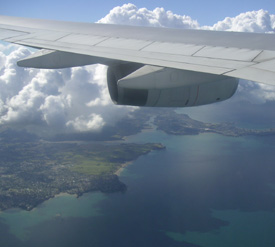 Arrival is again hassle-free and I get acquainted with my rentacar - a tiny Toyota Echo with a manual gearbox. I have never driven on the 'wrong' side of the road before and so this takes some getting used to. I typically drive by placing myself on the road and it's an effort to be to the right of lane centerline. The car is all on the left and none of it is on the right, so the initial feeling is of it being lopsided. I'm sure that will pass though. There isn't much power but the manual box makes it manageable and the handling is typical modern hatch - meaning it's pretty decent. This will do.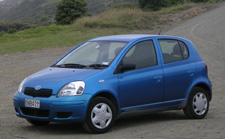 My hotel is right on the Harbour so finding it turns out to be not too difficult. The view is quite nice and the room is clean if unspectacular. I'm staying here tonight and tomorrow night, while getting adjusted to the time zone and generally getting my bearings. Quite possibly I might have been better off just skipping the car for the first two days but this is less hassle and the cost difference ends up being well under $100 so I might as well have it. Plus this way I have the option of driving around if I choose to. In the meantime, a much needed shower and change of clothes and I'm off to explore the city.... Much in the harbour revolves around sailing - from a tall ship tied at the pier, to America's Cup boats available for charter, to a rather spectacular America's Cup 'Big Boat' on display in front of the Maritime Museum. Its mast is around 150 feet tall.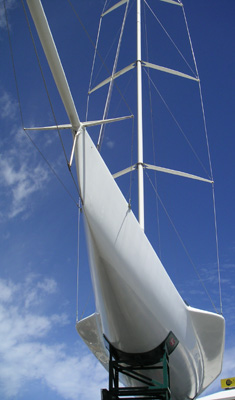 A bit later in the day I met up with James, a fellow car enthusiast who got in touch via the Internet. James moved to New Zealand from the UK less than two years ago and is very enthusiastic about this place. We drive out to a couple of the beaches I wouldn't have found without local help. The coastline here looks remarkably Oregon-like, save for much darker color of the sand and warmer overall temperatures. One of the beaches is home to nesting birds that can be viewed upclose.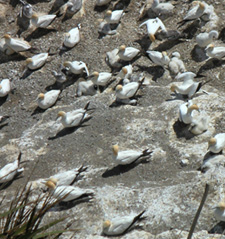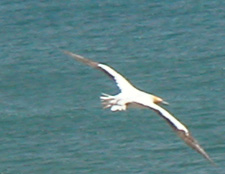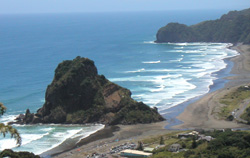 We get back around 5:30 pm. And I'm now sporting a serious sunburn, despite what I thought were liberal applications of sunblock. The ozone hole is right over NZ, or so I'm told. Forgetting that I'm in the other hemisphere I'm expecting it to get dark early. It stays light until a bit after 9. Jetlag, notably absent throughout the day, is starting to manifest itself rather politely as overall fatigue. My original plan to explore the city at night fades...
Day 6
Second of the two planned days in Auckland. Walked around a bit, then caught the ferry to Devonport, an older village just across the harbour. There isn't really a whole lot there, just some quaint Victorian houses and shops. There is a tour bus to go up the two volcanic cones nearby but I pass on the touristy stuff and just sit by the water for a while before catching the ferry back. The beautiful views of the city are considerably spoiled by surprisingly heavy pollution in the air blowing across the water. Kiwis should do something about that before it becomes a real problem.
Back in the city, a quick lunch at one of the harborside restaurants and then a stroll around. It's an interesting place, with lots of elevation changes and small districts with fairly distinct character. The sky tower serves as a good reference for finding direction. It's even possible to jump off it - in a descent controlled and guided by wires. It's a 192 meter (4xx foot) drop to the curb. I am not particularly tempted, though it's cool that such things are available in the city center. I can't picture something like this at the Seattle Space Needle, for example.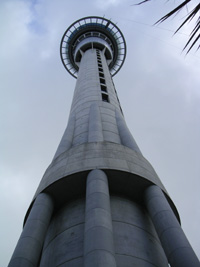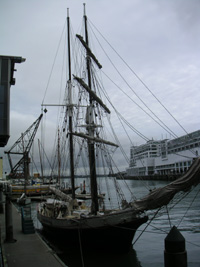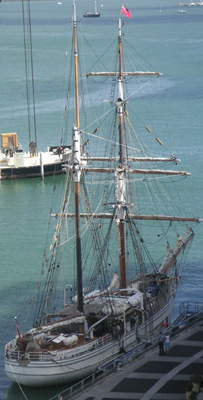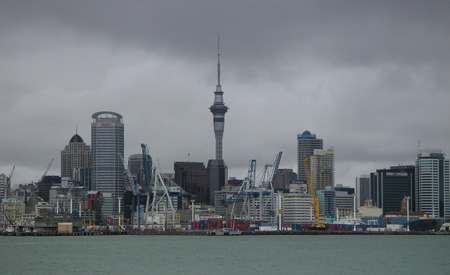 Around 5 pm back to the hotel to rest for a while... A bit after 9 the sun sets and I venture out to check out the city at night. The waterfront restaurants are active but not crowded, and the whole atmosphere seems quite low key. I suspect Queen street is a bit livelier but I don't feel like hiking up the hill. So I take a few pictures, people-watch over a couple of drinks and call it a day. Ended up not using the rentacar for the first two days, but it cost me $30 to park it. Plus I found out I could have gotten one cheaper in town. Could have saved at least a hundred bucks (US). Oh well.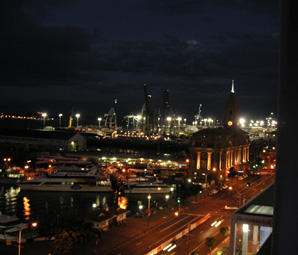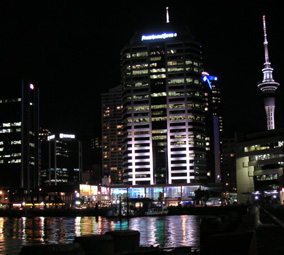 Day 7
Got up early and headed North to Paihia. The multilane divided motorways apparently only exist for a few miles around Auckland and Wellington. The rest of the country is traversed by two-lane roads which twist through the endless hills and mountains, so the going is pretty slow. It starts raining. The scenery is picturesque nevertheless and I am now comfortable enough with wrong-side driving to attempt my first few passing maneuvers. Signal with the right hand, downshift with the left, and be sure to pull all the way into the oncoming lane (I won't tell how many times I went to signal a lane change and wiped the windshield instead, but let's just say it was more than once). Nevertheless these go well and pretty soon I'm in my normal mode of passing just about everyone, although I still stay within reason of the 100 kph limit. I spot a couple police cars lurking by the side of the road but escape unscathed. Knock on wood. Some three hours later the rain stops and the sun comes out with a vengeance, just as I reach Paihia. There is also a strange hissing sound outside the car. At first it seems like the car is making the noise, but once stopped I open the door and realize the sound is coming from the shrubbery. Insects. Reminds me of a 60's B-movie with some giant nuke-enlarged insects which infested the planet. They announced their approach by a piercing noise. I think the film was called 'Them' or something along those lines. The sound is like that.

It is quite hot as I search for accommodations. There are lots of hostels, or 'backpackers' as they are called here. Cheap, but the thought of sharing a room with a bunch of other people doesn't appeal to me. After a while I find a very nice place called Austria motel. The rooms are named after Austrian towns. It's clean, spacious, has some character and is reasonable if not exactly inexpensive. The owners are very friendly and helpful, too. After settling in I decide to take a fast boat tour of the bay. Paihia is located on the Bay of Islands, so named for containing some 144 of them or so I'm told. The boat is a 1600 hp monster that cruises at 40 knots (60 mph) on a 1.5 hour round trip out to the Hole in the Rock - a volcanic core that has been eroded by the waves. Once on the way the 60 mph wind keeps things cool. The sea is very calm which makes for a smooth ride. The front seats on the boat are 'rodeo-style', with seatbelts and handholds for when the waves are a bit more active. The skipper gives us a small taste of what that's like by jumping the wake of another boat. Cool, but an hour or more of that could get challenging. The bay and its islands are quite picturesque. The rock which is our destination is downright spectacular. After passing through the Hole we circle the rock, watching lazy green waves and teeming school of rather large fish. A dolphin does a somersault in the distance. In addition to the Hole the rock also contains the Cathedral Cave, which the boat enters and goes quite a ways into. The cave is 150 feet long at the surface and supposedly goes all the way through below. Neat.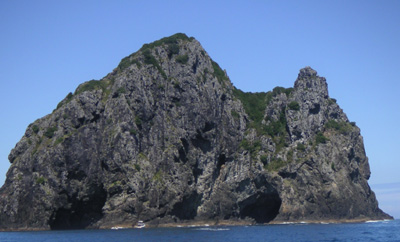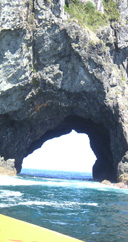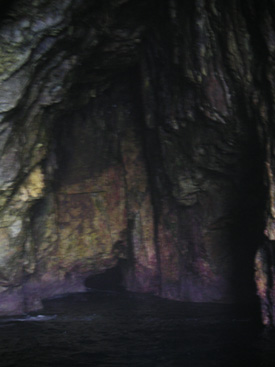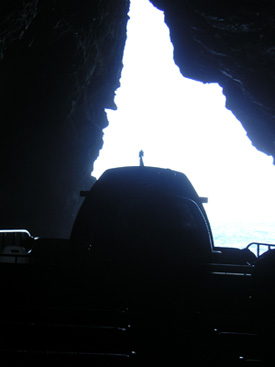 Back in Paihia I rent a kayak and paddle around the bay for an hour, stopping at one of the islands for a swim off an empty beach. After all the walking I've been doing it's nice to work the arms and shoulders for a change. The swim is very refreshing, too. I wonder if the snow has melted in my driveway back home yet...
At night the place is, uhm, quiet...
Day 8
Headed south. Today's destination is Rotorua, a resort town on a volcanic lake. The direct route would take about six hours but of course I had to take the scenic path. Decided to take highway 12 down to Auckland, along the west coast. The road sneaks westward through a small mountain range that is home to the Kauri forest. Some parts of it look downright Jurassic.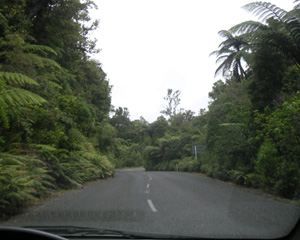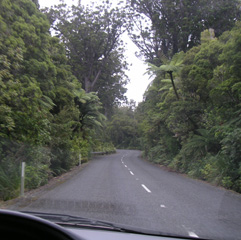 The twisties are a lot of fun. The interesting part is that the speed limit through the curves is still 100 kph. The Toyota can manage them at about 75-95 (we're still talking kilometers here) except for a particularly tight decreasing-radius left-hander, just after getting by a particularly annoying rent-a-van... Well, it handled that too, sort of. So aside from the Autobahn, this is the only time where my speed on a public road has been limited by the car and not the legalities. Took a short side road at a sign claiming it leads to a scenic overlook. And scenic it is.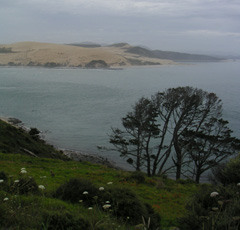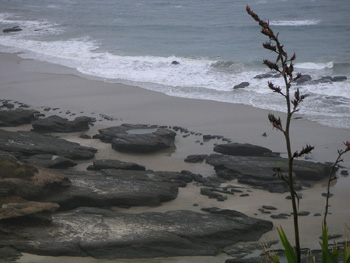 Except for the continuing confusion of turn signal and windshield wipers I'm fairly comfortable with the driving now. Hope it's not TOO comfortable. There are many places with signs saying 'speed camera area', but I've yet to spot an actual camera. Wonder if they hide them that well or it's just a scare tactic (later I'm told it's the latter). After the forested hills, the road flattens out somewhat and gives me time to contemplate plans and practice some passing maneuvers. A high overcast keeps things cool and the few sprinkles don't impact progress much. Past Auckland I head for the east coast via highway 2 and then 25A. The latter turns out to be quite entertaining as well. The Toyota proves up to the challenge as long as it's in the right gear (my left hand is getting a lot of practice). Eventually, I roll into Rotorua. It's a touristy town and appears to be fairly cheesy. I soon find out most of it also shuts down at 5 pm. A pervasive smell of sulphur hangs over everything. Which is probably the most characterful thing about this place. Pretty much the only thing to do here at night is go to the Polynesian Spa. Which I do. The soak is certainly welcome after a long day of driving but the atmosphere falls short. Overall, not my kind of town.
Day 9.
What day of the week is this? Guess it's Friday. I'm on the third day of what seems to be a mild case of the Flu. More of an annoyance than a real problem, but I'd rather not have it. Oh well. Next stop - Wellington, New Zealand's capital. I book a 'serviced apartment' downtown at a pretty god rate and hit the road. First town on the way south is Taupo. I stop briefly at the waterfalls nearby. Pretty, although all the walkways and railings make it seem too Disney. Fearing more of the same I don't even bother stopping at the geothermal spots along the way. Not really eager to pay to see bubbling mud :) The road is moderately scenic. Overall, the North Island so far reminds me a lot of America's West Coast - some parts California, some parts Oregon. Taupo itself seems to be a fairly quaint little resort town. It appeals to me much more than Rotorua does so perhaps I'll stay here on the way back. From Taupo it's South-East to Napier on the coast. The road sweeps between the hills and I get bolder still with my driving. A blue Ford Falcon XR6 (hotted-up sedan) is on my tail but refuses to pass when I offer multiple opportunities. I should have known better. Coming around a turn, there's a police car going the opposite direction. Lights go on, he turns around and pulls me over. The Ford continues on, the bastard. The fee is $170 NZ (or about $110 US). It's my first ticket in over five years but at least it won't end up on my US record. I guess for all the countless times I've gotten away with it over the years it was time to pay the dues. I'd rather be caught doing 24 kph over the limit halfway around the world from home than 'exercising' one of the toys in the States. But the lesson is learned - New Zealand (as I understand it) provides a free-play pass by setting the limits at 100 kph even in the twisty bits. So I should confine my entertainment to those and keep below 110 kph on the straights. Which I then proceed to do. The road into Napier tightens up for a while and the Toyota gets a workout. I stop in town for a stroll. I'm told the whole place was destroyed by an earthquake in the '30s and was rebuilt in Art-Deco style. It's a neat and cheerful-feeling resort town. Some pictures, then it's time to start on the remaining 340 kilometers to Wellington.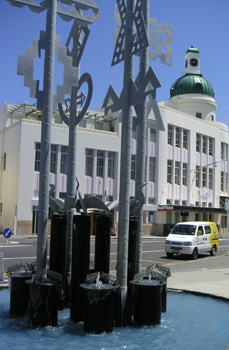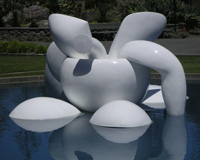 The scenery is more of the same, and the road passes through a number of towns which really puts a damper on average speeds. I find a BMW 528 willing to take the point for a while so this helps. Police presence is heavy and there's even a roadside sign gleefully announcing there are now 180 more police cars on patrol. Peachy. No further incidents today though. About 40 kilometers from Wellington the road scales a small mountain range and gets VERY tight. I also happen to find myself behind a C43 AMG Mercedes. He probably thinks he's pushing hard but I'm right on his tail, squeezing by other traffic in the very limited passing zones. Finally as we zoom up on a camper van just before a short passing lane near the summit he backs off and I blast past both of them. Aufwiedersehen, Mr. AMG. Ha. The next six kilometers of twisties are clear and by the time the road levels out I'm smiling again. Then into Wellington to practice urban navigation. I locate the apartment building, find street parking and check in. Wellington seems much more urban and 'alive' than Auckland despite being much smaller population-wise. There are quite a few bars and cafe's with sidewalk tables, they are busy and the crowd is fairly young (though some of the activity may have to do with it being Friday). Tomorrow - South Island.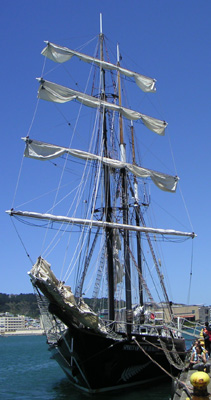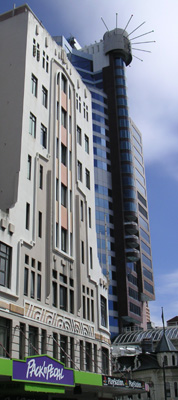 Day 10
A day of many changes. Tried booking the ferry passage by phone as soon as they opened. Could go standby on the slow boat at 9:30 am or confirmed on 3:30 pm fast boat which takes 2:15 to cross the Cook Strait instead of 3 hours. Went to the terminal to see if they could accommodate me. The first surprise - the car passage is $200, in addition to the $55 fare for me. Ouch. But I'm here, so I booked the 3:30. Back out at the car I just happened to look over the rental contract - only to find that rental cars are prohibited on the ferry. I'll have to turn this one in and get another one on the other side. Good news I can now get $200 back. Bad news they only have one car available on South Island terminal, a large automatic sedan at $95 a day. I guess I'll have to grab it and then try to exchange it for something more suitable on Monday in Christchurch. At this point the originally planned drive back north to Auckland looks rather unappealing. I've already seen the scenery, it will take a long time and there's significant risk of more tickets. Also it has cost me $130 in fuel to get this far. I check into Air NZ domestic flights and it is much more reasonable - $170 one way from Christchurch to Auckland, getting me there a couple hours before my flight back to LA. That's more like it. So now I have more time to spend on South Island and less to worry about. Cool.
Seeing how at this point I have more than five hours before the ferry departure I went walking about town. Yep, Wellington is very urban and some parts are quite picturesque. Nice place to visit but I wouldn't want to live here - it's too much of a city for me. After a few hours of slinking from shade to shade to stay out of the rather toasty sunshine I found my way back to the waterfront, just in time to catch the ferry coming in. The ship is very impressive. It coasted into the harbor with a mix of sinister low rumble and turbine hiss fully befitting its Klingon battleship looks. The quad jet drive nozzles in the back are neat. Wonder how many thousands of horsepower this thing has. It looks like it's built to deal with rather rough seas although today it seems the ocean is very calm.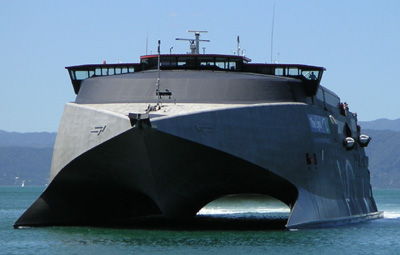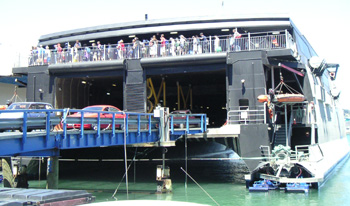 While waiting to board I checked with Apex rentacar on the off chance they might have something better than Budget. Turns out they have one economy car left with a manual. It's even cheaper than the original Budget Toyota. So another change, but now I'm set on the rentacar front for the remainder of the trip. The ferry is huge inside and fairly nicely outfitted. I grab a window seat and settle in for the crossing. Wellington harbor is pretty densely built up near city center, but buildings and homes quickly give way to empty hills as we head toward the open ocean. Once underway the ship moves rather briskly, at what seems to be about 30 knots.
Arriving in Picton, deep inside a fjord-like bay, the South Island looks considerably more lush and green than the North.

Outside the terminal I discover why the car is so cheap - it's a couple-year-old Nissan Sunny (Sentra in the US?) with just over 100K kilometers on it. I quickly discover it doesn't have the handling refinement of the much more modern Echo but on the plus side it has noticeably more power. And a tach, that goes to 7K RPM (after 5.5K it only makes more noise, not more power).
I had originally planned to take the east coast down to Christchurch and then go on to Queenstown. However, now that I'm flying out of Christchurch it makes sense to make that the last stop and so I decide to take the west coast instead. While Picton seems nice enough of a town I opt for moving on and set out for Nelson, about 1.5 hours away. The map shows Queen Charlotte drive as a shoter but twistier and more scenic alternative to taking the main road. Sounds like a winner to me. The road turns out to be a very tight ribbon of rather uneven pavement clinging to the jagged coastline. There is hardly any traffic but what there is moves glacially. I jump past a couple slow-pokes using nearly all of 7K redline. Later two other leisurely travelers courteously let me by. I'm having fun :)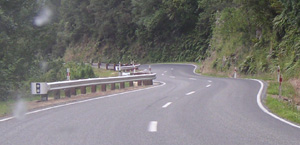 After some thirty kilometers of this I rejoin the main road which is a typical sweeping NZ two-lane. Scenery is probably the most interesting I've seen on this trip. Traffic is light and I get to Nelson around 8 pm. The town appears quite neat with lots of Victorian buildings lining pedestrian-oriented streets. Unfortunately there is some kind of a festival and the entire town is booked. Every single hotel and motel room. The only option is a rather ratty $50 room above an Irish pub, and I'm warned they have a DJ playing music till 3am. No thanks. I try another town about 10 kilometers down the road but everything is booked solid there as well. Hmmm... The next nearest town, Murchison, is 112 kilometers away. But it doesn't look like I have much of a choice and there is probably another 45 minutes of daylight left so onward I go. The scenery is awesome. From what I've seen so far of South Island it is much more appealing to me than the North one with the exception of Paihia and environs. Towns are cooler, nature more unique and less reminiscent of Oregon/California (not that there's anything wrong with those but I don't have to travel half way around the world to see them). The road is nearly deserted. Every five minutes or so I see a car in the opposite direction, but in the entire hour of driving I only pass one vehicle heading south. Around 9:30 it gets dark and the curves become more challenging. High beams don't really help all that much in this terrain.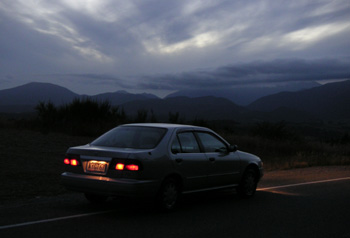 In another 40 minutes I'm relieved to roll into Murchison and find a motel. Yes, there is vacancy. Not exactly cheap at $110 a night but the room is brand new and very nice and clean. As far as motels go it's probably the nicest I've stayed in, so no complaints. Except that the Flu is still with me. Ugh.
Day 11
A rather disappointing day. My plan was to go blackwater rafting through a cave, which is supposedly a pretty cool experience. So I drove down to Greymouth where the outfit that puts on the trip is located. In contrast to yesterday's sunshine and heat the day starts out overcast. Then a few sprinkles and wind when I hit the coast. I locate the caving place around 11 am and book the earliest trip which is at 2 pm. In the meantime they recommend that I go a ways up the coast and check out the 'pancake rocks' and blowholes at a park there. So I set off northward along a very picturesque coastline. Some forty minutes later I locate the park. Despite being very touristy the location is pretty cool and the rocks themselves are amazing.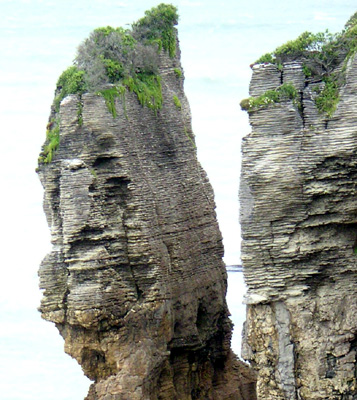 Unfortunately it's low tide and the blowholes are inactive. The wind is really picking up, too. After a short while I head back which is when the day starts going wrong. First, it is now raining. I get back to town and find an open restaurant. The meal is very lame. Should have just eaten a balance bar. Next stop is at the caving outfit and I'm quite looking forward to the trip, as well as trying out my new 'marine case' for my digital camera which makes it waterproof. There are three other people in the group. We are given wetsuits, helmets and boots and we get ready. Just as we are waiting for the guide to come back with the van keys to take us to the cave entrance, he instead comes back to inform us that the trip is canceled due to rain and possibility of flood in the cave. Bummer. Tomorrow is supposed to clear up and the others reschedule, but I would like to keep moving South so that I can hit some of the other spots of interest. Plus there is absolutely nothing to do in town, especially in the rain. So I change back into street clothes, get my refund and set off towards Franz Joseph glacier some two hours due South. The weather is deteriorating rapidly and rain is really coming down. Parts of the road are flooded. The streams I cross have turned from clear and gentle to brown and violent. Probably a good thing we weren't in the cave.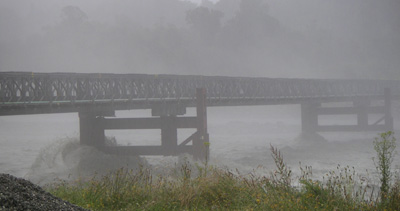 Just before 6 pm I reach Franz Josef and pull into a hotel. The reception area looks nice enough and the prices are to match - $190. But I don't want to keep driving around in the rain and just want to relax, so I go with it expecting the room would at least be pleasant. Wrong. It's more like a $70 motel. The place I stayed at last night was much better and half the money. Figures. I also find out they charge for everything, even to use the Jacuzzi. All I can say is stay away from the Franz Josef Scenic Circle hotel. Oh well, sometimes things don't go quite right. I'll live. Booked a heli-hike on the glacier for tomorrow at noon. Hopefully the coming day will be better. But now I have three hours to kill before I go to sleep so might as well do some work. Didn't think I'd be doing any of that on this trip...
Day 12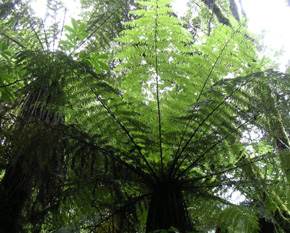 Well, the good part is that the rain has stopped and sun is peeking out. That and I wrote the majority of a new patent app last night... Bad news is that there is too much cloud cover remaining for the heli-hike. Of course that's not decided until noon, so I spend some three hours hanging about. Enough of that - I set out southward. A bit down the road is a sign for the glacier. I take the dirt road, giving a pair of backpackers a ride to the start of the trail. The clouds are starting to lift a bit and the glacier is visible. I take the rather lengthy walk out to the base of the ice and decide to climb up a bit. Pretty cool.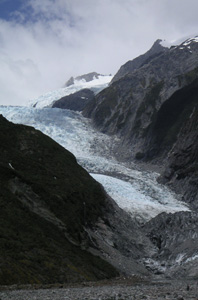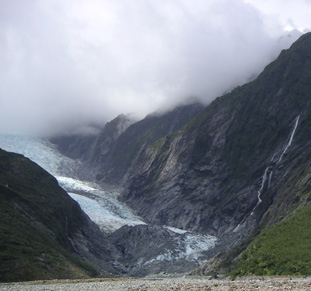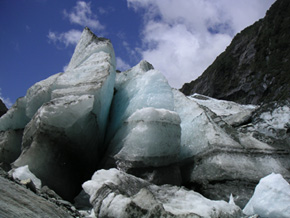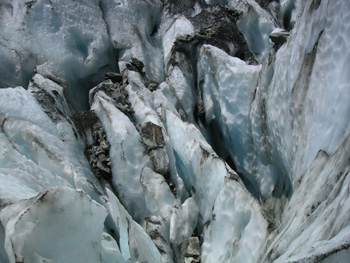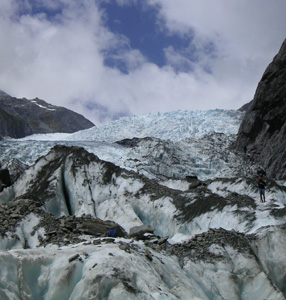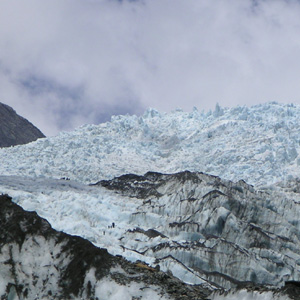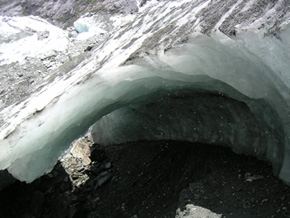 There are steps cut into the ice, with ropes and ladder bridges over crevices in spots. Sometimes the going is slippery, with small streams running down the stairs. The people on guided walks get spiked ice boots. Lacking such niceties I have to watch my step and after scaling a couple hundred feet of the glacier I decide that's far enough. So back down to the car, scrambling over rocks for a nice two-hour roundtrip hike. As I get back the last of the clouds clear and helicopters zoom overhead. Just my luck. Well, at least I saved some money and still got to see the glacier though it would have been cool to see the upper parts, where the ice is cleaner. Maybe another time.
Southward, the road follows the coast for a while and then turns inland through a river gorge. The gorge has its own climate - it's raining. Hard. I pass a number of bicyclists working their way up the incline. Hardy souls indeed. As I make my way up to the high plains the scenery changes, but is spectacular as ever. Gave a couple more rides to hitchhikers today. Maybe this will get me some brownie points with Karma ;) As the day draws to a close I roll into Queenstown and after a couple of tries find a very nice loft apartment downtown for a reasonable $145 including tax. And it sleeps 5. Party at my place. Yeah, right.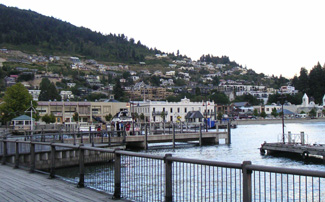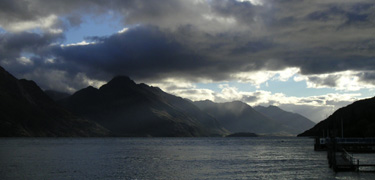 It's much colder up here at altitude. Strolling about town at night I finally get to use my jacket, for the first time since Portland. The town is touristy but nowhere near as cheesy as Rotorua. I kind of like it, actually.
Day 13
This is the day for the touristy stuff. In the morning went jetboating in the Shotover River Canyon. The boats are pretty neat, with twin supercharged V6 motors each hooked up to a jet drive. Very maneuverable and quite fast, even with 10 people onboard.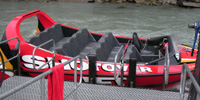 I finally got to use my marine case for the camera, and the case proved its worth by keeping the camera protected against the abundant water spray. They don't allow video cameras on the boat but stills are OK. So I snuck in a few video clips with my still camera. Of course the boat driver caught on and said something to the effect that I shouldn't be filming but I basically reverted to doing quick clips and pretending like I'm taking stills. The hotel manager had suggested that I wear a hat and it was a very good suggestion - glad I heeded the advice. Would have been quite cold otherwise. The boat blasts up and down a narrow, shallow canyon (according to the driver it only needs four inches of water to operate). Of course their forte' is the 360 degree spin and they do quite a few of those. I don't know if my track driving has spoiled me or what, but while it was certainly very entertaining I can't say that I was totally thrilled. Since I was sitting next to the driver I think he sensed that. He seemed to be almost apologetic and kept trying to do the spins faster and faster. Anyway, it was a good time and worth the money.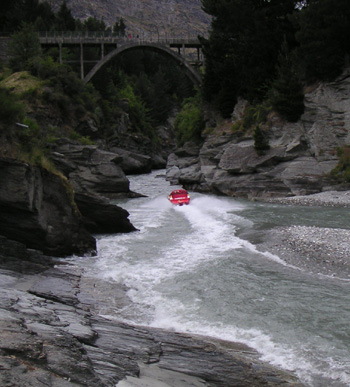 For the afternoon I headed to Te Anau to explore the glowworm caves. It's about a two-hour drive from Queenstown. The road starts out quite interesting along the lake (see video) but then straightens out for many kilometers across the plains. I wish the speed limit was higher. On clear stretches where I can see far ahead I cruise at about 120 kph betting that I can spot a cop before he can clock me. I get away with it, both on the way there and back. Along the way I finally see some quantity of the famous New Zealand sheep (until now I've seen mostly cow and deer farms - yes, deer is a farm animal here). In Te Anau, the trip to the caves starts with a half-hour boat ride across lake. Then we watch a quick presentation at the interpretive center and head for the cave in 14-person groups. I decide to go in one of the later groups and while hanging about I encounter first biting insects that I've come across in New Zealand - little critters that look like fat black mosquitoes. They sting. Many of them find me to be their last meal, however. Then into the cave. It's a part of a complex maze of limestone caverns with streams running through them. There are walkways built up through parts of the cave though thankfully they avoid being too Disney. The journey then continues on a small boat, pulled along through the darkness by a guide who grabs onto chains strung at shoulder height along the cave. The glow worms are very neat. They emit a bright blue light and look like otherworldly constellations overhead. The hungry ones are brightest, so we are told. The light serves to attract flying insects which get snared in sticky residue emitted by the worm, and subsequently get snacked on. Serves them right as far as I'm concerned. No photography or video is allowed in the worm cave, though I try to sneak in a couple no-flash shots near the exit where there is some light. They don't come out very well. A different kind of experience, definitely worthwhile.
Day 14
Final full day in NZ. Checked out of the apartment and set out for Christchurch. It's 400 some kilometers the shortest way but I took the back roads when possible. The tarmac sweeps through plains and valleys, occasionally tightening into knots of switchbacks through narrow mountain passes. Then suddenly, a herd of cows blocking the road. One of the shepherds advises to just creep through it and the cows will make way. They do, mostly, while glaring at me in disapproval, until one happens to bump the car. No worries, I went for the CDW this time. Then onward to Christchurch, taking in the scenery along the way.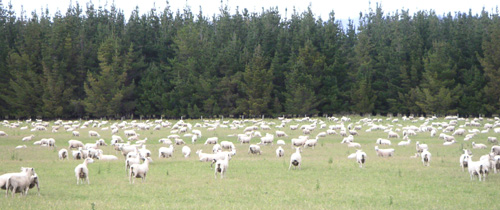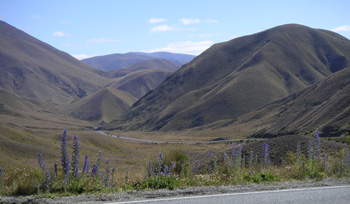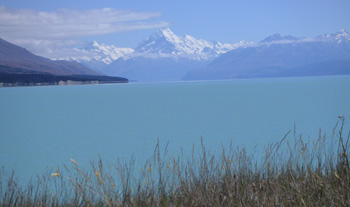 The city center is the most European I've seen here. Pretty cool. Can't say the same for suburbs but that's the case anywhere. I stumble upon a very neat hotel - "Off the Square" next to the Cathedral Square (hence the name). Upon inquiry they quoted $250 a night, but upon further inquiry I ended up in a very hip room for $115.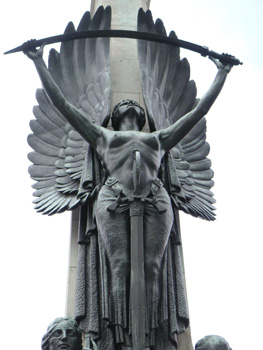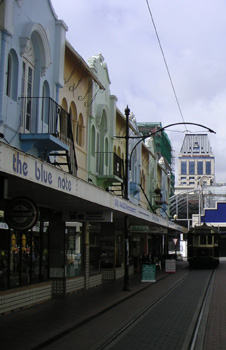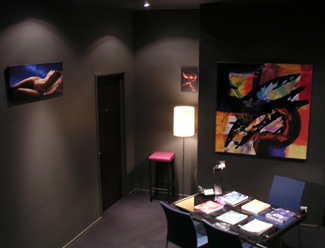 Decided to return the car one day early. No refunds. Hmmm.... I hope Budget doesn't have the same policy or else this will be pretty expensive. Went walking about town and finally had a decent meal in NZ, an ostrich steak that was nicely prepared. Until now the occasional meal I've sought at restaurants here and there has consistently come up short. Fortunately I brought a full supply of Balance bars which is my primary source of nourishment, so the restaurant food is strictly optional. Well, it's Balance bars and red wine actually, which thankfully is pretty decent around these parts. Mostly Australian.

Tomorrow the long journey home.
Day 15
Due to going East I will arrive in LA several hours before I depart Auckland, on the same day. This way I get my lost day back. With all the transfers and layovers I'll be on the road for a little over 24 hours if all goes smoothly. At Auckland airport a bit of a surprise - a $25 departure fee. You actually have to pay to leave the country. Hmmm... What happens if you don't have the money? I wonder. The remainder of the journey is uneventful and once again I manage to sleep on the flight. Then, finally, it's good to be home.

---