---
04/04/04 I haven't flown aerobatics in about five years and have been itching to do it again lately. To that end I searched the web and was happy to find that Renny Price of Hammerhead Aerobatics does instruction locally, and not in just any machine but a top-line Russian built Sukhoi SU-29! I gave Renny a call and we arranged a flight. The morning looked a bit cloudy but it cleared up nicely just in time for me to head to the airport. We went over what my goals are and the maneuvers we were going to do during the flight. Then, video camera rigged up and parachutes strapped on, we headed off...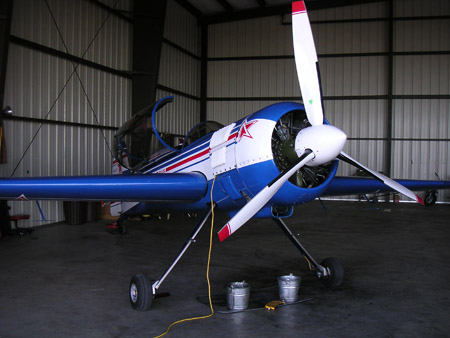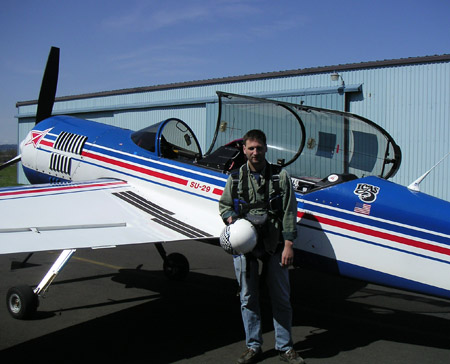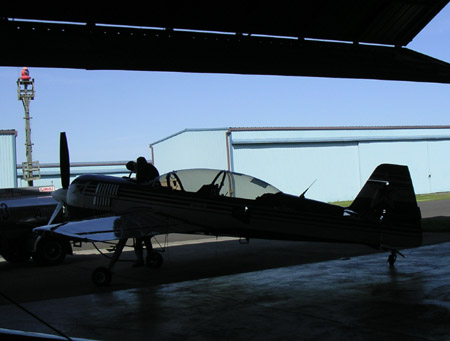 The plane has a 360-hp radial engine and weighs just under 2,000 lbs with two pilots and fuel. The takeoff is QUICK. Once aloft I found the controls extremely sensitive but pleasantly smooth. I discovered just how quickly the plane responds when I tried to do a simple 180 degree turn. Out of habit I used inputs that would have resulted in a nice 3G turn in a Decathlon, the type of aiplane I'd done all my aerobatic flying in previously. In the Sukhoi we were instantly at over 6G. Yeeeeah. Max rate aileron rolls are fun too! (1M short video here). We progressed from simple maneuvers, like aileron rolls and loops, to more complex ones, culminating with a forward tumble from vertical and then a Lomchevak. Renny would fly a maneuver with me following through on the controls, then I would do it a few times myself. I even did the tumbler although I did not attempt the Lomchevak at the end - it was enough just to sit through it! A 2.5 minute video (20M) highlights the flight. With a couple exceptions most maeuvers in the clip are Renny flying just because it looks cleaner than my somewhat sloppy execution. Which is to be expected :)
Overall, a LOT of fun. I'll definitely be doing more of it this summer, although not every time will get a writeup. At the moment I'm still on a "g-high" and grinning like a fool :)
---
01/27/05 Today got a chance to see the sound of an MG Metro Group B rally car being recorded for a video game. They wanted an accurate sound of the car under load so it was done on a 4-wheel dyno...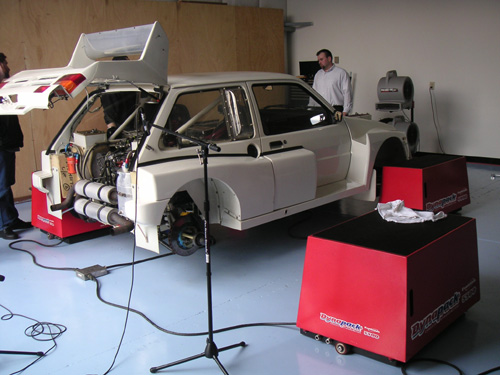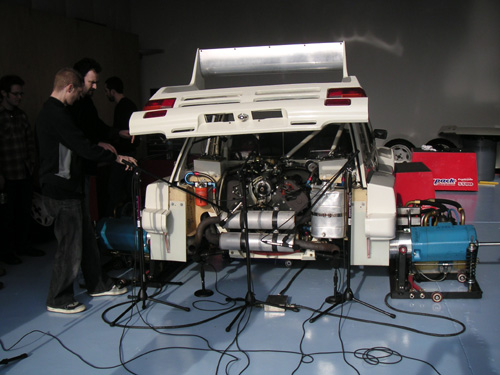 It was fascinating to watch the setup and the microphone placement. The car is pretty cool too - and LOUD.
The dyno is a Dynapack, operated by Perfection Motorsports, a new performance outfit in town. It is a pretty cool device in that the load cells bolt directly to the hubs with adaptors instead of using rollers. It is a much safer setup and eliminates rolling friction and a few variables. Plus it's easy to do AWD by just using two more load cells.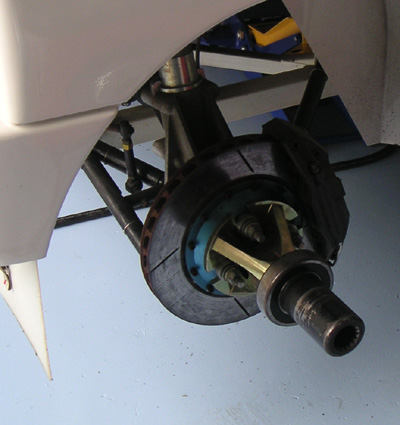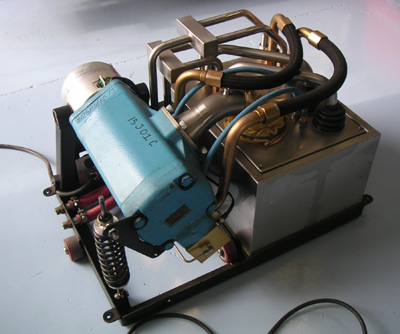 Cool stuff. I might use this for dp1 development at some point.
---
04/21/05 Attended an informal 'open house' at MOTOCZYSZ, a Portland company designing and developing an American MotoGP contender motorcycle. Their headquarters are about 10 minutes from my house. That project started at about the same time as I started the dp1, although of course they are much better funded :) I first met Michael at the bike track days where he often instructs. We even briefly talked about the possibility of me being involved in the project although that hasn't materialised. Just the same, the bike has a lot of cool and innovative ideas, from engine to suspension to a lot of smaller details. It has been great to watch the project move along and now it's starting to look more real, with the bike actually running and gathering very positive reviews from a number of people who should know.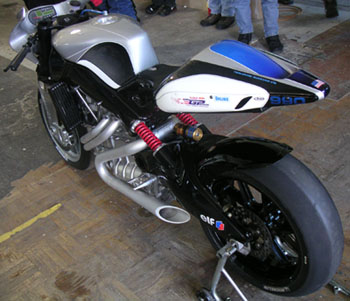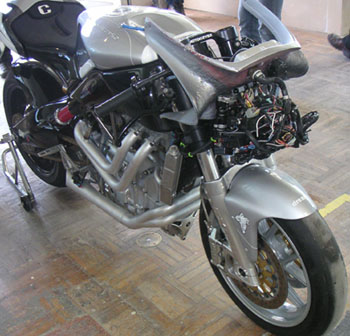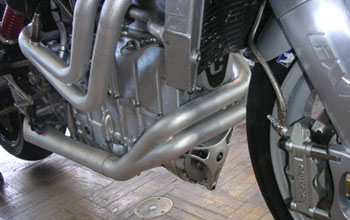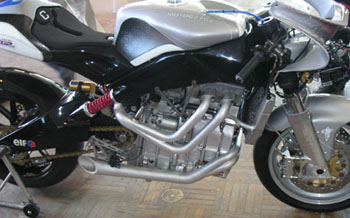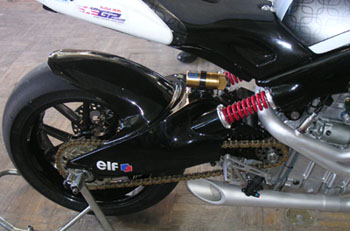 They certainly have many challenges ahead of them but this machine does have a lot of promise. The only way a newcomer can realistically challenge the established teams in a class like MotoGP is with a breakthrough design because it's impossible to compete with Honda and the like on resources and detail development. I hope the effort is very successful - this is one 'home team' I would definitely root for!
---
04/22/05 Dropped by PIR to see a Rally event. Normally rallies are held way out in the woods and spectating is challenging at the least - a good couple of hours to get there, again as much to get back, only to watch one car come by every 15 minutes. This is the first time they've run at a much more spectator-friendly location, the local racetrack. The course included various combinations of track surface, infield grass and gravel service roads. The atmosphere in the pits is rather interesting - a mix of grassroots amateurs and pro-level drivers, all casual, with some cars prepped to the hilt and others cobbled together.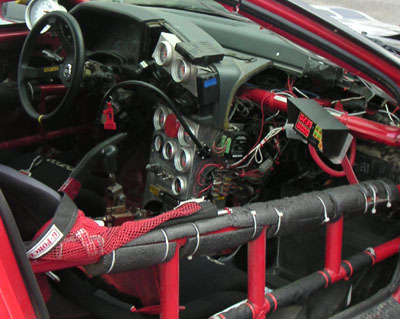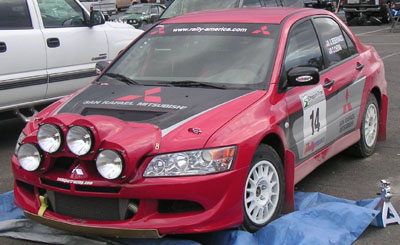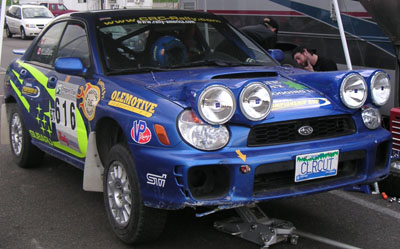 The racing itself was interesting but not overly exciting to watch, the notable exception being a Subaru (I think the one pictured above) taking the chicane in true rally style by getting sideways well before turn entry and drifting all the way through. The event ran quite late, long after the daylight had faded away, and it was cool to see the cars come down the straight with all their lights blazing. It would be a neat sport to participate in - perhaps next year I'll get a beater and start with rallycross, then maybe try actual rallying. From spectator standpoint the organisers have a ways to go before it's a spectacle that many people would come to see, but the PIR event was a good step in that direction. I hope the trend continues.
UPDATE: a friend passed along this link to one team's videos from the event. Pretty damned cool!
---