---
05/21/10 A bit of a momentous occasion today - we've officially started the construction of the first production dp4 frame! Of course many smaller parts for this car are already made so it's a bit of a grey area but the frame is the foundation and therefore today is the day it starts.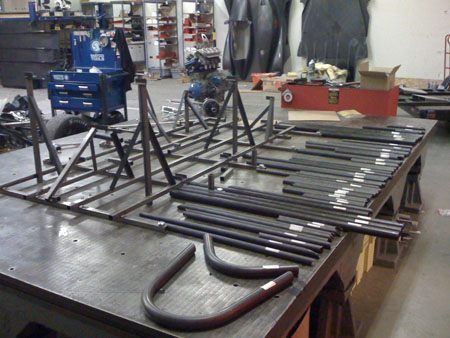 The tubes are all labeled with our part numbers so the assembly should be straightforward. Even the narrow-angle cuts fit perfectly - those are a REAL pain to do manually.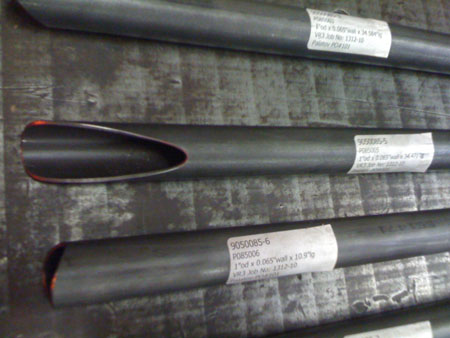 Anyway, we'll see how long the first car takes to complete (what with all the other stuff going on at the same time). I know we'll get a lot more efficient with practice.
---
05/24/10 One long-outstanding issue has been the attachment of bodywork. I've tackled it in stages, with the under-body structure and some other steps, but the actual mechainsm has so far been left to 'I'll figure it out later'. Well, that later is now. To this end I've procured some hood pins but haven't been too thrilled about them, so I decided to try a product called AeroCatch. It's billed as a modern replacement for hood pins and I was more than a little curious about it. So after figuring out how and where the latches would go (two on the nose and two on the sides), we've finally gotten around to installing them.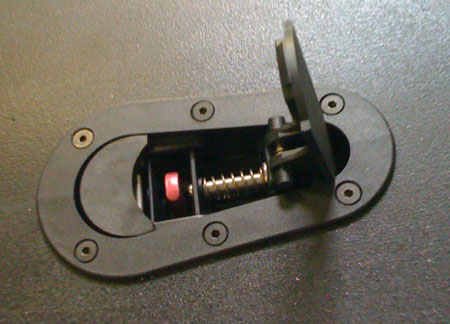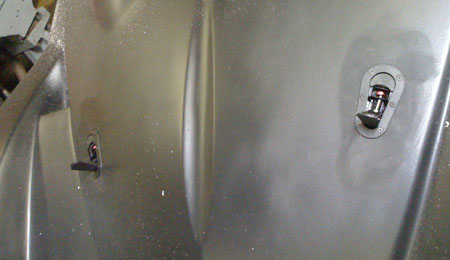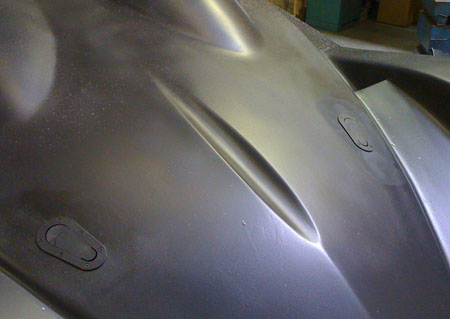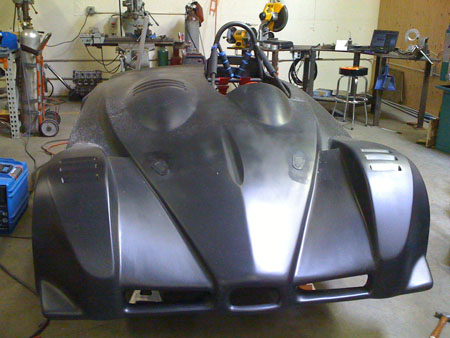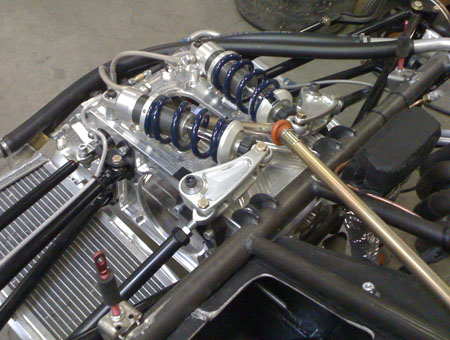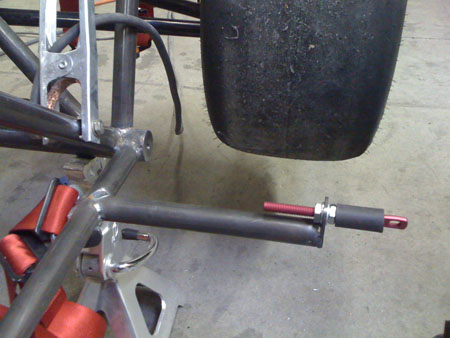 Turns out the devices work pretty damned well, and look good too. A bit pricey when compared to hood pins but I think worth it overall. Subject to final test and fitment, probably to come in a couple of days, it looks like we'll be using these in production. I'm also working on setting up a tilt-up scheme like on the dp1 proto so you can just undo 4 latches then tilt the body up for full access. As with everything on this car, the emphasis is on enabling single-person operation so our customers could do (and enjoy) trackdays without having a crew. On that note, I'm close to finalizing the design of a trailer that could be towed behind any car, serve as its own loading ramp and only take up the footprint of the car (or less) when being stored. Stay tuned for more on that later.
---
05/25/10 The AeroCatch devices are definitely neat - yes we'll use them on the production cars. They are even available with locking function if desired. We're becoming a dealer for these so let me know if you want some. I've now worked out the details of the previously mentioned tilt-up mechanism for the dp4 body (at least in my in-head 3D simulator) and it will be a feature of the production cars as well. Just flip four latches and tilt the body up for access to the internals. Or at least that's the theory, I'm sure some tweaking will be necessary.
Also making good progress on the sprag version of the AWD system. That will be fitted to the first customer car, after it's run in RWD configuration. This way we can do a direct comparison and see just how much difference it makes. This car will be powered by a heavily reworked Yamaha R1 engine from a DSR that has been dynoed at 194 crank HP.
Along with this, three electric projects are moving forward pretty well. It looks like we might be getting a decent battery into the dp1/e and taking it to the track. Plan is to test it at our June 28th trackday. Not final yet, but that's the goal. The other two projects I can't talk about yet except that one is for a client and one is my own.
Today we finally picked up the hauler from servicing. I drove it back in rush hour traffic, in the rain (minus the trailer). It's quite manageable and affords an awesome view of what lies ahead. It's kind of like driving a small house. I thought the F150 was big but this is in another league altogether. Yes, we'll have a photo of the dp4 next to it at some point but not today.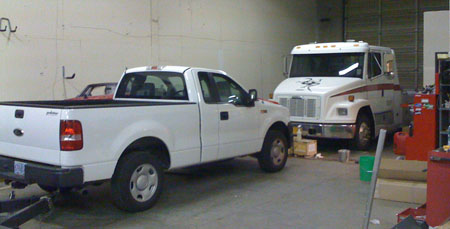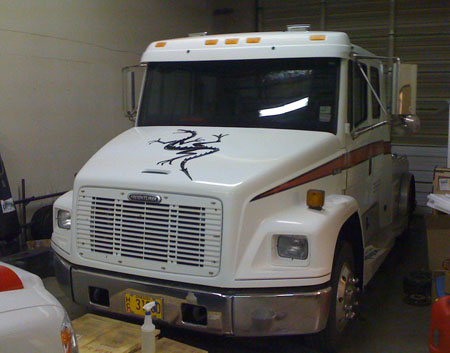 We're not done with the graphics yet but the logo on the hood adds at least 50hp. Still thinking of a name for it. 'Mothership' comes to mind.
---
05/27/10 Yesterday was the 8th anniversary of the start of the dp1 project (see page 1 of the design blog). Much has been learned since then :) We've had a couple good test days at Pat's Acres and today we had four people drive the car for about an hour and a half of total tracktime. It works pretty well now. The main straight had a light dusting of cottonwood seeds that looked like snow and they provided an excellent visual indication of the underbody tunnels working - the car kicked up a big rooster tail. Karl is visiting us again and true to form he set what so far is the fastest dp4 lap at Pat's at 42.4 seconds. None of us have really pushed the car yet and the tires were only lukewarm so there's probably another 3-4 seconds to be had which would put it on par with the fastest 125 shifter karts. On a track this tight it's not bad at all. Tuesday (June 1st) will be the car's first outing at a full-size track, our trackday event at ORP.
In the meantime, the floor got some UHMW rub strips and the bodywork is test-fit on the complete car. Still need to install mirrors and brake light, then it's ready to go. Of course no tuning or setup has been done other than the very basics so that will be an ongoing process.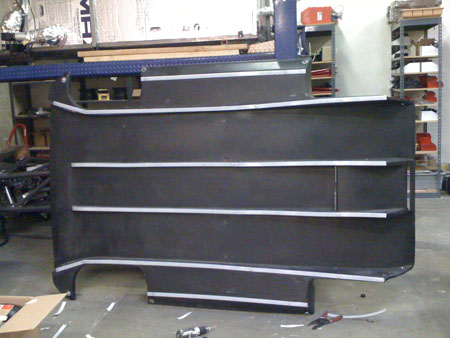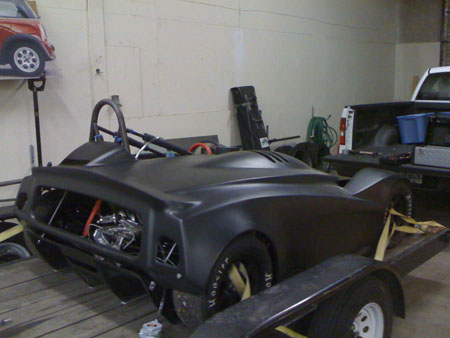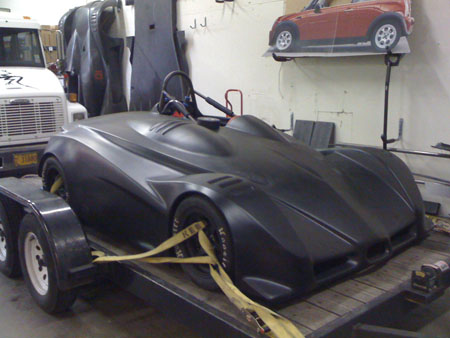 ---
05/29/10 Finally got a chance to roll the car outside with bodywork on and take some pix - including one alongside the Mothership.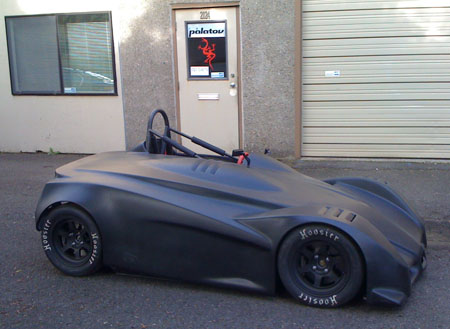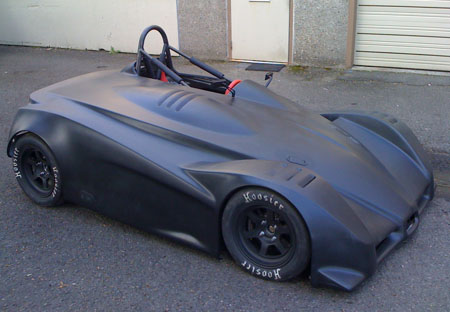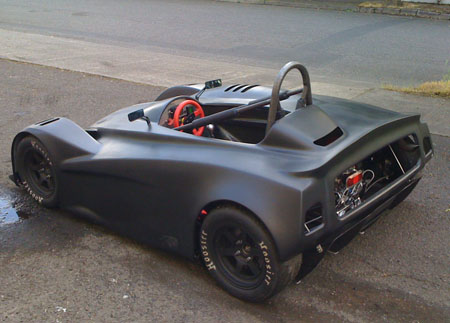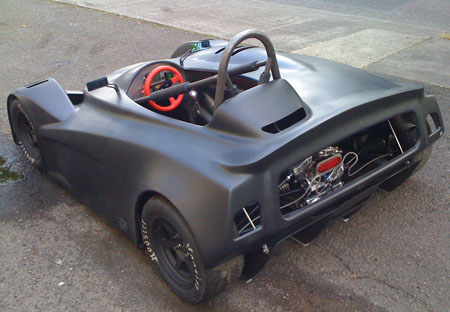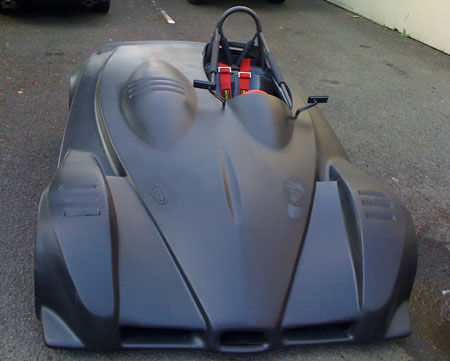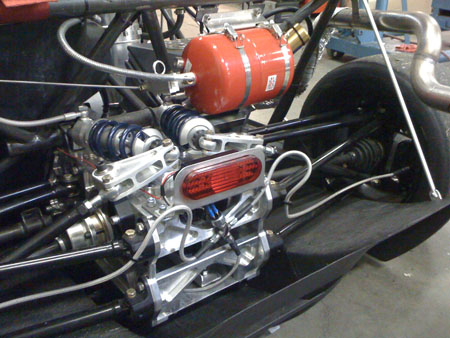 ---
05/30/10 Final preparations for Tuesday's trackday at ORP. Popped the dp4 on its side to check how the rub strips are faring. They are definitely doing their job...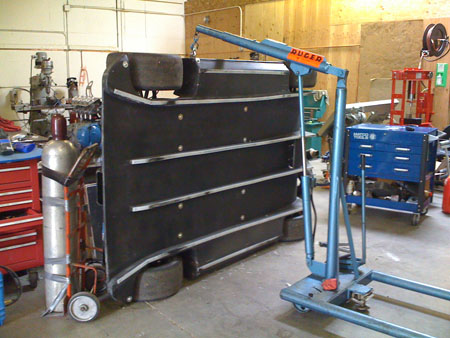 Most of the time today, however, was spent prepping the Mothership. We got the trailer out of storage, washed it, cleaned the inside, applied graphics, installed tiedowns and then started loading it. Tons of work in other words. Backing the whole rig into the shop is an exercise...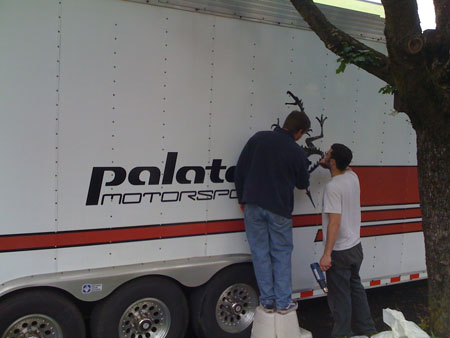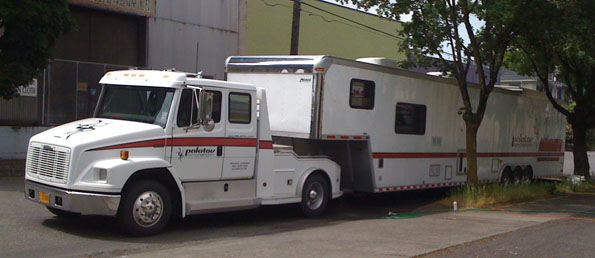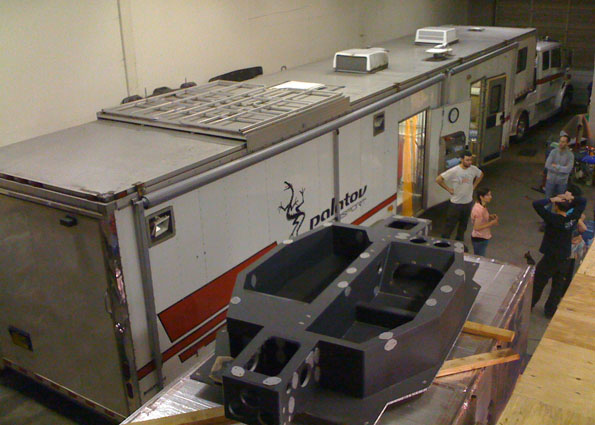 The Mothership is now safely docked for the night, four bikes are strapped in, provisions and supplies are staged for loading. Tomorrow we load the dp4 and a Mini Moke that will be the dinghy/pacecar and then head out to ORP. With all the rain we've been having lately, it would be really nice to get a dry day. Here's hoping.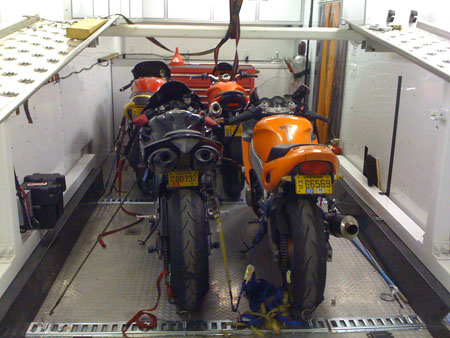 ---
06/01/10 (updated 06/04) Our first track event of the year and also the first 'real' track outing for the dp4 proto. As usual we arrived the day before, hosted a barbecue for the participants in the evening and then were up early to unload and set up. Operating the Mothership is a steep learning curve - turns out there is a lot of planning and details that go into it. You can't just hop in, go, park, turn around, etc. Very doable with some experience but this trip we were in the learning mode and learn we did. The loading took a while as we had to figure out what to take, where to put it, how to secure it, etc. Unloading went faster and for the return trip we had it down pretty well.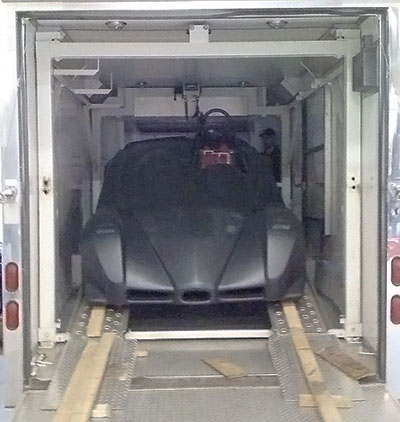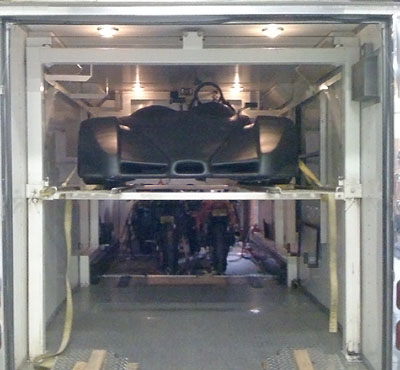 There was some concern about the weather but thankfully it has chosen to fully cooperate - it was cloudy and mild with no wind to speak of, perfect for a trackday. The day itself went smoothly with no incidents and plenty of tracktime for all - except for two 8-minute interruptions to pull the dp4 off the track.
The first time the engine suddenly quit when Karl was driving. He pulled to the side and after towing him in we found a blown fuse. Looking at possible causes we decided that I may have put the waterpump on a circuit that only had a 15A fuse and several other loads so we replaced the fuse with a 25A one and sent Karl out in the next session. Three laps into it the same thing happened again so we had to tow him in and try to modify the wiring. After some searching Tristan found the problem - a waterpump wire was too close to a bolt on the engine and in right-hand turns the waterpump would shift a bit letting the bolt abrade the wire. Eventually it wore through and at certain g load in right-hand turns (about 1.5g) the wire would just short to the bolt and pop the fuse, stopping the engine. Minor issue and an easy fix, once we found it.

Over lunch we had a prospective customer do four demo laps. He came back very excited and hopefully we will soon have another customer car to build.
In the afternoon I went out for a session, starting cautiously with a 2:11 lap and working it down to a 1:58 flat by the end. The car has LOTS more to give but this being a basic test day we weren't going to push it too hard. Coming in I heard some noise from the drivetrain and asked Tristan to check it out. He quickly found that a bolt in the diff had loosened and oil was coming out. Getting to the bolt ended up being a major effort and Tristan spent a couple hours disassembling things and then putting them back together, using the trailer lift to raise the car. It's another lesson learned and production cars will incorporate changes to make this kind of maintenance easier.
The car was finally ready for the final session - Tristan drove the first 15 minutes and M drove the second 15. So with five people driving the car today much was learned and many things validated. It definitely has significant downforce - how much will be quantified later but right out of the box I'm pleased. At 1.5g it's nowhere near the limit so it's hard to talk about 'balance' - the car just goes where pointed, there is no understeer or oversteer as such. A bit of a wiggle at the onset of braking which needs to be diagnosed but we can do that on a kart track in the coming weeks.
All in all, great fun and I'm happy with the car's first outing. We are learning a lot and all of it will be applied to the production cars. Once fully sorted this is going to be one hell of a machine. M wants one badly so we might just build one for her (ok, she might have to let others drive it every now and then but it'd be hers nevertheless). Here's a video (92M file so right-click and save). It's also on youtube. Click on each picture below for larger version - they are video captures from the GoPro camera. The dp4 looks great out there if I do say so myself. Corner workers have nicknamed it the Batmobile (so M became Batgirl). More pictures to come.
After a day to decompress, huge amount of work awaits - it is a good thing.
UPDATE: The photo gallery is now uploaded. Here are some shots of the car (all images courtesy of www.xqsmephotography.com). It doesn't look too out of place with 'regular' cars :)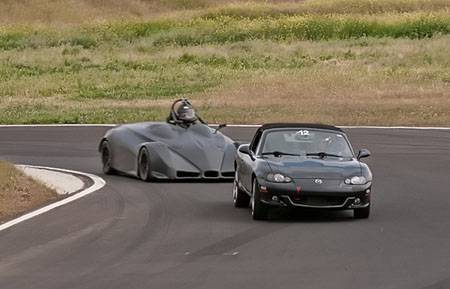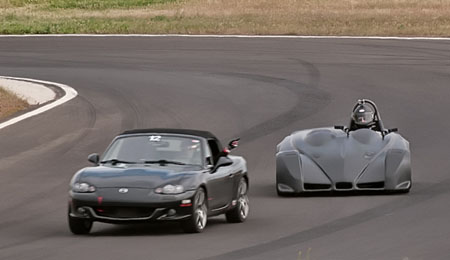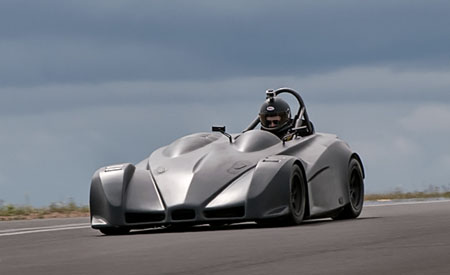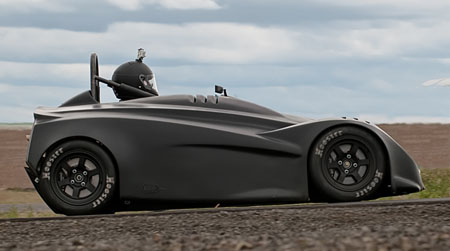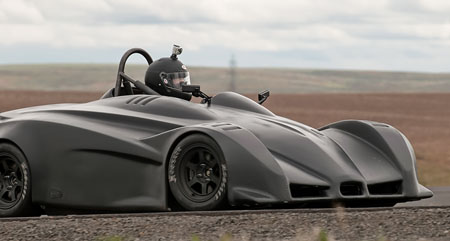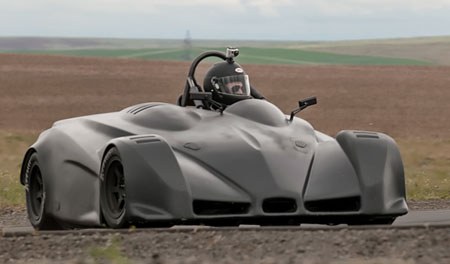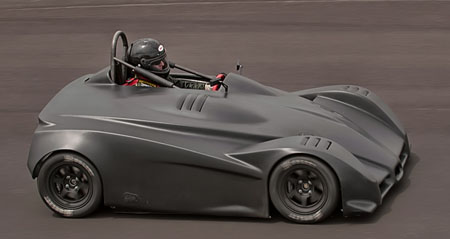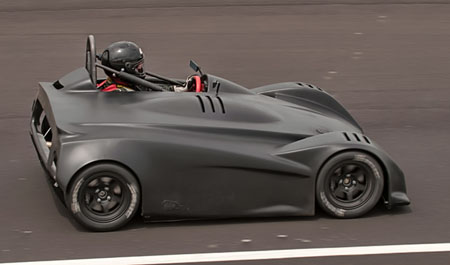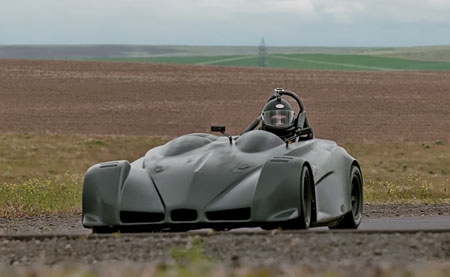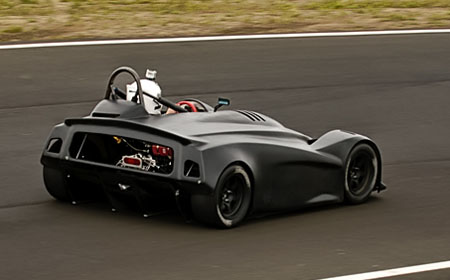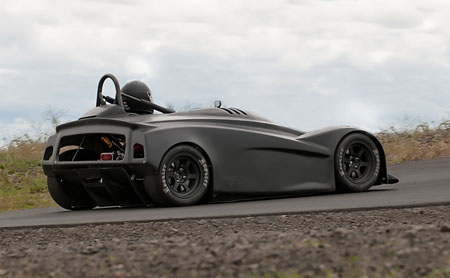 ---
06/15/10 Finally got around to doing another post - those who follow M's announcements on facebook probably know most of it already, but here goes anyway.
A little belatedly, I'd like to officially welcome our intern Davide who has traveled all the way from Italy to spend the summer working with us. Friday at 1pm he got off a transatlantic flight, went directly to the shop and spent the afternoon prepping the dp4 bodywork. He'll fit in well :).
I've been a bit surprised at the popularity of our YouTube video - well over 100K views and press coverage in Jalopnik, Wired, Autoblog and a few foreign publications. Even in Japanese. The press seem to have decided to call it a super go-kart but I guess I'm largely to blame for that, it was likely my own comparison to shifter karts that triggered the association. The next video will show off the suspension and the full chromoly frame a bit before getting into the driving :)
The dp4 proto is now at a stage where we're ready to take it all apart, powdercoat the frame and put it back together with all the latest updates. So take it apart we did - took about 3 hours which was helped by the fact that the front and rear suspension units come off as one piece. We'll disassemble them later.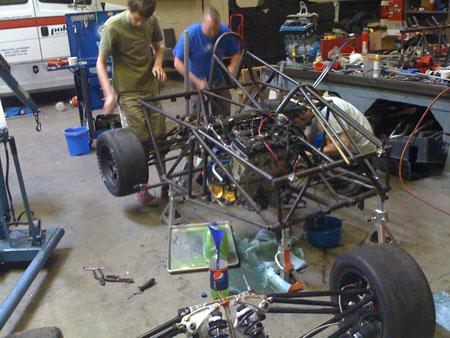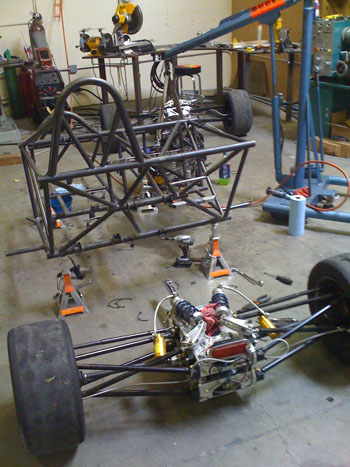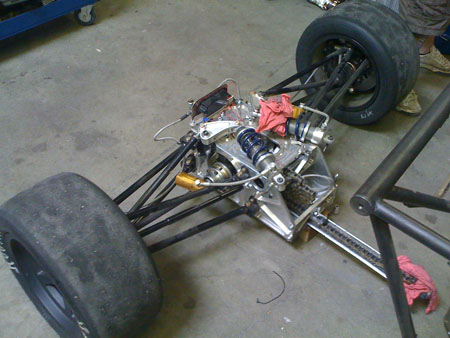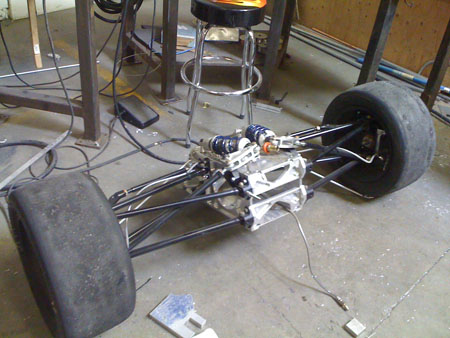 Once the frame was bare, Tristan finished up some bracket welds that had only been tacked and now it's at the powdercoaters. Should be done early next week. In the meantime the body prep continues and a few lessons learned from the teardown need to be applied.
We're splitting our attention between dp4 proto, the dp1/e and the first customer car (and of course a few other projects, couldn't have it any other way). The goal is to get the former two ready for further track testing by the 28th. It'll be a busy couple weeks.
---
06/24/10 The frame is finally back from the powdercoaters, a day late. We went with a light grey color (as an homage to Colin Chapman's earlier efforts, I suppose).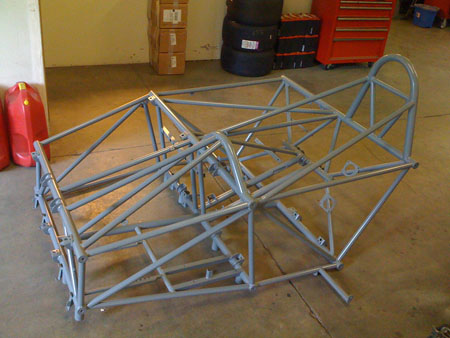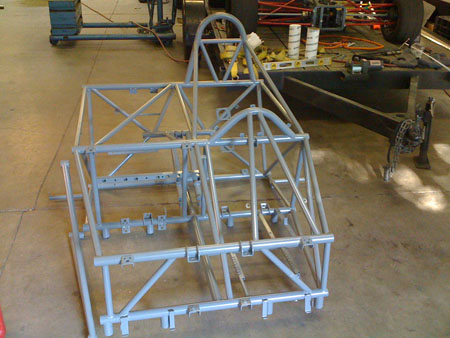 Along with coating the frame we tidied up a few other parts - like brake pedal assembly, diff (with new steel sprocket), and so on.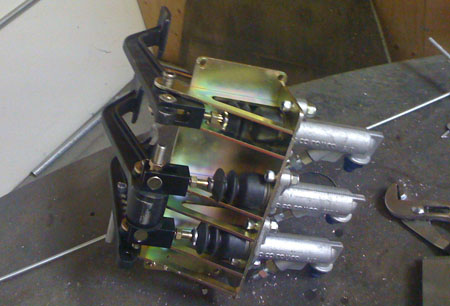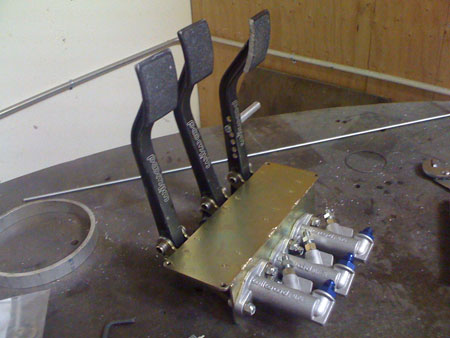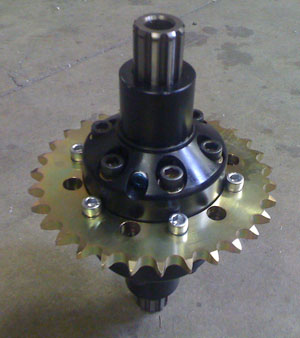 Now re-assembly begins, incorporating as many fixes and lessons learned as possible while still having it done by the end of tomorrow. The car needs to be ready for loading into the trailer Sunday morning, along with dp1/e (dropped it off at RMS this morning). No pressure.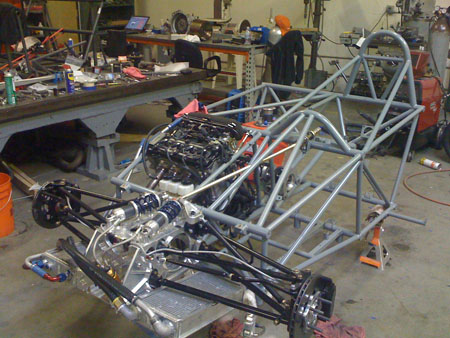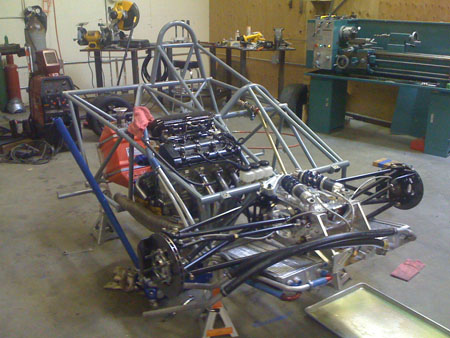 Davide has been busy prepping the bodywork and Pilot Pod. They got sprayed with a coat of primer today so should be ready for installation tomorrow. It's quite a juggling act, getting everything ready all at once.
---
06/25/10 A full day's worth of effort and the car is looking pretty much like a car again. Due to all the updates we're doing quite a bit of fabrication still had to take place, otherwise it would have been done sooner. Should be wrapped up tomorrow, just in time for us to get the dp1/e back - hopefully.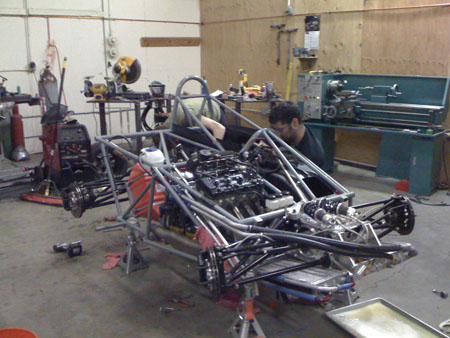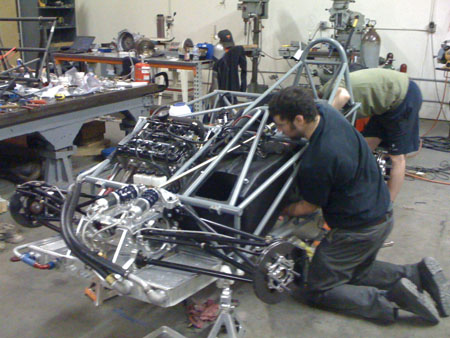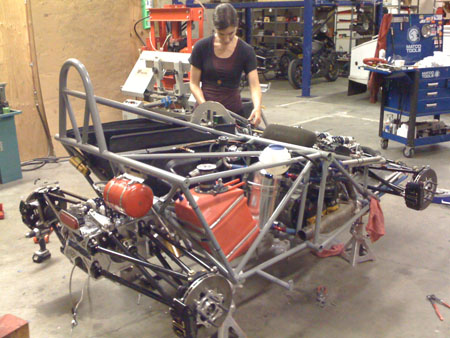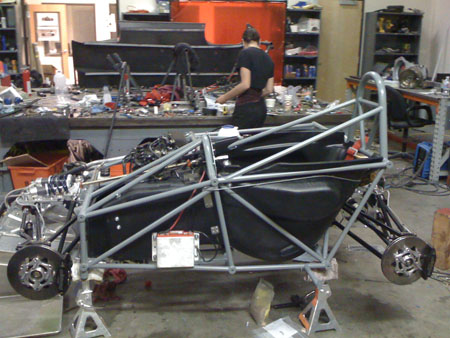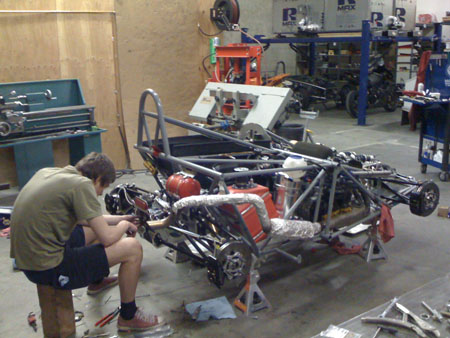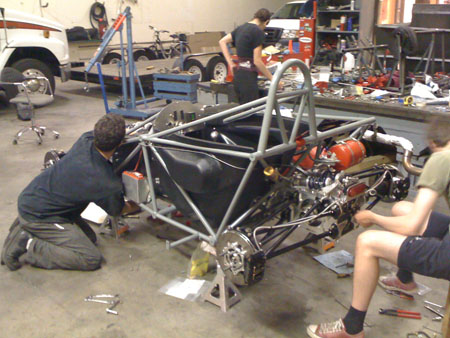 We're getting better at all this.
---