---
10/17/09 Well, the day is here. M did the honors of the first drive, though due to rain outside it was a very short indoor one. Still, the car did move under its own power so it's official - it lives! Click on the picture for a short video.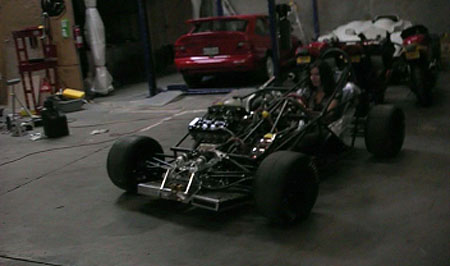 A lot of tidying up to do before it's ready for a first track outing, which will most likely be at Pat's Acres kart track. The weather needs to be in a more cooperative mood for that though. I'm looking forward to it - this thing should be FUN! :)
---
10/21/09 It is always a revelation just how much work the last few bits are. Every time I go through the process I learn it anew it seems. It took a few days but the car is now ready for its first track test. Hopefully tomorrow.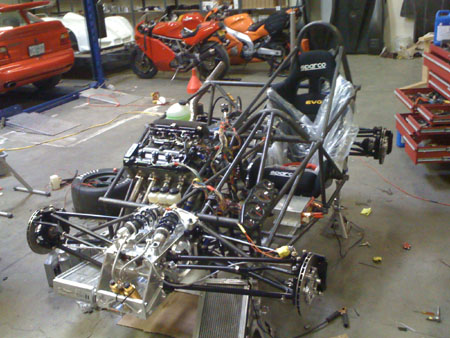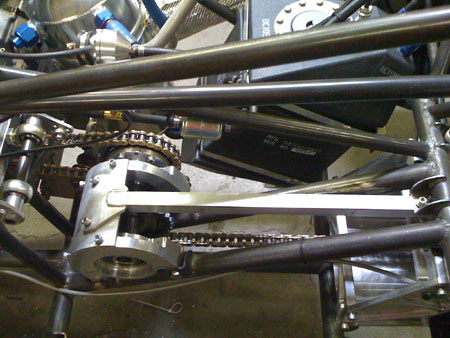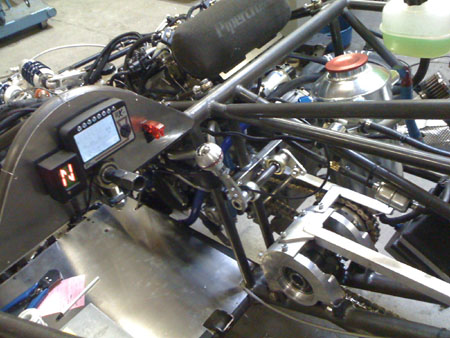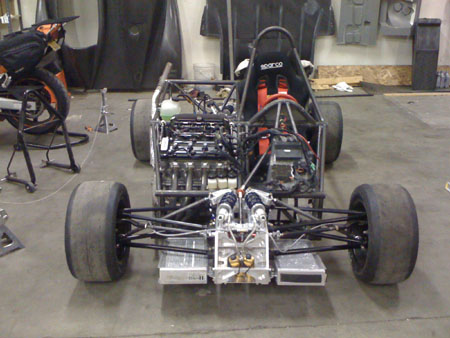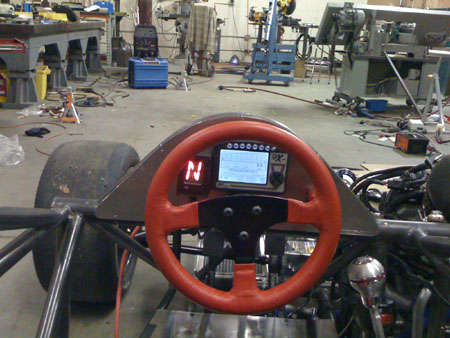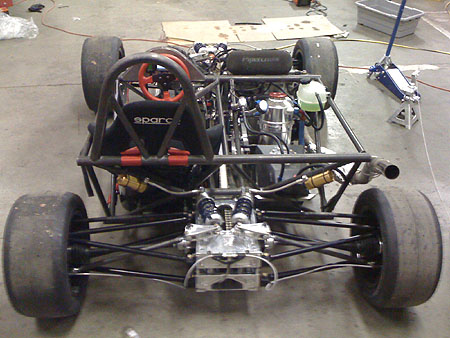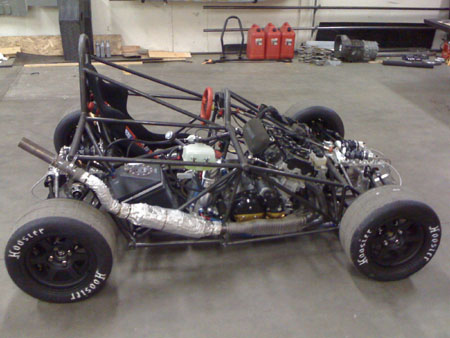 With luck the weather will cooperate. And the dp1/e might make an appearance for comparison. That should be entertaining.
---
10/22/09 The day started with fog and a balmy 50F but thankfully no rain. We had arranged to use Pats Acres track from 10:30 until noon when the regular karting starts, so in the morning we loaded up and headed out. Upon arrival we found a cold, damp track covered with leaves (this is before regular hours so the track crew hadn't had a chance to attend to it) so some cleanup was in order before we could start. Roy came out to watch the proceedings and we quickly recruited him as the leafblower driver while we unloaded, signed up and generally got ready.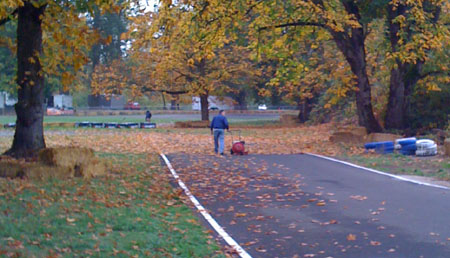 With everything set up and the track clear, it was time to put the rubber to the pavement and see what happens. I was up first for a few tentative laps, just to see what the car does. With brand-new, cold slicks on wet pavement it was a bit twitchy at times but manageable.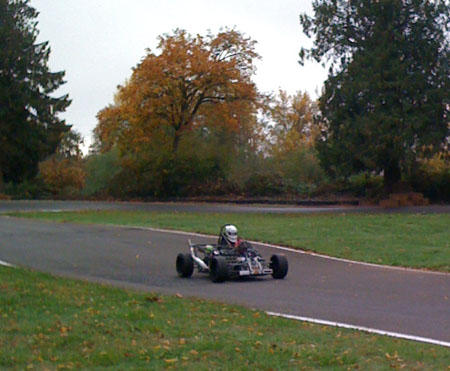 Kyle from Rinehart Motion Systems (dp1/e controller builders) met us there and while we ran a few sessions, Kyle took the trailer to pick up the dp1/e so we could test that too. The battery pack in that car is really beat to death so we only expected a few laps and that's pretty much what we got. Anyone want to sponsor testing of a LiION pack?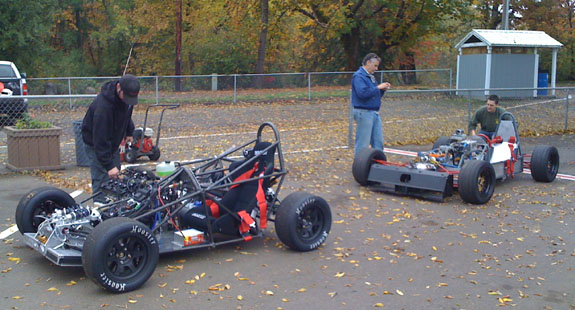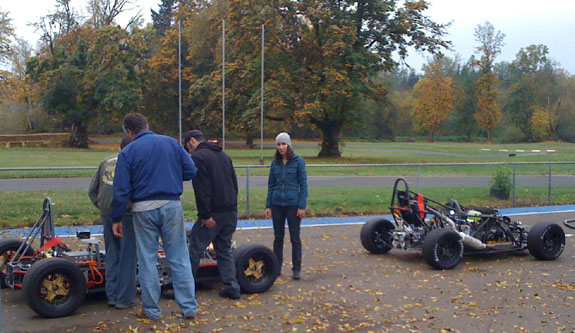 Until now I've never thought of the dp1 as 'long wheelbase', the car sharing its 80" dimension with the classic Mini, but in comparison to the 12" shorter dp4 that's exacly what it is. Combined with AWD the car practically drives itself compared to the RWD dp4 - at least when tires are cold and track is wet. More on the dp1/e later on its own page. At some point both cars were out on the track at the same time which was a milestone in itself :)
Tristan, M and I all got to run quite a few laps in the dp4 and with the air temperature and tires warming up the car became a total joy to drive. 'I want one!' M proclaimed after a session. OK.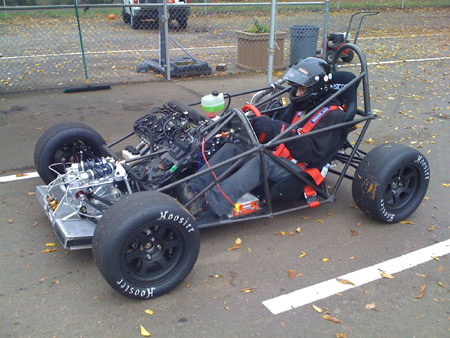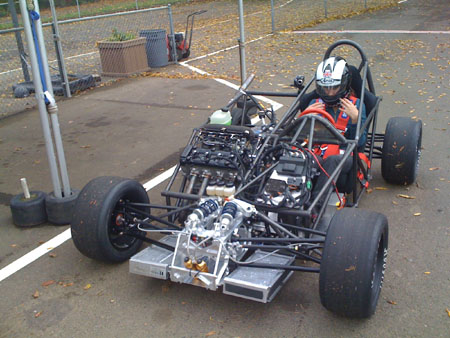 M was having a blast with it hanging the tail out around tight turns. I did a couple sessions as well, getting into a bit of a groove and below 44 second lap times. Nothing to write home about of course but it's on par with the first dp1 outing in its gas-powered form and given the conditions it's not too bad. M wasn't far behind at 46 sec flat. The video below is an example of a lap (click on the picture for the clip, it's a 20M file).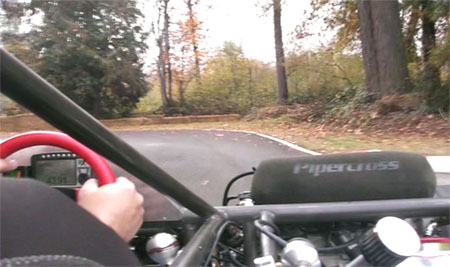 The car works well on the kart track although passing would be tough with a few of these out at the same time. Some kart tracks have more room and the dp4 would be better suited to those. ORP would be ideal though :) On this track we stayed in 1st gear the entire time and despite the fairly tall gearing the car was eager to spin tires when given some throttle (we never went all-out the entire time). With the planned weight reduction, AWD will be a very worthwhile option for tight tracks.
Nothing broke and many things went well but we did come up with a list of things to work on - mostly chain guides and such. We're testing a new datalogger/dash from XT Racing (seems to be working well, more on it later after I go through the GPS data). Also a couple other devices. Most likely this dash will be the base configuration for the dp4, working on a few other options for upgrades and the dp1. No shortage of work to do in other words.
There are still a few good days likely left in the season, the bodywork is supposed to arrive this weekend, I already have many of the tweaks in mind and at some point we're going to build a second car (GSXR1000 powered most likely). So I'm hoping we'll be back at this track this fall.
For comparison and general entertainment we all did a session in rental karts afterwards. While much slower they sure do beat you up! I spent a good half hour in the dp4 at much higher speeds with very little fatigue but 15 minutes in the rentakarts beat the hell out of me. I was suddenly sore and tired (M's experience was the same). Which of course just validates the dp4 proposition - more fun with less pain than karting, more speed with less cost than production-based track cars or outright race machinery. I'm looking forward to getting a few of them out there.
---
10/29/09 Today Dan from Contactscale arrived with the bodywork and the first-article floor. As with the first test piece, he brought the parts up from California on the back of a pickup truck.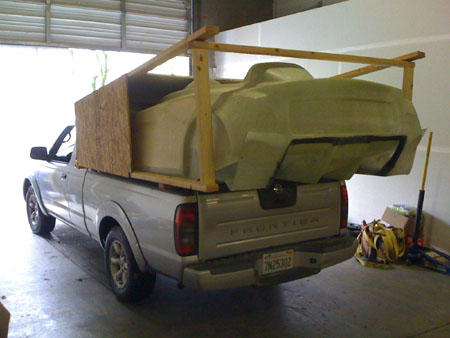 We are trying a few different approaches to making the parts, including different layups and finishes. This set does not have any primer on it with the idea being that we'll need to primer it anyway for paint, might as well remove mold marks and do the trimming first. We'll see how this works out. The dark areas are places where carbon cloth was added for extra strength and light areas are core. Neither will be visible once the body is painted but in the meantime the effect is interesting.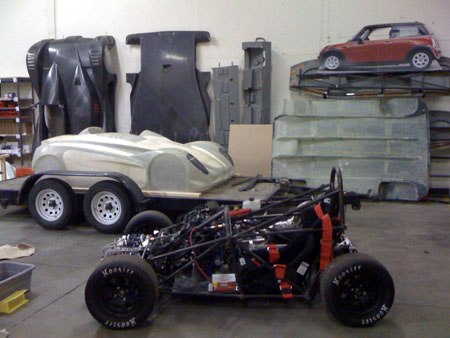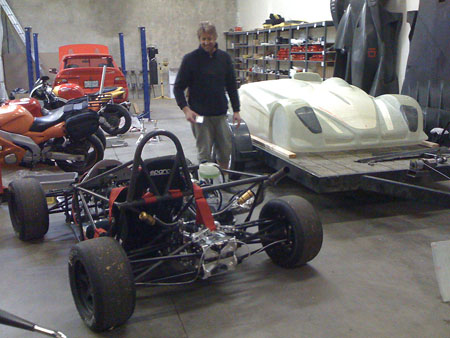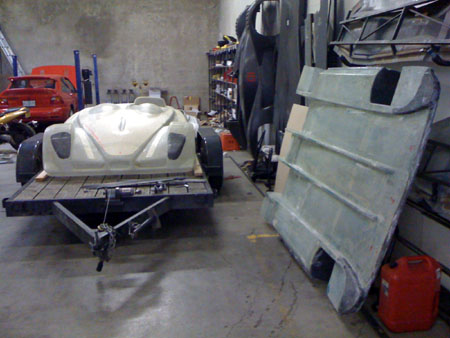 Next on the agenda is figuring out all the mount points and hardware, trimming both bodywork and floor, test fitting, making whatever adjustments are necessary, then probably a couple test runs fully 'clothed', followed by final prep and paint. The floor in particular will need some additional clearance cutouts for plumbing and such, which will then be updated in CAD.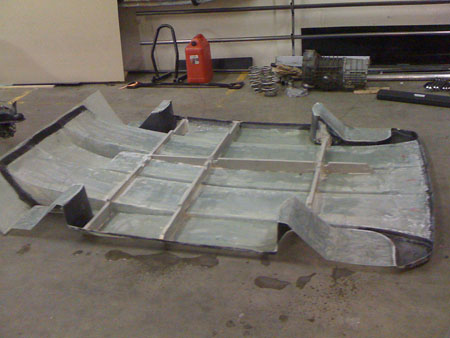 At some point, probably before paint, the plan is to take the car down to California as we might have a chance to test it on NASA's 9,000+ foot runway. That would be a good venue for aero testing but we have to get the car properly instrumented first, especially if we hope to measure downforce. Should take about a quarter of the runway to get to top speed which is estimated at around 160 mph with the stock Hayabusa motor. Of course it could be a good deal less if we find that aero needs further improvement. Much to do, much to learn.
---
11/03/09 Now comes the fun part of trimming the bodywork and the floor, then getting it all to fit together. The floor is first: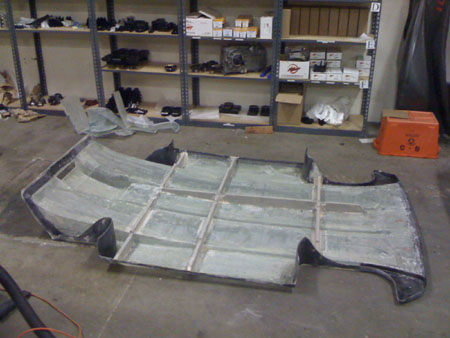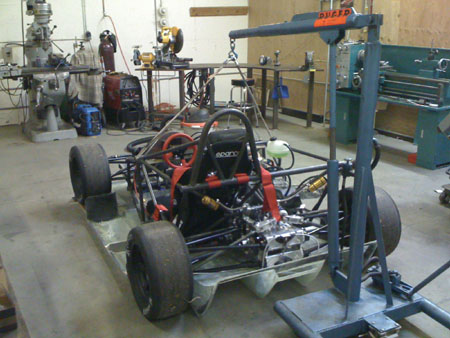 The engine hoist is great for lifting the whole car. This is exactly what I had in mind for it when I got it a year ago.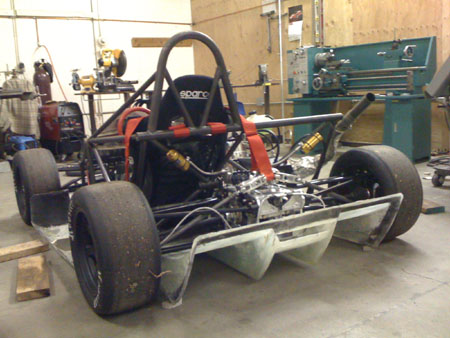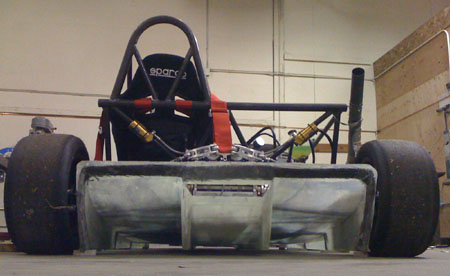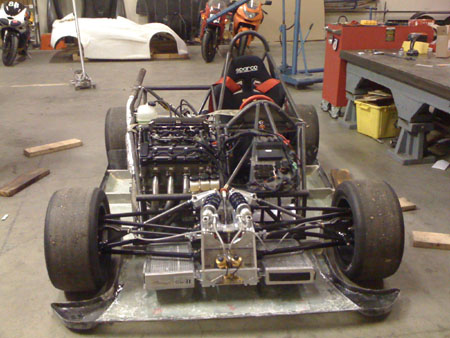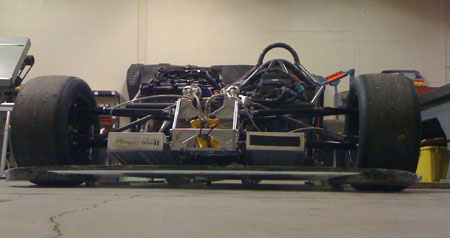 Also, Dan sent some pictures of the two dp4 bodies in California. It's neat to see more than one of these things.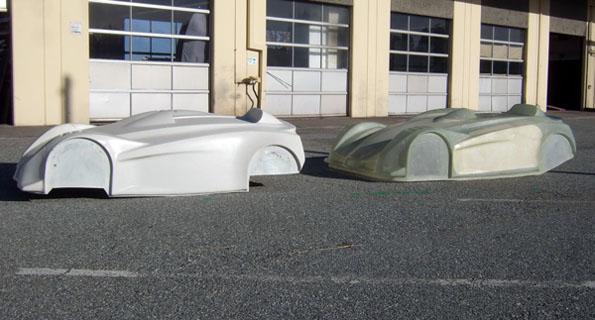 A huge amount of work remains of course. We're on it.
---