---
08/31/09 Things are moving. Will we have a running car by Sept 27? We'll see. It's not going to be easy, that's for sure. In the meantime the suspension box design is finalized and out for quotes. Weight is on target at 14.1 lbs.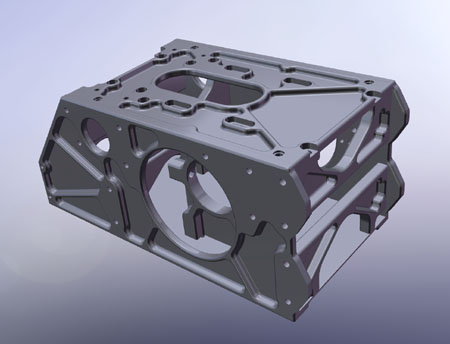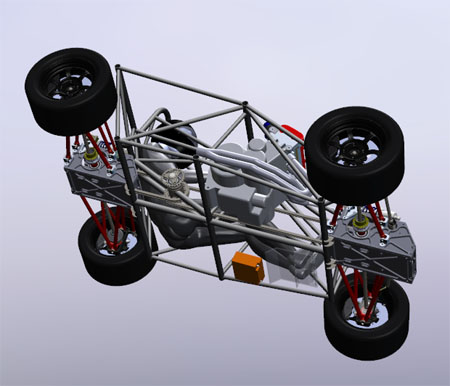 The boxes also serve as diff carriers and chain adjusters. Hopefully no unpleasant surprises on price.
Also got the shocks from Shock Shop - Ohlins ST44 with 500 lb springs. Just running stock valving for now, will have Chris revalve them later after some testing.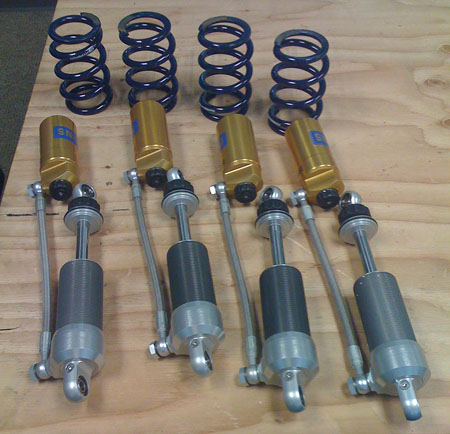 This is basically the same setup as on the dp1 prototype. No, these won't be the standard shocks (a bit too expensive for that) but will be optional. Lots of other parts are on order and on the way.
---
09/09/09 Lots of things are getting figured out all at once. I now have come up with engine mounts, bodywork and floor mounts, a first pass at forward sprocket mount (both RWD and AWD), pedals, steering and a whole lot of other things. The engine is now test-fitted in the frame and the tight tolerances called for a review of the model accuracy. The prototype dp1, not having any structure around the engine, was pretty forgiving dimensionally (save for a tube that had to be cut out) - not so here. Fortunately everything will fit... Barely, as always.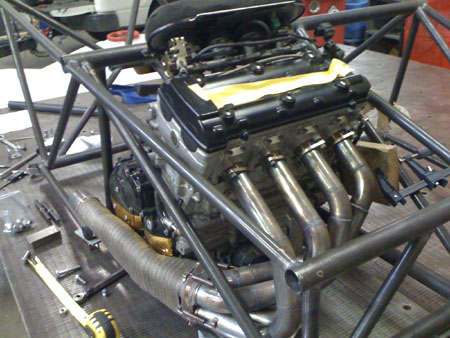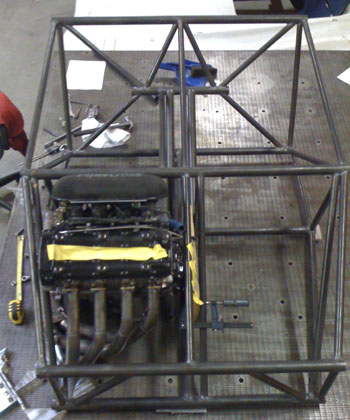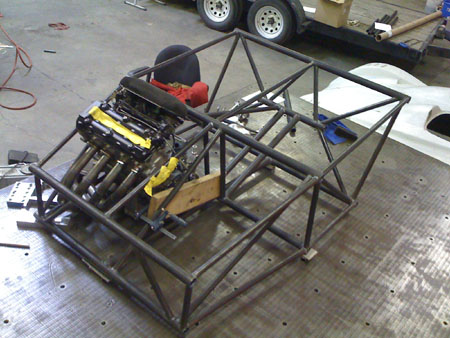 It's a really compact device - a good home for 185 horsepower.
Tristan thought he was joking when he said that even my bigger cars will still be a shrink fit. He should know better. Just because dp2 will have a Chevy LS V8 doesn't mean it'll be fat. Just the engine, the driver, and enough to let the latter fully use the former. Oh, and in the case of dp2 a spot for a victim... Uhm, I mean passenger :)
---
09/16/09 I now have all the pieces figured out (at least well enough for a first cut) and everything is on order. Parts are trickling in - next week will be a mad rush to put it all together and see if we can make something drivable for the trackday on the 27th. It'll be close, don't know yet if we'll make it.
In the meantime Contacscale is working to get us the floor and the body by next week. Neither is strictly necessary for a first drive but for a track test it would really help to have both. Dan sent a couple pictures of the floor plug, before a mold is made from it.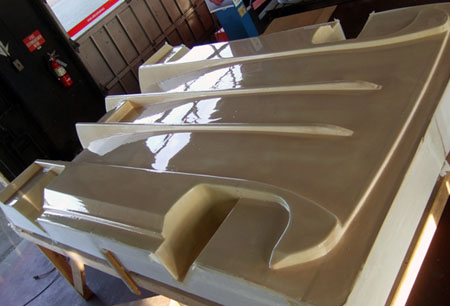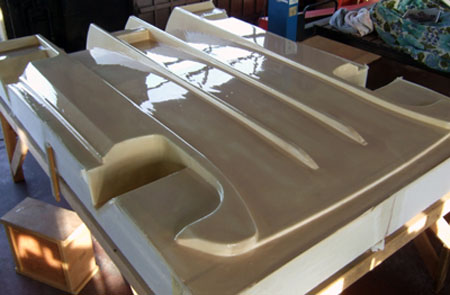 Really looking forward to finding out how this works in the real world. If I get the aero right it'll be a very FAST car. If not, I guess I'll have to tweak it until it is right. Having both floor and body as bolt-on pieces separate from the structure allows plenty of opportunity for changes, tests and comparisons. Which is very much the plan. And yes, this floor would be DSR-legal because it has less than 1" vertical deviation within the longitudinal span of 45% of wheelbase, starting at the point where floor is full width behind the front wheels.
---
09/19/09 Karl is visiting again, to join us for next weekend's trackday (which is now fully booked with a long waitlist). The goal is to have it be the first outing for the dp4 and to that end we've been working long hours to get things done. Today the fuel cell showed up from FuelSafe so we installed it. It's a nice unit, a perfect size and shape for the car (5 gallons which should get a 30-minute race).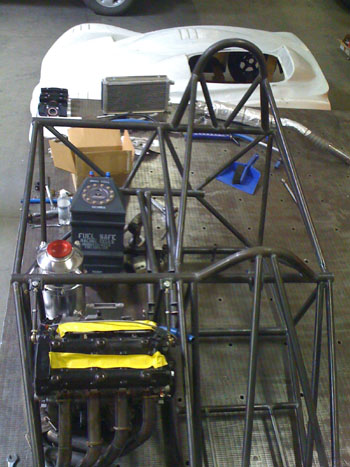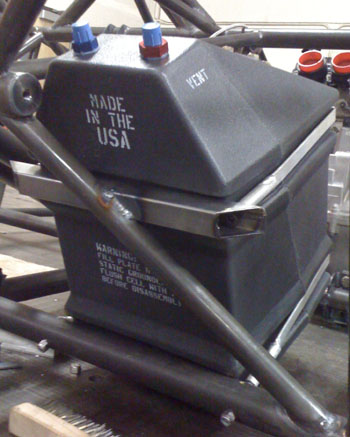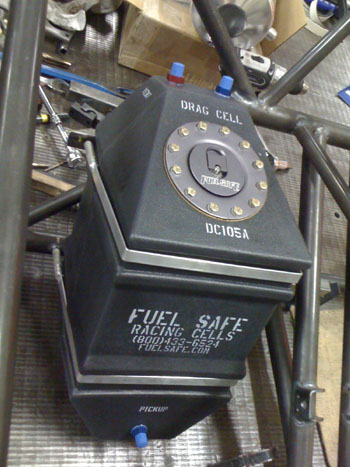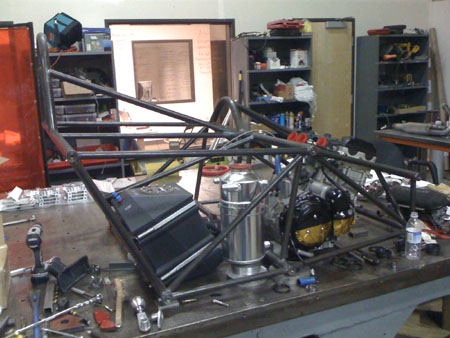 It took a few mental revisions to get the mounting scheme right. Once it became clear what needs to be done Tristan fabricated all the brackets and straps and welded the attachment points. Turned out pretty elegant and clean.
By the way yesterday after welding up the roll hoops we weighed the complete frame - it's 79lbs, within one pound of what SolidWorks predicted. Pretty cool.
---
09/23/09 Two days to go. Some parts are still being made. This is a bit like conducting an orchestra (and playing half of the instruments while writing the score on the fly). It's getting there. Still don't know if we'll really make it but at this point it's still doable. The seat is here - had to be modified of course.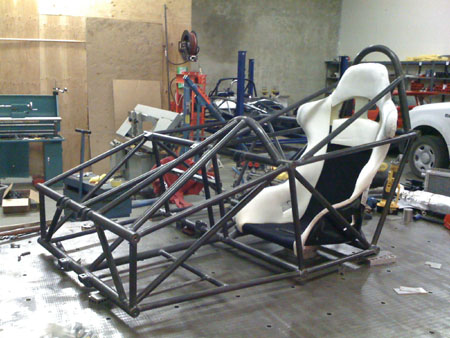 Suspension boxes and parts for pedal boxes showed up Monday. Now they're all put together and some of them installed. Shifter is designed and fabricated (yes, quite a few of the dp1 proto parts are being used, this is just efficiency).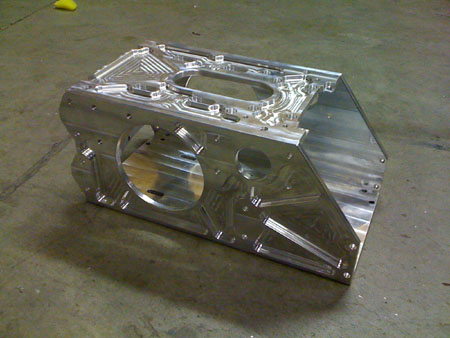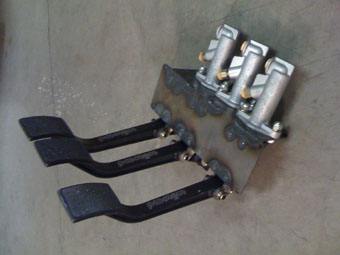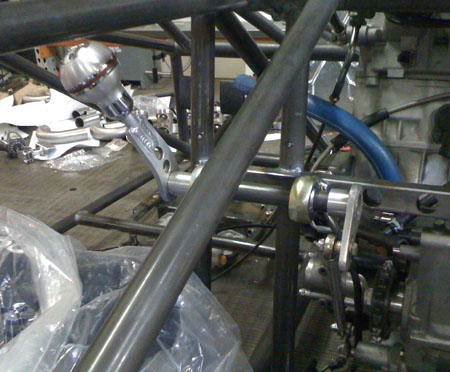 Spent quite a few hours today tweaking things that don't quite fit (it's all being updated in CAD as it happens). As of today, the engine is mounted, controls are in place except for steering wheel. The steering rack, steering shaft, fuel cell and drysump tank are installed, plumbing has been started and is well on the way.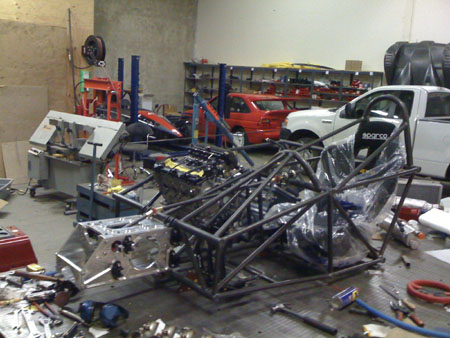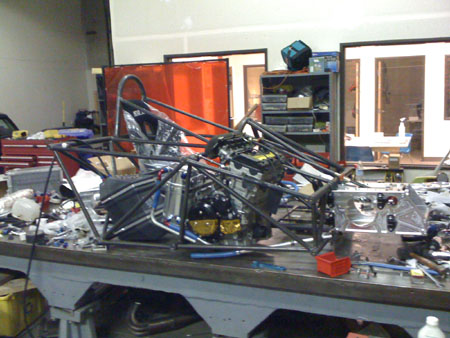 Sorry the pictures are really cluttered - that's just the environment, there are many tasks happening all at once. Tick, Tick, Tick....
---
09/25/09 The last few days (weeks, months?) have been crazy. Relentless pressure, endless stream of challenges, solutions, more challnges, task being completed, new tasks being created.... And no, we didn't make it. Great progress has been made but we do not yet have a running car. We will, soon, but not in time for Sunday's trackday.
Throughout this ordeal we had great support from our vendors with parts being delivered all hours day and night. Some of them were designed just a couple days ago. Most work great, some have issues - mostly my errors or just failures to communicate. Considering that over 30 different parts were designed and made in the last three weeks the track record is actually pretty good.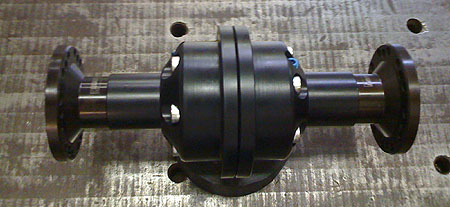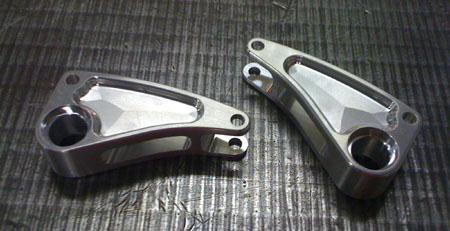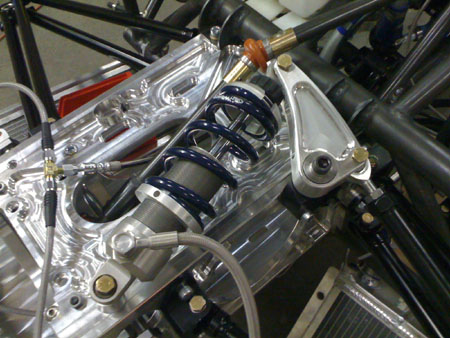 The shifter and steering wheel are really well positioned. I'm quite pleased with how these are set up (so is Karl and pretty much everyone else who has been in that seat this week, which is quite a few people since we're trying to evaluate ergonomics). Some of the people who have sat in the car are seriously considering placing orders.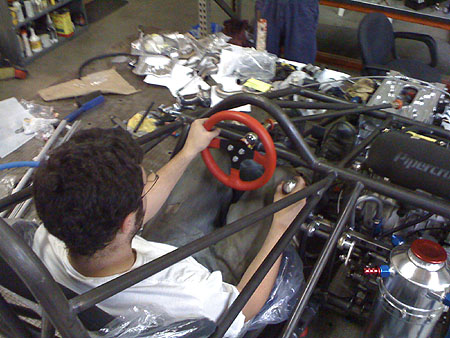 There came a point where the car had to be moved off the surface plate and onto jackstands. All the plumbing is now done, controls fully hooked up and left front corner of the suspension is put together - more or less.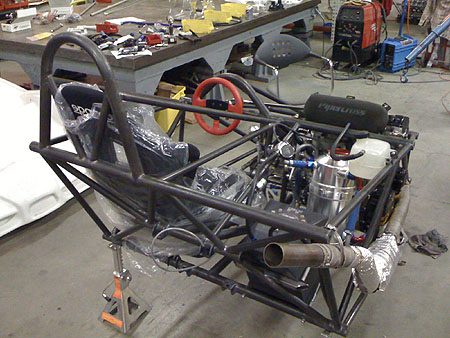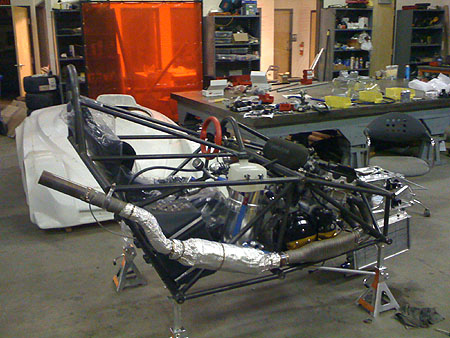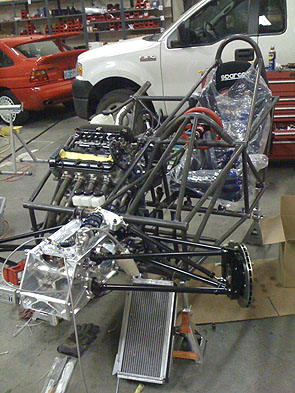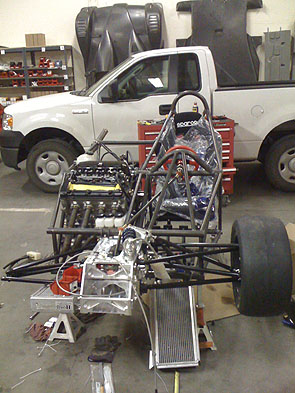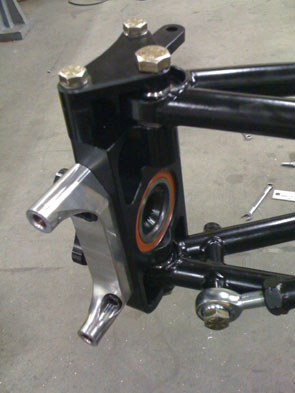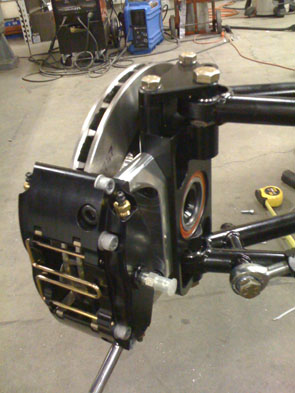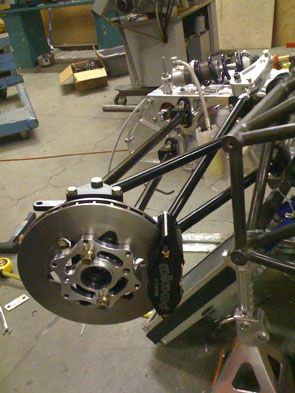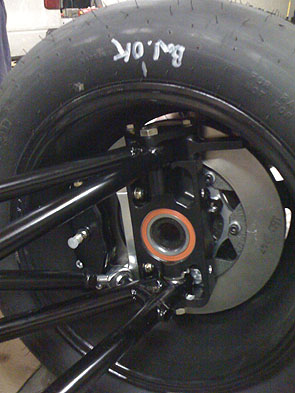 Brake calipers fit in the wheel as expected, with about 1/8" clearance. When I do accurate models the results are accurate. When I overlook things... Well, I'm working to minimize those occurrences. I do have to say that by and large things are progressing OK. Yes, I would have loved to have the car running right now. That moment is probably 2-4 weeks away in reality. The dp1 prototype took a bit over four years (last week was the third anniversary of its maiden voyage). The Atom took about one and a half years to first drive and I didn't design or build the chassis (and another year and a half to solve all the issues). The dp4 is now at about 10-month mark from first concept and as such it's moving right along. Having Tristan's and M's help and Karl's backing definitely makes a huge difference but it's still up to me to design it and make it happen. I'm getting better at it.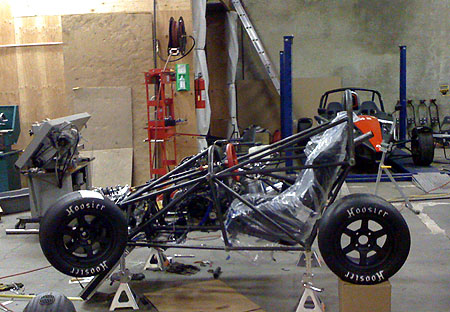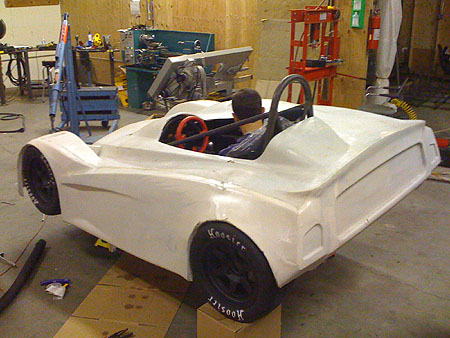 ---
10/02/09 After the mad rush of the previous weeks the pace almost seems leisurely - but things are getting done. I guess the major difference is that I'm not as stressed about it now. We're targeting early next week for wheels down and first start. First drive won't be far behind.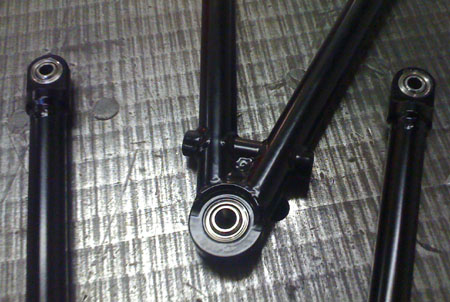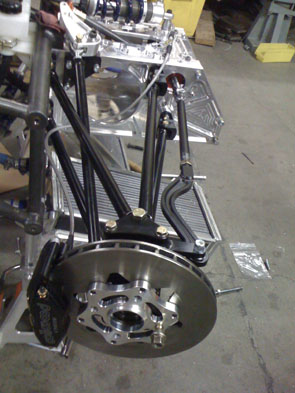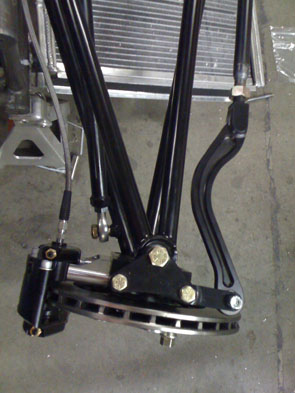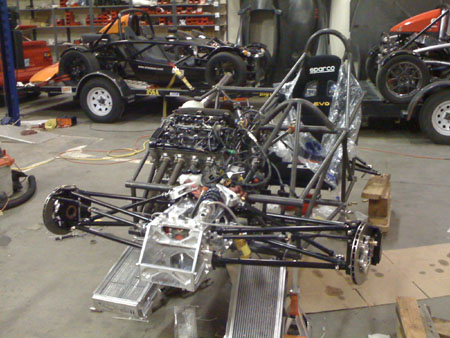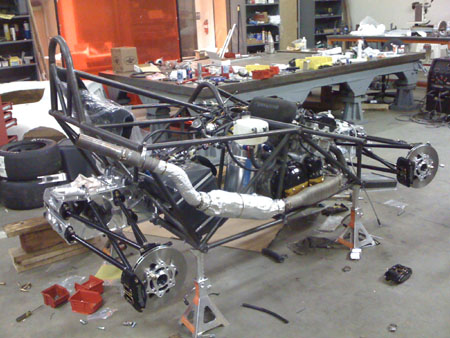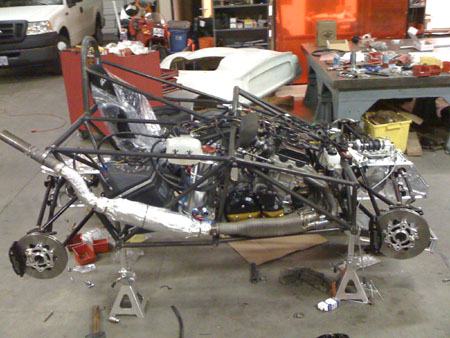 This is a car that makes the Hayabusa motor look quite big. The more I see it in the flesh, the more I like it. And I'm not alone, there is very strong interest and lots of people are waiting to see it run.
---