---
4/24/17 In the neverending stream of progress on everything at once, it's time to update the D4 related stuff. Pearl got to open the track season for us a week or so ago. It was cold and windy but dry. I even got to drive a bit. I'm terribly rusty and distracted - was quite mad at myself for how I was driving actually. I've resolved to get more seat time, which has many other implications and caveats, but I'll make it happen.
On the plus side I loaded the car on trailer by myself, towed it some 120 miles each way without incident, and enjoyed the few laps I got at the track. More validation for the concept.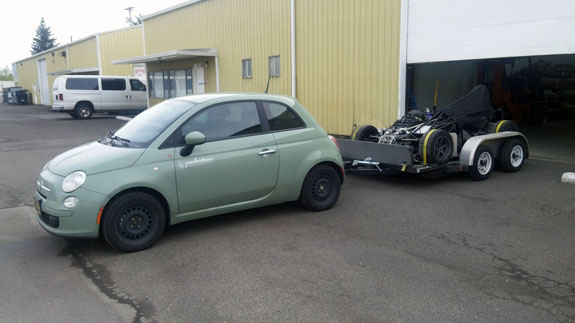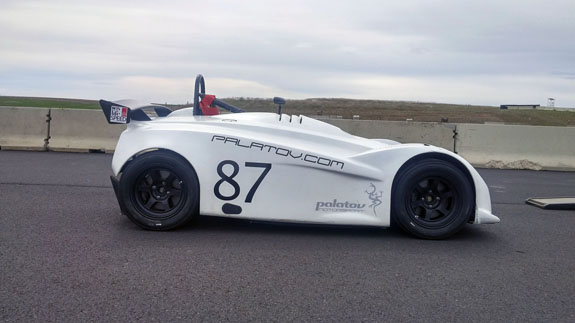 Of course the experience wasn't without stress. Over the winter we pulled the wiring out of Pearl to get dimensions and use it as a template for making more. Then we put it back, with no changes. Car ran fine before so we didin't worry much. The trackday was on a Sunday, so the Friday before we go to test-start it... and it doesn't. Much head-scratching, pulling the wiring out and reinstalling it - nothing. It did try to fire a couple times but then got worse with ECU not even turning the fuel pump on anymore.
So I had to 'become one' with the ECU mentally and asked myself, if I were it, what would keep me from running the fuel pump. In the bike there are several sensors which would do that. The tipover sensor being the main one - if the bike is laying on its side, don't want to run the engine. With over 2g lateral cornering in this car we had to bypass the sensor with a resistor (otherwise in every corner it would think it's flipped). The resistor is soldered in with heatshrink tubing for insulation and strain relief. We found where it is - looked fine. But flexing the heatshrink a bit pointed to the problem - a resistor lead had broken off. Tubing keeps it together and the connection is very intermittent at best. So we fixed it, Tristan using a piece of wood like a splint to keep it from flexing later. Car almost fires, then doesn't. And then fuel pump no longer turns on. That wrapped up Friday.
I came in Saturday to try and fix it further. It must be noted that these days I hate wiring with a passion. I used to enjoy it. Electronics was my first career and I was good at it. But then I've had my fill after 20 years and now I like to think I've paid my dues. So when I have to mess with wiring, it's not fun. I had to once again 'grok' the ECU and remembered there is another resistor - one that bypasses anti-theft feature of the bike's ignition switch. Some tracing of wires to find where the thing is physically located and sure enough - same story. Took it apart, installed new resistor, added a 'splint', reinstalled wiring. Vroom. Couple more lessons learned and the wiring we build for future cars will be the better for it.
Back to daily work - the construction of the intake and exhaust for the next 3 cars is well along. Ran into a bit of a snag though. We have the design pretty much sorted for cars using Gen I Hayabusa engines. However the next two use Gen II engines, which it turns out not only have different throttle bodies, but different spacing between them as well. So the intake we welded up will have to be used on Tristan's car which is the third in line, and I have to redesign and scramble to make new version. It comes soooo close to fitting, but not quite.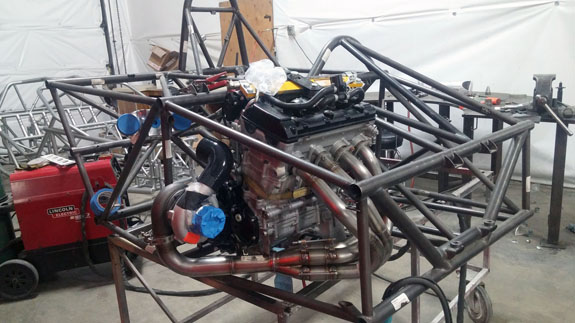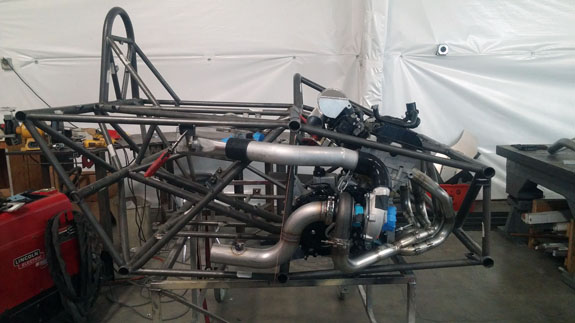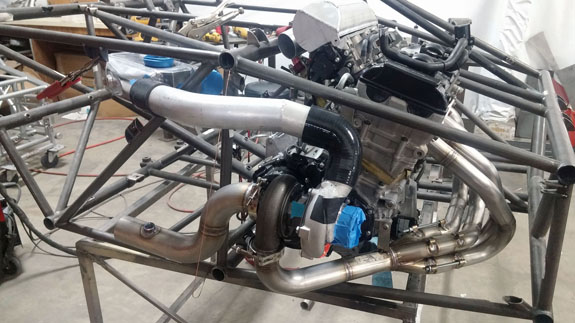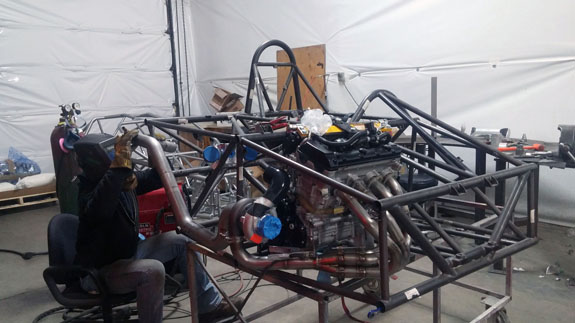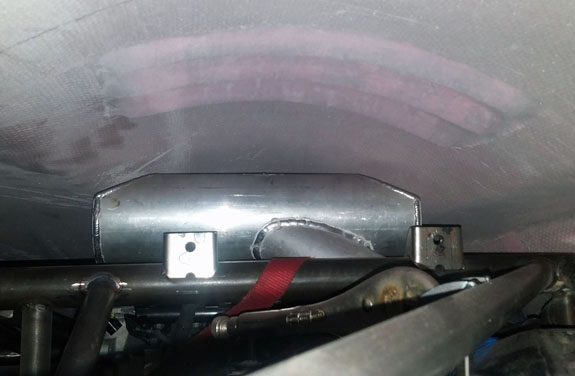 The next two frames are now back from powdercoat and assembly has started.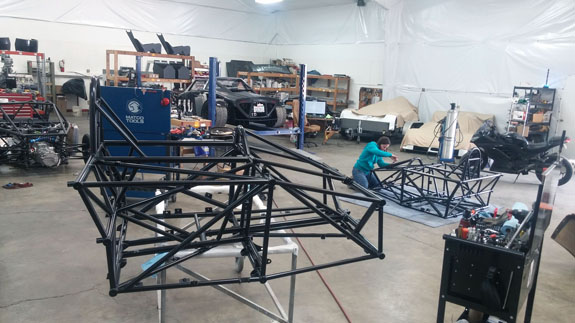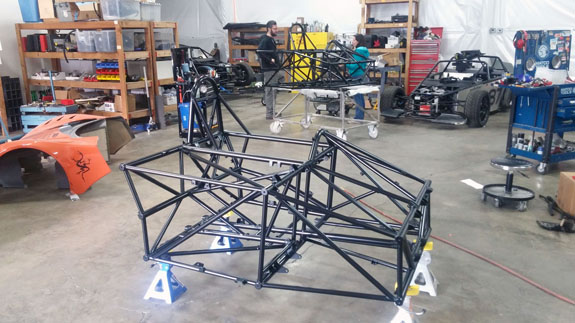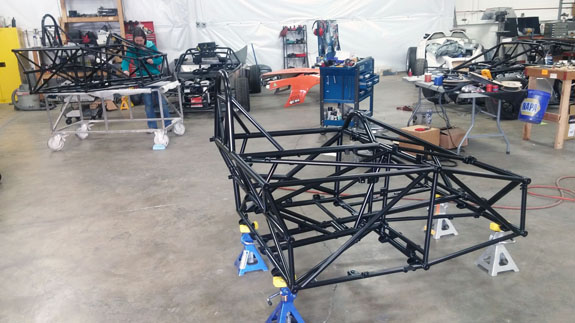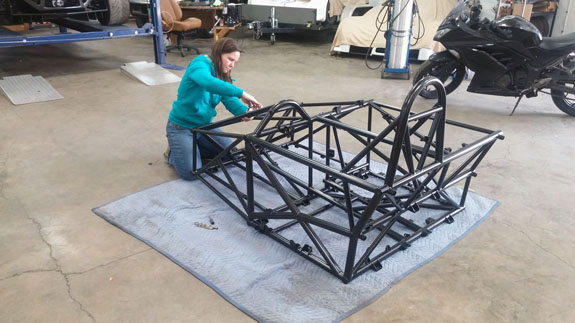 On a final note and somewhat D4 related, since it's a close sibling, just a couple random shots of Neil's D1 being serviced after the recent trackday. Over 60 hours on the car and nothing major yet. Knock on wood. It's a good view of the layout and the packaging.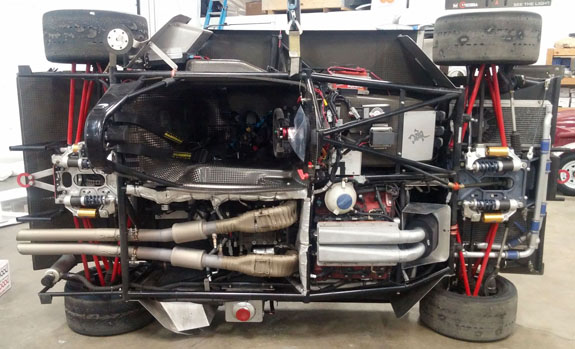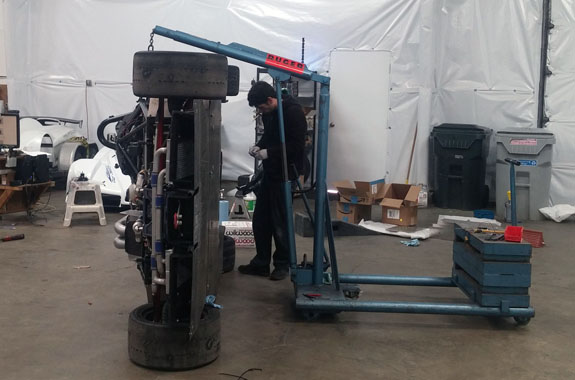 Lots more happening as always, more updates on other blogs very soon.
---
Site Sponsors and Links:

- CMS Lap Timer - Advanced Track Timer App With Video Integration

Tire Rack - Tires, Wheels (use link when buying wheels/tires to support this site)
---