---
07/18/17 There is a reason I try to keep updates regular. Because when I don't, the accumulated amount of new info and pictures is such that I don't know where to even begin, and so I put it off even longer. It's a spiral. Pikes Peak of course is a major contributor to overload (and I did manage to keep a blog of that), but it's also one of those cases that I'm too tired from the day to make a post. But now I will. It won't include everything, just some highlights.
There is a lot of pressure to finish the two turbo AWD D4s we have in progress (as well as other builds, but this is a D4 blog). There have been some frustrating delays and setbacks. For example, custom halfshafts took over 6 months instead of the quoted 6 weeks. When we did get them, inexplicably they weren't made to print. My design allows us to use two sizes of outboard CV joints, so we can use beefier ones in the back and smaller ones in the front. The vendor arbitrarily eliminated the extra spline so we can only use the smaller parts now. Normally not a problem, but it so happens that during the 6 month delay the smaller design was discontiued by all vendors and it's completely out of stock (it's from a '78 VW Rabbit, so no big surprise there). Several sources took our orders and our money, only to not deliver or claim to deliver with no tracking but the parts never showed up. I finally found four parts in the UK and they actually showed up! That takes care of one car, but the other, and any subsequent ones, remain a challenge.
Despite this, there's progress. The assembly is coming along.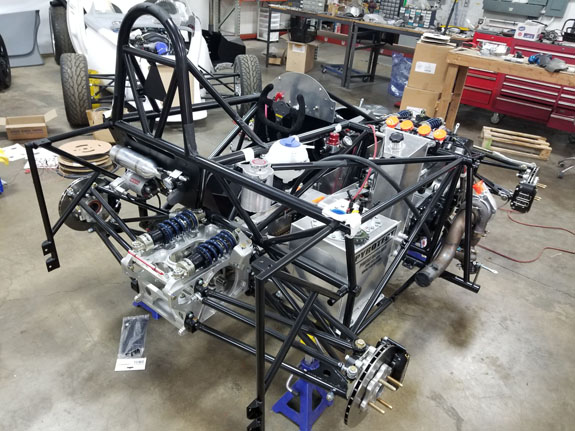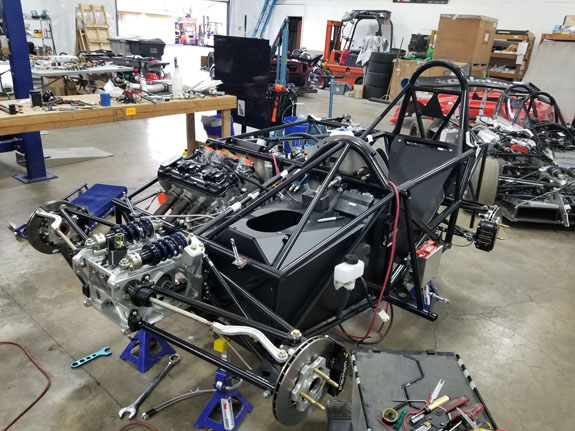 So is the wiring. Jay has been organizing it and making fomal notes and drawings that can be used for future builds. He actually seems to enjoy working on this which is great, because I certainly don't.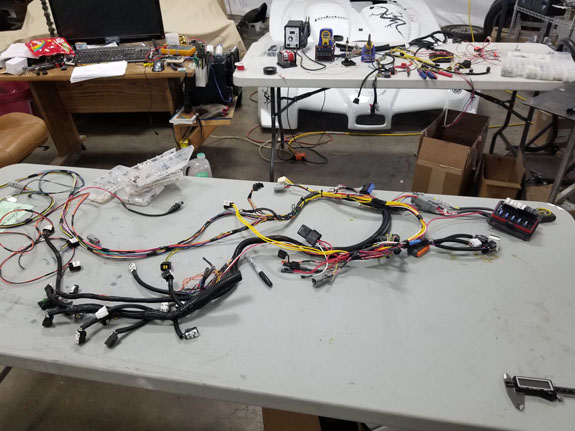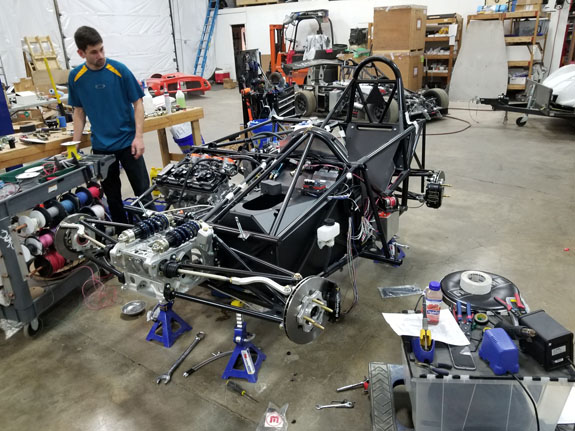 We have been working our way up the learning curve with composites and are making some progress. Wings and Pilot Pod sides are some of the parts we've been trying to make.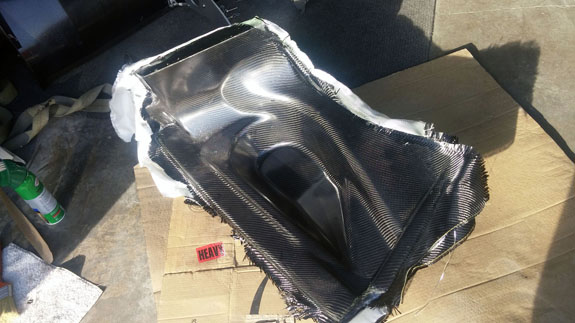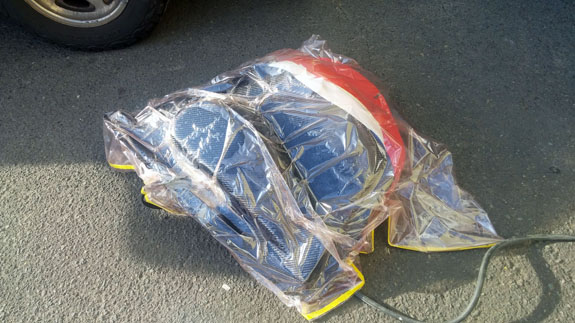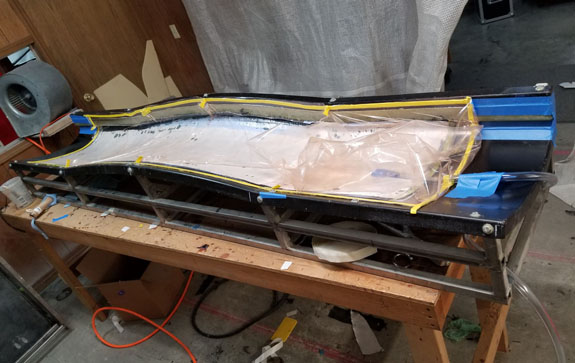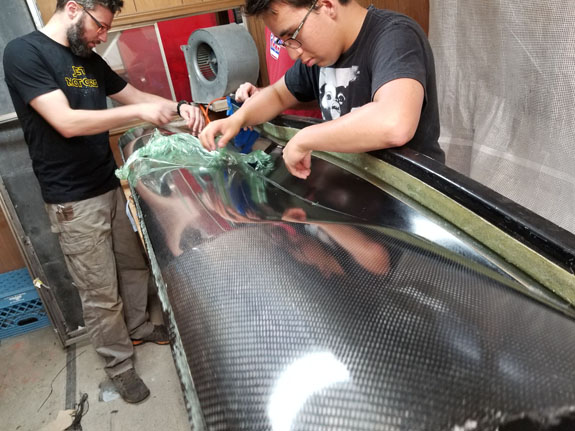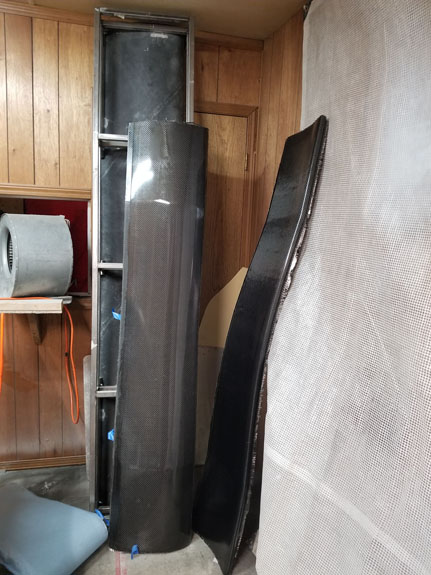 The wing ribs and mounts are being machined at the same time.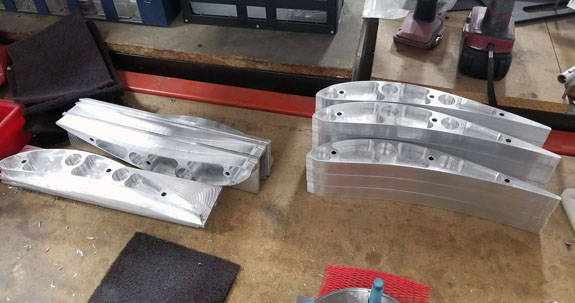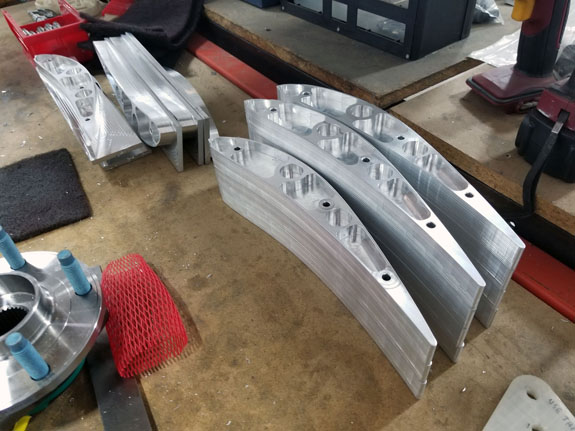 The bodywork is now painted. The color is Porsche Lava Orange. Looks pretty cool.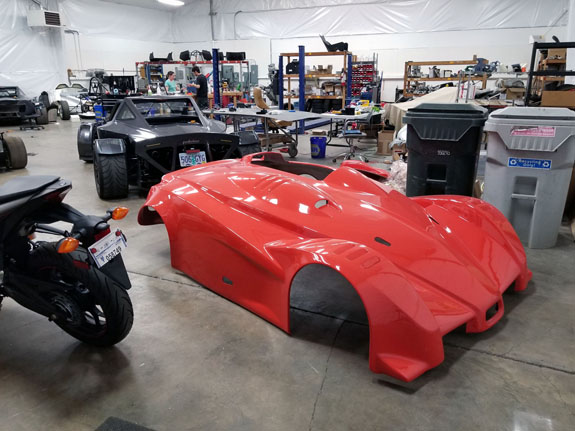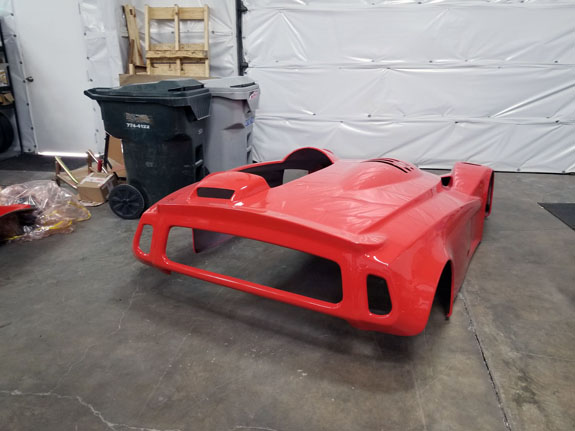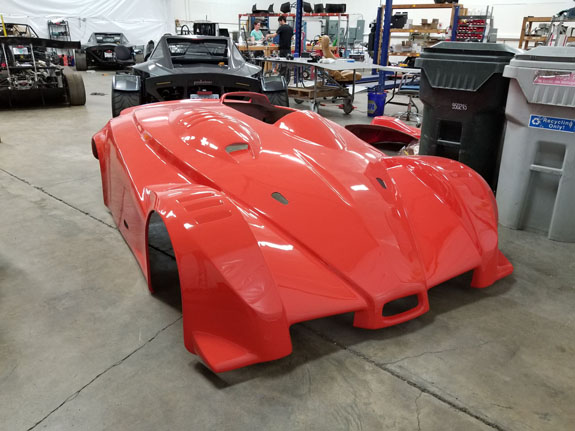 On the subject of machining, we're always doing custom parts for various customers. Sometimes it's a rush job and we can't wait for material to be cut precisely to size by vendor. So we get whatever is available and trim it here. Which occasionally leads us to push the equipment to the edges of the envelope, like cutting this massive piece of billet on our relatively compact bandsaw. We managed it, though the material had to be flipped half way through and the cut matched side to side. Nailed it to 1/32 of an inch.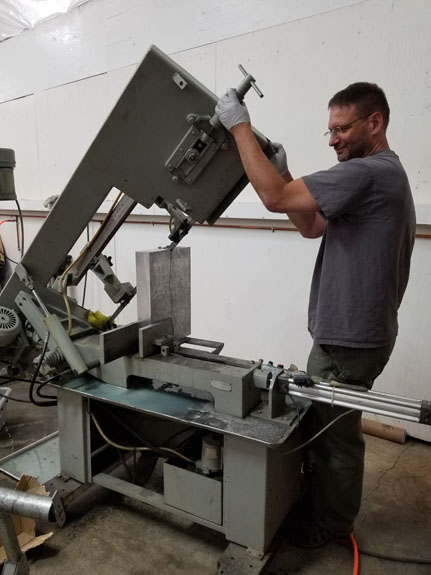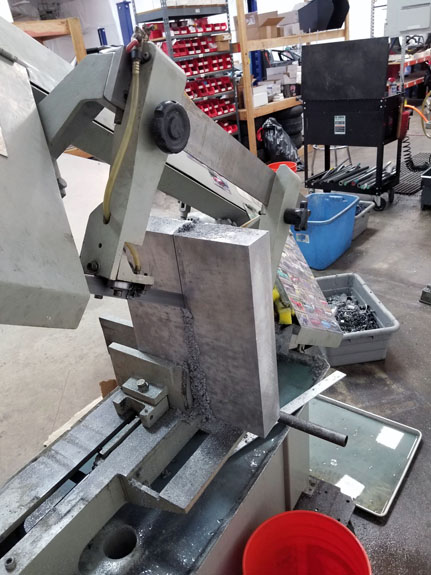 In parallel with the cars we're building three custom trailers, which is coming along as well. This is the D4 version.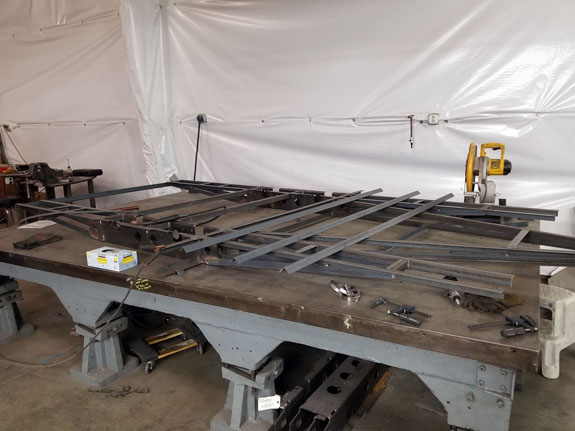 The D2 vesion, which is appropriately larger but is similar otherwise, is farther along.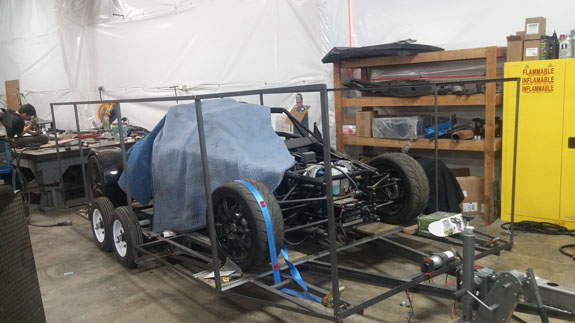 In between all the builds we are supporting existing customers with service and are always learning new things there (including making updates to the existing designs, like this new chain guard for the Hayabusa motor).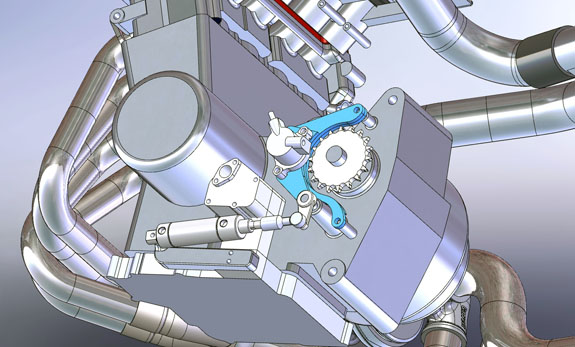 Another learning experience - one of the D2s destroyed its alternator belt the other day. Totally unexpectedly, and by destroyed I mean DESTROYED. Below is what is left of what was once a 6-rib serpentine belt, major brand product.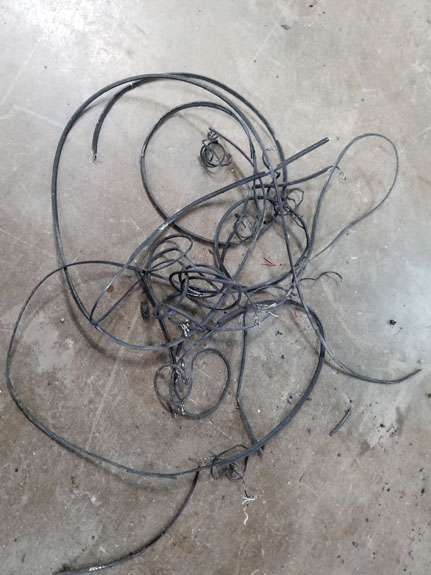 The engine did get a bit hot and spewed coolant, but the driver shut it off in time to prevent damage. I have never encountered or even heard of this type of failure before. This one is still a head-scratcher as I write this. Hope to figure it out soon.
And so it goes.
---
09/07/17 Yeah, another cumulative update because I've been way to busy to post. There's a lot I'm going to leave out as a result, otherwise this would become a novel.
So just the highlights. Pearl has been sold. It will stay local and will be raced. It will also be available to rent at ORP. As part of the sale we've made many upgrades - new footbox and pedal set, frame reinforcements to bring it up to current spec, and are now in the process of installing a paddle shifter as well.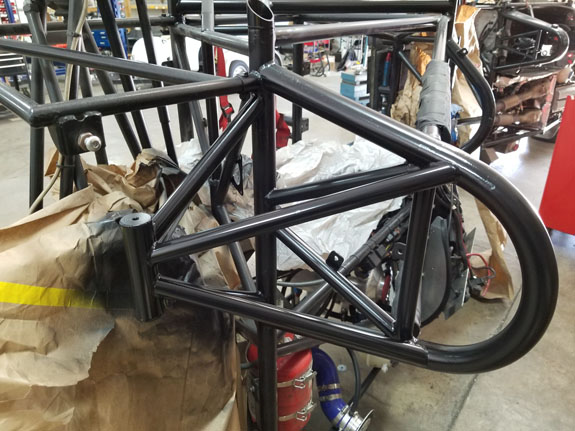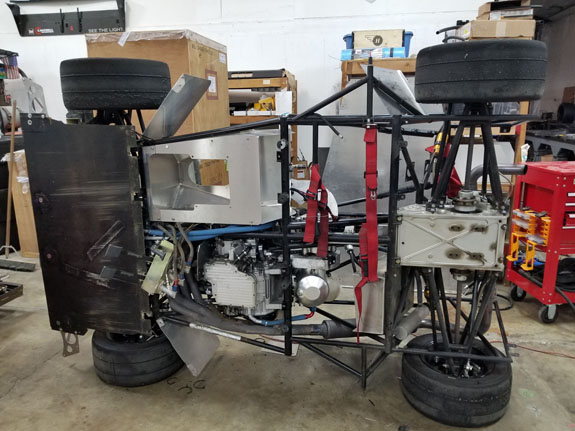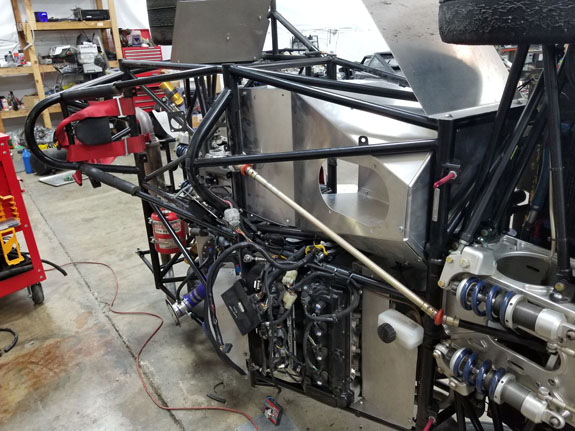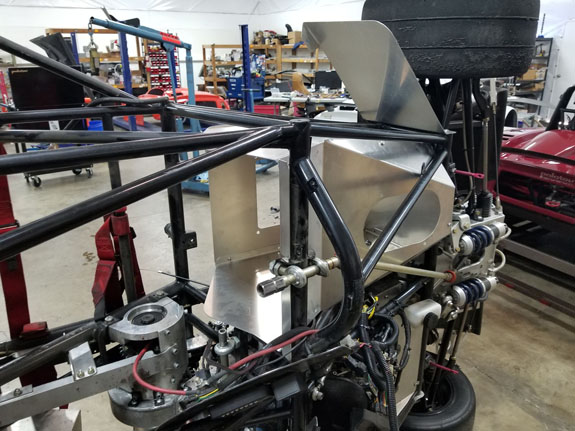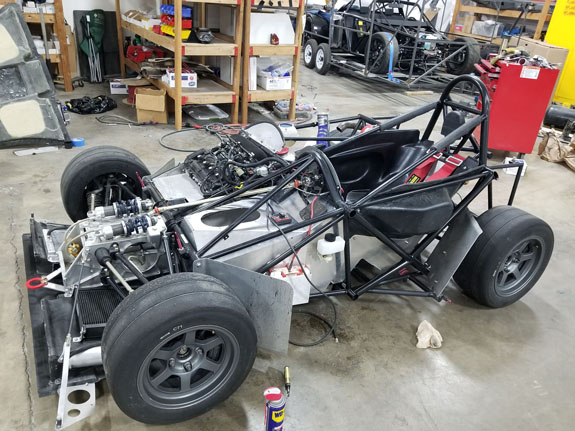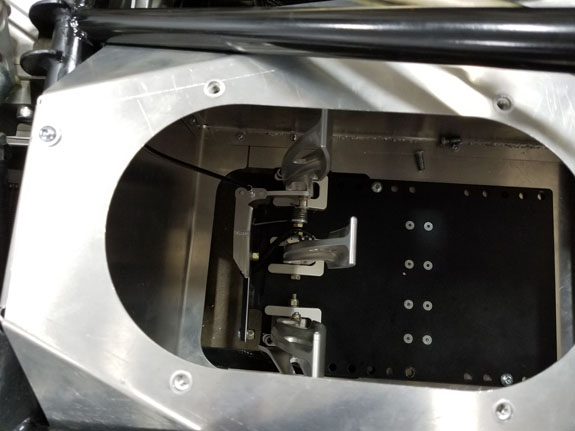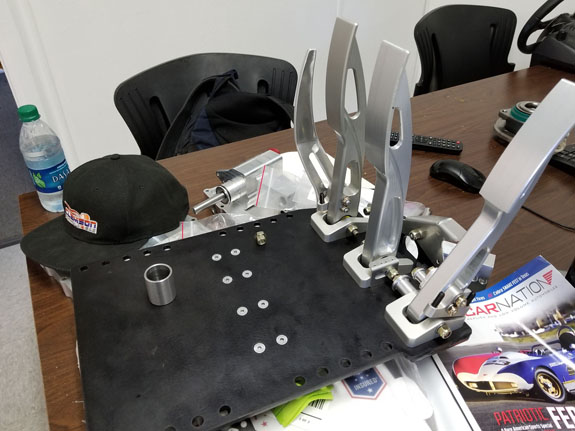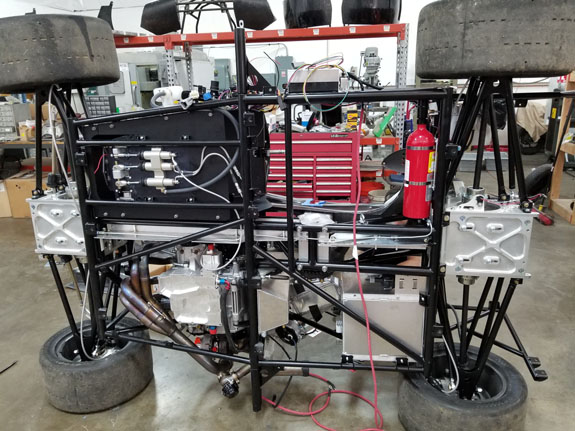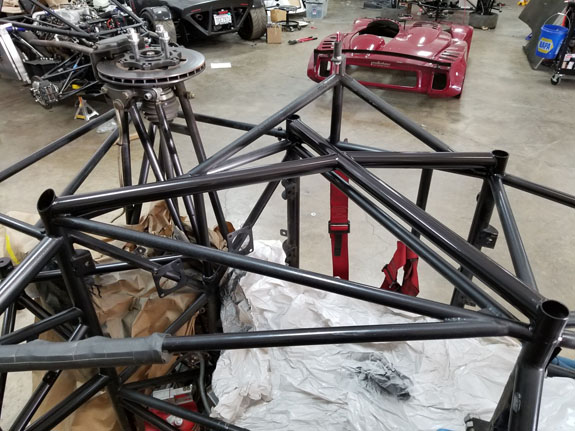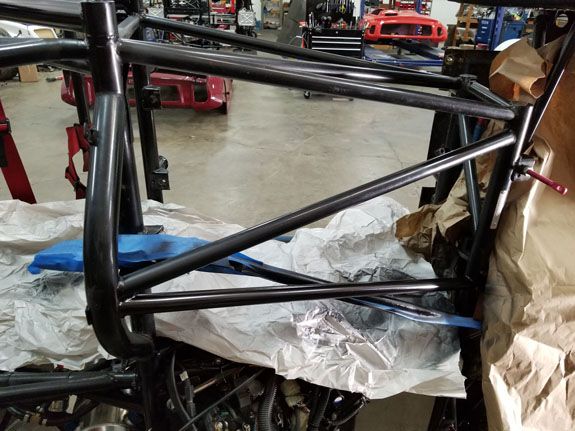 The new owner is 6'4" and so we've had to extend the rollbar to accommodate him. Will be submitting the mods to SCCA for approval shortly.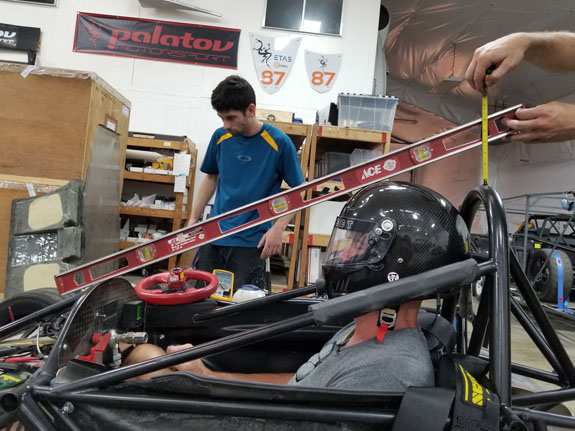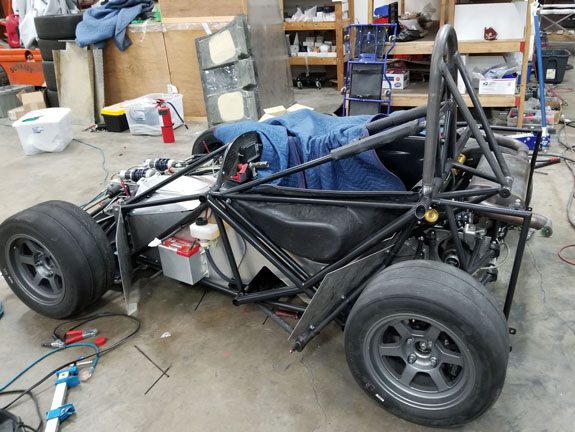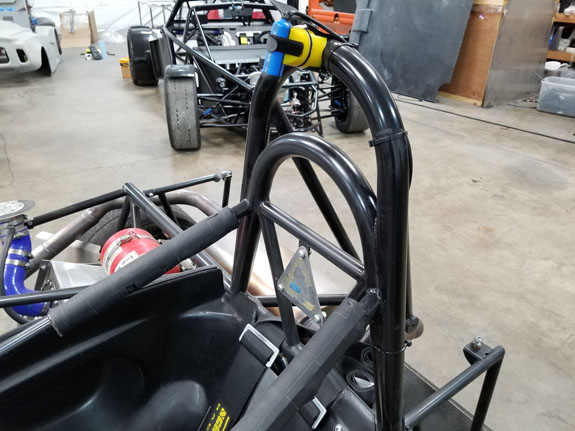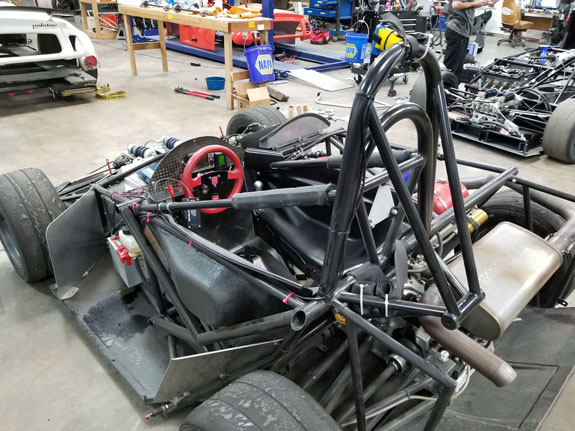 The two turbo AWD D4s are coming along as well. Part of what's taking longer is that we're using Gen 2 Hayabusa motors and there are many differences which mean parts have to be designed and tested from scratch. Paddle shift installation is one such thing - actuator, blipper, chain guard - everything is new. The blipper mount we prototyped with 3D printing a couple times before making the final version from billet.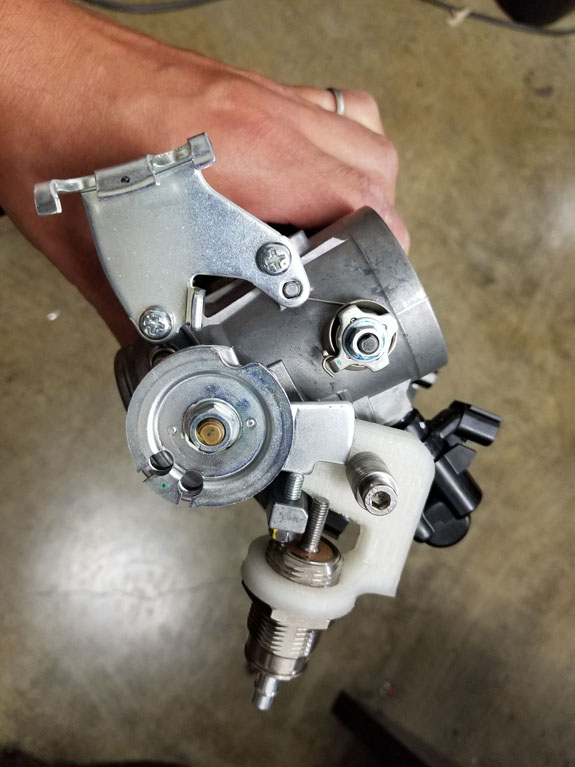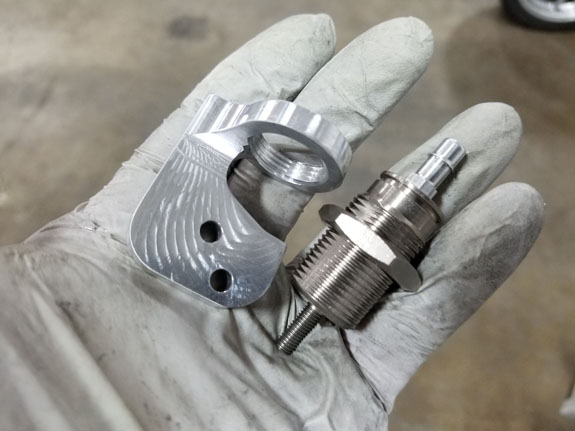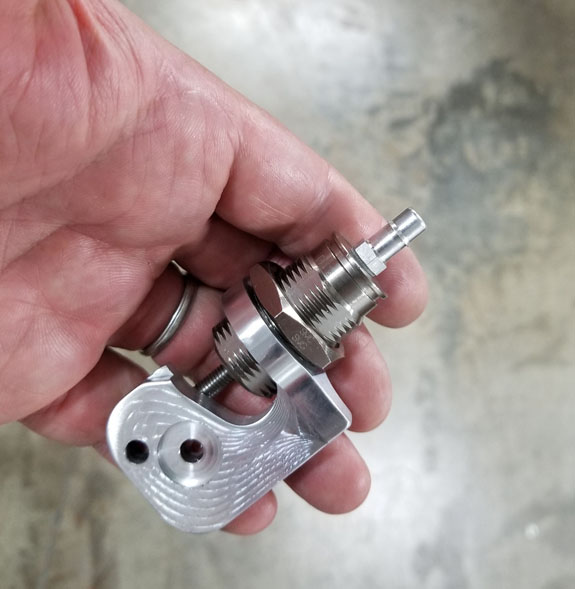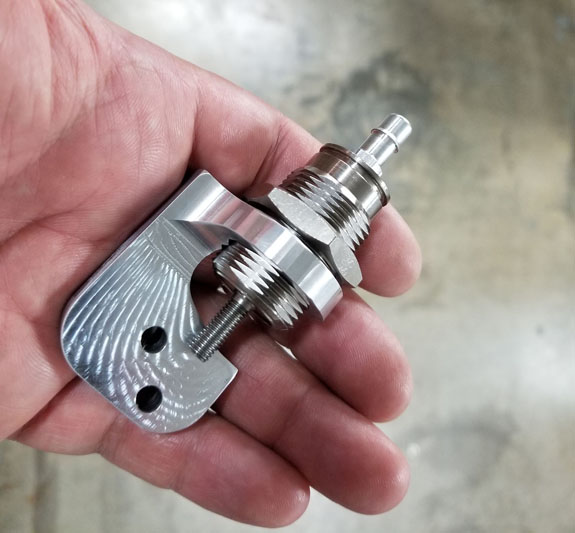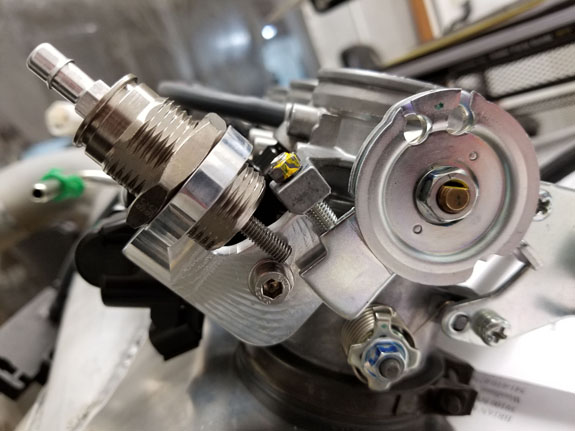 Other parts went straight to aluminum.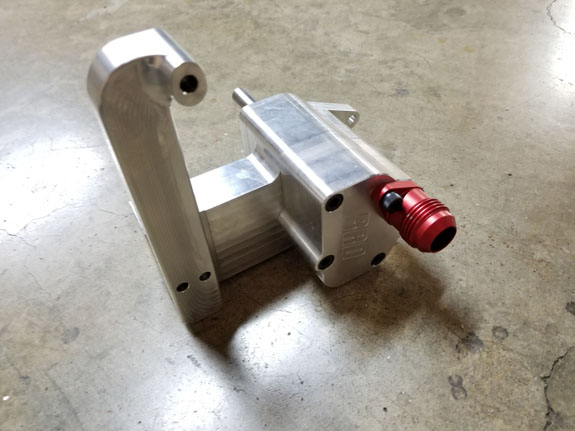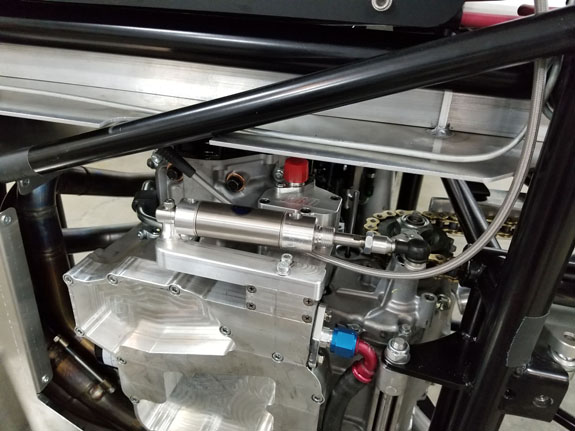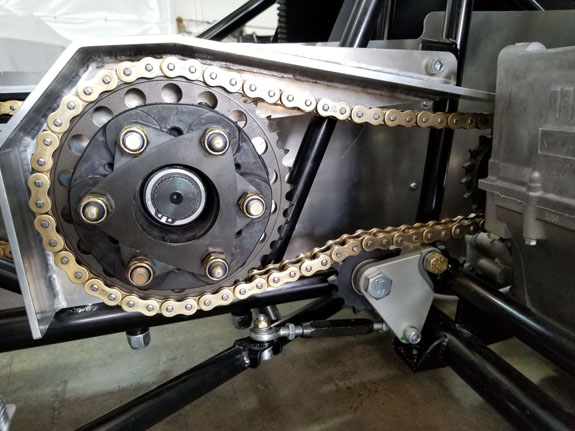 Even things like plumbing are a lot of work - the coolant lines are laid out, marked, welded, then pressure tested.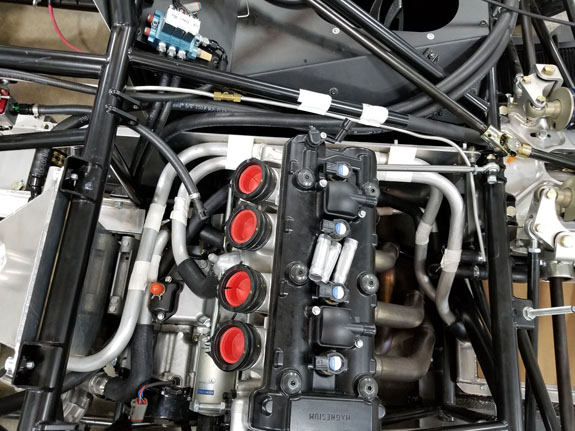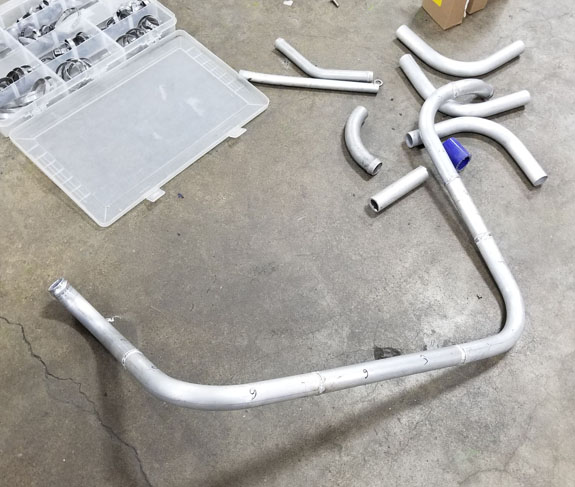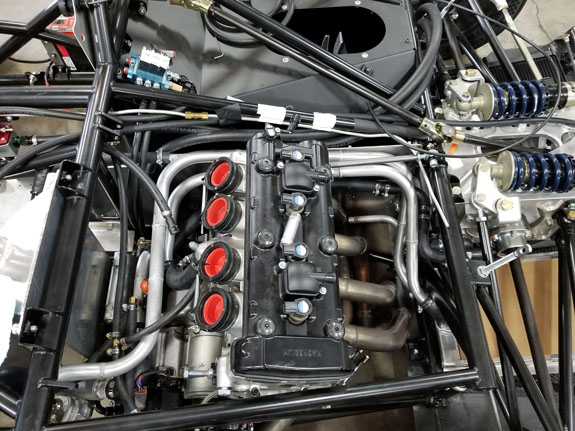 The bodywork for the first of the turbo cars is now fully fitted and the one for the next one is made and being trimmed now.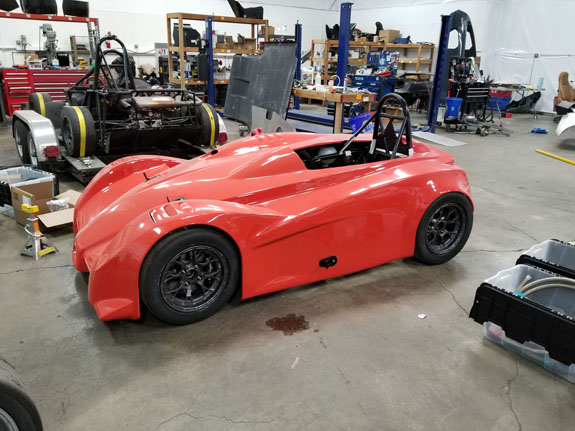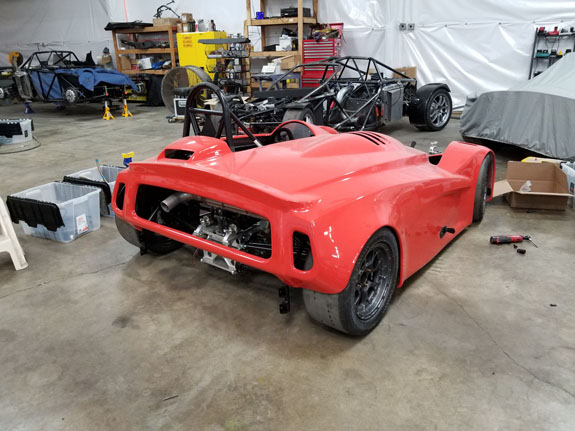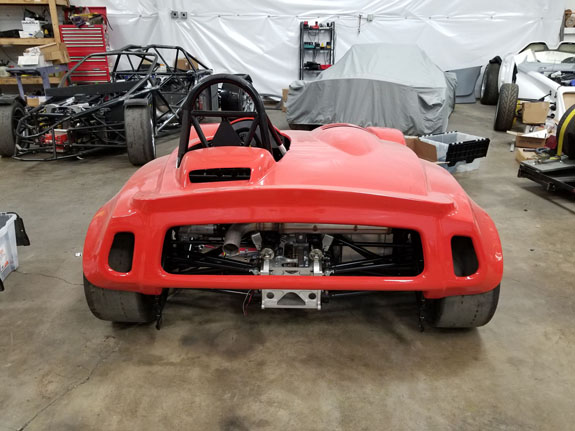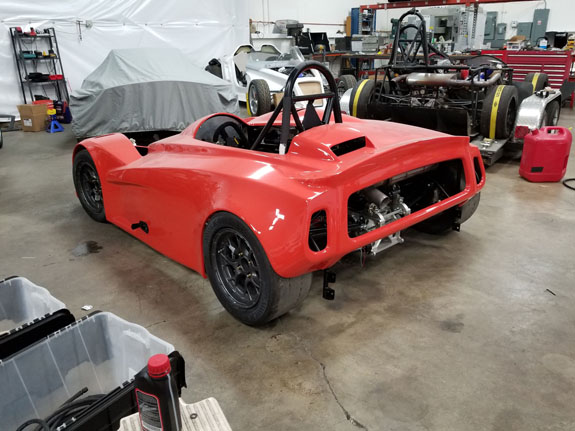 We are always learning techniques and processes, and every now and then a test is necessary. In this case, the strength of the bond between wing and wing mounts came into question (long story how but there's a lesson about new personnel and process in it as well). So we set up a test piece - a short section of wing profile, with two mounts bonded to it. One side we prepped by roughing up the carbon surface to bond to. The other was brushed with new-to-us clearcoat with only an acetone wipe as prep (no sanding). We then supported the fixture in a press on top of a corner scale, and zero'd out the scale to read force directly.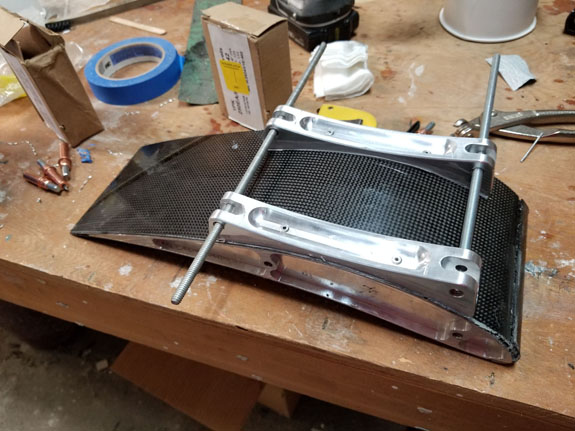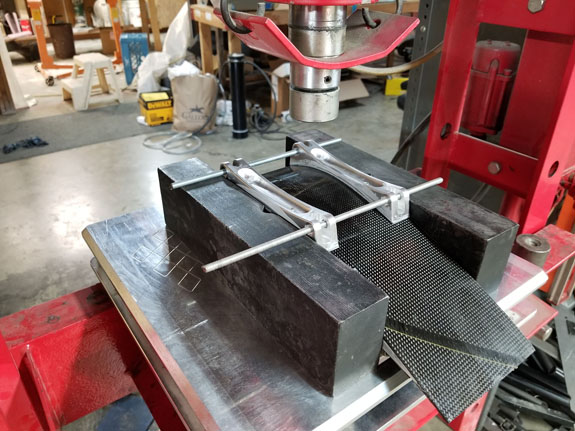 We then set up a phone to record video of the scale and started applying pressure. At about 400 pounds (200 per mount), the clearcoated side separated. The direct bond side was now taking full load and cantilevered as well, making it an even harder test. You can see the support rods bending in the next image.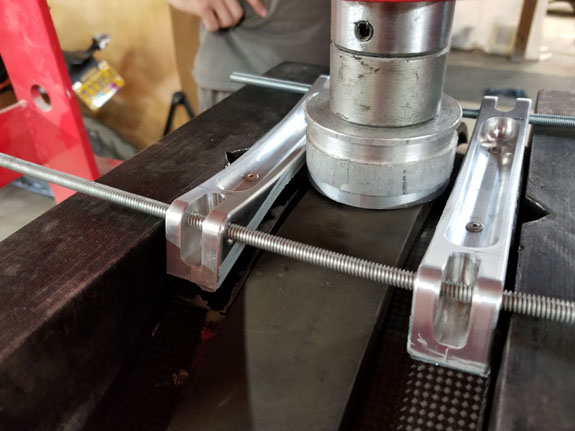 Finally at 408 lbs on just one side the direct bond failed as well.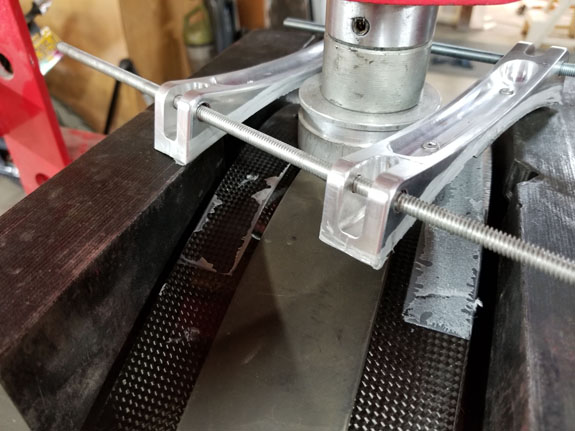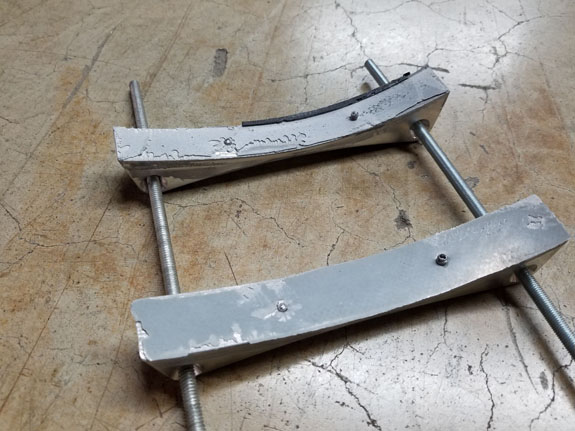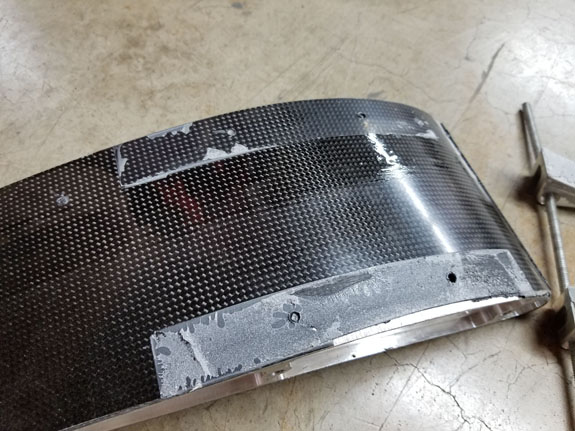 Notice the big difference in failure modes. On the clearcoat side, the clearcoat was basically peeled away from the carbon. Two lessons there - one is that adhesion to clearcoat itself is good. The other is that sanding before clearcoating is essential if structural bonding is to be done. On the direct bond side the adhesive itself failed, and it shows that with two mounts it will take over 800 lbs of LIFT to separate the wing. Normally it's loaded in the opposite direction, pushing the wing into the mounts, so it's a safe design. When process is followed. Now we make more.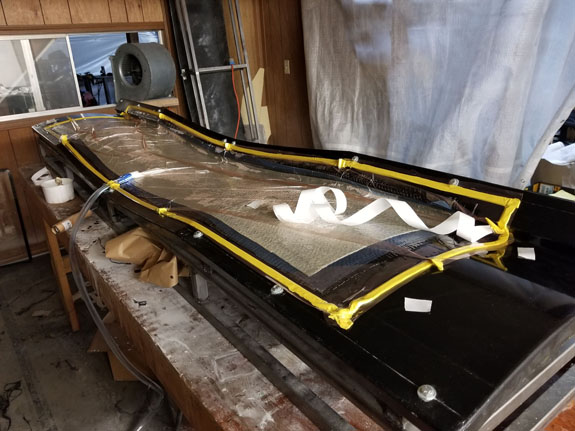 In other composites news the sides of the pilot pod are turning out nicer.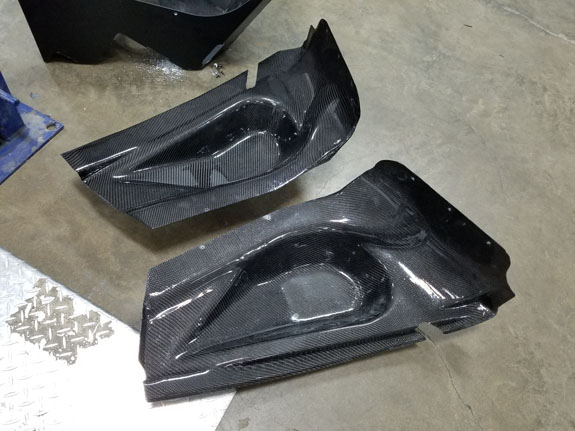 There are many other projects as well. Like several iterations of steering arms for GTC uprights, the first 'production' set of D2 roadster body panels, several D2s getting upgraded with new bodywork and other things (more on that blog when I get around to it), D47 and so on.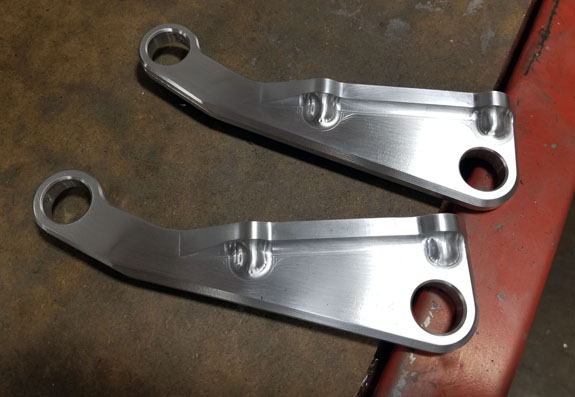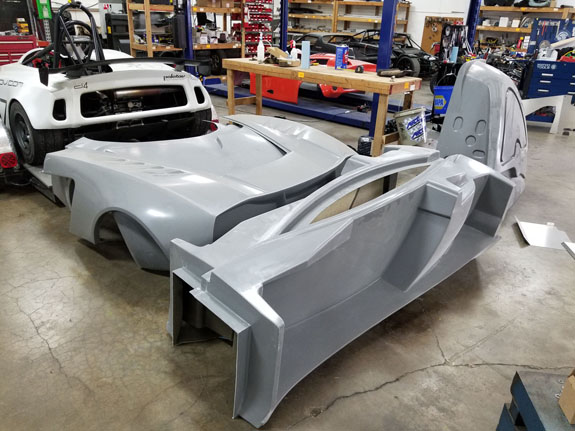 ---
09/28/17 Finally got the next turbo AWD D4 running and out to the track, so now I can post about it. It's funny that every time we finish a car I'm surprised by just how much goes into one. I mean I design them and I know every part that goes in, literally. And still the task is always more significant than I remember it. Perhaps 'oversimplifying it' is a coping mechanism that I have to enable tackling the next one :) Which is well along already but that's another story.
Some of the final preparations included installing floor mounts, calibrating all the electronics, debugging a couple wiring issues, alignment/corner weights and so on.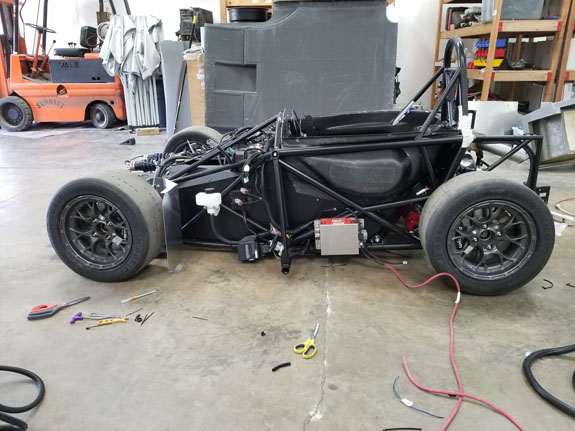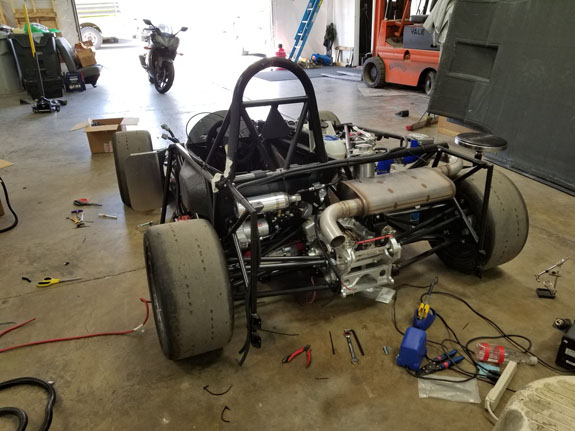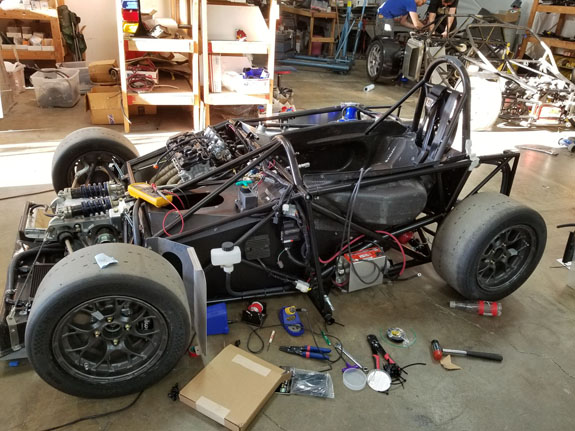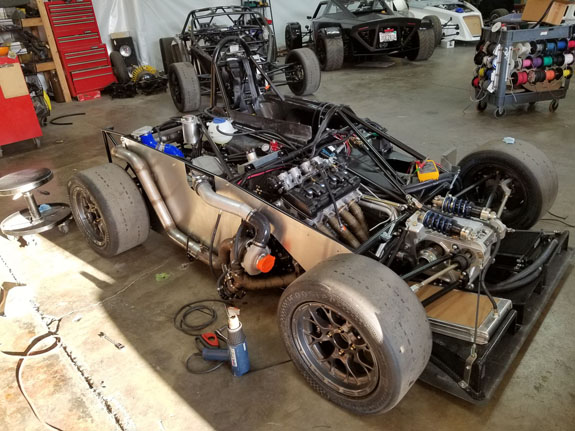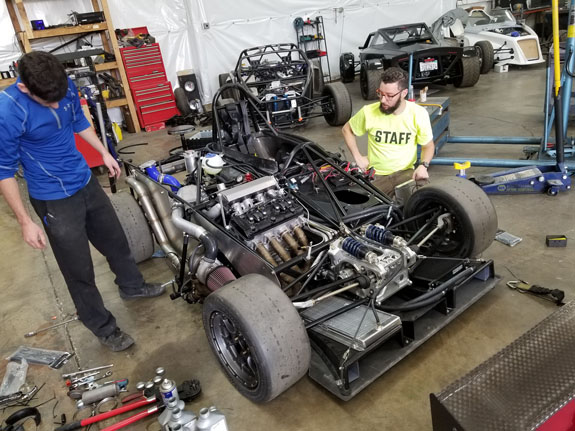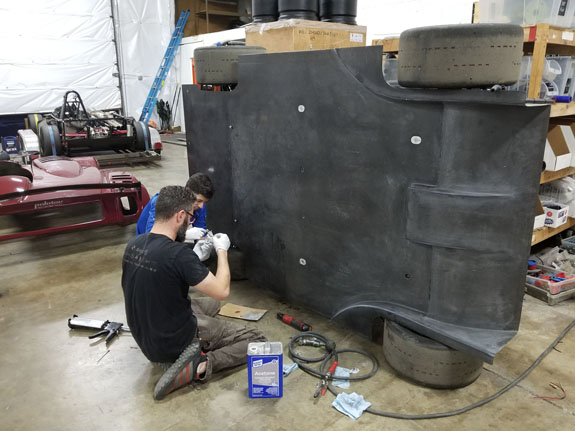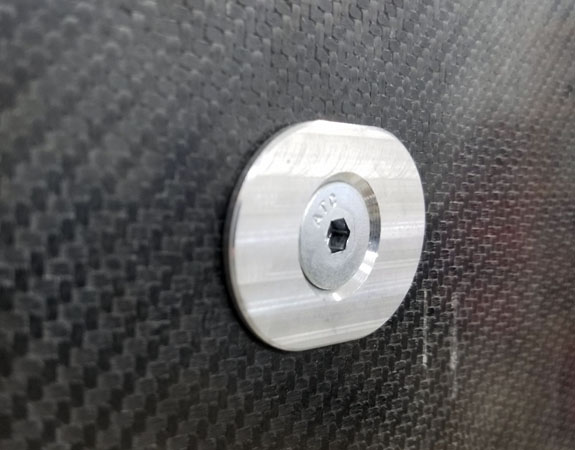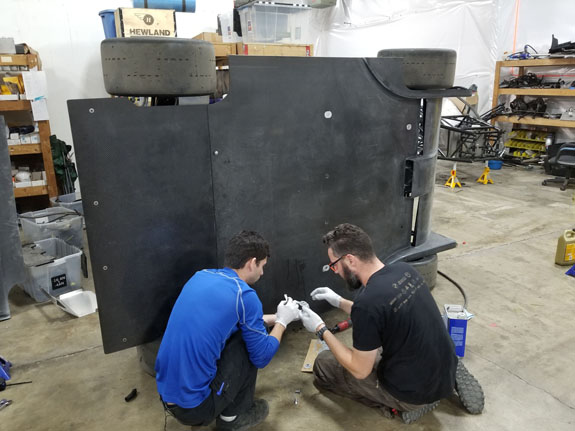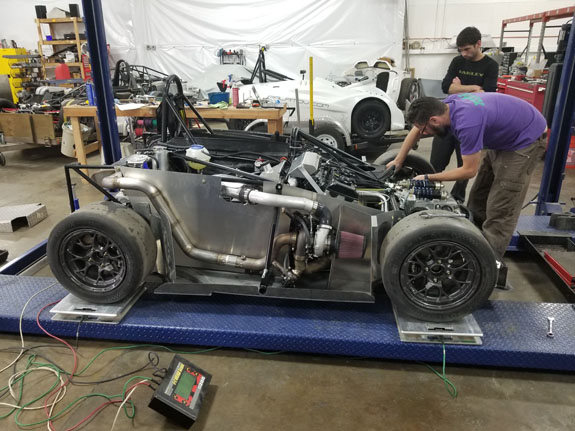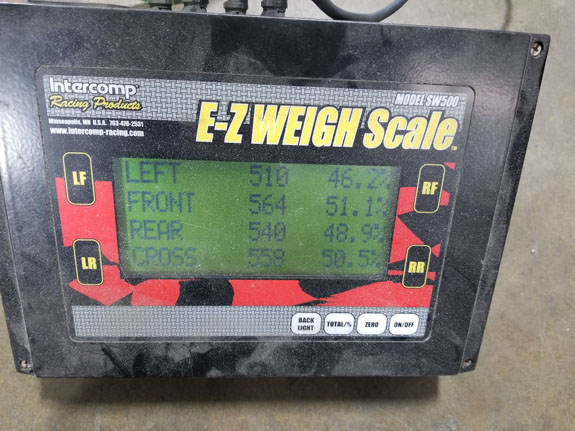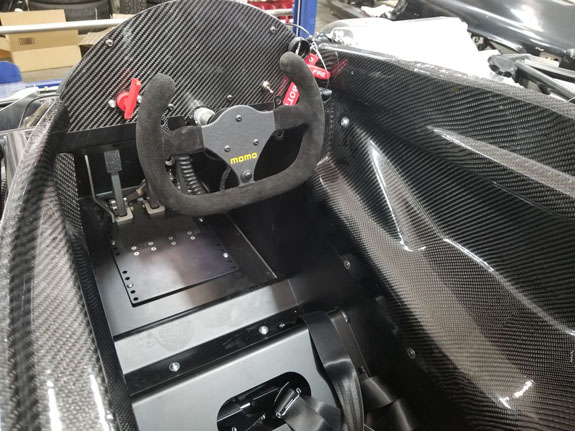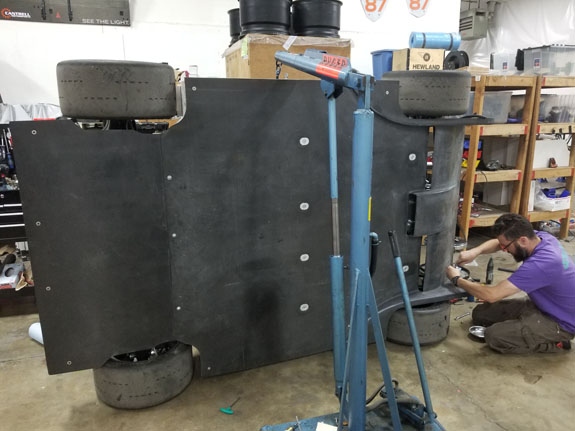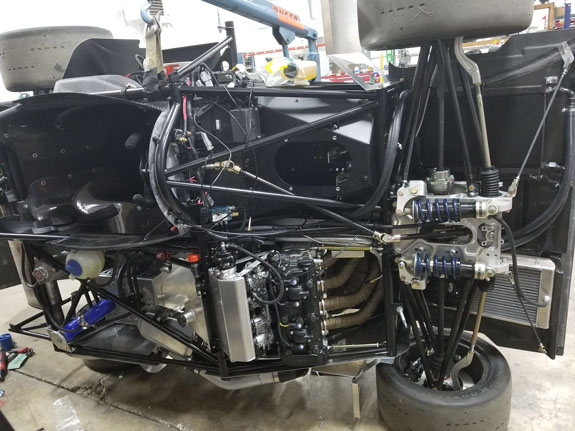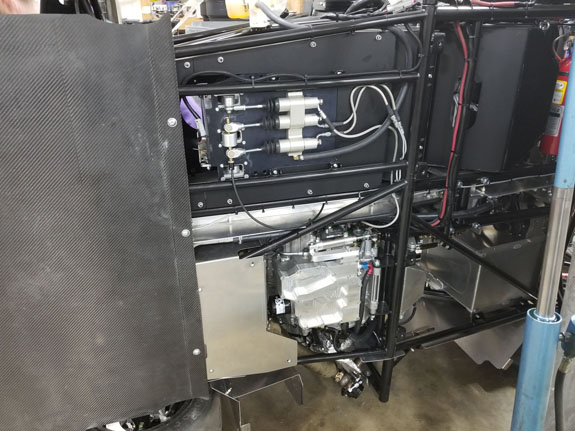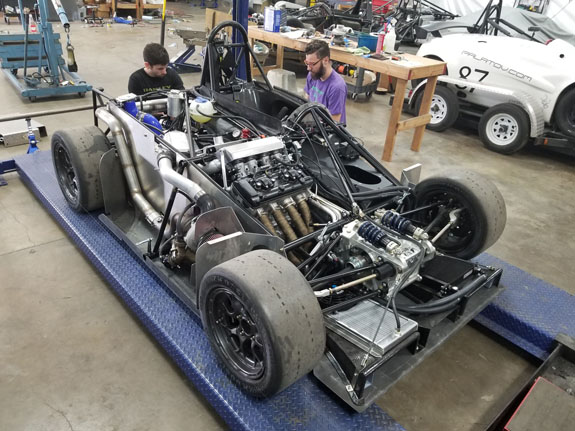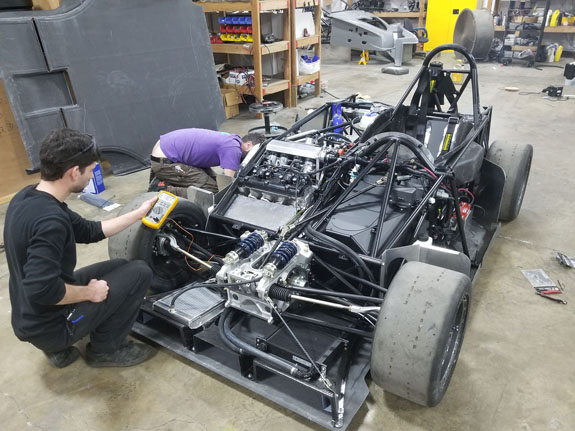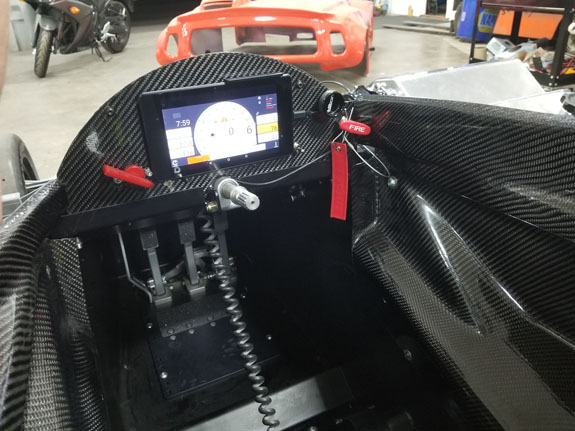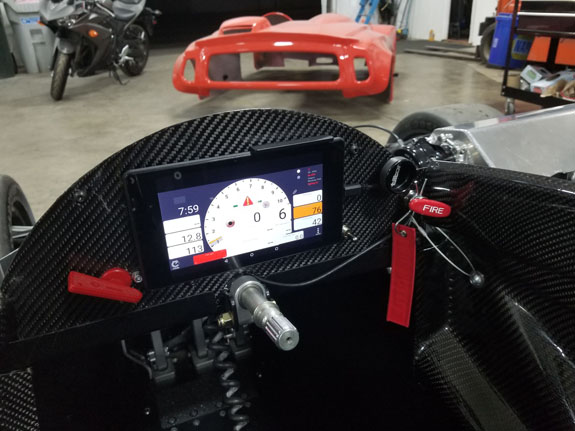 Finally we are ready, Robert (the car's owner) arrives to get the bead seat done, then we're off to ORP.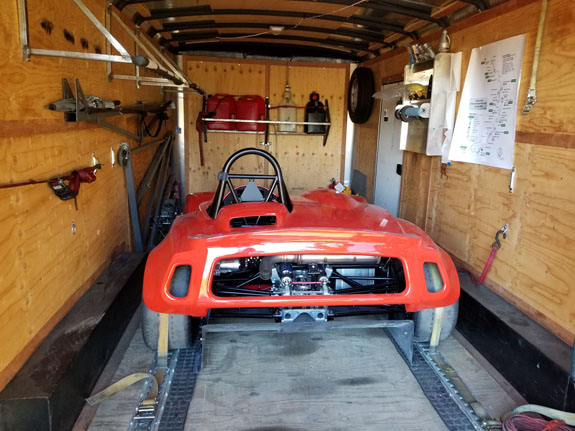 At this point the car has never moved under its own power yet, so a number or checks are in order. We take extra time to go over everything, as well as trim the seat that's been curing overnight.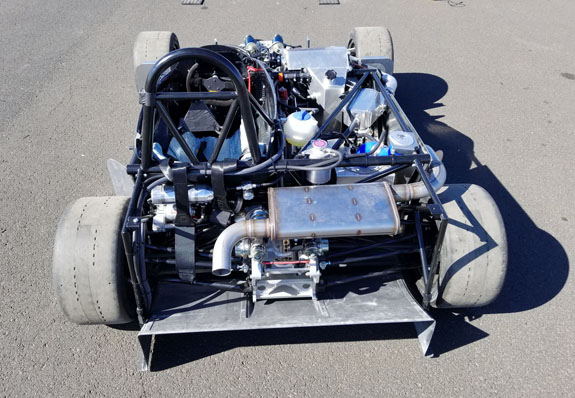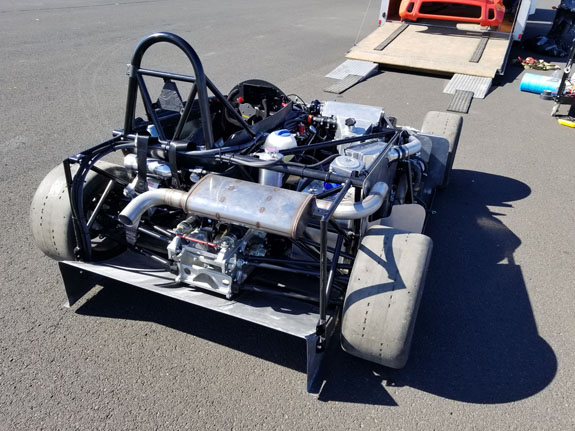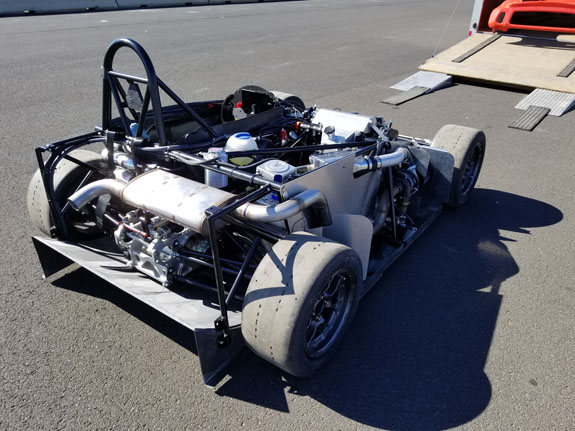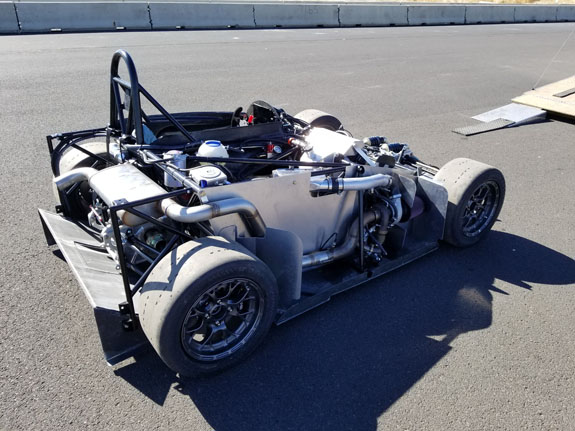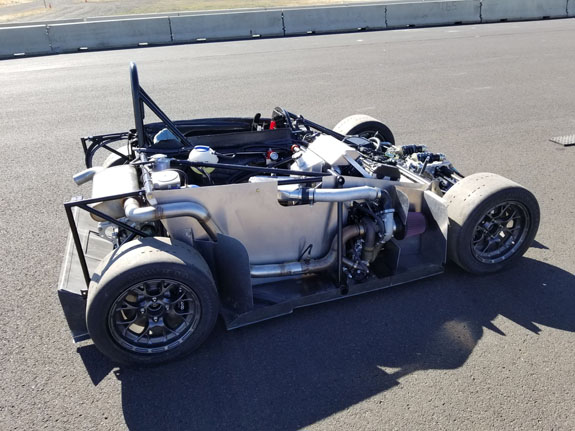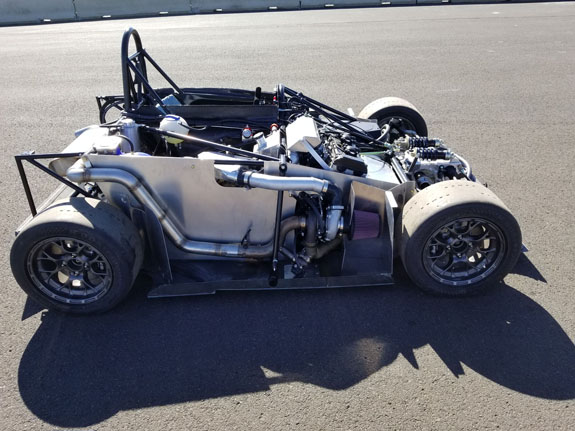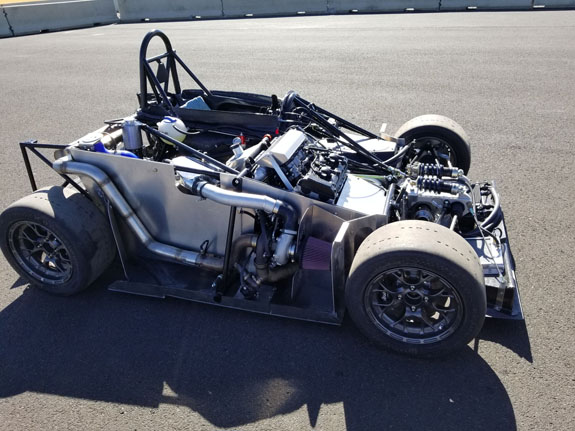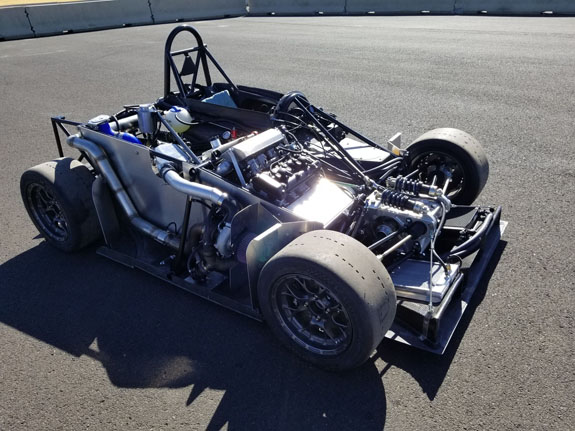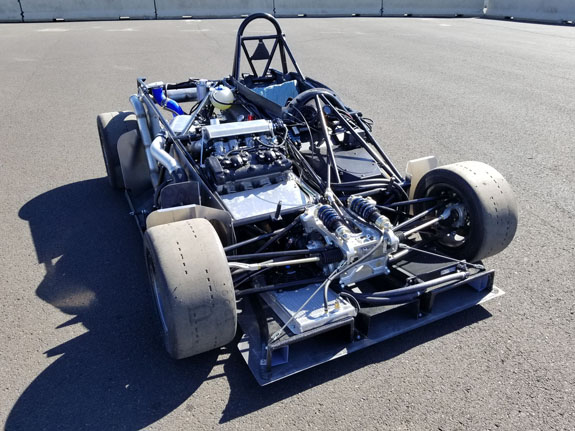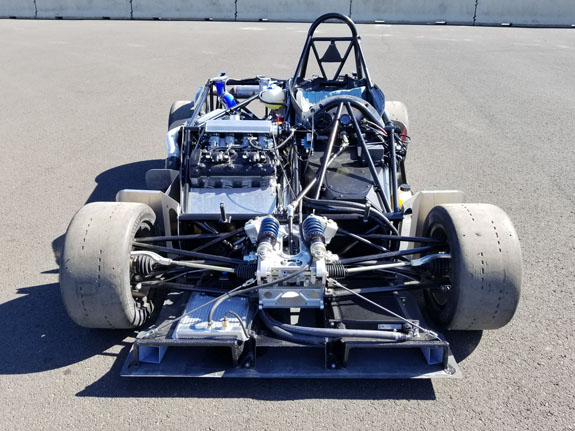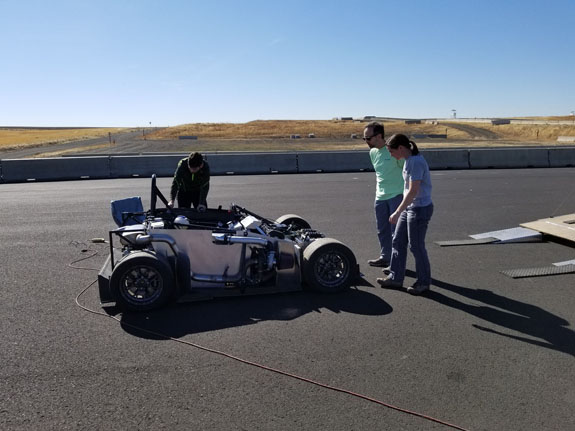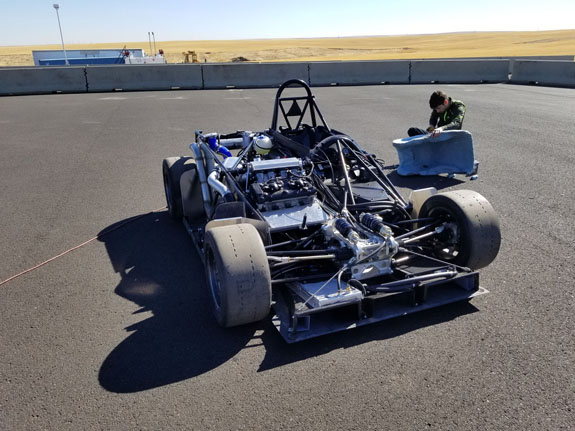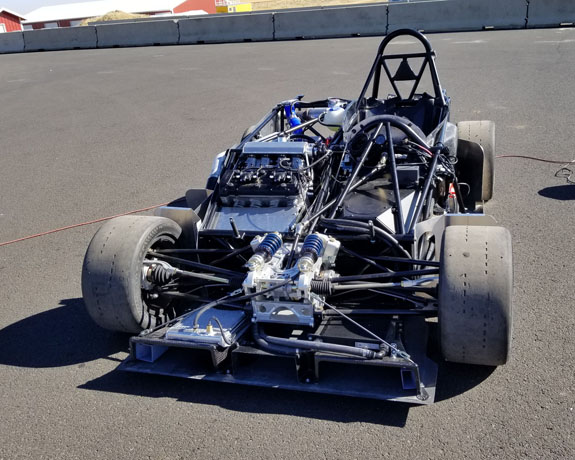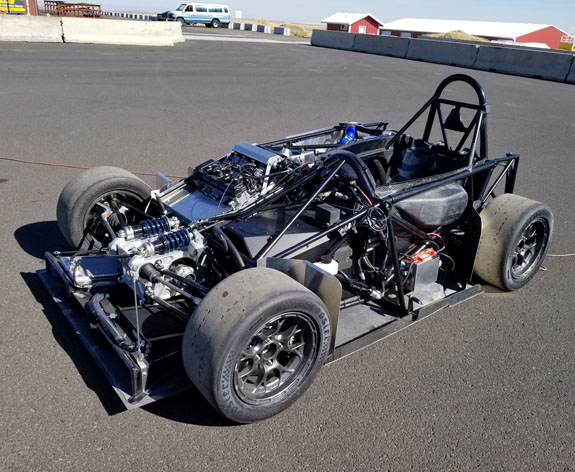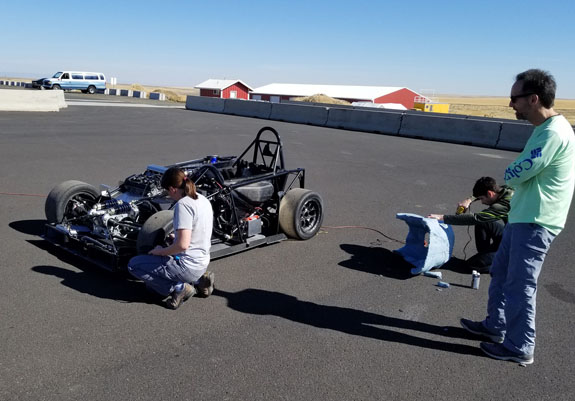 First drive takes place in the track parking lot, followed by a few initial laps on track. Both wthout bodywork just to have easier access to everything. Here's a quick video. Then the bodywork goes on and a few more test runs, with Robert getting progressively more familiar with the car. The primary goal is just to make sure everything is functional. In all we put almost two hours of runtime on the car.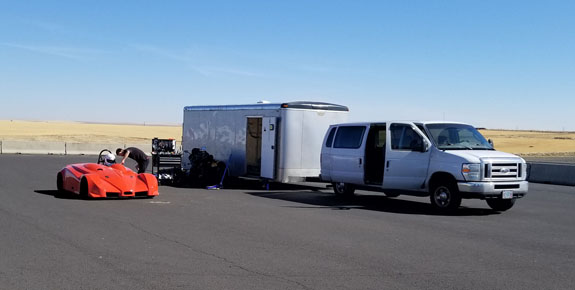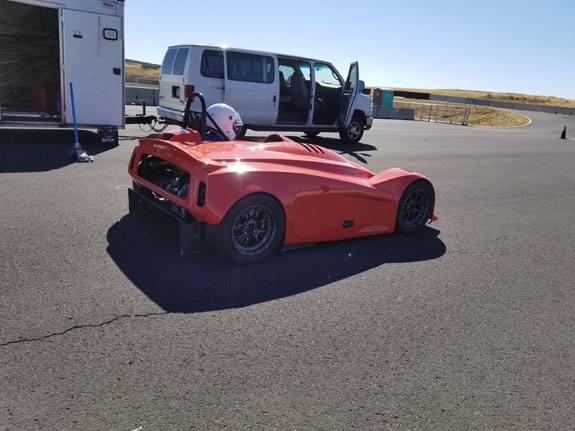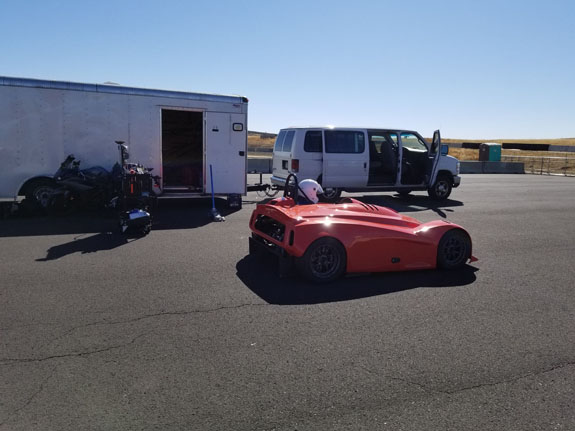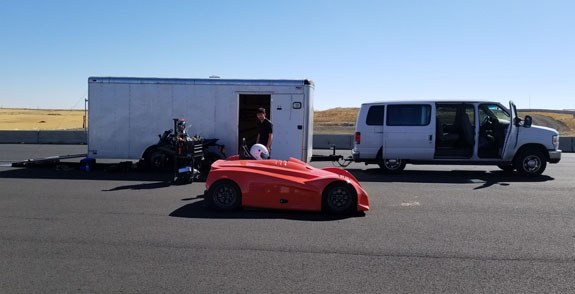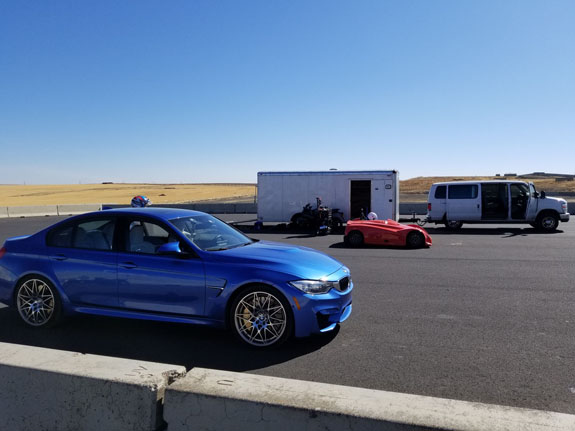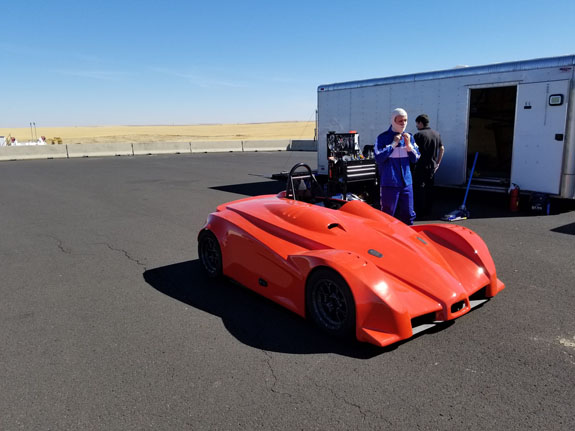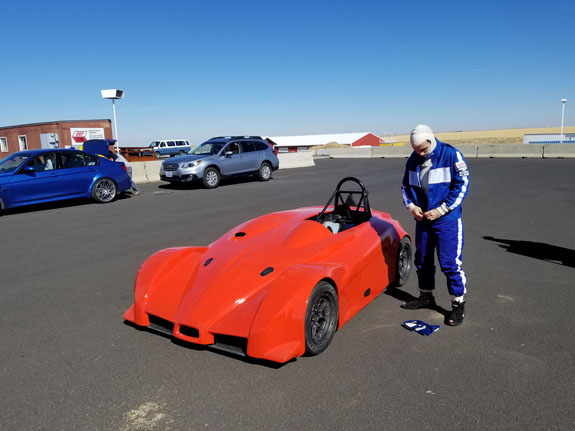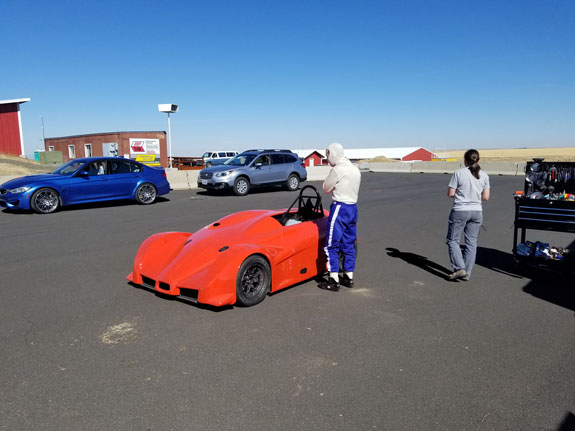 The car works very well. At the end of the day we have a list of things to work on before it's fully done, and Jay gets a few laps in on his new bike as a perk for riding all the way out here to do crew duty. Valerie gets some tracktime in her M3 as well. Her turbo AWD D4 is next and she's been working hard to help build it.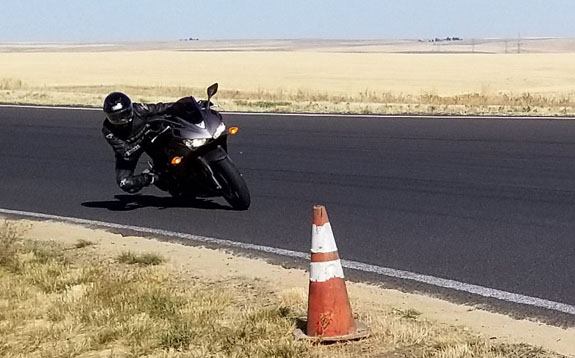 ---
Site Sponsors and Links:

- CMS Lap Timer - Advanced Track Timer App With Video Integration

Tire Rack - Tires, Wheels (use link when buying wheels/tires to support this site)
---