---
08/03/2015 The turbo AWD D4 is finally on its way to the customer. Below are some pictures of the finished car, as well as the final version of the wing mount. Turned out nice, I definitely want to build one for myself some day soon!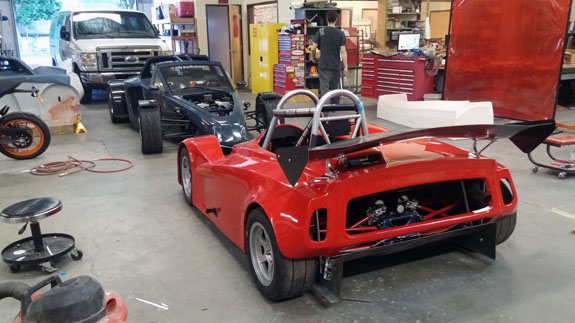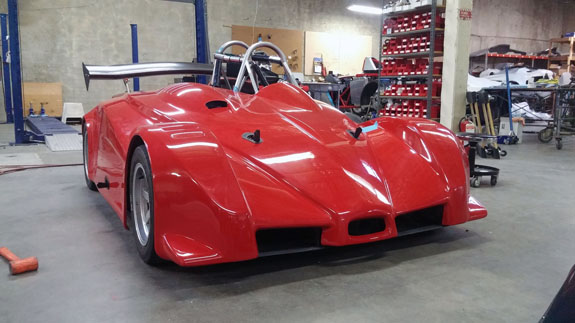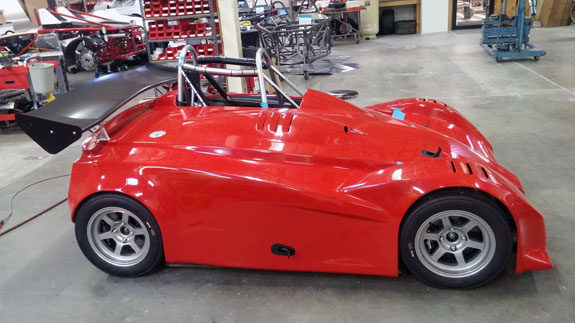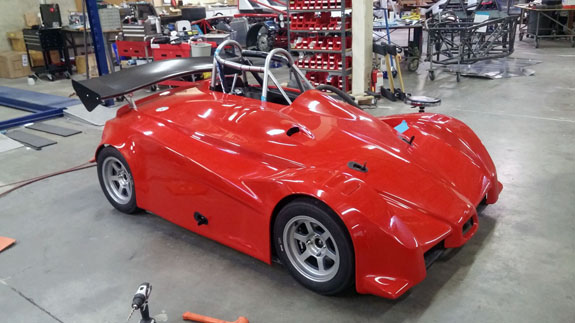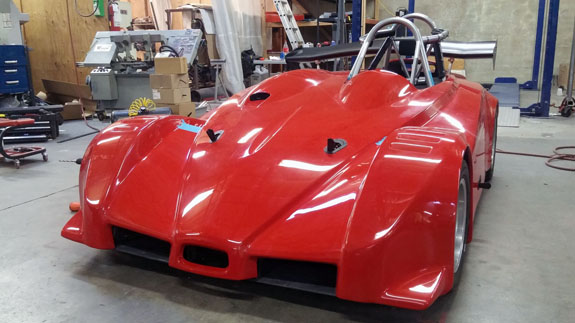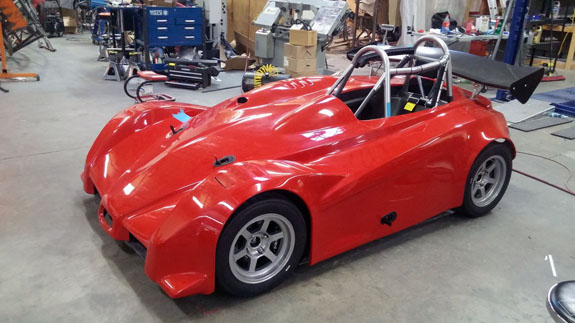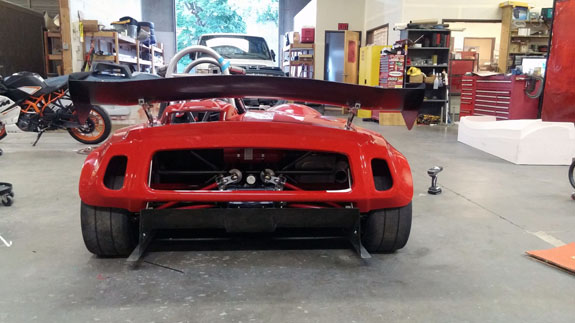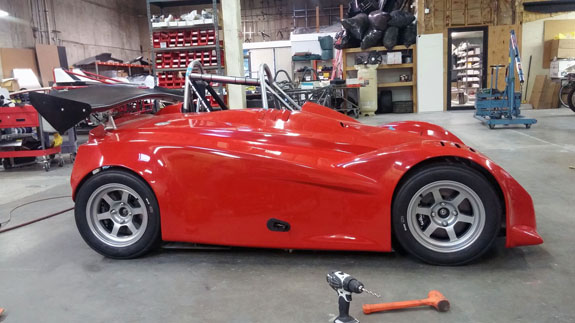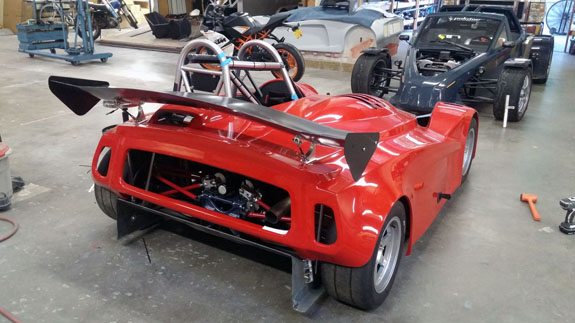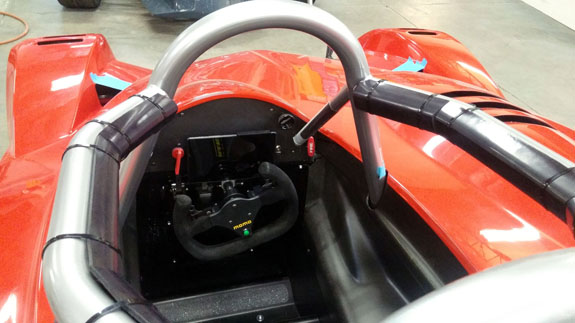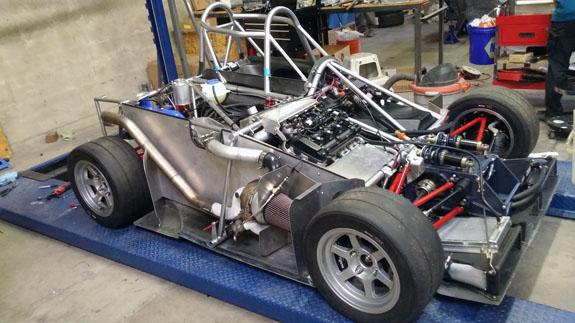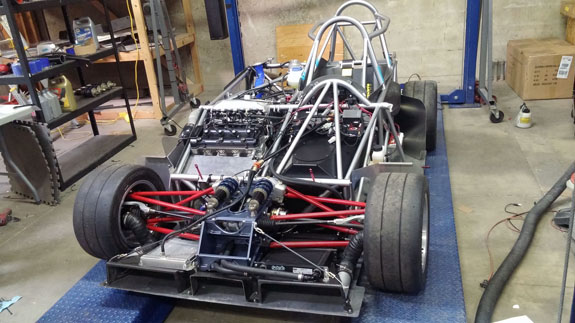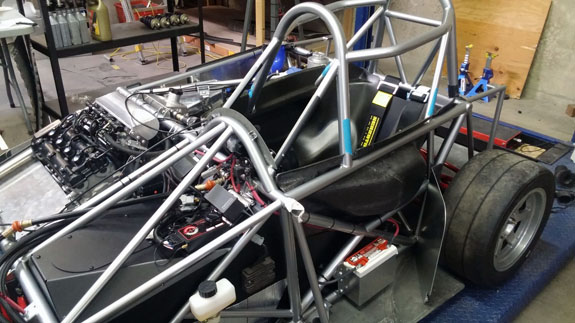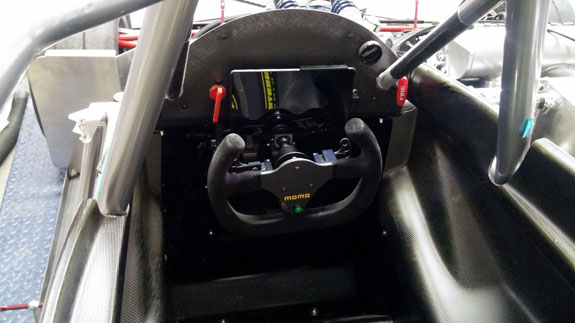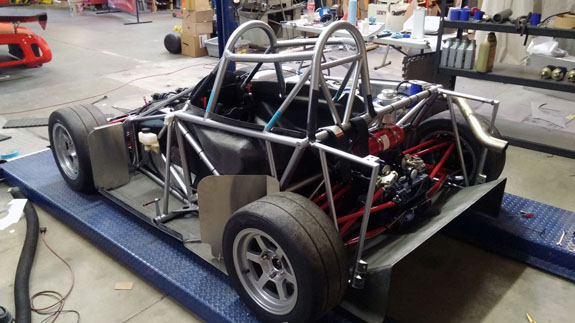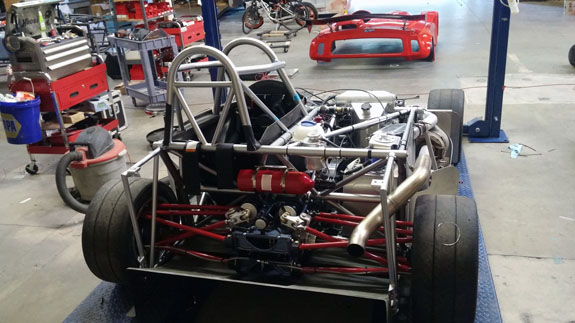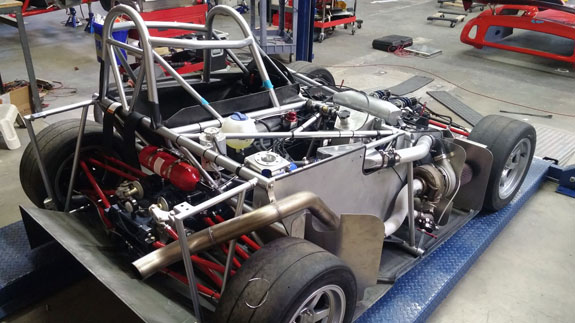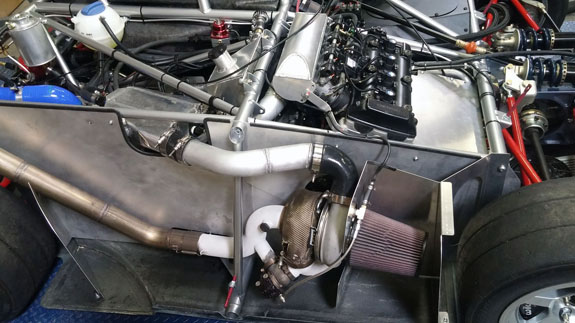 The wing mount is attached to the bodywork for ease of removal but is supported by the frame underneath for actual aero loads.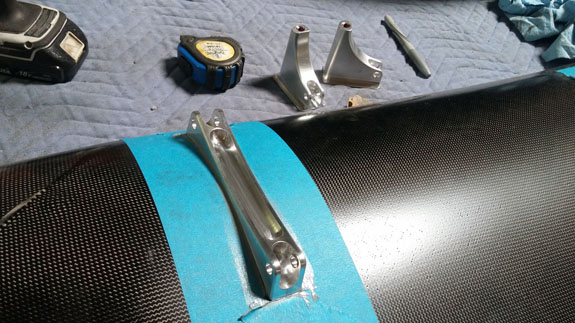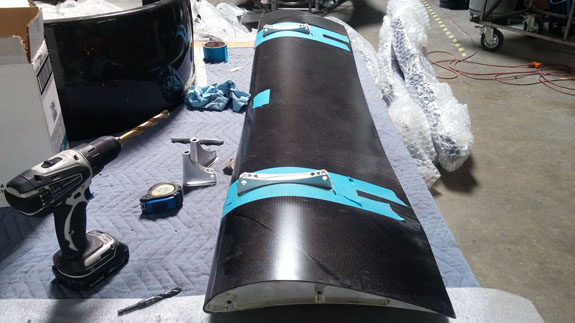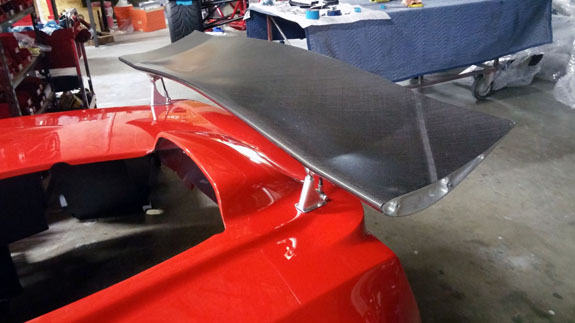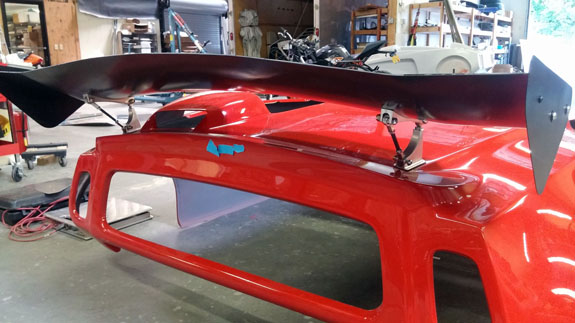 ---
10/25/2016 It's been over a year since I've posted on this blog but a lot has been happening in that time and some of it has to do with D4s. The AWD turbo car that we delivered last year is proving very fast in east-coast NASA events and we've been continuing the design's evolution based on everything we learn.
Also, after a stay in northern California, Pearl is now back with us to continue life as a factory demo. Had a great Palatov customer day at ORP Sunday, introducing some new enthusiast drivers to the benefits of a dedicated track car.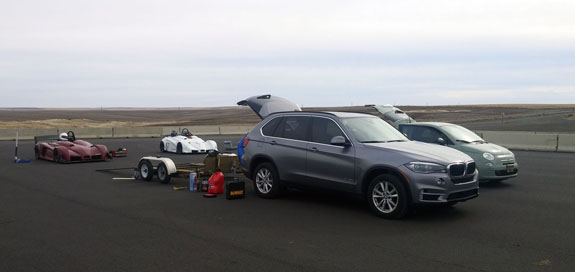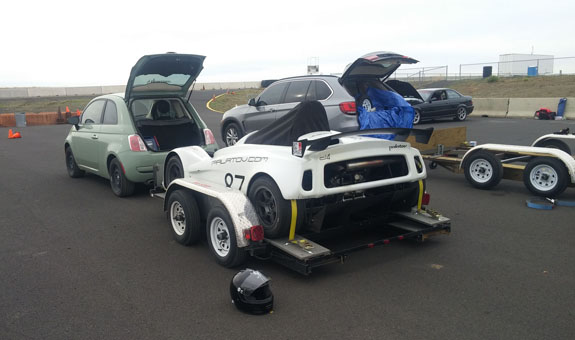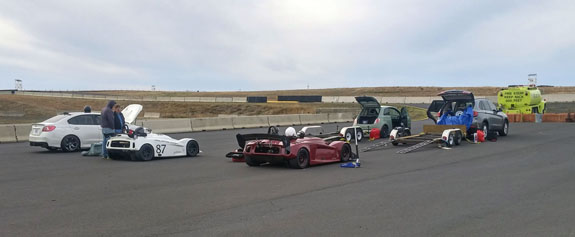 However the main reason for the post though is that we're now building another AWD turbo car, with all the latest updates. The new car is a Gen III, with upates to the frame, suspension boxes, suspension arms, torque splitter, and dozens of other items.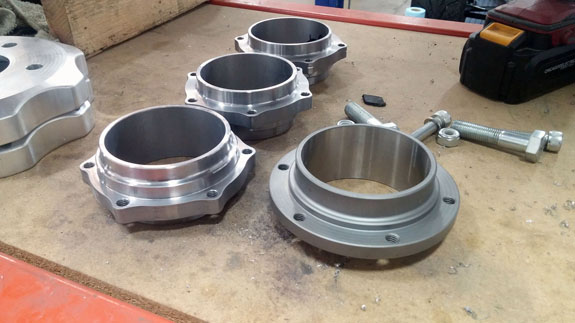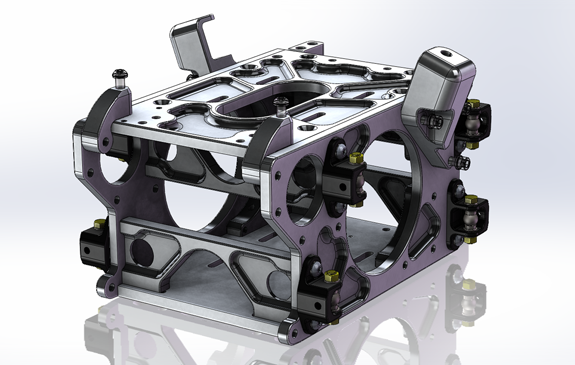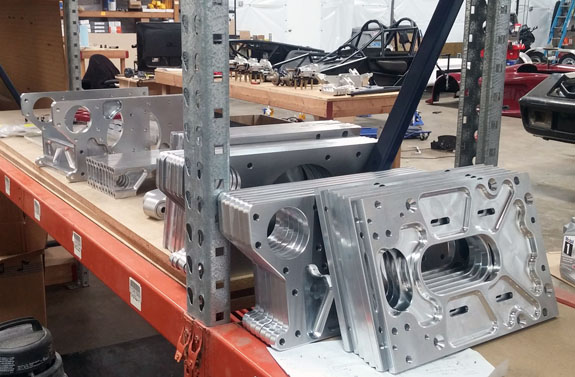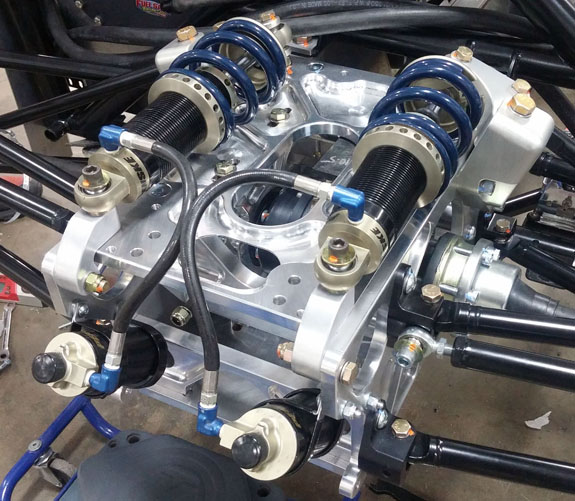 The frame and sheetmetal have already been started.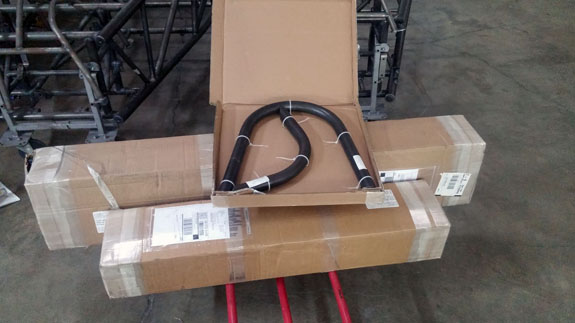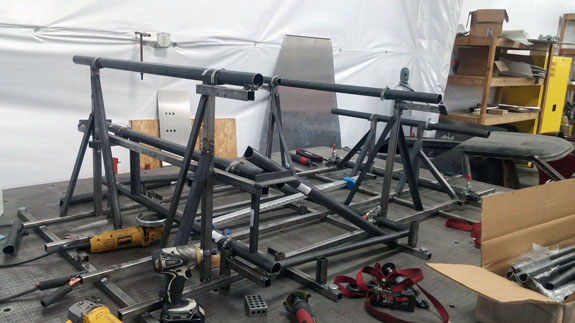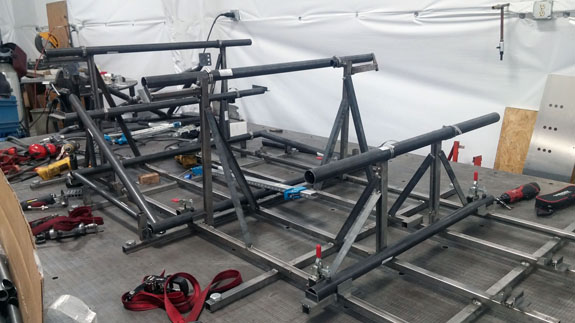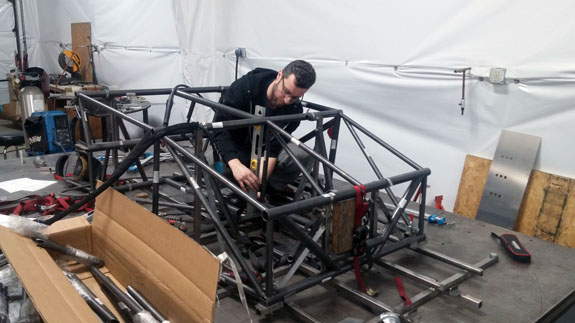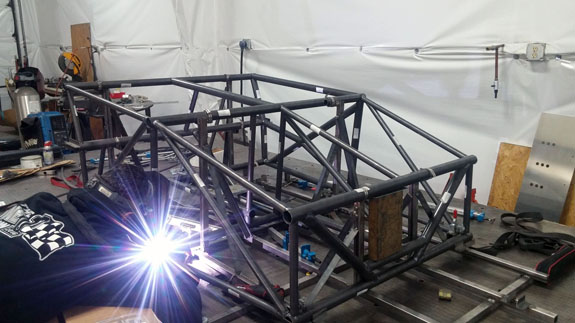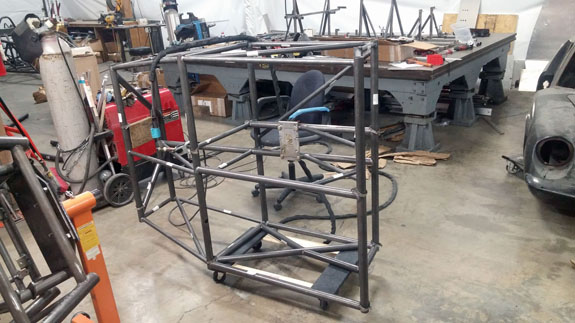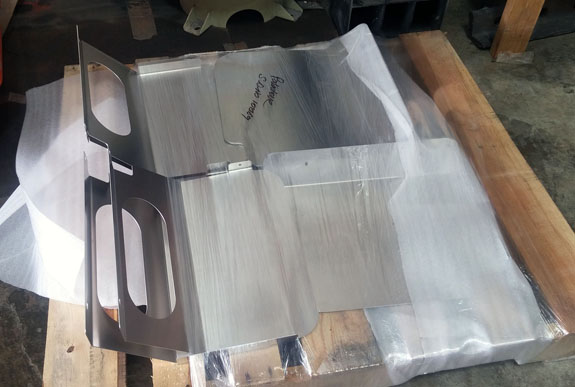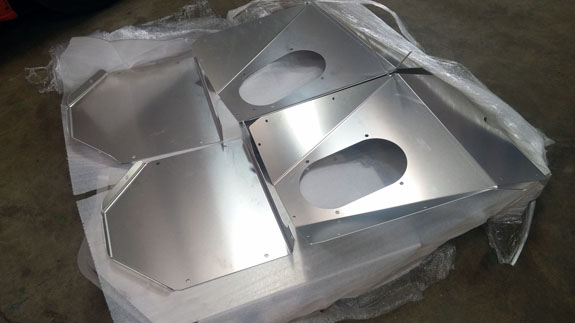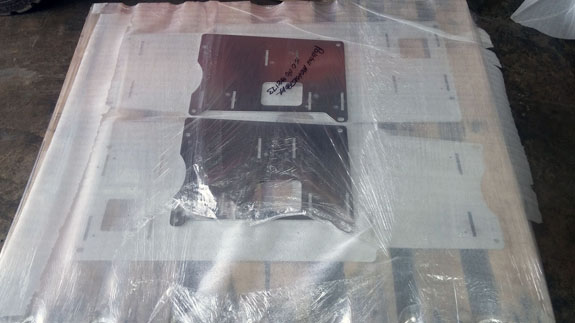 Fot this car the customer has chosen to buy a brand-new Hayabusa in order to have a new engine. The bike arrived today and we'll be taking it apart and selling off the unneeded stuff on eBay - much like I did with the original dp1 a bit over 14 years ago (time flies!). Coincidentally that first engine is still running strong in Pearl. It's interesting that the price paid for this bike was only about 10% more than for the one in 2002.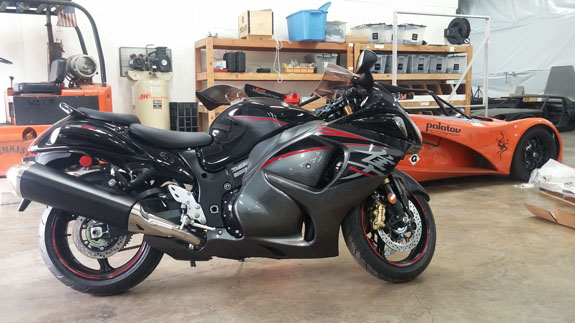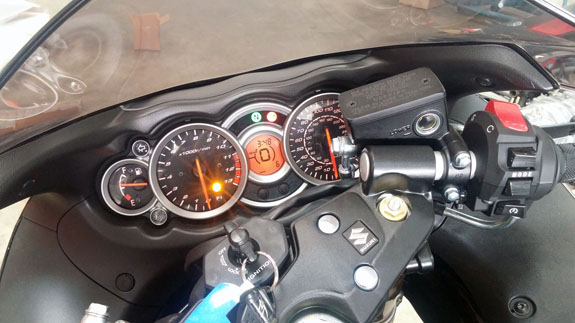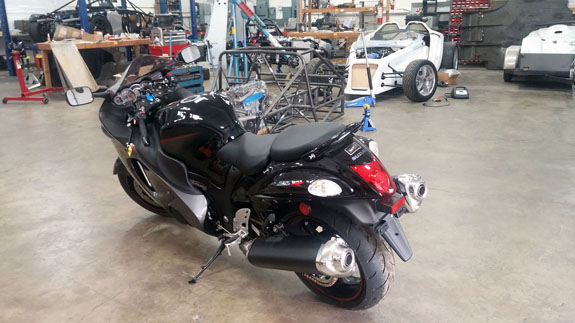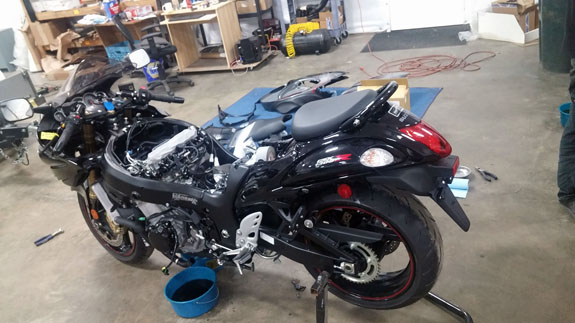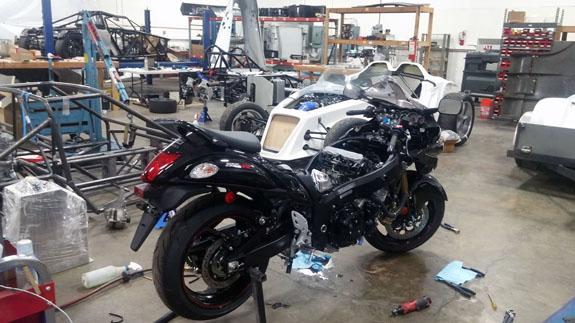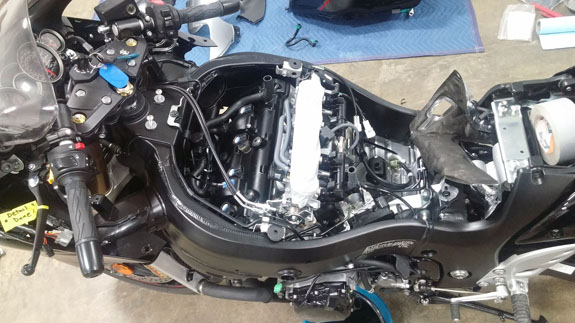 Once the engine and wiring harness are out we'll eBay the rest. If anyone is interested in any of the parts (or the whole thing), now is the time to let me know.
And finally a random D4-related item. We were recently approached by a Cub Scout organizer to make a couple Pinewood Derby cars for their fundraising auction. Since we didn't have to worry about official rules so much we decided to do a 3D printed version of D1 and D4. I tweaked the design to accommodate the way-out-of-scale wheels and Jay was kind enough to print them on his personal 3D printer. Came out pretty cool :)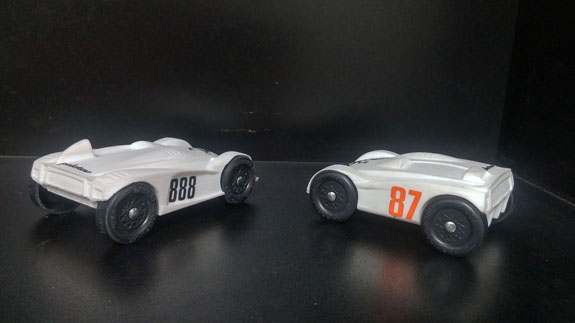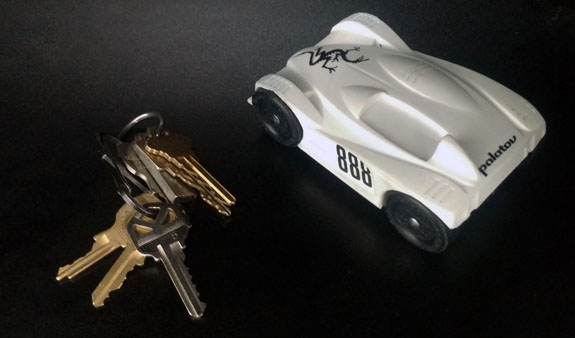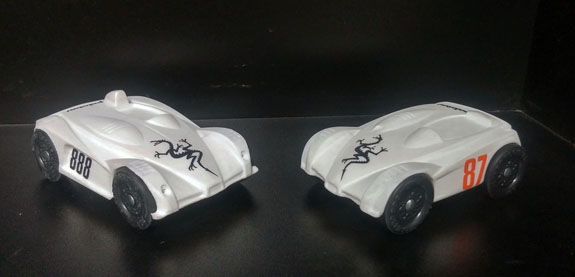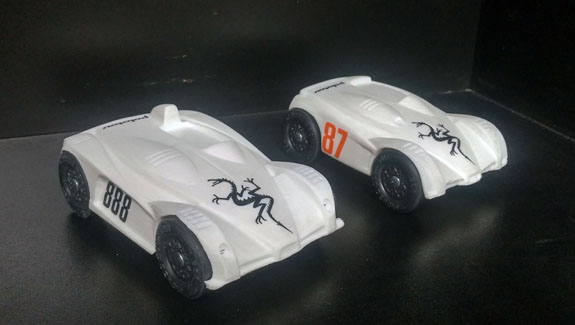 Someone asked if would make those available for purchase, but with the amount of print time and hand finishing that's necessary we'd have to charge a couple hundred bucks for it to be a worthwhile project. However we might be willing to make the STL file available to anyone intereseted in printing their own.
---
12/1/16 A variety of news on the D4 front. First, the second AWD turbo car is progressing well. The frame is now fully welded except for a few brackets. Here are the steps: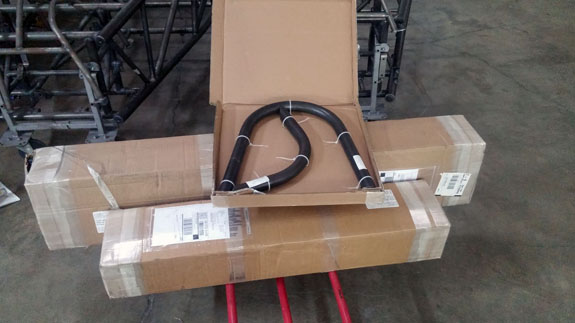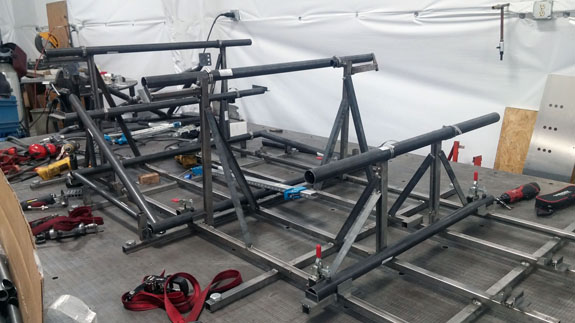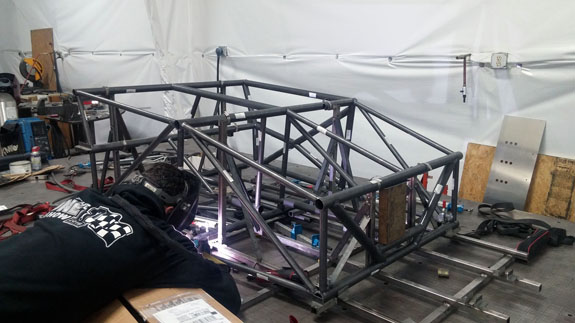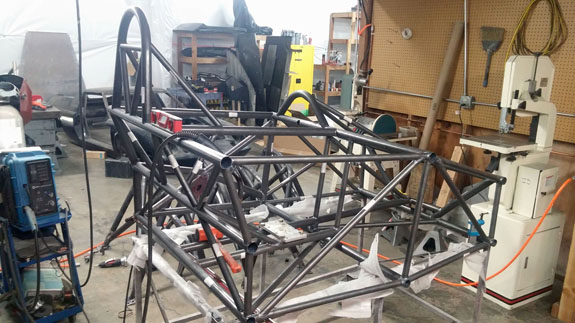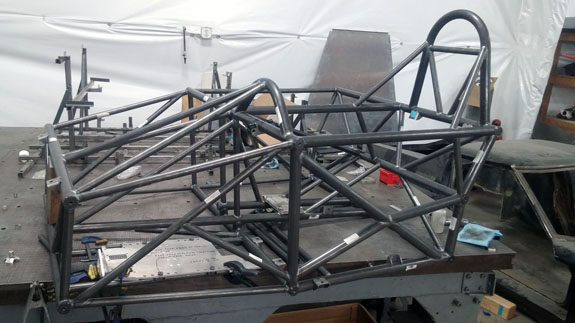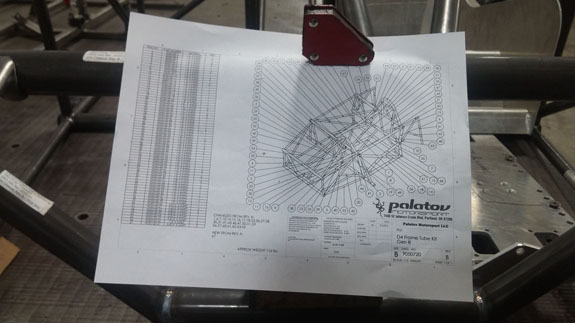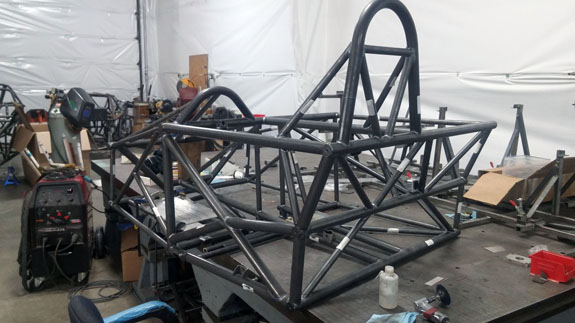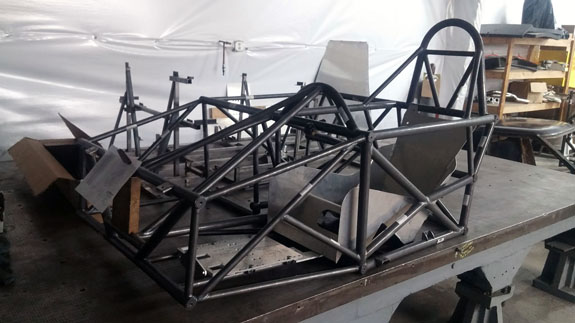 We are now machining differential housings, the control arms are back from powdercoat, and many other things are happening as well.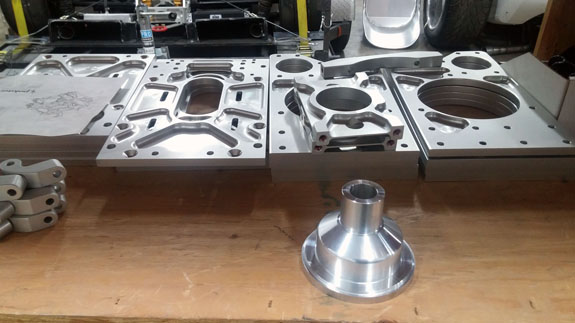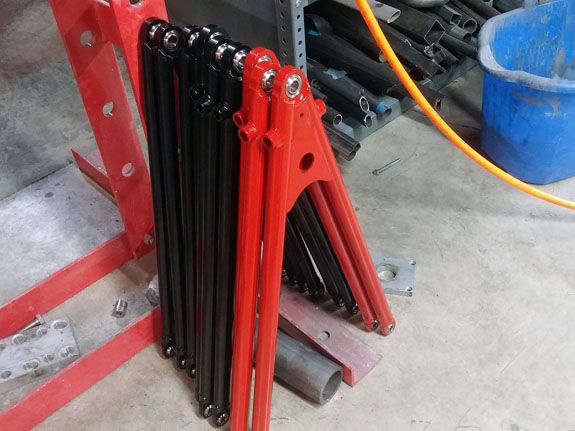 Another bit of news is that D1 owner Neil's wife Valerie has finally decided to get a D4 of her own, so we'll be building that. What's more, she wants to learn how to work on it so she has just started as our latest intern! This isn't some PR stunt, or having a customer stand around watching us work. It's the real deal. We just do the minimum necessary instruction and she gets hands dirty. She learns, we get work done.
One of Valerie's first tasks was to replace the primary chain on our demo D4. It's a relatively frequent service item (every 8-20 hours, depending on power level and how it's used), so it's a good thing to know how to do. Below is a comparison of a new chain (shiny gold) and one that is about to fail (discolored from heat).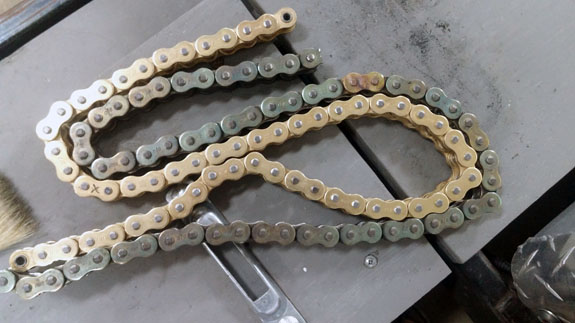 After the chain, it's working on Neil's car (she even towed it to the shop), then doing some composites work for the new D2 molds, then trimming and fitting Stiletto interior panels.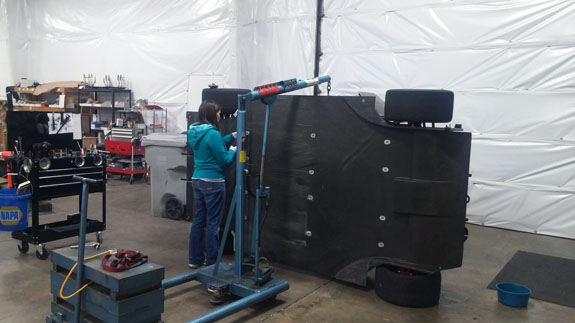 One more D4 item is one of Tristan's perks: he gets to build his own, albeit using old-rev parts when possible. Whenever he's not busy with customer projects, that is - which explains why not a lot has happened on his car in the last four years. Even though we have an old-generation frame, old-generation suspension boxes and the first prototype bodywork for him to use. But we need more cars out there, being driven, so I've made it one of our many priorities to get his car done. And he's more than earned it. Now we have three D4s in progress, all of which will hopefully be running by Spring.
The Hayabusa we got as donor for the turbo D4 didn't sell - or rather it did, but despite me writing NO ENGINE in three places in the ad, including in the title and right above the 'bid' button, the buyer wansn't aware that there is no engine. Therefore he didn't pay. So, out $40 in listing fees, I relisted it. The bidding went to $5,400. I contacted each of the top 4 bidders before auction close, to make sure they knew there is NO ENGINE. Just like it says in the ad. They all went away. Argh. So now we'll be parting it out.
And finally, nothing really to do directly with D4s, but yesterday we had a film crew take over our shop for the whole day. It's a project that we hope will take off. We'll see...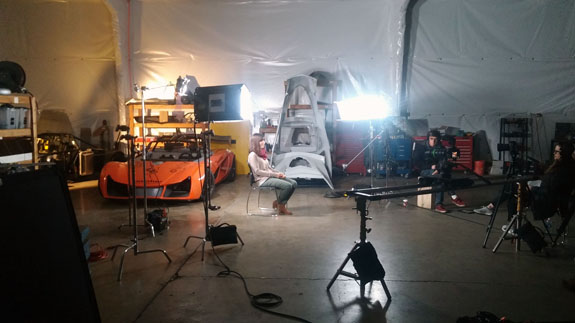 ---
12/19/16 Steady progress on all the projects, D4 is next in line for a blog update. One thing is that we're cranking out a bunch of machined parts. Even a 'simple' car like the D4 has several hundred part numbers in the BOM, a large proportion of which are custom and made inhouse. It's something that is happening simultaneous with other tasks, and usually requires ordering and waiting for materials (and sometimes tools). The wait time is used to move other projects forward.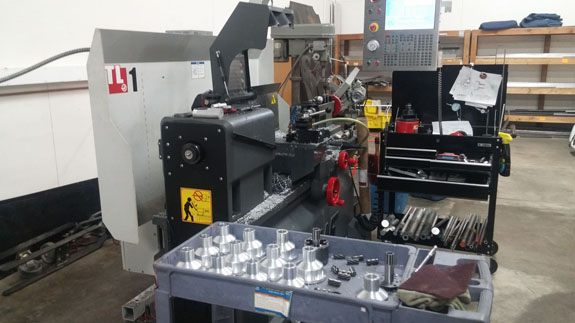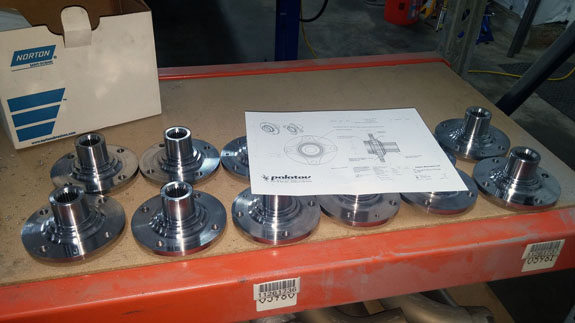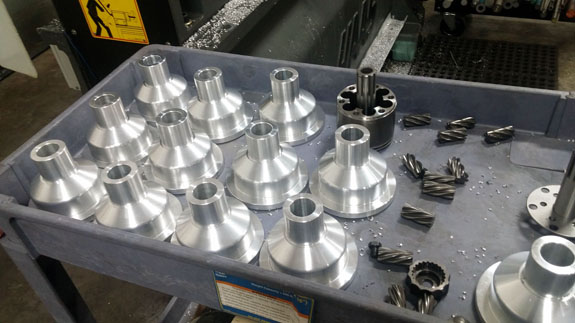 The part designs are also being updated with all the small tweaks that we've learned we need in the course of building and running the earlier cars. As previously mentioned, we're building antoher AWD turbo car whch is well along, and two normally aspirated 2WD ones. The interior panels and heat shielding on the turbo car are now fitted and the mounting brackets are welded.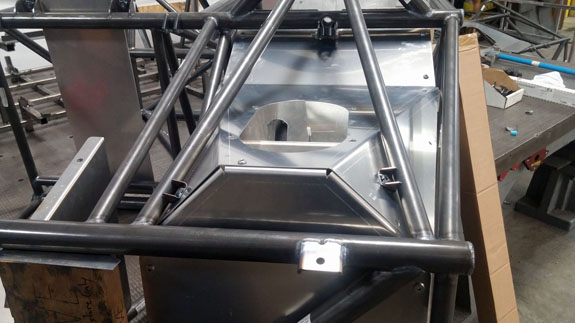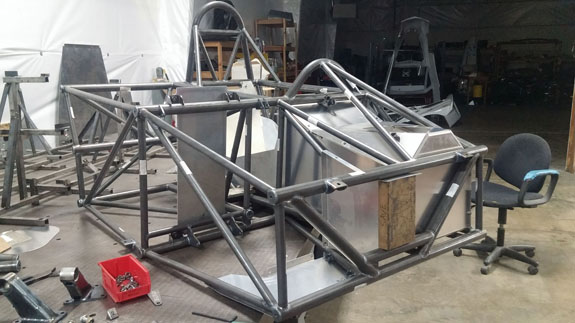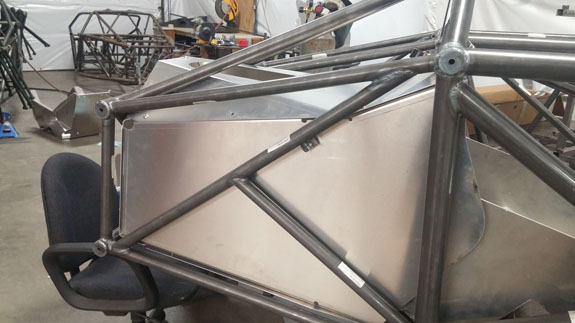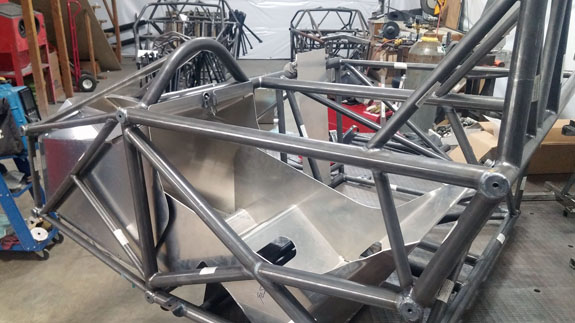 You can see the 'overbuilt' safety cell of the frame, made up of 1.5" OD, 0.120" wall seamless chromoly tubing. Even though the car will weigh around 1,000 lbs, the frame is built to SCCA specs for cars over 2,500 lbs.
For this car's turbo system we're trying something different, at customer request. The previous car was built for high power so it has lowered compression, turbo pistons, high strength rods, and a GTX2860R turbo with 0.57A/R housing for quick spool-up. That setup works really well and is good for 400hp on race gas at 14psi.
This one will be much milder and will only see 5-6 psi boost. We've looked at compressor maps and it actually may be that a larger turbo will be more efficient a the power levels we're looking for (250-280hp) and low pressure ratios. So we're trying a larger GTX2867R with same 0.57A/R housing. There will probably be a bit more lag, but stock compression should help, and the fact that we're shooting for very mild boost levels means it'll reach 'full' boost easier. Like I said it's an experiment that the customer is fully onboard with so we'll see how it comes out.
Drysump systems have been ordered for all three cars in progress, turbo is on order, the frame for the newest car is on order as well, and we're finalizing order details on the bodywork. Oh, and we'll be building trailers for the cars as well and naturally there are some updates to those designs that are in progress, like the much-delayed weather protection canopy.
---
01/02/17 First post of the new year goes to the D4 blog. As mentioned earlier, we're building three D4s currently. The most advanced, both in terms of spec and progress, the AWD Turbo car, is coming right along. Some final tabs are being added to the frame before it's fully ready for powdercoat.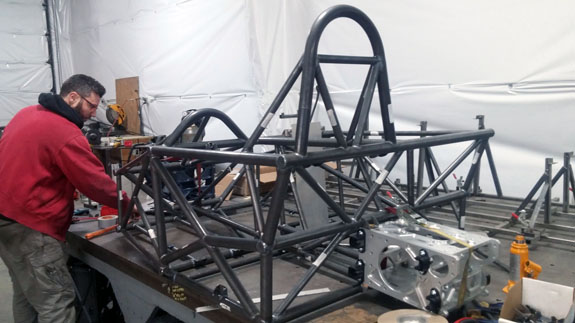 The newest of the batch is a base spec car (other than paddleshift), and the frame tubes for it have been ordered a couple weeks ago. The third is Tristan's personal car, which has been in the works for several years now. It's a 'spare time' project which explains the status :)
Making things in batches is more efficient so we're taking this opportunity to crank out a lot of parts for all three cars, and a couple future ones for good measure. This way the next couple builds will go a lot faster.
Machining takes many steps - some parts are mill-only, some are welded, some start in the lathe and move either to the mill or external vendors for specialized operations. Differential housing are lathe-mill-anodize parts. Some of the shots below show the custom fixturing that had to be designed and made, as well.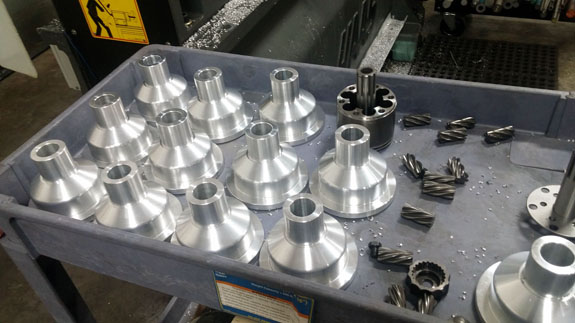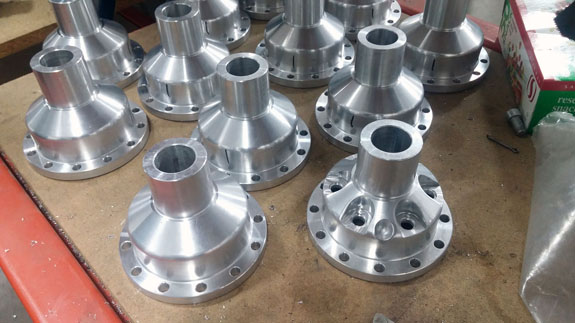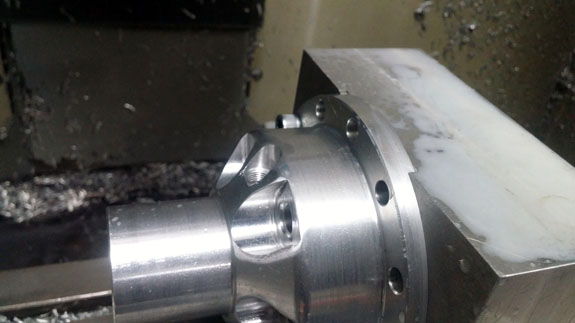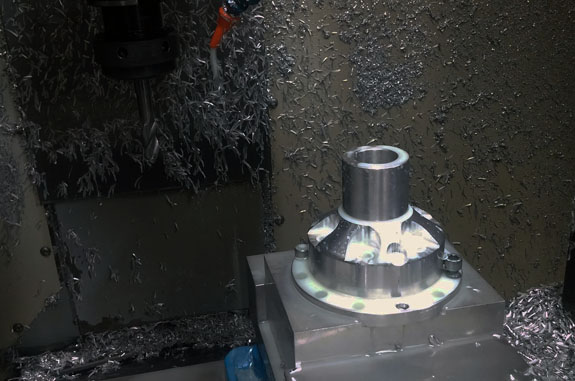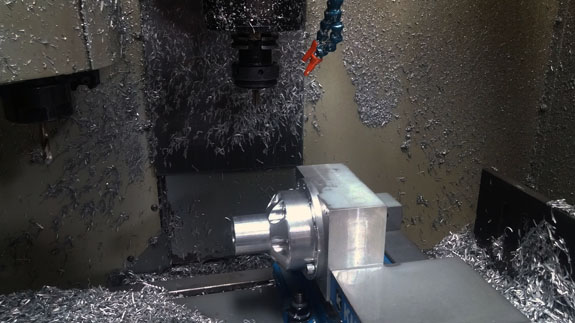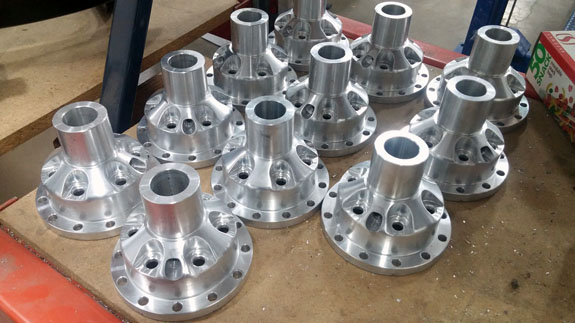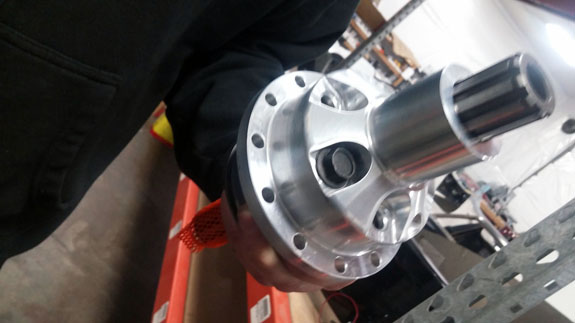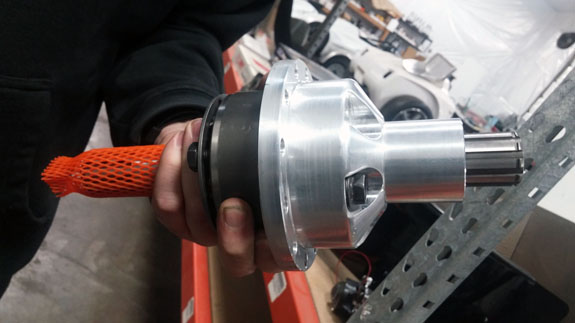 As with almost all our parts, any time we make a new batch we incorporate everything we've learned to date and make updates as needed. The black part in the picture below is the old rev. Changes are subtle but numerous. They are primarily centered around better sealing - main seals, bolt seals, tolerances, etc. The way sprockets are mounted to the diff is also updated as we have managed to shear off all six mounting bolts in the past. New setup is stronger (old parts can be updated if need be).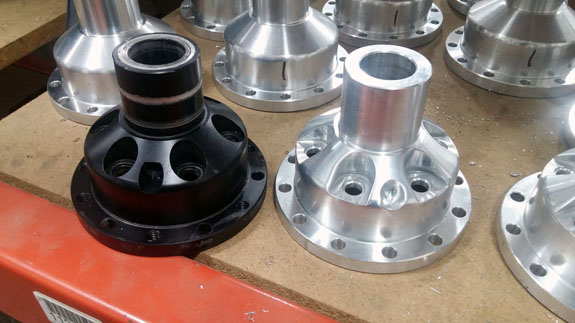 Center sprocket/torque splitter shafts are an example of lathe-vendor part. Tristan machined some D4 and D1 versions (the shaft-looking things in the cart), now they're off to splining. After that heat treat, followed by plating and then 'baking' to prevent hydrogen embrittlement. A completed older rev shaft is included in the picture for reference. Also in the picture are brake/clutch master cylinders, another lathe-mill-anodize part.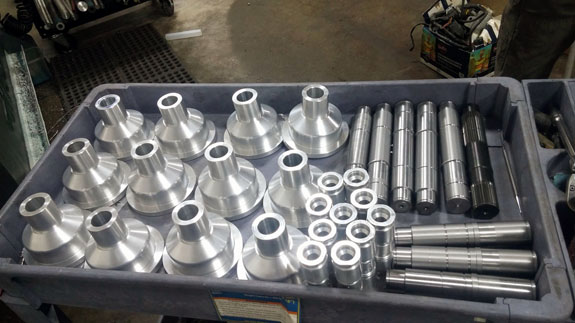 Wheel hubs are another example - this time we take OEM (VW) parts, then lathe and mill them to fit our purposes. The part on lower left is the completed version, before plating. The final machining steps remove a full pound of unsprung rotating mass.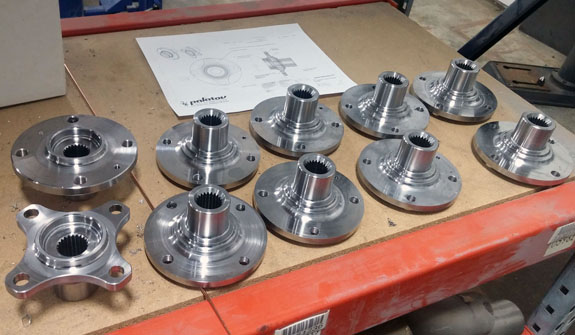 Bodywork is being ordered for two of the cars - Tristan's will utilize old rev parts we have onhand, for now. They're perfectly functional, but customers get new stuff so we might as well do something with the old.
---
1/30/17 A lot of activity in a month. All the projects are moving forward, and I've been machining parts for all of them. Some are now back from anodizing/plating, some more ready to go out.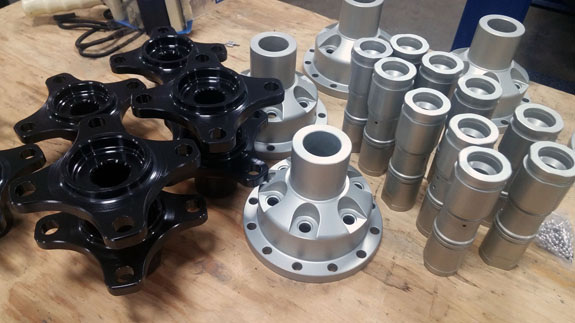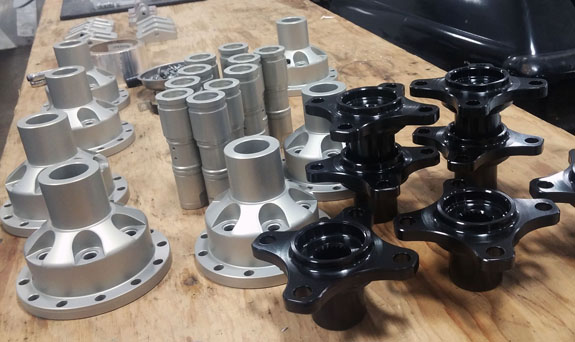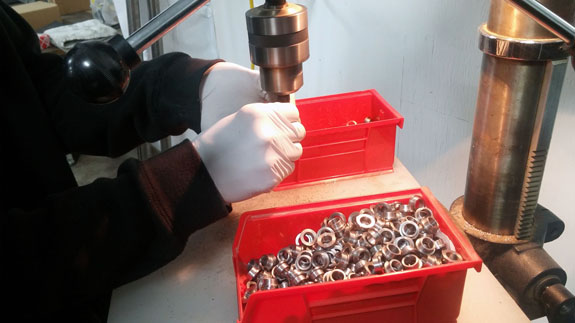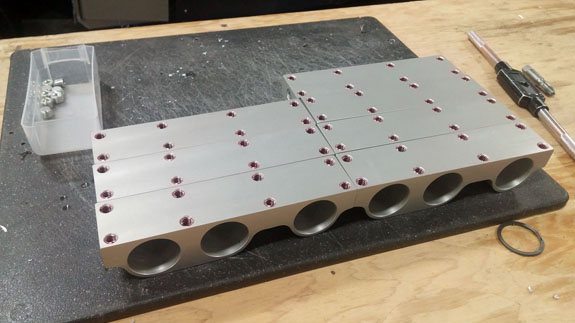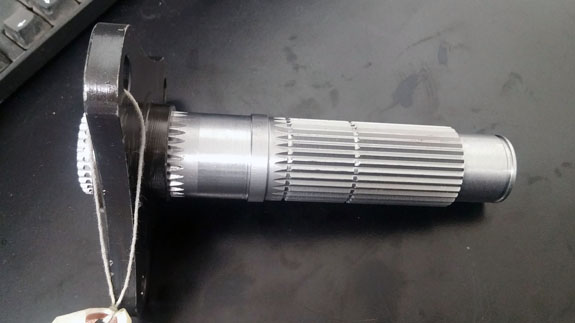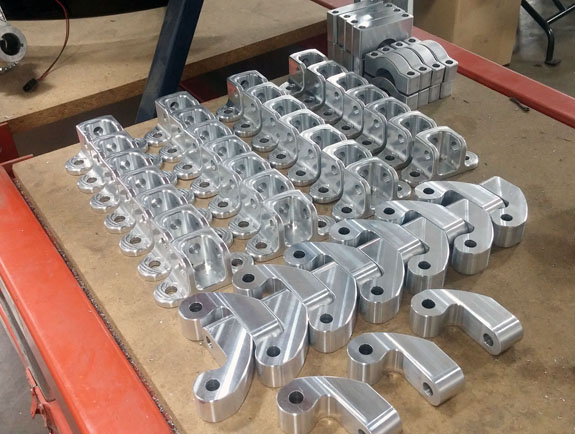 Now that the diff housings are anodized, the diffs can be assembled for the turbo AWD D4.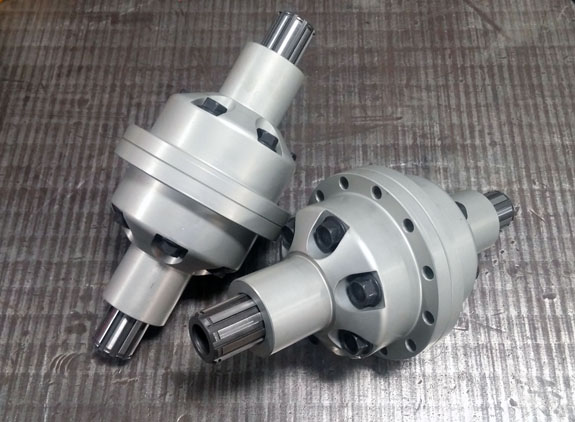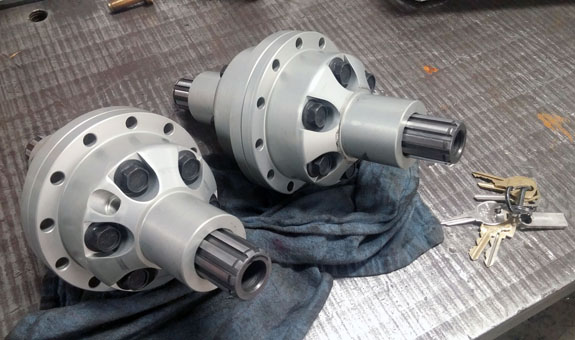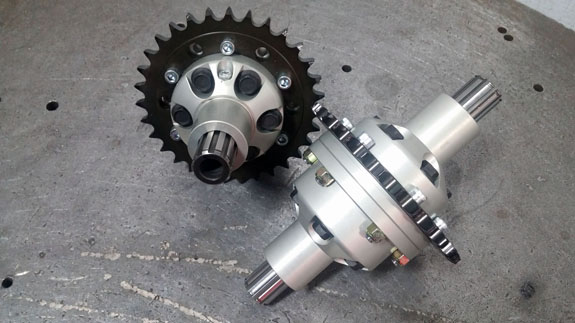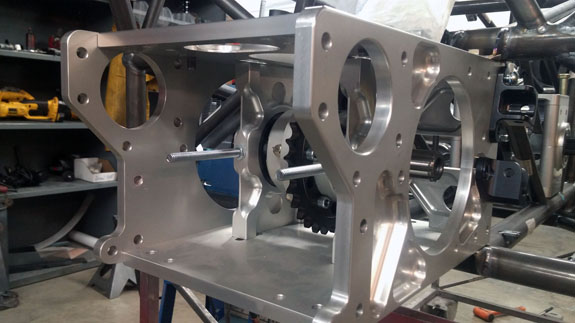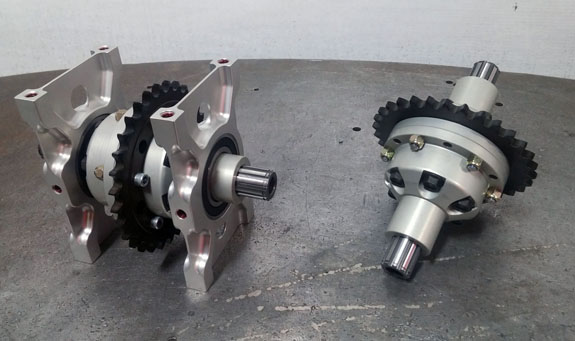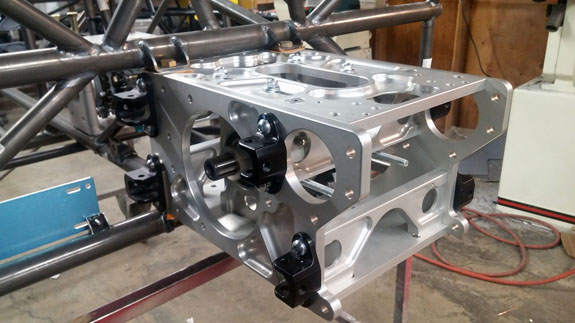 At the same time a lot of things are getting welded, like drysump oil tanks and chain guides.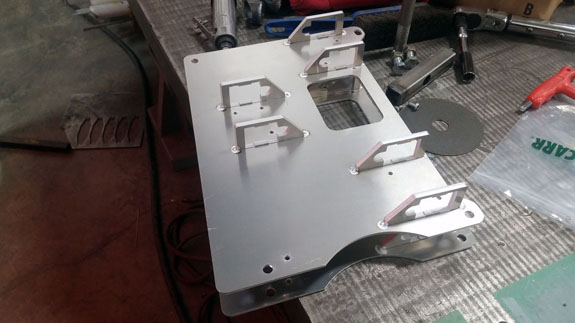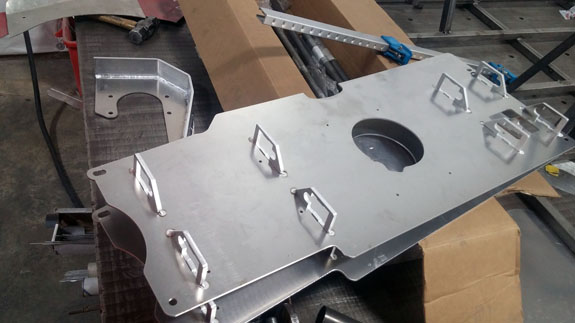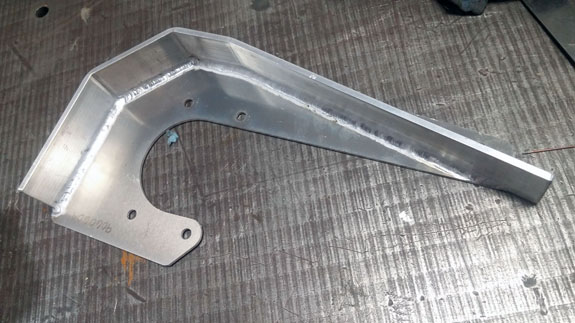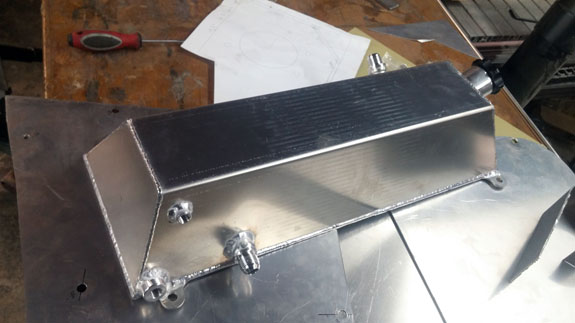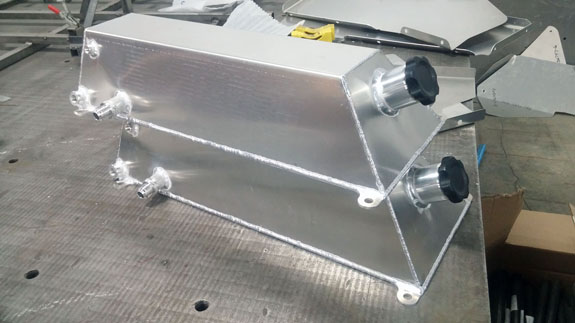 And then they all come together.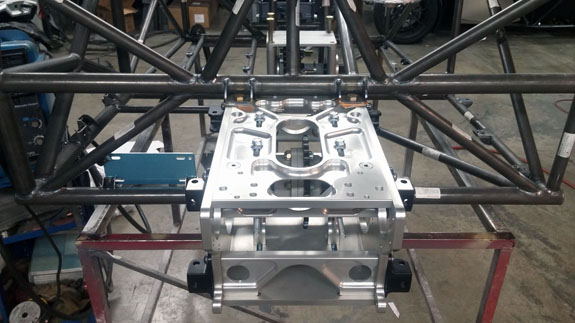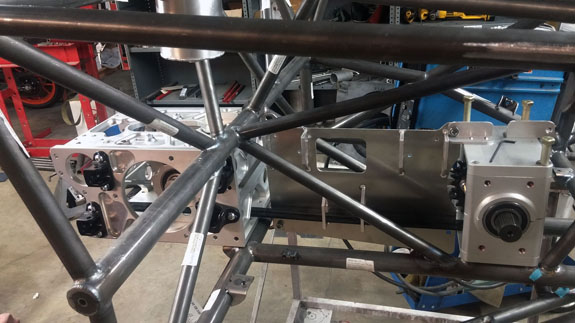 The tube kit for Valerie's D4 is here. We'll start welding that up shortly.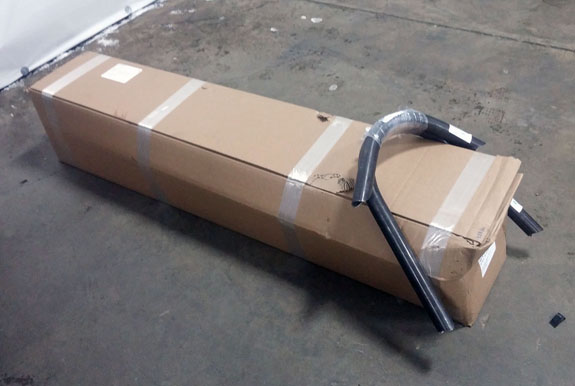 All the while both Tristan's 'old rev' car and the customer AWD chassis are coming along. You can see the difference from the early rev thin tubing to the much more substantial (1.5", 0.120" wall chromoly) of the current frame. The original car was designed to SCCA spec for the weight class, the current design far exceeds it.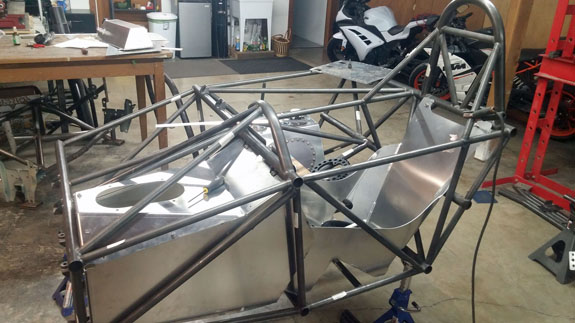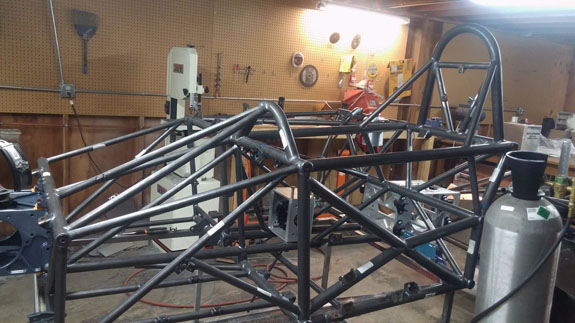 Valerie is our customer who also happens to be our intern and she's been learning a lot - from composites, to running the CNC mill, to fabrication, to electricals.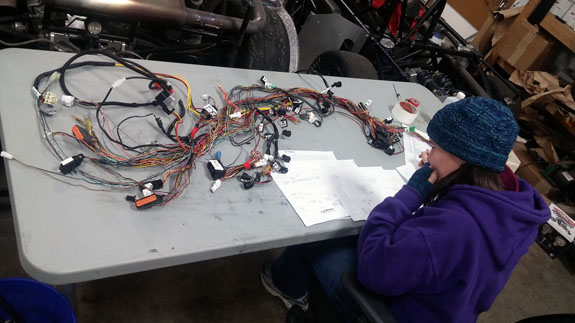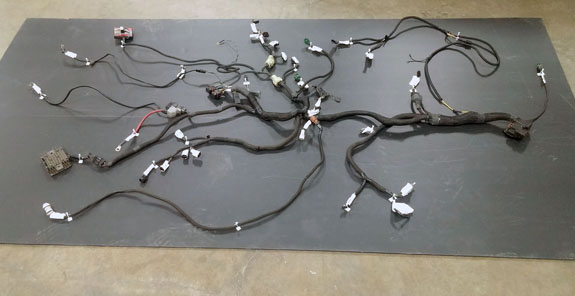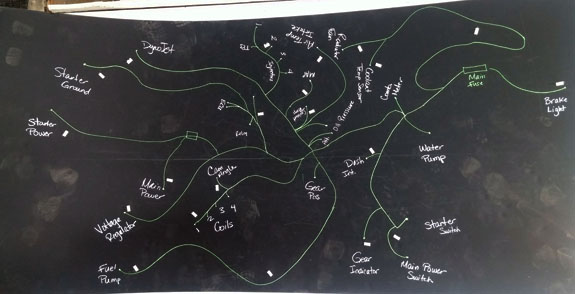 Oh and on top of all that, there is an upcoming update to the D4 in rFactor2 so we set up a 4K TV with proper field of view for the simulator to test it. Yes, that is how close you have to sit and it changes the experience dramatically.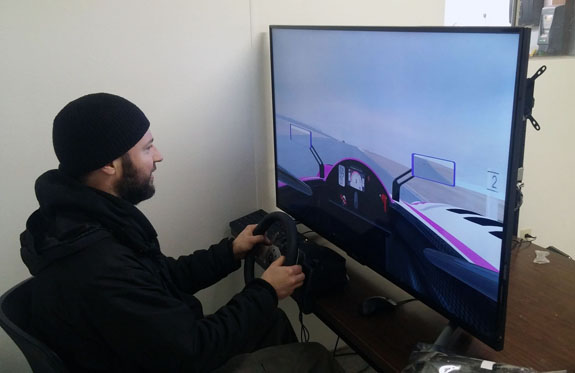 Lots more is happening, more on all that soon.
---
Site Sponsors and Links:

- CMS Lap Timer - Advanced Track Timer App With Video Integration

Tire Rack - Tires, Wheels (use link when buying wheels/tires to support this site)
---