---
01/27/15 Time for another update on this page. As always there are several updates in one. The main thing is that we're finally finishing up the custom D4 trailer. It's a key part of the puzzle that I really should have done many years ago because it enables this track-only car to be towed with an ordinary sedan and lets it be stored, on trailer, in a single ordinary parking spot. This means no need for dedicated tow vehicle, big trailer, trailer storage and all the hassles and expense that go with it. The car becomes a 'powersports toy' like a jetski or snowmobile.
The trailer has surge brakes, dual torsion axles (mostly for redundancy and stability rather than capacity), a 12' x 8' overall footprint and a combined car+trailer weight of about 1,600 lbs. Tongue weight is in the 115-135 lb range. It is built quite low for ease of loading (10" ramp height) and has about 5" ground clearance loaded, with 10 degree approach and departure angles. Ramps are stored underneath. Below are the pictures from concept to nearly finished product.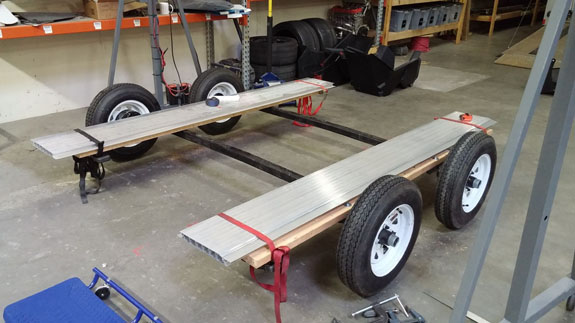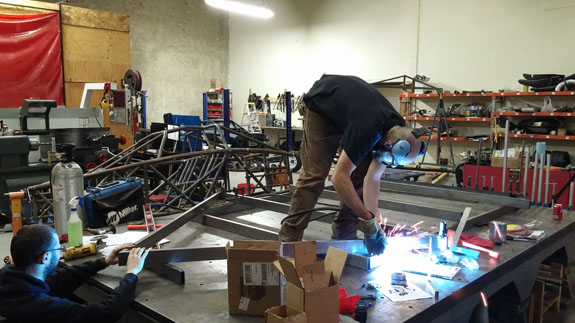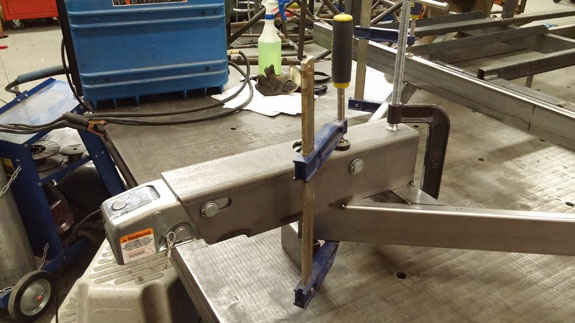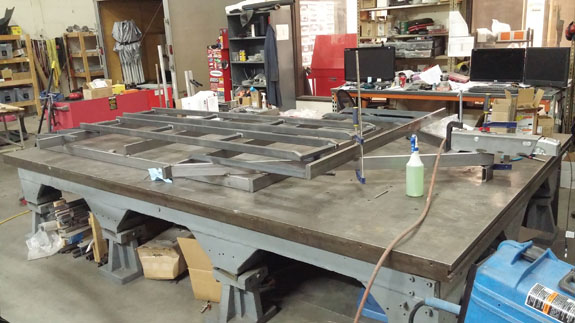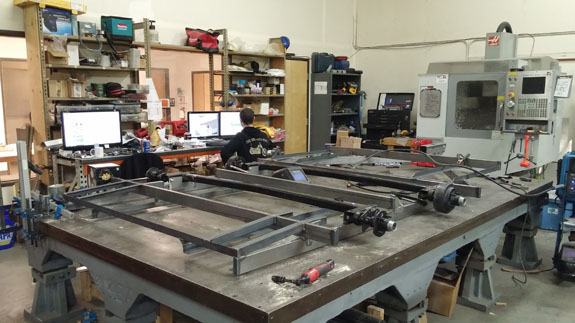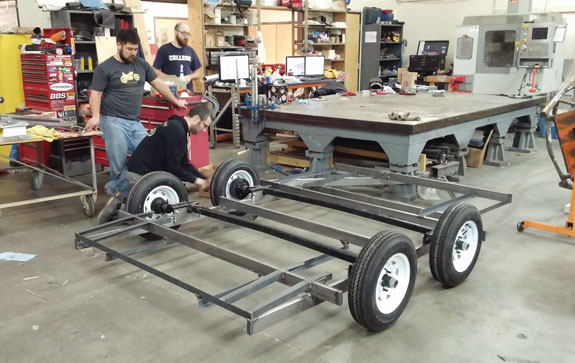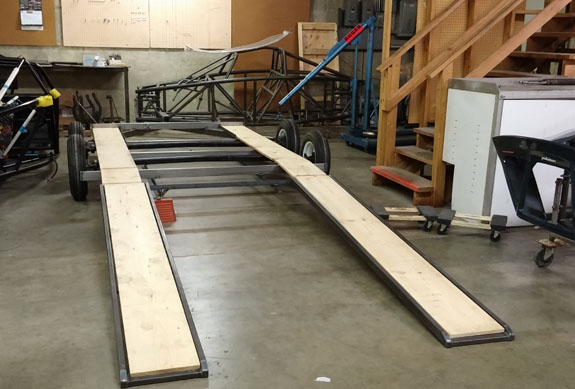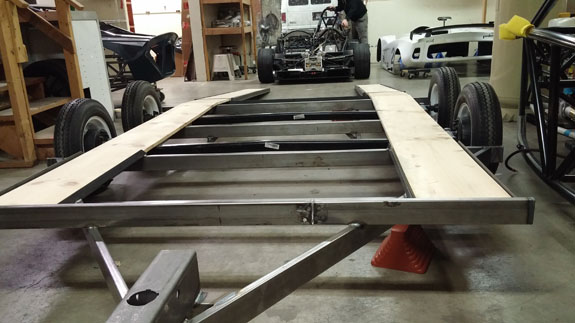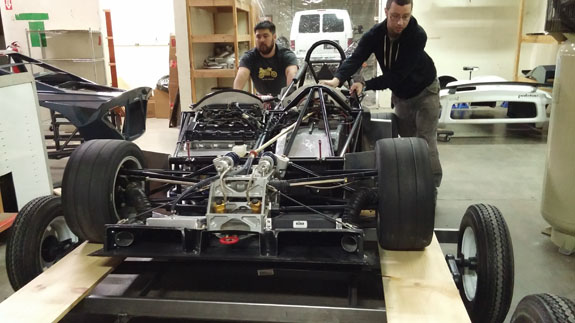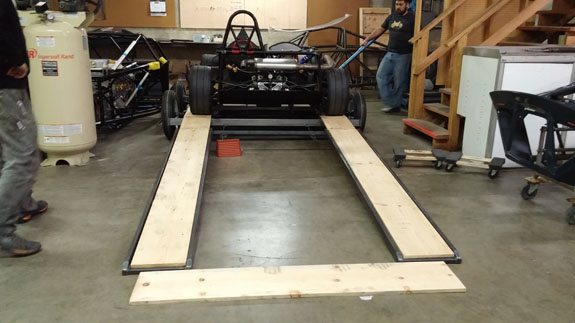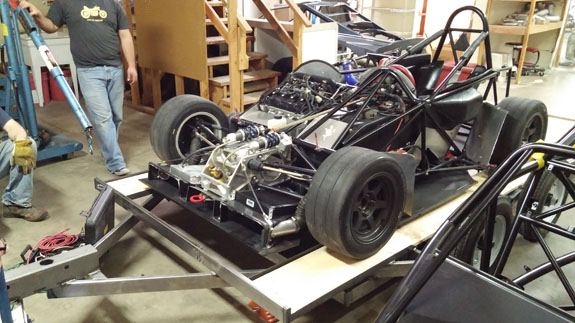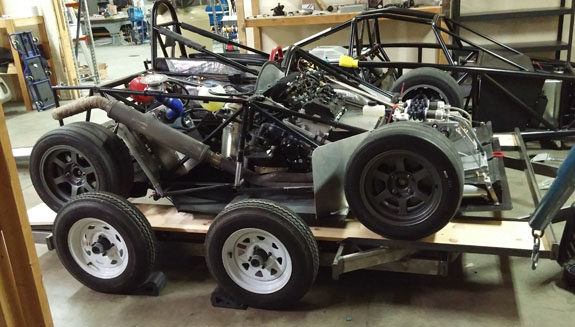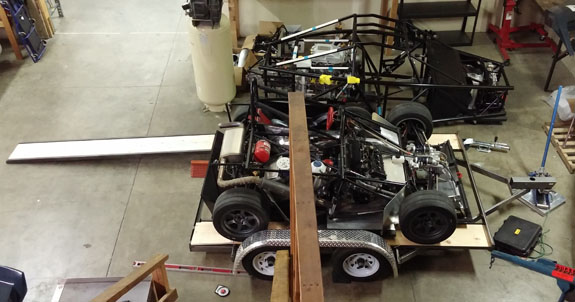 Still need to work out final details of tiedown, lights/wiring, run the brake lines, then test and paint.
The turbo D4 is coming together as well. The header has been sent off for coating but here are some in-progress pictures from last few weeks.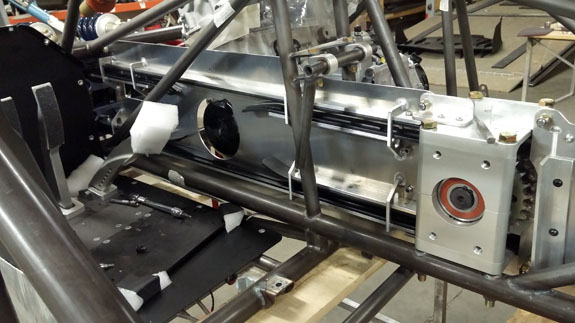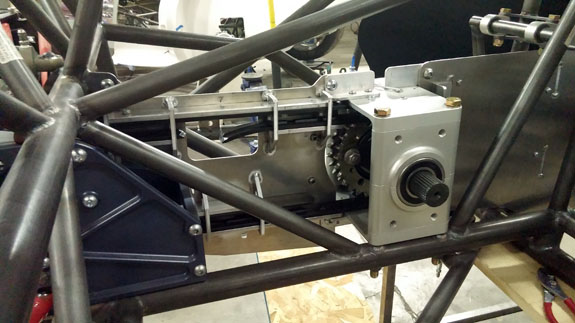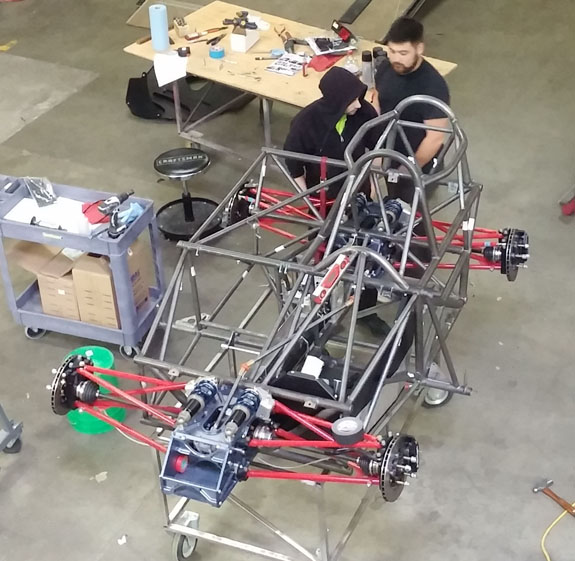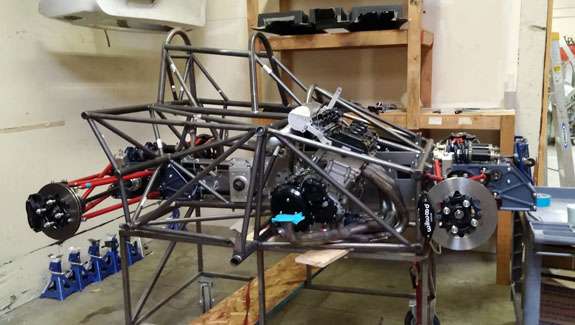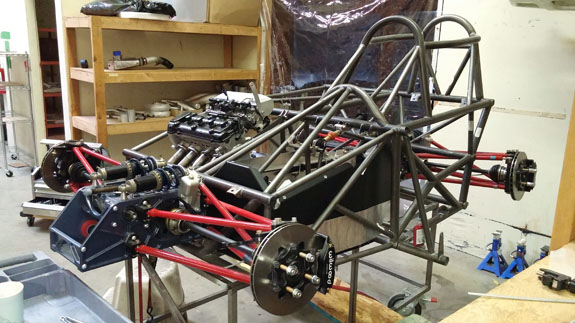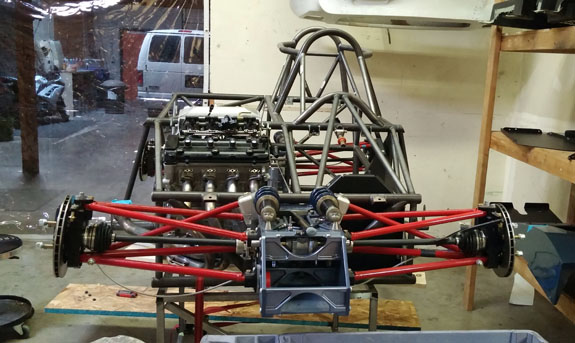 There are a couple more D4s in the pipe so I've been machining parts for those builds and some spares.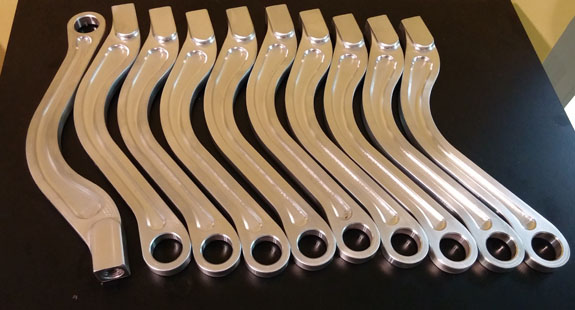 Many other things are happening including D2 and Stiletto progress, I'll post more on that in separate pages. The year is off to a busy start!
---
02/07/15 First, I'm happy to announce we have a new sponsor for our various adventures - ETAS North America (a division of Bosch). We've even put together a video for the occasion. They make a number of things that will be useful in our ongoing development, such as ultra-accurate air/fuel ratio sensors (for use in dyno tuning) and a number of embedded electronics solutions. There will be additional posts as things develop.
Next item is that the custom D4 trailer is now ready for testing. We did pull it out (with the FIAT!) and drove around the block. Then backed it in.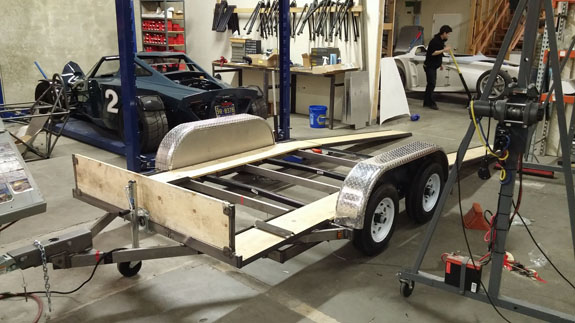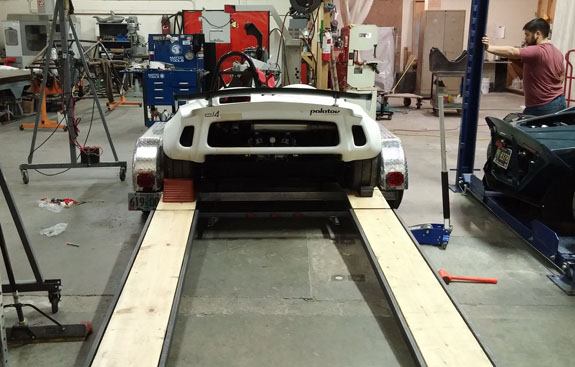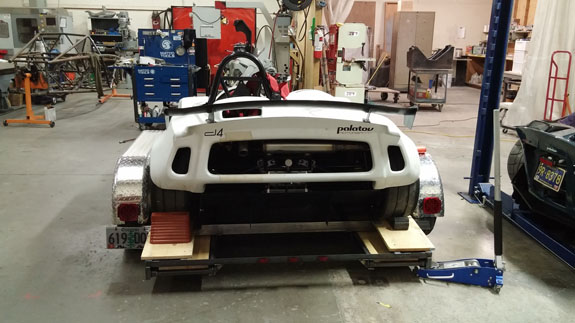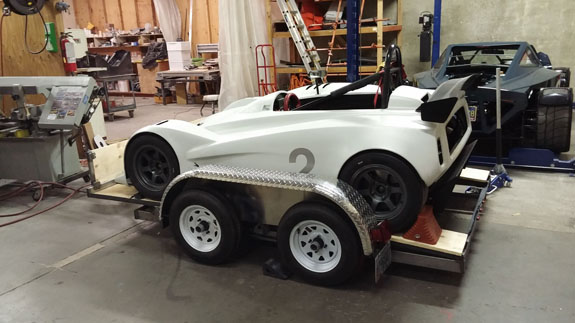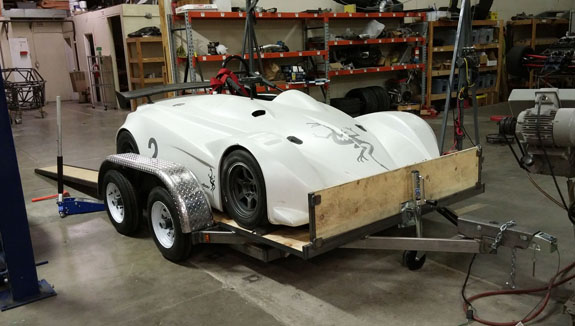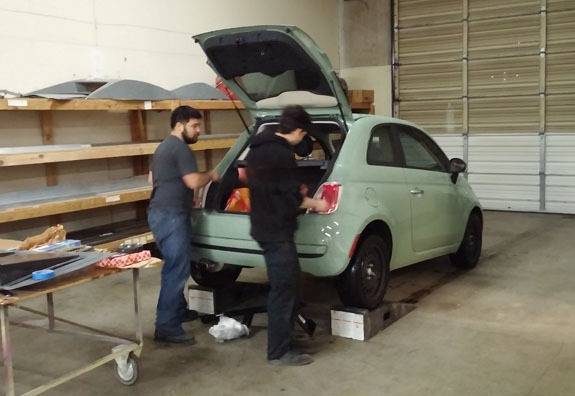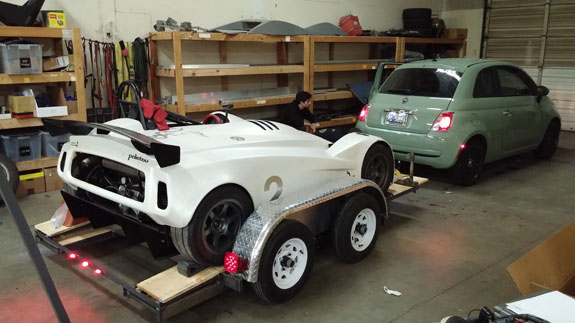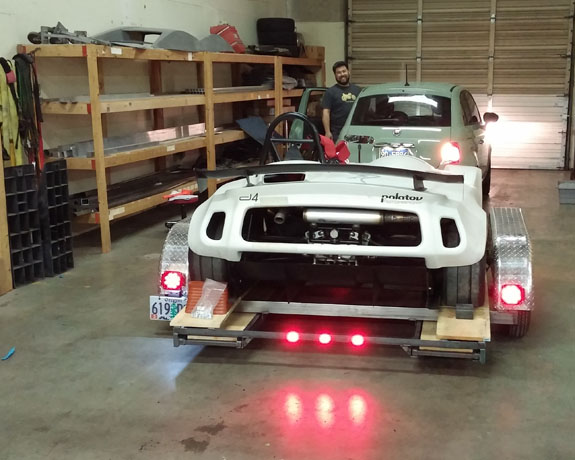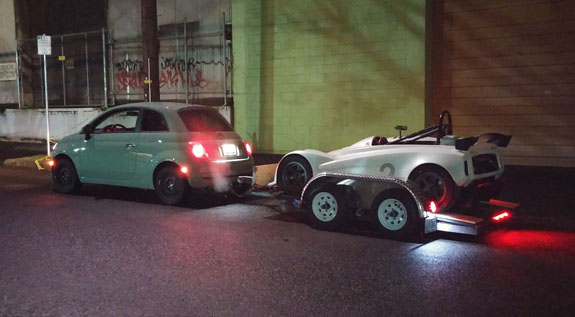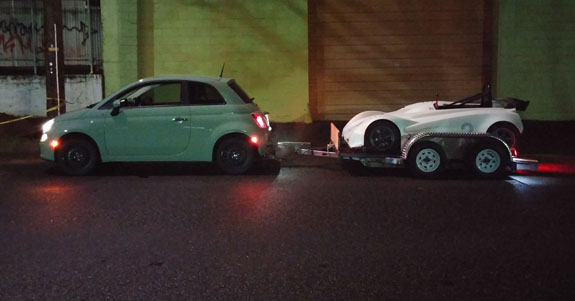 The trailer passed the first test - the huge hump in our driveway - with flying colors. Many a car scrapes on that and our regular trailer clears by about as much as this one - half an inch, give or take. Just driving around the block it doesn't feel like anything is there. Trailer + car = 1,600 lbs, a single person can move it around easily by hand when it's not hooked up. The trailer is Class I, has surge brakes and about 135 lb tongue weight with the car loaded. In Oregon something this light does not need to be registered but this one is going to California so we're assigning a serial number, MCO, the works. I guess this is a first drive by a vehicle we made, even if it isn't powered. There is an enclosed D1 version that we're building next and the design will evolve somewhat, naturally.
That would be because the D1 has been sold to a local trackday enthusiast. Many more posts to come on that subject, soon.
Next, there is a group of sim racing enthusiasts who are putting the D4 into rFactor2. And ORP, both of which will help our testing and development greatly. Yes, we'll be building a 'sim rig' and yes we'll be making it available eventually as a product.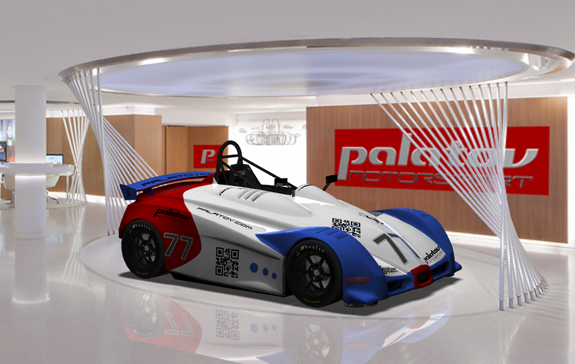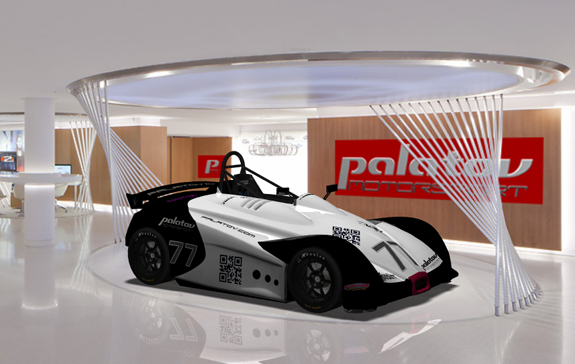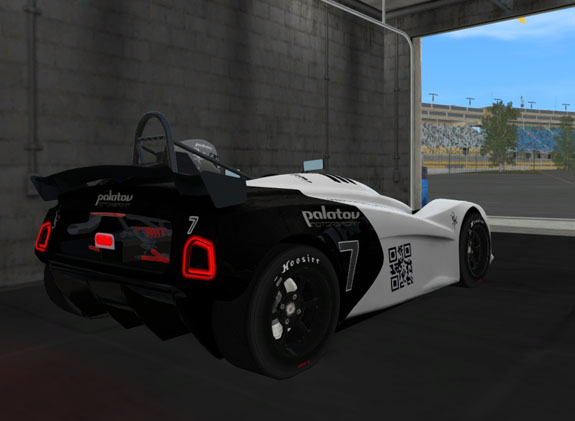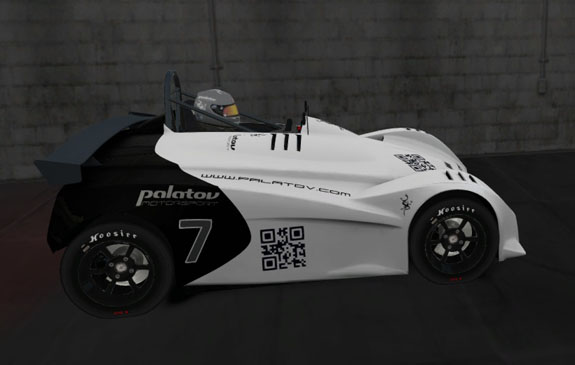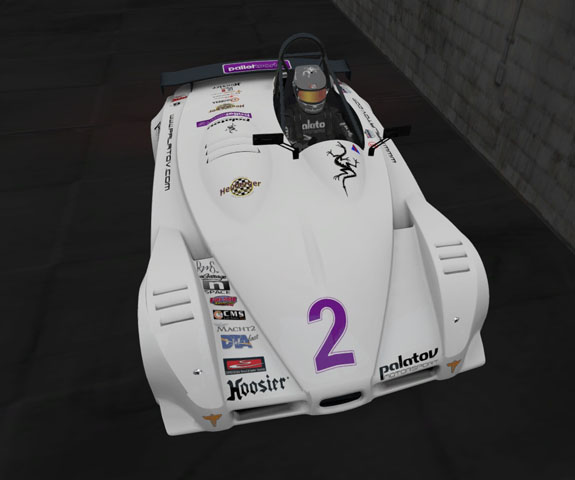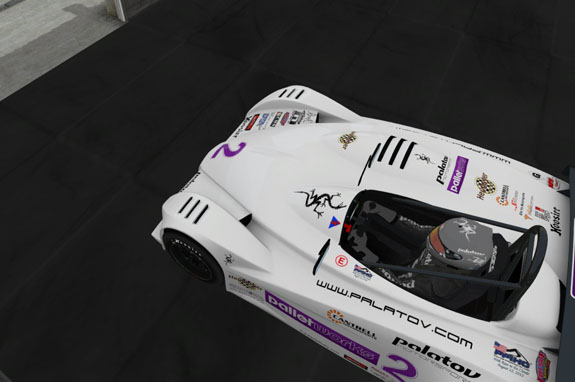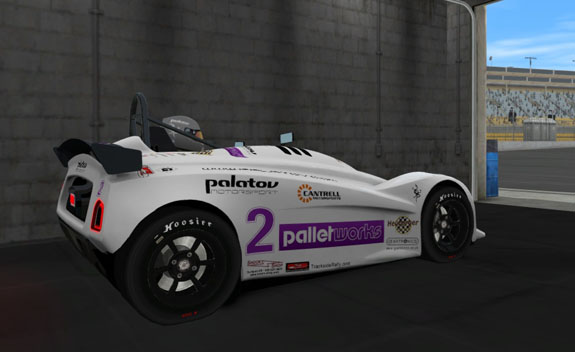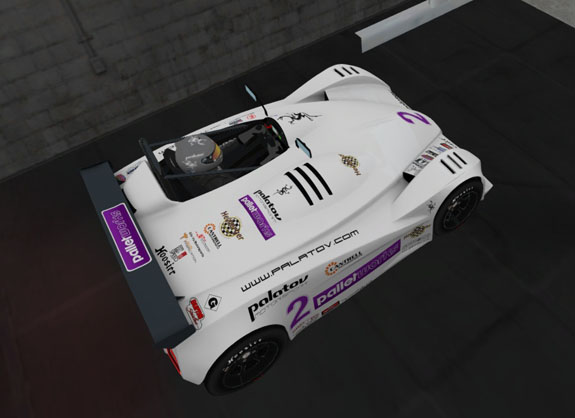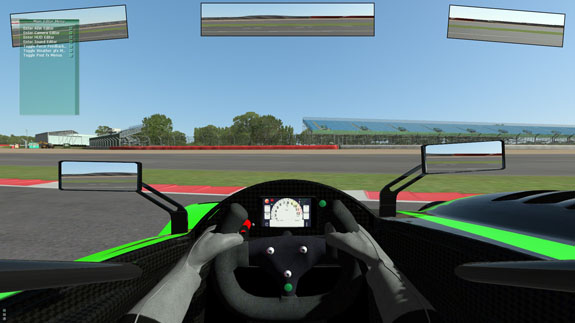 I especially like the authentic 2012 Pikes Peak livery. And the QR code works, too! The lights are needed for endurance sim racing and are 'factory approved' :) Excellent work by Marco, Juergen and others. For those interested in progress there is a thread here. As with everything else, there will be much more to this story.
Aside from that, much more is happening on the D2 (separate post to come shortly) and the first batch of Sector111 Drakan chassis are about to be built.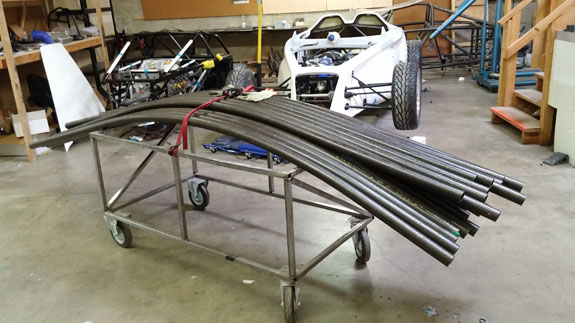 And yes, that's Stiletto and supercharged D2 in the background and things are happening there too. But this post ends here :)
---
Site Sponsors and Links:

- CMS Lap Timer - Advanced Track Timer App With Video Integration

Tire Rack - Tires, Wheels (use link when buying wheels/tires to support this site)
---