---
08/21/14 It's been a long time but the D4 actually got driven on track again. The main purpose was to test the new suspension design. The result - it's a winner! The car now feels much more forgiving, shrugs off curbs and basically just does what you tell it to. This is good because we're in the process of building a 350hp turbo AWD one of these for a customer :) More on that very soon, this outing was a part of testing for that build.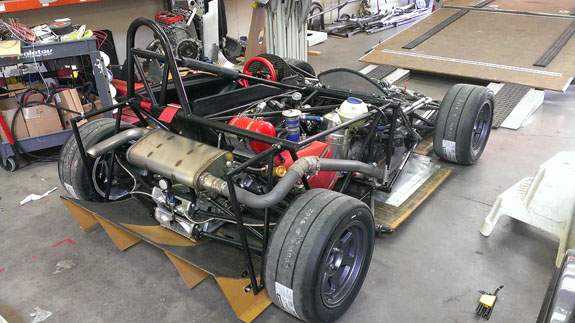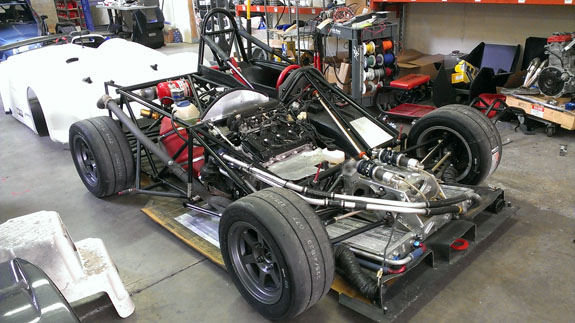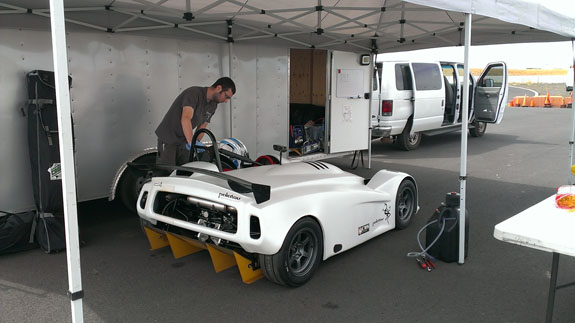 Also tested the new bigger muffler - that one didn't work out so well and is quite loud, although the same muffler works really well on the 2-liter Honda motors in the Altras. The engine in the D4 is long overdue for a rebuild with over 60 trackdays on it. Meant to do it last winter but didn't get a chance with all the D2 stuff going on.
Other news is that we're building molds for a 'universal' wing design that will be used on all our cars - D1, D2 and D4. It's much bigger than the current wing on the D4 and is a part of the more aggressive aero package that will become standard on the cars. Below are a couple pictures of the plug from which the molds will be made. Obviously it's much wider than physical wings will be, we just want the mold extra wide to accommodate any super crazy stuff we might want to do later.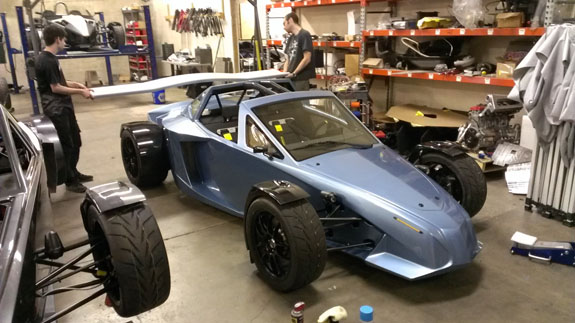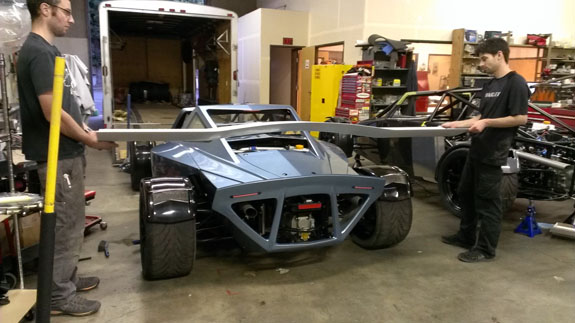 The molds are coming along nicely.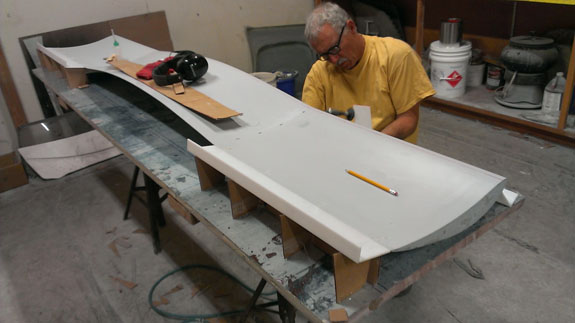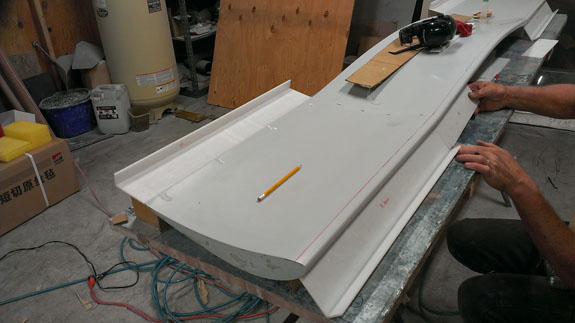 All the parts for the AWD turbo car are coming together so there will be a post on that shortly. That one will be fun :)
---
10/05/14 D2s have been getting all the attention for the past couple of years but now that we have almost a dozen of them running and in customer hands, time for the D4 to get some visibility. A perfect opportunity came up - the SOVREN hillclimb at Maryhill Loops Road in southeastern Washington. It is generally a vintage event but they let a few interesting cars (and even a couple bikes) join them. The weather promised to be perfect and Jonathan came up from California to do the driving.
The event is a two-day affair with course familiarization and a 'parade' from the hillclimb site to the Maryhill Museum car show and back. For the first day M and I drove the D2 up from Portland. The scenery is amazing, weather is great (albeit a bit cold in the morning - the heatshields might be TOO effective in the D2 ;). We arrived at the hillclimb, scouted the road and joined a bunch of vintage racecars in a flagger-controlled 55 mph parade to the museum. It's cool to see vintage formula cars on the road.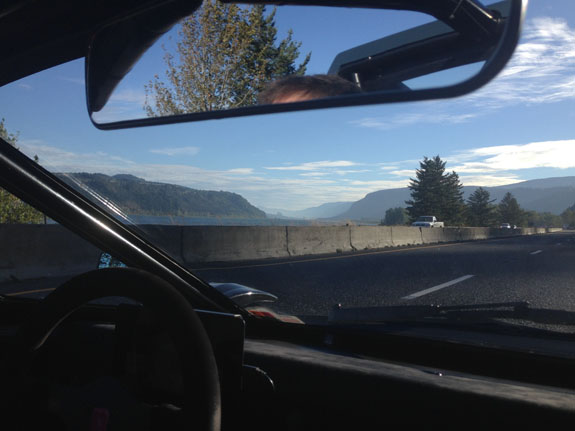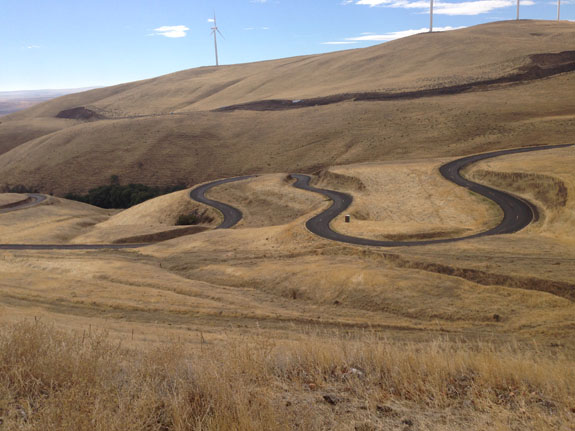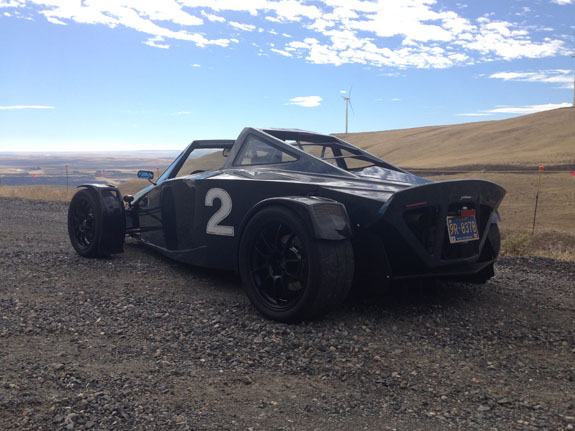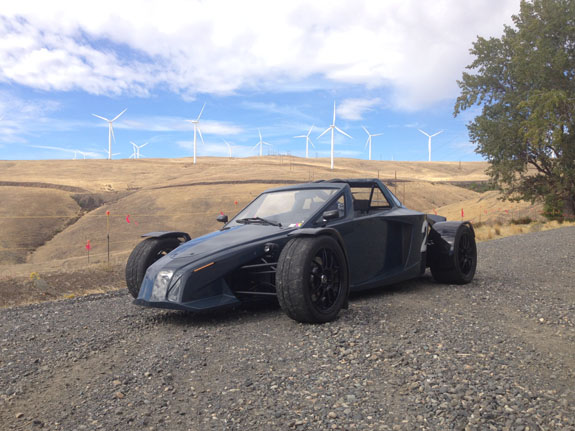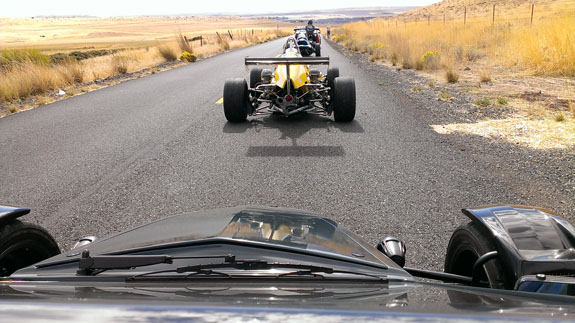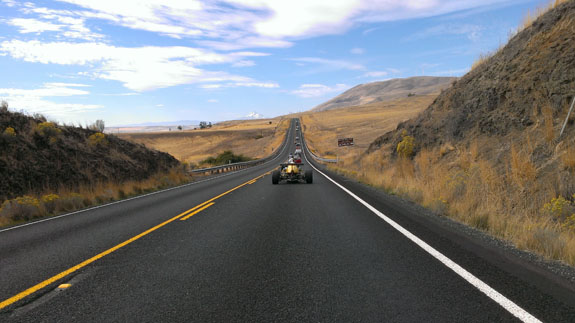 The car show had some interesting machinery including a beautiful Countach (one of my favorite cars of all time). The museum itself has some cool art including a surprising amount of work by Rodin. It is housed in Sam Hill's mansion and offers wide open views of the Gorge. There is quite a bit of history here.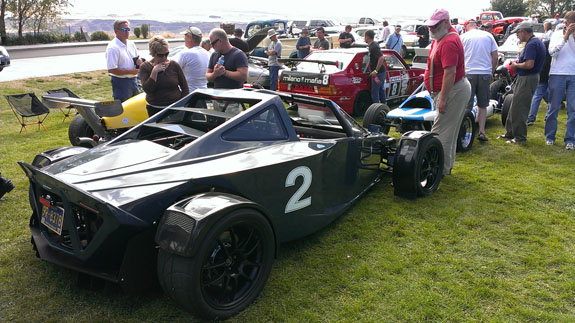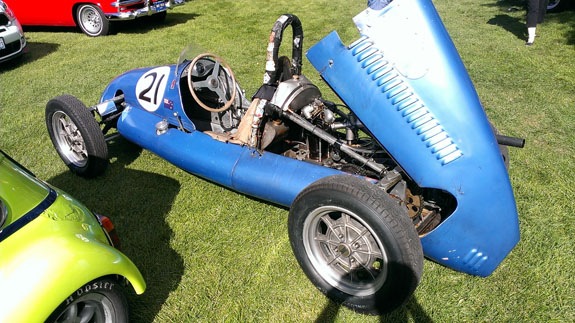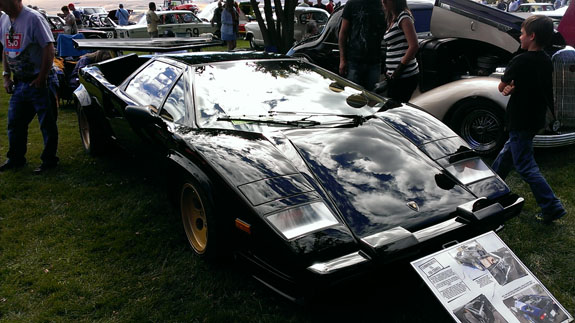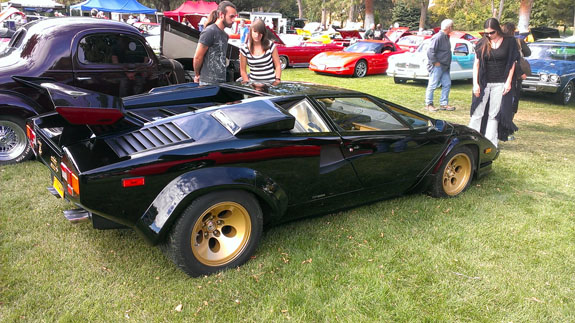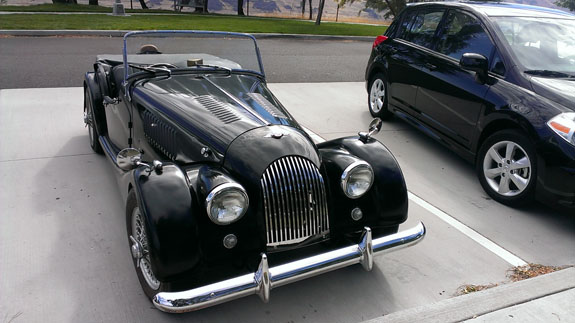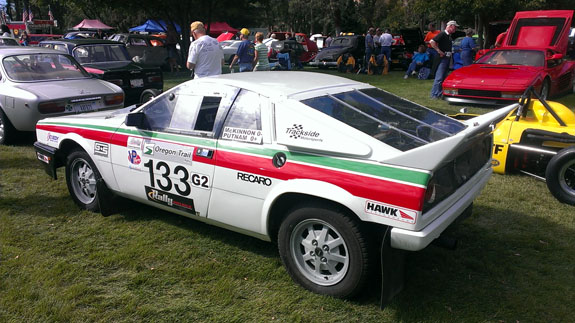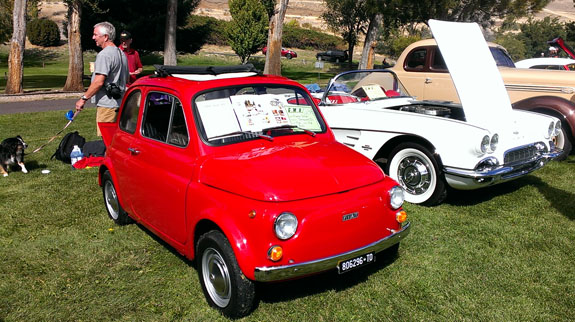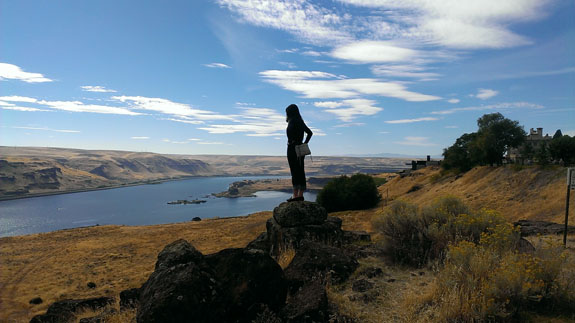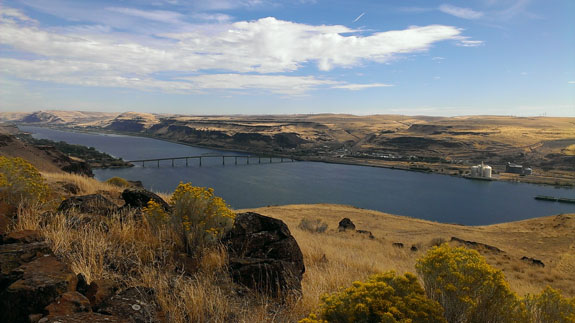 Day 2.
After the car show we drove the D2 back to Portland. In the morning, up at 4am, at the shop by 5 and we're shortly on the road with the D4 in the trailer. Uneventful drive while Jonathan catches some more sleep in the back of the van. We unload, set up our tent, and get teched. Then a driver's meeting and the cars line up for the first run.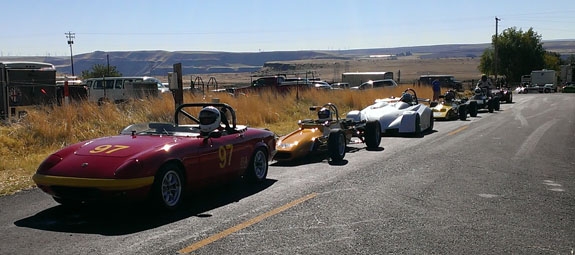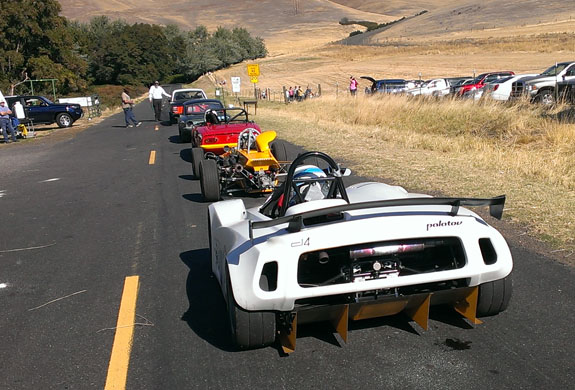 Jonathan is an experienced road racer but this is his first hillclimb event. Part of the motivation for having him come up was to get him familiar with the format and the particular characteristics of this type of event (i.e. no runoff, cliffs, trees, etc. as well as the fact that you don't get to do consecutive laps). His first run at 2:07 puts us second behind a 250cc shifter kart. Not bad, we're running on DOT R-compounds, the kart is on slicks. There are 35 competitors overall. As far as I know the 2-minute barrier here has never been broken.
Second run Jonathan gets a good start and blasts off up the hill. Then a red flag. Sounds like he spun and they might be towing him back. We start trying to figure out what might be wrong with the car and what we're going to have to fix. It's not like Jonathan to just spin, so there must be something mechanical. But then the safety truck comes back alone and we're told Jonathan continued up the hill. Just a high-center on pavement edge. He still gets a time for the run even - 10 minutes :).
Jonathan is very methodical and analytical in his approach. He reviews the video from this and the previous run and quickly finds the problem - there is a change in pavement on corner exit and he carried too much throttle over that section. A slight lift on subsequent runs fixes the issue. The spin does shake his confidence a bit (with 250 foot drops and all) so it takes him a couple runs to get back in the groove. This is excellent prep for our contemplated Pikes Peak adventure next year. It's exactly what we need to learn and exactly the setting in which we need to do it.
Temperatures warm up during the day. We are very happy to have our tent for shade and M even gets to play umbrella girl.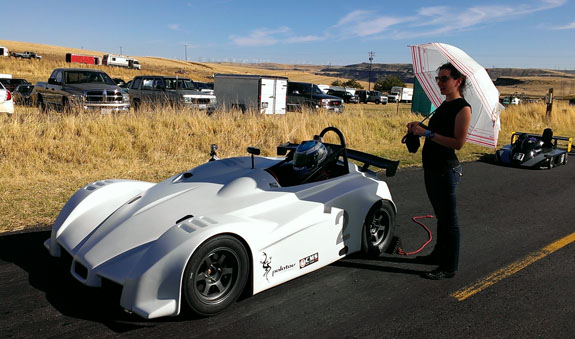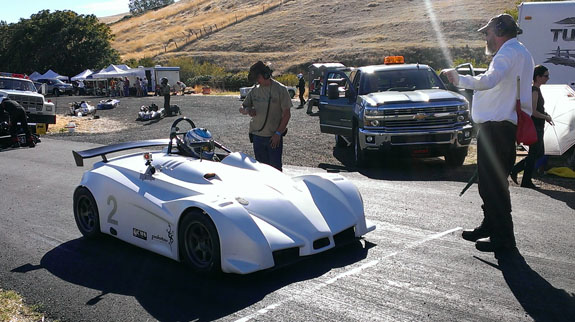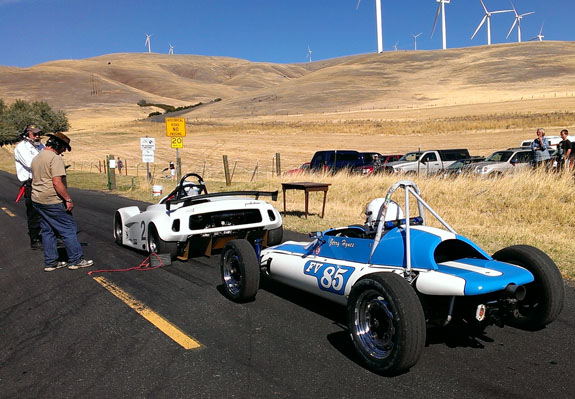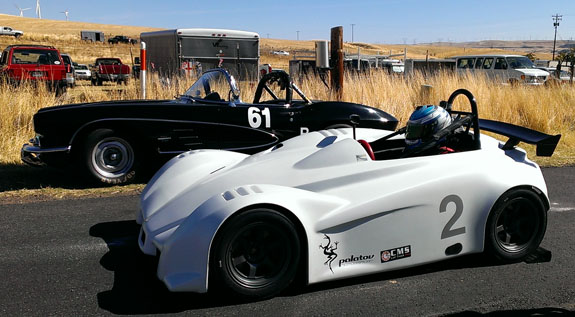 The final run is Jonathan's best but it takes the officials a very long time to get the results out. We pack up and relax in the meantime. The big question is did we break 2 minutes? The kart did it a couple runs ago so we wouldn't be the first, but we'd be the first car if we pull it off. And when the results are in, YES, there we are with a 1:59.0. The kart still edged us out by 0.1 second for top overall time but I'm happy. A good showing, much learned and both the car and the driver worked well. This is an event I'll probably drive in myself next year, just for fun (the record will be safe though :). Here's a video of Jonathan's run (I'll do a multi-view edit soon, look for it on youtube in a day or so).
UPDATE: turns out another car did a 1:57.5 in 2012 so we're actually second fastest. Something to work on next year and Jonathan did say there are a few more seconds to be found....
So, now that we're back in Portland, more on D4 and hillclimbs. As I've mentioned we are building the D4 I've wanted to build for a while - a 350hp turbo AWD version. The customer even requested the optional hillclimb rollcage bracing. So it should be an excellent weapon for this type of event. We're scrambling to get it done as soon as possible. The car will have all the updates - new modular Pilot Pod using a D2-derived seat design, new pedals, new suspension, updated cooling and new bigger wing and splitter. Should be quite the machine :)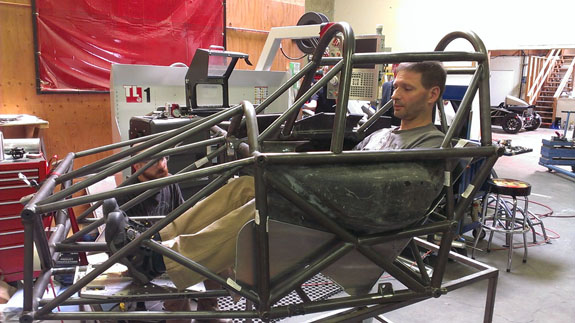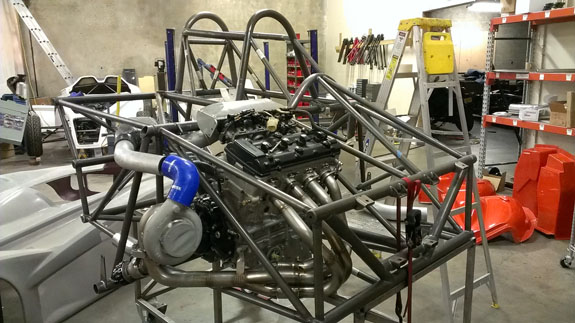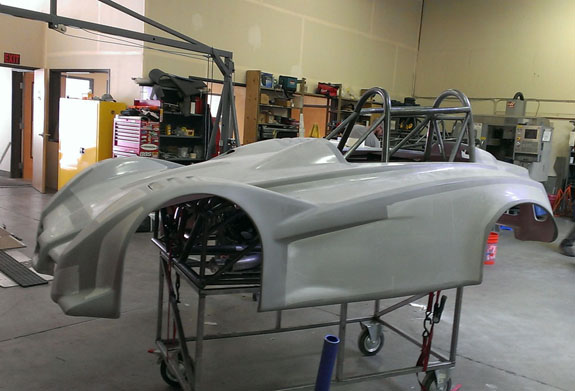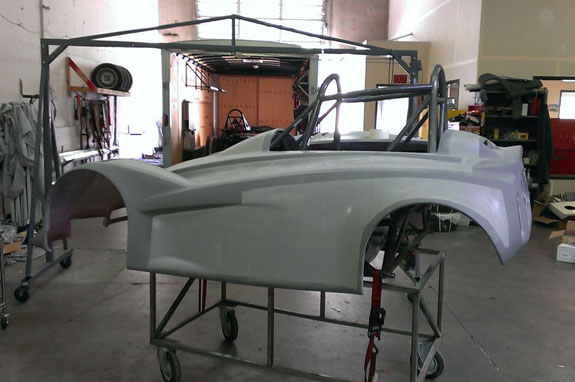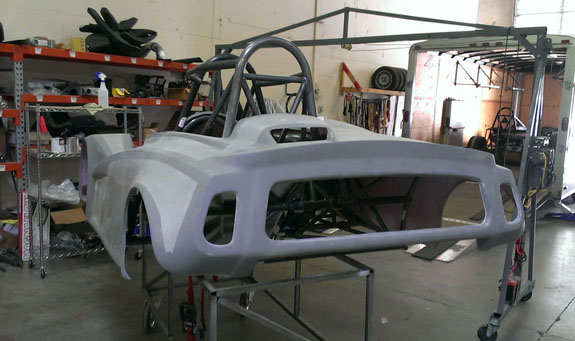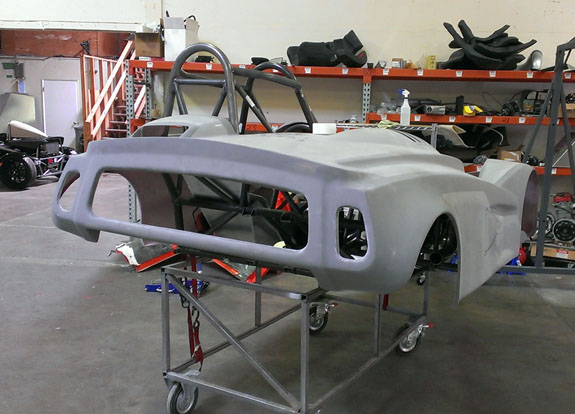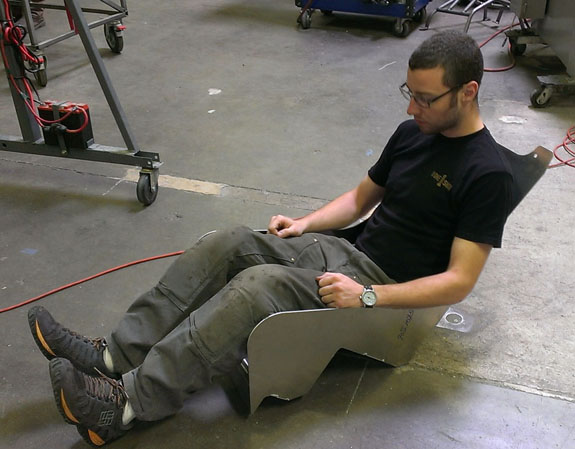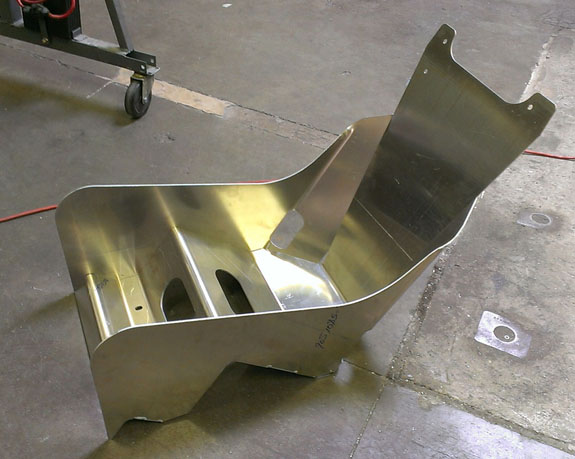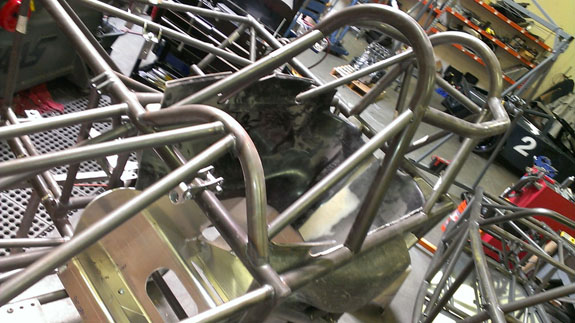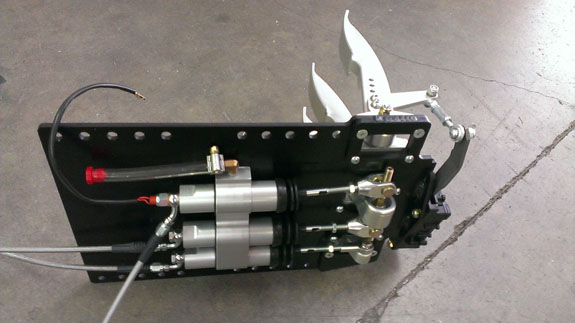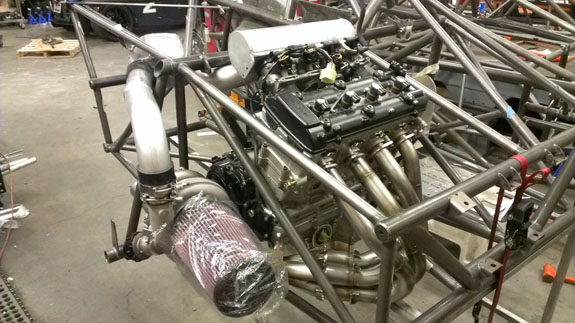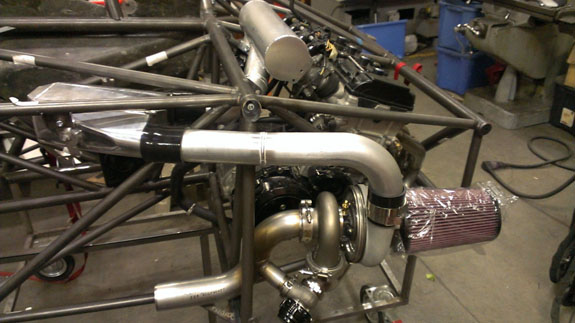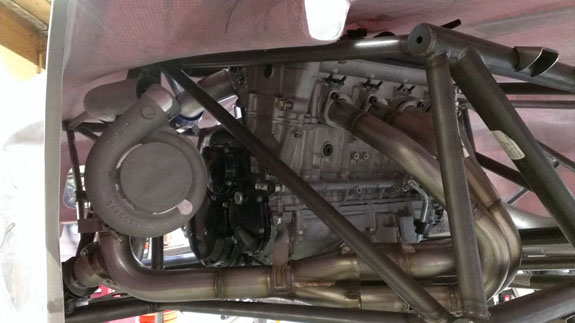 ---
11/01/14 More progress on all fronts. Our demo refresh is coming along. The engine should be done in a couple days, in the meantime the interior, fuel and cooling systems are all getting updated. This is on top of the earlier suspension update. And even the trailer is finally getting built.
The demo will retain its composite footbox due to frame limitations. All future D4s are getting the new footbox with room for size 14 shoes (mine are 11, in the picture below). The production pilot pod sides are carbon, the rest of the cockpit is aluminum.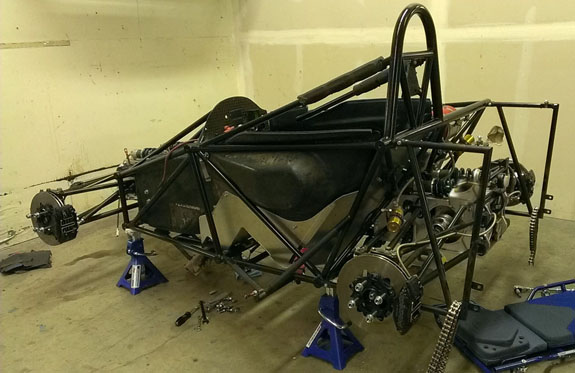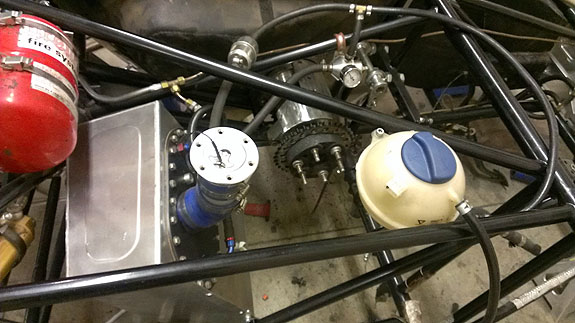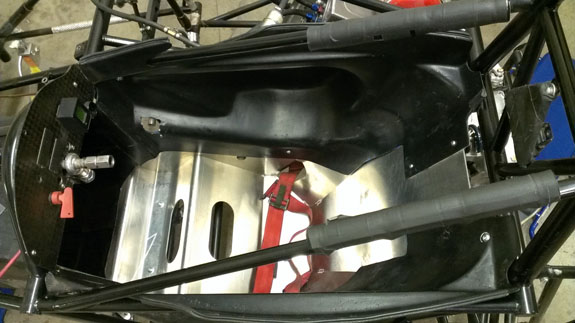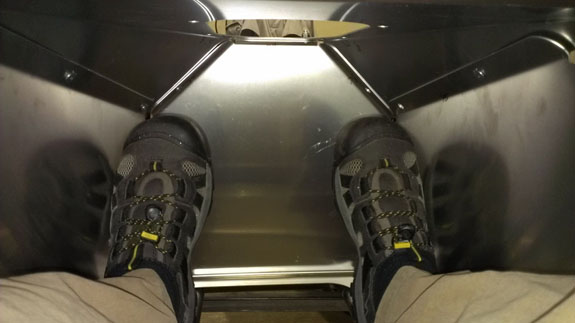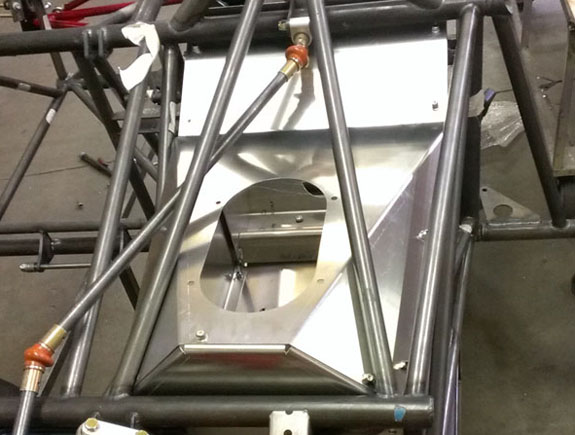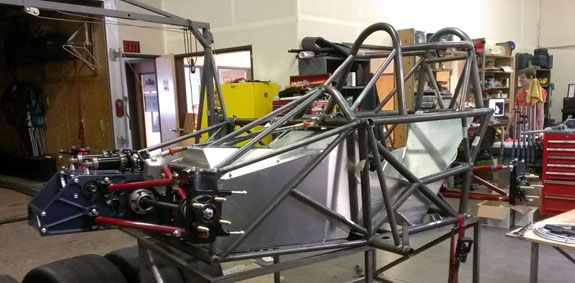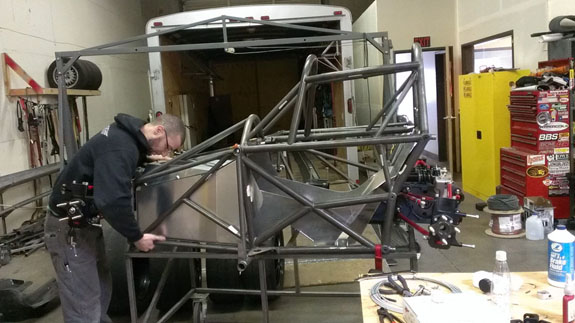 Also the turbo AWD car is coming along (this would make an awesome Pikes Peak car, see below). Registration for the race just opened today. We are tentatively planning on running a supercharged D2 in Open class as a factory effort and are looking for a couple customer entries to support in parallel so we can share testing, transport and logistics.
Here's a list of options that we can offer for the 2015 Hillclimb:
- D4PPS, the 2012 car with many updates and upgrades including engine, aero and drivetrain, $115K, mid to low 9's potential depending on driver (Unlimited class)
- D4PPS as above but with addition of a turbo to compensate for altitude, approx 500hp start to finish, $130K, sub-9 potential (obviously it would take an extraordinary driver to do that!)
- D4 Turbo AWD, $90K, mid to low 9 potential (Unlimited class)
- D4 base, $75K, low 10 potential (Unlimited class)
- D2 Superchargerd, $135K (STREET LEGAL) mid 9 potential (Open class)
- D2 base, $95K (STREET LEGAL), low 10 potential (Open class)
All the above pricing includes factory support and crew for race and testing, additional testing at ORP and car transport for testing and race at Pikes Peak at no cost - something that would normally cost well over $30K. The fun thing about the above cars is that when you're done racing they can be used for regular trackdays, other hillclimbs, and in the case of the D2 options, street driven.
Decisions on this program need to be made in the next few weeks and commitments made before December 15 in order to ensure proper support for the program. Only two factory-supported customer entries are available and of course drivers must meet PPIHC requirements. Email me if interested.
---
11/27/14 The updating of our demo D4 is almost done. One of the latest bits - a removable pre-muffler (it used to be the only muffler at some point) to allow the car to be run on sound-limited days.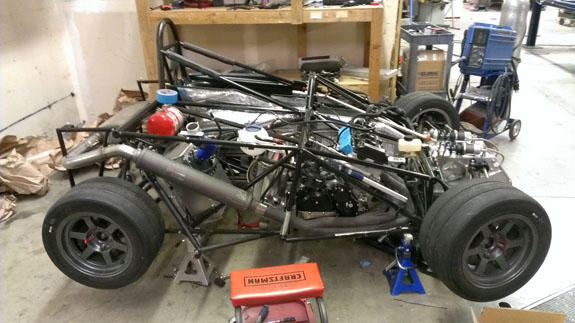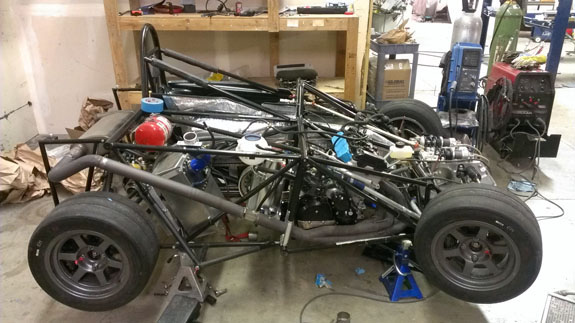 Also included in the update are cooling system, FIA metal-encolsed fuel cell, ability to add fuel without taking the bodywork off, new seat portion of the Pilot Pod, improved chain guards, refreshed engine and so on.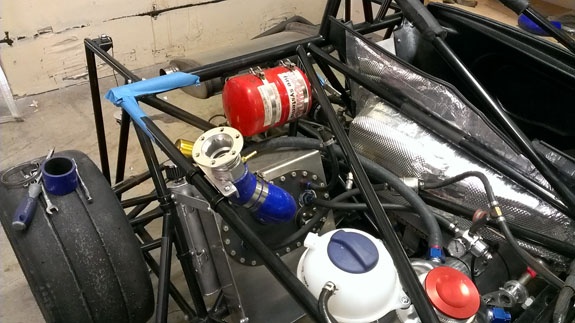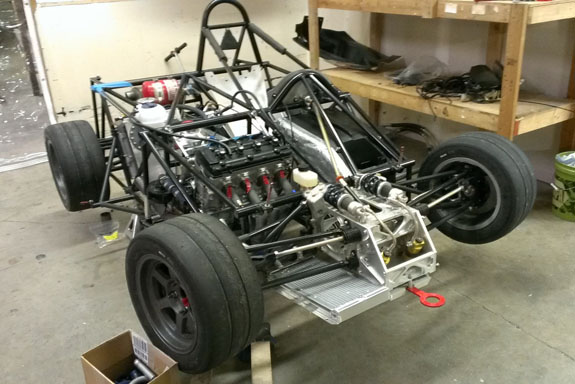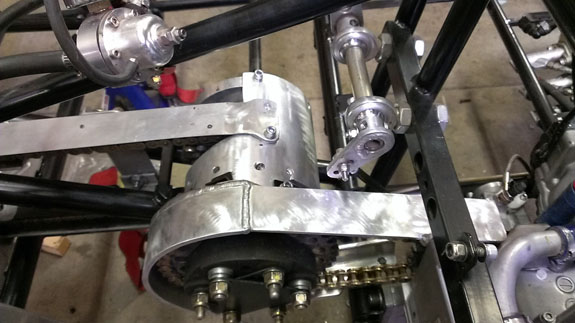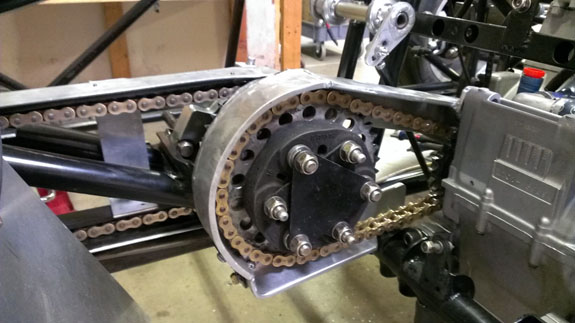 Once the refresh is completed this car will live with Jonathan in California so those of you in the Bay Area will probably see it at the local tracks next year.
---
12/1/14 While the demo D4 is getting updated, the crazy AWD customer car is moving forward as well. To that end we spent the weekend running the turbo motor on the dyno at GDRE. A video of one of the initial pulls is here. Shows that we don't need a muffler with this, which is great - some weight savings to offset some of the gain from the turbo! First set of pictures shows the dyno setup. Yes the motor is drysumped.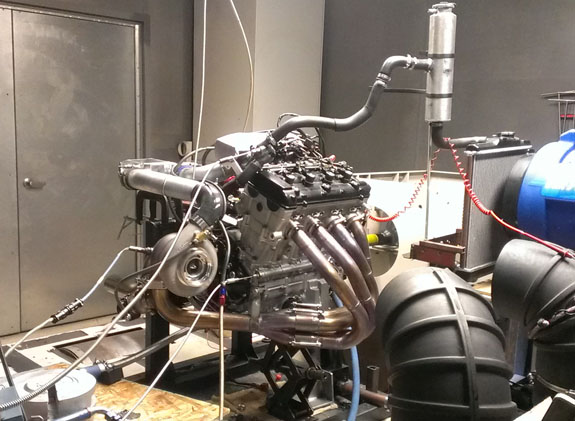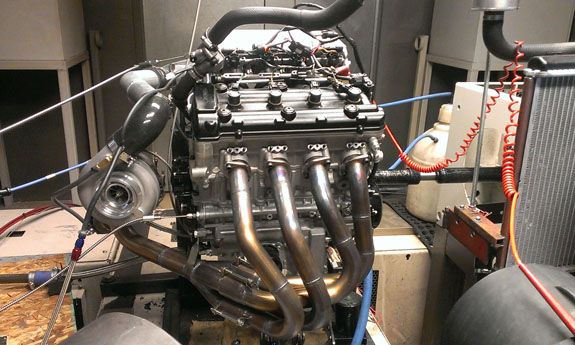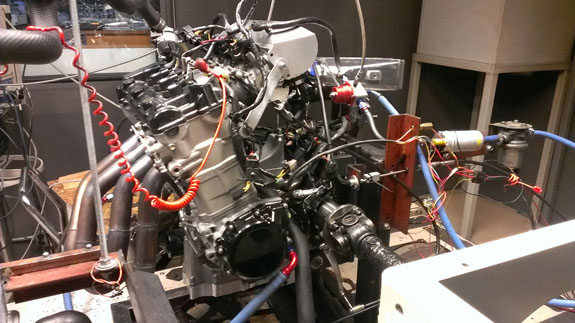 The process involves getting it running at low boost first to get the basics down before we get into the crazy numbers. Below is a plot of a 6 psi boost pull on pump gas. The black lines are the boosted engine, the red lines are the stock Hayabusa that is in our demo for reference. The impressive thing is just how flat the torque curve is - no turbo 'peakiness' at all and the torque is increased just as much at 4K RPM as it is at 10K. We weren't running water through the intercooler yet and it barely got warm so if we were building a 6 psi setup we wouldn't need it.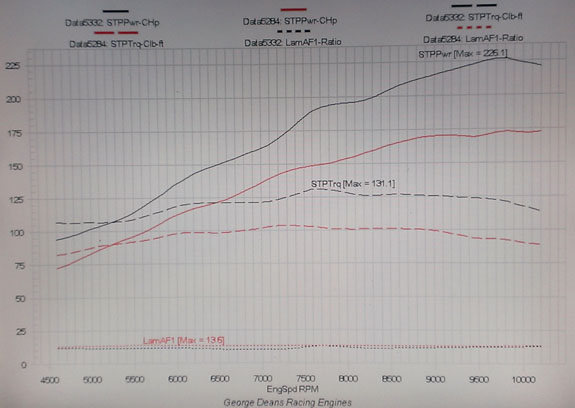 Looking at the plots, it would be an awesome engine just as it is and certainly all the power I personally would need or could use in a 900 lb car. But the customer wants a lot more so we'll be doing that next. As an early preview of what's in store, just a quick blip to 5,700 RPM at 11 psi boost.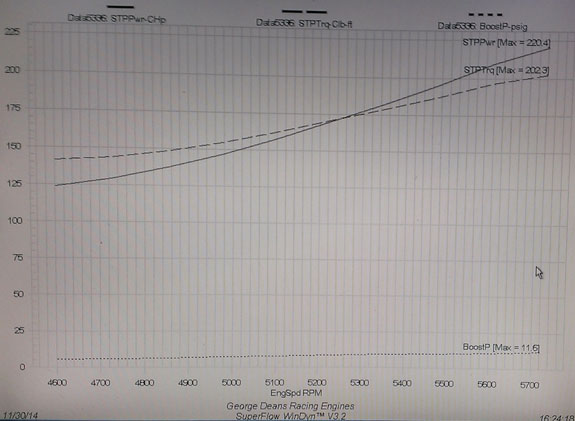 Power at 4,500 RPM jumps from 90 to 125 hp and at 5,700 from 125 to 220. And this is just the beginning. We'll have to switch to race gas of course and make many other tweaks but the goal is over 350 hp and should be easily achievable. Just extrapolating the plot above predicts around 450 hp at 10K. The turbo itself is capable of over 30 psi boost and over 500 hp. This will be fun.
And of course it brings challenges too - I expected the headers to glow and in fact they do.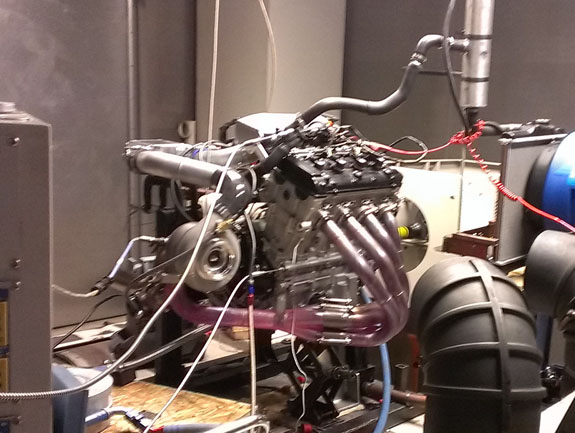 So a lot of attention will need to be paid to thermal shielding and heat management. That is also as expected and I already have a plan for it.
---
12/10/14 The update of the demo is almost done. Saturday the plan is to run it at ORP. Yes, in the middle of December. It's going to be a high of 40F (and a low of 26F) but supposedly sunny and no wind. As long as the last two things hold we'll do it. Not much of a test of the cooling system but we need an overall shakedown before taking the car down south.
Other news - the patent app for my new suspension geometry (or more specifically a car using it) has been filed. It'll probably be 3-4 years before USPTO actually get around to looking at it but in the meantime it's Patent Pending. Yes, I know, a long time ago I said I wasn't going to bother with patents. This is an exception because I believe this particular solution merits it.
To make use of everything I've learned I will be offering suspension design services and selling our various bellcrank configuratons. Let me know if either is of interest. As long as the parts are purchased from us there are no issues (and the prices are pretty reasonable for custom designed and machined bits). Upgrades to existing cars will be offered as well - in most cases it requires lengthening shocks, pushrods, or both, but we have ways to do that. Our own D2 upgrade is now being installed on existing cars free of charge and replacement parts are available for the D4 and D1 as well. The first picture below shows old geometry (black part) vs new (aluminum one). Second picture is productin D2 parts. And obviously just the part itself doesn't mean much - it's how it's used on the car, the overall geometry and what it does as a result that matters. That's why most of the patent app is on the complete car rather than just a suspension part.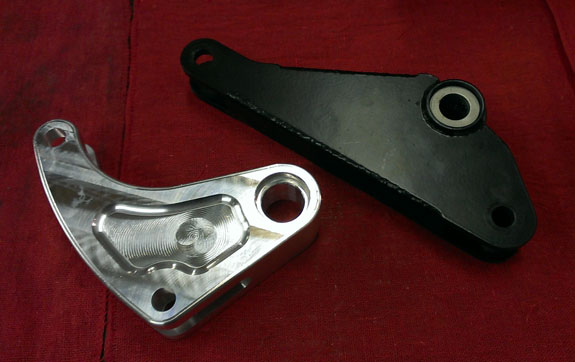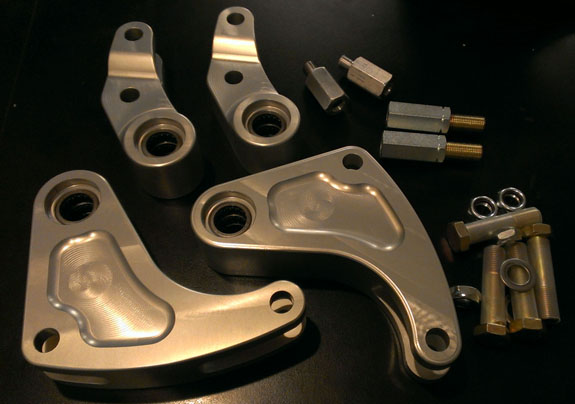 This D4 already has the new design bellcranks and the rest of the systems are being finished up as well.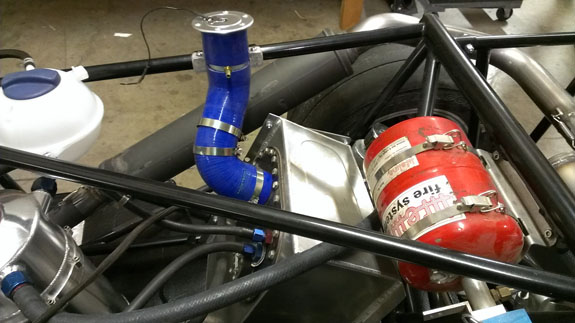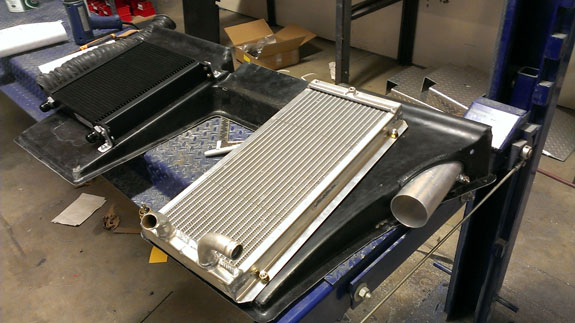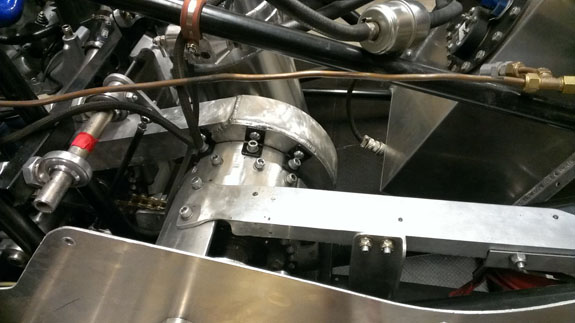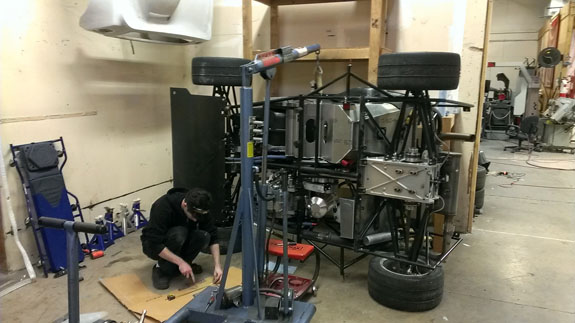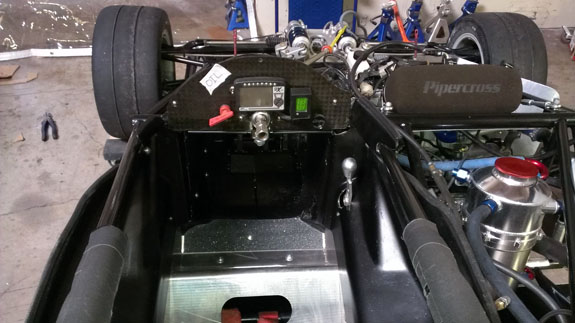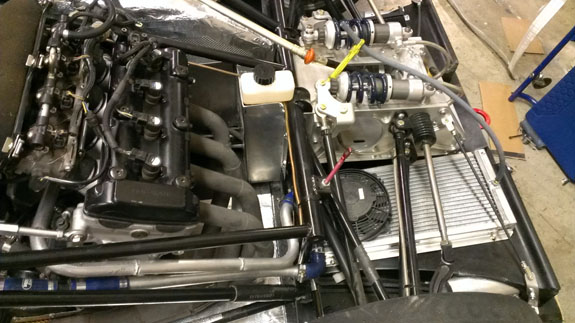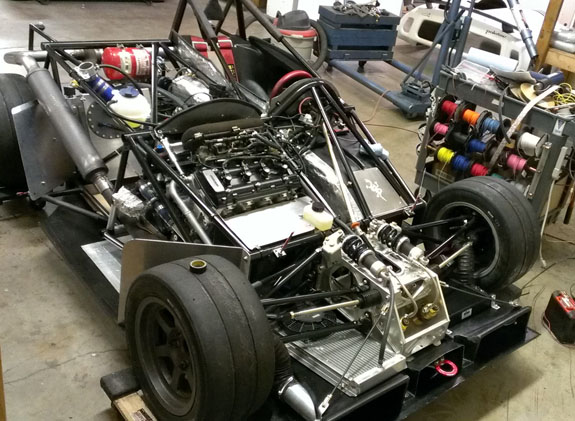 It's a good deal tidier than this: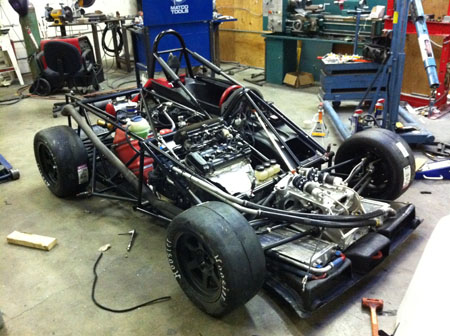 Next item: as you probably know I am a big fan of bringing operations inhouse when the opportunity presents itself. Here's the latest - making vinyl stickers. We were pricing out some decal sets and Tristan realized he could probably get a cutter for about the same investment as the cost of one or two sets. Echoes of our CNC mill and lathe acquisitions - sure, DO IT! About a week later, that's another thing we can now do.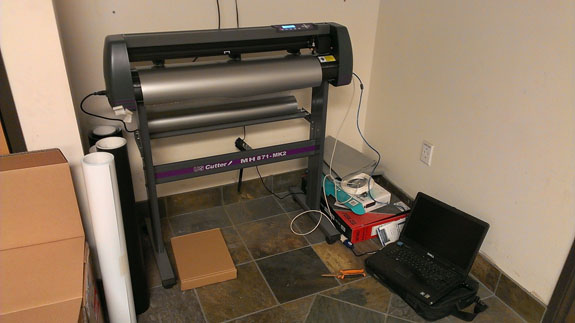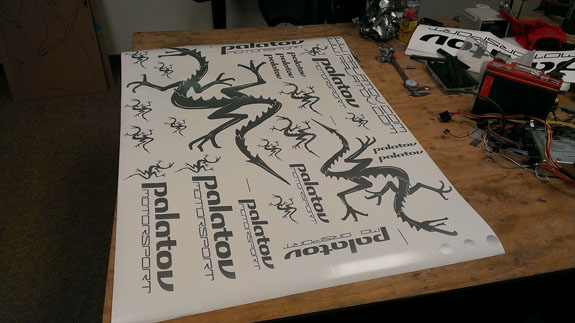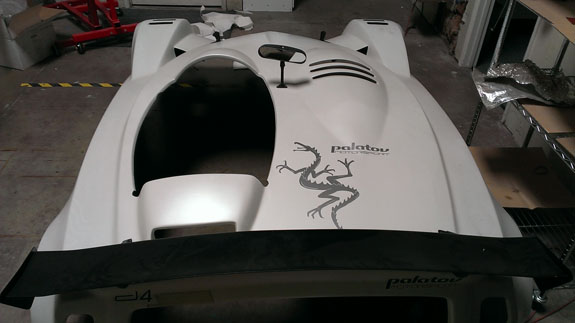 And as always, other cars are being worked on simultaneously. More on those shortly.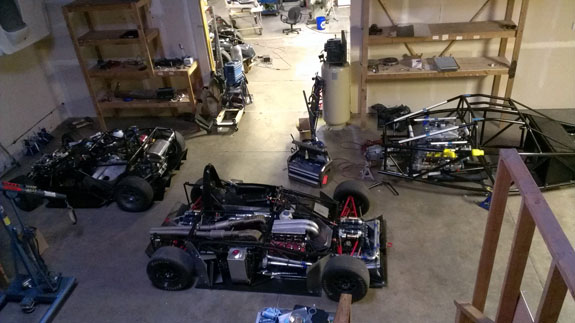 ---
Site Sponsors and Links:

- CMS Lap Timer - Advanced Track Timer App With Video Integration

Tire Rack - Tires, Wheels (use link when buying wheels/tires to support this site)
---