---
04/20/12--4/21/12 Another milestone - Pearl is now joined at a track outing by her big brother, the D1. It has been a few years in the making. The event is a multi-day trackday at the new Ridge Motorsport Park, put on by Hooked On Driving and Cantrell Motorsports. Karl had just arrived in town to officially take delivery of his D1 so there was a bit of pressure - nothing new to us :)
Leading up to the outing the weather forecast was solid rain, so our expectations were low. Maybe a show-and-tell for whoever made it to the track, maybe a couple laps... What we got is the first truly summer-like weekend of the year. We showed up a bit late on the first day and the sun followed us in. Combine it with a smoothly run event and a great facility - can't ask for anything more.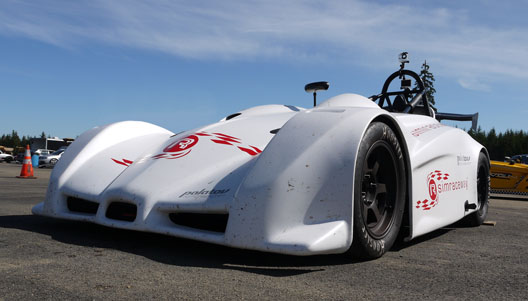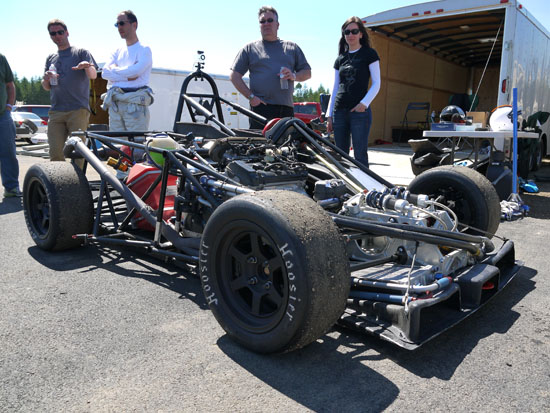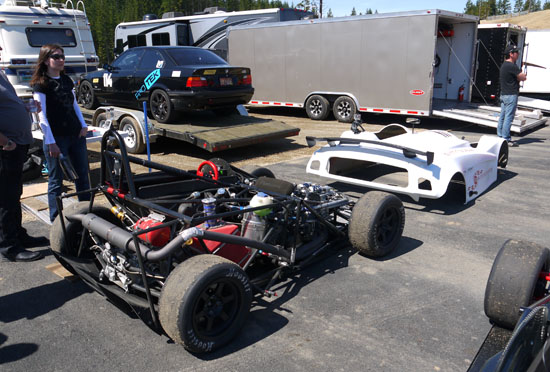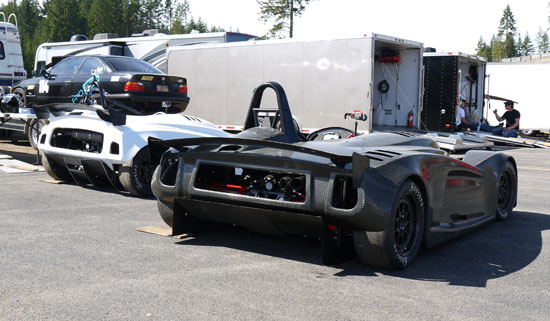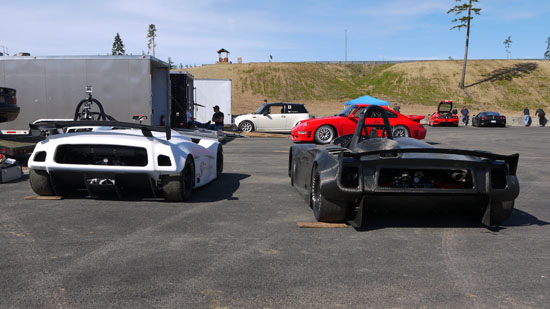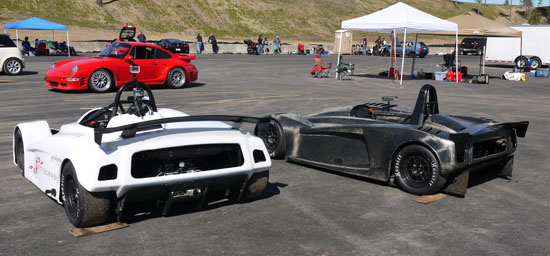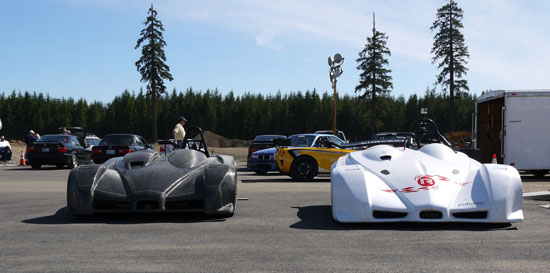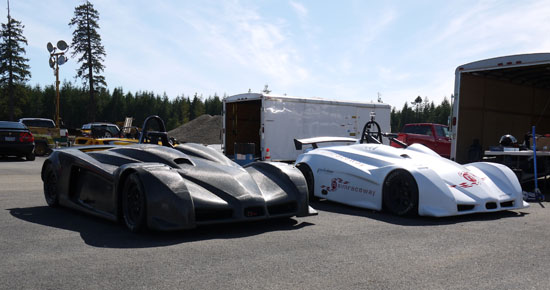 I have to say it's a satisfying feeling to see a plurality of my creations at the track. I can only hope this will continue and we're putting a lot of effort into making sure it does...
Friday was D1's initial test - see its own blog for that - but Saturday belonged to Pearl. Karl did most of the driving. Tristan also put in a session or two, M and I were a bit too distracted to drive although we both got rides as passengers in other cars just to check out the track. We're fortunate that our key investor and partner is also a competent driver - Karl did a great job of showcasing Pearl's capabilities despite not having driven on a track since September. He set what as near as I could tell is the fastest lap of the day at 1:49.2 - see video. There are a couple other videos as well - a lap in traffic and a lap behind a Lotus 211. At some point we need to get more sophisticated about video editing but for now this gets the point across. Fast guys not used to being passed better clean your mirrors :)
One other thing - I'm told the new issue of EVO magazine (#170) has an article on the D4. I haven't seen it myself yet but eager to check it out.
---
05/20/12 One more time for Pearl in a support role for testing. This one was a test of the main D4 PPS systems, still using the D1 chassis as the testbed. But Pearl got an upgrade of her own - a brand new second-generation floor to replace her beat-up and worn out original underbody.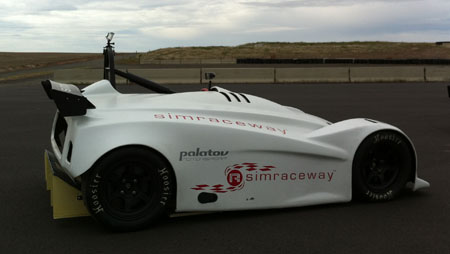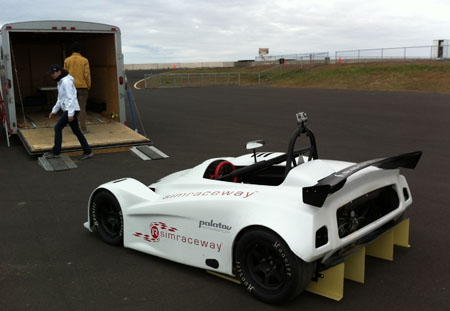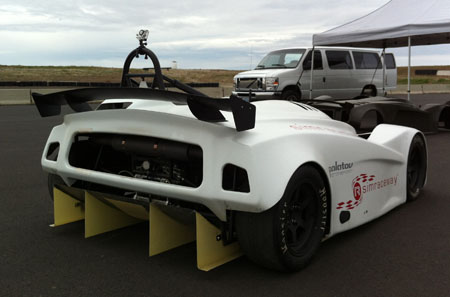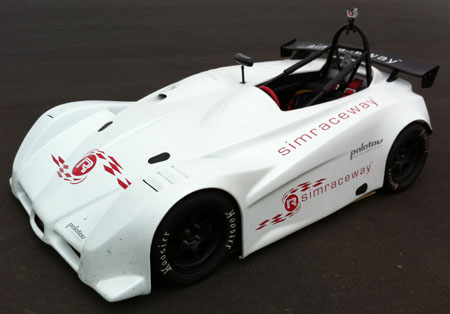 This one is in pre-preg fiberglass to save on first-run costs. We'll paint it black later and the strakes will get trimmed a bit. Carbon floors are an option on the production cars.
The car is noticeably more stable and settled with the new underbelly so it seems to be working quite well. There is some tuning still to be done with srakes and other adjustments but overall quite happy with it. Should be a lot more robust than the previous version and it's about 20 lbs lighter due to use of prepreg and nomex core vs wet layup.
I drove this car and the D1 back to back and realized that maybe even the lower-powered D4s could benefit from AWD on track. It just lets you apply power so early in the turns it's crazy. Where I had to be careful adding throttle on this 175 hp car on some corner exits, the 430hp D1 that only weighs 200 lbs more would just pull through cleanly with as much power as I dared apply.
Overall an excellent and productive test session (and Pearl's 24th trackday). Here's a video of some of that with Tristan driving the D4 and our Pikes Peak driver David Donner driving the D1. Lots of progress made, lots more to come!
---
06/20/12 A month later, same deal - Pearl is the chase car. With over two dozen trackdays under her tires we almost take her for granted now - whatever it is we're testing, Pearl will just run and run well. We did make some updates since the last time most notably a long-overdue auto-tune kit to fix engine mapping.
In this test I had to be the D4PPS test driver (a daunting task since the car is SO much faster than I am!) so Tristan got to be Pearl's pilot. Basically, the car just works. By putting some effort into it he was able to keep a much more powerful machine (though not as well driven) in sight. For a while anyway. At these levels it really comes down to driver. While neither of us is a pro, Tristan is just a bit closer and it shows readily on track. Which means the D4 will make a perfect spec series car. I mention it because I'm not the only one who thinks so... Stay tuned.
In the meantime below are some pictures from the day and there is a video on youtube, too.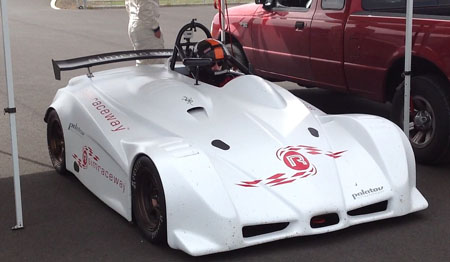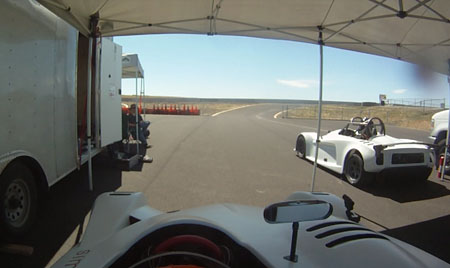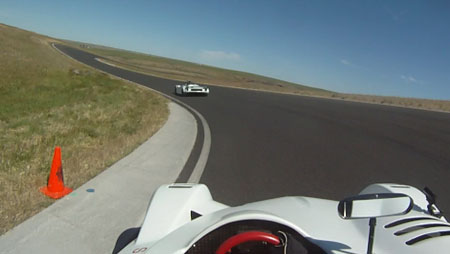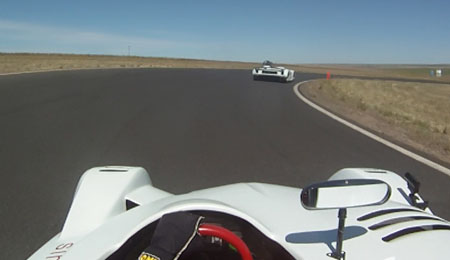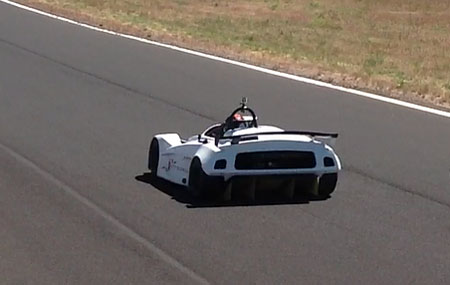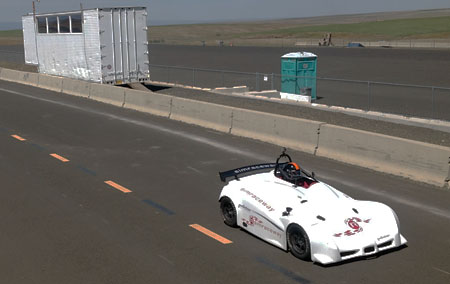 On the way back from the test we suffered our first tire blowout with this trailer. Of all the places to have it happen this was not too bad. Looks impressive though.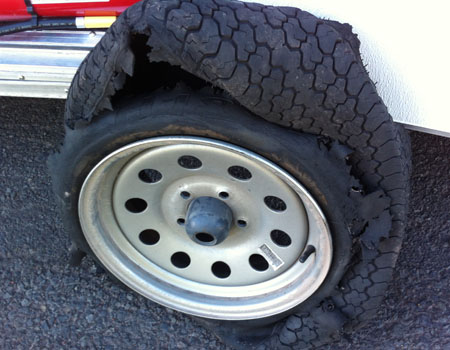 There's lots of other news. We are doubling our floor space to 8,000 sq feet by taking over the unit next door in preparation for production ramp-up. Holes in the wall have already been made and we're in the process of making improvements to the space. We'll actually have a proper showroom and all that. And a way to take pictures of our cars from above.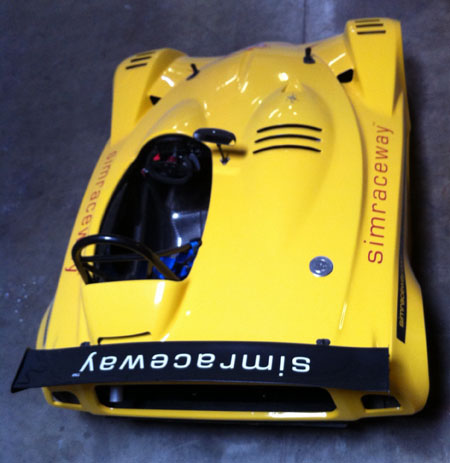 Also our CNC lathe arrived (rather unexpectedly) and is now waiting to be hooked up. With Pikes Peak taking all of the available time and then some it may be a few days before that happens but we're steadily working our way towards greater capabilities.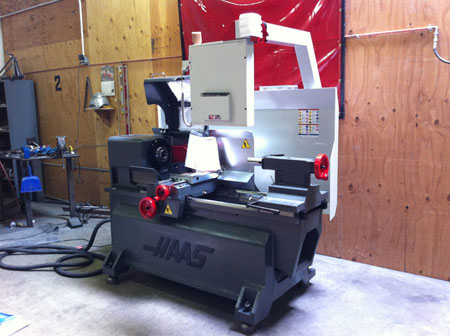 Exciting times, these. Super stressful but fun. Not the easiest path to travel by any means but I wouldn't trade it for anything right now.
---
08/31/12 After the long, mad sprint of the Pikes Peak experience it's tempting to relax - and in fact we did take a couple weekdays off. It is also nice to just do a trackday without (much of) an agenda. To that end M drove Pearl at PIR monday, Tristan and I did ORP tuesday making it the car's 29th track outing. Her sibling, the yellow car, is getting ready for a journey overseas where it will now reside.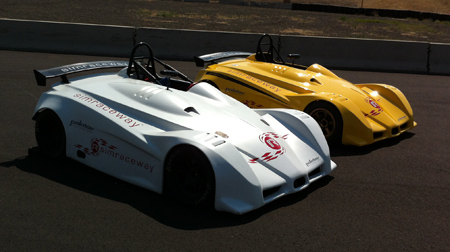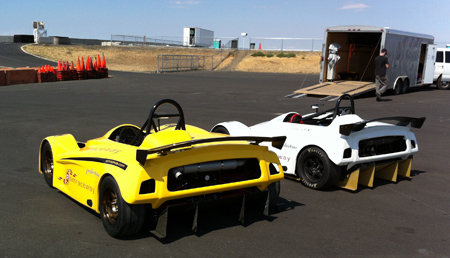 In the meantime work continues. There are several projects moving forward, the D2 being one of them, but also some updates to D4. The main one being the completion of new, more durable bodywork tooling (with some subtle styling tweaks included). The aluminized epoxy tooling is better suited to making lightweight pre-preg bodywork that is now standard for the car. It should be good for a couple hundred pulls - all part of our ongoing expansion and production ramp-up.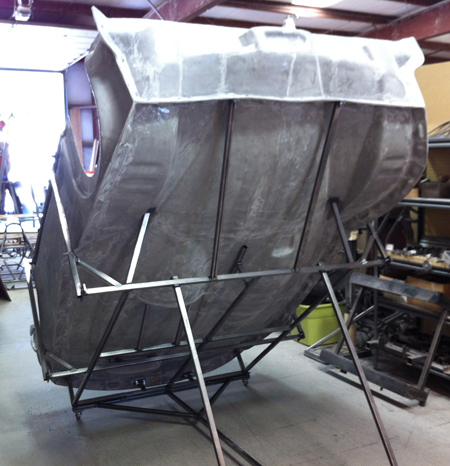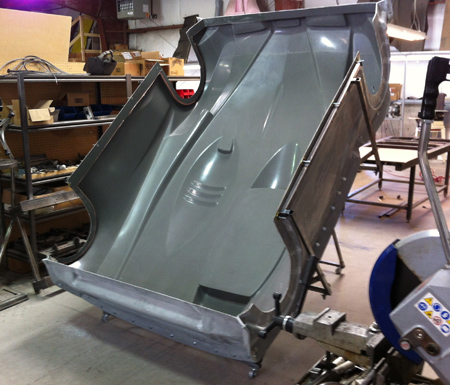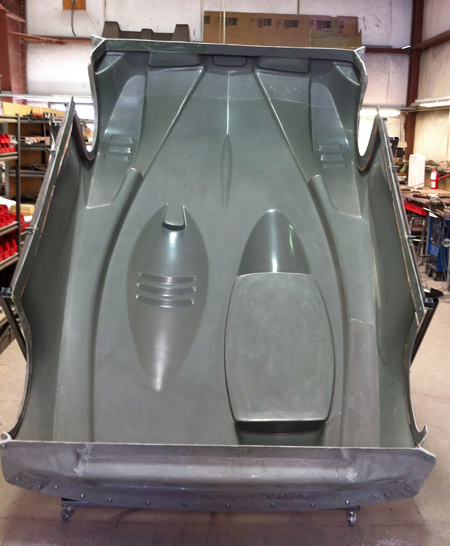 ---