---
06/22/11 In order to try and diagnose the engine problem, yesterday we took the customer car to a dyno at Loyning's Engine Service (they originally built the engine). It was a very educational experience in a number of ways.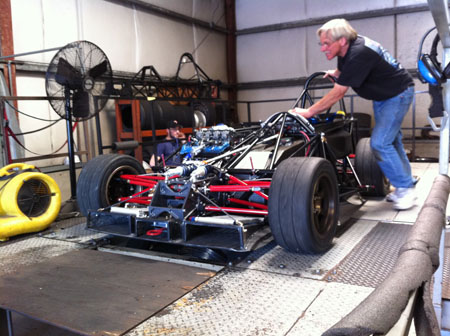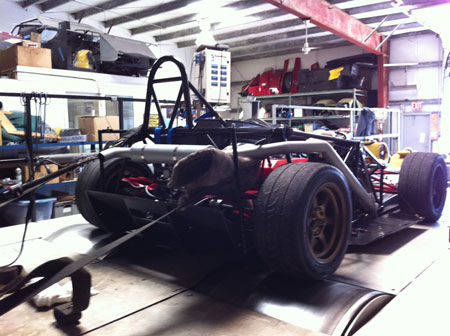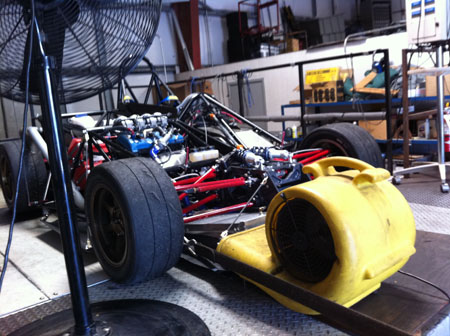 The yellow fans looked as if they were made specifically to cool a dp4 - the outlet matches up to the radiator intake perfectly. Once the car was hooked in and running it didn't take much to reproduce the problem. But now that it was right there in front of us it became clear that the issue is not a misfire but some kind of a slip in the driveline. We looked extensively at the chains and didn't see any problems. Then with a lot more running at various speeds, RPM, loads and gears, the diagnosis - second gear in the transmission is not working right and slips violently under load. So today the engine came out and we took it back to Loyning's for repairs. It will be interesting to see what the actual failure mode is.
Aside from diagnosing the issue I wanted to get a bunch of other info from the dyno runs (no, power wasn't of interest actually). One key thing was to observe the chains and the cush drive under various load conditions and at various speeds, which we did. I won't go into much detail on what was learned but here are a couple pictures without explanation.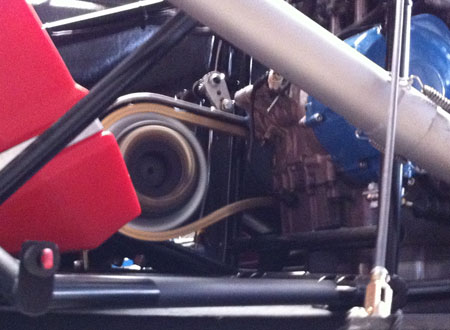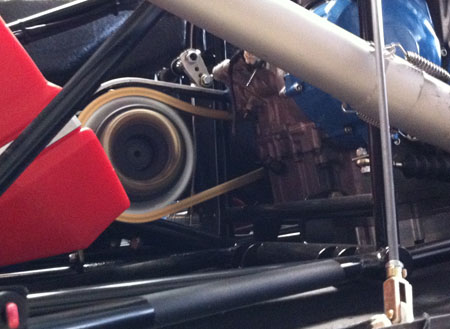 The engine should be done in a week or so and we'll get to try driving it on the track again before long. Looking forward to it, especially since on the dyno I realized I had the dash programmed for 1 pulse per rev tach signal and the ECU is putting out 2. Yes, that means i've only taken it to 5K RPM so far! Out of 12. No wonder it felt like it was coasting.
---
06/27/11 Today I would like to welcome our newest intern, Pete, to the shop for the summer. Pete has quite a bit of experience on a FSAE team and also building and racing his own hovercraft in the UK. He should fit right in :).
Pete's first task was extracting the failed cush drive from Pearl for analysis. What we found was a few surprises and lessons, confirmed by also taking apart the customer car drive for inspection. The cush drive now has to be redesigned and a new version made. Since it was experimental I had intentionally designed the parts so we can easily run without the rubber damper by simply assembling the unit differently. So that's what we'll do for now on both cars, while the redesign is in progress.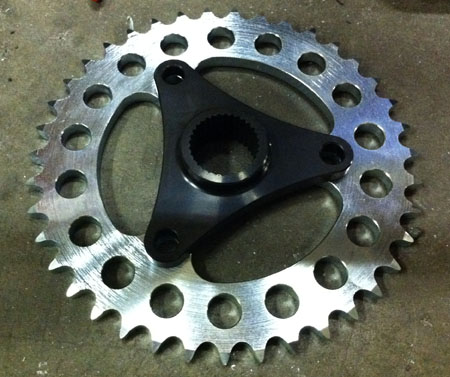 Per our Lead Customer policy, the new drive when it's available will be installed on the customer car at no charge. In the meantime we get to save about 2 lbs of weight so there's that.
Next outing for Pearl is at ORP on July 18-19, the other car will most likely run sooner - basically whenever the engine repairs are complete.
---
07/07/11 The yellow car is leading an eventful life already in that it may or may not get a different engine, a Suzuki GSXR1000, as the original motor may or may not be sold for use in a racecar. While that is being decided by the owner we're doing a few more updates like adding an externally accessible filler cap.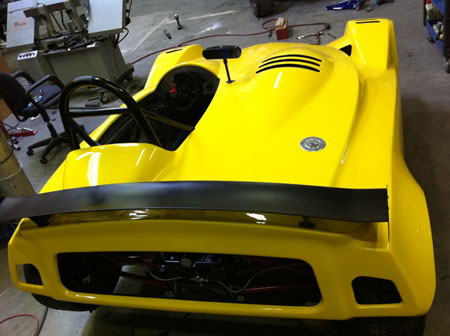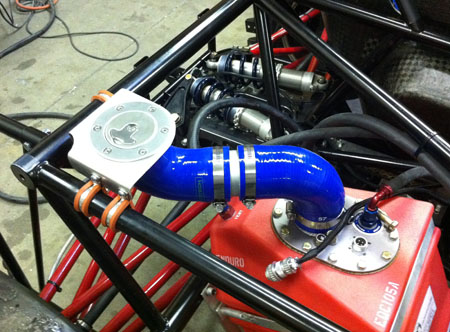 Now the car can be filled without lifting the body - imagine that. And yes, the silicon hoses are rubber lined on the inside and are fuel compatibile. This will be a production solution although the exact bracketry will probably evolve over the next couple cars. We'll retrofit Pearl with this also.
I've now redesigned the cush drive and we're making a prototype of the new solution. Hoping to test it next week.
---
07/13/11 The cush drive pieces are done, now just waiting for some hardware to install them. Next test is 18-19th at ORP which is coming up fast!
The yellow car will likely retain its Yamaha motor afterall, now all fixed and ready to be installed (second gear was worn and the dogs were popping out intermittently). We'll need to fabricate a proper airbox for it but that shouldn't be too bad. In the meantime, since the '07-08 GSXR1000 will be the 'standard' engine for the dp4 we borrowed a blown-up one for measurement. I've always guessed it's about 50 lbs lighter than the Hayabusa...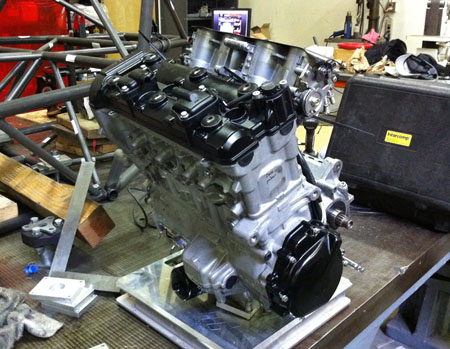 And, at 135 lbs, it is. Good to know. It's also more compact, can run with a baffled pan ('busa needs a drysump) and makes fractionally more horsepower. Easy choice.
When we finally have a cush drive configuration that works (hoping this is it) it will make life much easier on the clutch, gearbox and chains so any concerns in that regard will be put to rest. I'm looking forward to the testing.
---
07/18-07/19/11 Another 2-day Porsche Train event at ORP. It's been a crazy year weather-wise and while last year it was 100F and sunny this time it was intermittent rain, clouds, wind and temperatures in the 60s. The van makes a nice wind blocker, fortunately.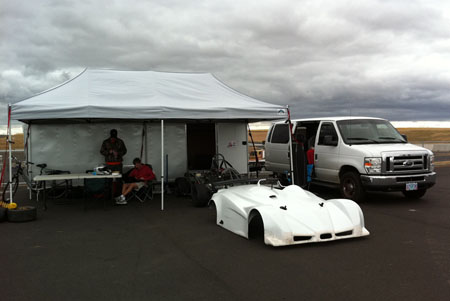 This was basically a test and demo event for us, like every event we do these days. The testing mostly had to do with the new cush drive (works pretty well, a lot better than the previous version!). Also different master cylinder sizes, a camber tweak and some other minor details. All add up to a better sorted car. BJ was onhand once again to put in a few fast laps, which he did - bettering his previous time by two seconds with a 1:41.5. Only 4 seconds to go till the overall record (although to be official it has to be a race lap but we'll settle for unofficial, if and when we get it :). Click on the picture below for video.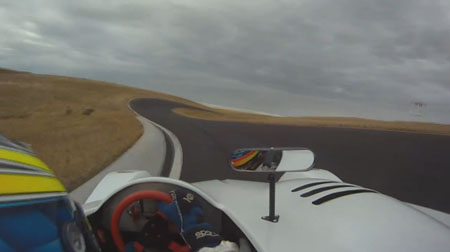 A number of people drove the car over the two days, including a couple pretty fast drivers who did a 1:45.5 and 1:47.7 respectively. On the first day Tristan and I set virtually identical times of 1:53.09 for me and 1:53.11 for him. We were both leaving a lot of time on the table, obviously, and when we compared the datalogs it was interesting to see that we got the times in very different ways - I was faster in some sections, Tristan in others. If I put some effort into it I can readily get into 1:49s but didn't get enough seat time on this outing. Best I managed was a 1:52.5 counter-clockwise which is still a personal best for me.
At lunch time on the second day we decided to finally swap out the worn slicks (14 trackdays) for some R compounds to get a comparison - they work well since my best time was on the Rs. Also changed out the front brakepads, which have been in the car from the very beginning, even though they still had 50% remaining.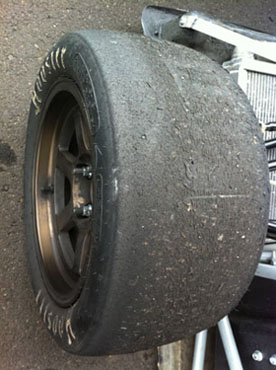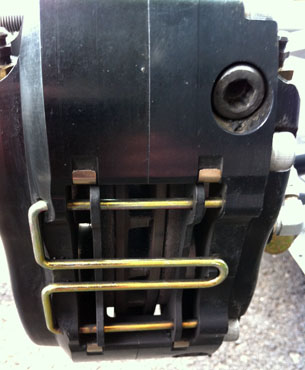 The car is proving to be very low in maintenance which is good. According to the odometer in the dash it now has over 1,300 track miles and that's all the wear we've had. The MINI would have used up over $5K in brakes and tires by now vs $850 for the dp4, and it was a MUCH slower car. All in all a good outing. Next one is a month from now and we have a lot of work before then - the dp1 needs to be running at that event!
---
08/12/11 First, it's now official that the production model names will change to D1, D2, D4 and so on. They will also get semi-official nicknames (like military planes have) that are still under discussion but the official names will be the letter and number designation. This car, being a prototype and really quite different from the production cars, will remain the dp4 - you could say 'p' designates that it's a proto. The changes are significat enough, especially in the dp1 -> D1 evolution, that they are completely different cars and need to be distinguished.
A big part of Pearl's mission continues to be serving as a testbed for a variety of changes and upgrades. So in preparation for the ORP outing Monday we installed a set of the floating rotors and cockpit-adjustable brake bias (these are standard on the D1 and will be optional on the D4). We'll see how much difference that makes. Below is a picture of the standard rotor (this is a front that came off the car and has 14 trackdays, over 1,500 track miles on it!).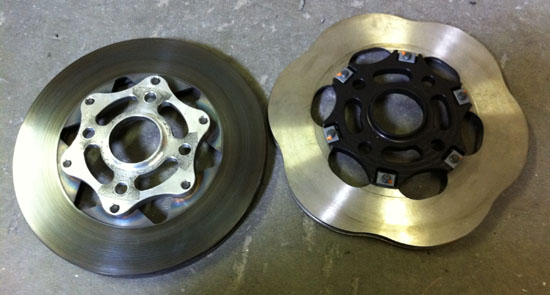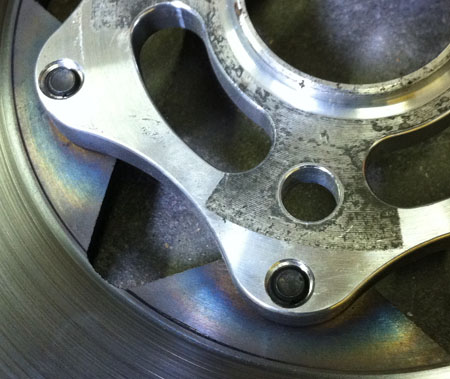 In the closeup you can see where the hat had acted as a 'heatsink', also presumably transferring heat to the bearing and upright. The floating setup should reduce that dramatically and let the rotor expand/contract as it needs to.
Another D1 technology that will be featured on the D4 is the integrated chain guide system. Still working out some details but it's getting there.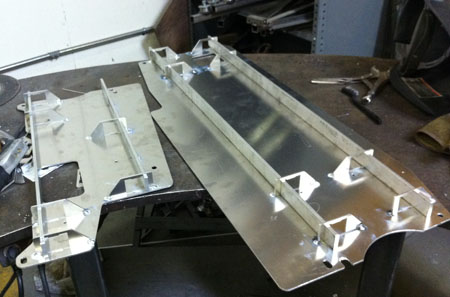 And finally, the new plug for the D4 bodywork has arrived. It will be prepped over the next couple months and then new molds will be made. There are two reasons for doing this - the first is to give us the option of having lighter pre-preg bodywork made (original molds are not oven-capable) and the second is to introduce a couple subtle styling updates that I've wanted to do for a while now. Some will notice them, others might not.... More as things develop.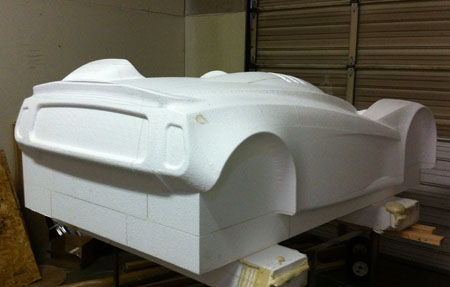 ---
08/15-08/16/2011 Another Porsche Train event at ORP. The goal this time is to test the new brakes and see if BJ can get under 1:40. The setup is now routine and we have confirmed that our 'circle the wagons' arrangment works perfectly.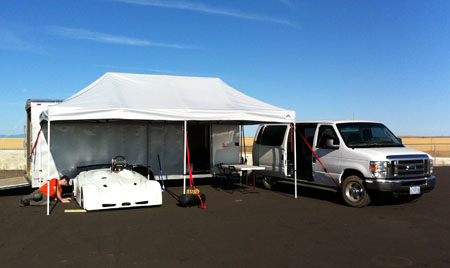 The first day is counter-clockwise. I go out first and immediately do a new personal best of 1:50.9. The brakes are working great. The next lap I'm messing with the brake bias adjustmet, set it too far back, lose it on an off-camber downhill section and take out a cone in a most spectacular fashion. As in shatter it to pieces. Sometimes having adjustment knobs is not a benefit. But lessons learned and that's what it's all about. I'm able to continue on and the car is fit to keep going so all is well.
Tristan goes out next and gets into low 1:47s. I guess I have some catching up to do. Much of the rest of the day is spent in experimentation with different lines and techniques. Then at the very end BJ takes it out. A few laps in traffic with a best of 1:40.2... so close but not quite there. The checker comes out on his best lap and he opts to play by the rules and cuts the session short.
Undaunted, tuesday we arrange to have BJ do five laps before the day starts, just to see if he can bust the 1:40 mark....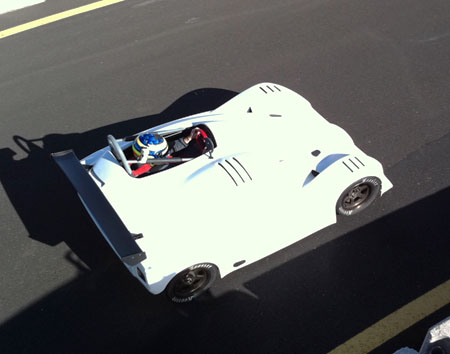 Sure enough, his 4th and 5th laps are in the 1:39s with a best of 1:39.3 - click on the picture below for video.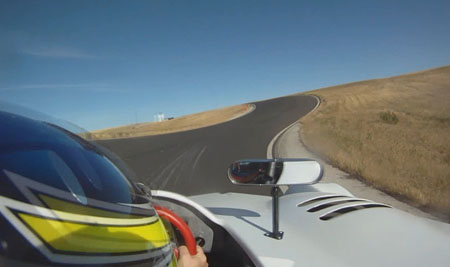 Sweet! Getting out BJ has a huge smile on his face. Looks like he liked it :) He talks of pitching the car in and powering out of turns with inside wheel getting spin in a couple spots. I can kind of get what he's talking about and make a few mental notes. I go out next and run progressively better laps. Tristan and I had talked about how the car takes on a new personality when driven the way it wants to be driven and now I'm able to catch glimpses of it and what BJ was talking about. Getting a sequence of corners right and blasting out with full power feels awesome. I also realize how much commitment it takes to go fast. I get close enough to see what it will take to move to next level but I'm not ready to go there yet. So after 1:49.6 flashes on the lap timer I call it good and come in. At least I got below 1:50. More seat time and more focus will be needed for more progress. All in good time. This is certainly not a car I'm going to outgrow anytime soon.
The rest of the day is less exciting with temperatures rising and everyone getting progressively more tired. We evetually pack up with nothing further worth reporting but overall it's been a great outing. We used 25 gallons of gas which means over 250 track miles. The car took this (and a few bumps) in stride which is gratifying. Next event is probably end of the month at PIR. We'll see. In the immediate future the focus will be on the D1 and the brakes for it have already been tested!
---
09/02/11 Karl is in town for the startup of the D1 but while that car is being readied we took the opportunity for some tracktime at a PIR Lotus day.
The yellow customer car had an issue with the old race Yamaha motor so it got a last-minute transplant of a GSXR1000 engine and we had also installed the optional mechanical paddle shift (just uses a push/pull cable and works quite well).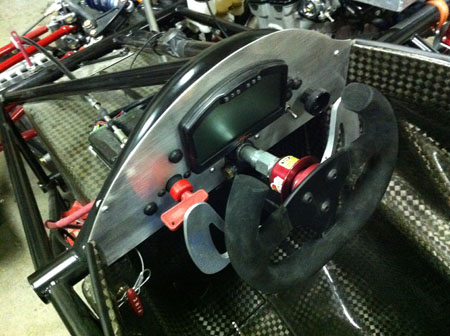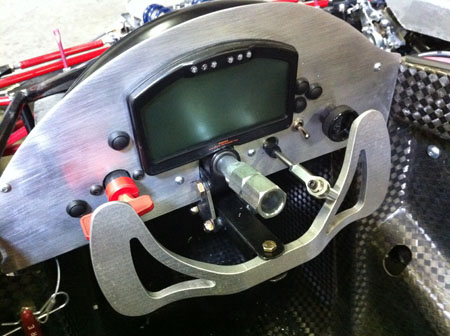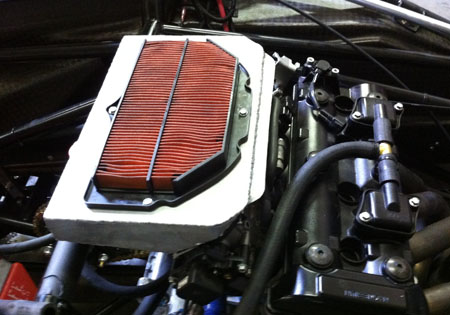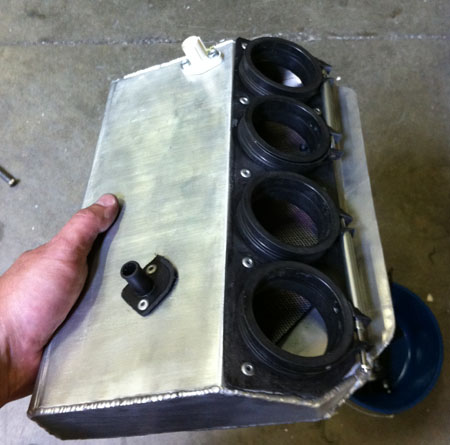 That required quite a bit of fabrication (like making the custom airbox above) which took longer than expected and so I was up nearly all night finishing the install. Hence no tracktime for me but that just leaves more for M and Karl.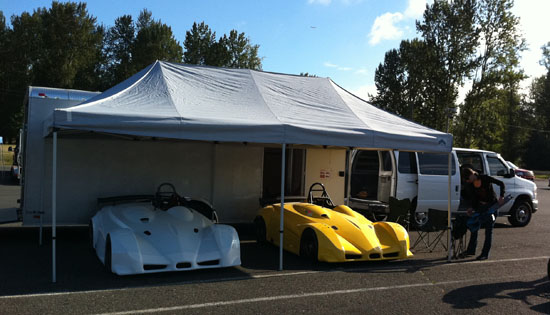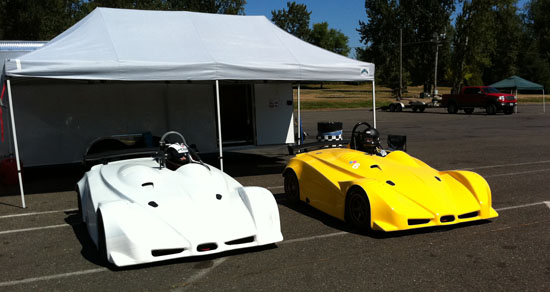 The cars look good together (if I say so myself) and don't look out of place with Loti of various kinds. Which was the design intent, to make it more of a trackday car than a pure race car.
The day went well overall with M doing a personal best of 1:24.8. Yep, this confirms that the car is officially hers! :) This is moving right along - for comparison the Exiges and the turbo Atom were running 1:28s.. Karl did a logged 1:21.1 (we're pretty sure he went faster later but we forgot to start the logger on his last session). The customer ran only a handful of get-a-feel-for-it laps in the yellow car turning a best of 1:20.2 - he was still being tentative and this is on R compounds so there's much more to come. He'll run it again in a few days on slicks so I'm looking forward to seeing the results then. Should be well into the teens.
Development continues and we are learning a lot as we go along. The yellow car still has a prototype floor and it will get upgraded to the production version shortly under the Lead Customer program. We have already bought strain gages and amps to log the downforce and CFD work is in progress so that is the upcoming development stage - quantifying the changes and optimizing the aero. If all works well the strain gage setup will be an available option for customers, basically a built-in corner scale and hopefully a useful test-and-tune tool.
Next is getting the D1 running!
---
09/17/11 This is a first for us but likely to be a regular thing going forward - attending a car show. We need to start a serious marketing effort and publicity of this type is part of it. The event, held every year at Sunriver resort near Bend, provided us with several opportunities. We wanted to get our name out to a broader car enthusiast audience and see their reaction to our cars. To that end we've updated the D4 brochure and even printed a few to hand out.
The day started out cold (only 40F) and we quickly found out that the cars don't roll very easily on thick golf course grass. Our 'booth' setup was pretty simple and consisted of Pearl dressed in yellow bodywork and a customer car without the body to show off the internals. The sun did eventually peek out through the clouds but at first the cold wind and wet grass made for an experience a bit on the miserable side.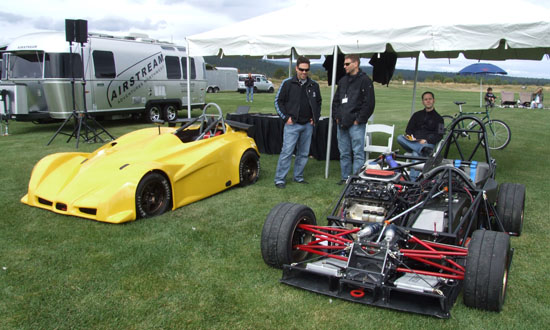 Carrera Motors from Bend and Tonkin Gran Turismo from Portland were in attendance and brought a number Porsches and Ferraris, respectively, to display. I'm happy to say that at least to my eye the D4 holds up quite well in this company even on golf course green, to say nothing of the racetrack.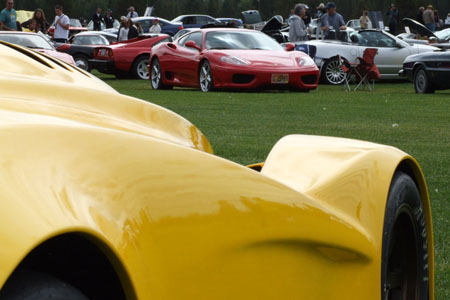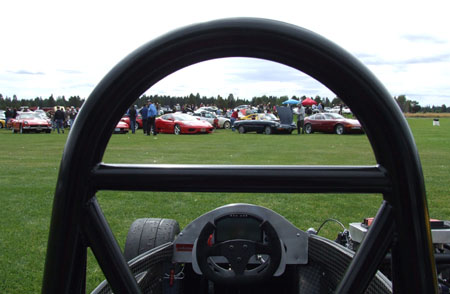 There was a lot of neat machinery on display and it was fun to take a break and stroll around but I can honestly say that there wasn't a single car there that I'd take over a D4+daily driver combo, even cost no object. At this event few if any attendees felt the same way since we had to explain numerous times what a trackday is. Not necessarily our target audience for the D4 (I think the D2 would be much better understood here) but I could see people were generally impressed and a few did know exactly what our cars are about. Whether any sales will result directly from attending the show remains to be seen but it was a good experience and we did make some very promising contacts. And we got some pictures of a D4 sitting on grass - intentionally. So there's that.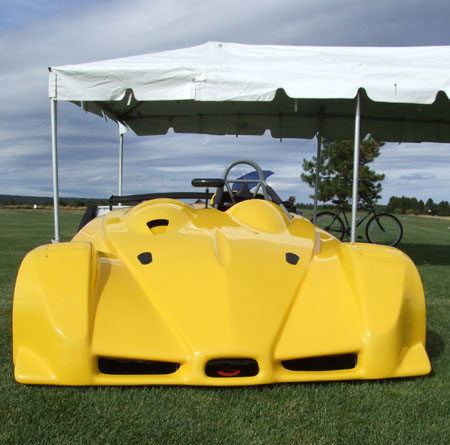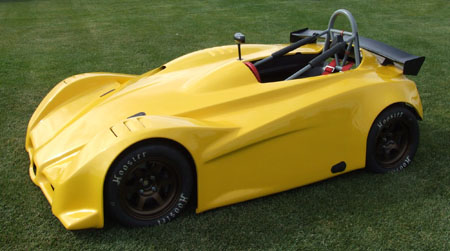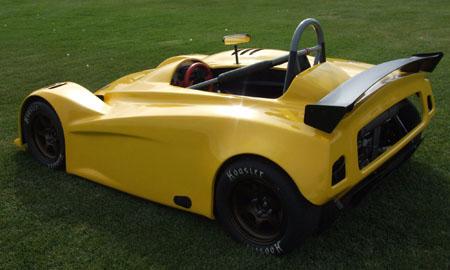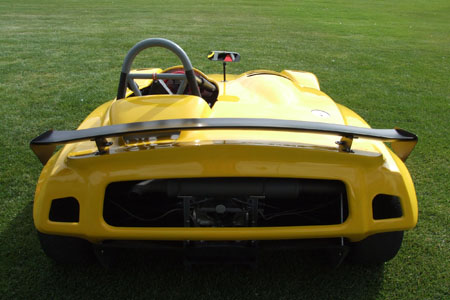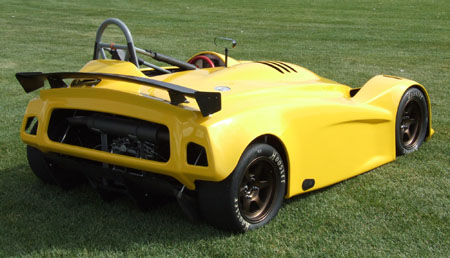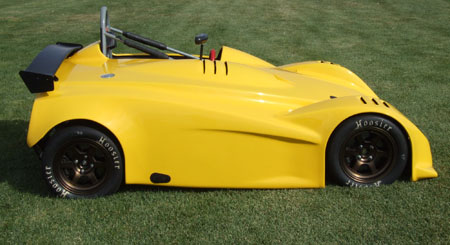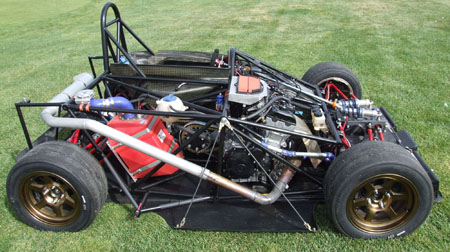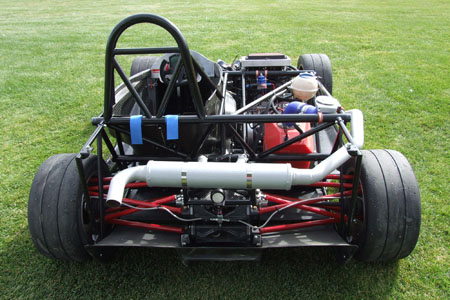 ---