---
05/12/11 Well, the time has come to start the new blog. The car's development story is an eventful one and is documented in the development blog. Now that the dp4 design is in production (a production car shakedown test video is now on YouTube) we had to figure out what happens to the prototype. It's different enough from the production cars that it's impractical to make it into one, although we do plan several updates to various systems (drivetrain being the most important).
It is good to have a reference car and one that can do demo duty for prospective customers so this chassis will definitely continue in that role. Also, both M and I have been kicking around the idea of getting into actual racing. The work load so far has made it impractical. Still, we hold out hope and this would be a great car to do it with (some minor tweaks needed for legality in CSR, it wouldn't be competitive in that class but that isn't the goal). M wants to claim it all for her own and I told her she can, as soon as she gets under 1:25 at PIR with the chicane AND under 1:55 at ORP :) Very doable since I've done both and back in the days of Dark Helmet she ended up matching my times in that car. Actually if racing is really on the table we both need to do much better than that.
At any rate, the main reason for the post today is the fact that we picked up the proto body from the paint removal place. This car (needs a name now?) has had a couple paint jobs, all hastily done to suit the goal of the moment. Now we're looking at getting something better. It will never be show quality just because of what the body is and how it came to be, but it's got to be easier on the eyes than the previous effort. So the old stuff had to come off first.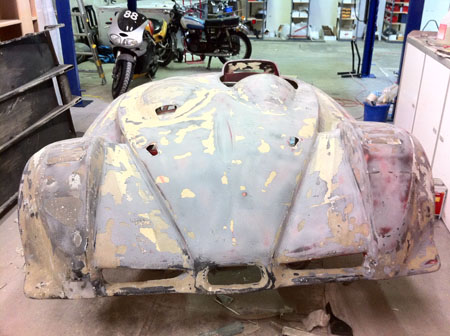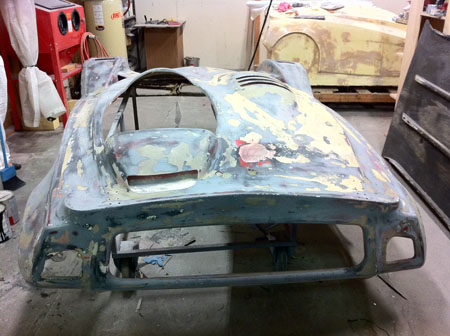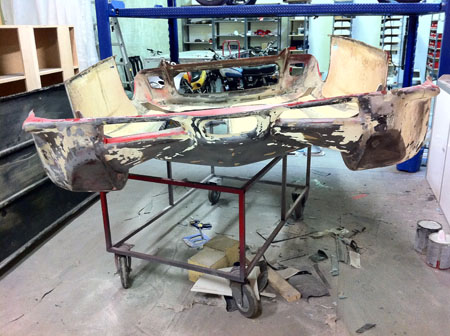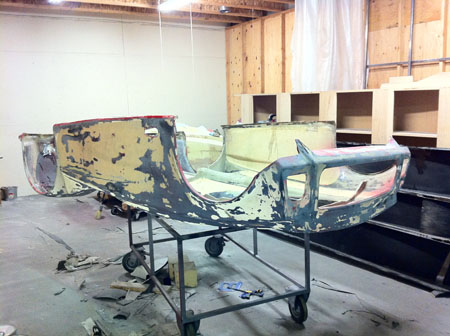 Tristan actually thinks this looks 'bad ass' but then he races Chump Car and Lemons so he's used to seeing cars that look like this on the track. The world hasn't quite gone Mad Max yet and we're therefore thinking of throwing some paint on in the name of civility. M has pearl white in mind, with the overall scheme of 'her' car in rFactor. Might work.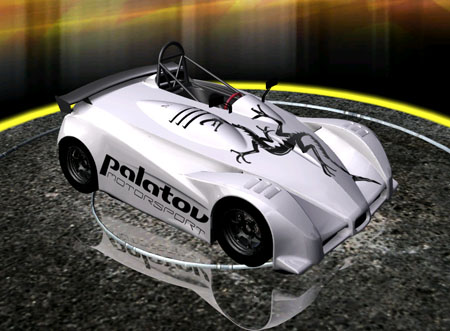 Other than paint and drivetrain, the car will eventually get frame, chassis and other system updates and maybe even a Power Commander for the engine to map it properly. Much left to be told in this story... I'm looking forward to it.
---
05/25/11 The body is back from paint. M was right on the color choice - Ducati pearl white. With black decals and eventual black frame it will look sharp.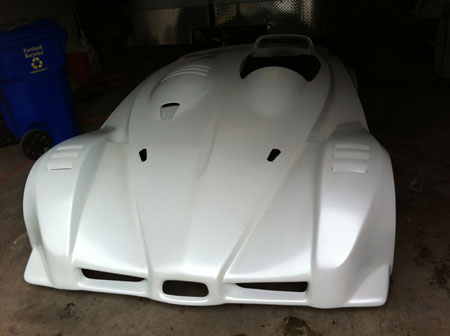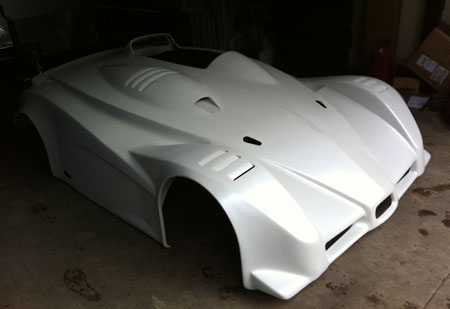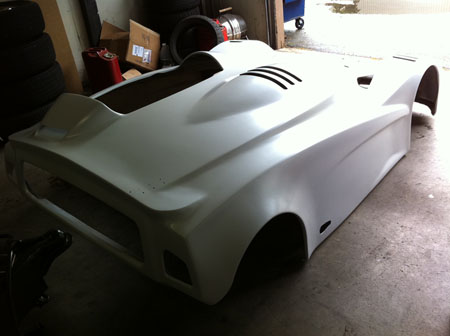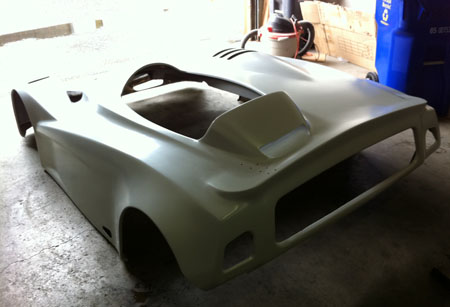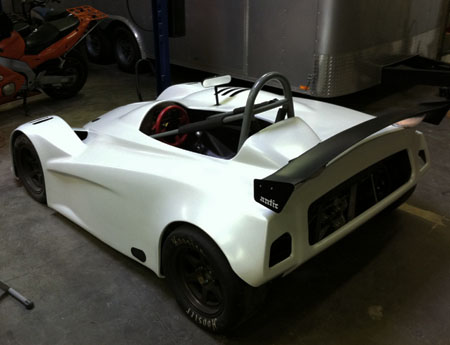 Also on the subject of dp4s, here's a time-lapse video of Tristan putting a customer car together, in a day.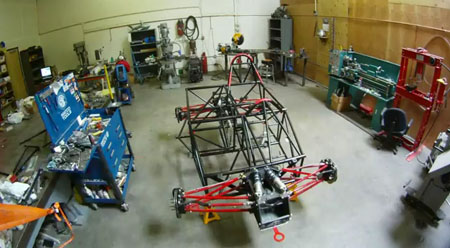 ---
06/07/11 Pearl (that's the car's new semi-official name, for now) is getting some updates. The chief one being production-spec cush drive system. For that the production shaft had to be modified to work with the prototype's bearing carriers. Now it's ready for installation.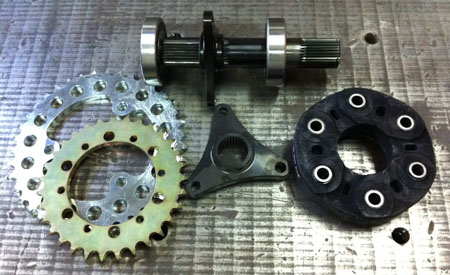 The next track outing for Pearl is next week at ORP. It will run together with its younger sibling which will be formally delivered to the customer then. We ran that car yesterday at PIR just to make sure everything works. A short video is on YouTube (read video description for more details on it).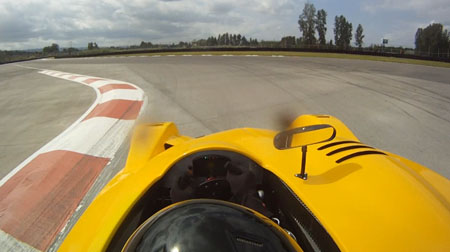 The first picture below illustrates that at least in theory our new rig should be able to transport two dp4s. We'll find out soon enough.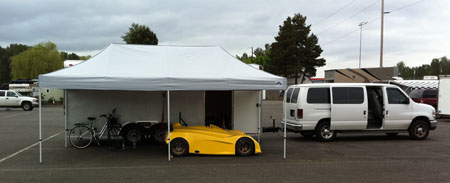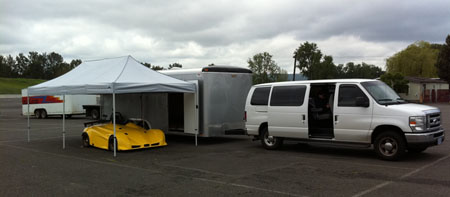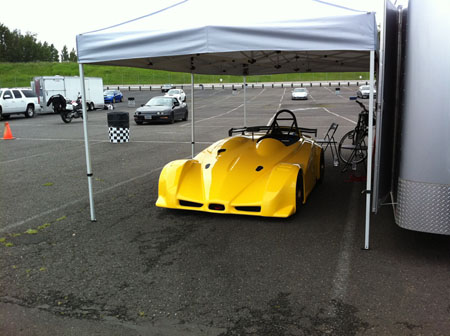 ---
06/10/11 The cush drive system is now installed.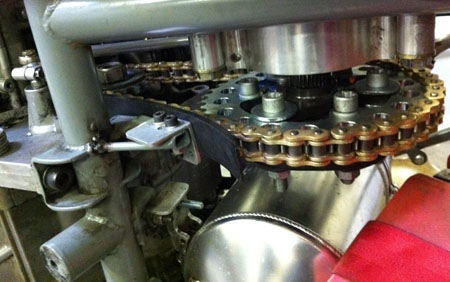 It will be interesting to see whether there is a difference noticeable to the driver (i.e. how much of the production car's leap in refinement is due to drivetrain). We'll find out Monday when we go to ORP. It will definitely make life easier for the chains.
I've had to answer a couple questions about bead seats recently and so I took this picture of three different seats that we use in this car, for different sized people ranging from 5'7"/130 lbs to 6'2"/230 lbs. These seats are simply covered with tape, if we ever get around to trimming and upholstering them they'll look a lot better. Swapping them out takes about 1-2 minutes and we do it regularly between back-to-back sessions.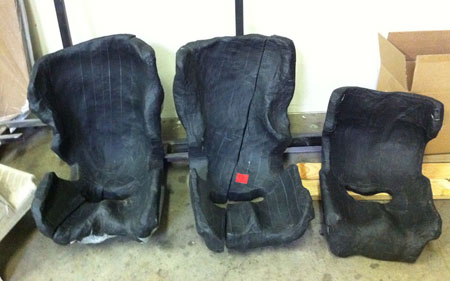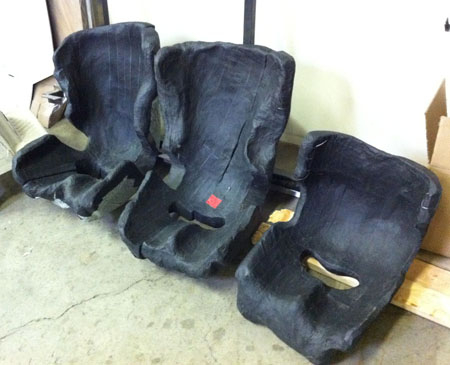 ---
06/12-06/14 (updated 06/15) Since we're not doing our own trackdays this year (too much work/distraction) we've decided to attend the 'Porsche Train' events. Open track, a small group of enthusiasts with a good attitude - perfect.
Sunday we loaded up (yes, two dp4s do indeed fit in the trailer) and headed to Grass Valley. On arrival we were greeted with rain and spent a couple hours in the van surfing the web via ORP's newly available wi-fi.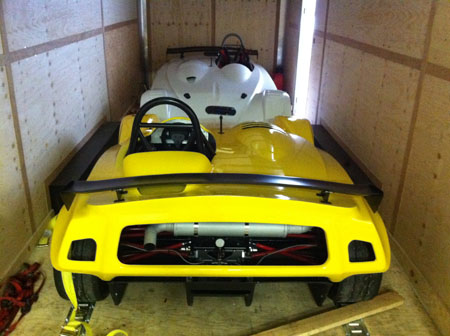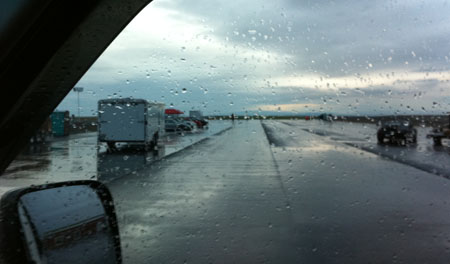 M and I 'camped' in the van and Tristan set up a tent by the fence (fortunately he was able to do that before the rain started). At night the temperatures dropped to 45F and it was a challenge staying warm. We were definitely missing the Mothership with its luxurious accommodations, heaters and all. The next two days were promised to be much better and thankfully this turned out to be the case.
Monday morning we woke to sunshine. Nice.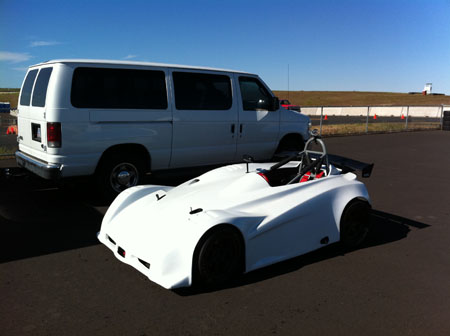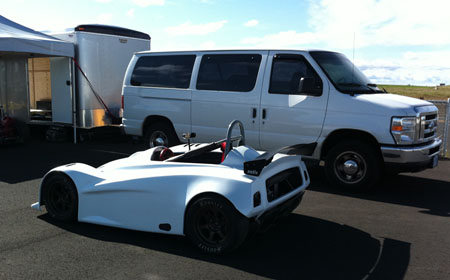 On the first day the plan is to run Pearl and leave the customer car to sit there and look pretty. Besides getting some tracktime for all of us, one goal for the day was to see what the car could do in the hands of a pro, in good weather. BJ Zacharias, a professional racer who had driven the proto last year (in rain and cold running a 1:48) was on hand to give it a go. Shortly after lunch he found a few spare moments, got in the dp4 and true to form picked up right where he left off starting with a 1:47 and dropping a second per lap to do a best of 1:43.34 on the 5th time around the track. That's nearly a second faster than the current ORP DSR record and only 6 seconds off the overall 1:37.17 set by a Formula Atlantic. Not bad for 10 minutes' work! :) I'll post video when we edit it tomorrow. It does illustrate rather conclusively that the dp4 is not a car most people would be likely to outgrow.
M, Tristan and I all drove during the day but the best among the three of us was my 1:57.57 which was some 4 seconds slower than my previous best effort. Below is a comparison BJ's 1:43, my 1:57 and M's 2:04, all clockwise. Should be pretty obvious which is which! Click on the picture for larger, more legible version.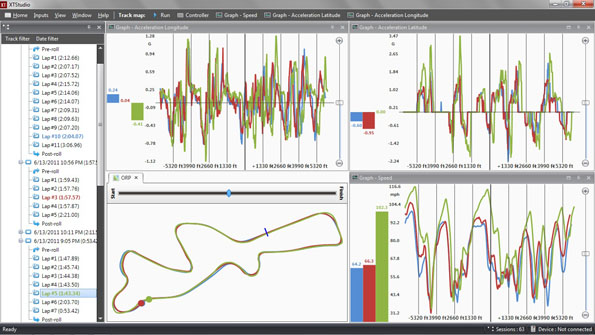 The day wrapped up with a great dinner, then another very cold night in the van. We did come rather unprepared for this high desert weather I have to admit. We'll do better in the future. Overall our current van/trailer setup did prove itself capable of transporting two cars and three people, along with all the gear, and at least showed potential at being a usable RV of sorts.
Tuesday is mostly M's day to get back in the groove. She hasn't had too many chances to drive in the last year and had lost some of the confidence. The first session of the morning she started with a 2:19 and worked down to 2:10 which is obviously far from what the car should be running at. We sat down, watched a bunch of video, looked at the data and then she went out again. Starting with a 2:09 she proceeded to knock a second or more off every lap, eventually getting under 2 minutes (which prompted cheers from Tristan and I). She kept on going though and ended up with a best of 1:56.8 for the session! I have to say that was satisfying to watch. Nevermind that this ended up being the best time among the three of us for the entire event, as I never got to improve on my time from the day before. Well, since M went faster than me the car is now officially hers!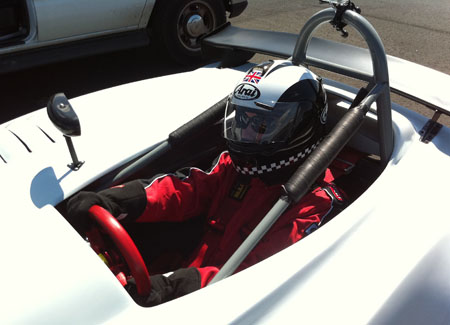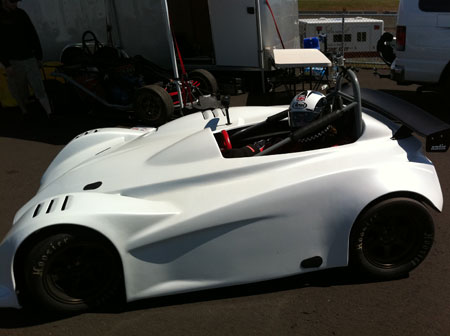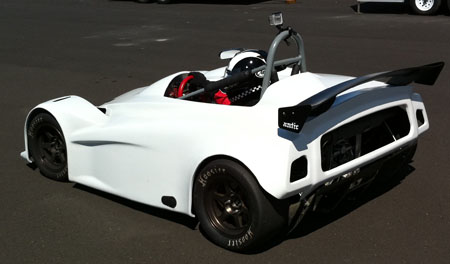 Not all went smoothly though. The cush drive we had installed a couple days ago developed some problems, due to insufficient heat treat on the sprocket causing it to wear and eventually fail (totally my fault). Of course it had to fail on the first lap of a late afternoon demo drive, but so it goes. At least it held on long enough for BJ to set a good time the day before and for M to have some fun today.
The customer car also had some issues but none to do with us. The engine, supplied by the customer, came out of a DSR racer and had been sitting for a couple of years. The carbs were used on another motor before being reinstalled on this one. Whatever the combination of circumstances, the result was a very significant misfire at high RPM that rendered the car nearly undrivable when trying to push it. It will go to the engine tuner shortly to get the problem sorted. In the meantime we did get some lead-follow video of the two dp4s on the track, at pretty slow speed unfortunately. This too will be posted tomorrow. We'll have to get more when all is working better. Soon.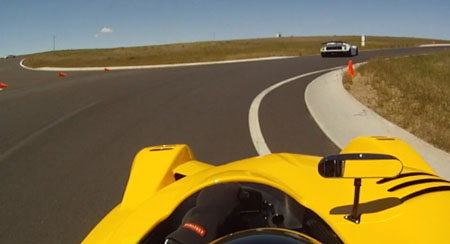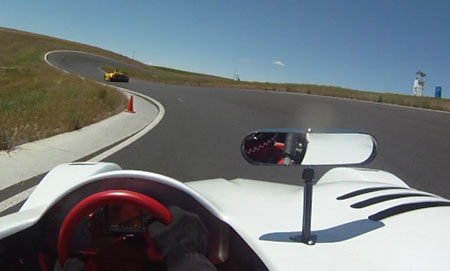 UPDATE: Edited the video. Click on the picture below to view the clip of BJ driving. Our own video wasn't nearly as exciting to watch so it wasn't worth posting. We'll just have to drive faster next time! :)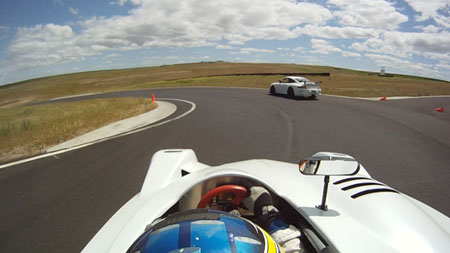 ---