---
12/02/13 The year is winding down and we're keenly aware of the passage of time. There is so much to do before 2014 rolls in. I feel like I did in the runup to Pikes Peak, and many times before and since. Pressure to deliver is part of what we do. To that end, today I went to retrieve the bodywork plug from our vendor and discuss the specifics of part layup schedules. Pete was kind enough to come along and even take pictures. The molds are completely done, 22 separate pieces in all, and we should have the first set of body panels by the end of the week.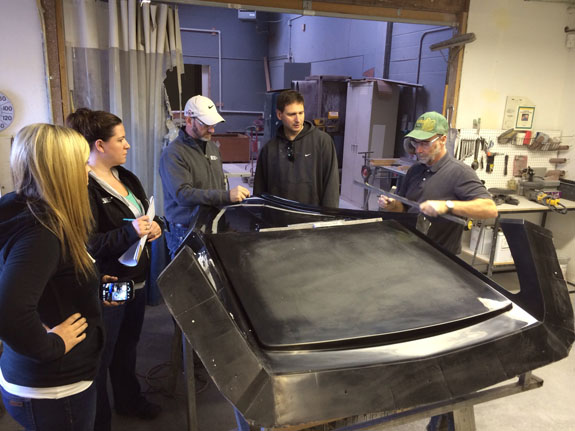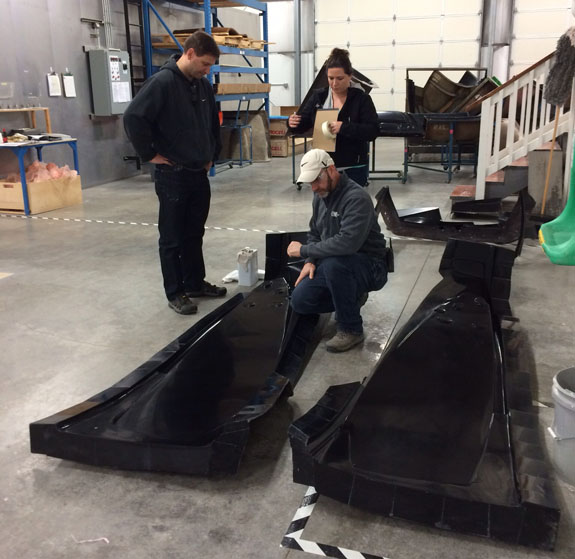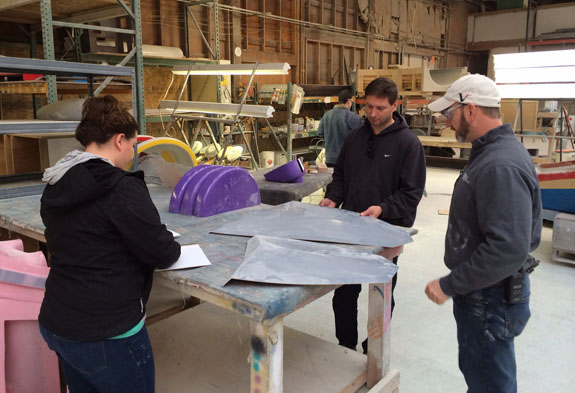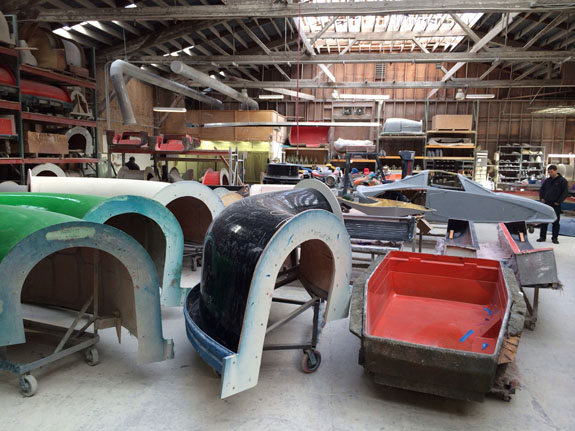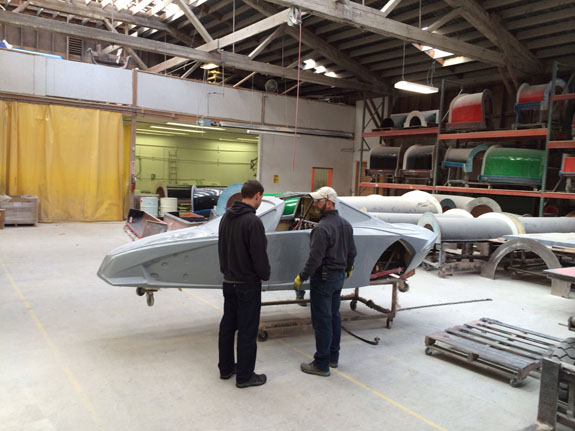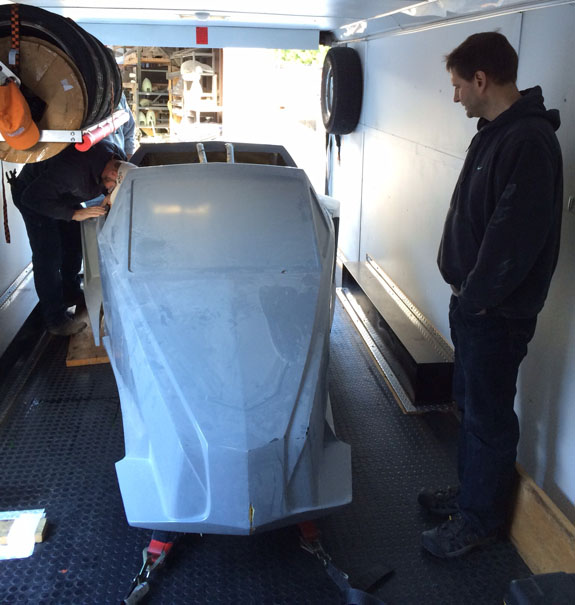 The post-cure of the molds was done on the plug to keep them dimensionally stable, and the plug did not take well to oven heat. This was expected, of course. Its job is nearly done. The only other use I have for it is to create the gullwing doors and it's good enough for that.
There is a good deal of progress on other items as well, more on that shortly.
---
12/11/13 A few more steps forward. Couple days ago the #5 chassis came out of the jig. To speed up manufacturing we're farming out the finish welding to a trusted fabrication shop.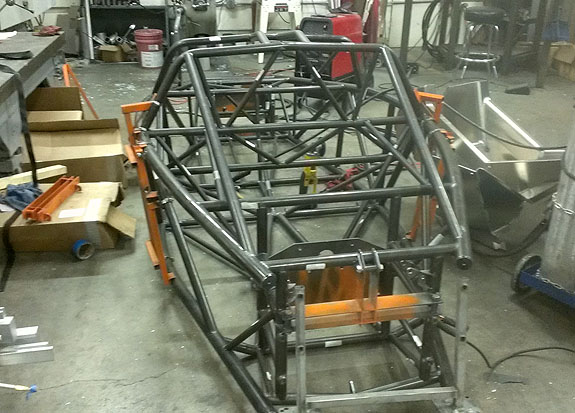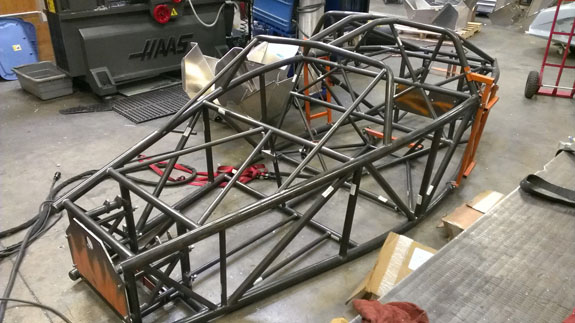 The frame will get dropped off this week but first we're using it for initial test-fit of the first set of body panels. Today I went and picked them up.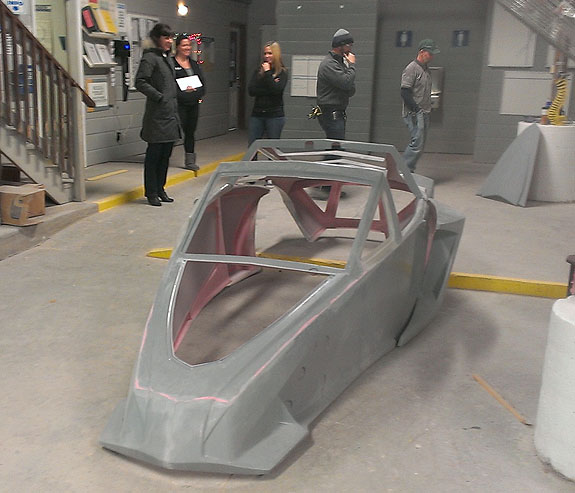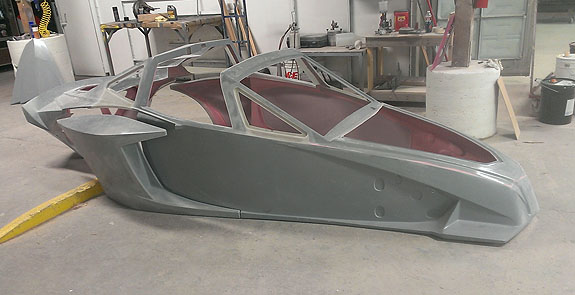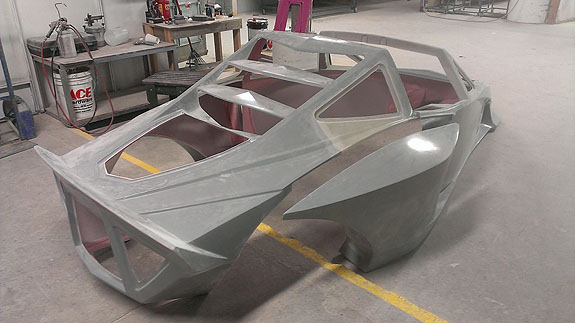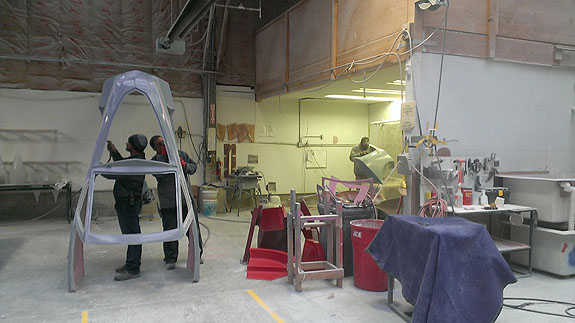 The panels are made of high-temp prepreg composites with nomex core. They are robust, rigid and fairly light - the entire set of bodywork weighs about 75 lbs. Glass adds another 25.
The fit is gratifyingly good, although a fair bit of trimming still needs to be done. The glass drops right in and also fits well.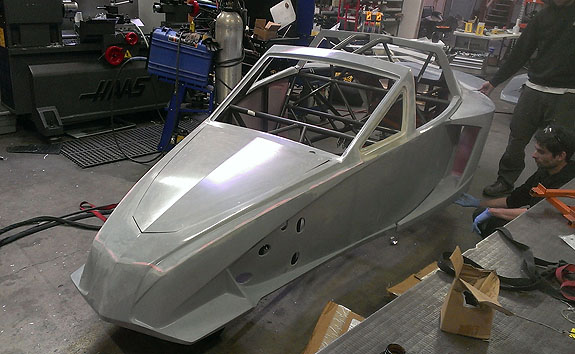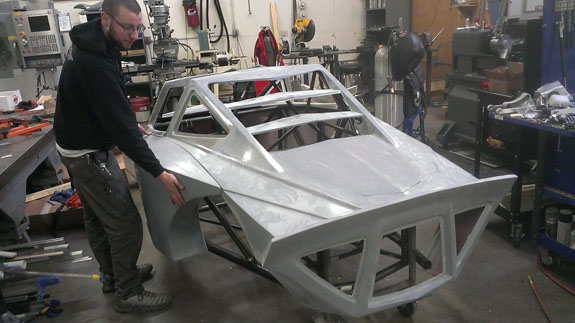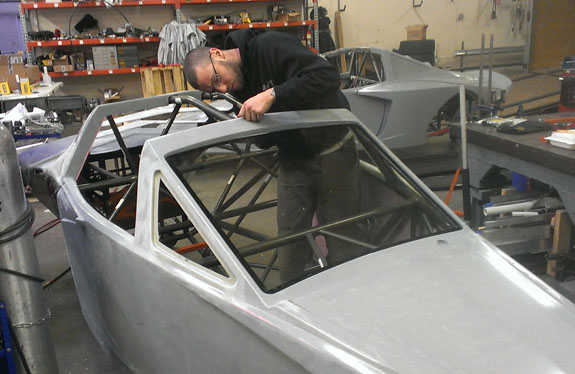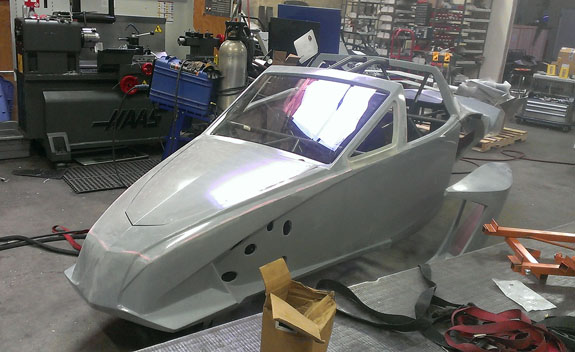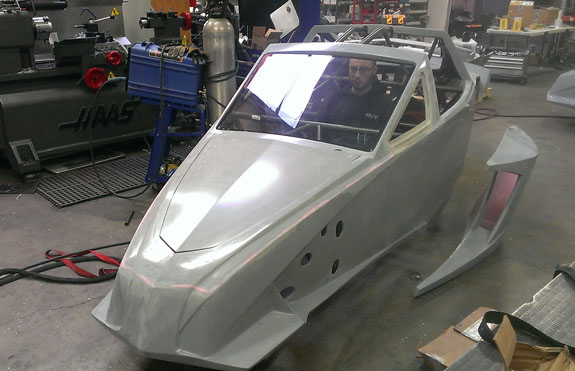 Some very busy days ahead :) But, the unknowns are getting fewer.
You may have also seen the recent announcement of our partnership with Sector111, code named 'Project Dragon'. The purpose is to develop a car which is unique to Sector111 in terms of styling but uses the proven D2 chassis and running gear as a foundation. They are now a dealer for all the standard Palatov models as well. Those who have followed my site for a while know that I've always been looking for opportunities to put custom bodywork on my chassis. Very much like in the old days when you could buy a chassis from a high end manufacturer and have custom coachwork commissioned for it. This is the first realization of this concept for me and I'm quite excited about it.
---
12/16/13 The end of the year is rapidly approaching and we're scrambling to make progress on the many projects. The D2 of course is the subject of this blog and there's good progress here. We've finished removing the plug from the prototype frame (thanks Adam for the help!).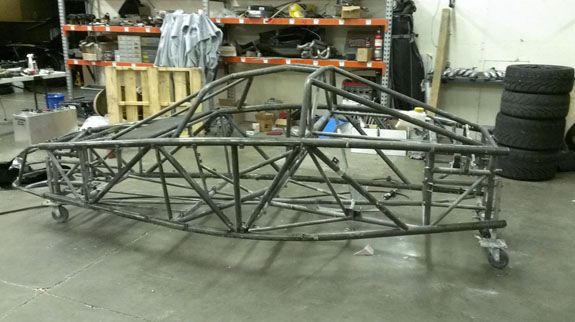 The reason this got done now is that the #5 chassis has been dropped off for finish welding and we need something to do the initial fitting and trimming of the panels on, without risking scratching of the production frames.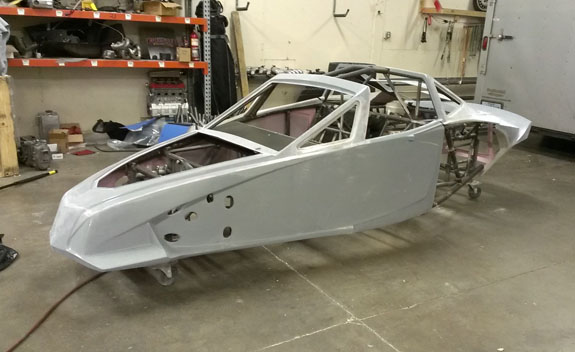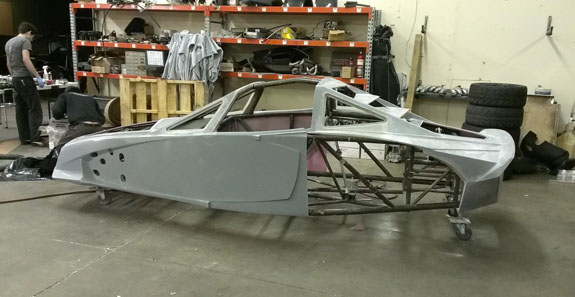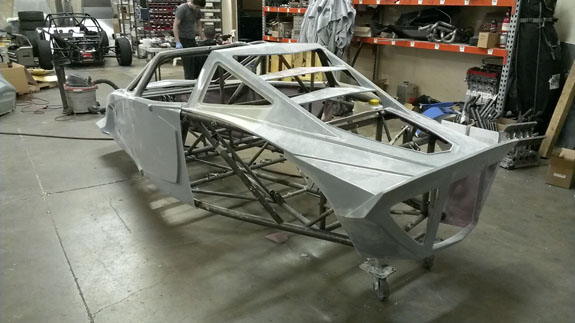 Of course some things can only be checked on a completed chassis so once the basic trimming was done, it was Alex's car's turn to try on its clotihng for the first time.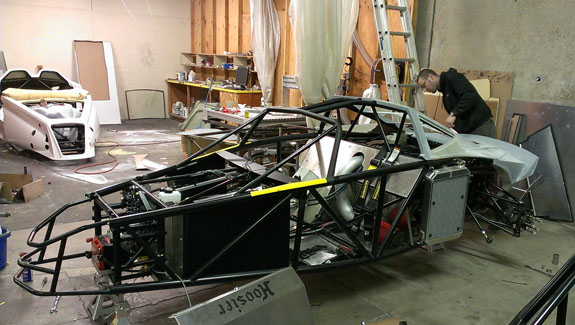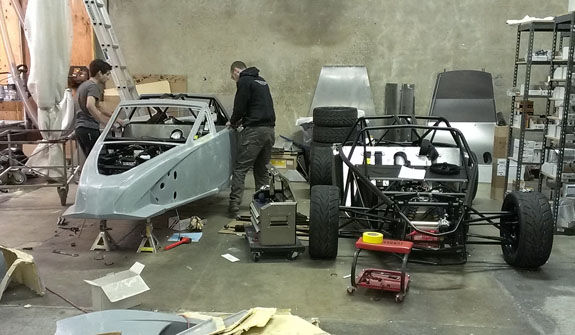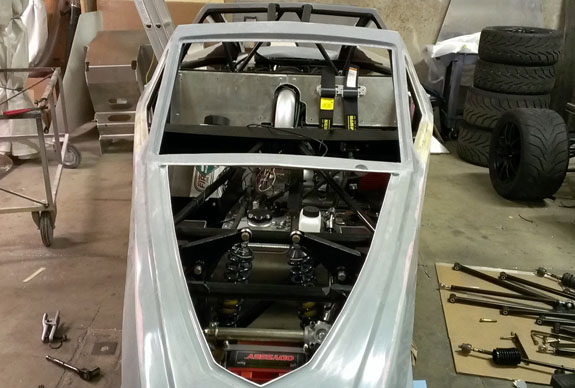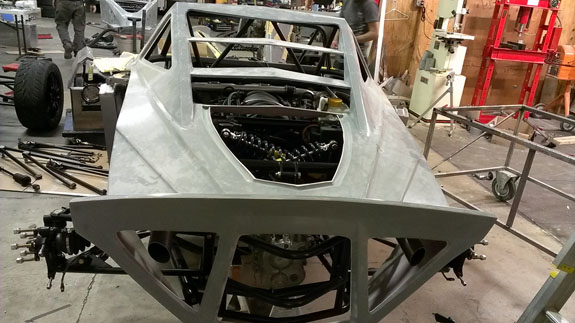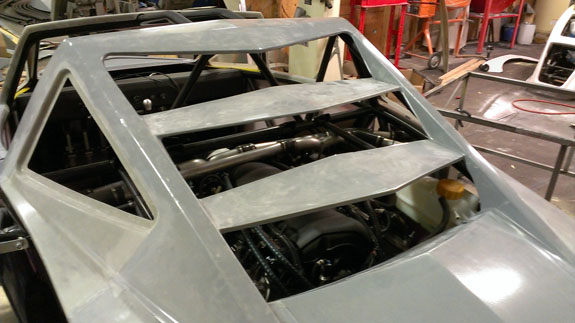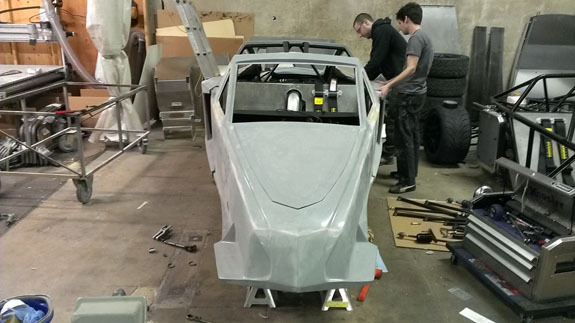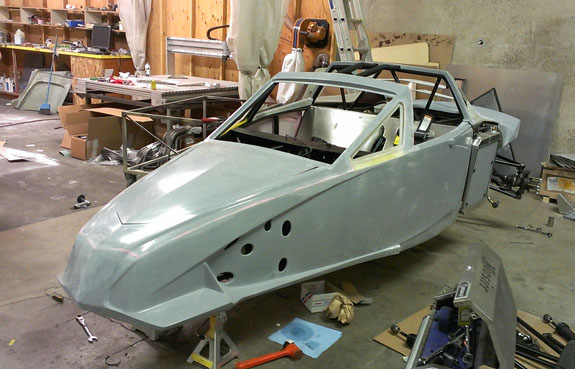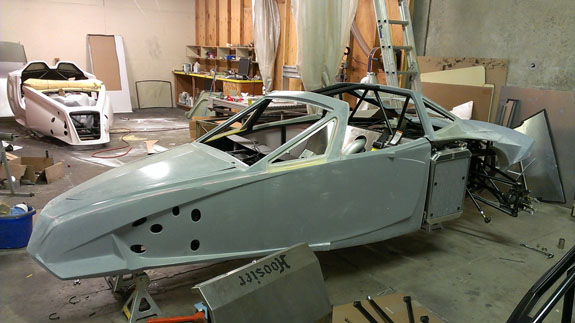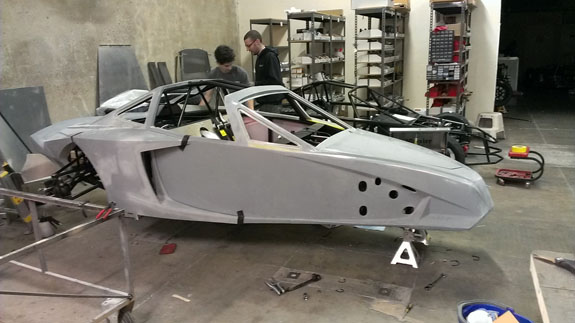 A lot of work still remains, especially this being the first set of panels and many things are still to be worked out. But, it's coming along.
---
12/17/13 This is one of those 'let the pictures tell the story' posts. So here they are.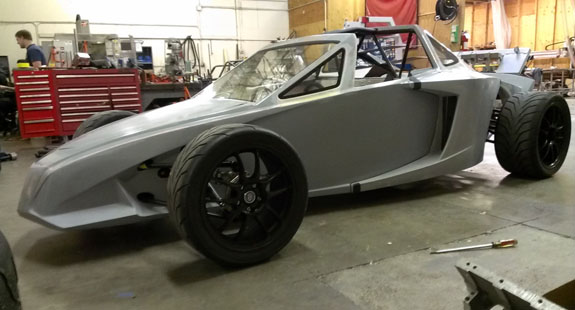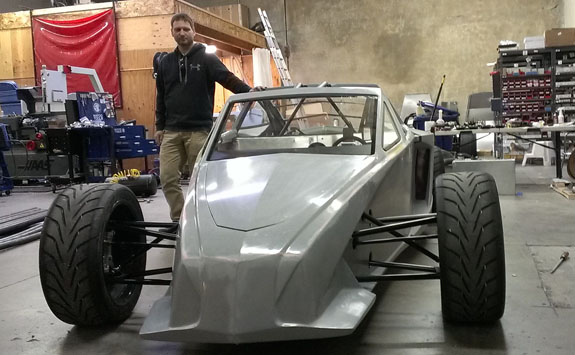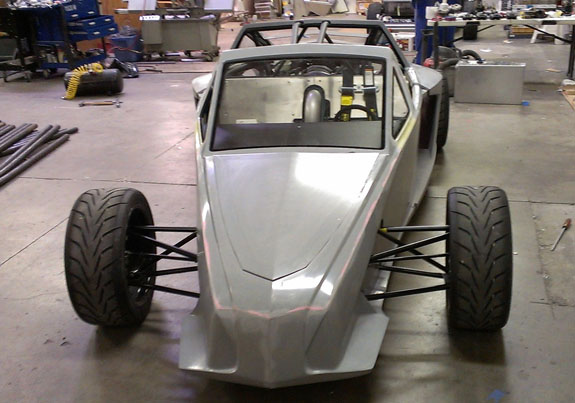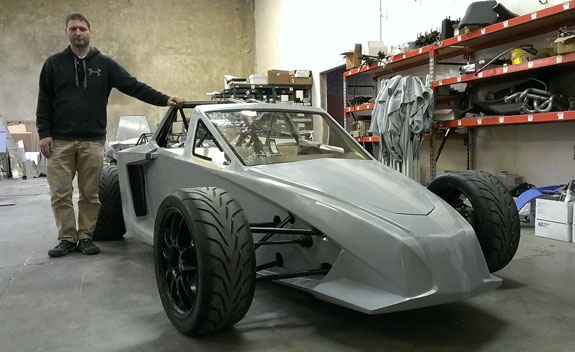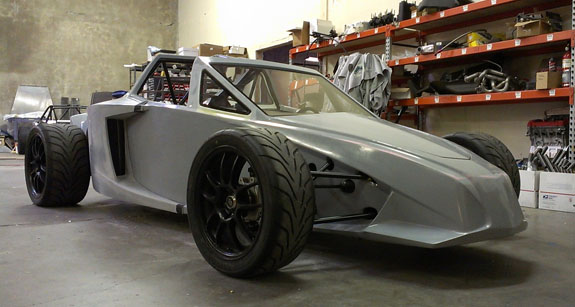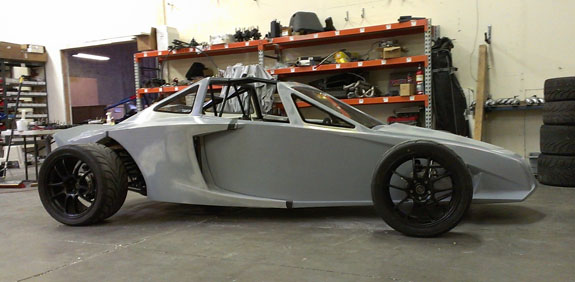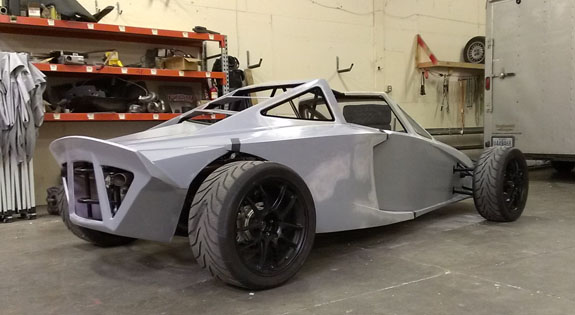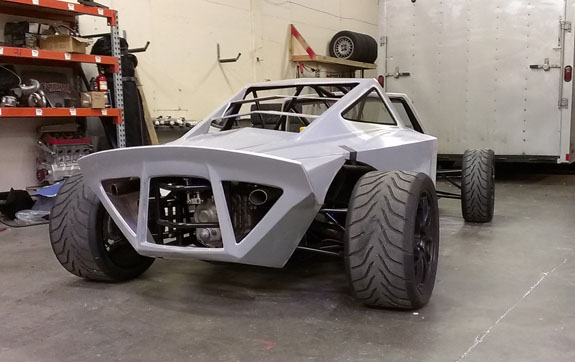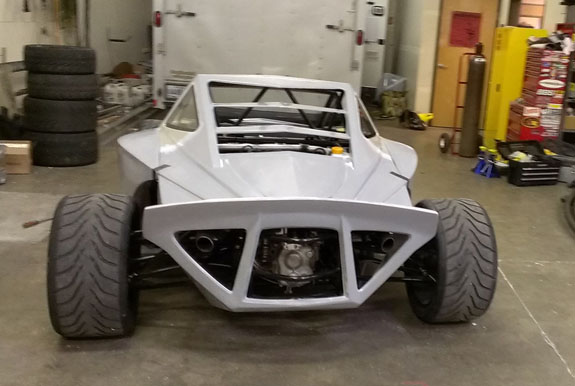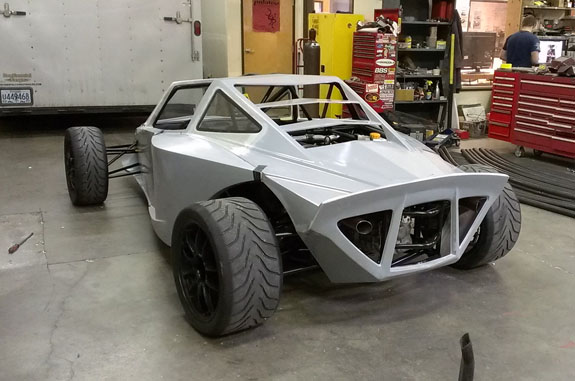 Still needs fenders, a few miscellaneous panels, diffuser, lights, paint, etc. But it's getting there.
---
12//25/13 A few weeks ago, an opportunity came up to showcase the D2 at Inde Motorsports Ranch. The facility is exactly the kind of place where we want to be so we made arrangements to ship Pete's D2 down there and I booked a flight. As time grew near, however, the trucking company just canceled the shipment and I was faced with the choice of calling it off or trailering 1,600 miles each way in winter conditions. Same as the haul to Pikes Peak a while back other than weather. So I opted for the latter, writing off the non-refundable airline ticket to boot. I try not to let other people's failures stop me :).
M agreed to come along but I couldn't convince her to do the straight-through Pikes Peak style drive this time, so we took two and a half days each way. Just as well. It's still pretty stressful to be on the road this long. Fortunately the weather cooperated and the mountain passes on I5 were clear in both directions.
One would think that traveling 1.5K miles south would get you warmer weather. Not exactly - we arrived to 32F overnight lows with 45F high, clouds and wind for the first day. But that didn't detract from the awesomeness of the place. Upon entering the grounds it's obvious that Inde is someone's dream made real. I can instantly relate and appreciate. It is a combination of cars and aviation, both of which are passions of mine. There are fighter jets on static display throughout the place and members arrive in airplanes to drive their cars. Yes. Parking the D2 next to one of the aircraft I'm surprised at how similar the profiles are. Form Follows Speed. That's my new motto :)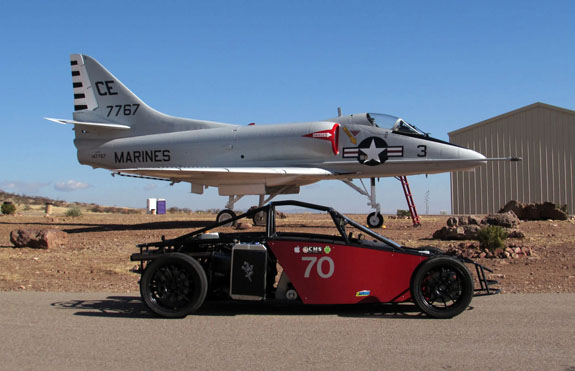 The purpose is to let a few people check out our car and it mostly spends time in their hands. It's a great group of enthusiasts and a very relaxed, friendly atmosphere with open track throughout the day. Pete flew down as well and got to drive a bit. I did get a few laps in. The track is very technical, with a lot of elevation changes and some blind crests. As always we took the opportunity to do some testing and got to try the dual-rate bellcranks in both settings. Yes, there is a noticeable difference and bump compliance is much better in the soft configuration. A confirmation of the feature's value.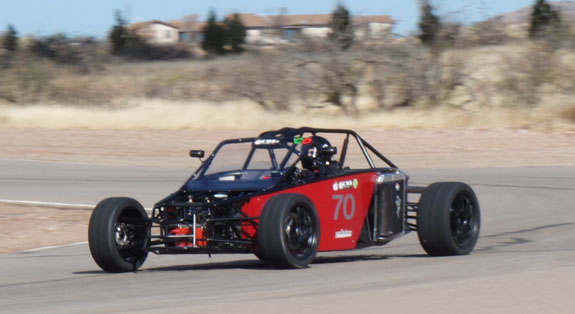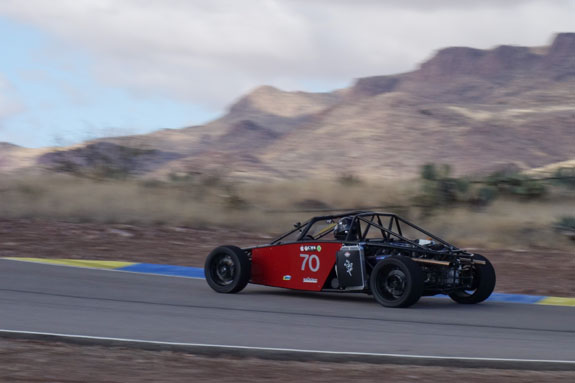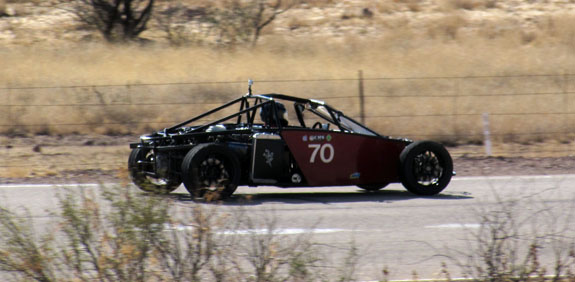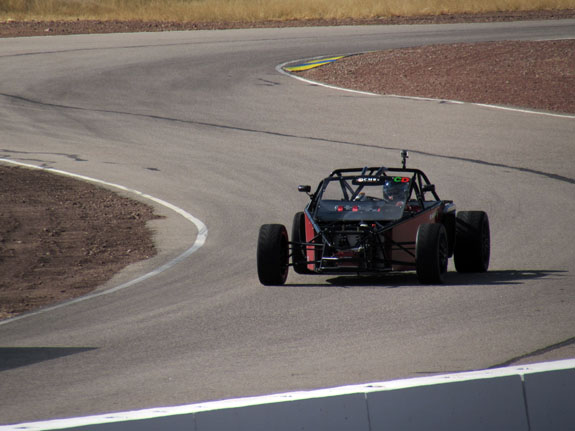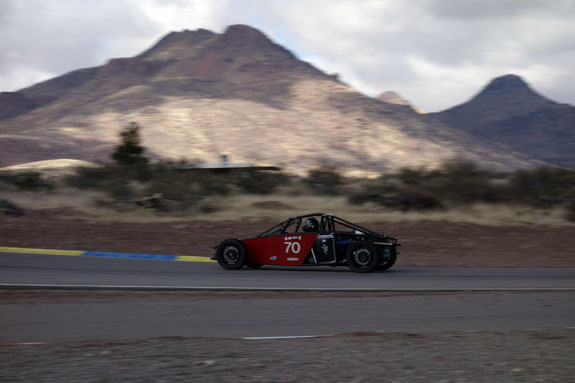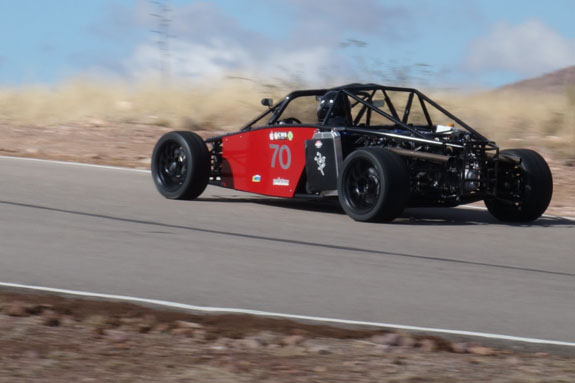 On the way back we made a slight detour to stop by Sector111, our new dealer in SoCal.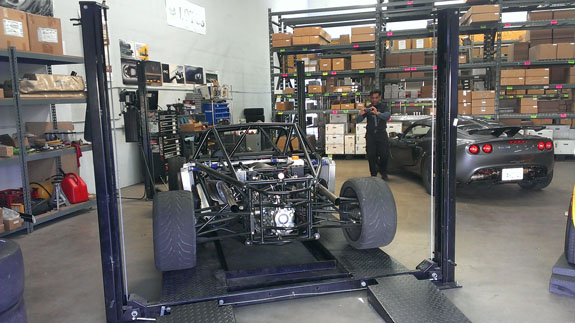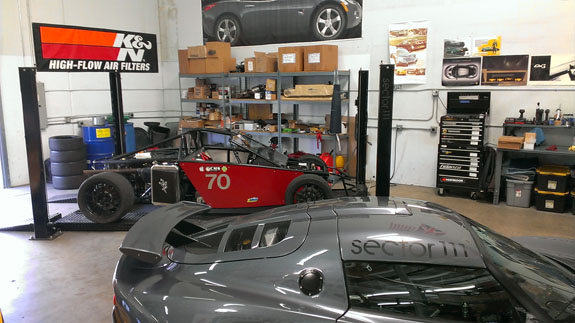 Upon returning home there's much work to be done but some progress has been made while I was away. The Dailey drysump is installed on Joe's engine (I've decided to make it a standard feature going forward, it pays for itself the first time you don't blow up an engine which on slicks is a real risk).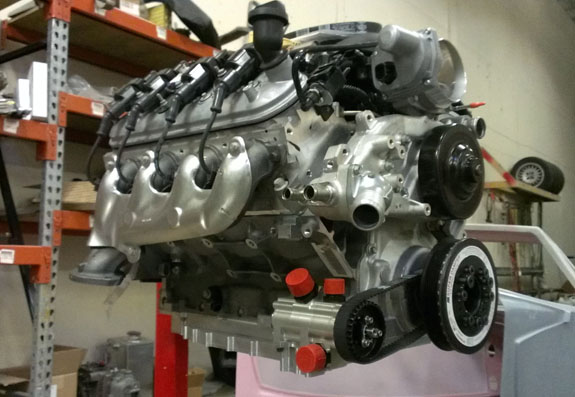 The second set of body panels has arrived. I've been giving much thought to various tweaks, color combos and such. The standard color will be graphite grey metallic with color accents. I'll have pix in a bit. The fog on the way back reminded me of the need for ventilation and I figured out the perfect spot for air intakes (the benefit of 26+ hours behind the wheel).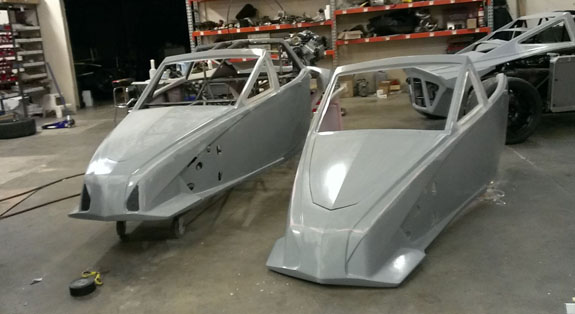 Makes the nose tie in better with the rest of the car, too.
Much done, much more to come. It may not be easy but it sure is fun :)
Happy holidays!
---
01/06/14 The last month has been quite busy and the new year has started with us going full speed (spent over 20 hours at the shop this weekend machining and designing parts, it's the most productive time with no daily distractions). Below are just some of the highlights of progress being made...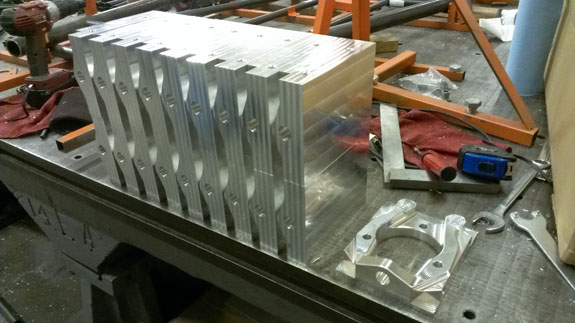 We've learned quite a bit with using the prototype digital dash that Pete and Josh are developing. Initially we tried displaying all kinds of info but out on the track I've found that only the tach and a couple key pieces of info are useful. So I made a quick hand sketch of what I'd like the display to look like and Pete has implemented a first-cut prototype of it.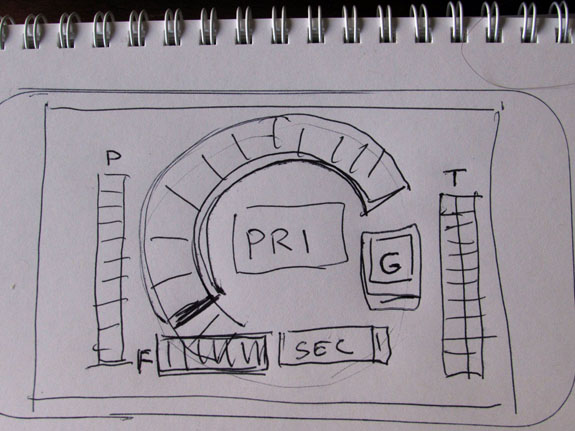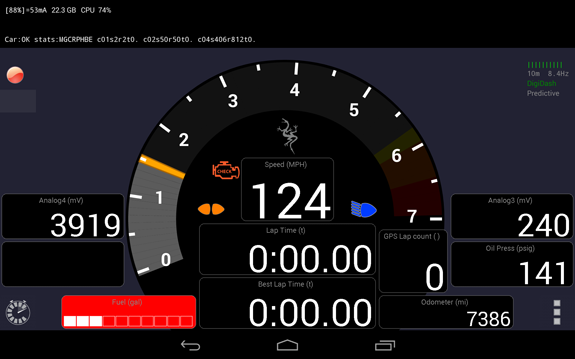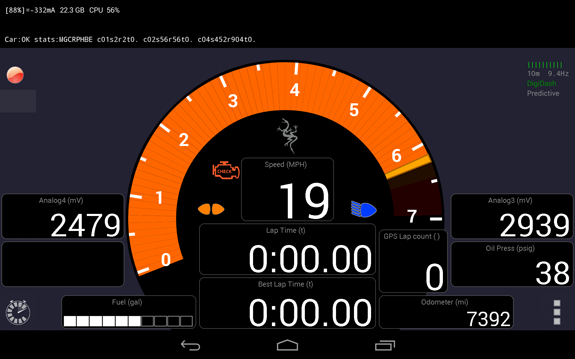 This way the instruments are fully visible through the wheel and very legible. Of course all the logged data including video is still available for analysis after the run and we'll include a separate tablet with every car so you can do it conveniently in the pits without removing the dash. GM just announced that they'll have integrated dash cam with data overlay available in the Vette starting Q3 this year and called it an industry first. Well, as far as major manufacturers go that may be true but our system will be out before theirs :) And it'll be standard equipment on the D2.
While on the subject of electronics, Clay (one of our investors) is working on a custom control module to run all the lights, blinkers, etc. It also uses current-protected solid state switches so most fuses for these systems are eliminated.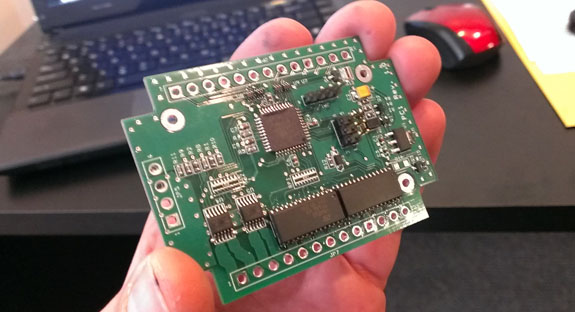 He is also making another module, to 'scale' the electronic throttle pedal giving us a reduced power mode and hopefully a blip/cut capability for the sequential boxes. This item is a bit of an experiment though and will require some testing. We'll learn a few things in the process, no doubt.
Various new bits are being fitted to the existing cars. The parking brakes for example.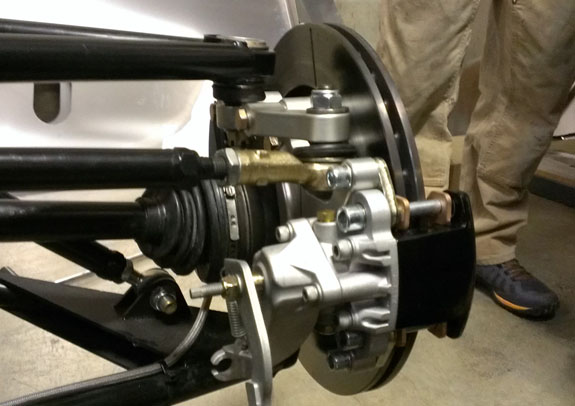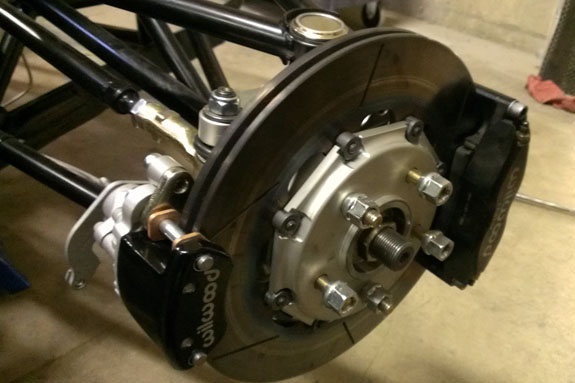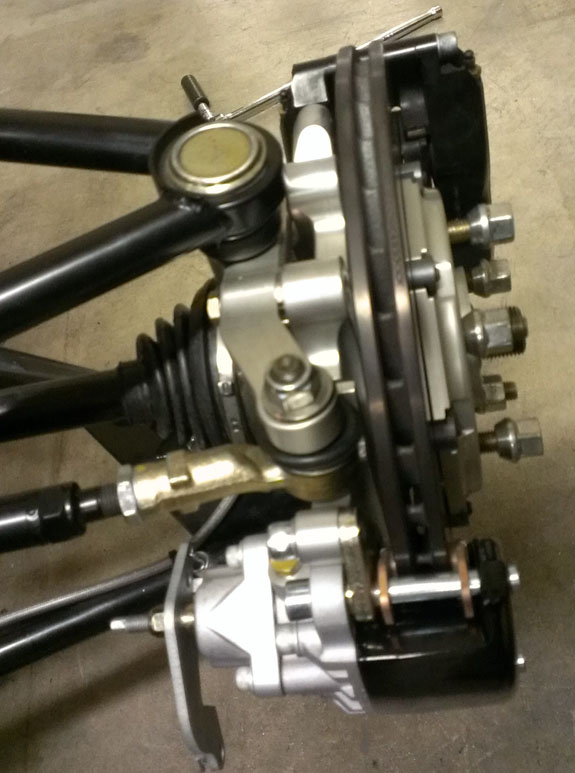 The final windshield wiper mounting scheme is now worked out and is pretty clean. Since the bodywork was hand-made and this area is rather hard to measure I was afraid I"d have to do some convoluted custom bracket but fortunately everything lines up well and the arrangement only requires one hole, a couple spacers and a counter-torque strap.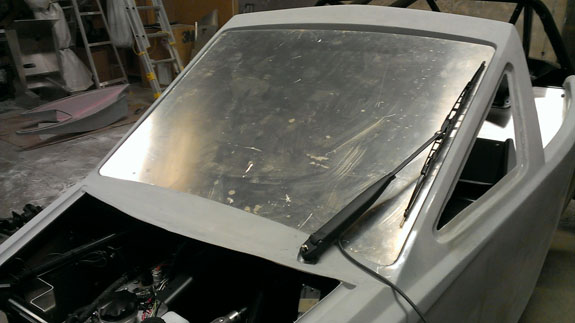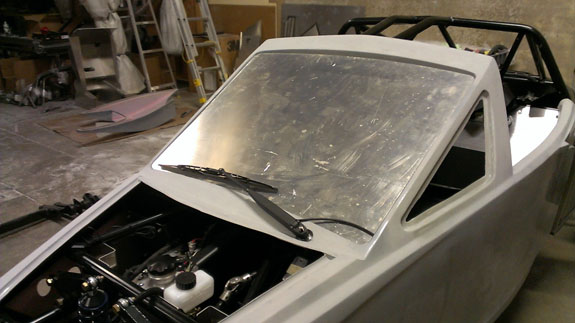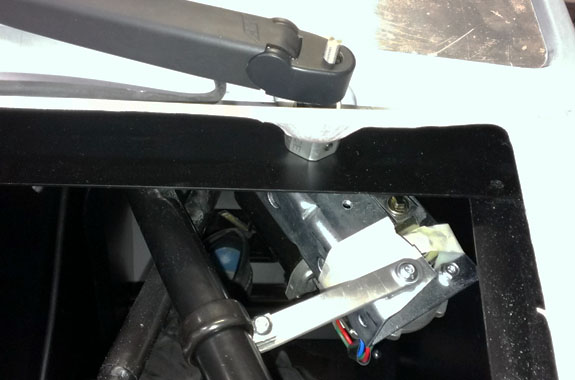 For customers who don't need the LS3 e-rod kit's full emissions compliance we're making cat bypass pipes. Adds a few horses, saves a few pounds. Although my recommendation to most is still to run the cats the option is there for those who want it.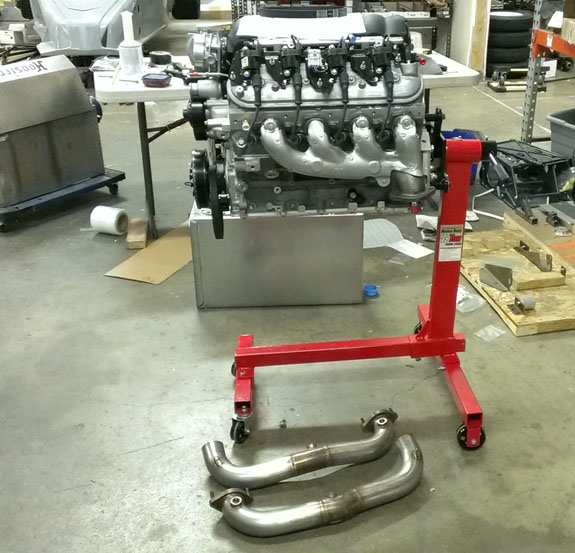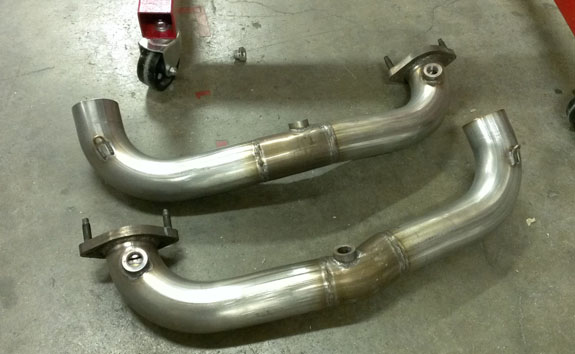 I've decided it would be good to have an accurate digital model of the new bodywork, which was created by hand. To accomplish this, Norm (one of our long-time customers) came out and scanned it with his laser scanner. It will take him a couple weeks to process the point clouds and generate a parametric model. I'm really looking forward to seeing how it turns out. Norm's regular business is architectural surveying and he typcally uses the scanner to capture digital models of buildings, bridges, roads and the like. It's a pretty amazing piece of equipment.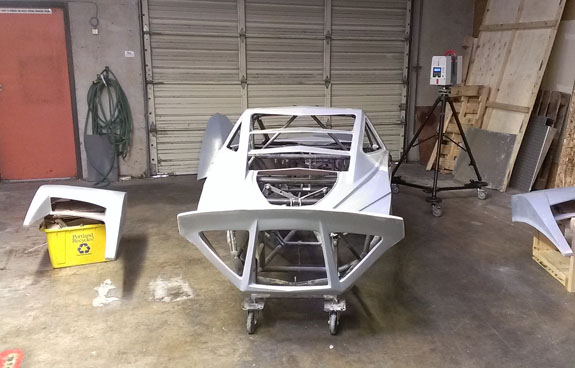 On the subject of bodywork, after looking at the picture of the D2 next to the A4 jet I noticed the airplane has a blacked-out area on top of the nose, to reduce glare. I figured that might be a good look for the D2 as well, keeping with the fighter aircraft theme, so I tried it with some black vinyl.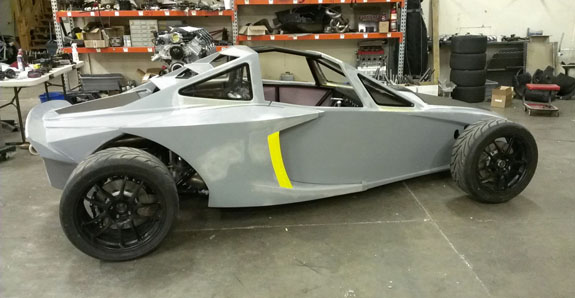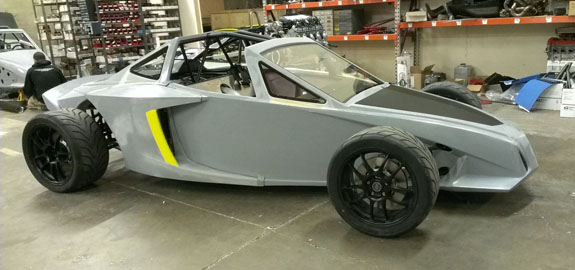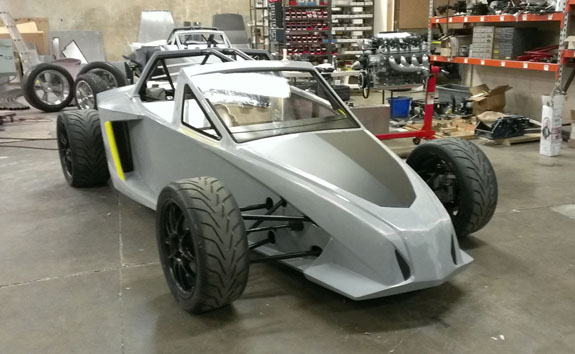 Looks pretty good to me. I think this will be part of the 'official' color scheme.
Chassis #5 is now off to powdercoat, #6 is in the jig. First 5 bodywork sets are made and we're finalizing the trimming and mounting scheme.
The year is off to a good start :)
---
01/18/14 Another list of updates...
A week ago we sold D2 #12 which is gratifying - the momentum continues. In order to get more efficient at cranking the cars out we've made some changes to our workspace, moving inventory out of the shop and into a dedicated area. We now have more space to work on cars and better organization and control of the parts onhand.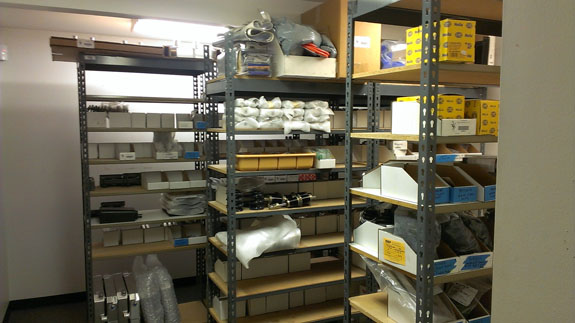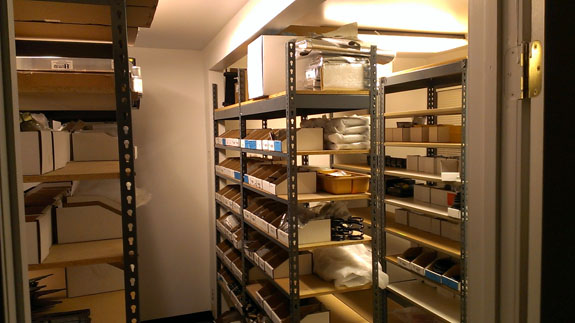 The #5 chassis came back from powdercoat a couple days ago and is ready for assembly. Most of the major components are onhand or on their way. This will be the first D2 with the Quaife-made 6 speed sequential box which should be on its way any day.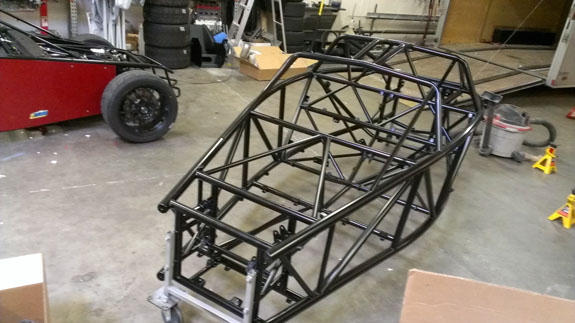 After figuring out the bodywork trimming and mounts we shipped one set to John who'll get it painted and install it himself. Took 400lbs of crate to ship 100 lbs of bodywork and glass. The other four sets went back to M&W so they can tweak the molds and deliver these and future pieces fuly trimmed and ready to go. They're more efficient at this type of work than we are and we already have plenty on our hands :) First one should be off to paint Tuesday, with four chassis eagerly awaiting their new clothes.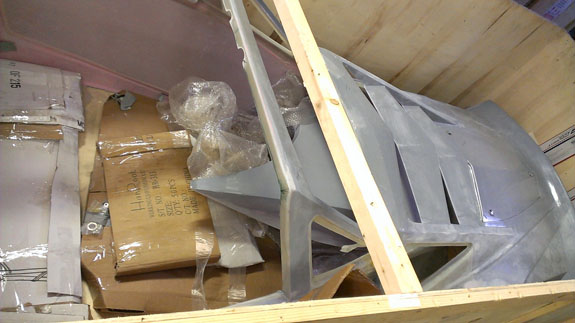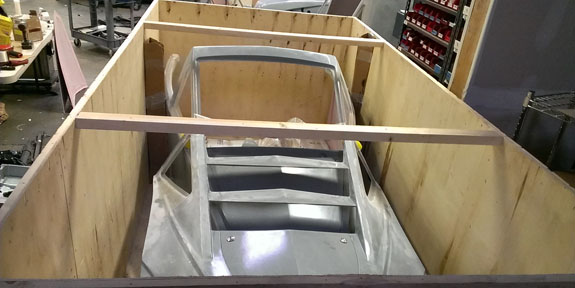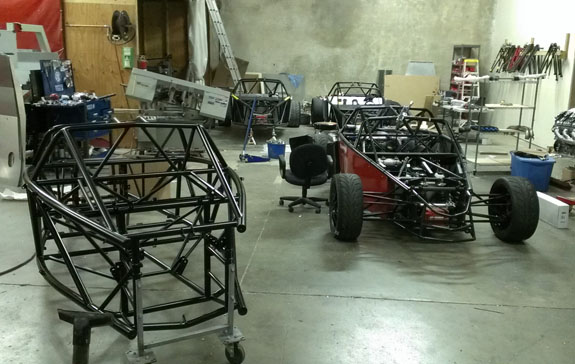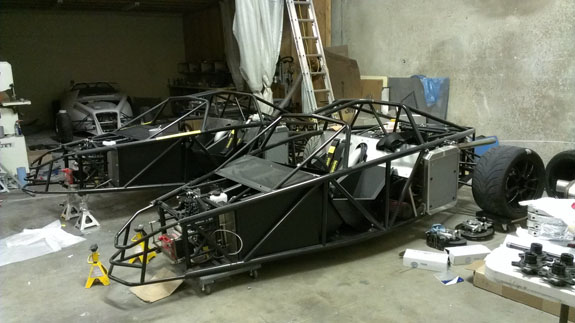 The #6 chassis is now in the jig and should be ready for finish welding next week.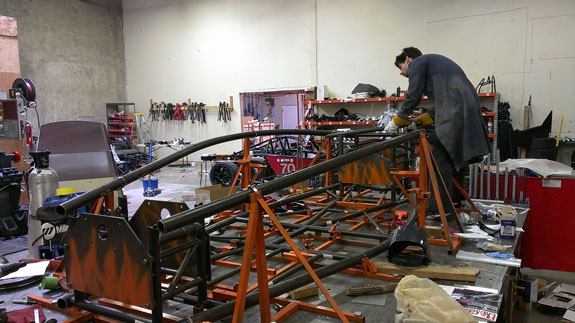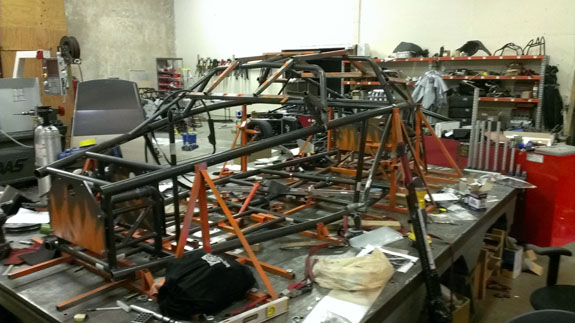 By customer request we've now built a couple wider seats (18" vs standard 16"). They are a no-cost option.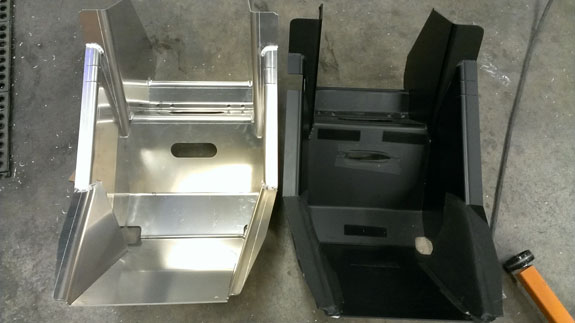 The drysump tanks are coming along as well. Based on data from Pete's testing we've made drysump standard on the D2. As was pointed out to me, it more than pays for itself the first time you DON'T blow up an engine.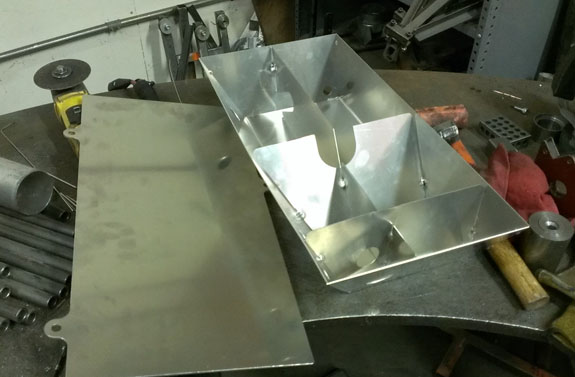 I'm waiting for the bodywork scans to be completed by Norm before I finalize some of the other pieces but a first cut of the fender design is done. It'll be tweaked a bit from here still.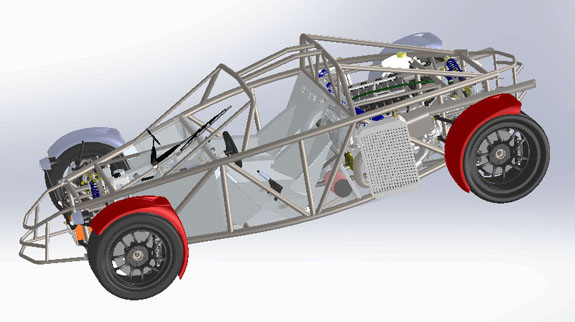 Another bit of work in progress is the HVAC system. Having driven in 100F+ weather on track and on the road I fully appreciate a good AC system and don't consider it a luxury. A comfortable driver is an alert and efficient driver. So the D2 will have proper AC and heater. I really like the Gen IV system from Vintage Air. It's fully electronic and by all accounts works well. After getting in touch with Ryan I got some dimension and unfortunately the D2 packaging is just too tight for a standard setup. I did 'hack up' the Gen IV system in CAD and I think I can package the components in a custom enclosure that would work very well. We'll see.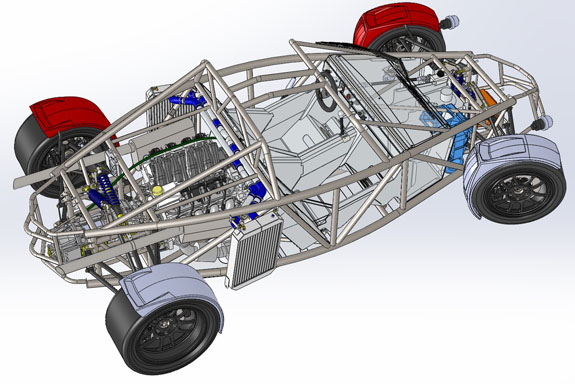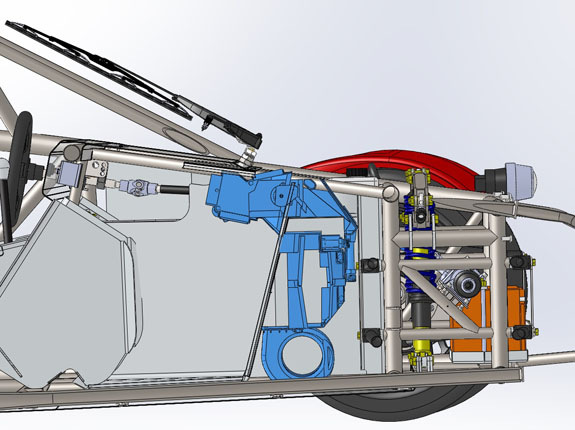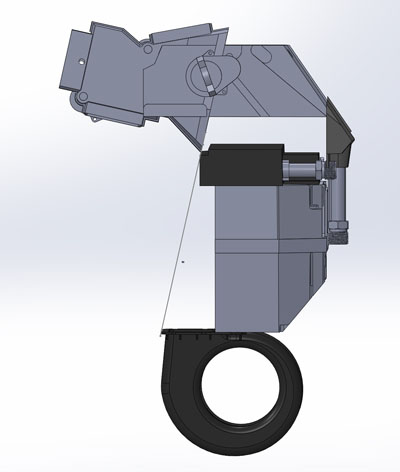 The dash is seeing progress as well, with a gear indicator being added in preparation for sequential transmissions.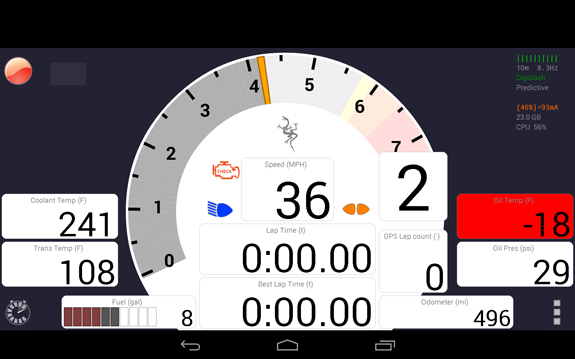 Last but not least, an announcement - we're going racing this year! The #7 chassis will be our race car (we'll put out the sponsor program details in about a month). It will have a 575hp+ supercharged LSA e-rod engine, sequential transmission (both courtesy of Pete), an aero package and a bunch of other goodies. The tentative race plan is One Lap of America, Pikes Peak (Open class), Ultimate Track Car Challenge and Thunderhill 25. All with the same car, with 50-state emissions, 88 db sound and a license plate :) Jonathan Frost will drive. We're already signed up for Pikes Peak, the other races are goals at this point but most likely will happen as we're putting together the resources, team and sponsors. Stay tuned, it's going to be fun! :)
---
01/29/14 When I start getting emails reminding me that I haven't posted an update in a while it's a sign things have been pretty busy. And they have. A lot of it is just routine production stuff - now that we've run most of the parts on the machines, getting a new batch going is relatively easy. Set it up, then just chage parts out and go do something else while the mill runs (the lathe does require direct attention).. So we've been building parts for the next 6 cars - uprights, pedal sets and so on. , Concurrently there are many other things happening.
The #5 is receiving the most attention right now as #1-3 await painted bodywork (we already shipped the #4 body to John in Illinois). Once the frame is powdercoated, the build starts with installing the fuel cell, bulkheads and floor. It's just the most convenient sequence, the cell is removable at any time although 'some disassembly is required'. Just taking the floor off.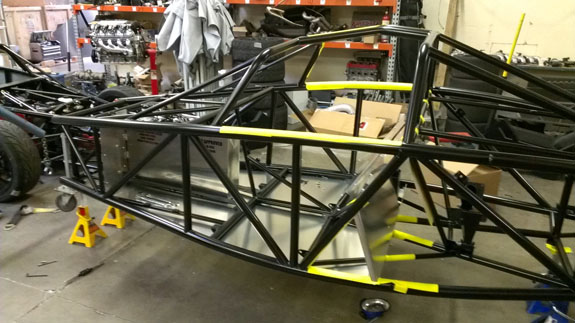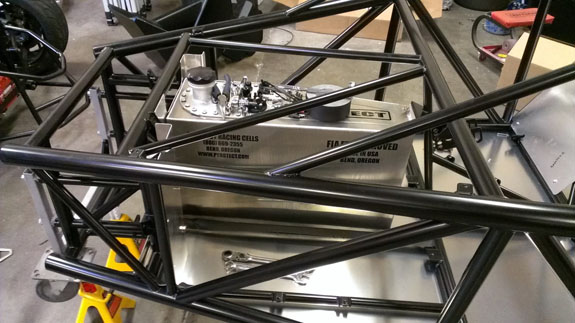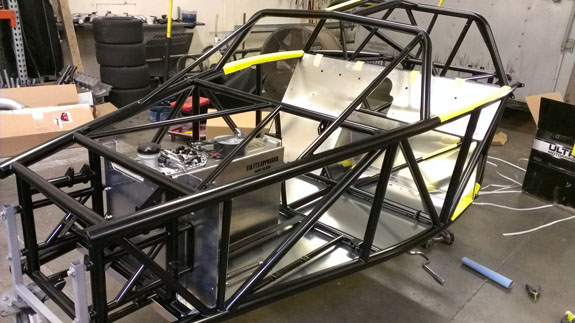 We then attach protective PVC shields to the frame in preparation for engine install.and the engine goes in. Again, just a convenient sequence that works most efficiently when building from zero.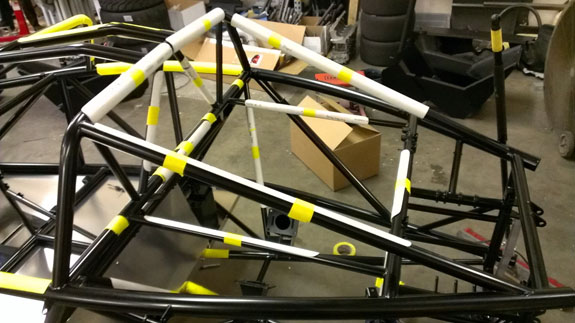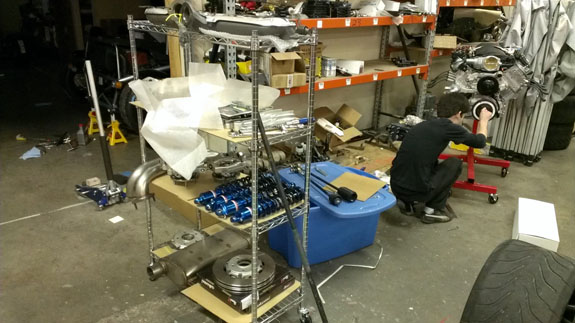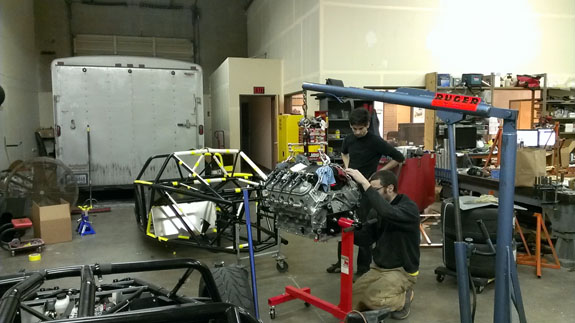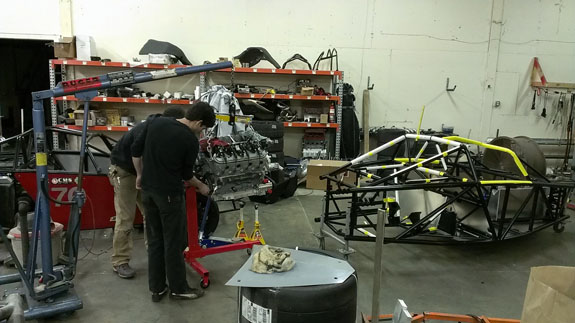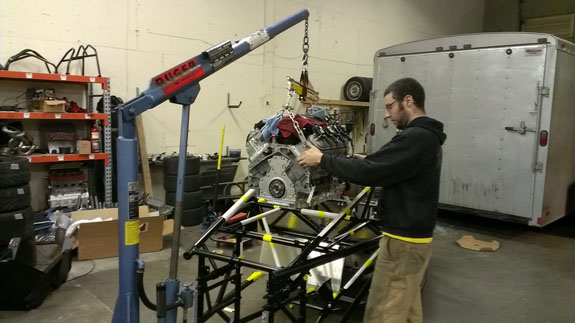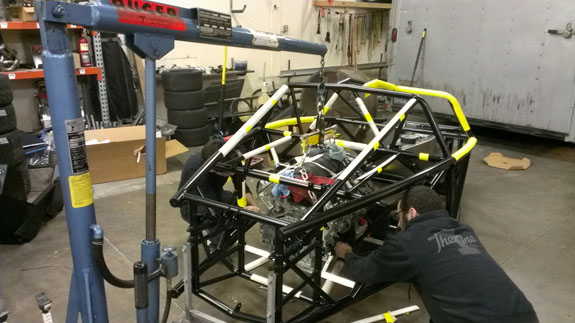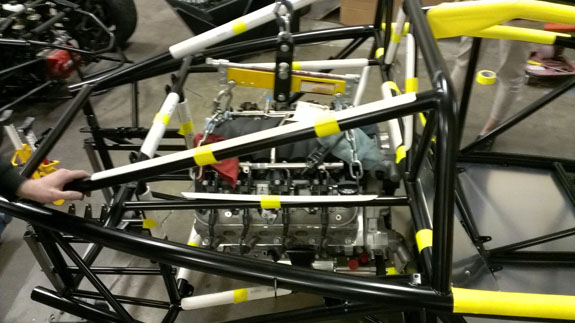 The drysump pump clearance to chassis tube is exactly as it is in CAD - about 1/4". Normal :)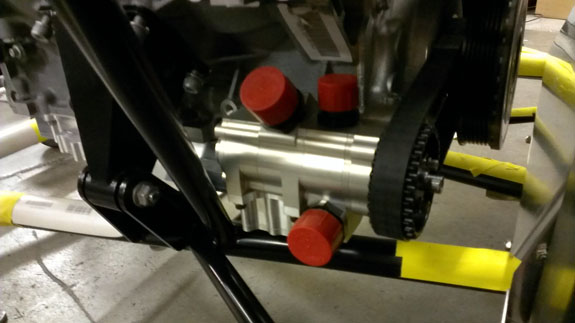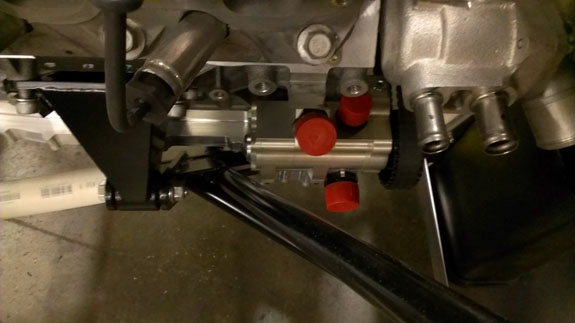 The drysump tank is now welded and test-fitted in the frame. Again all is as per CAD.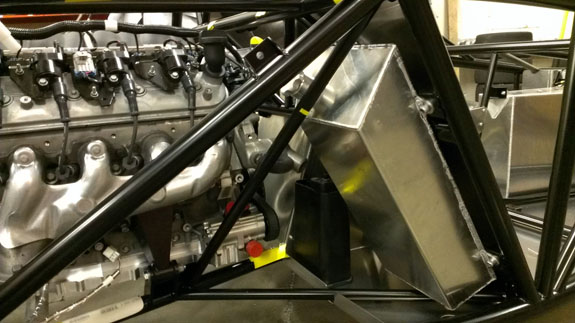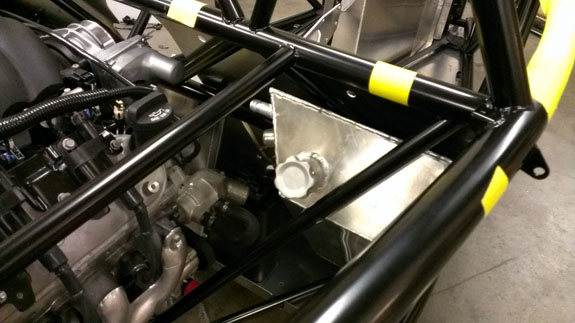 Plumbing still needs to be figured out and installed. In the meantime we're adjusting the standard GM harness to better fit the car and to interface to our wiring.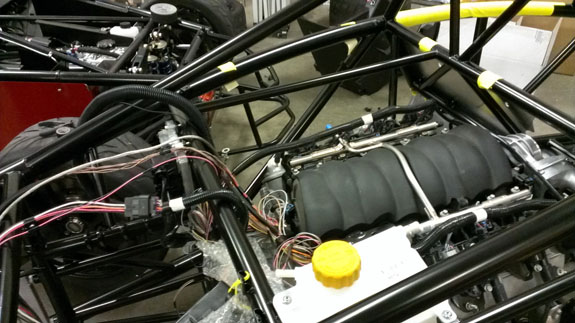 The fender mount parts are here as is the fixture and we've welded up the first one. Still some tweaking to do but it'll work. The mount adds 5 lbs of unsprung weight but it needs to be sturdy enough for 150 mph+. It also needs to clear all the suspension parts through full range of motion including turning which is no easy task and is the reason for the somewhat odd shape. The future LMP-style fixed fender option will address this for those who are concerned with this type of thing (like myself).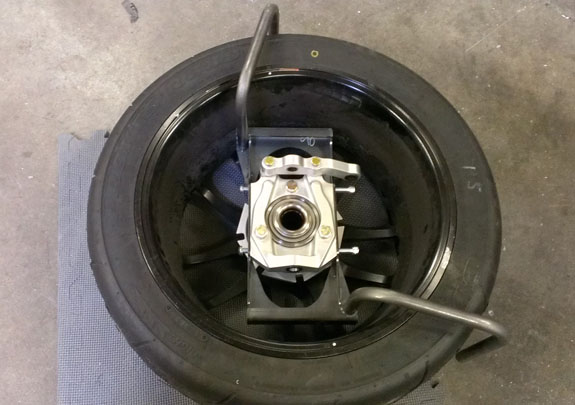 The #6 chassis is in the rotisserie and the jig is ready for #7 - our race car. For Pikes Peak we'll need to add removable braces in the corners of the rollcage - boulder intrusion is a real risk in an off so the cage openings have to be below a minimum size. The mod has now been designed and approved by PPIHC, we'll make it after the basic frame is welded. It'll be an option for those who want it but it'll have to be orderd at build time.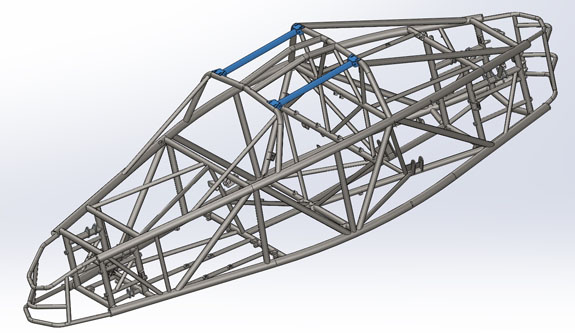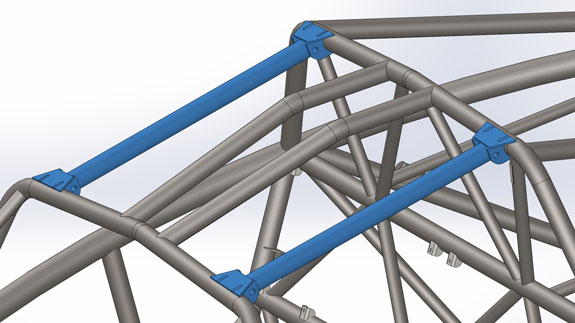 Of course there are lots of other things but these are the highlights. Till next time.
---
02/01/14 Fenders. I don't really like cycle-style fenders. When bodywork doesn't fully cover the wheels I'd rather just have them open. But on a street-driven car where practicality and regulations require fenders it can be a reasonable solution. I came up with a design a while back which should mitigate the inherent lift and drag that comes with this style of fender, and even had a bunch of mount parts made. Once we put a couple together, seeing it in the flesh raised some concerns. Aside from being heavier and more awkward than I prefer, the design would have issues with things like speed bumps and potholes. Didn't look too bad on a computer screen and would certainly be fine on a racetrack, but on real-world roads probalby not. So I had to come up with something better. Pictures below show the original (dark) and new (blue) fender mount designs, front and rear.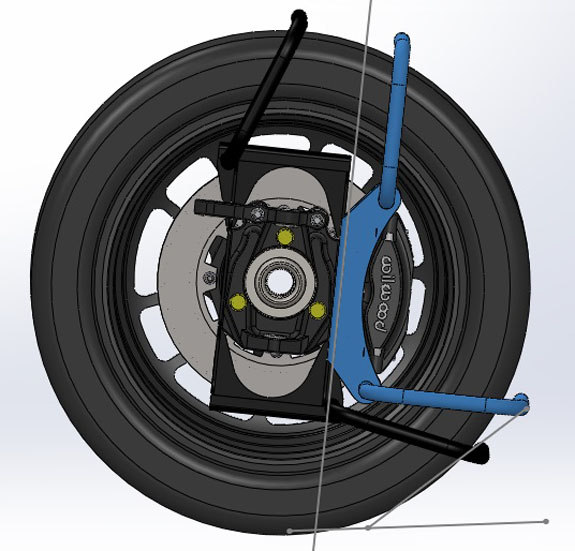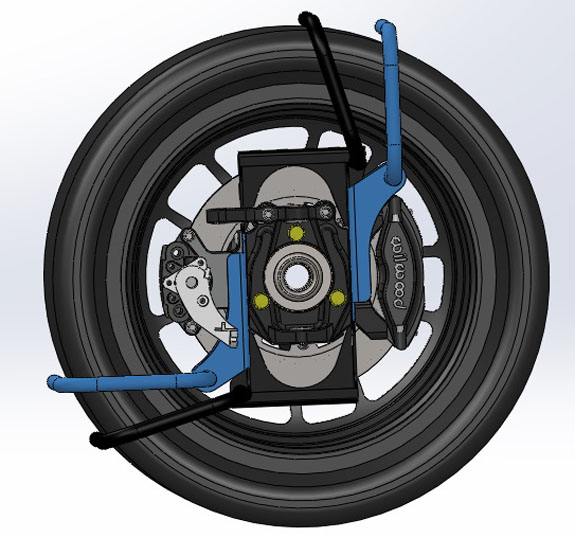 The new approach is 1.5 lbs per corner lighter, has more ground clearance and actually works better with wheels turned than the first version did. I'll have to scrap a bunch of parts but that's what it takes.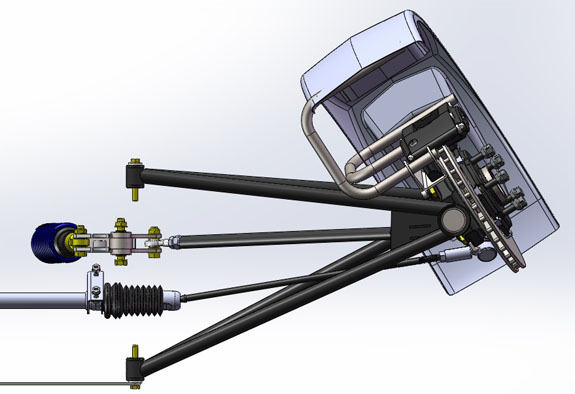 With the updated mounts came the updated fender design. Still need some subtle tweaks but it's almost there and will be done by monday. We'll start making the plugs next week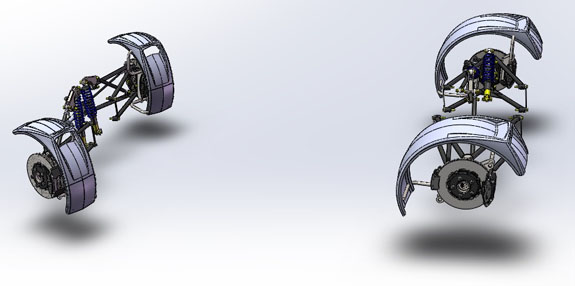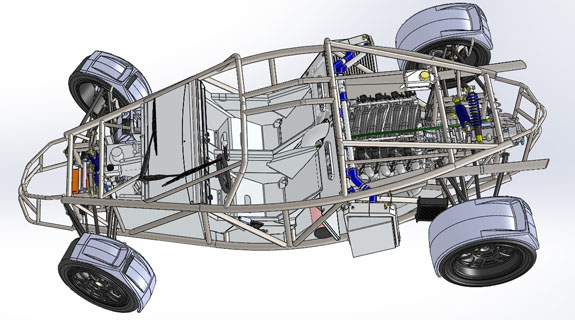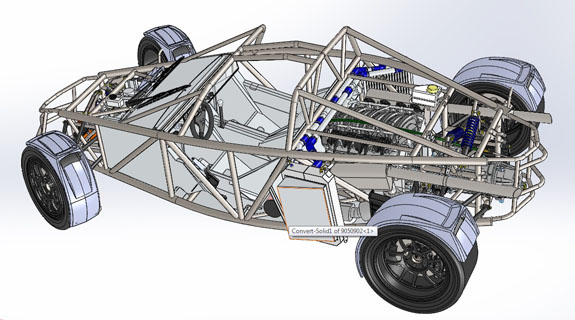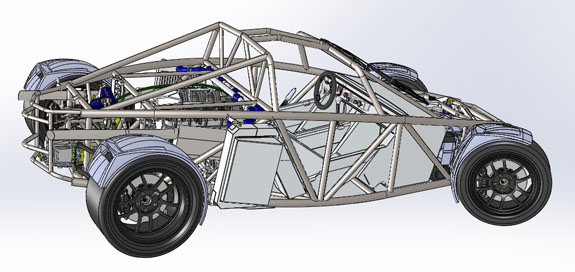 Other items being sorted now include mirros (below) and interior trim (subject of another post later).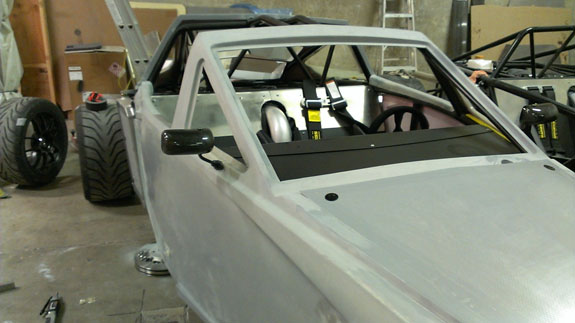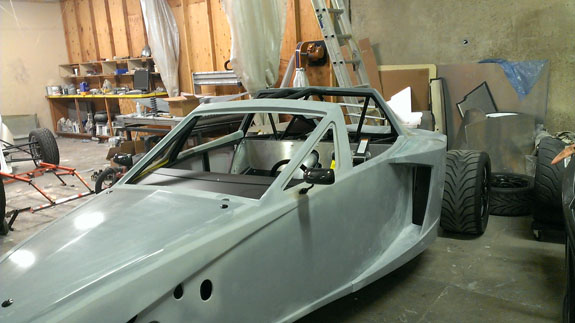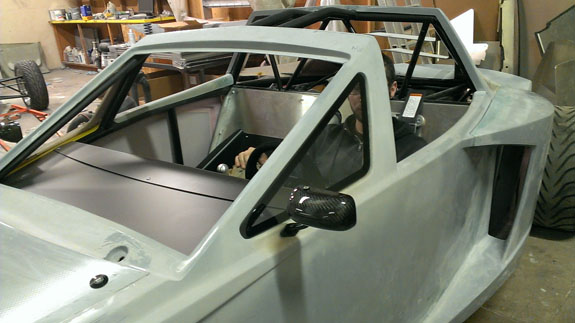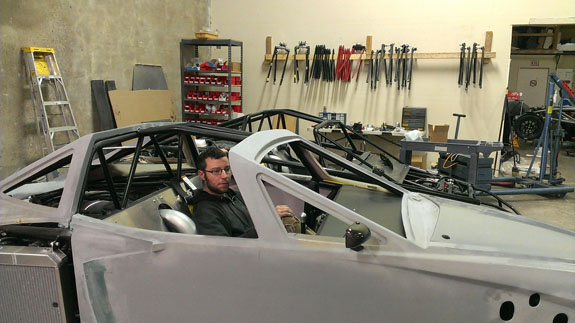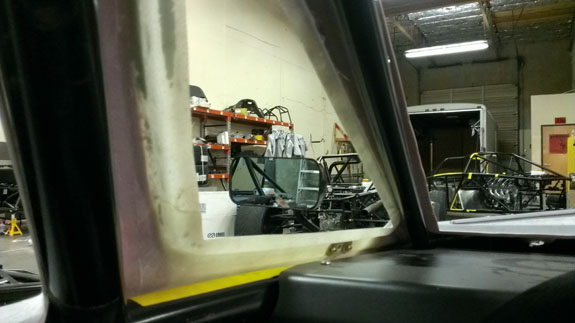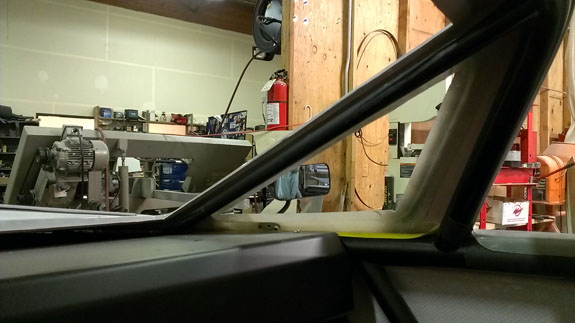 Some questions came up recently about the durability of the bodywork. I have chosen to go with pre-preg oven cured construction because it offeres significantly better strength, lower weight and superior stability at higher temps than the cheaper wet layup methods. Here is a quick video demonstrating the material's properties. No, it's not indestructible but it wll perform well in our application.
The dash will soon get an update. Sequential gearboxes will ship, well, soon. Lighting is the next high priority item and I'm hoping to make progress on HVAC next week. All the while the poduction-level parts are being made every day. Yep, it's a complex car. If just going fast on a track were the sole benchmark we'd have been pretty much done 6 months ago. As it is much work still remains but we're getting it done.
---
02/06/14 Items of the moment - the push to get fenders done. A while back we got a CNC router, courtesy of Larry who is one of our long time supporters. It is a great resource but it does involve a learning curve and some time dedicated to getting it going. Always a matter of juggling priorities - which is why it sat for a few months idle but now is the time to make use of it.. The fenders are a perfect starting project for the machine. Compact and now urgent.
Had to do some research on materials, settling on 10 lb urethane foam. This is driven in large part by past experience in fabricating plugs for molds. We've tried a number of materials and densities, experiencing first-hand the advantages and disadvantages of all. The goal here is to cut, primer and make molds with minimal hand prep. The foam is not cheap - a 2' x 4' x 6" piece is nearly $500 but if we do it right that will give us two fender plugs which would make it a bit of a bargain. We'll see.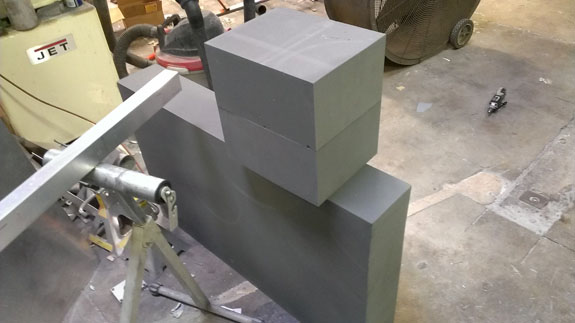 First, at test piece to try some different tool path strategies, feed rates and so on. A few educated guesses and the results are not too bad really. Encouraging.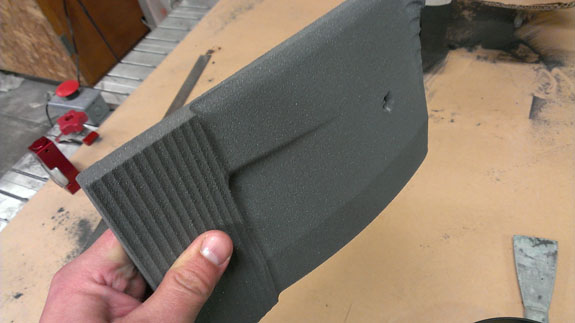 One issue we've run into right away is the machine's tendency to lose its vertical tool offset, the result being either cutting air or digging into the part. The bondo in the pictures below shows what happens in the latter case. The vendor is being very responsive and after having us try a few things they are shipping us a new computer. In the meantime running a part requires someone constantly watching it in order to limit damage if it goes 'off'. Considering that a part takes a few hours to run it's not the most exciting way to spend the time.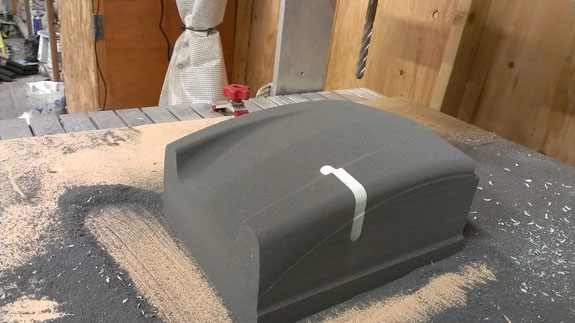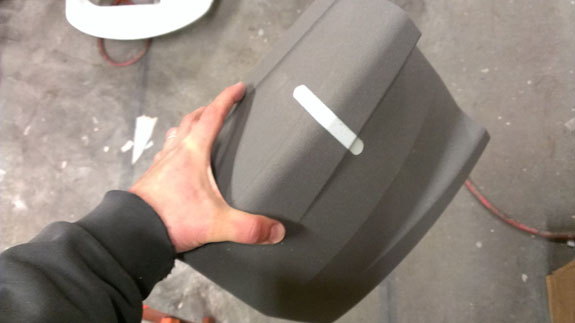 The results are pretty cool though and it still beats doing this by hand! Below are a few steps in making a part (this is the second piece of a fender plug, from raw foam to rough cut).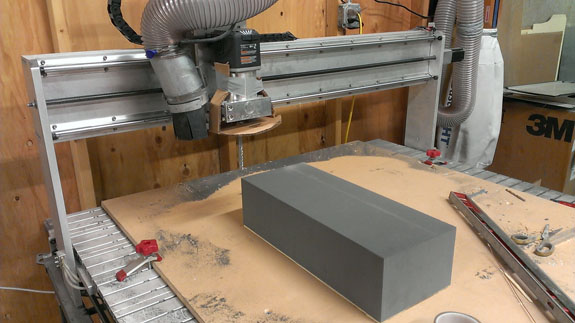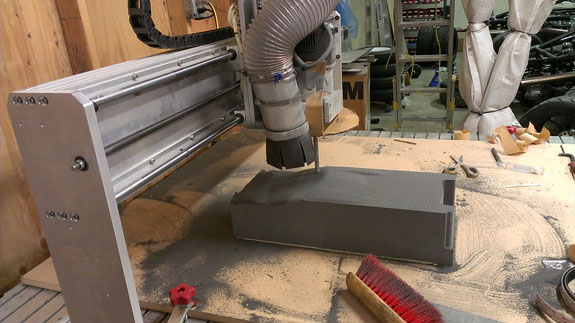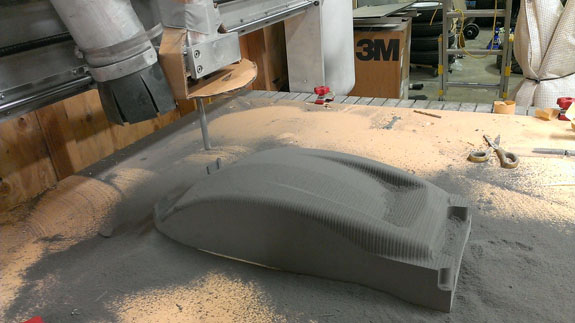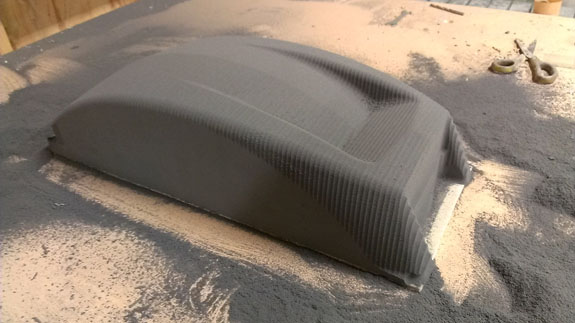 Finishing pass will be run tomorrow which will have the surface finish like the first piece above.
In the meantime, many other things are happening. There's progress on the dash. We currently have a 4" and a 7" version. Below are some pix showing the difference between the two, in all our cars. The 7" is the default model and has the advantage of putting the camera in a good position to be a dash cam. The smaller unit is only good for limited space applications like D4 with round wheel.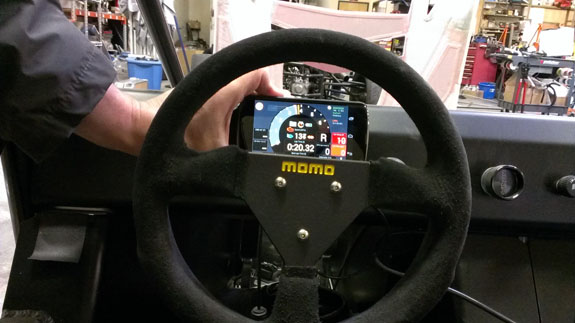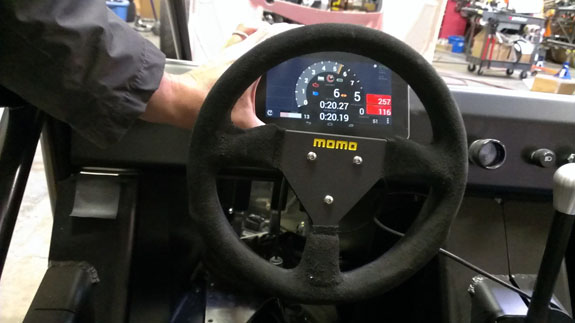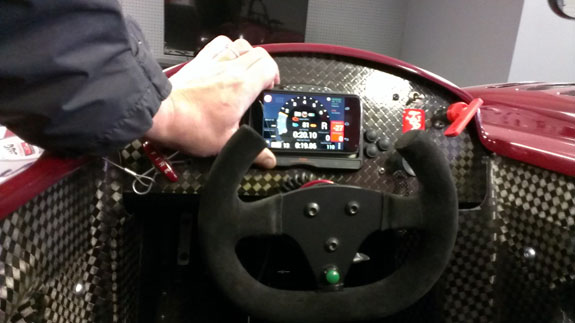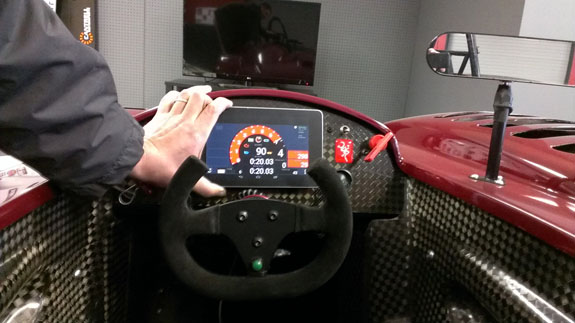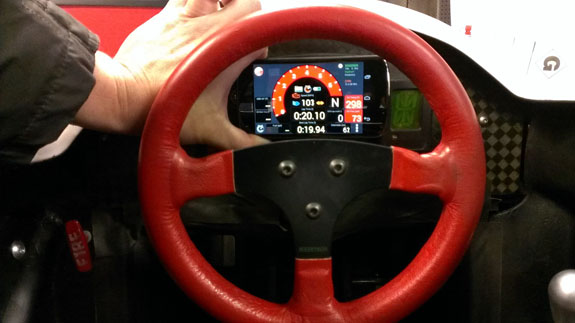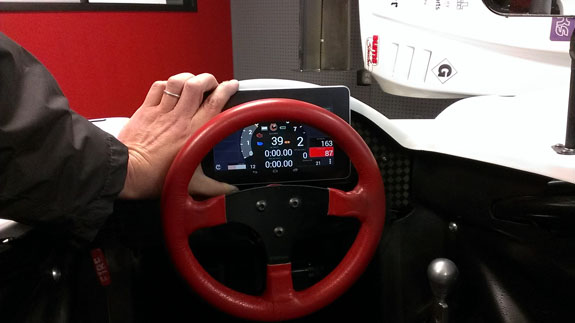 Here's a quick video of the dash in its demo mode, cycling through the various displays.
At the same time actual cars are being built. Our next D2 is being delivered with Hoosier A6 tires so it's likely to need its drysump!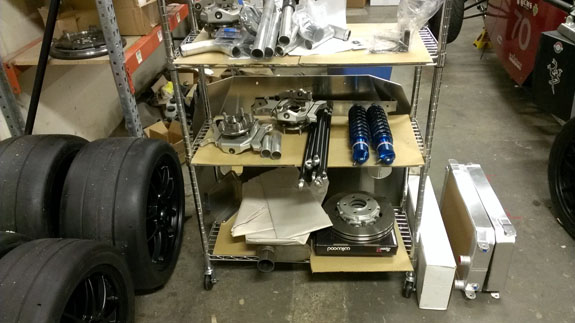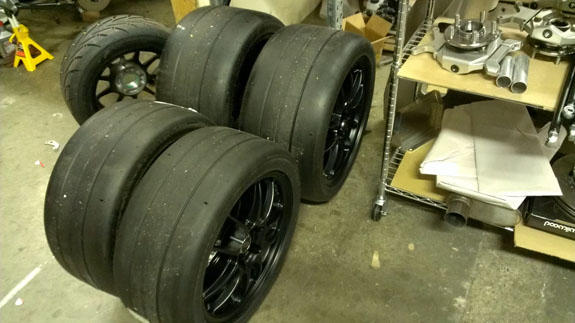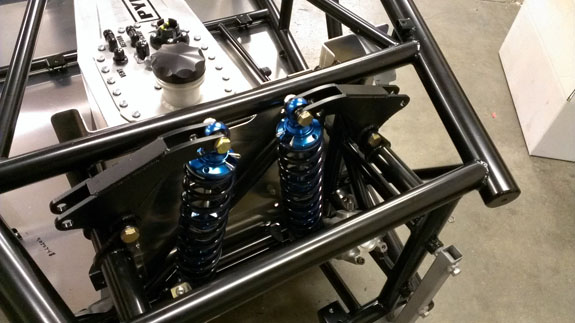 For our racing effort the LSA engine is here thanks to Pete. The location of the intake is different from regular LS3 and is going to be challenging but we'll figure it out.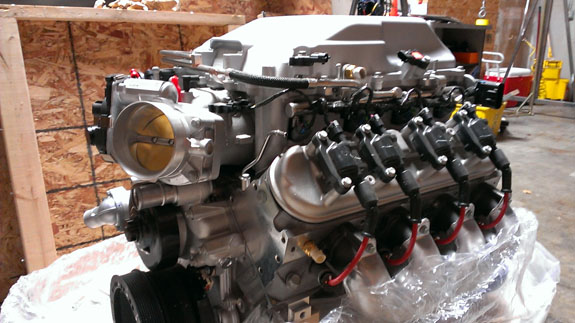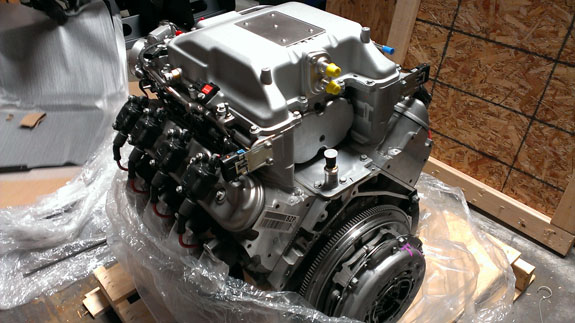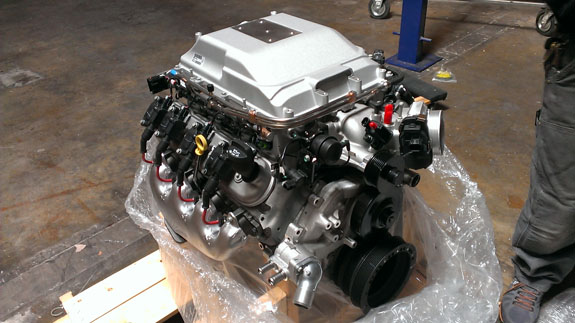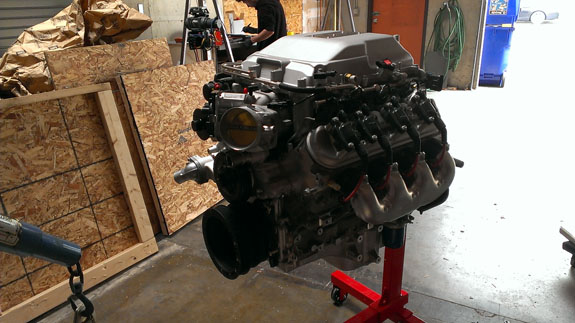 The first painted bodywork is done. I was going to pick it up today but unfortunately nature had other plans - snow. It doesn't happen often around here and it's always a big deal when it does. The painter's facility is about an hour north, at the top of a long hill and at the end of a 2-mile one lane road. That isn't happening with a trailer. So we wait. And M gets to clean snow off the Fiat. The novelty of the experience makes it fun for her... Good! Having lived in Cleveland for 9 years I swore that if I never clean snow off a car again it'll be too soon. One person's dreaded chore is another's adventure. I'll drink to that.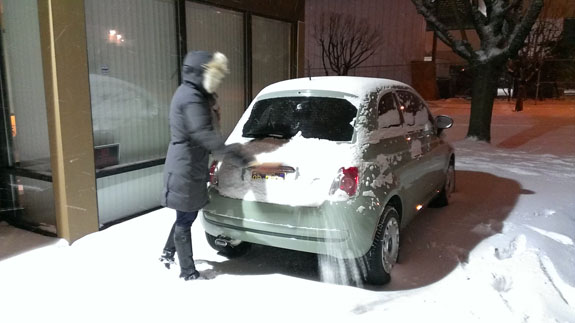 ---
02/07/14 The snow is still here but we can't let it stop us. So I arranged for the painter to meet me at the bottom of the hill - he has an AWD truck and took two trips up and down the hill to bring the painted bodywork to as far as I could make it with the trailer. He aso picked up the next one to be painted. Discovered a whole new road hazard today - broken tire chains. There were literally dozens of them, at least a couple per mile, just sitting there in piles. I made it though.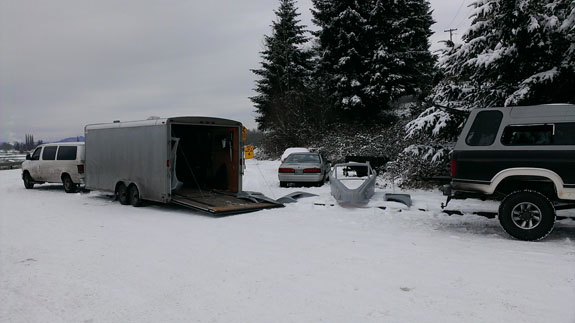 The painted bodywork looks great. The color is Mazda 'Liquid Silver'. Suits the car well.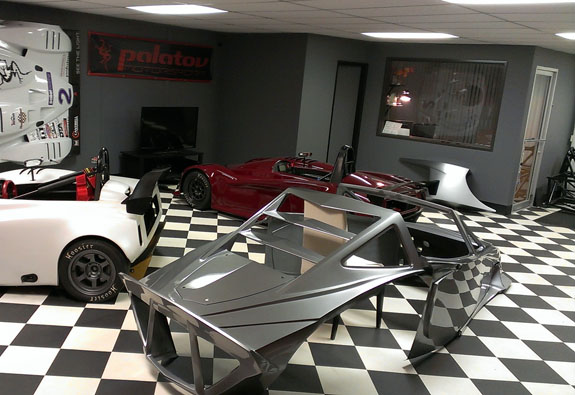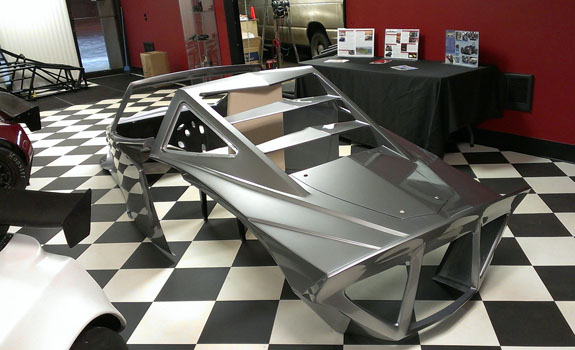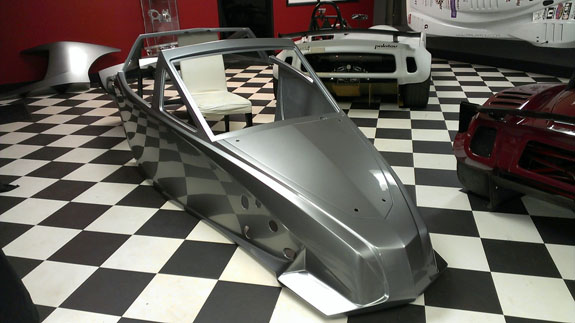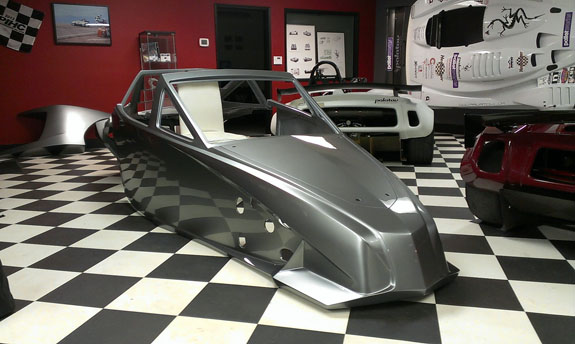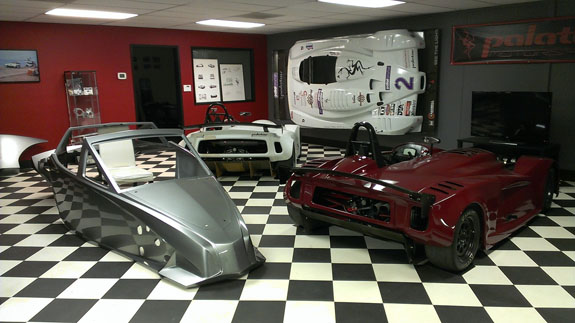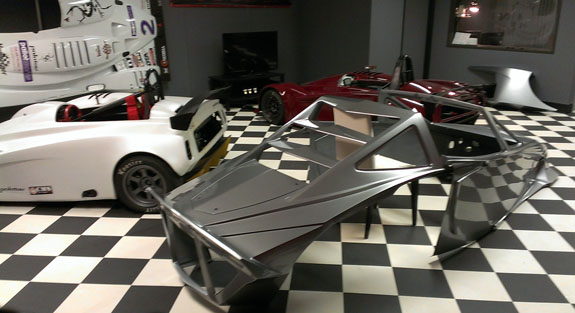 So that was the first half of the day. The second - finishing the front fender plug on the router. I'm figuring this out little by little. It's going to be a great resource going forward.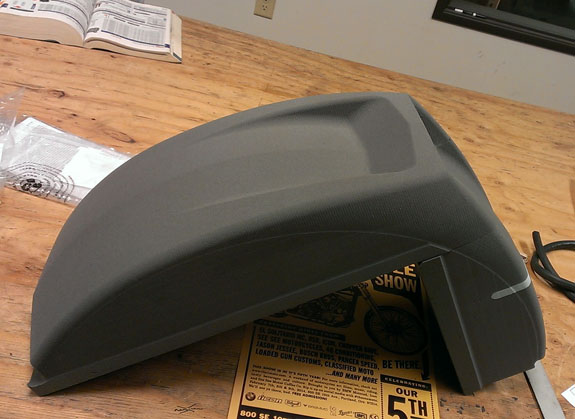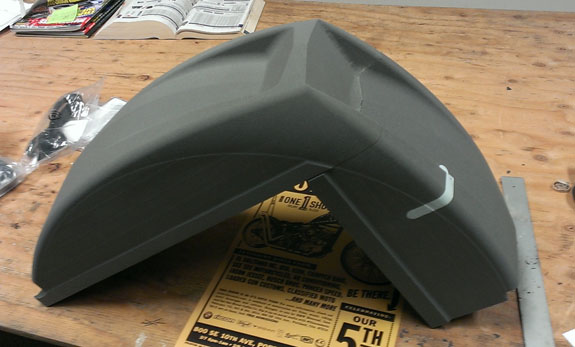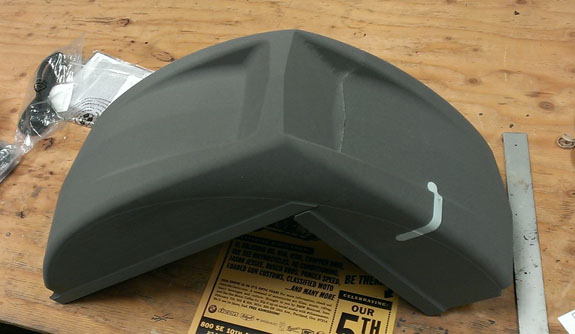 More to come - but you knew that already.
---
Site Sponsors and Links:

- CMS Lap Timer - Advanced Track Timer App With Video Integration

Tire Rack - Tires, Wheels (use link when bying wheels/tires to support this site)
---