---
04/03/13 Finally, the first track outing! Before I go into the details of the day, I want to take the time to thank our lead customers - Alex, Pete and Adam. It was Alex's deposit almost exactly two years ago that moved the D2 from a concept to an active project. It takes a lot to put money down on a dream, as they have done, and it is their support, input and patience that enabled us to be here today. Thank you, gentlemen!
Now, on with the show :) Since we are about to buy shocks and springs for the four cars being built, it was necessary to do a track test to see if the initial settings are usable or if there's further tweaking/changes to be done. Thankfully the weather decided to give us a small window of 65F temperature, sun and no wind at ORP and we jumped at the chance.
It's been a few months since we've run at the track so as part of our prep we refreshed ourselves on the routine - checklists, procedures, schedule. Unloading at the track the weather is perfect and soon we're ready to roll. There is a video of the occasion on youtube, and another from Pete's chase M3.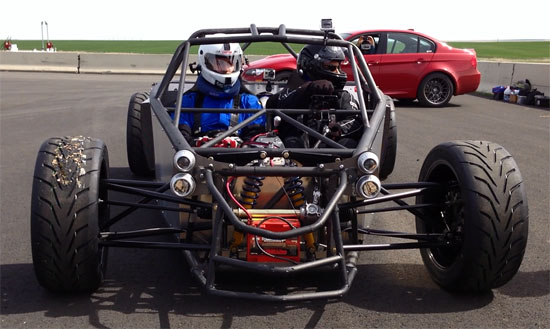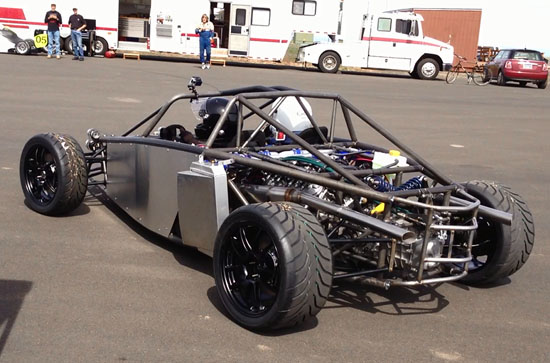 Even on the first lap I can already declare - it's a Palatov! The chassis is neutral and responsive with plenty of feel. The power/weight is in line with my other cars, although being RWD and on street tires the throttle requires care. It's very easy to get the tail out with power, even in 3rd gear at 2,000 rpm. When the tail does come out the car is very catchable and I expect that with some practice long, sustained powerslides will be pretty easy to do.
The initial settings are very close. Suspension is supple and shrugs off curb jumping without a complaint. Body motion is well controlled and there's very little roll. We might soften the rear springs a bit, tweak the brake bias, make some changes to the shifter and so on but overall it just works, right out of the box. Gratifying.
On the engine side of things temperature stayed at 190F the entire time on the track, coming up to 210F idling in the paddock when the fan kicked in, bringing it down to 208F. This is in about 68F ambient, I'm thinking to be ok idling in traffic in hot weather we'll need a fan on the other radiator too. We did make the engine work a bit, as can be seen by the color of the mufflers in the pictures below. All in all a great day and it's good to see all the hard work starting to come to fruition.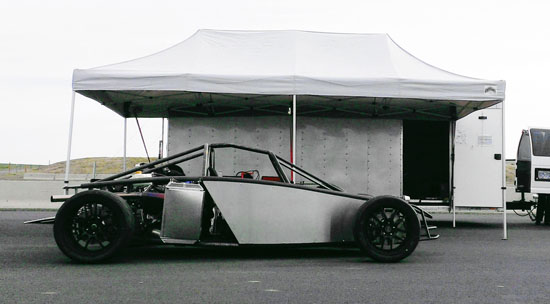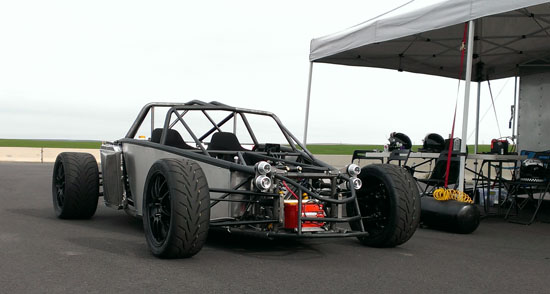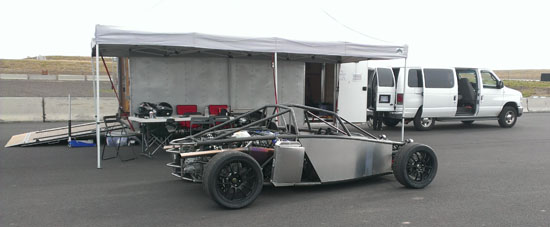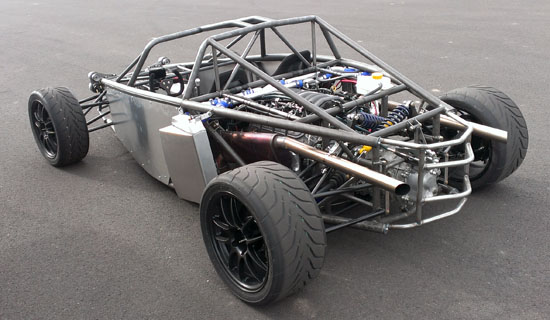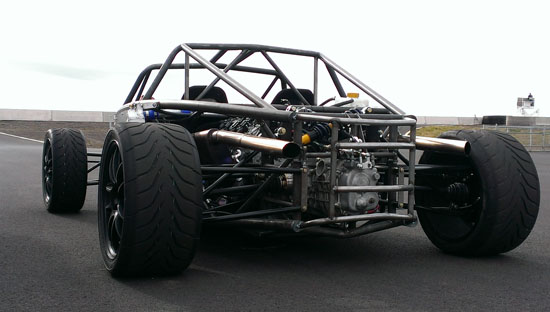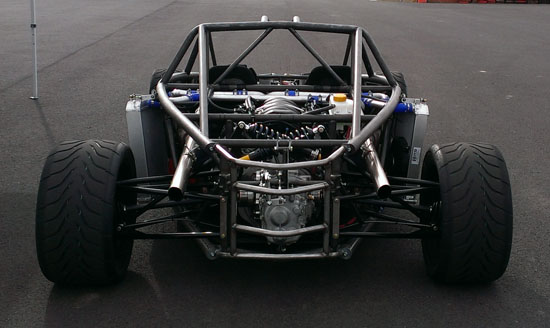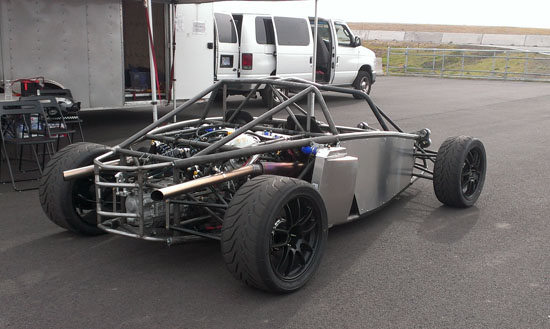 ---
04/30/13 It's been almosts a month since the last post. Not because nothing is going on - quite the opposite. I just don't have the energy to post and it's tough to keep all the projects going simultaneously, so when I finally stop working for the day I just want to pass out. I'm also doing a D1 post today, but here's what's been happening on the D2:
There are four customer cars in various stages of completion. The fourth customer is putting an LS7 engine in his D2. He has dynoed the engine already, it puts out 574hp. Should be fun in this light a car :) Since the engine install is different than our standard LS3 John is doing it himself and therefore wanted the chassis without powdercoat in case welding or other mods need to be done. This makes it easier on our end so a couple weeks ago we shipped out his chassis. The truck we arranged to pick it up has a nifty lift mechanism (they specialize in shipping car kits).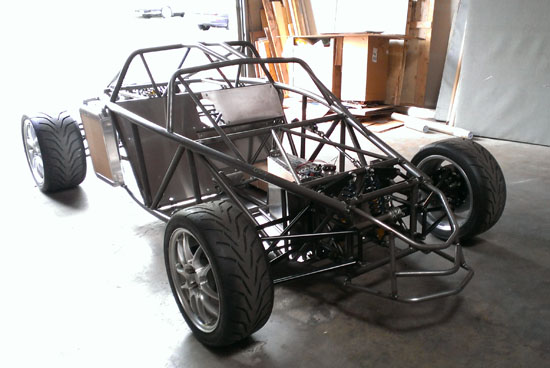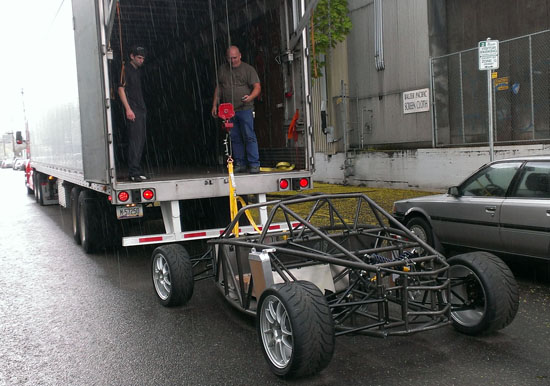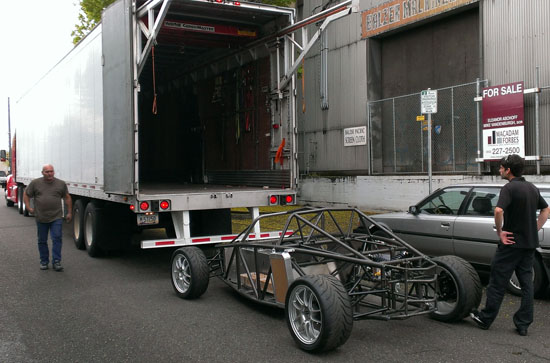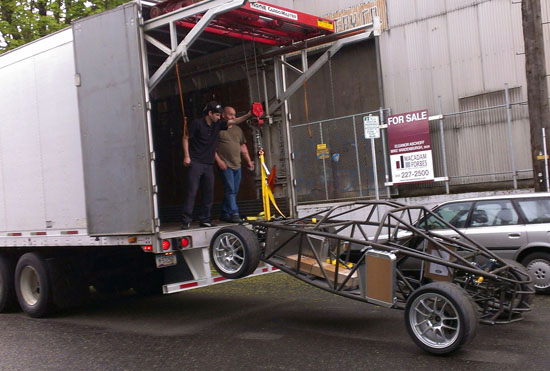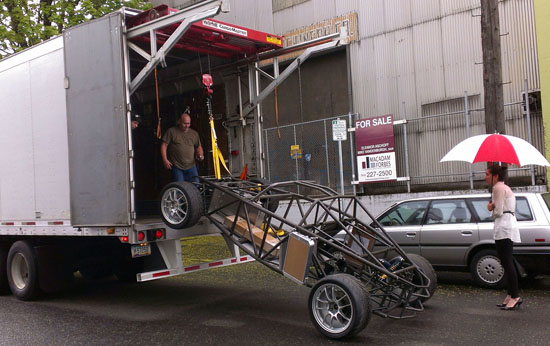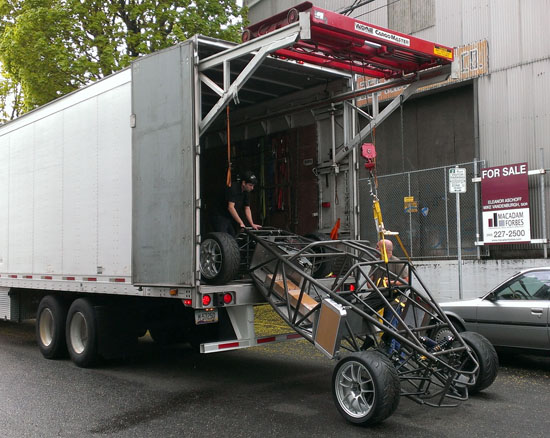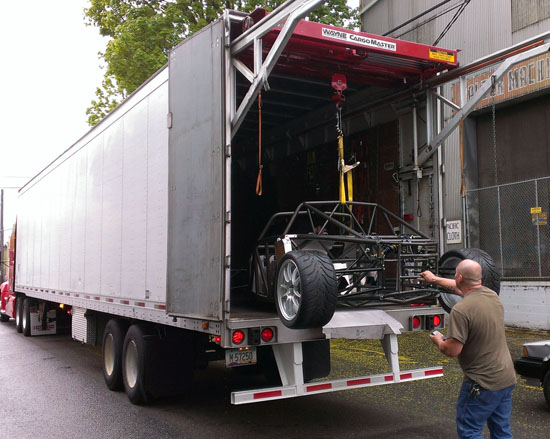 Skipping the powdercoat was a good idea. Once John got down to installing the engine he discovered that the LS7 headers interfered with our standard engine mounts. Using the GM mounts requires cutting and welding the mount attach points on the frame. After this install is done we'll incorporate changes in future cars so that they are LS7 (and eventually LS9) compatible. You can follow John's build on his blog.
While the other frames are getting finished and powdercoated I've been working on a lot of details - from designing interior panels to moving the shifter a couple inches to designing a drysump tank that fits with the tight packaging to getting all the plumbing bits into CAD so we can generate BOMs and order the parts (most are here now).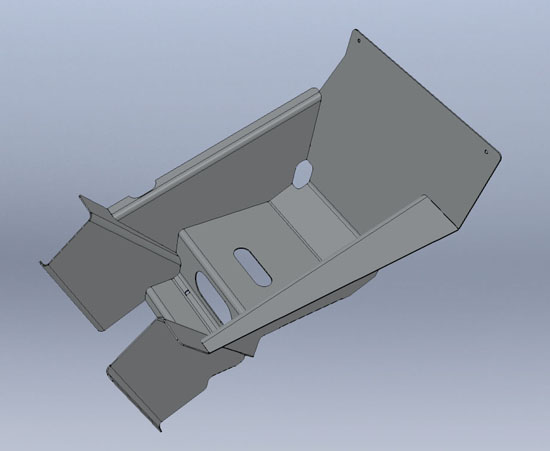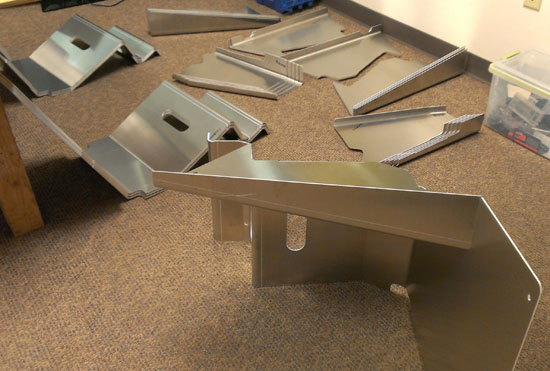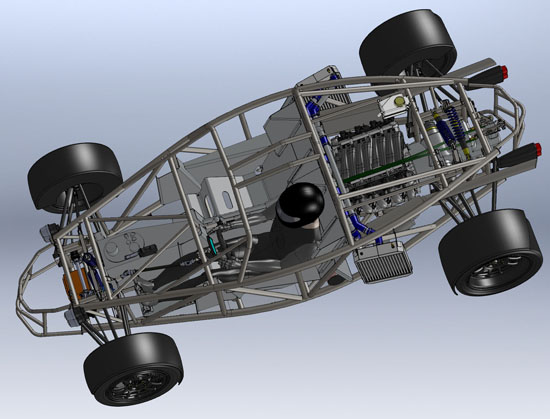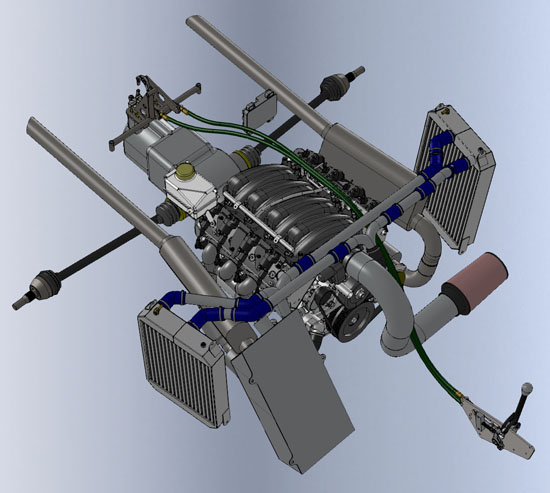 One reason we're working so hard is that we're about to embark on a west coast track tour. Karl is flying in to drive his D1 (see the that page also) and Pete, our second D2 customer, will drive our demo D4. We're also hoping to have his D2 partially completed, enough so it can be driven, but we'll bring it as a show-and-tell piece regardless. The dates and places are:
ThunderHill May 10th
Streets of Willow May 12th
Sonoma May 14th
ThunderHill May 17th
Laguna Seca May 19th
That's a lot of work to be done before then and a lot of driving. M and I will go while Tristan and Jay will stay and continue work on the remaining D2s. Expect more frequent posts going forward :)
---
05/09/13 Well, the first planned track event is tomorow and while the D1 and D4 are ready the D2 is not, so we elected to stay and work. This means we'll be skipping the first Thunderhill day and the Streets of Willow but are still planning to do Sonoma, the second T-hill and Laguna.
A lot has been done. The D1 looks great in its new paint and even got its bead seat upholstered. It has all the upgrades that we've learned as a result of Pikes Peak effort and all of Hartley's latest in the engine too.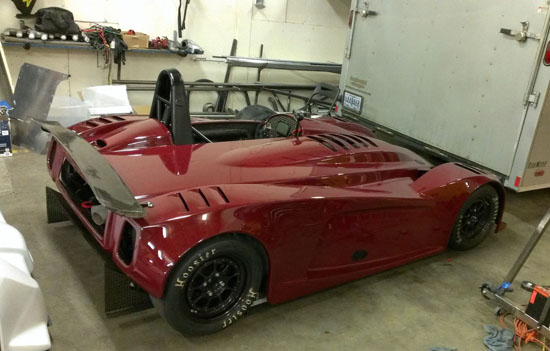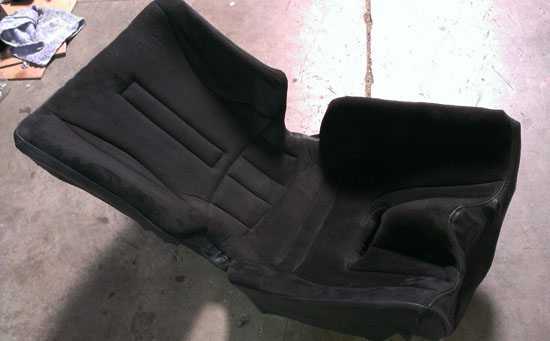 The D4 has brand new MKIII bodywork with a fresh coat of paint. Also new steering rack, shifter linkage and an oil change,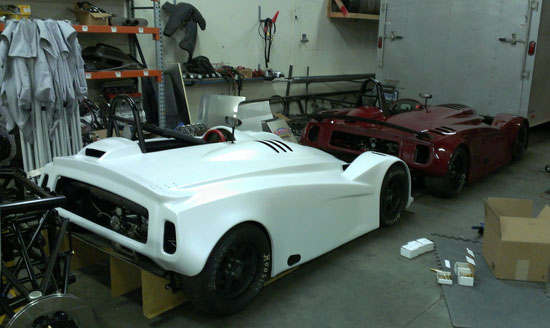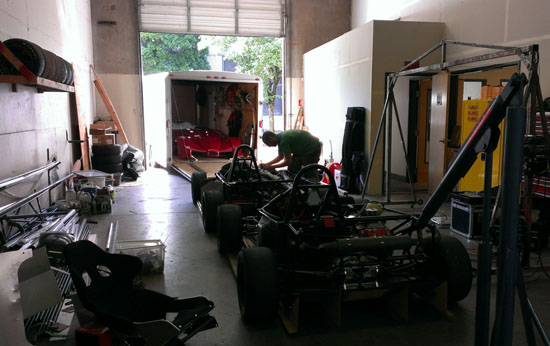 Each of the cars will get their own blog updates eventually. In the meantime the D2 is coming together. This is the #2 chassis that Pete volunteered as our demo car for the trip (no, we didn't twist his arm or anything :). It won't be complete as a car for a while, not until after the #1 car is delivered with bodywork and all, but it is very close to being drivable as a chassis which will have to suffice for demo purposes.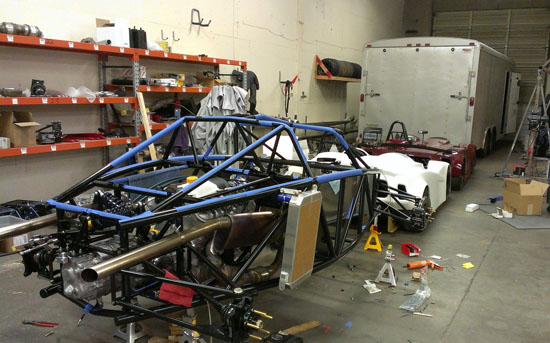 I decided to make some ergonomics changes based on the experience with the prototype. They invlove new interior panels/seats, making the steering wheel round, larger, and moving it closer and also moving the shift lever 2" closer and making it 2" taller. All of which seems to be working really well, I'm quite pleased with the changes. The paneling is off being upholstered now. Much more will be known and seen tomorrow.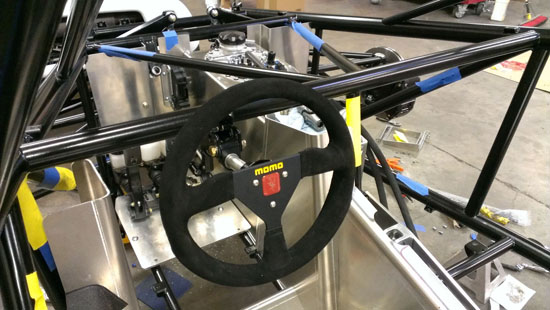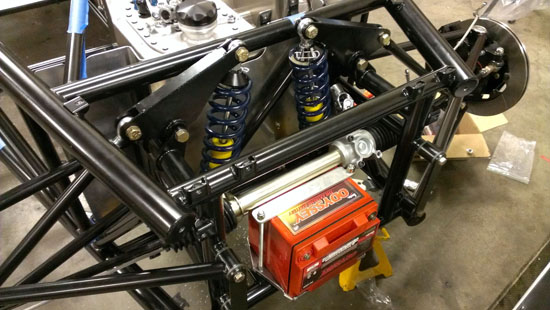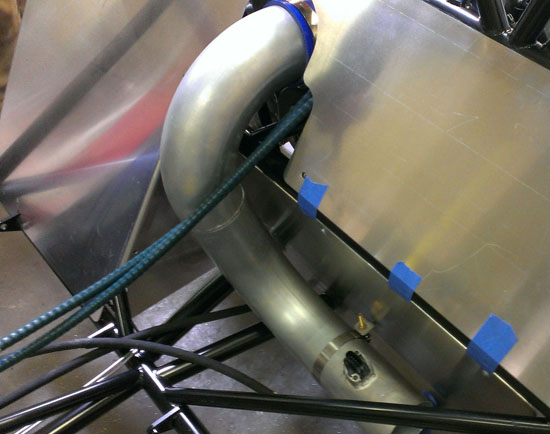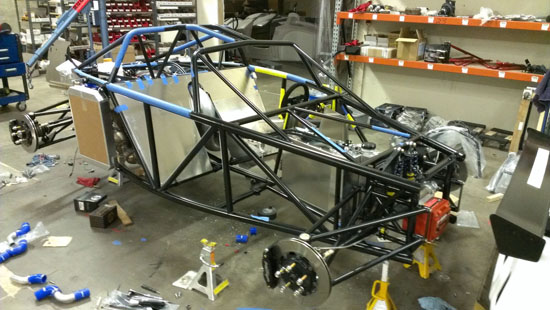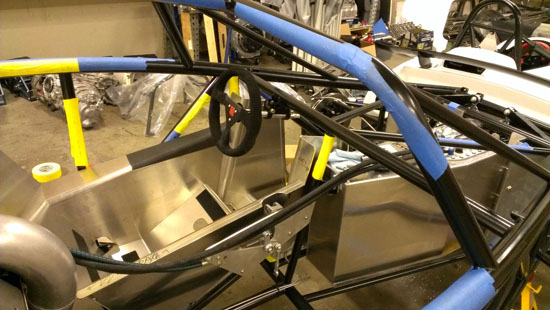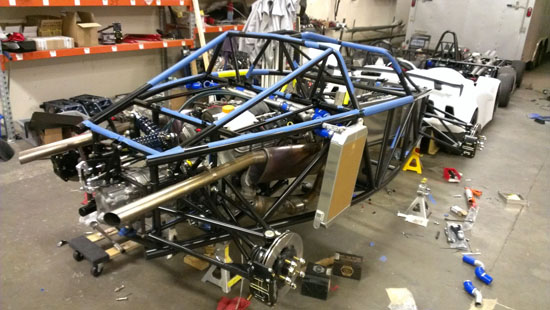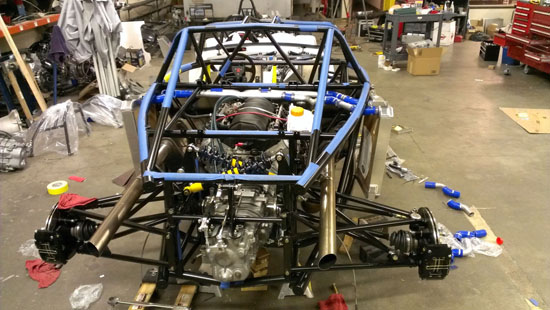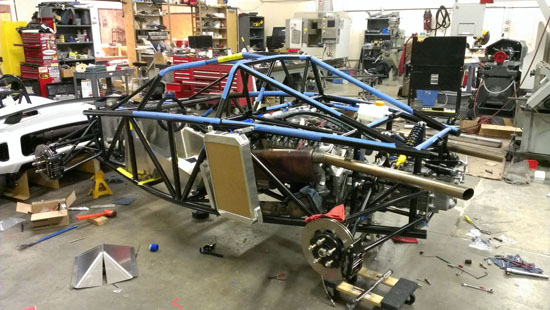 The bodywork won't be ready so we decided to try something temporary that would still look cool-ish. I did a quck p-shop test of putting color on the prototype's aluminum panels and it looked promising, so M spent a couple hours applying vinyl to them. We'll see how it looks in real life.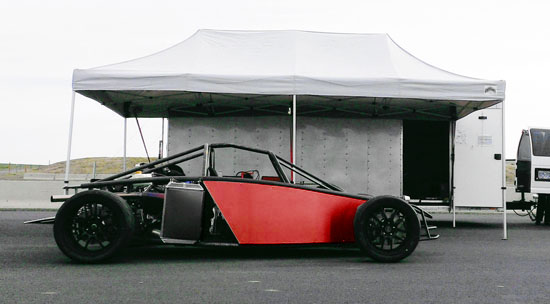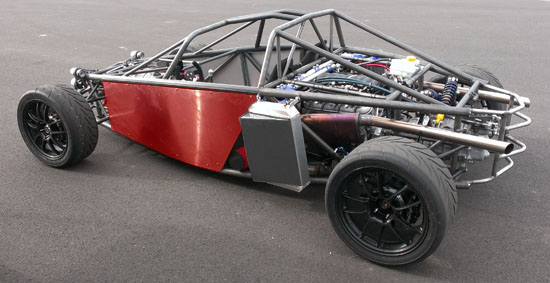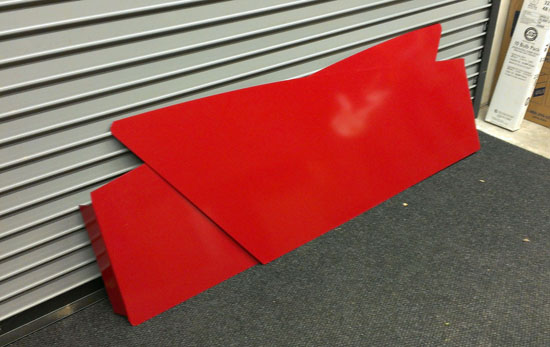 I'm typing this after one of a long string of 12+ hour days so if there are any typos I'll fix them later :) More tomorrow and over the weekend.
---
05/15/2013 A bit over 4 years ago the vision was of a 4-model car lineup. All were just concepts then.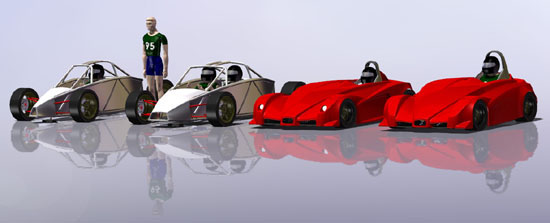 Yesterday was an opportunity to reflect on progress towards this goal, the lessons learned and what is yet to be done (the fourth car, D3, will now be quite different when it happens)...
After some 30 hours of work over the weekend, Monday we loaded the D2 chassis in Pete's trailer, D1 and D4 into ours and headed for Sonoma. Arriving at the hotel around midnight, up again at 5 to head to the track. The day is beautiful and there is a lot of fun machinery in attendance. I counted five McLarens, over a dozen Ferraris including a beautiful F40, and lots of others.
We set up the trailers, unpacked the cars and got ready.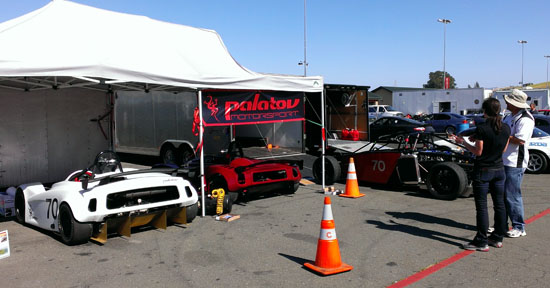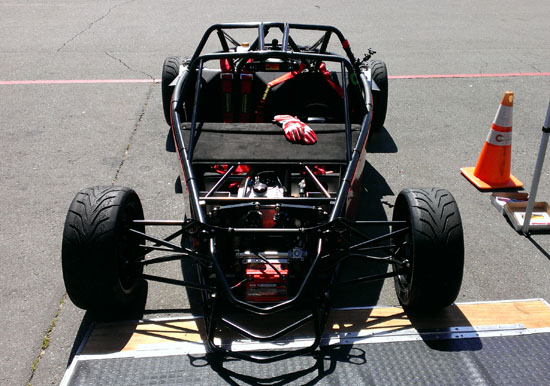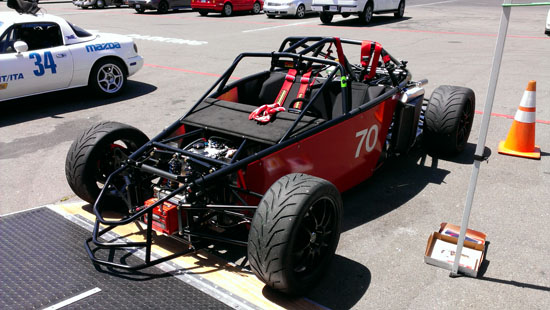 Today Karl is driving his D1 and Pete is scheduled to drive the D4 while M and I are in support crew and sales/marketing role. We weren't sure how ready the D2 would be considering that six days ago it was just a bare frame, but with another check of all bolts, nuts and settings I declare it track-worthy. Pete is eager to play with his new toy so after one session in the D4 he switched to the D2 and ran it for the rest of the day. Gratifyingly, the car worked very well and Pete's perma-grin tells me I have a happy customer :) Much to do of course before the D2 is finished and can be formally delivered but this is encouraging.
Even in some pretty stellar company all the cars look good and perform well. We got a lot of positive attention and hopefully some leads on sales. Jonathan Frost, who drove our dp1/e at Laguna some time ago, was there instructing and was able to take the D4 out for a session. It was a lot of fun watching him and Karl run through a field of Ferraris and McLarens. I think we might have gotten some video of that, I still haven't had a chance to check the camera (in all the rush we forgot to charge them before the event).
All in all a very satisfying day. Having all three cars there and running really made me realize we've come a long way. Which is good motivation for going forward :)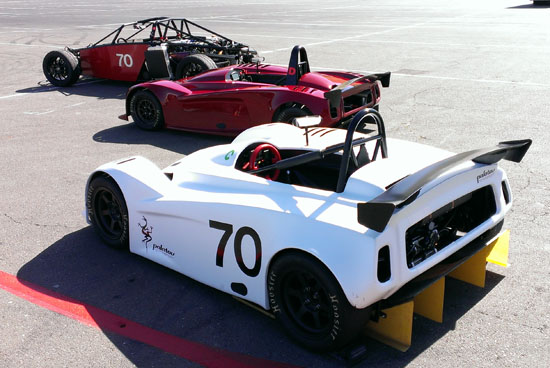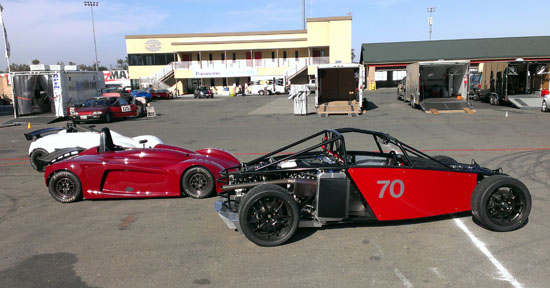 ---
05/18/13 Yesterday a second event for Pete's D2 (OK, it's just a chassis at this point). The car continues to impress and Pete is very happy with it which is gratifying. Karl got to drive a bit as well and had similar response - to the point of ordering one for himself. Pete captured some video and the pictures below when Karl was driving.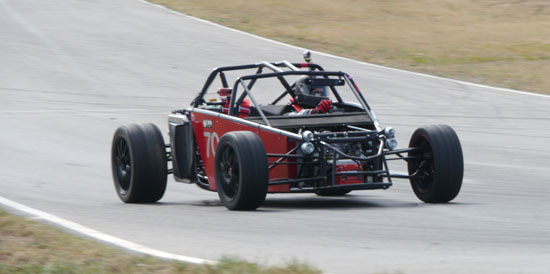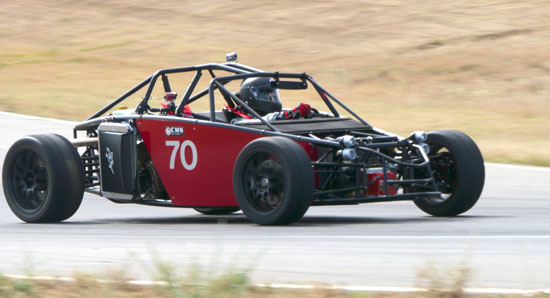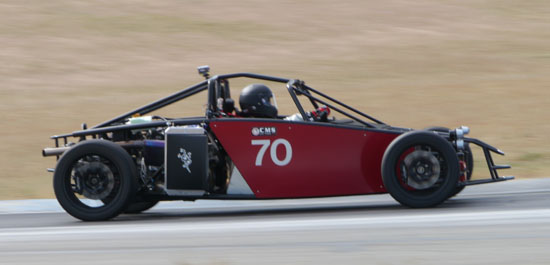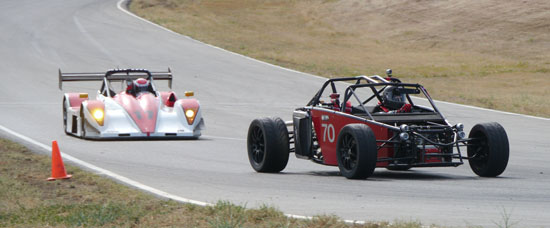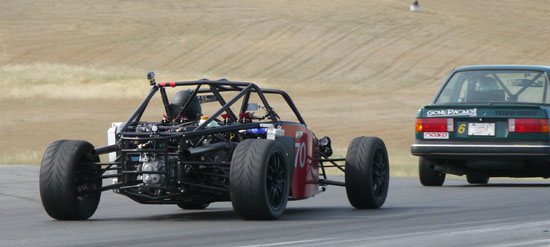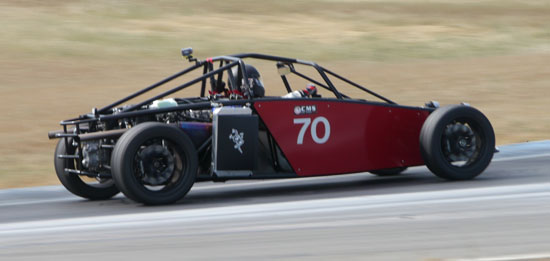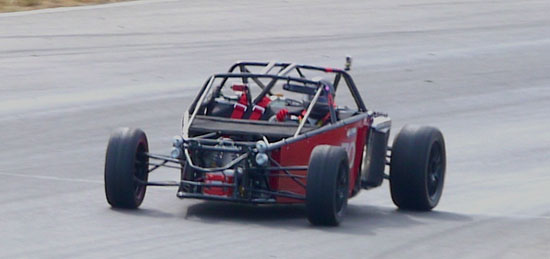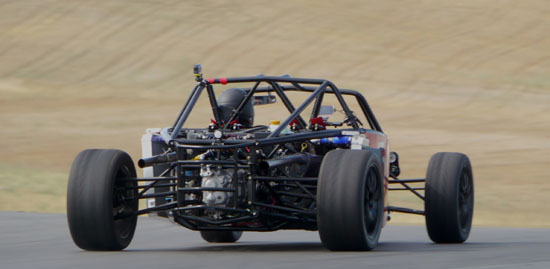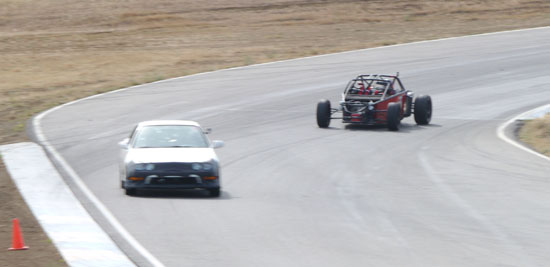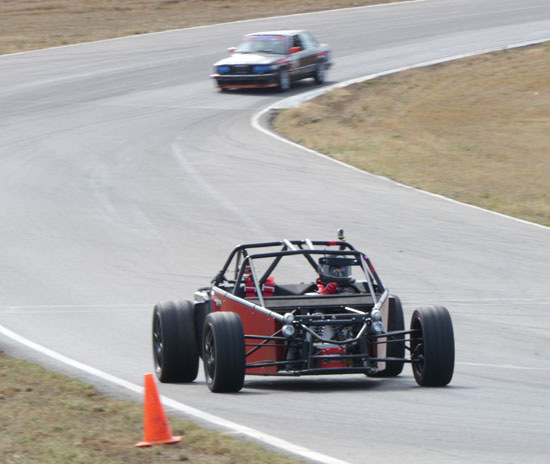 Pete eventually worked down to some 1:58 lap times which is pretty good for being on R888 DOT tires and the car still has a lot in reserve. Once the tires warmed up there was plenty of grip and Pete thinks the car will take more power with no issues. Good news for John who's putting an LS7 in his D2 :) The sound check came in at 88db so we're good for the 90db day at Laguna tomorrow.
We did discover some things to work on - the diffuser needs to be redone, brakes need some tweaks, need to work on mirror placement, etc. Very promising overall.
---
06/04/13 Work continues full speed and we now have some extra help with Matthew, our new intern, having started a couple days ago. We've made many updates to Pete's chassis (brake fix, different steering wheel, steering rack stops, different shoulder belt mounts, proper catch can and so on). The other customer cars are in various stages of progress with a lot of welding powdercoating, assembly and other tasks going on. I'm also finally digging into the bodywork and my several experiments are working out quite well, so far.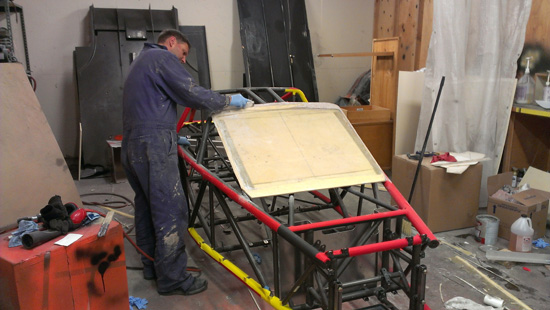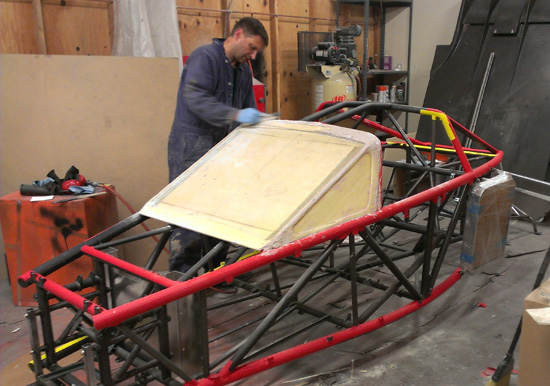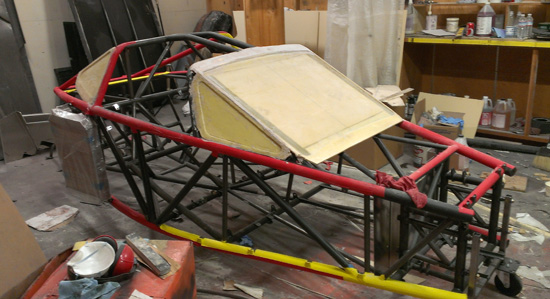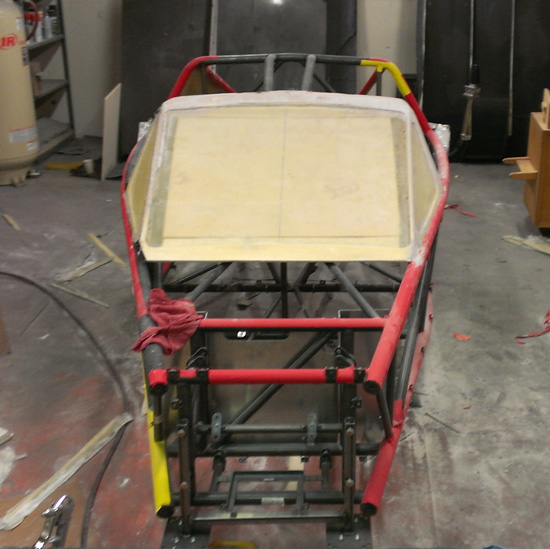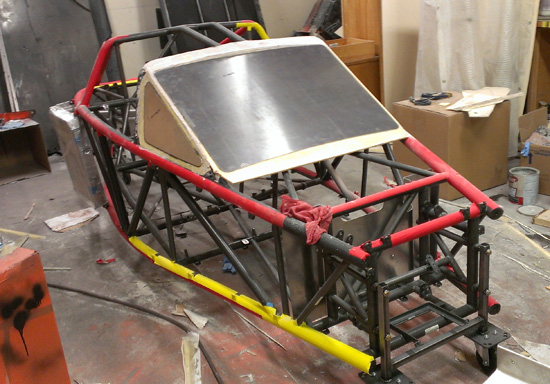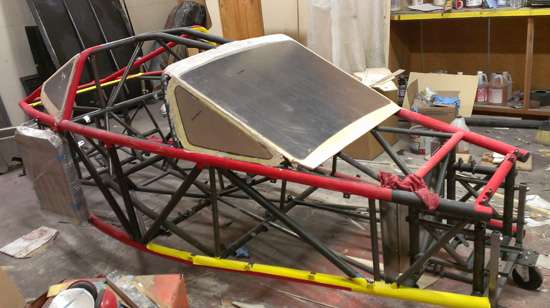 Even though the glass is flat, my visual tricks seem to pay off from several angles and make it look slightly curved. Of course we'll have to see if that works with real glass but it's promising so far.
I've posted some stuff on the Sonoma and Thunderhill events, but nothing yet on Laguna. There's actually quite a bit to tell. Jonathan Frost drove the D2 and in a few laps got into mid 1:35s which puts us 5th in the all-time street legal car records. That's on street tires, with traffic and a brake issue which made for a few anxious moments. Jonathan thinks a 1:30 is very doable with some more development. Pete posted a video on youtube which looks quite fun. Also, a screenshot from his CMS lap timer shows an interesting thing: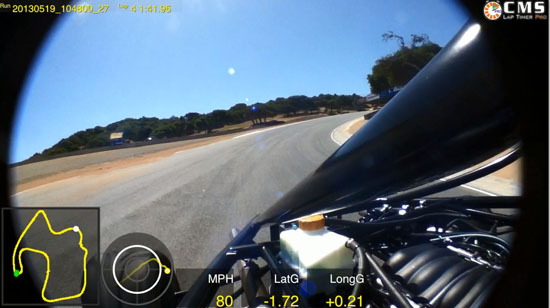 Yes, that's 1.72g peak lateral load, on street tires with no aero. It should be fun on slicks. Lots still to do but a good start.
Below are some random pictures from the CD Pete purchased, just because. The D2 makes an Exige look big and fat :)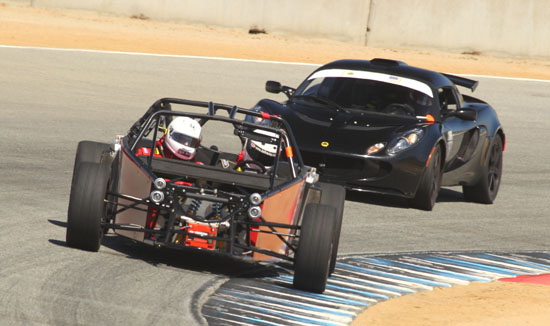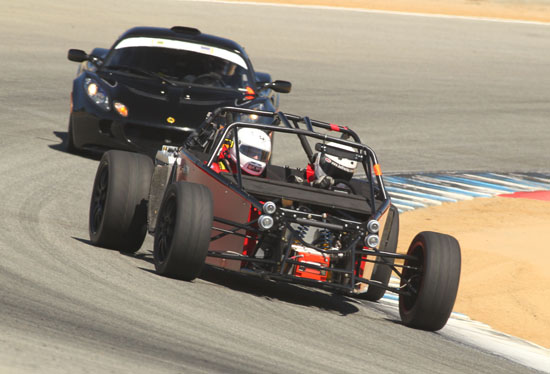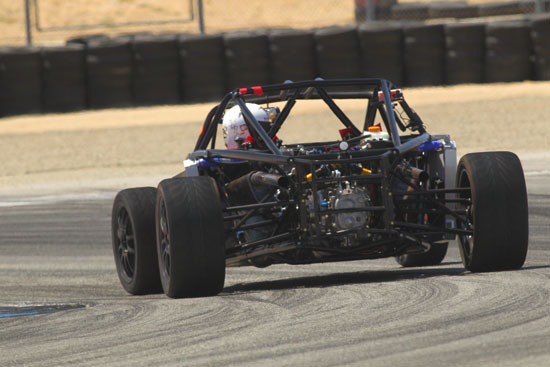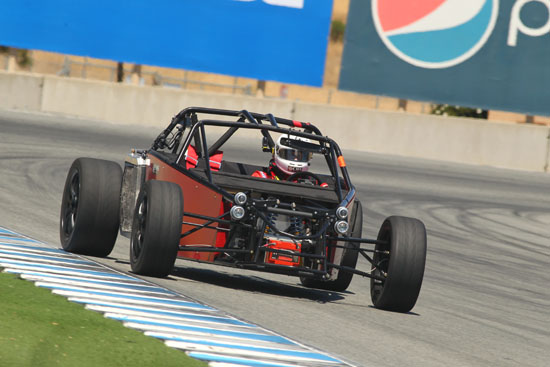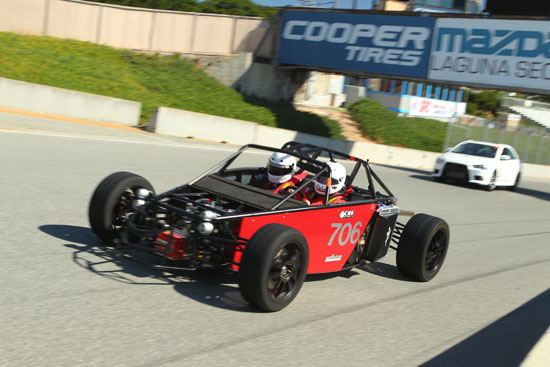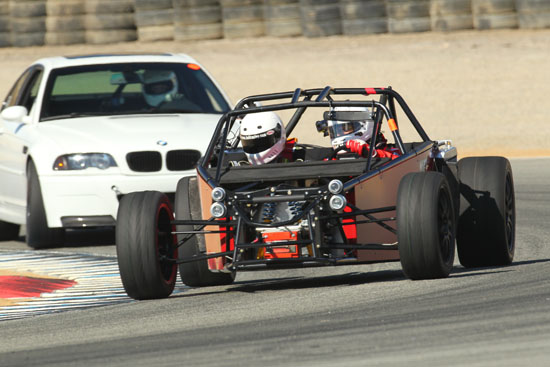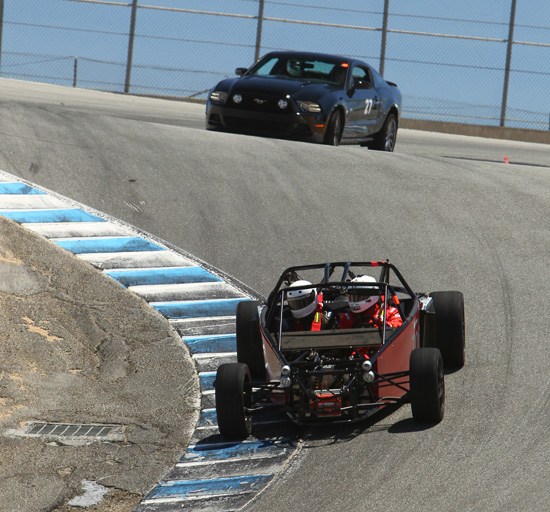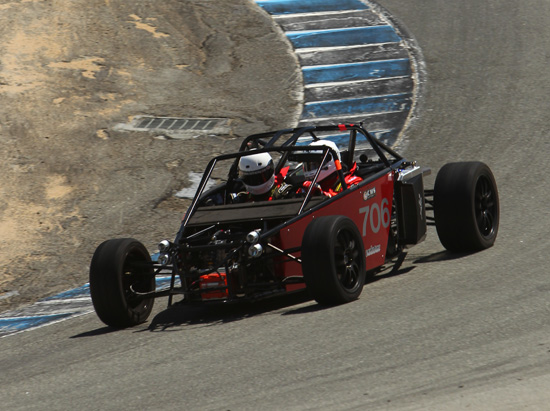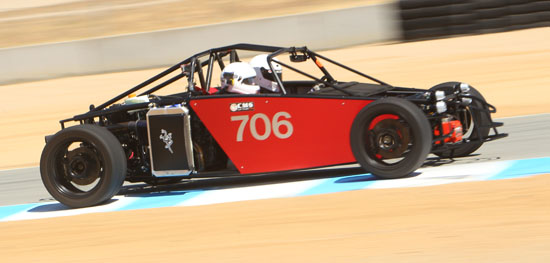 ---
06/17/13 For not being a complete car, Pete's D2 chassis has been busy. There were two more track events, at ORP and PIR, where Pete got down to 1:52 and 1:22 respectively - pretty good times, especially for DOT tires. He is off to Thunderhill in a week.
We also decided to try something new and take the D2 to the Sherwood Cruise-In. It was a last-minute decision and required setting up at 5 am (meaning getting up at 3:30). An interesting and useful experience as we need to step up our marketing and promotion efforts. This particular show had a mostly hotrod crowd but the D2 still got a good deal of attention and interest. The Stiletto would have been more at home here - that's next in the pipe after the D2s. The pictures below were taken at 5 am, it got a lot more crowded soon after.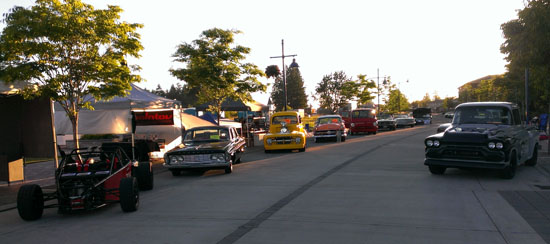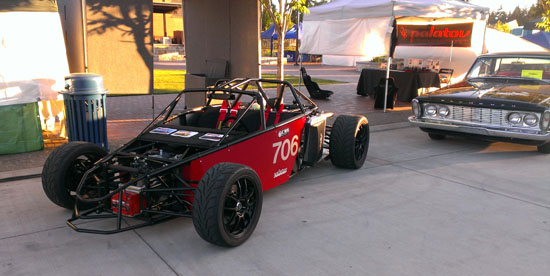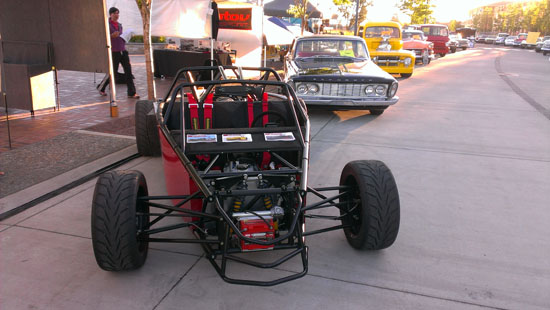 The bodywork progress continues. Part of the challenge is that in building the plug I can't build up too much material on the frame, it needs to fit as closely as the finished panels will. Also, it needs to be strong enough to pull a mold from it but not so strong as to make it difficult to remove afterwards. Most of the plug is being made from 1/2" and 1/4" thick tooling foam. The sheets are prepped by glassing one side, then installed on the frame (had to experiment with ways of attaching them). After the foam is in place it is sanded to a rough shape and then the other side is glassed. Then, lots of bondo and sanding.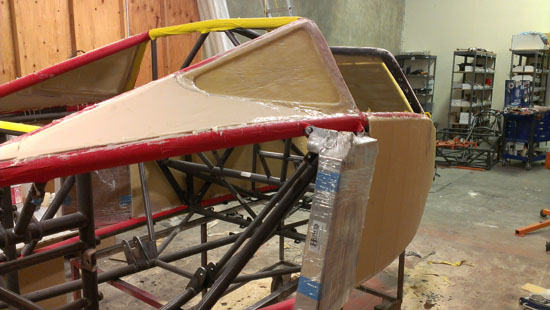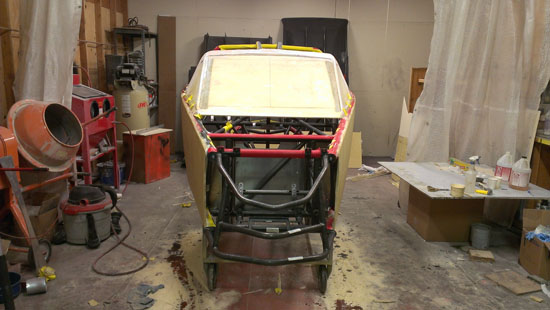 ---