---
03/19/15 The big news is that the D1 now has a new owner. Neil is an experienced track driver, is local here in Portland and is an engineer who is excited not only about the car but also about being part of the continued development process. We are always looking for ways to make our cars even better and since the D1 has not seen as much development as some of the others, having it go to a customer like Neil is a benefit to us as well.
Prior to this first outing we have already added a number of items - improved brake ducting developed on the D4, completely redone wiring harness and new digital dash/logger that are an outcome of the D2 development, and so on. Today's goal was for Neil to get a feel of the car, start working up to speed, and for us to come up with a list of items we still need to take care of before he can just take it to any trackday and run it on his own without a support crew. That is the design goal for all of our cars. The D2 and D4 are already there, the D1 is very close and we now know what we need to do to get it there.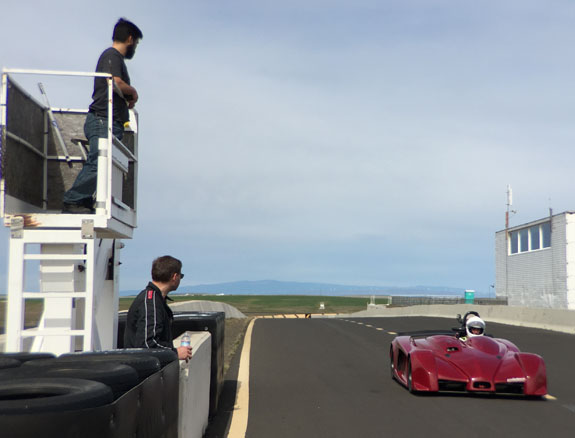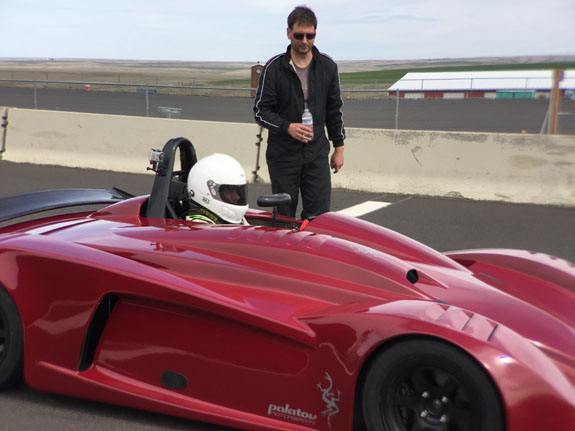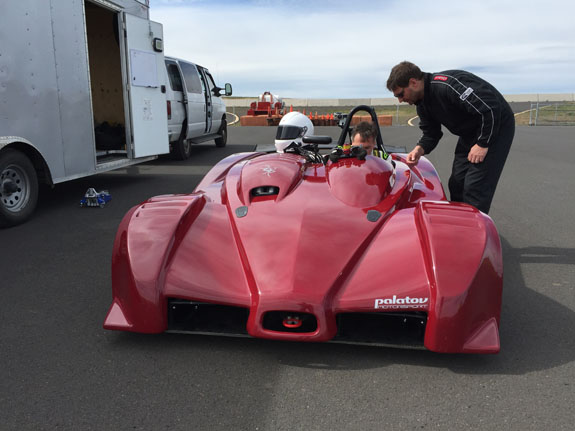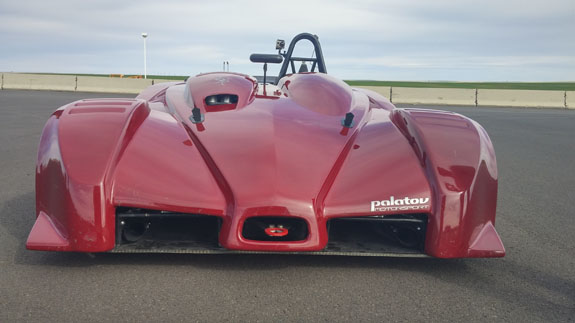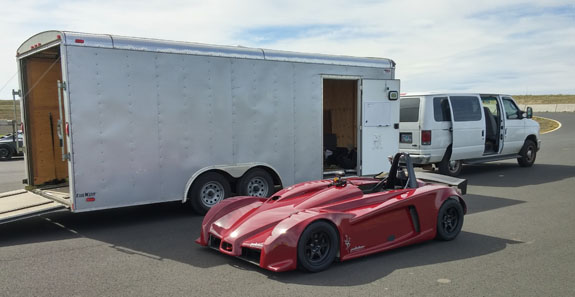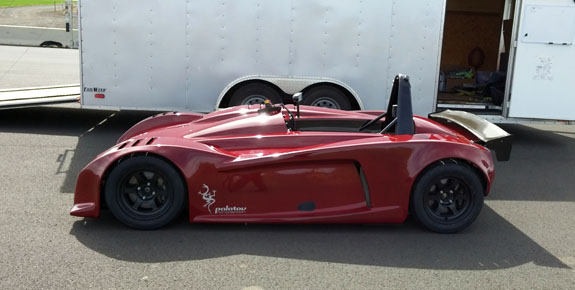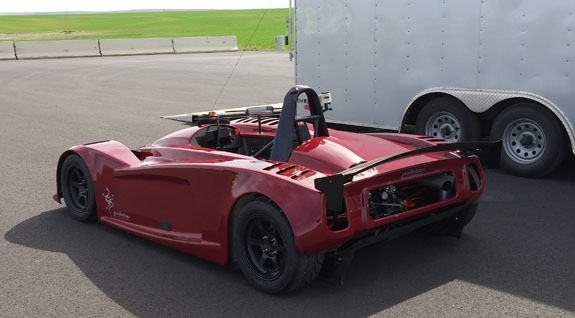 Our customers are always welcome at our test days. This time Christopher was able to come out with his D2, and he was kind to give demo rides to a couple friends that came out to spectate. Pete being between D2s came out in a BRZ (he had the car that is now our demo and he owns the supercharged D2 that we are building for Pikes Peak). The BRZ reminds me a lot of the two MINIs that I had, a very similar level of performance.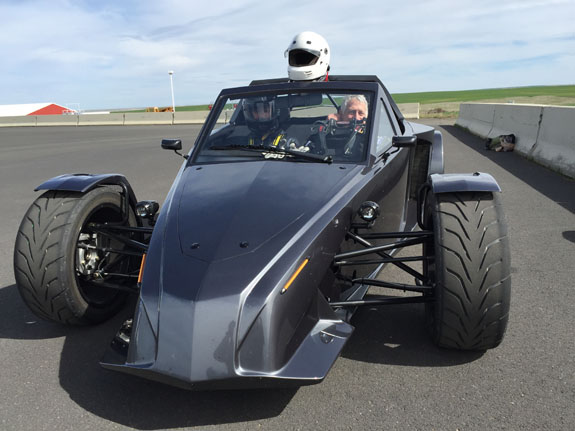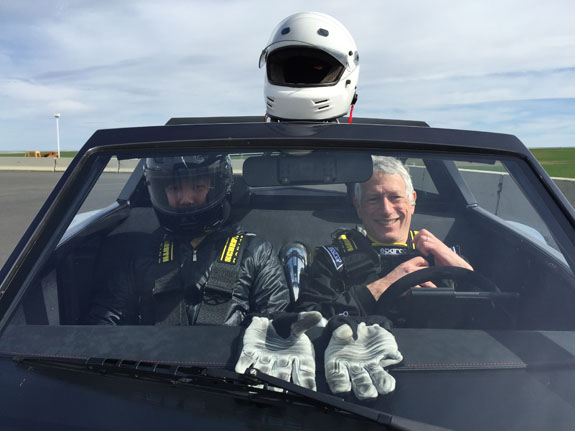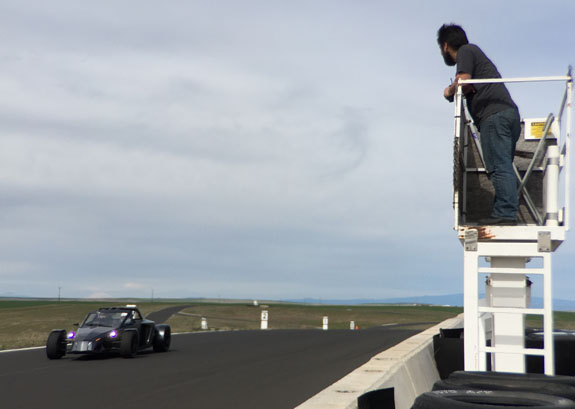 All in all a great day, perfect weather, great company and lots of tracktime. Much fun was had, a few things learned. Now back to design, fabrication and all the other stuff. More to come on the D1 blog, of course. And yes we're running on R888 for now - not enough tire for the ultimate perfomance but more forgiving than slicks in the early getting-used-to-the-car stage.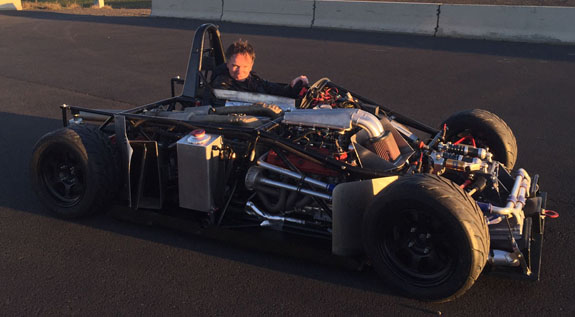 ---
03/29/15 Yesterday was a good day. Neil decided to run his D1 at the Alfa club day at PIR, and we brought the D2 demo out for good measure. Details follow, but I have to share my favorite Neil quote from the day - "I was stunned at how slow everyone else was!". Well, our cars do give their driver that perspective :)
In preparation for the day we made a number of updates. The goal is for the D1 to be a 'bring and run' kind of car, requiring minimum fuss and bother. One thing we added to help with that is an externally accessible fuel filler, so that bodywork doesn't have to be removed to fill the car up.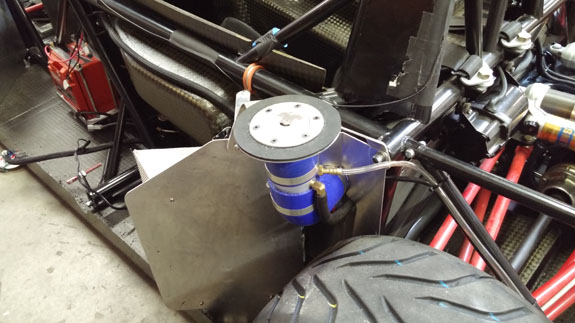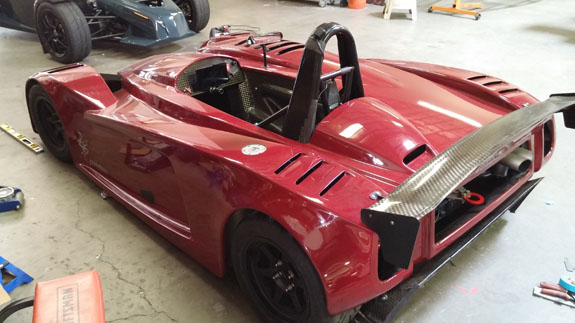 Another thing we did was add some gurneys to the nose - CFD shows that they're good for over 20 lbs of front downforce at 100 mph and help with hot air extraction as well.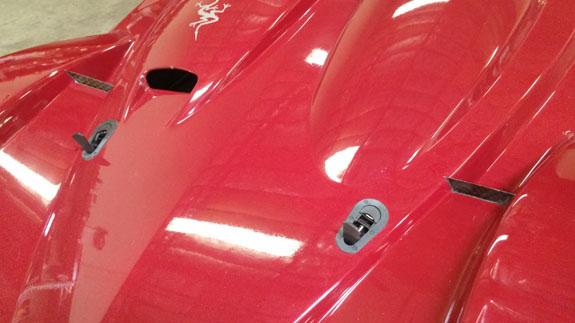 The car is still running on R888 street tires while Neil is getting used to it. Even so, we've already seen over 2.5g cornering at ORP. At PIR the readings weren't as high but still around 2.0g both lateral and longitudinal in spots.
The day was quite crowded and I don't think Neil got a single fully clean lap, but he still managed around 1:25 flat in the D1.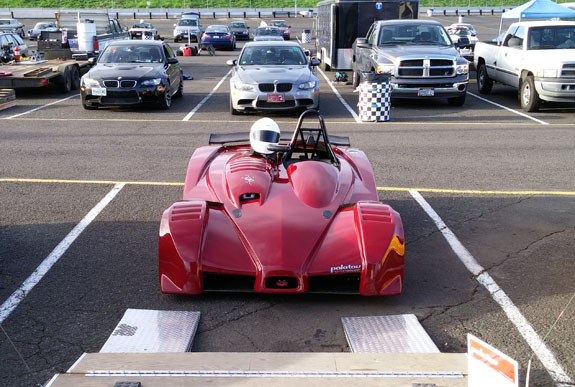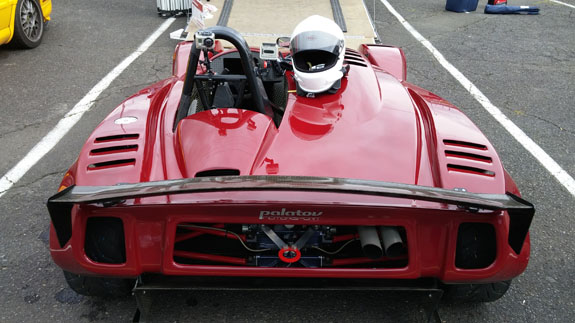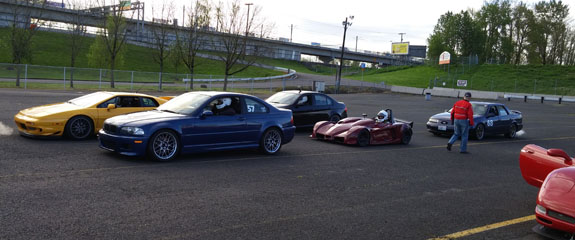 Neil did indicate to me that he was interested in being a part of the development process... Not being one to turn down a testing opporunity, I asked him to run the D2 also (and give a couple rides in the process).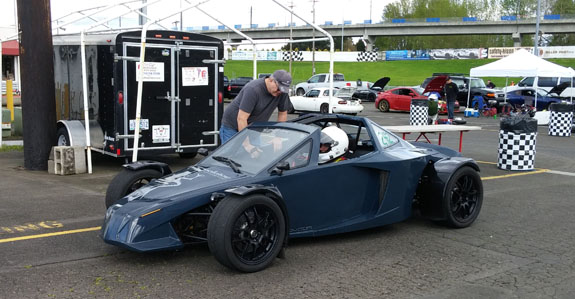 Of course the D2 is on a set of very old NT01s (I think this is the 11th or 12th event for the tires).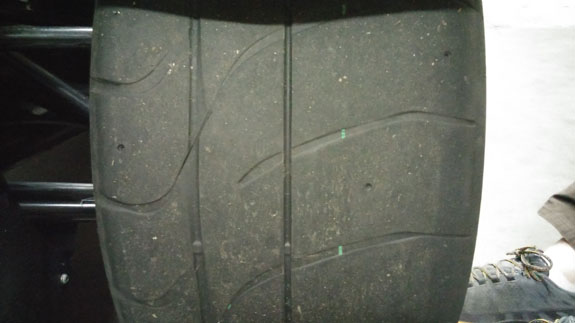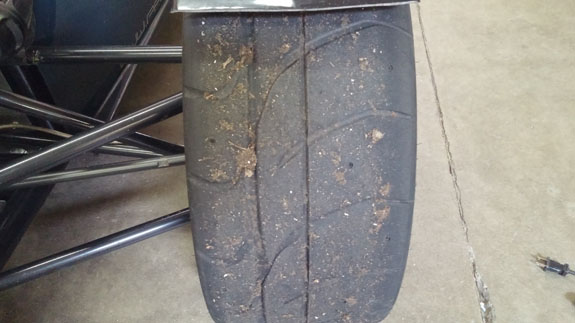 The rears are wearing a little faster than the fronts despite being considerably wider (315 vs 235), but at least the wear is even so the suspension is working well.
Here are videos of both - D1 and D2. The biggest challenge is that Alfa day passing rules only allow it on the front and back straights, and only with specific point-by from the car being passed. So if you don't get a point-by, you can't go around. A bit frustrating and you can see it in the video. Even so, 1:25 pace on street tires is not bad :) Especially since it's Neil's first time at PIR in either car (he does know the track very well), and only second time on track in either. One objective for us is to build cars that any competent driver can jump into and be fast in right away. I think we're getting there.
This makes for a great experiment and comparison. Below are data overlays from both cars on a 1:25 lap. D1 is yellow, D2 is blue. Same driver, same day (although D2 is later in the afternoon and with more seat time). Starting with front straight (153 mph top speed) and going around the track.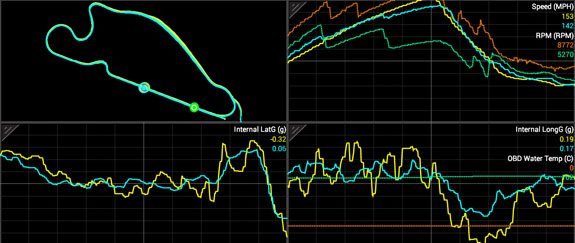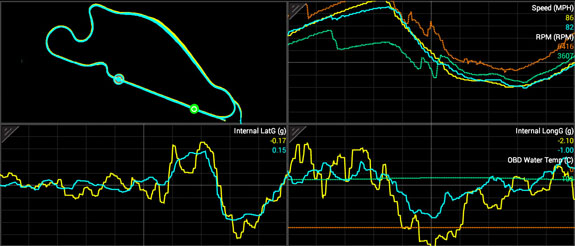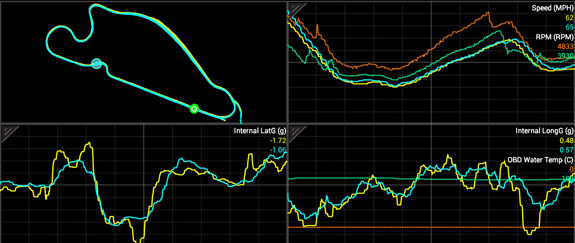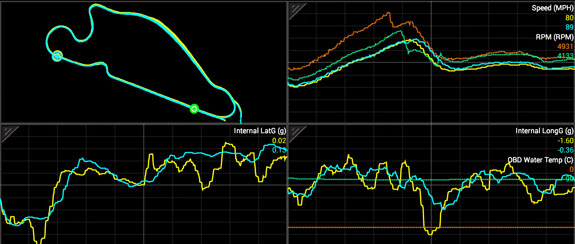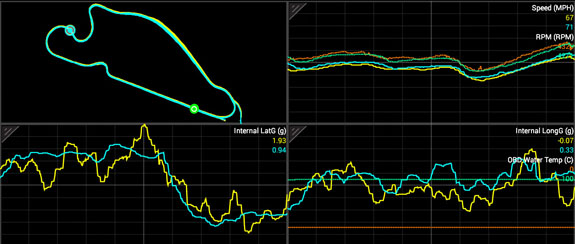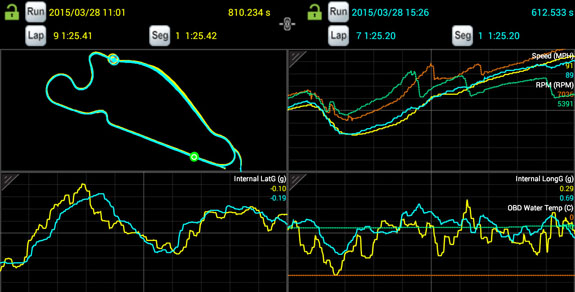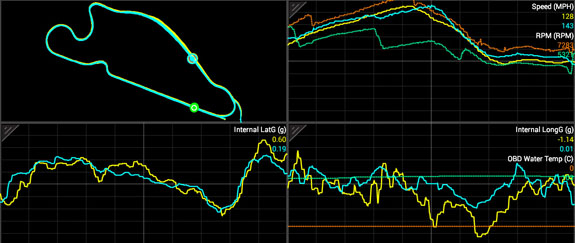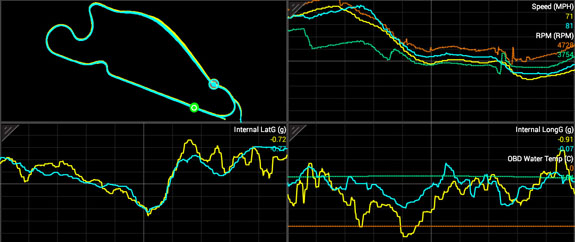 There are quite a few useful comparisons in the data. I'll leave it to the interested readers to figure it out :) One thing I will say is that Neil was being prudently and deliberately conservative, and both cars still have plenty to give (D1 more so than D2). Another is that the gurneys are doing their job and the D1 is perfectly stable at 153 mph.
All in all, a good outing. Neil ended up running 9 sessions total, the last one being his best. So there's definitely a familiarization curve. Luckily there's the whole season ahead. We do want to make a couple more tweaks to the D1 before we fully turn it over. We are also building an enclosed trailer for it so that Neil can transport and run it fully on his own.
Next week the D2 demo will get a drysump, R compounds and a few other updates as part of its role in testing for Pikes Peak. More on that shortly.
---
11/10/15 It's been a while since I've updated this blog, but the car has been busy! Since Neil took possession of it about 6 months ago he has managed to do 23 trackdays and aside from some minor maintenance items, the car has performed like a champ. Neil is well along the learning curve, too, progressing from his earlier 1:25 PIR laps (with chicane) to just under 1:17, and taking his ORP time from 1:55 to 1:45. He even drove it in the rain the last time out - on slicks, just to see what it's like. Video here. He's got a bunch more videos on youtube, just look for them. The closing speeds in some of them are quite impressive :) He's hitting 160 mph on the longer PIR straights, gearing limited. And still braking at 450 ft marker.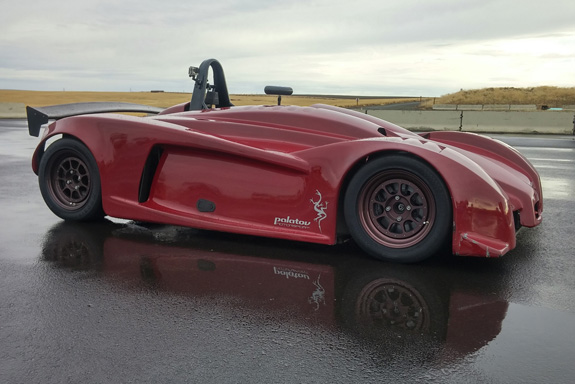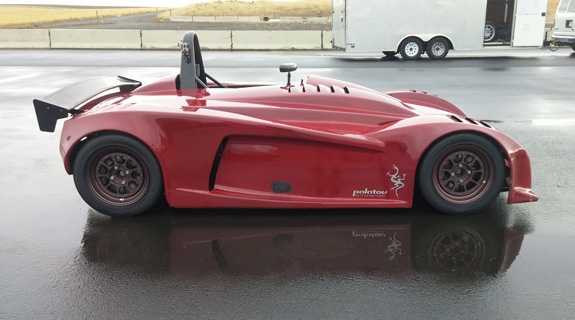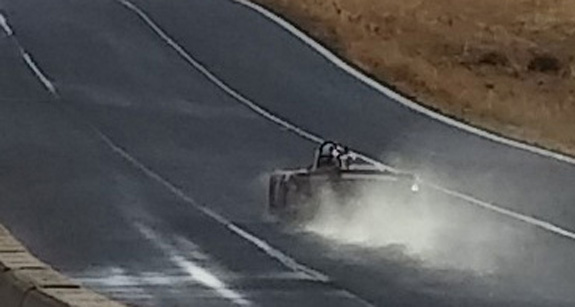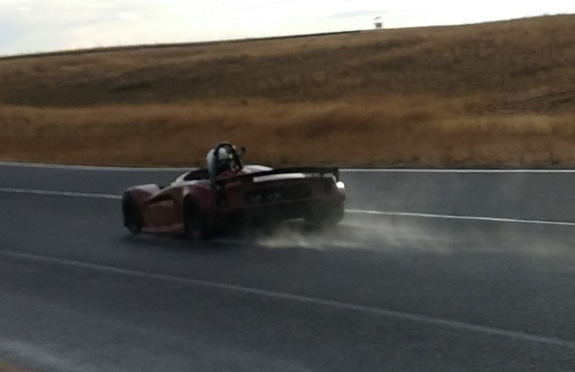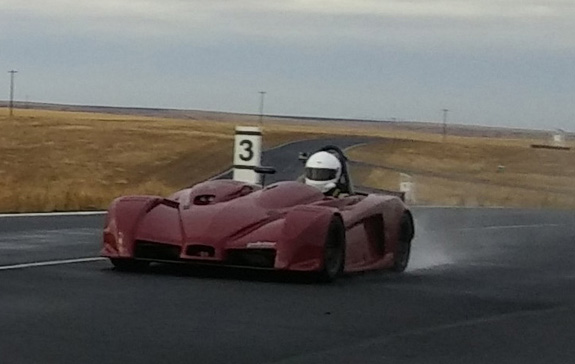 Turns out the car is very predictable in the wet, although the slicks do hydroplane in standing water, exactly as you would expect.
The car is now in our shop for a once-over. The brakes are holding up well beyond expectations, especially given the pace. Only the front pads needed replacement. Neil did go through a couple sets of tires but no surprise there. Might do a couple more ORP days this year still, then some updates over the winter.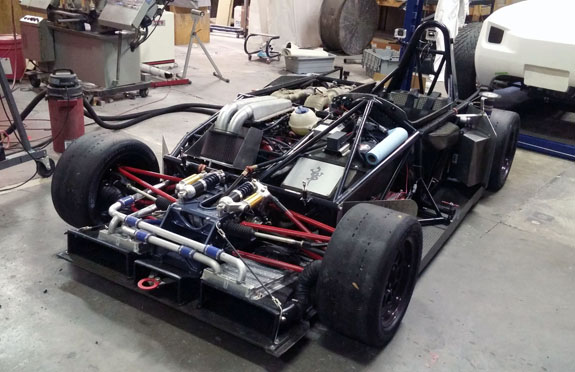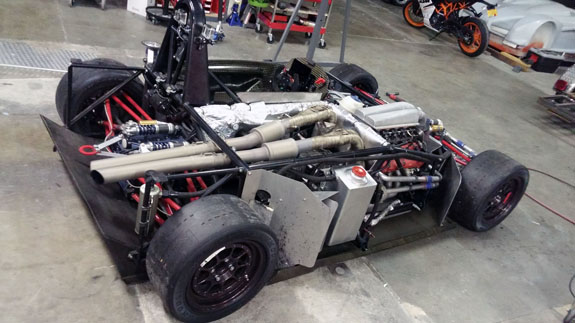 ---
1/31/16 Neil has been chomping at the bit for a trackday since mid-November. Unfortunately, weather hasn't been particularly cooperative, coating the track with snow in windy, cold conditions. We actually discussed putting snow tires on the car and running anyway, and went as far as researching the available sizes. Turns out we'd have to do a bunch of cutting on various bits to get the available snows to fit, so it wasn't worth it.
Finally, the weather gods smiled on us with clear track and sunshine with 26F for a low and 39F for a high. No wind. We'll take it. I think it's the earliest anyone has ever run at ORP, beating our own season opener record of February 2 by a couple days. Though it's not the first time we close out the old season and open the new one here.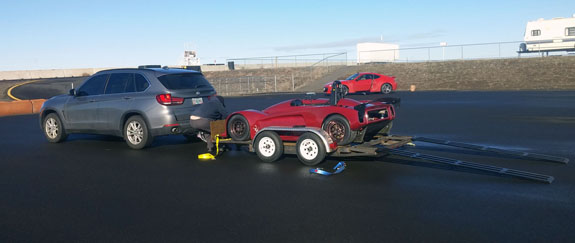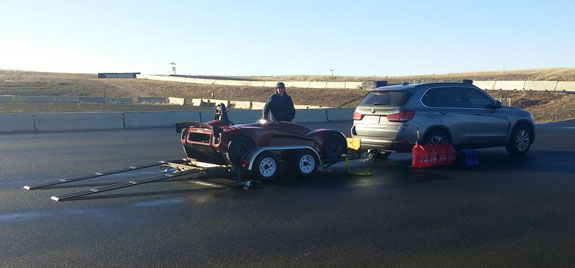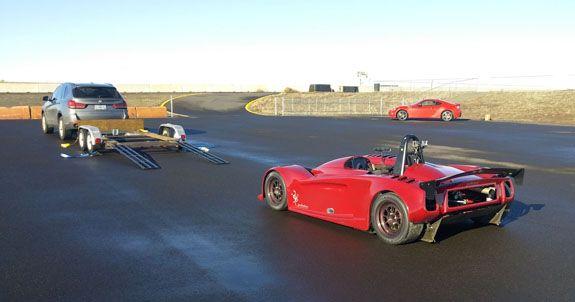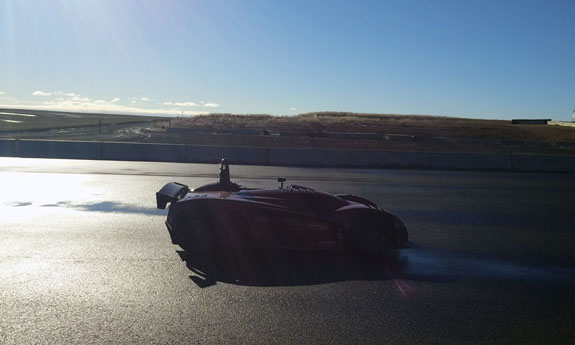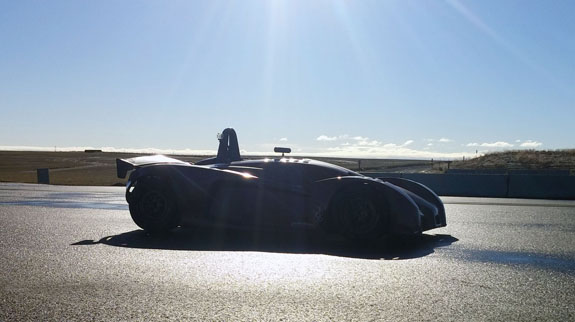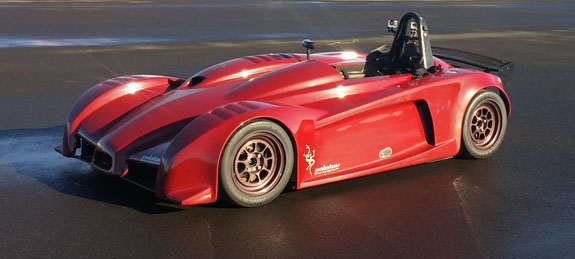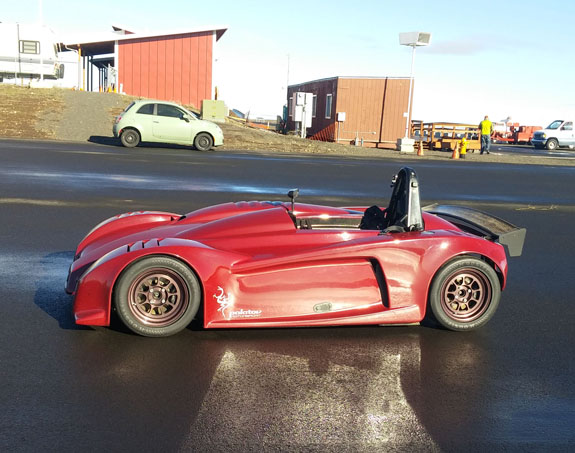 The track started out wet, with frost in the shadows. The latter bit is particularly tricky since it's basically ice, with all the attendant qualities, but you don't expect it because the rest of the pavement is just damp. As the shadow moves throughout the day, frost lingers at the edge until it melts.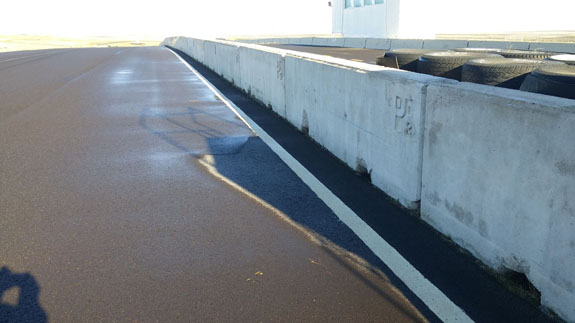 With us being the only people around for some distance, the car's sound stands as a glaring contrast to the total peace and quiet of the environment. Here's a quick video to illustrate.
Very cool day (both figuratively and literally!) with Neil getting a personal best of 1:44.15 - a nearly 1.5 second improvement over previous - despite the chilly ambients and a two-and-a-half-month break.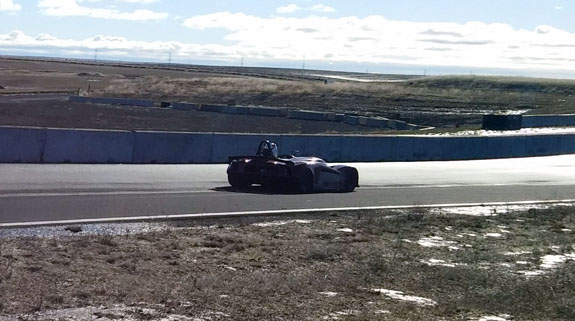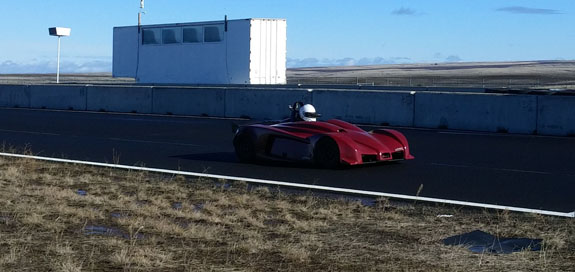 Only two other souls were hardy enough to join - trackdays don't get much more private than this. All part of the experience.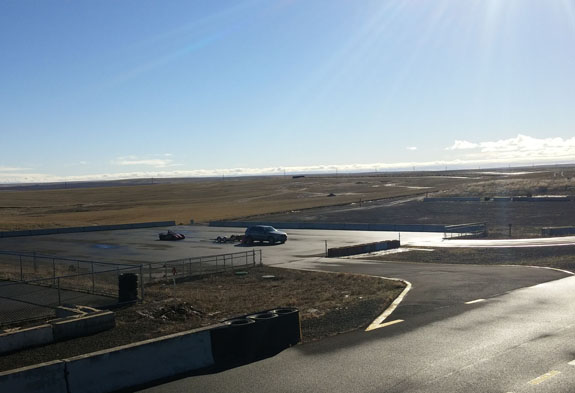 Upon returning to Portland we had to retrieve our cars from the auto show at the end of the day. Ever try driving a 660 hp, 2000 lb Pikes Peak car on slicks, with no mirrors and no rear window, on the street, in the rain, at night? That's part of the experience too. Only missing the uphill and in the snow part, but Jonathan has been there/done that.
---
Site Sponsors and Links:

- CMS Lap Timer - Advanced Track Timer App With Video Integration

Tire Rack - Tires, Wheels (use link when buying wheels/tires to support this site)
---