---
02/02/11 Work continues on the plug, it should be done in a couple of days.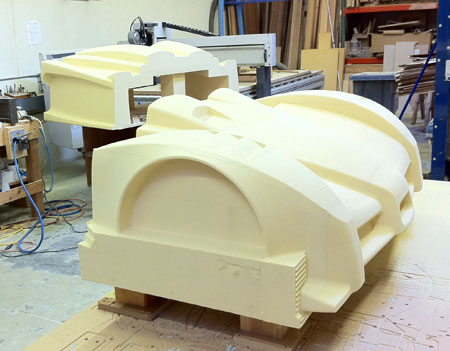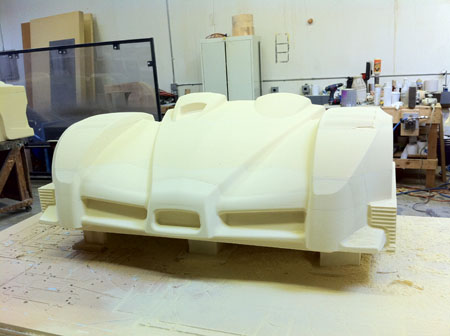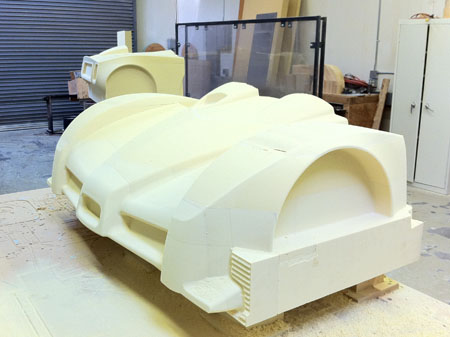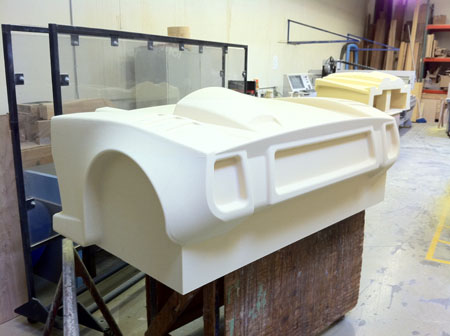 After that we'll get started on the molds and then the bodywork itself. Underbody tray molds need to be done as well and we'll get those in the pipe shortly.
In the meantime chassis and drivetrain design is getting finalized. A few more days of work on that and then those parts can be ordered too. The goal is still to drive the car by the end of March which means we're in 'panic' mode already. It's doable but challenging. Stay tuned.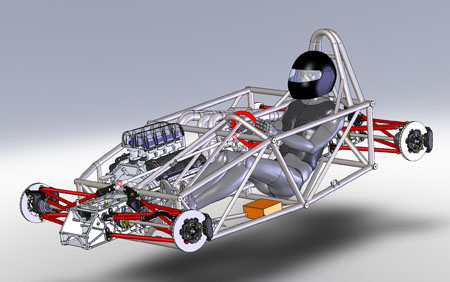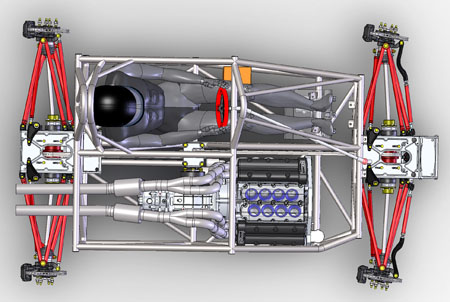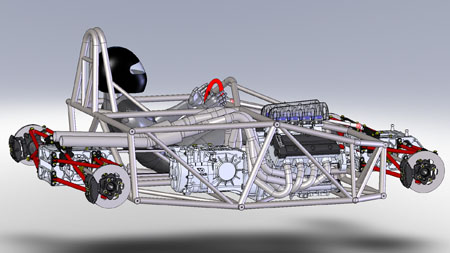 When you look at the pictues above, keep in mind that's a 430hp car...
---
02/04/11 The plug is done. This is the first time I get to see the whole shape 'in the flesh'. Yep, it's a lot sleeker and more aggressive than dp4 :) Which was the intent. It's a very different animal and the trick is to clearly separate them while keeping the family resemblance. I like how it's turning out.
I also have to mention how good a job Willamette Pattern has done. They normally do patterns for intricate castings and the quality of the work is first-rate. And it was on time.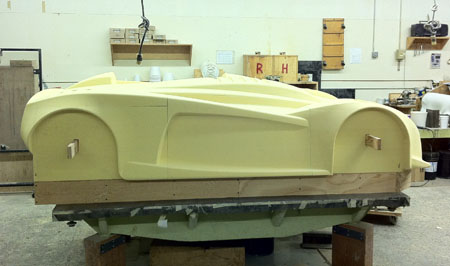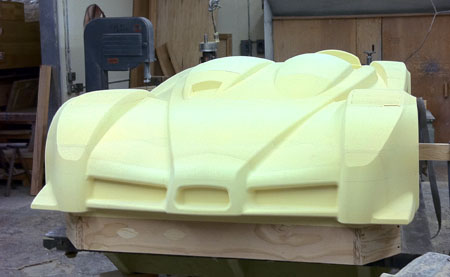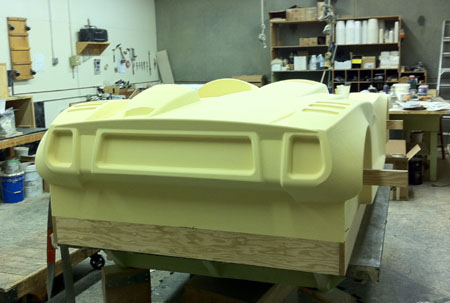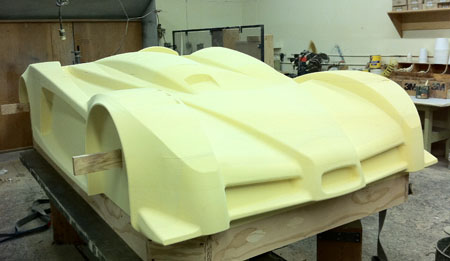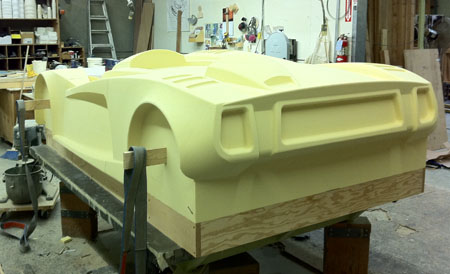 In other news, the tube chassis design is done and the order will be placed Monday for tube cutting and bending. It's going to be close but as of right now our end-of-March goal for driving the car looks achievable. We'll see.
---
02/22/11 We got half of the bellhousing anodized just because, now that it's back it was time to test-fit the custom Hewland gearbox to the engine. Bolts up just fine.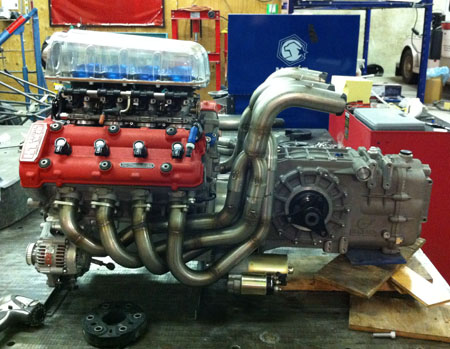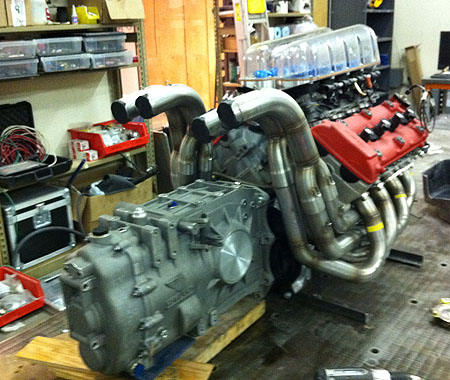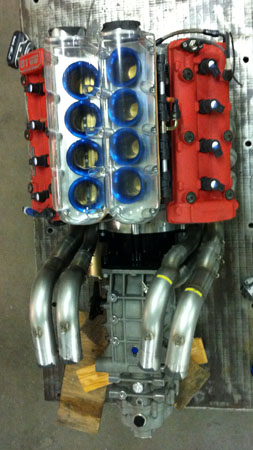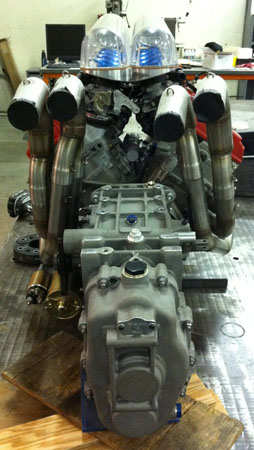 It's a very compact package and my typical 1/4" clearances in all dimensions abound.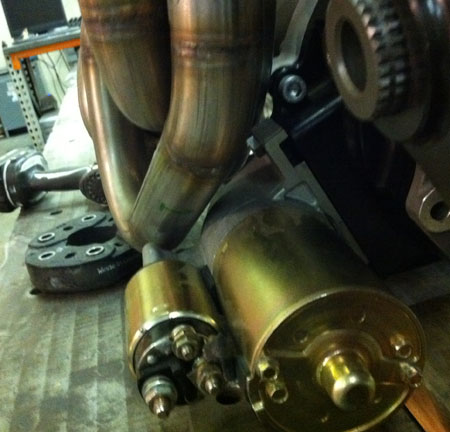 Just like it is in CAD. Yes, there'll be a lot of heat shielding and other heat management measures.
We were originally going to go with Tilton 5.5" carbon clutch but after several weeks of following up today I learned that it's unavailable. Hmm.... We could get a 4.5" but that would require a new flywheel which is not an option given the timeline. Guess we'll have to go with cerametallic clutch for now. Since we'll be using an electropneumatic paddle shifter from Geartronics the clutch only gets used for moving away from a stop so it should be OK. The 7.5" cerametallic clutch I had in the Atom was a bit touchy (but manageable) so I'm hoping the 5.5" will be easier still and basically a non-issue. We'll find out soon enough.
Anyway, this is just one example of an endless stream of setbacks and challeges to be overcome, every day. Seems to be the nature of the game and there's no getting away from it. I've never worked so hard for so little immediate gain, but then I've never had this much fun working either :) Totally worth it, every bit.
---
02/24/11 Just a quick update - the plug is now glassed and in the final stages of prep for molds.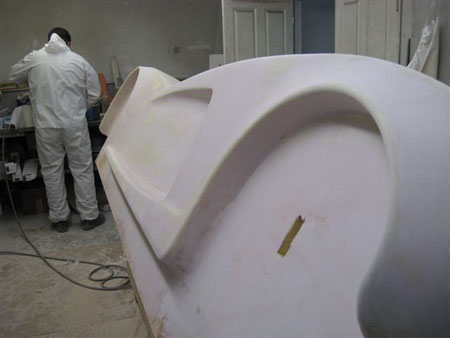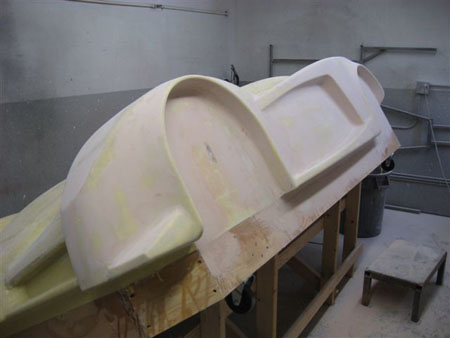 The tube kit arrived yesterday and now Tristan has put together two sets of suspension arms, one for the dp1 and one for a future dp4 build.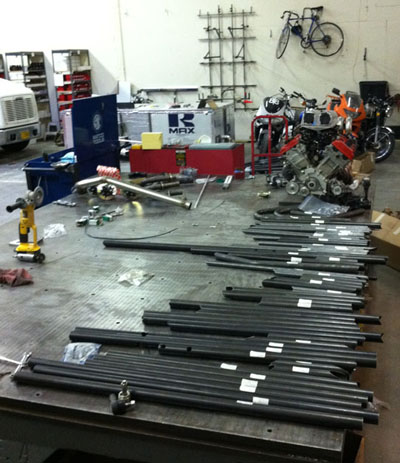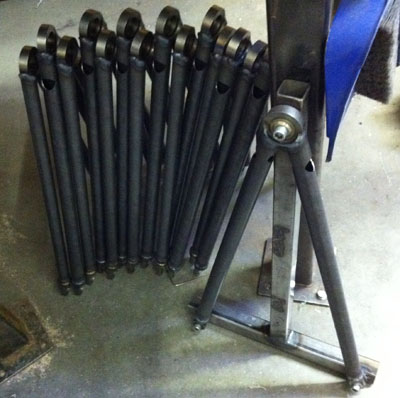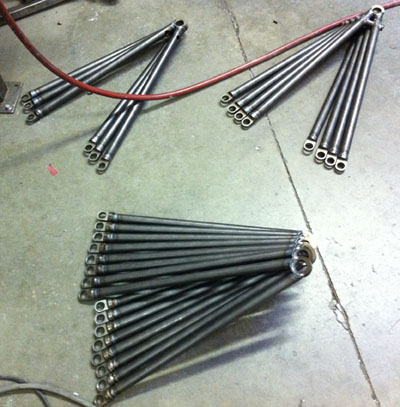 Tomorrow material for fixturing arrives and we start on building the frame.
---
03/03/11 More updates. The frame is now almost completely welded...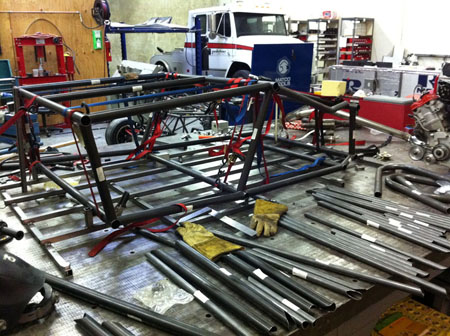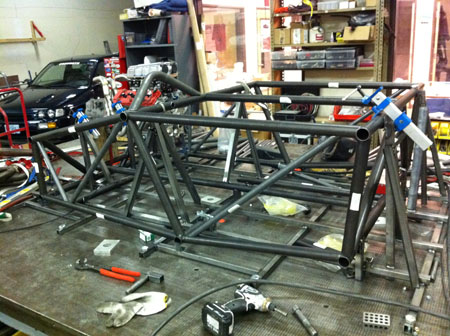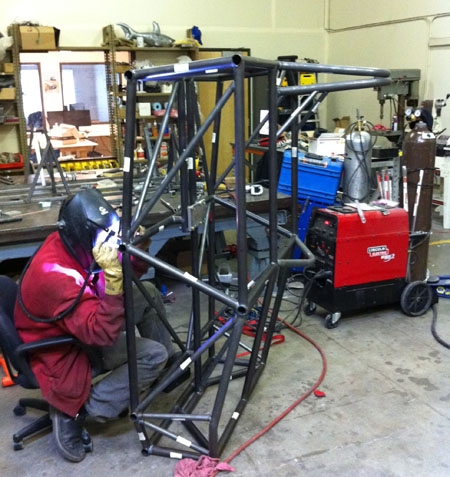 Still a lot of brackets to be done but it's mostly there.
Also got a few neat parts from Tilton. The 5.5" twin-plate rally clutch, a nice pedal set and a number of other miscellaneous parts.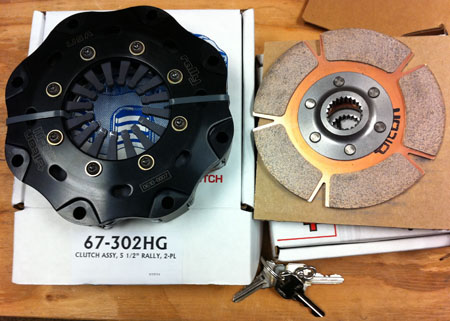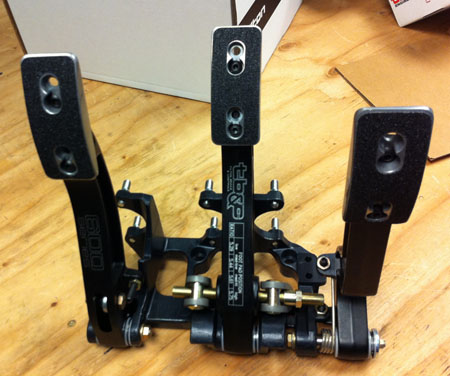 Lots of other things are on order and hopefully will be arriving soon. It's hard to picture this car drivable by the end of the month but that is our goal. EVERYTHING has to go right for that to happen. We'll see.
---
03/06/11 Along with real-life progress (the frame is now fully welded, for example) I'm still updating a number of details in CAD. The latest is the packaging of oil cooler, drysump tank and overflow/vent tank. Still need to do the brackets for all that and finalize engine mounts. Couldn't resist some gratuitous pix in the meantime. Click on them for larger versions.
Yes, there are two fuel cells - each of 5-gallon capacity. It's double what the dp4 carries and given that the dp1 has twice the engine, overall endurance should be the same or better. Afterall, using twice the power on the average would take some doing.
And yes, the oil cooler will get twin electric fans which will also move air along both sides of the engine to help get the header heat out.
---
03/12/11 Progress continues with dozens of different items (and dozens more to go). Geartronics paddle shifter system has arrived. The suspension boxes are here and are now off to anodize, suspension arms are off to powdercoat, torque splitter shafts are getting splines, additional parts being machined and a few more being designed. Custom radiators are on their way, halfshafts being built, frame brackets are being added, and so on...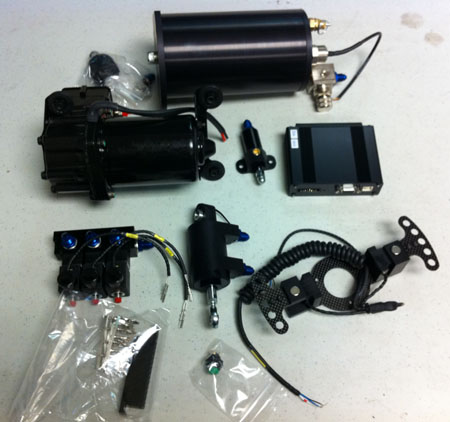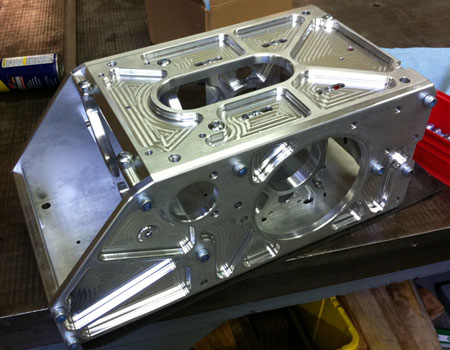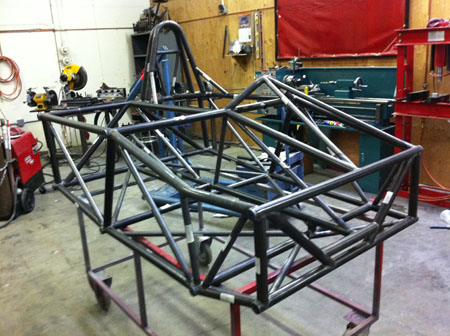 ---
03/22/11 Lots of things are happening that I can't post about, but some progress on the dp1 also. The original drysump tank arrangement ran into availability issues so after some frantic searching the problem was solved with a nice 11 quart unit that is in current production and is pretty well designed to boot. Of course component changes are being updated in CAD as they happen.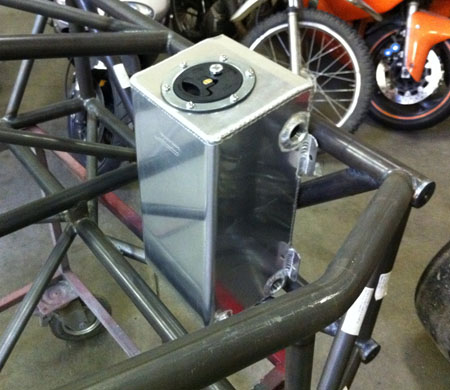 The packaging is tight as always but it all fits. Engine mounts and various brackets are now being fabricated. Other items - custom radiators and fans are here, new open-top steering wheels showed up (easier to see the dash and shift lights), the suspension box parts are back from anodize and ready to assemble.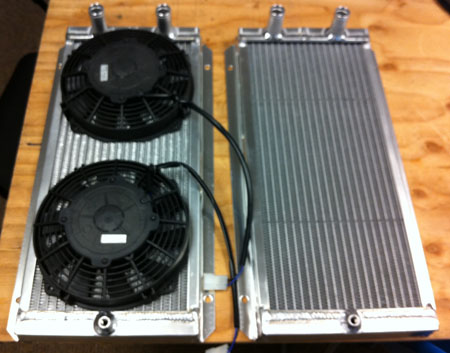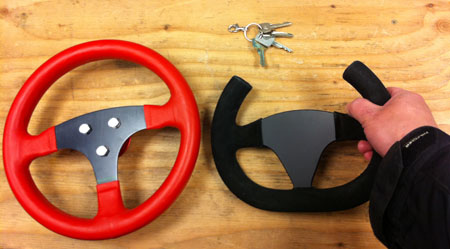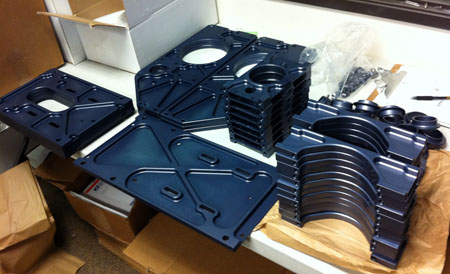 While posting the latest pictues on Facebook the subject of CG location came up. Despite the asymmetrical nature of the car, with a driver in place it's actually very well balanced with the CG being nearly dead center (the purple dot in the pictures below). The very low weight of the Hartley V8 helps a lot with this.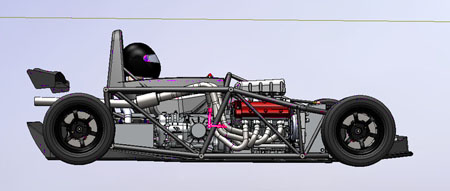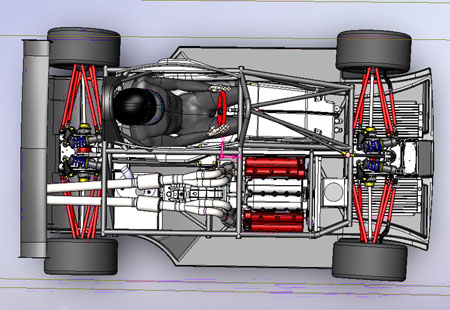 Next week will be a busy one for this car. It's when all the pieces finally meet each other.
---
03/31/11 Another cumulative update from the last week or so. It's all coming together:
The sprag version of the central torque splitter is done. I have a planetary 35/65 splitter designed as well, we may or may not build it depending on how the testing of the sprag goes.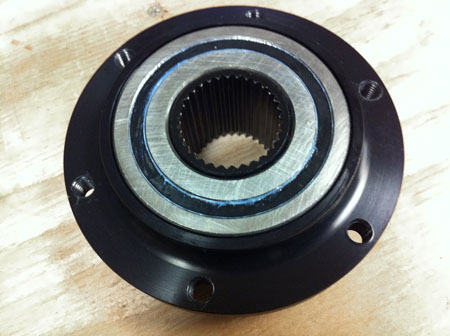 Suspension boxes are built and the mounts are tacked onto the frame, will be welded tomorrow.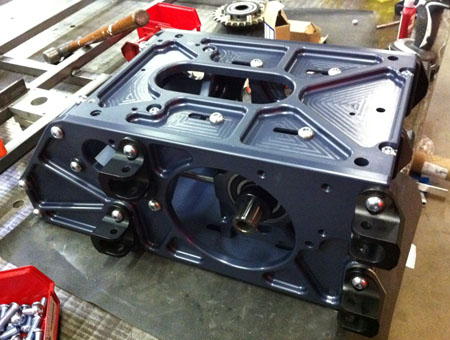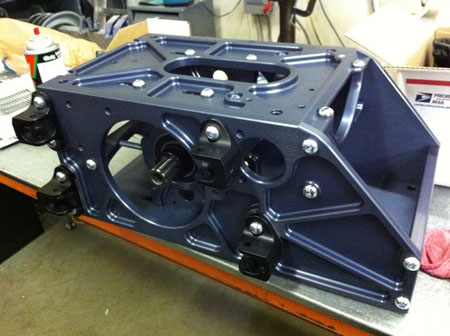 Left fuel cell is here. It sits behind the driver and is 5 gallons in capacity. Full bladder, SCCA/FIA compliance and all. There will be another 5 gallon cell behind the transmission, it's on order. Initially we'll just run with this one.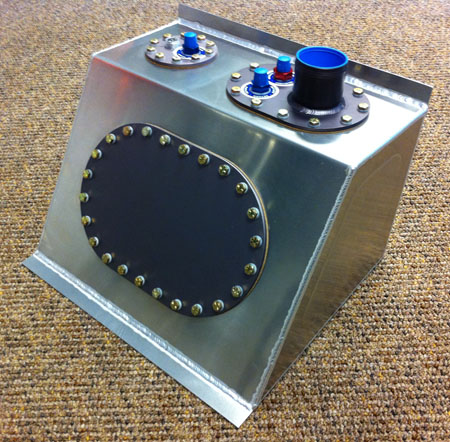 Clutch is installed, as is the bellhousing and the gearbox. The mounts are fabricated and the whole assembly is ready to go. April Fool's day is when we put it all together. Really.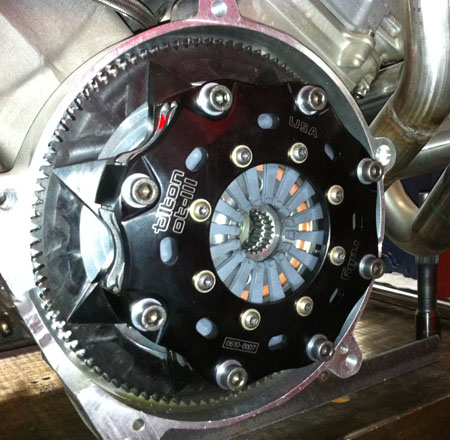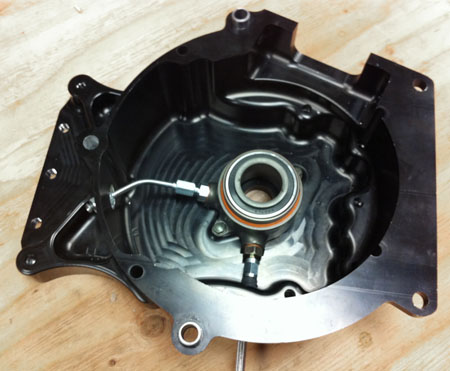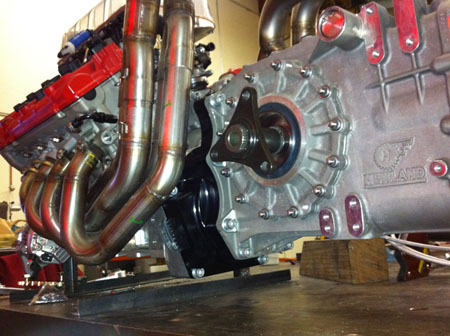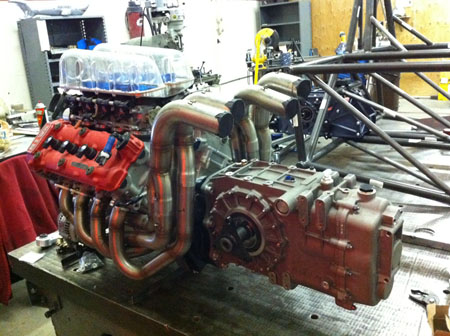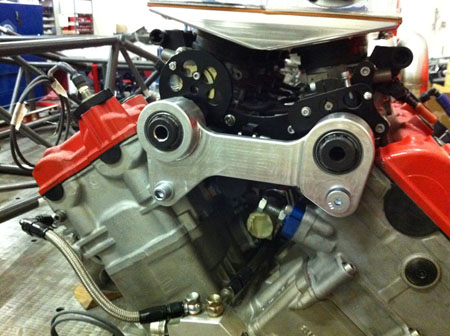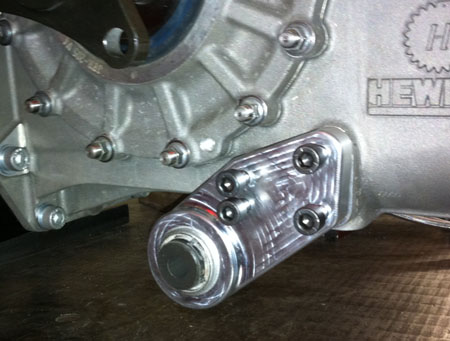 Much more to come.
---