---
05/25/07 The big test. Well, actually, the test was just one in a series and certainly less significant than the first drive or the first track outing... But it turned out to be a major milestone anyway. The Avon slicks weren't on the UPS truck like they were supposed to be yesterday so I ended up running the Hoosiers. This actually proved to be a good thing despite the fact that I still could not get them to heat up (with 8 psi cold they'd come in off the track at 115F and 10 psi which can't be called 'hot'). I went out there basically just trying to see if I can get more comfortable with the car and drive it better. Maybe shave a second or so off the best time...
Lotus club trackdays are always excellent events and this one was no exception. There are only three run groups - intermediate, advanced and racecar. I ended up in the latter which meant I got to share the tack with all kinds of fun machinery, from an assortment of formula cars to the same Porsche 908 that ran yesterday.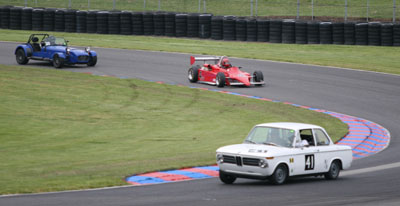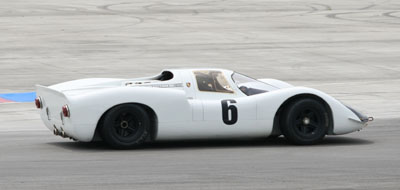 There was a lot of traffic but it was FUN traffic, as the video below (32M file) attests. And except for a FSV that ran away from me in the beginning, I was passing pretty much all of them. Nobody passed me although I hear towards the end the 908 was moving pretty quick. Didn't see him out on the track unfortunately, would have been fun.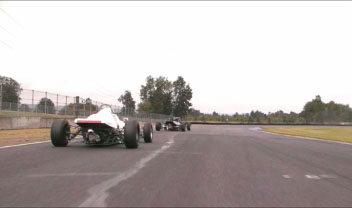 The car felt good. In the first session there was a tendency to oversteer on turn-in but it's very catchable, although getting it sideways and then gathering it up before any thought could take place going into turn 10 at some 90 mph did raise an eyebrow. Did I just do that?! - Yeah - OK, next turn! In the second session I stiffened the shocks significantly and things settled down. So I thought the lap times would be decent on the couple clean laps that I got. Still, I was quite surprised to be told by someone timing from the stands that they had me at around 1:25. If true this would be a giant step forward for me. And indeed, later looking at the GPS data showed a best of 1:24.23. This is about 5 seconds faster than my previous best! Looking closely at the data shows there's plenty more time to be had. I'm only getting started here. Here is what that lap looks like on video (21M file):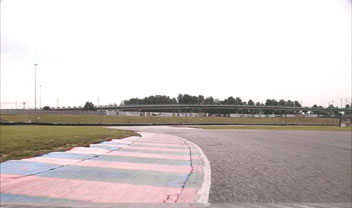 I've overlaid the new best lap with the previous best of 1:29.00.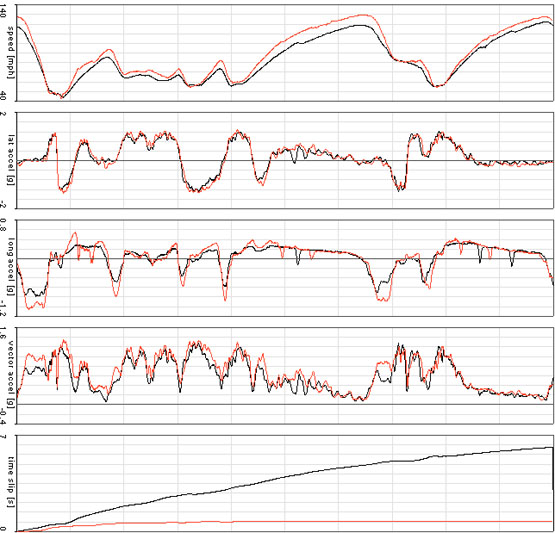 From the above it is clear that I basically got better everywhere. More acceleration (helps to have a muffler that doesn't go up in flames), more braking (now using 1.0g regularly) and more corner speed (although 1.35g is still the max so there's definitely more to be had right there). Bottom line is, people were impressed. Maybe even to the point of placing an order. If it comes to be this would be a major milestone indeed. Symbolically, tomorrow is the 5th anniversary of the project's official start with a sketch. It's been quite a journey to get here. Going forward should be a lot of fun :)
In the meantime, my friend Mike came up from California to take video and pitures. It will take a while to sort through and edit all of it and come up with something worth posting, but a few of the pictures are below (copyright DigitalArtsPlus).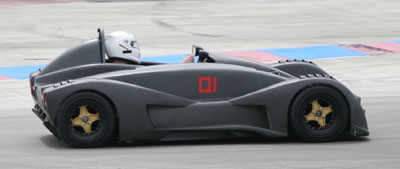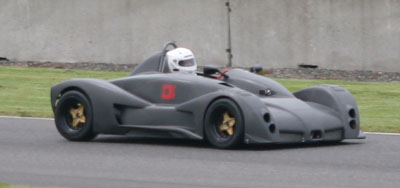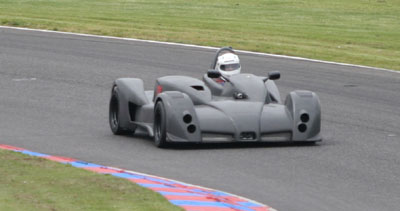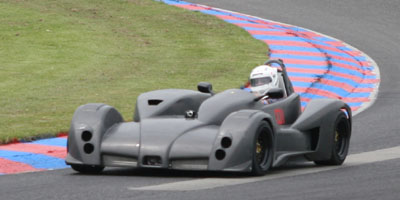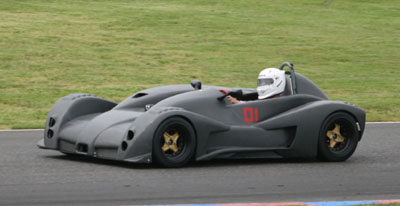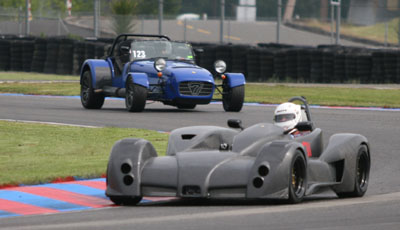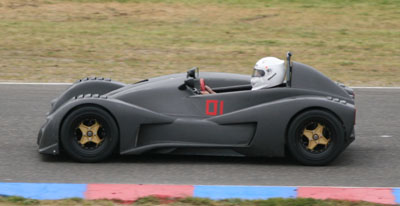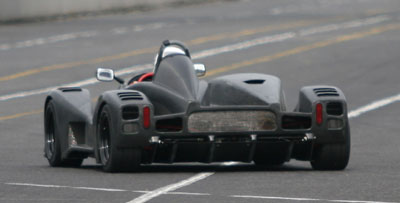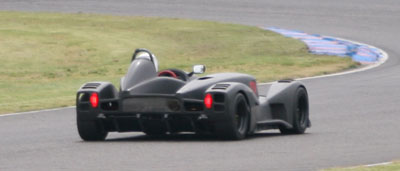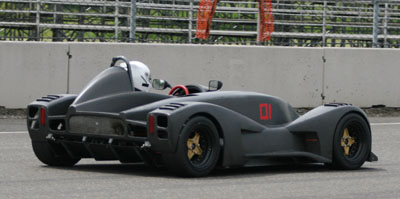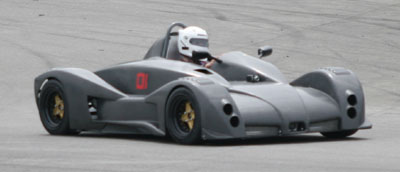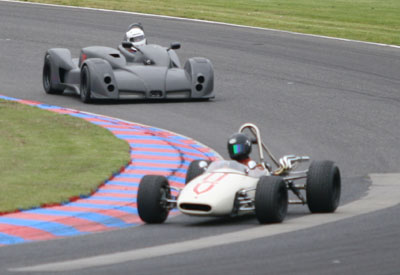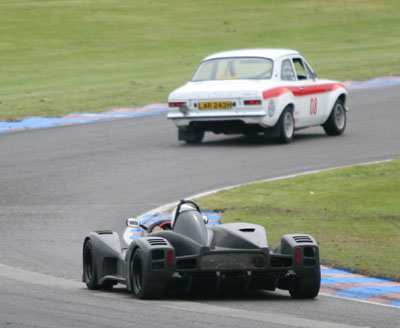 What this test demonstrated is that the car has a lot more speed in it and that it's a viable design that is convincingly faster than any production-based track car. In that regard the prototype's work is essentially done. Now the main focus will shift towards finishing Bikini and testing of the V8 along with finishing the production design. Next trackday is not for a while, most likely mid-July. But there's a lot of work that remains.
---
08/05/07 It's been quite some time since the last update. Rest assured that activity continues - there have been some VERY interesting conversations taking place, both in regards to resources for moving the project along and the potential venues in which to use the car. All with people who have what it takes to actually do what they are talking about. We'll see what becomes of it all but in terms of opportunity it's the best situation I've been in yet. Oh, and of course the design work on the production car continues regardless, it's just that for a variety of reasons the details of this effort won't be revealed quite as much as in the past here. Just the reality of things.
In the meantime, I thought I'd post a few more pictures from the track outing in May - these are courtesy of Rob Sloman. The ones next to his 911 really show the scale of the dp1 - short, low but pretty damned wide. When you look at the picture below think 400 hp and AWD :) He he.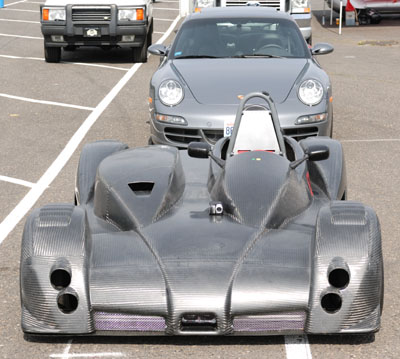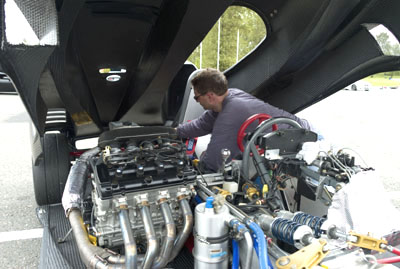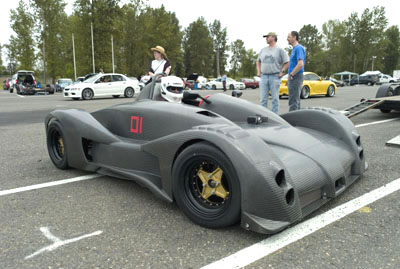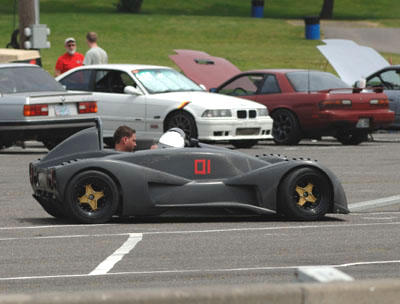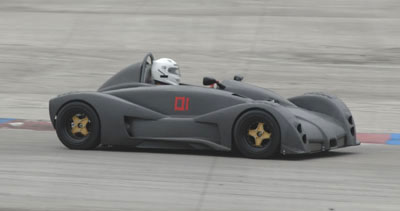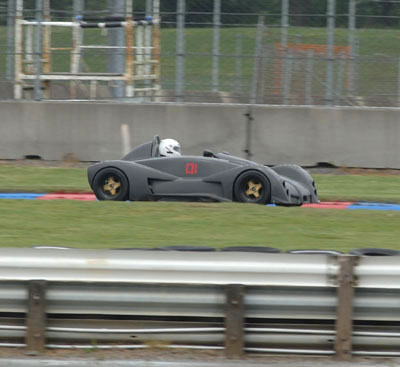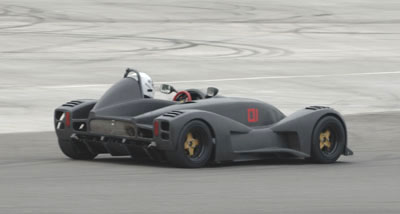 More to come.
---
1/20/08 While work progresses on the dp1, I'm also doing some other things. Most I can't talk about at this point but as part of one of them I recently had a chance to compare the Hartley V8 with a smallblock Chevy v8. Both are about 400hp in base form and both are capable of over 700hp with a lot of work. The Chevy is double the displacement but spins only 60% as fast. It is double the weight (at around 400 lbs dressed vs about 200 lbs for the Hartley with the same accessories), and despite being fairly compact due to pushrod valvetrain it is still a good deal bigger. It also requires much beefier (and thus heavier and bigger) drivetrain components. On the plus side the Chevy is a whole lot cheaper... at least in base configuration. It is not unheard of to drop $35K+ on a smallblock and from what I'm told, at least within some circles most end up closer to that number than not (granted, that's with way more than 400hp).
Just another illustration that there are many different ways to accomplish the same thing. More or less. If the goal is to 'add lightness' then Hartley is the way to go, hands down. The complete dp1 AWD drivetrain is around 350 lbs including the engine itself, gearbox, diffs, chains and all. Equivalent Chevy setup would be 700lbs+.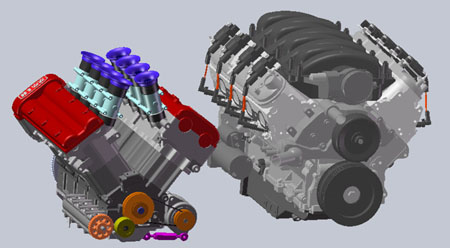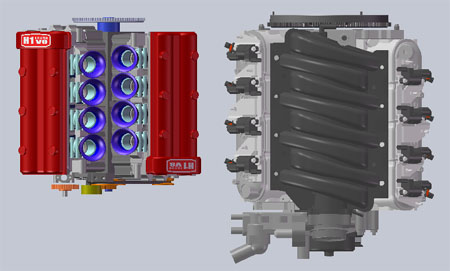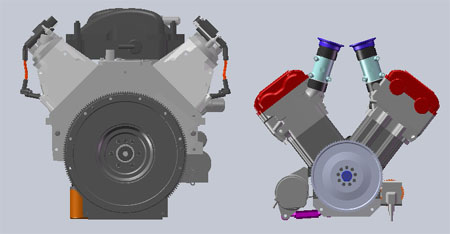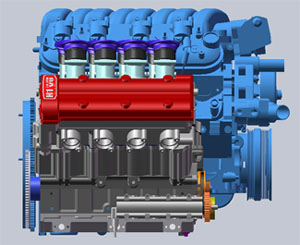 Designing a chassis that can use either is an interesting challenge. Notice though that due to intake design, the overall height is about the same for both engines which makes things somewhat simpler.
And no, of course I'm not trying to put a smallblock in the dp1! Likewise, before anyone asks, the CAD files for the Chevy are not mine to distribute so no you can't have them. The Hartley CAD (exterior surfaces only) is available to qualified customers. Contact me or Hartley Enterprises for details.
---