2004 Random Research dp1

Project started: May 2002
Engine: 1300cc, 4cyl, 180-350hp, AWD. Weight: 700lb 0-60: under 3.0sec Top Speed: 160mph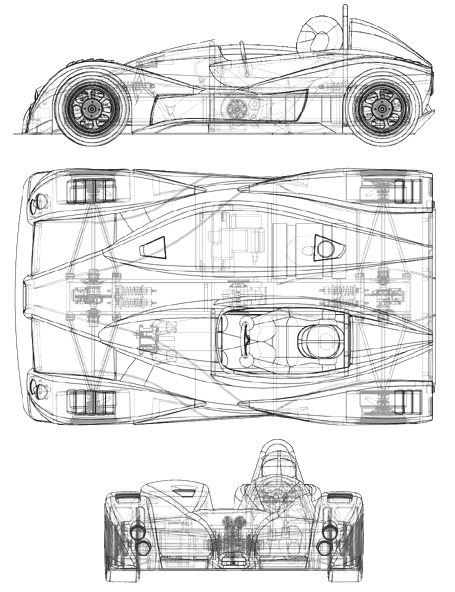 Wheelbase 80.5", Width 70", Length 113", Height 39" (top of rollbar), Ground Clearance 2.5"
Wheels 13x8, Tires 225/45-13 R compound or 20x8 race slicks
(All specifications are just targets, of course! - but they HAVE been reality checked :)
---
This is my most ambitious project to date, aside from a long-ago attempt to design and build an airplane, a task whose magnitude I had grossly underestimated. Now, with a lot more experience in running, maintaing and even assembling vehicles I feel much more confident that I can pull it off. Having enlisted the help of people that have designed and built successful racecars from scratch I've got all the basics to make it happen. The rest is up to me - and I'm willing to give it a shot.
I had originally targeted to complete the project in about a year, knowing all the while that was an extremely aggressive goal. As the design evolved it became apparent that I would be lucky to get it done in two years - so that is the current goal, to have a driveable prototype ready for development by May of 2004. Looking through all the pages that track the progress it is clear that the extra time has actually been to the project's benefit. I have had the opportunity to really look at various ideas and details and tweak them to the point where I can look at the design on any given day and not wish I'd done something differently. This is something that can only come from actually trying countless variations and settling on the one that works best, at least in my eyes. As of the end of 2003 I'm guessing I have a bit over 1,000 hours invested in the project and about $40K, with roughly as much again to go before it's done in both time and money. I'm being open with these numbers because that is an integral part of the whole process. Anyone contemplating a similar project should consider the resources required (yes, personal time and effort can be substituted for money to a large degree and being more conservative with the design can also make it cheaper but not necessarily so). Considering that a fully sorted nationally-competitive DSR car, whether from Stohr, Radical, Merloy or someone else, would set me back around $60-65K I'm certainly not saving any money by building my own. To me this project is a form of self-expression and a way to learn things that can only be learned by doing. I look at it as an alternative to getting a Masters degree in vehicle design - about the same time, about the same money but a whole lot more fun and I get a car for graduation :) As such, it's really quite a bargain.
---