---
09/16/06 Last week or so has been crazy with actual work (yes, it's true) and the Atom so not much progress on the dp1. So today I dedicated the whole day to working on the car. Some good progress - buttoned up the cooling system, it's ready to be filled (tomorrow). Good progress on the oil plumbing too. I'm short a few clamps and such but I think the oil cooler can be bypassed for the initial run. Biggest challenge is tightening the exit pipe fitting on the scavenge pump - there's just no room. Looks like the clutch slave cylinder will have to come out for this. And I thought I was all done with that piece. Sigh. Satya dropped by to help me move some things around and he was kind enough to take some pictures (I had left my own camera at home). So here they are - the dp1, thiiiiis close to running but not quite yet.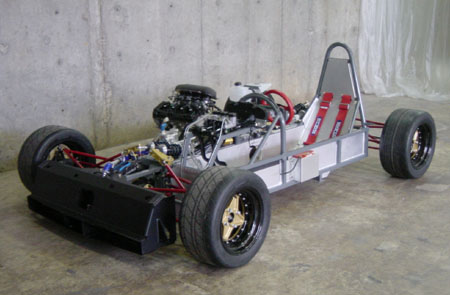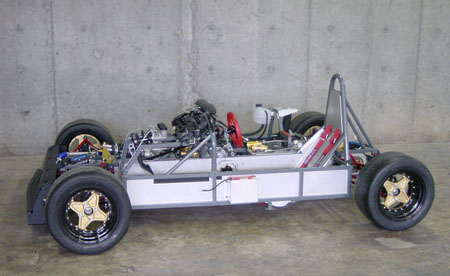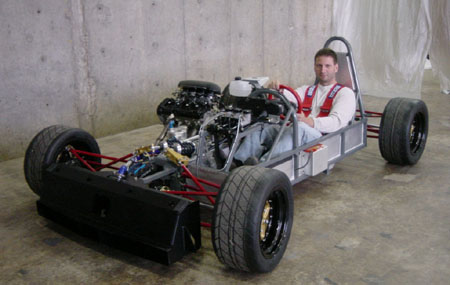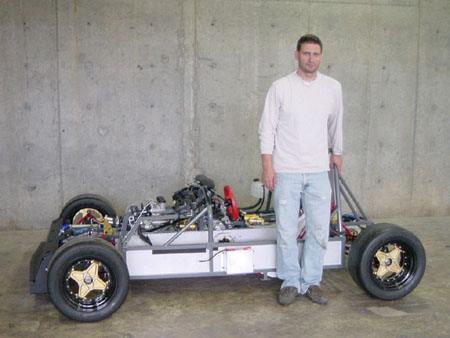 I doubt that I'll have enough done to start it tomorrow, but it's now a matter of days. Scary.
---
09/17/06 No, it's not running yet. Spent the day taking care of the wirinig harness - fabricating the battery cables, routing things, hooking up sensors, that kind of thing. The reward for all that was first signs of life...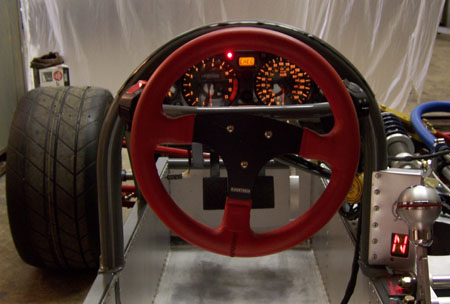 I like how the gear indicator works. Solidworks really helped get the lines of sight down.
Also filled the water system and tested the electric waterpump - works well. I'll wire it to a separate switch so I can turn it on after the engine starts warming up and keep it running after everything is shut off. Still haven't tightened the oil scavenge output fitting, didn't feel like messing with the disassembly. I did buy the 1-1/4" wrench required for the job, $25. I'll probably just use it this once. Oh well. Finally, took a picture of the car from above, just because.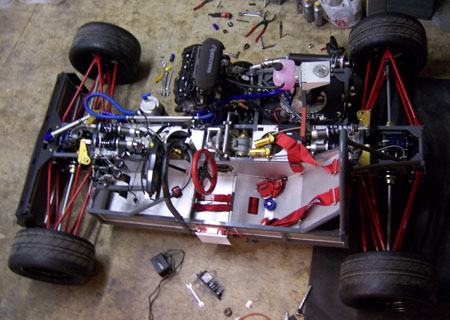 The oil cooler is bypassed for now because I need to order more fittings and parts. Tomorrow, tighten the oil line and crank the motor without plugs to test oil pressure and scavenging. Then if I'm feeling adventurous might try firing it up. Tick, Tick, Tick.... :)
---