---
2/16/18 We've been waiting for the weather at ORP to get a bit more friendly. Our last outing was on December 17 in 35F weather and wind. So low temps are not necessarily a problem. As long as there's no snow or rain. While waiting, a few things got done.
We mounted the bodywork. No doors or lids or glass yet, but all the mounting points are welded, aluminum inserts bonded to the fiberglass, and the whole thing bolted together.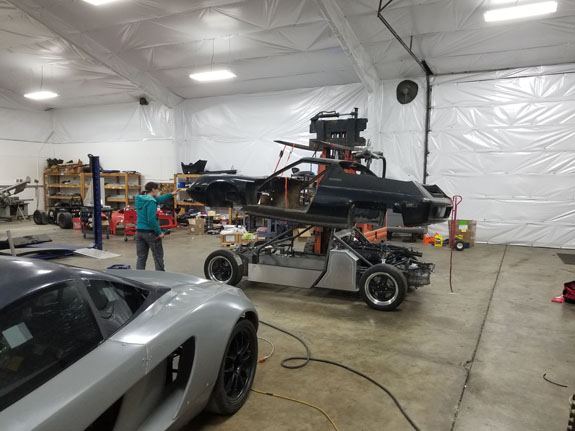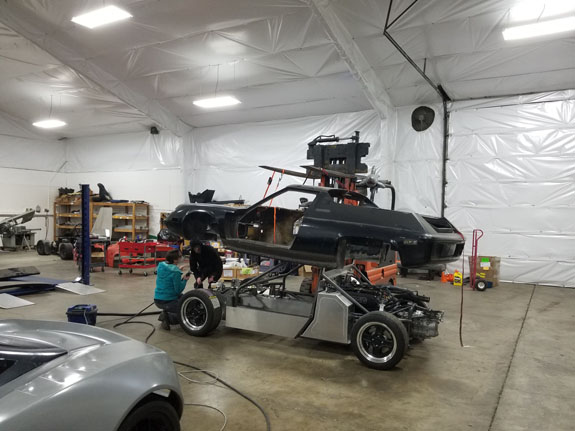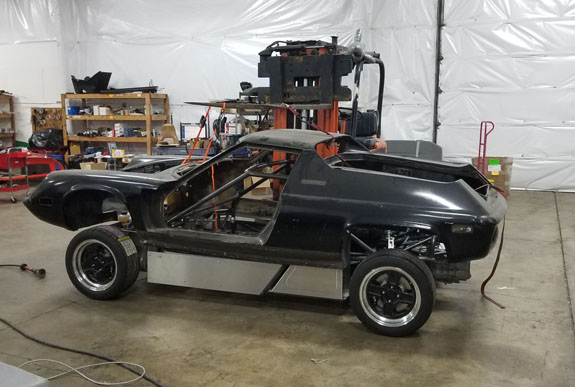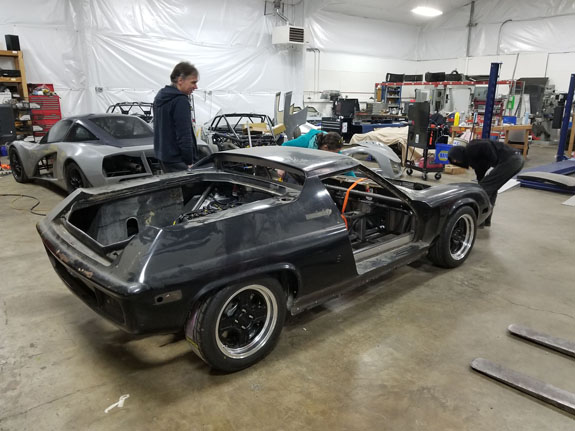 Since the body is on, a muffler and a few other things are now needed so we did that. Also made a temporary 'dash' by moving the oil pressure gage where the driver can see it, and adding a digital temp gage. And radiator shroud, more pedal tweaks, seat belts and so on.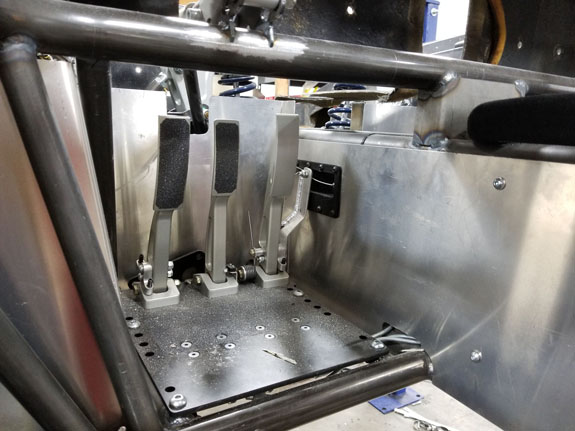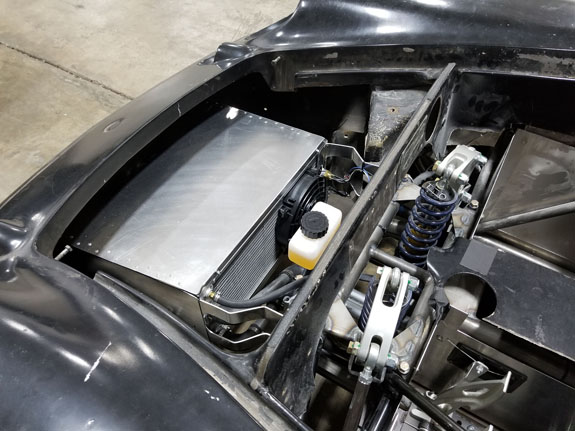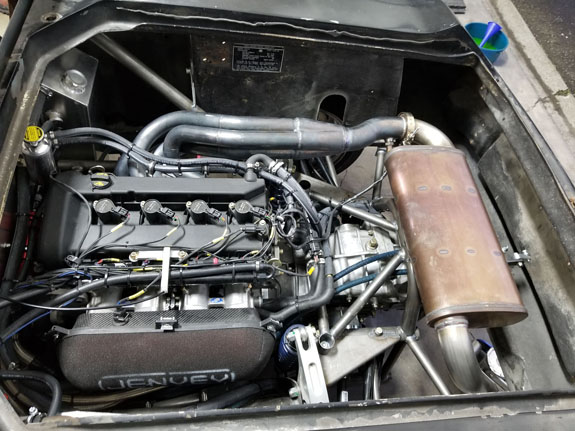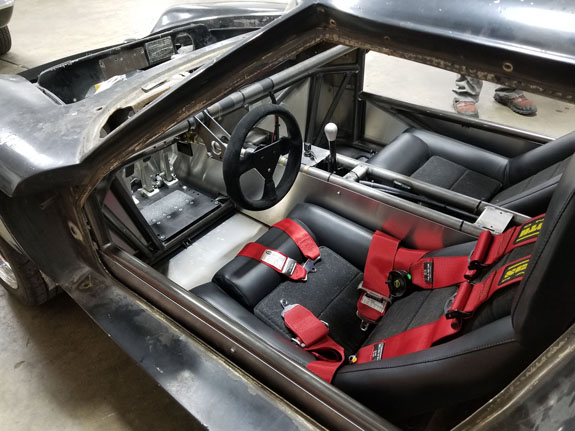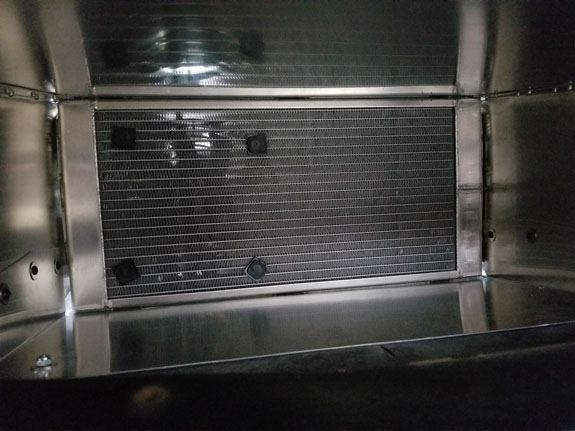 I may have mentioned that we have the next chassis tube kit ready to go, so when a decrepid '71 S2 came up for sale nearby I grabbed it. The first D47 now has a sibling on the way.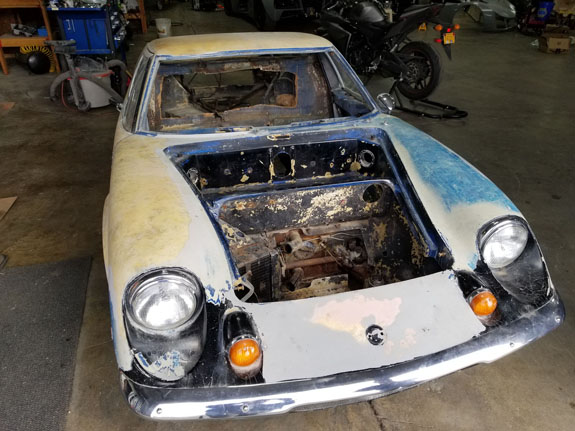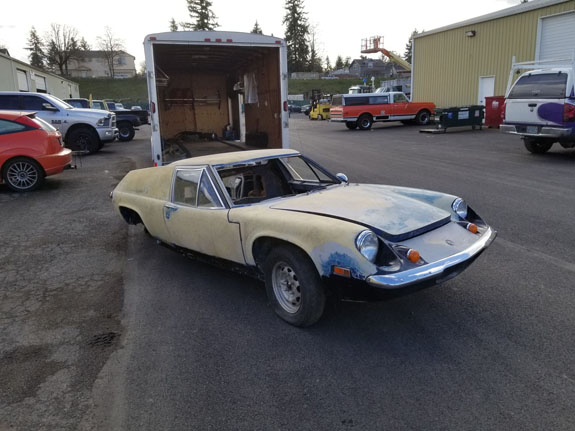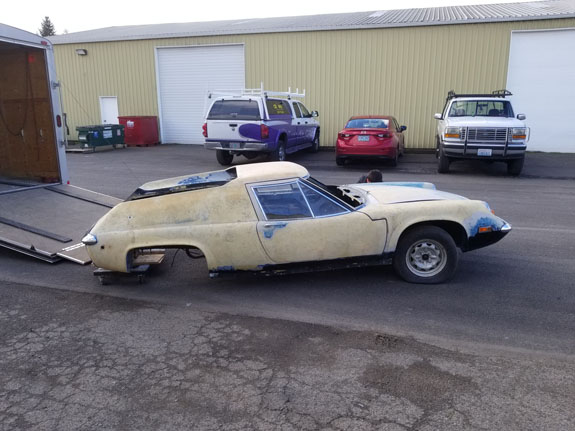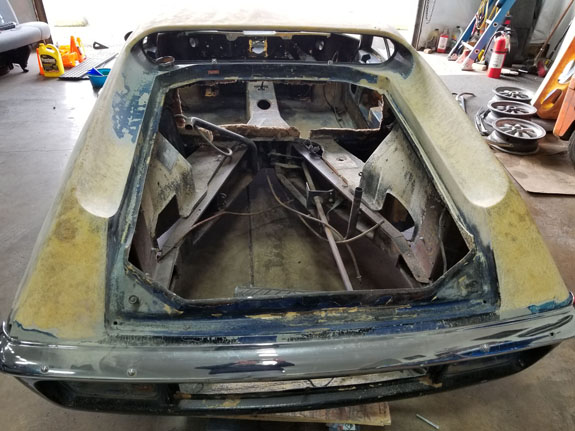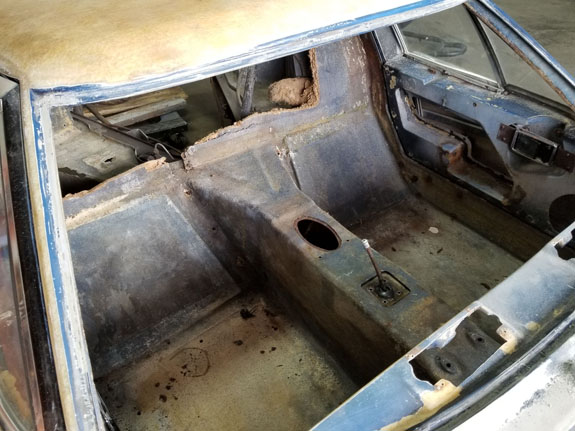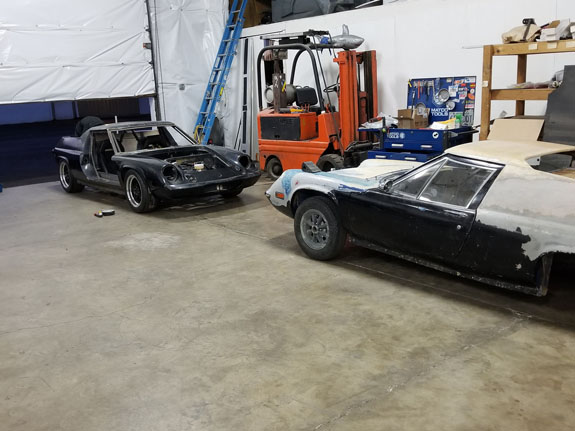 After all the waiting, we finally found a day with a balmy 45F for a high, mild 20mph winds and no rain - it's a GO! So we loaded up (driven on the trailer under its own power) and the following day headed East.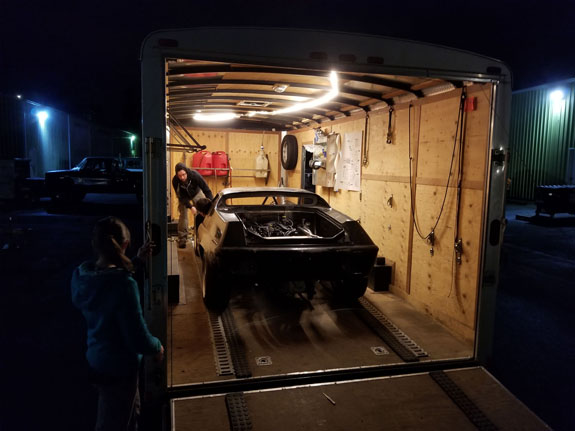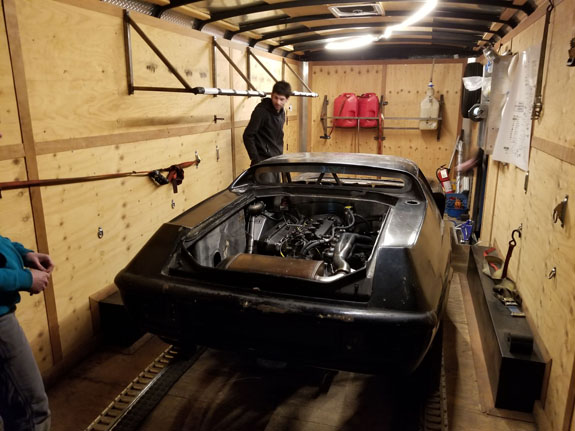 Arriving at the track it actually looks better than expected. Yes, it IS cold and windy. But wearing the appropriate number of layers makes it work. Jay came along as crew and Valerie brought her R8 V10 as chase car.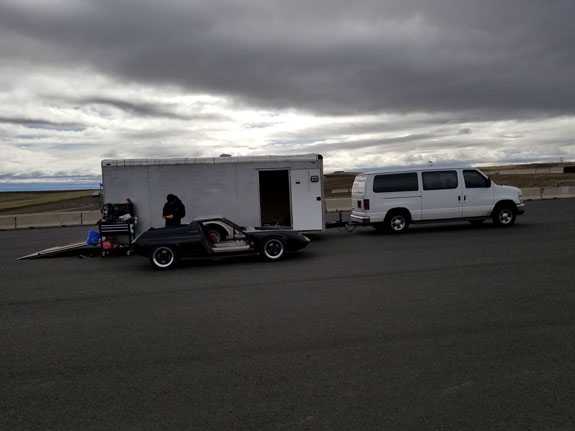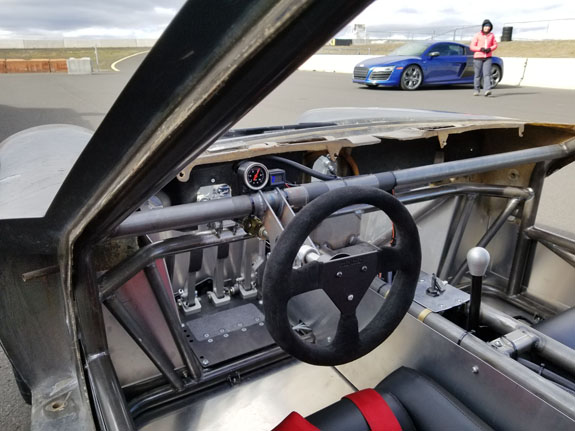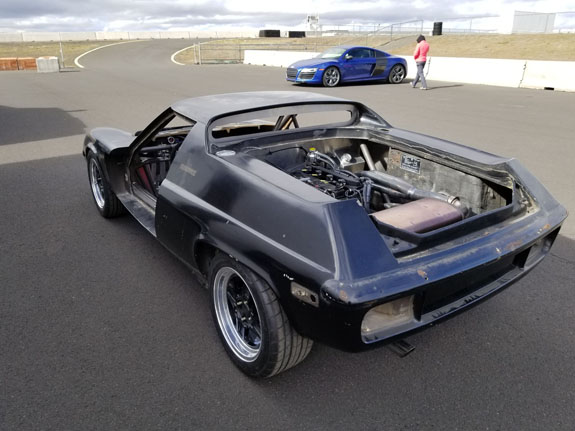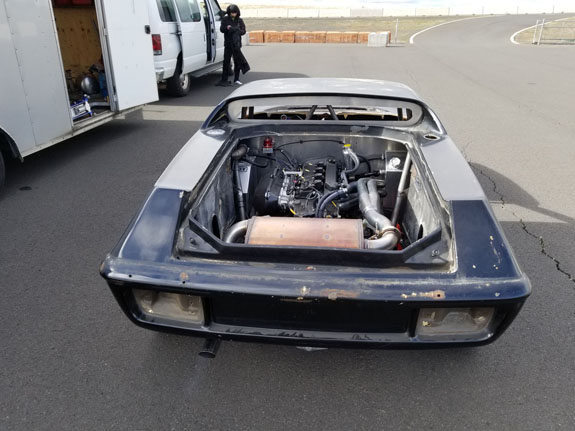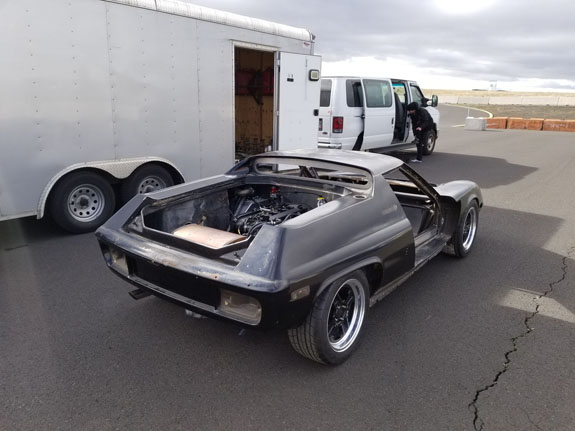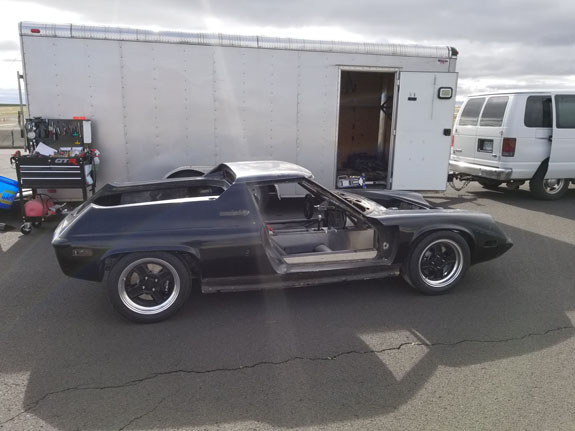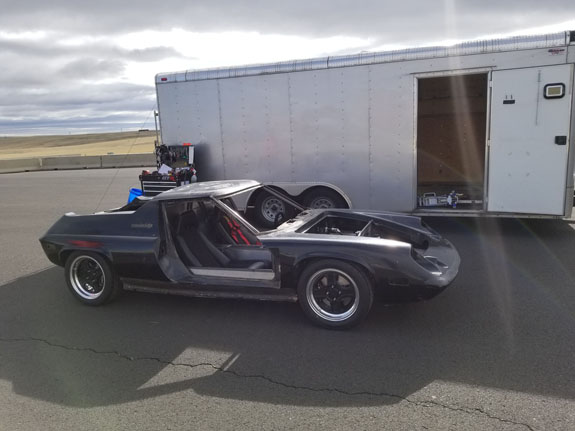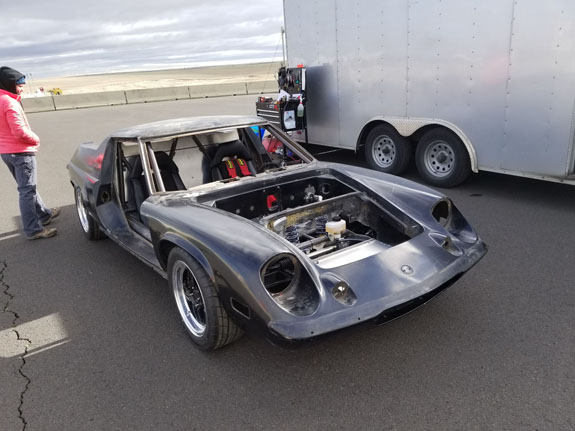 Now it's time for the parking lot test. It goes well and we're then ready to head out on the racetrack. Mike, the car's owner, does the honors.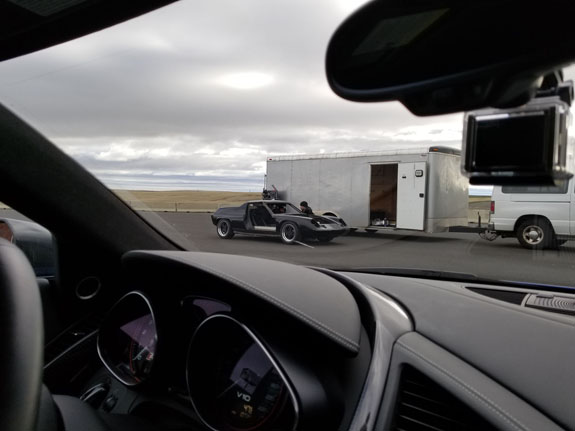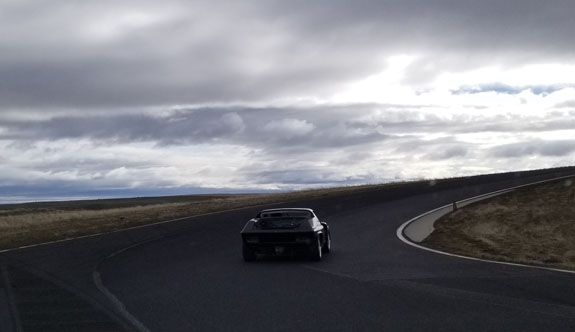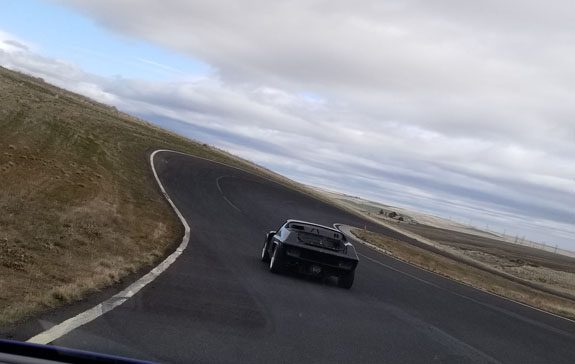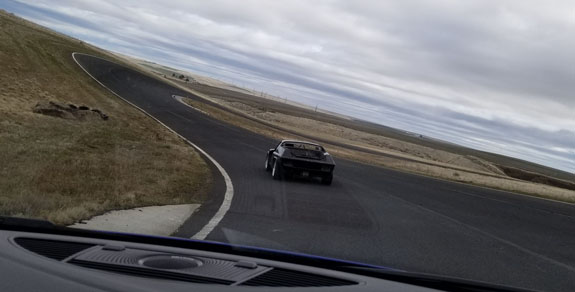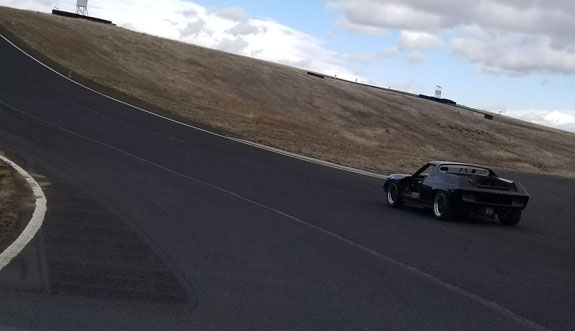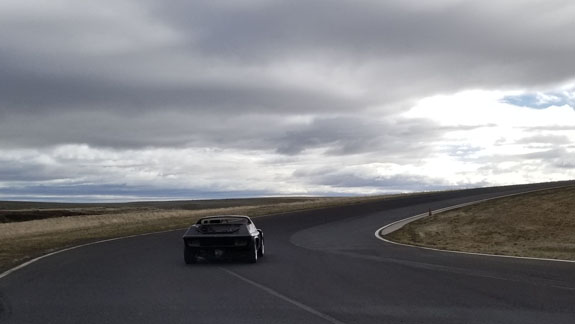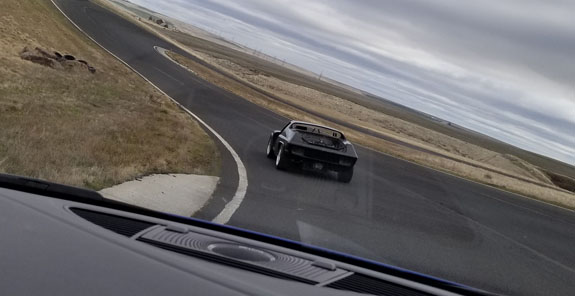 I'll have the GoPro footage processed later and will add it.
Mike drove the car for quite a few laps, and came in happy :) Then I took it out for a few more. Yes, this is exactly what I envisioned - it is solid, planted, composed. Ride is compliant and cornering limits are high enough, even on street tires, that none of us approached them today (once you watch the GoPro footage from last session you'll see that's saying something). From what I recall of my Europa 25 years ago, this has the spirit, the instant response, the near-telepathic connection between car and driver, but way more composure and refinement. Which was the goal. And the shifter actually works :) That, and you can drive the car with regular shoes on.
After a break, Mike headed out again and kept going progressively faster. Then we saw a puff of smoke and flagged him in. Just some gear oil coming out of the vent in the gearbox and getting flung on the exhaust. Some D2s have done this also, so we know what's happening. This is a Porsche G50 gearbox but mounted upside-down, so the oil level is a bit finicky. The solution is to fit a catch can and let it find its own level. Which is what we do by default on D2s now, but somehow - this being the very first D47 - we neglected it on this car. We'll take care of it next week.
In the meantime, we decided to call it a (very good) day and return to make some tweaks. Mike is happy. I'm happy. I feel mostly redeemed for my unfinished Europa way back when :)
More to come.
---
Site Sponsors and Links:

- CMS Lap Timer - Advanced Track Timer App With Video Integration

Tire Rack - Tires, Wheels (use link when buying wheels/tires to support this site)
---