---
1/18/16 While trying to figure out all the bolt-in joints in the rollcage to make it installable in the body, I was really wishing we didn't have to compromise this way. And then I realized - we don't. A quick call to Mike to make sure we're on the same page, and the decision is made. We're cutting out the floor and tunnel. They're not structural anyway, not in any meaning of the word that I would accept, and now we can do a full integral rollcage. MUCH happier with this version, and I would actually feel good about someone installing a crazy motor and going fast in this.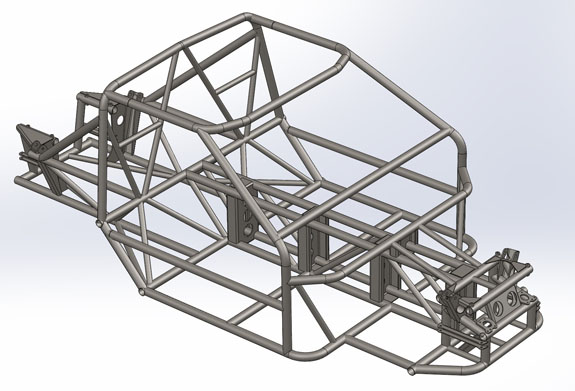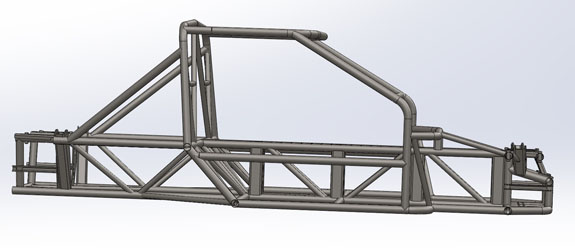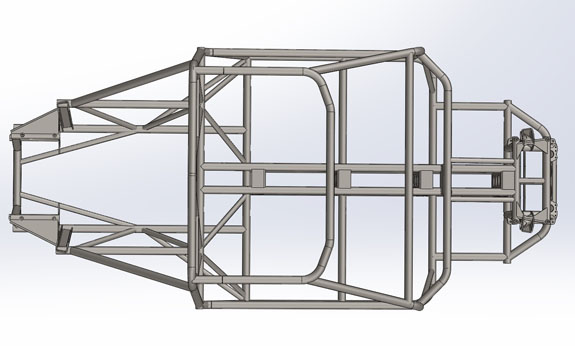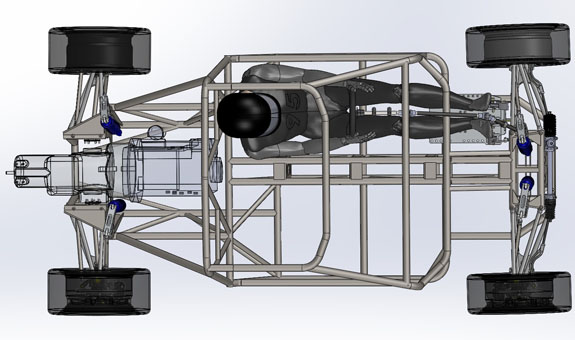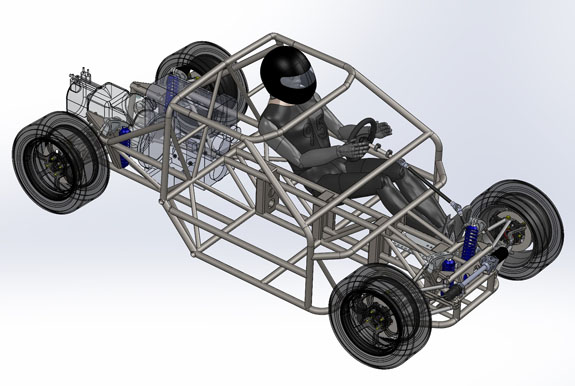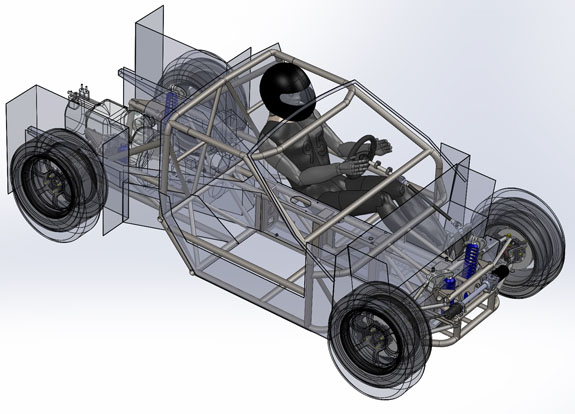 The whole frame will only weigh around 230 lbs according to SolidWorks. Now I need to detail it out and get the tubes cut.
In the meantime, machining has started for the uprights and associated bits. D47 uses our LT uprights (which we also have been using in the D1, D4, and selling to people building their own cars). It's a modular design that allows customizing geometry by changing various adapters and brackets, while still using the same base. In fact I used this feature of the design for this project to drop the lower spherical bearing by 1/4" in order to buy more space for the CV joint with the extra suspension travel. Worked like a charm and once the program is written there is no incremental cost.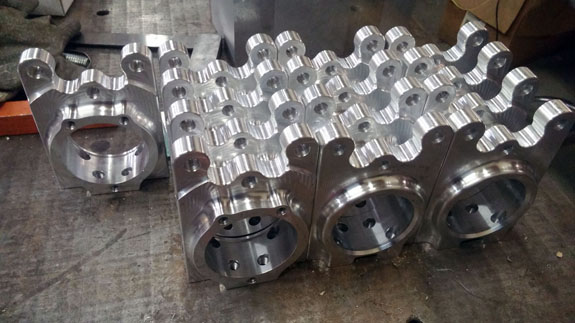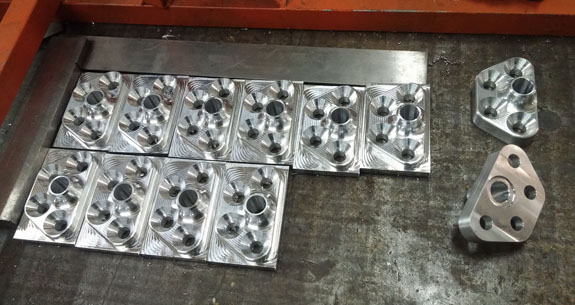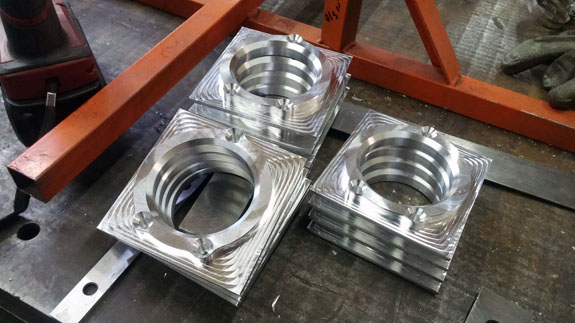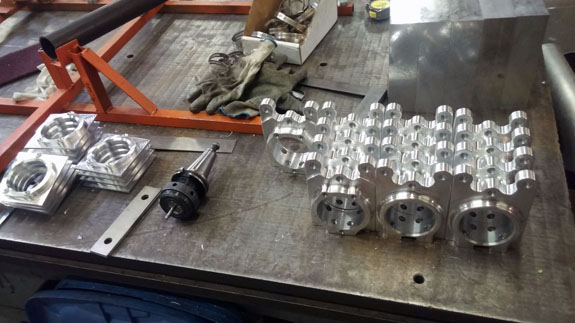 Speaking of machining, while the CNC equipment helps tremedously (OK, let's face it, we literally couldn't do this without the machines with the manpower we have), some things are still more efficient manually in the volumes we work with. Deburring is one such task - removing the burrs and sharp edges from machining operations.
But that doesn't mean we can't use technology to help. Jay bought a 3D printer for his own amusement not so long ago, and has been making various bits and parts with it. One of them is a modular soft jaw system for our manual mill to make deburring of lathed parts faster and easier.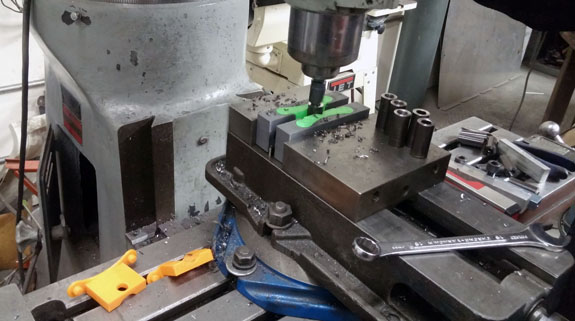 Yes of course this can be done with regular V-blocks and some (occasionally fiddly) setup, or one could just print several versions of the jaws (at the expense of extra material). This is about efficiency. And having some fun. And learning a few things in the process.
---
1/22/16 In order to finalize the frame dimensions I wanted to double check everything versus the bodywork. And that is much easier done with the floor not in place, so might as well just cut it out now. Which I did.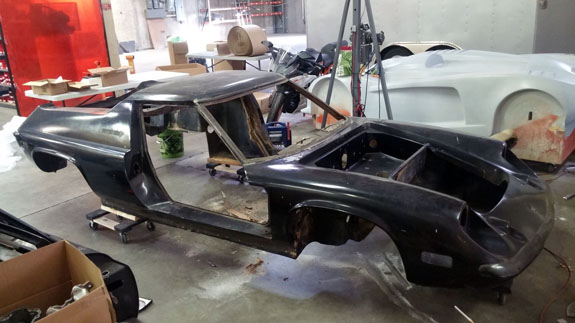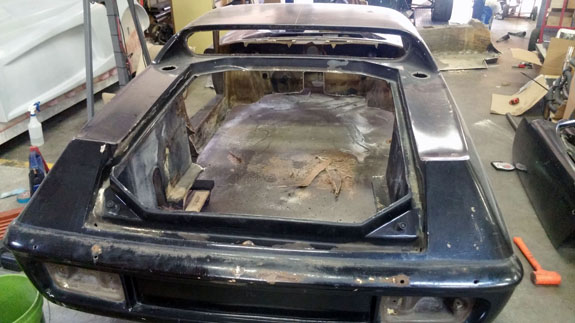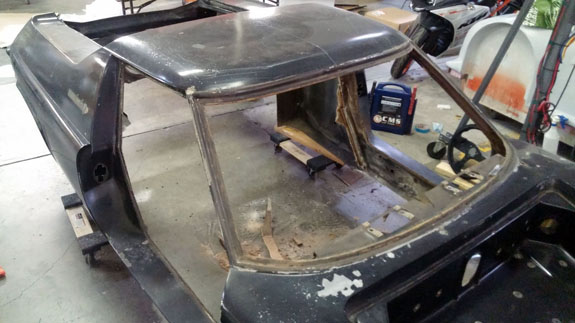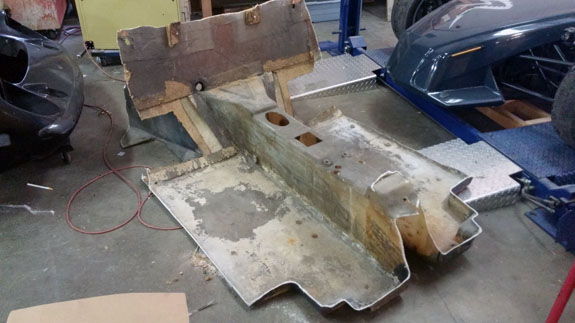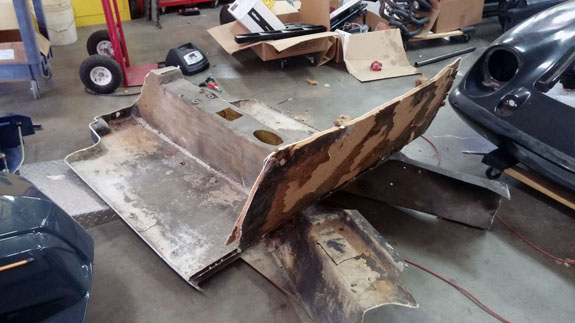 The outer shell still has enough structure to be easily handled without risk of breaking anything. The cutout part is chop-gun glass that varies in thickness from 1/32" to 1/8", with about 1/16" average. And of course there's the mystery cardboard material in the rear bulkhead. The whole mess weighs 35 lbs, which is roughly the equivalent of what the aluminum panels replacing it will weigh. Except they will be attached to a steel frame, and aluminum has much better puncture and fire resistance than fiberglass.
Now I can tape some references on the floor, position the body over them and measure things a lot more accurately.
---
2/19/16 Much is happening as always, haven't had time to do updates. The D47 project is moving along. To measure the bodywork more accurately I set up a piece of plywood, on which I drew a number of reference lines using some squares, rulers and tape measure..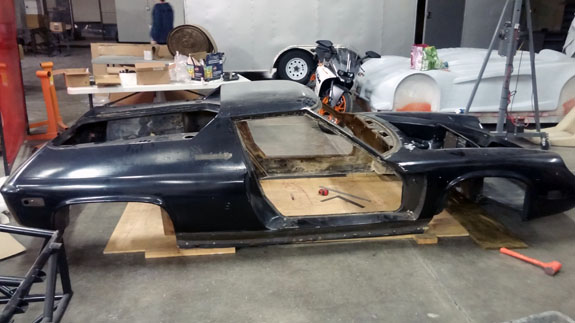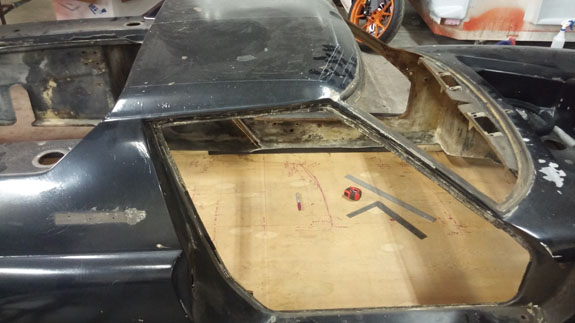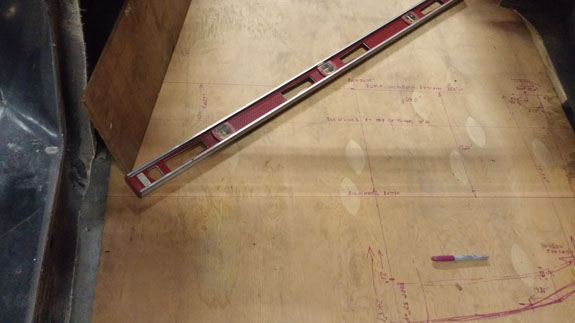 Then it was all transferred to SolidWorks. Good thing I did this, since quite a few changes and updates were made as a result.
The two major pieces that needed to be designed before ordering tubes are the transmission mount and the shifter mechanism. That's done now and the trigger can be pulled on the tube order. This will take a while so other things will be happening in the meantime.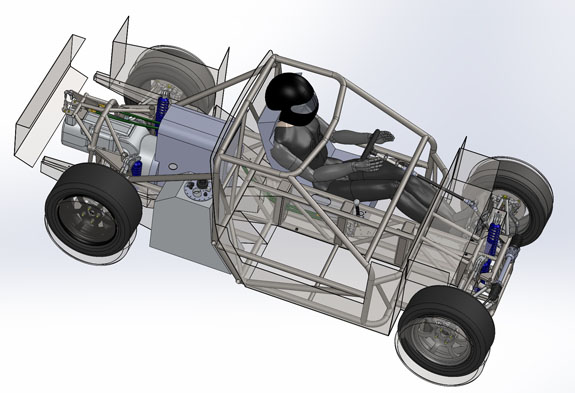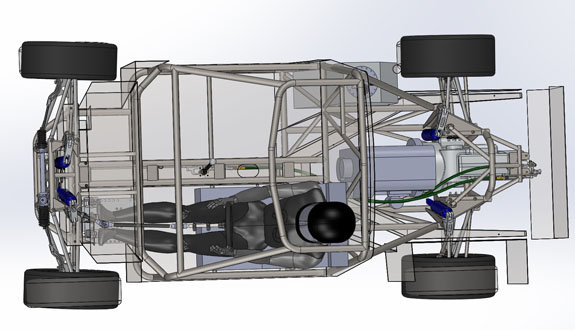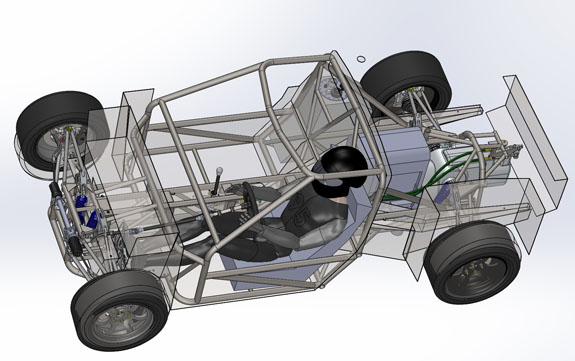 All the while more machining is happening, for pretty much all our cars and the Sector111 Drakans as well. Some of it is destined for the D47, like the LT uprights. The LT is a modular design and I took advantage of this feature here. Because of the greatly increased suspension travel over D1/D4 (6" vs 2"), it was necessary to provide more clearance between the CV joint and the lower arm at full droop. This was accomplished by making the lower adapter 1/2" thicker. In the pictures below, new one is silver, original is black. Last picture is some brake hats.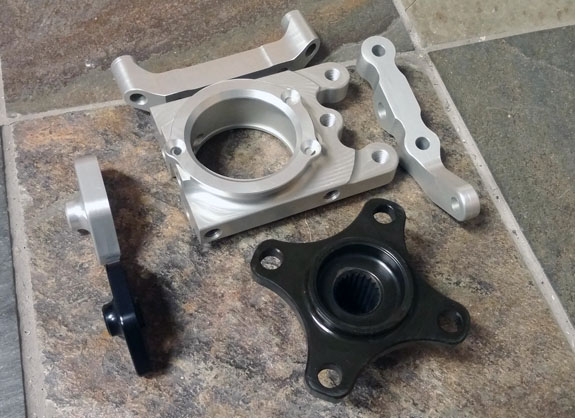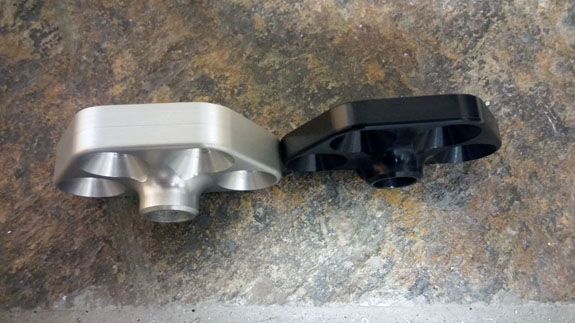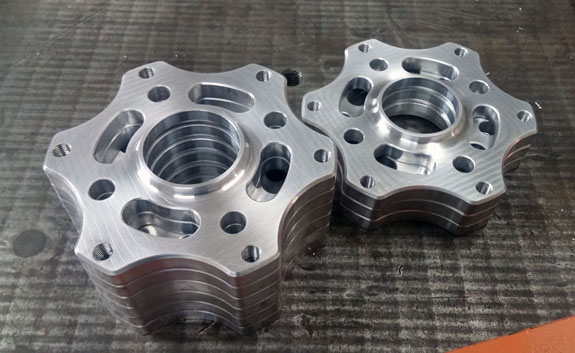 We do sell all the components separately, and a full set of LT uprights is going to Europe in the next few days. The commonality of components between various platforms really helps our efficiency, and makes availability of spares much more practical. The D47 project is using a mix of D1/D4 and D2 parts, with only a few that are unique to this car (frame being the major standout but it will get shared with other future designs).
---
04/05/16 One reason it's been a month and a half since the last update is the fact that we had to move to a new facility. It was getting rather crowded and pretty much impossible to keep organized...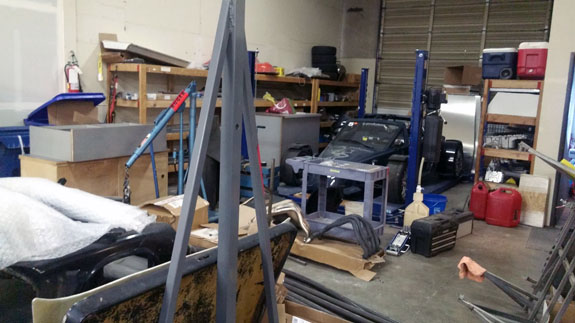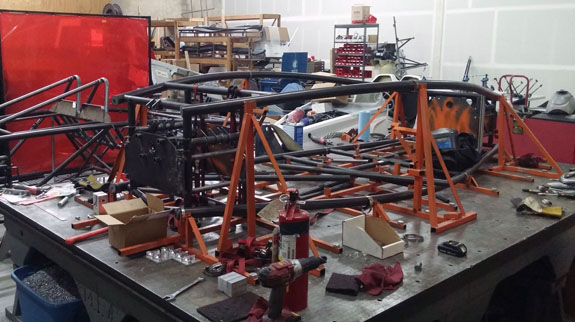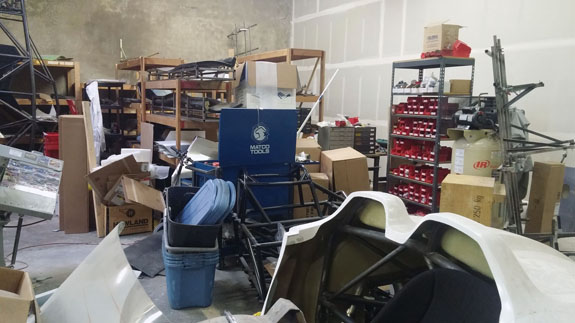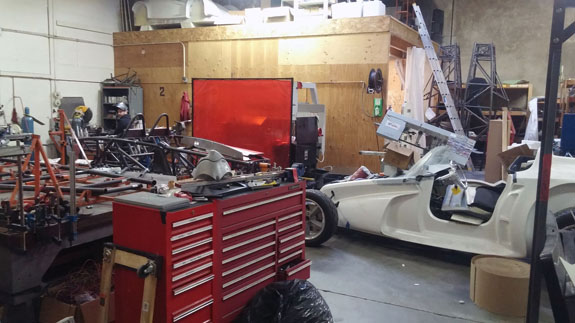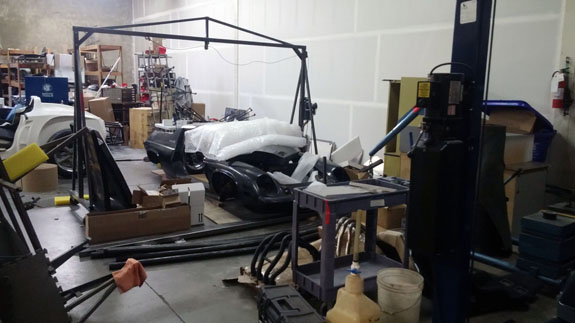 We have a lot of stuff and we have a lot of cars to build. So a bigger space was needed sooner rather than later. The move was rather stressful. It's not over yet but after two weeks, a full semi trailer and about 20 of our own trailer loads, we're out of the old space and into the new.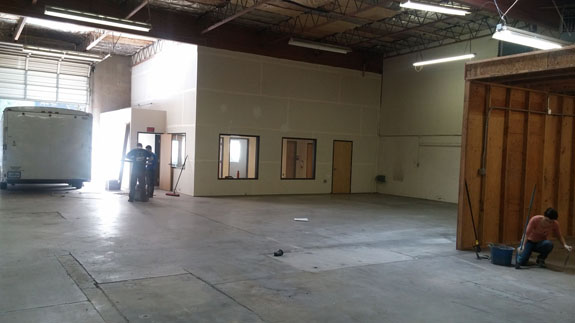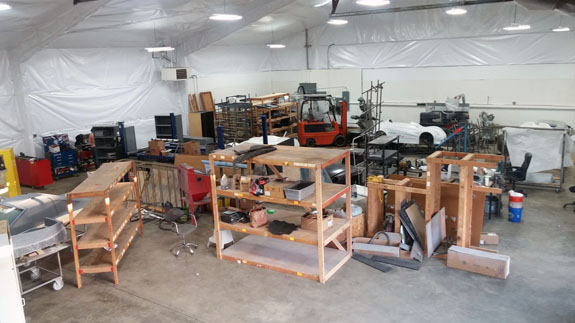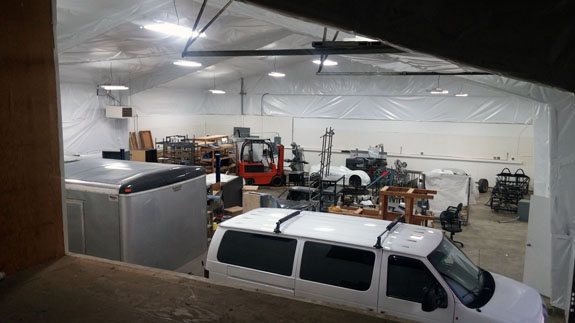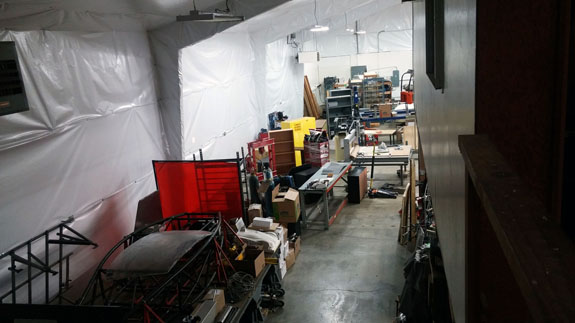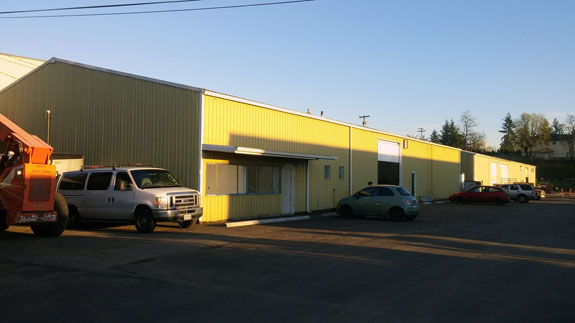 Now the power to the machines is hooked up, the air lines have been run, we have internet and wifi, some of the computers are up and running and we're ready to move forward.
On the D47 front, both the tubes and sheetmetal for the first two cars are here. As soon as we organize a bit more and finish up some in-progress work, the first one is going on the jig.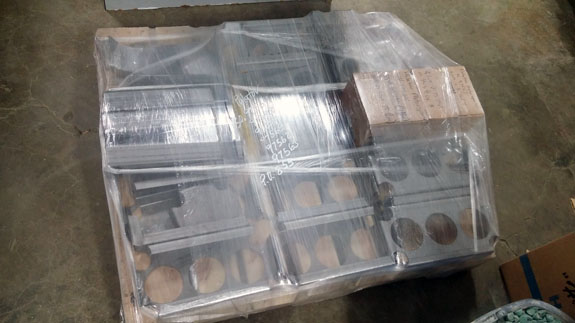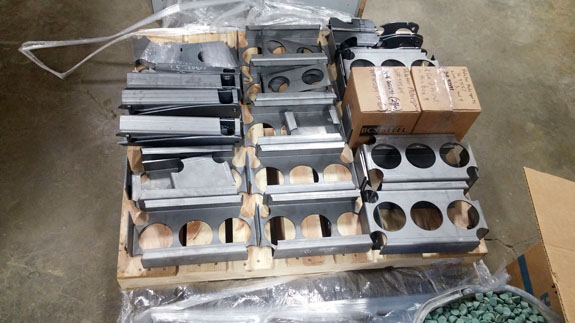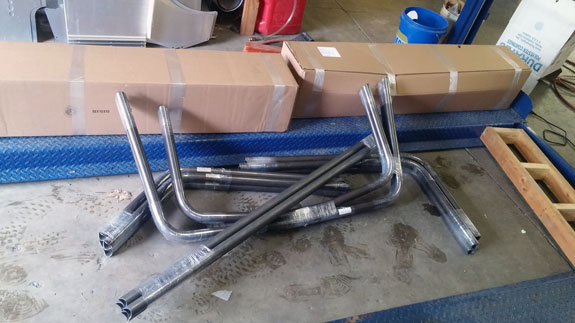 The uprights are made for the first couple cars as well.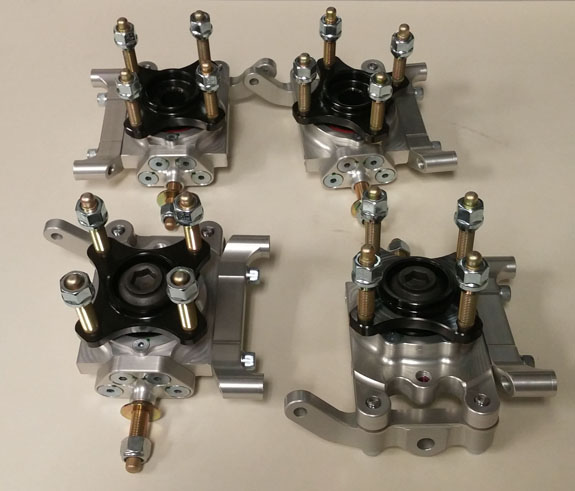 Huge amount of work ahead and there are some solid inquiries for more D47s as well. Looking forward to driving the first one :)
---
07/11/16 Now that we are back from Pikes Peak, work continues on other projects and D47 is one of them. The most immediate task is constructing the first frame and suspension arms. Jigging is being built at the same time.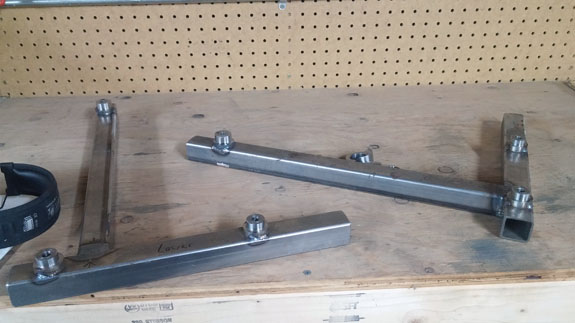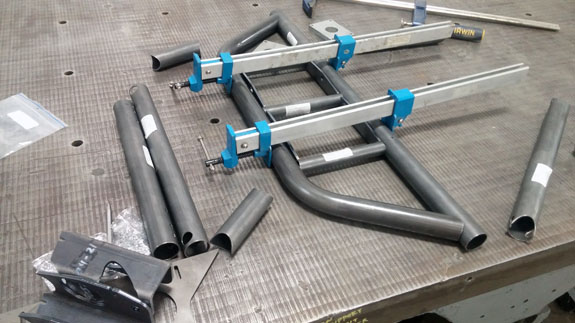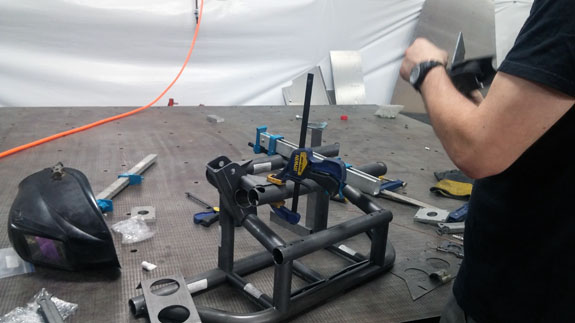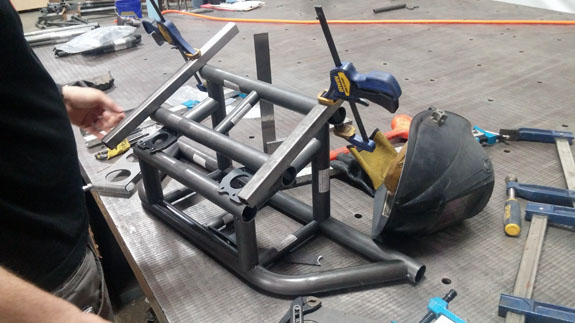 We are also continuing talks with Motus about using their engines in our cars. I think it's a great fit and will post updates as they develop.
Here are a couple shots of what the D47L (for Lotus) would look like with one of the engines. It clearly leaves plenty of room, which means shorter wheelbase versions like original Mini and Bugeye Sprite are possible while maintaining the overall mid-engine layout.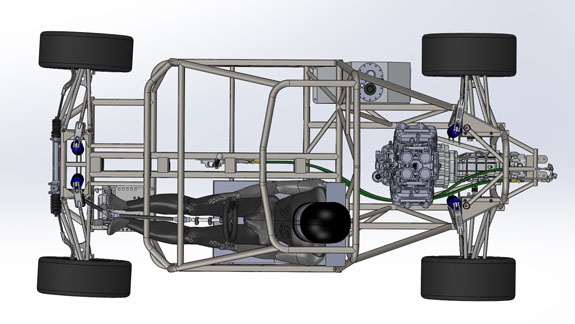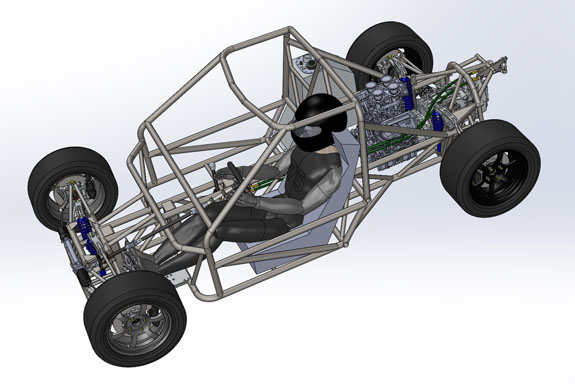 There's some news coming soon on the Mini version - the D47M.
As with all our designs, the individual parts will be available for sale separately. This includes front and rear welded subframes with full suspension, which can then be incorporated in other builds as a complete assembly.
---
8/25/16 There was a pause in the D47 progress because we had to design and make fixtures for the alignment-critical parts like suspension pickups, as well as plates that will allow us to put the chassis into the rotisserie for final welding. Now that that's done, things have moved along.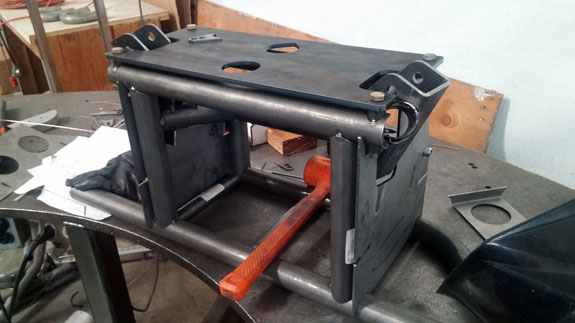 Once the ends are fixtured, full frame can be tacked together.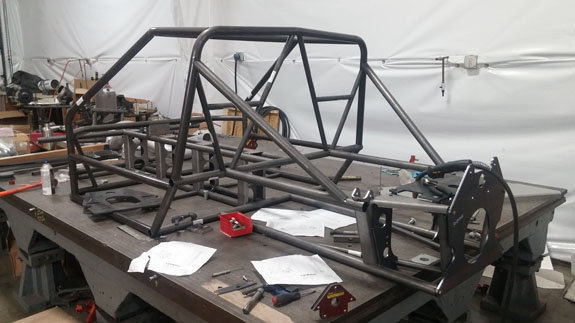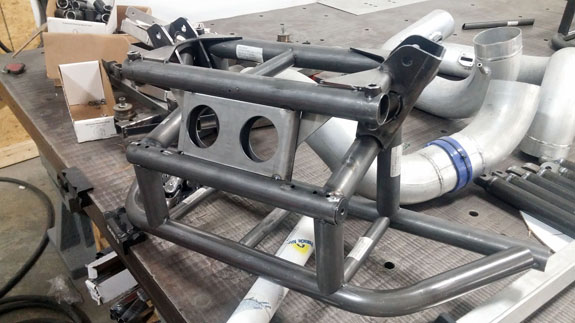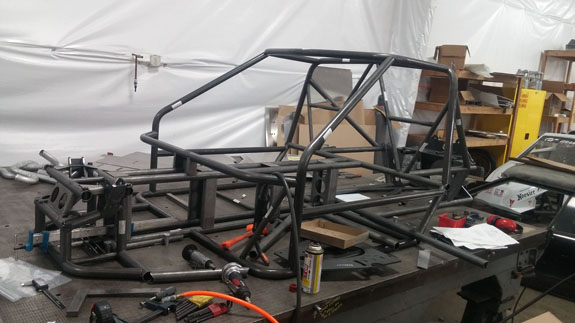 Then, the big step - test-fitting of the body. This will tell us how good my measuring has been, and whether we're going to need any significant changes to the frame.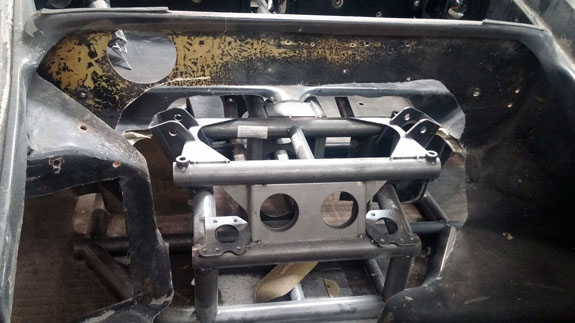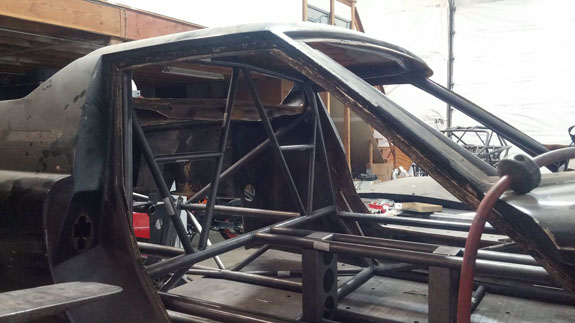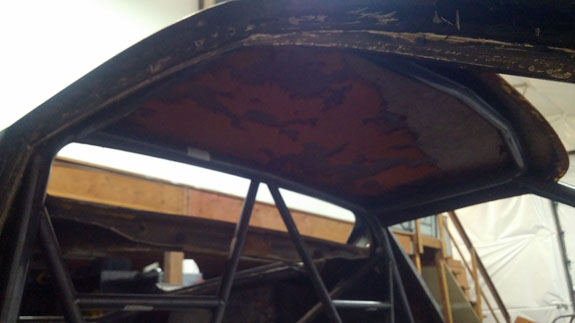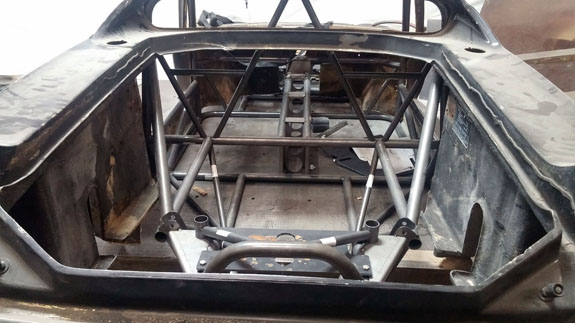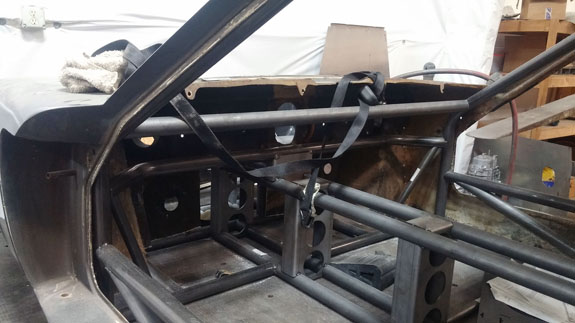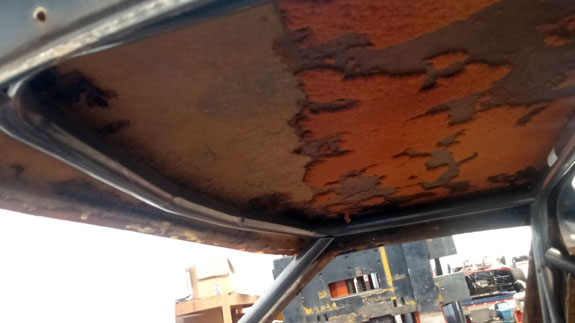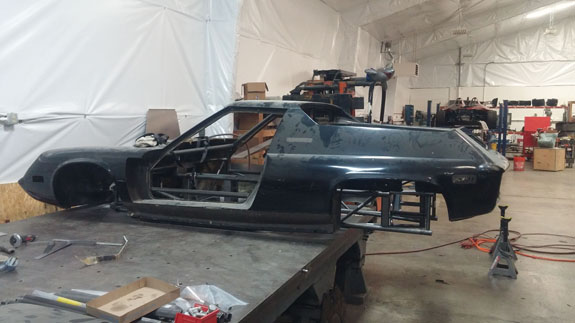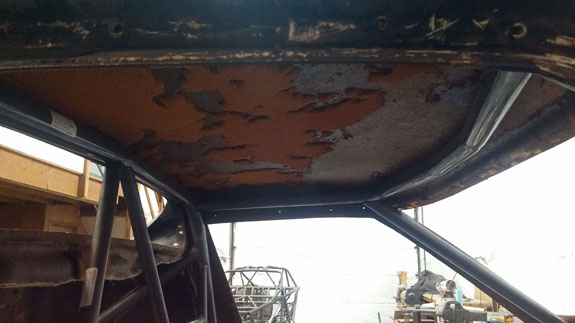 Pretty good, as it turns out. A fair bit of the nose 'trunk' has to be cut out, but that was expected and planned. Most of the interior paneling will be laser-cut aluminum, like on the D2.
Next is the test-fit of the seat and pedals. Stock Europa arrangement has a very narrow foot box that is offset a lot towards the center of the car. It's generally not possible to drive one with normal shoes (I remember I had to trim my shoes with a razor blade when I bought my Europa way back when). Since I'm doing the suspension arms differently, there's now more room for the clutch pedal and the whole thing can be moved to better align with the seat. Works well!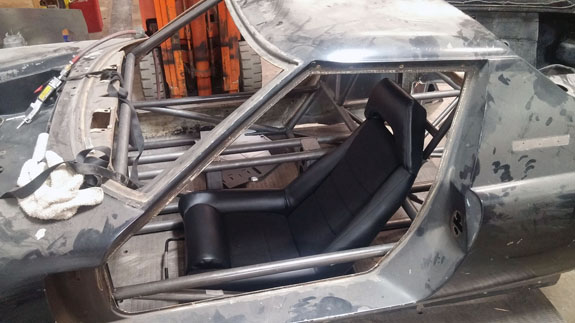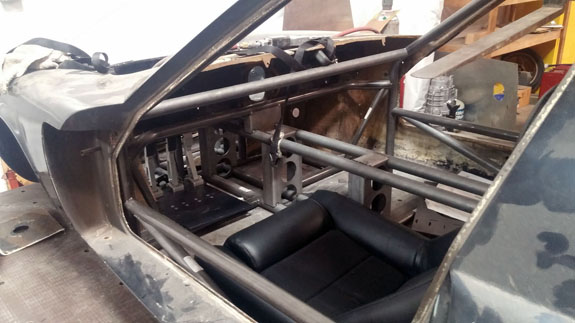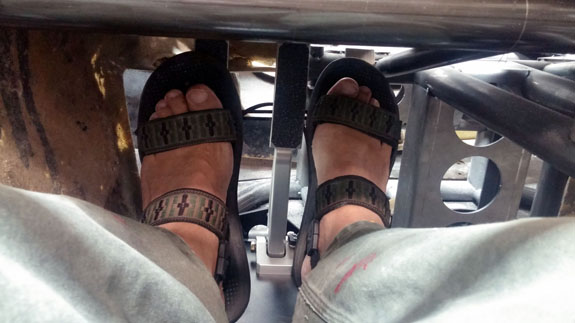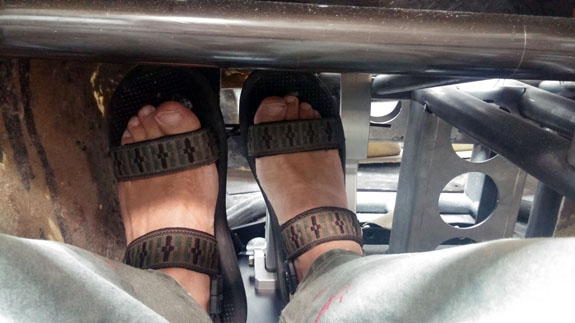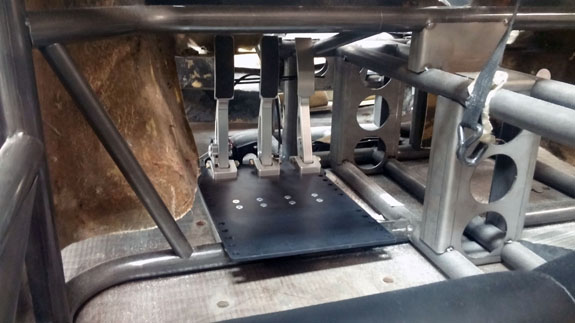 Only tweaks that are needed are additional bars for shoulder harness attachment to accommodate different driver shoulder heights, and moving two tubes in the footwell to avoild interference with right foot toes. It's not bad, but if we can improve it - why not?
Now we can move forward with the rest of it.
---
10/26/16 The fuel cell showed up. Fits as intended, though we may move it to the other side, away from the exhaust header.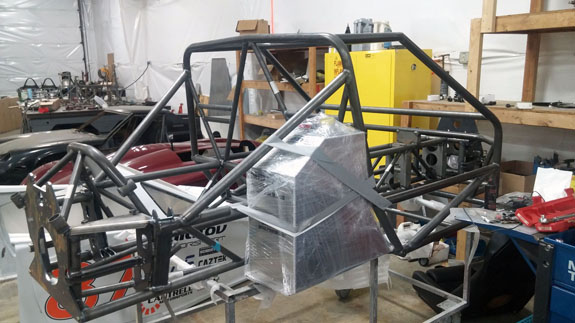 The engine is not running yet but we got it in the shop temporarily so we can test-fit it and finalize the frame. Customer is supplying the header and all the engine details, we're just making sure it fits.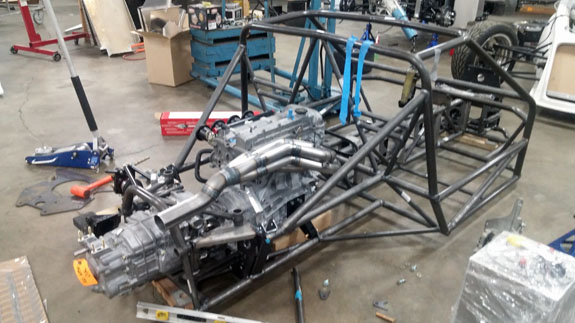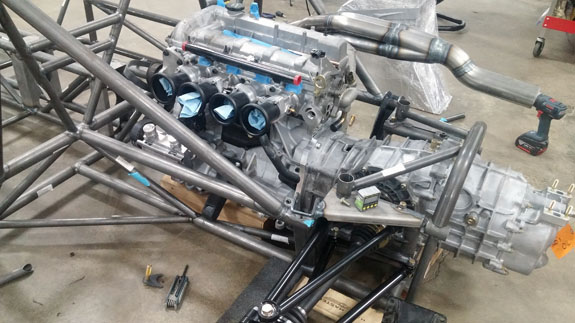 Jay 3D printed the first pass at engine mount design, now we can adjust and get the steel version laser cut so we can weld it. It's basically an adaptation of the earlier D2 engine mount, using an Audi suspension bushing to provide vibration isolation.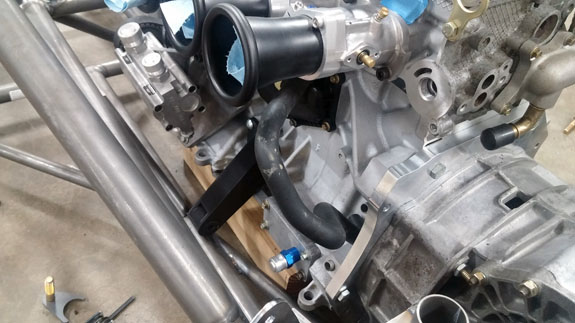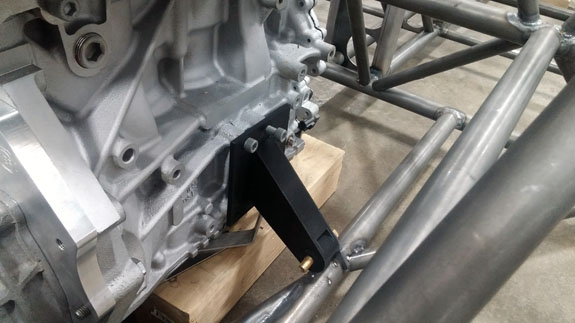 Transmission mount and shift linkage is next, then the engine goes to the dyno and we keep going with the chassis.
---
11/17/16 We did some more test-fitting of things, including to see how engine fits with body on.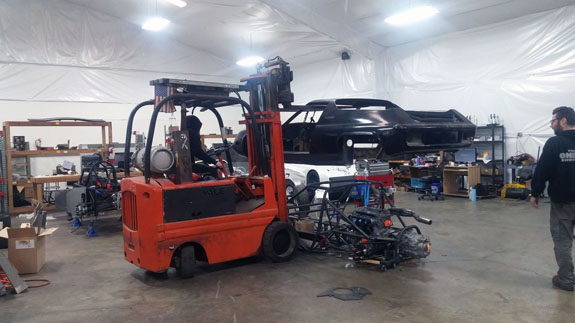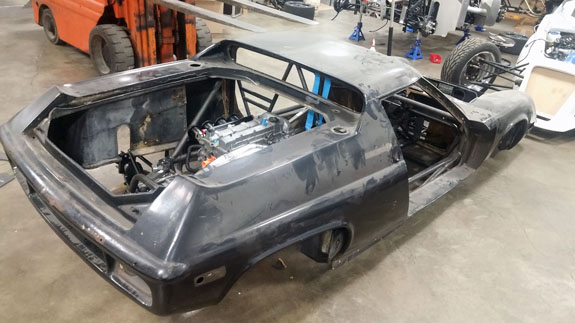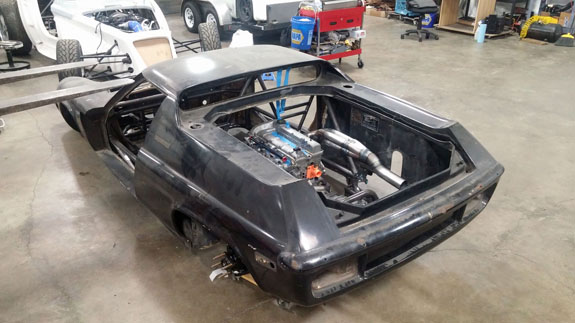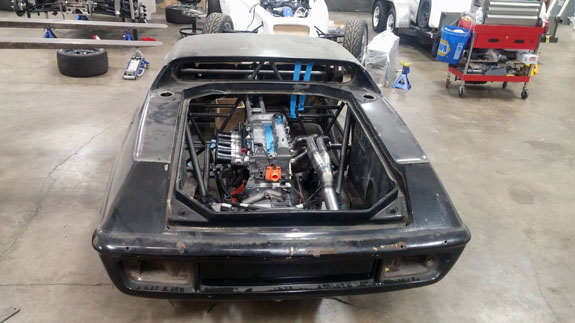 So far so good. We then installed one corner of front suspension. That too seems to fit OK.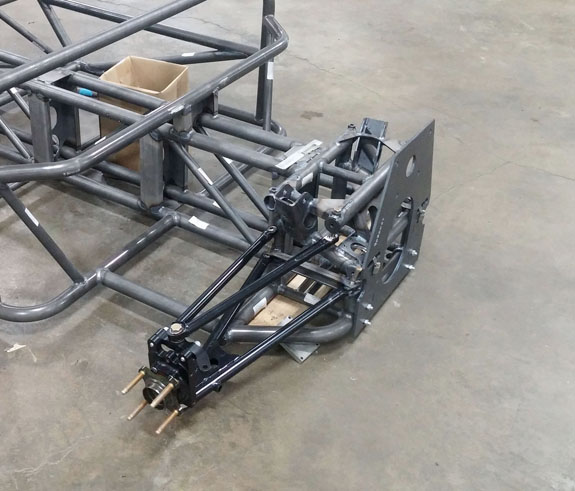 Had some issues with mounting of alternator (we didn't fabricate the original bracket, but found a way to modify it). Should work now.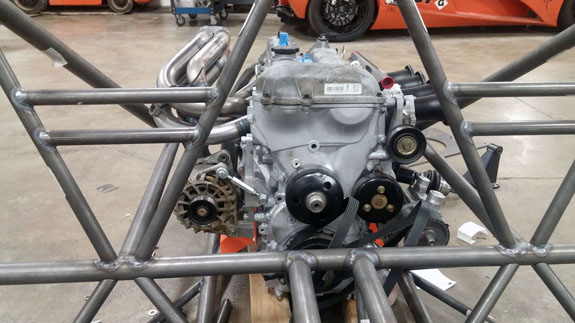 Now the sheetmetal for engine mounts has been ordered and we need to wait a bit before a lot more progress can be made (there will still be some).
In the meantime, we have been getting some serious interest in the Mini version of D47. After looking at a transverse-engine layout I found that it would compromise rear suspension geometry too much, so the plan is to stick with a longitudinal engine and sequential transmission. This does raise the price a bit, we are estimating complete cars ready to drive to be in the $75K range for 250hp, sequential, paddle shift version. It should weigh around 1,400 lbs. Kits will start from $30K. Detailed pricing spreadsheet with various options is available on request.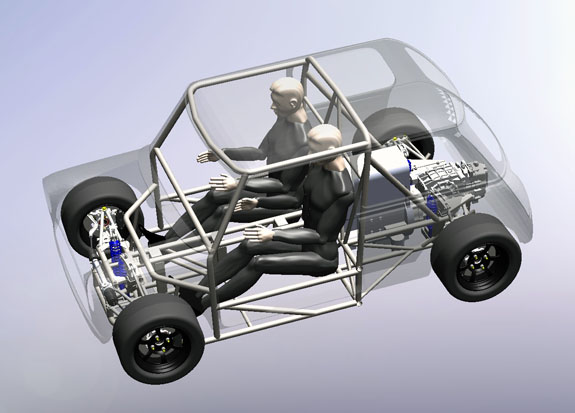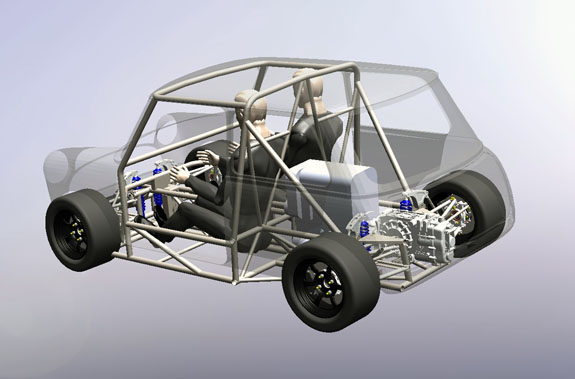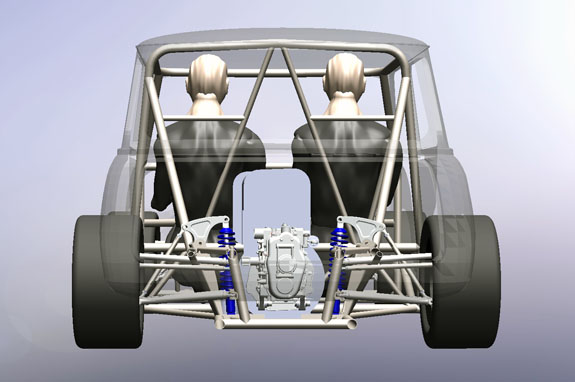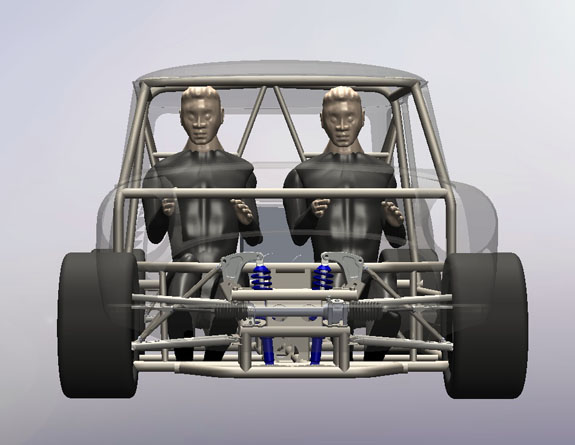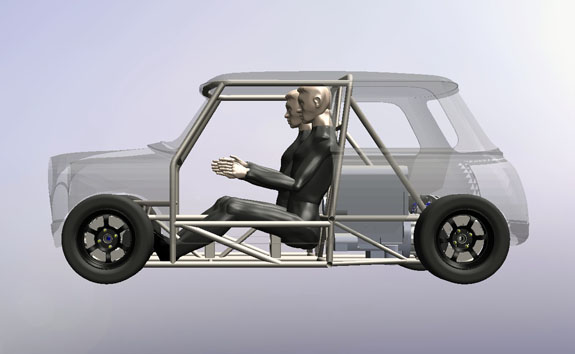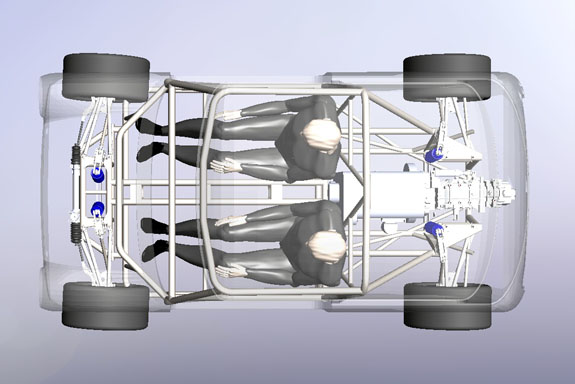 We have one composite bodyshell in stock, courtesy of Jet Motors. Hopefully it will be allocated to a build soon.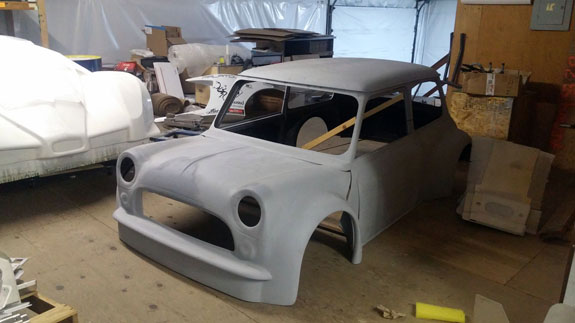 We also have another intriguing D47 application - a replica of the Lamborghini Bravo prototype. It was never a production car but it's one of my favorite Bertone designs. A blog follower from the UK has come up with CAD design for the bodyshell and we're discussing the possibility of making such a thing. Just trying to gauge interest right now, so let me know what you think. The renderings below are with an Audi V8, but a Ecoboost V6 would probably be a better bet (and more power too). For now I just plugged the Europa D47 chassis into the shell, it would need some tweaking to fit properly. But shows that it can be done and is a good illustration of the D47 platform versatility.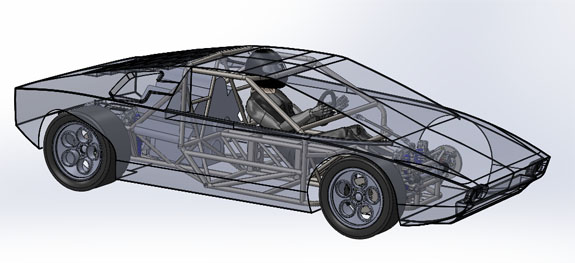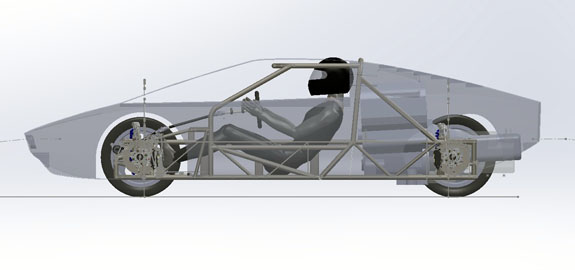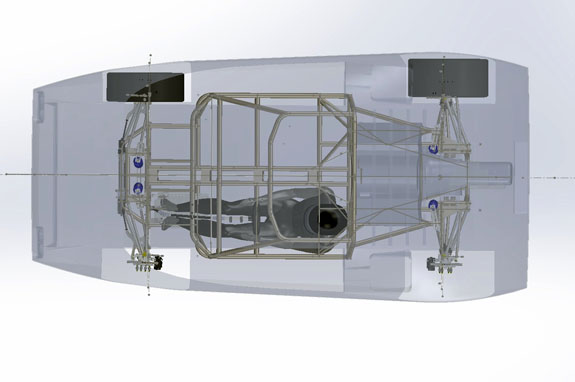 ---
12/2/16 Things are coming along on the Europa D47. More of the components are getting completed, like suspension arms and engine mounts, and as a result we are now able to check the fit of some of them. All in all it's working out pretty well.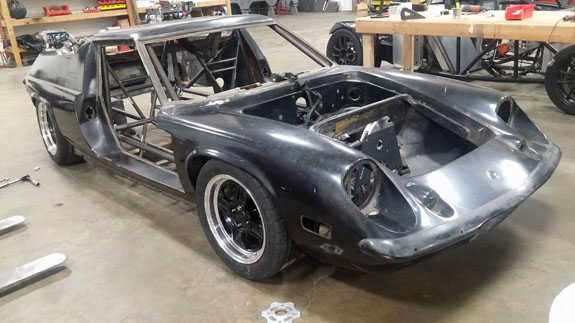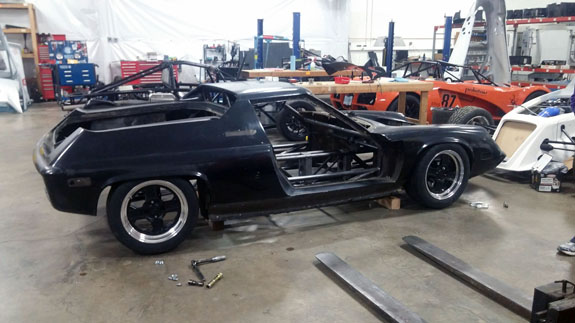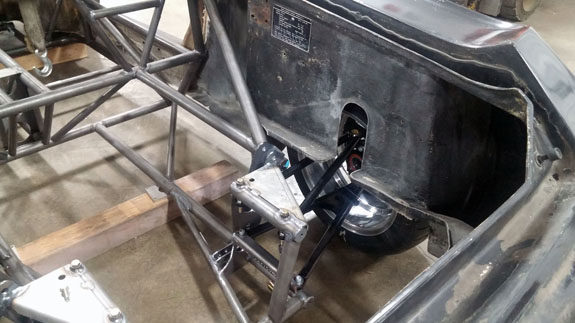 Minor tweaks are necessary, like the need to move the wheels about 1/4" inboard - this will be done with a revised version of the uprights. Primarily because we have the suspension arms and the chassis made already, which would be the other two ways to do it. These parts are D47 specific wherease existing uprigths can be used on one of the three D4s we're building and we'll just make another D47 specific version for this and the next car. It's a pragmatic choice.
Since we don't have a scan of the bodywork it's down to the accuracy of the measurements we make. Our success rate is pretty good, but we're human afterall :) And we're doing better than the vendor who put the alternator right in the middle of exhaust header, or vice versa. So we are now making alternative alternator mounts (there must be a pun in there somewhere) to fix their issue. Jay's 3D printer is the quick way to test it. Need a longer belt but should be good otherwise.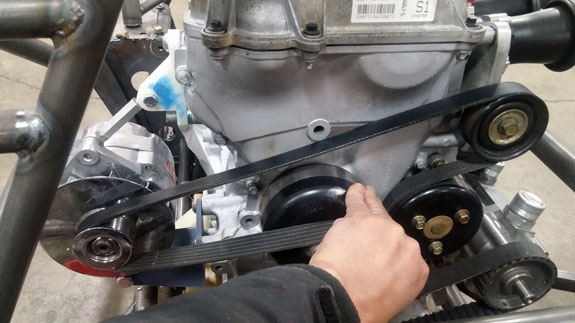 Once the engine mount sheetmetal comes in (any day now), we'll weld those up and get the rest of the engine/transmission mounting scheme nailed down. Then it's shifter linkage, interior paneling, steering system, pedals and seat mounts. Oh and I have to machine the rear bellcranks. Even though the fronts are shared with the D2, the rears are specific to D47 due to geometry. One size fits when it fits, but best to do it right when it doesn't.
Amusing note on the bellcranks - the suspension patent is now in its final stages. One of the claims has been allowed, and the rest I'm going back and forth with the patent office on. In the latest response I referenced both a Supreme Court case and a Jay Leno video. We'll see how that works out.
---
12/16/16 We've been having crazy rare winter weather here lately (which means total mayhem ensues on the roads - there were a half-dozen abandoned crashed cars at an intersection just down the street the other morning). But we're still making progress on all the projects. So there is a bit more on the D47, among others.
One glitch we had to resolve was the fact that when I measured the bodywork, I didn't fully account for its shape and the effect it has on tire clearance. So we ended up with some rubbing. I looked at a number of different ways to address that, and finally came to the conclusion that thinner brake hats are the best way to do it. The normal LT upright hats are 1/2" thick but only 1/4" is really needed. So it was a relatively straightforward fix (did have to go to 10.75" rotors from 10.25" to clear the wheels, and those almost didn't fit but actually do). So now it works.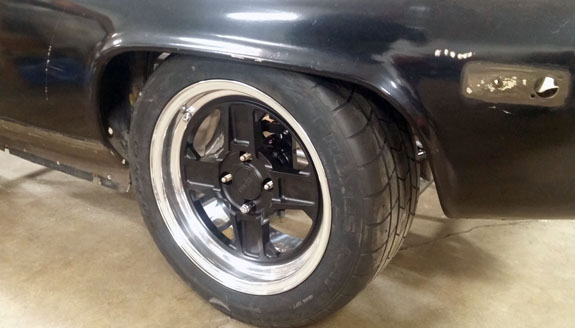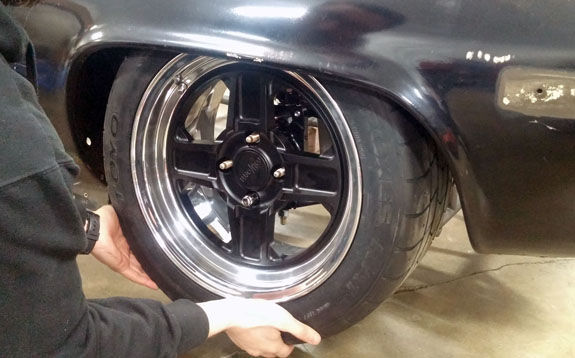 There is now about 1/8" to spare. As we often say here, clearance is clearance.
The engine mount sheetmetal is here from laser cutting and we've welded those up. Now we can move on to gearbox mount fabrication. Numerous tight clearances here too.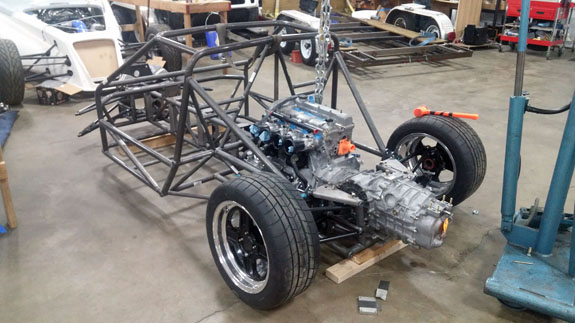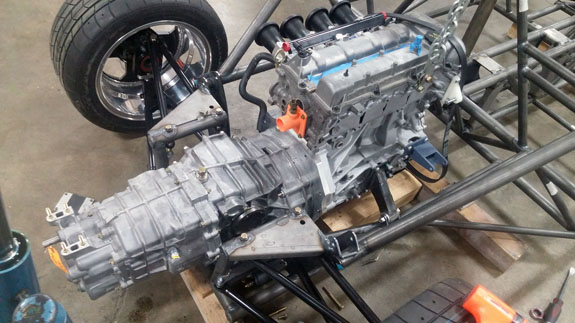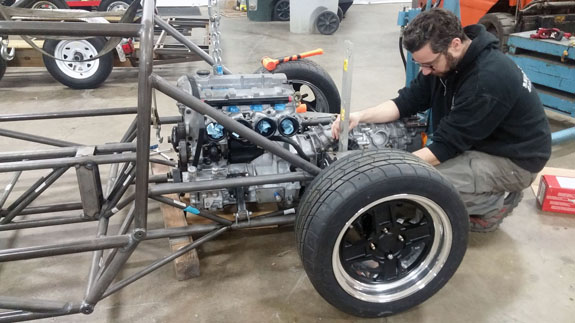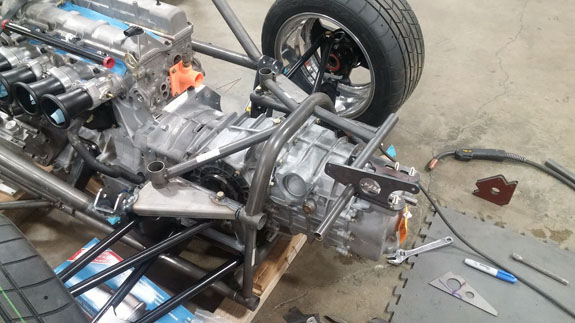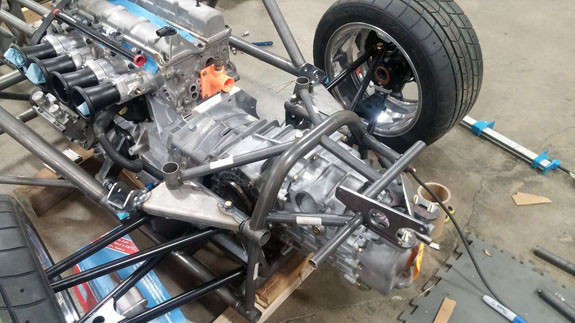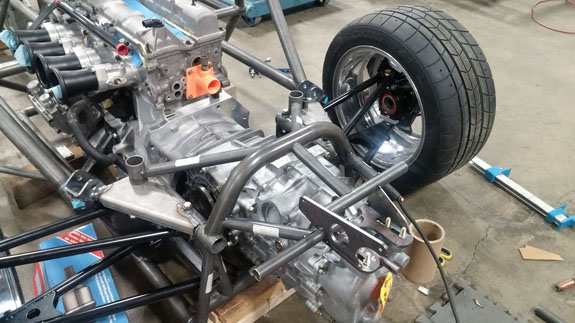 It's getting there. In the meantime we're machining lots of parts for the three D4s in progress, welding things for the two D2s being built and two more being modified, moving forward on the Stiletto, making some D1 updates, and a few other things besides.
We are certainly not bored.
---
Site Sponsors and Links:

- CMS Lap Timer - Advanced Track Timer App With Video Integration

Tire Rack - Tires, Wheels (use link when buying wheels/tires to support this site)
---