---
2/16/17 Long-overdue update. Several items:
The bodywork is progressing. As part of that, we're updating the front and rear crush structures to the new design, since they now incorporate wing mount points. The old ones came off, and the new ones are built.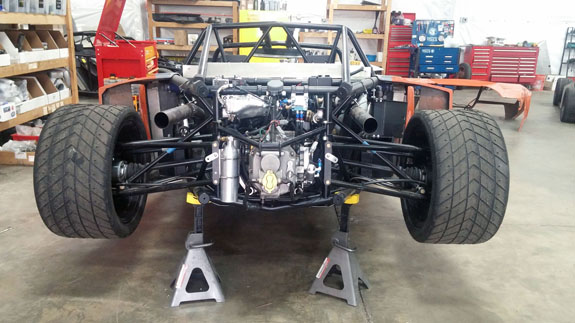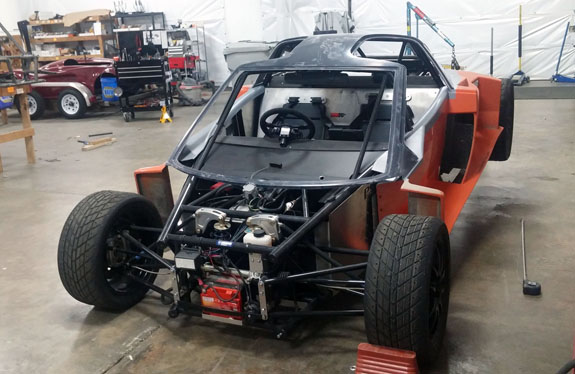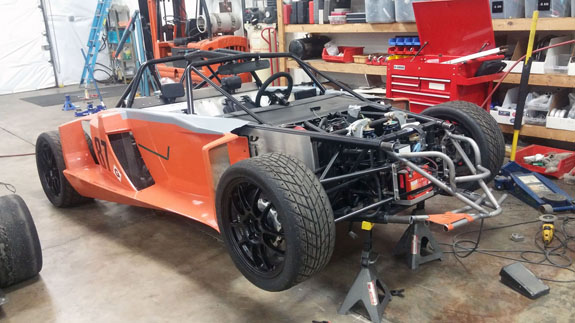 The prototype canopy part is finally here. Time to test the fit and see how it affects the look. I think it really transforms the car, and oddly makes it look a lot smaller. Now the car is again Elise-sized except wider.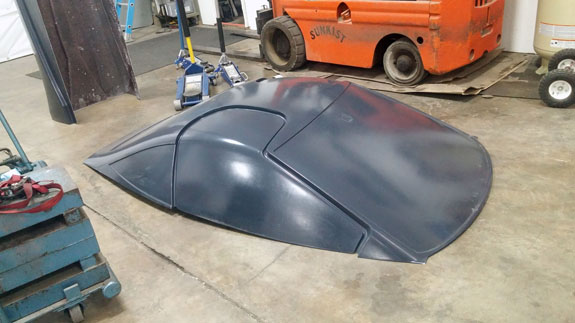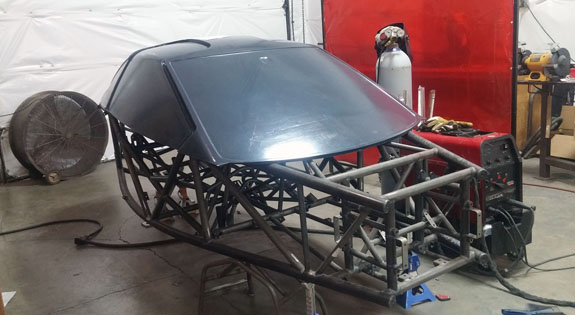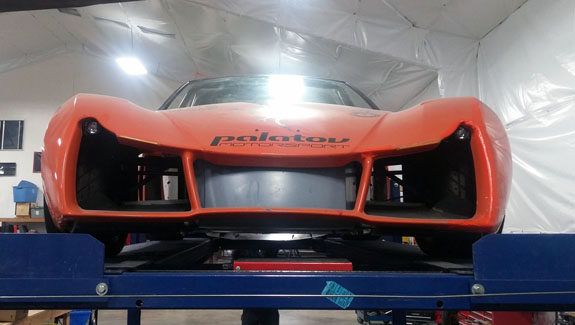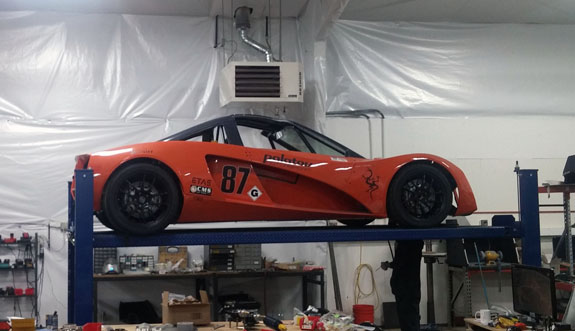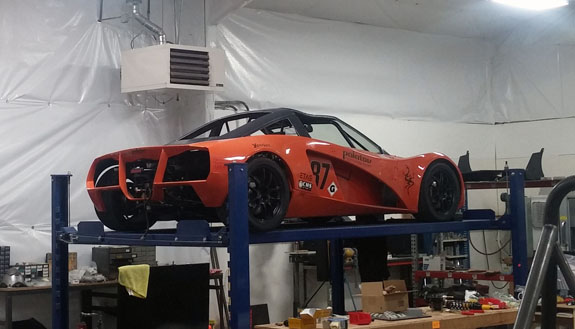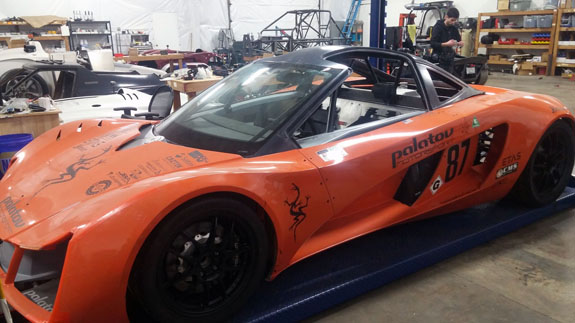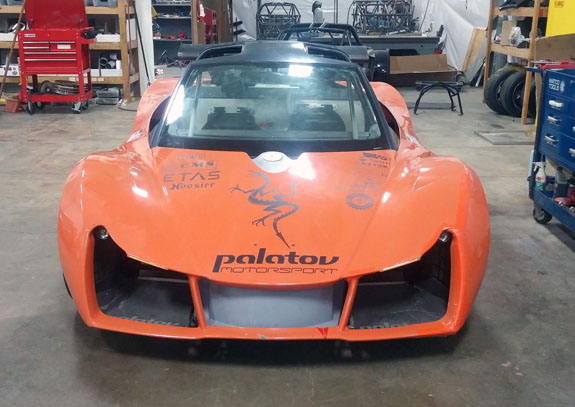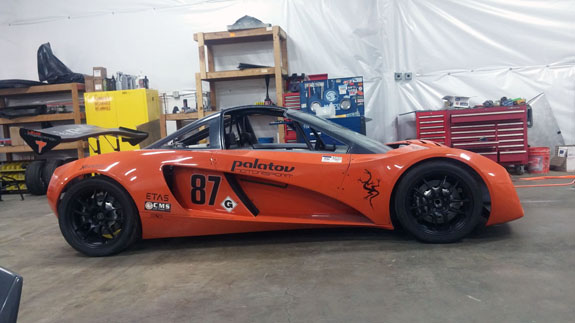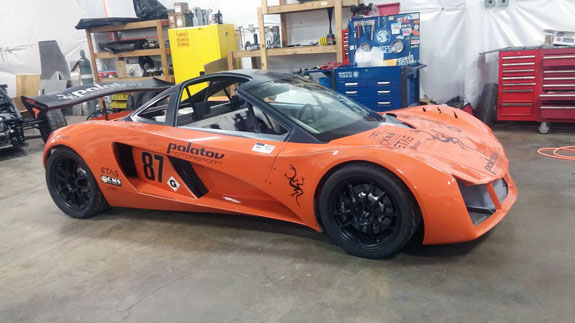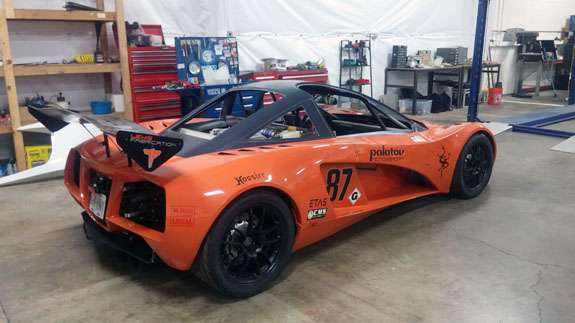 A funny side effect of the tranformation is that now this is what I perceive as a proper proportion for a car of this size. I saw my old Exige recently and was shocked how weirdly narrow the back end looked to me :) The rest was fine, just looked like someone had squashed its hips.
The front hood mold is also done and we've made a prototype part of that. Fits well.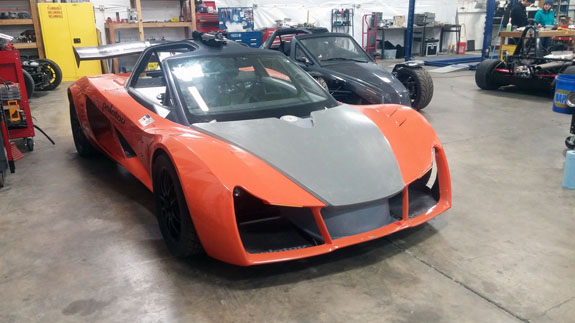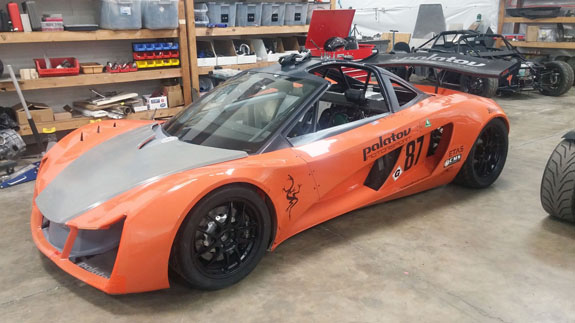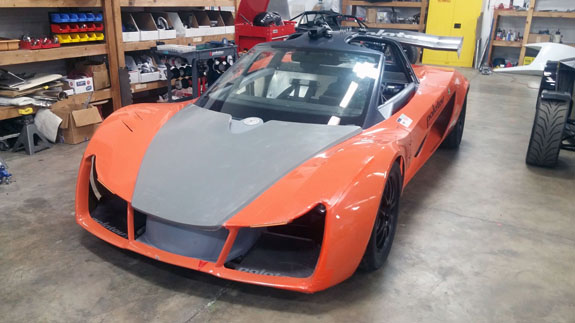 Since we're building another LSA D2, Jay has designed and 3D printed a different intake version, one that preserves the ability to move driver shoulder harness bracket up and down (the original, show in the first picture, dictated top position only due to interference).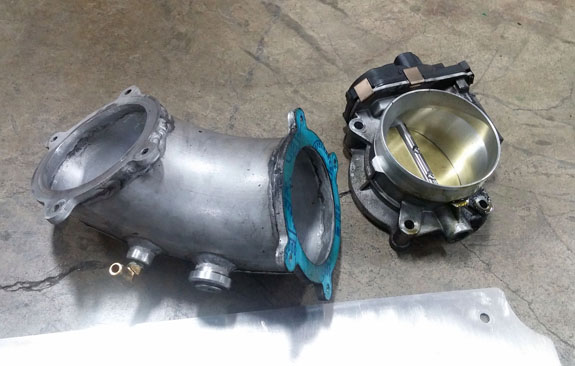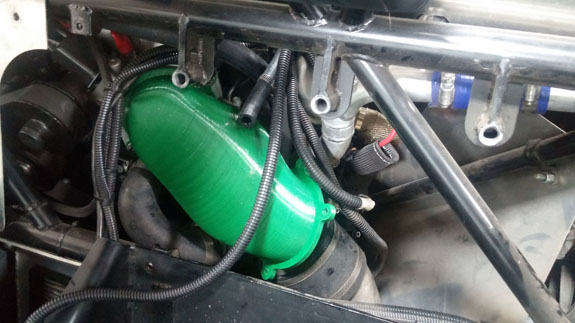 A fair bit of work remains and we'll run CFD on it as part of the process. But it should work. Once the design is finalized we're going to try casting a part and see how that goes. It'll be a learning curve.
Another thing that's progressing is the new trailer design. The sheetmetal parts are now made and the construction of the first trailer has begun. As previously mentioned there are some very challenging design parameters, driven by customer requirements. the enclosed trailer can be no wider than 90" (the car is a little over 80" wide!), less than 214" overall length (car is 159" so not a problem there), car hast to be loadable by a single person, and height is a restriction as well. And the whole thing has to be towable by a RAV4, with car, spare set of wheels/tires, and at least 10 gallons of extra gas. I have most of the design figured out, though some things are still in flux (canopy mostly). It uses two Torflex axles rated at 2,200 lbs each with hydraulic surge brakes on both.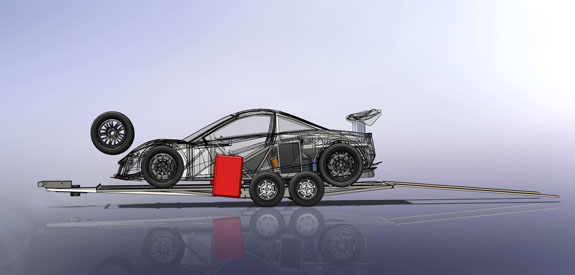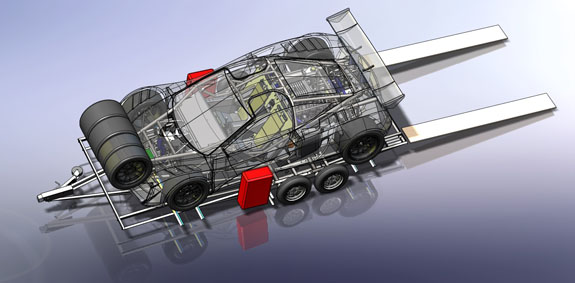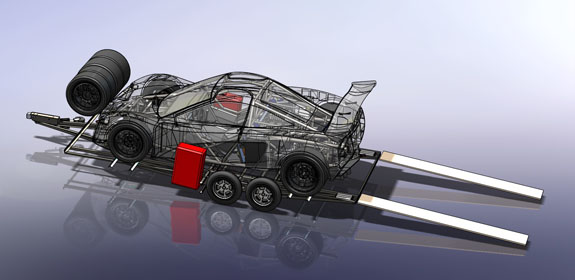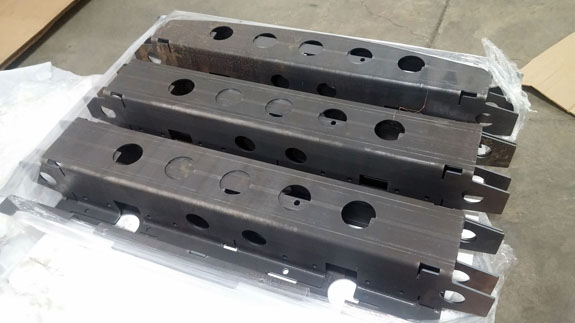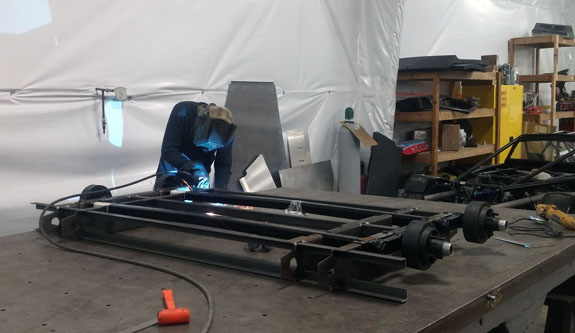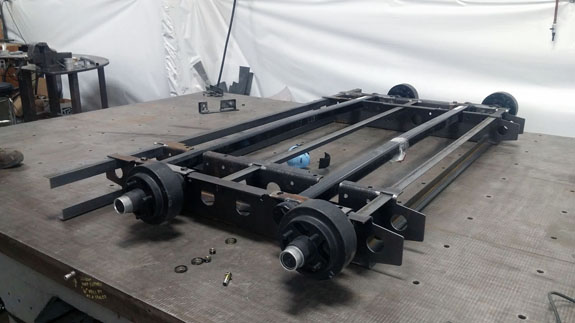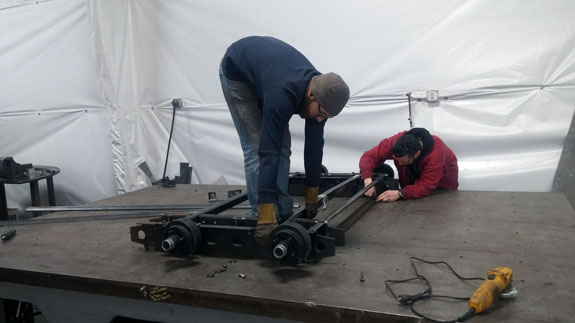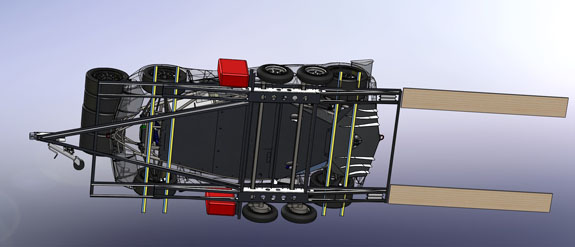 At the same time we're building three new D2s, which are all in various stages of progress, and final assembly of one has begun.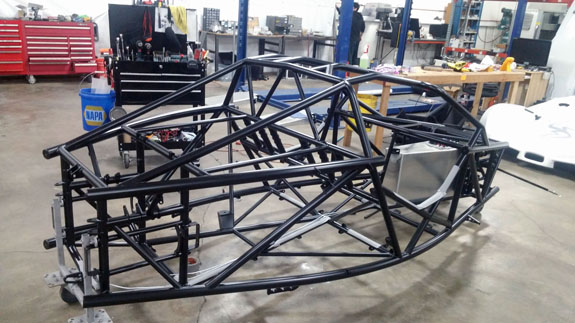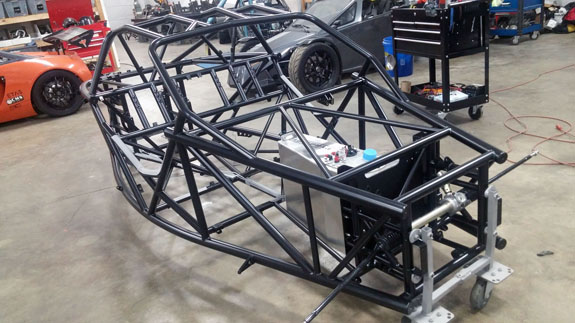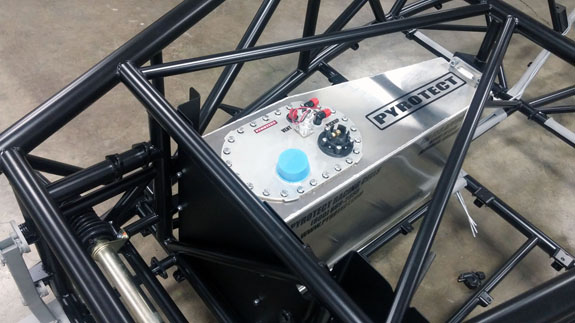 The front bulkhead and the fuel cell are the first to go in, the rest follows.
Tons of progress on all the other projects too, more on those separately. Hard to find the time to post when there's so much work happening :)
---
3/6/17 Steady progress on all fronts. The next D2 is coming together. This is a twin-turbo one.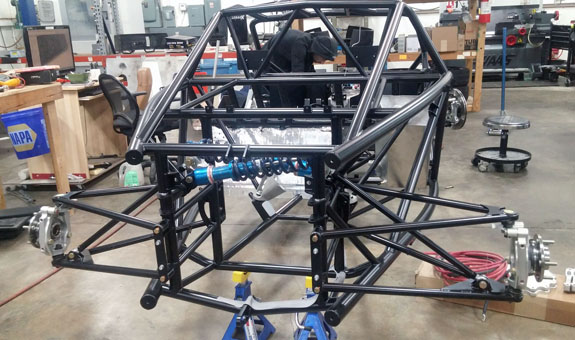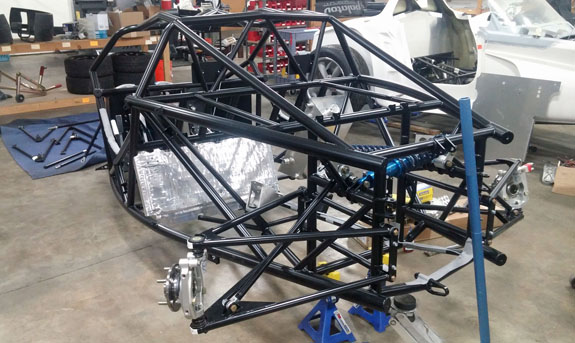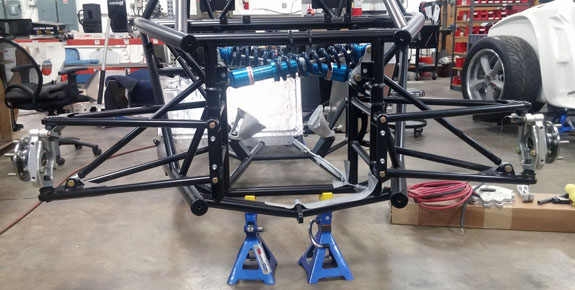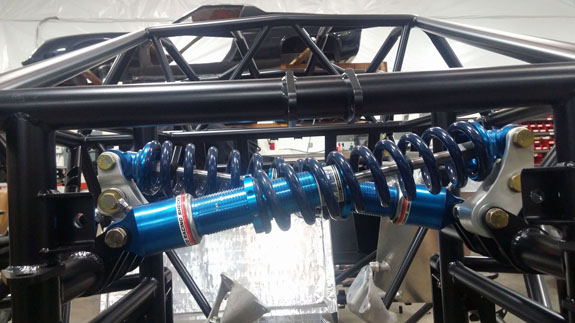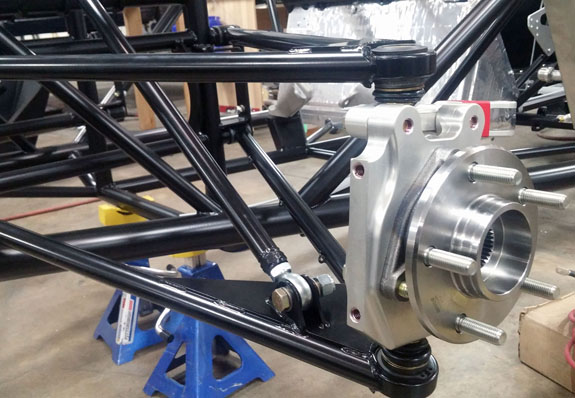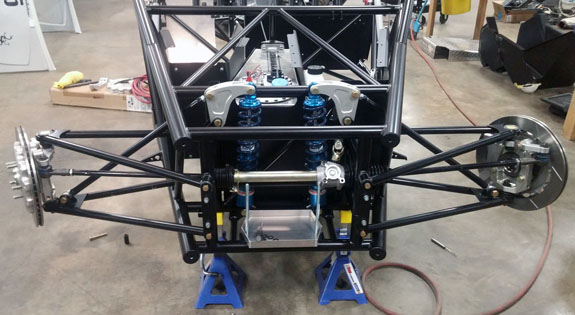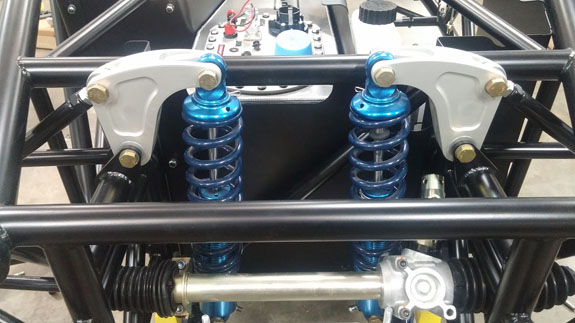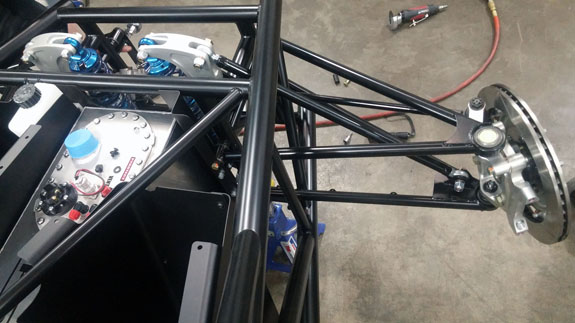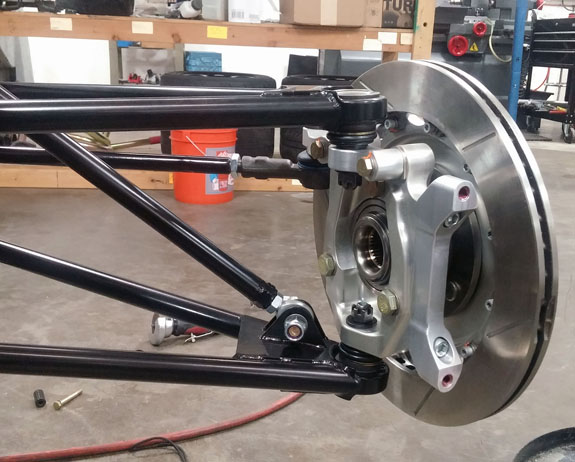 The new generation trailer design is advancing as well. This is essentially a prototype for all our future trailer designs, both D2 and D1/D4 (and I suppose D47 too).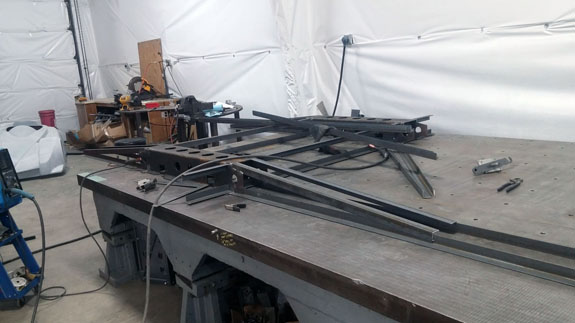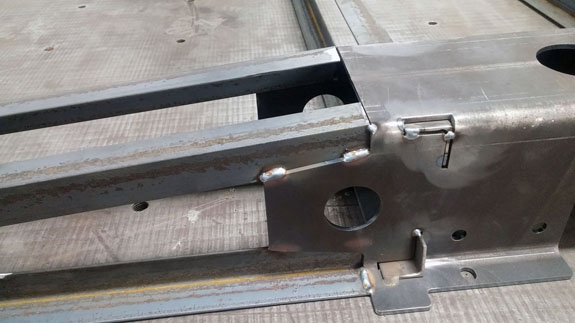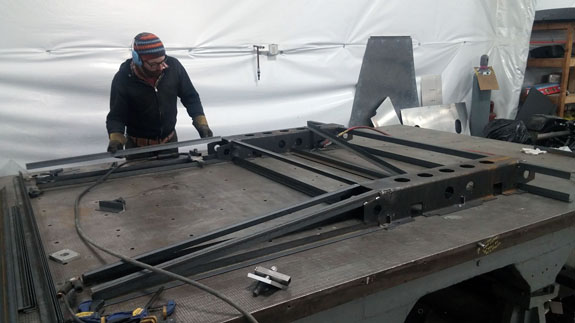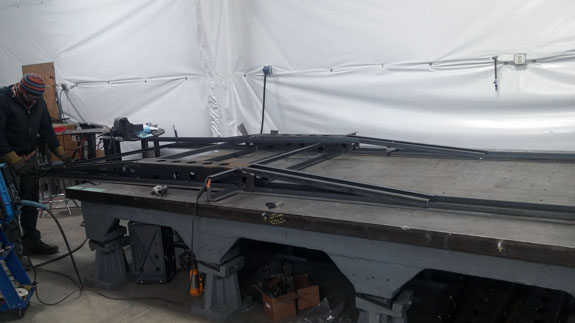 It should be on wheels later today, in a preliminary form, which is when we'll load a car and check tongue weight and overall fit. Should be fun.
In other news we're moving some of the composites work inhouse. We've done it with lots of processes (machining, welding, etc.) and every time have been very glad we have. There is definitely a learning curve to it, but as I told Tristan there's no reason we can't be as good as anyone else, and better than many. We'll see. So far a few test pieces, a few lessons.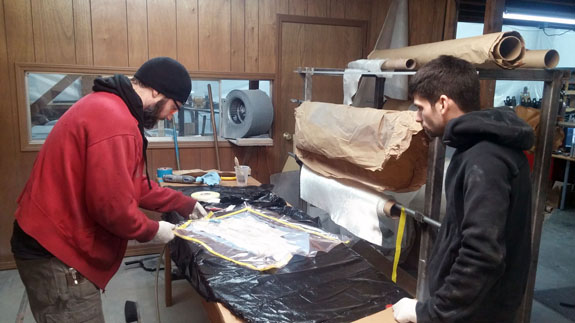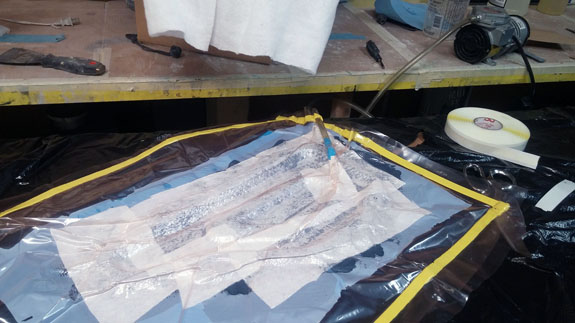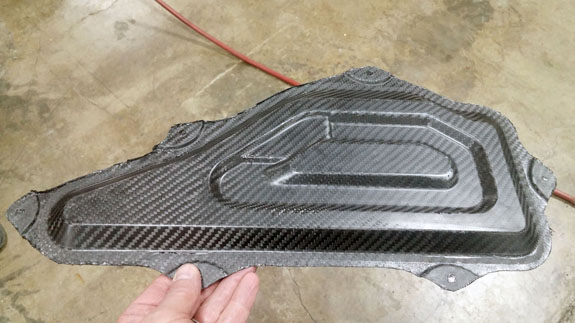 The above is just a random bit we did (will end up on Jay's Miata) - not for our cars but the original metal stamping provided a ready mold with some features. We tried two different layup schedules and learned something from each. Making a test D2 wing is next. It'll take us a few tries, no doubt.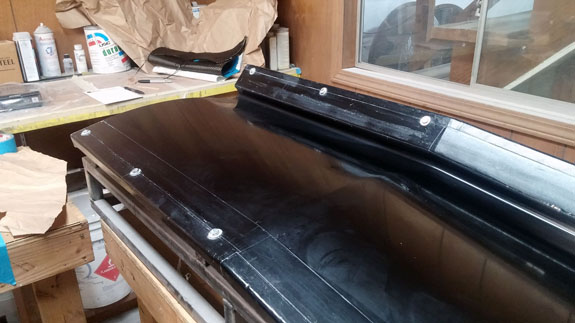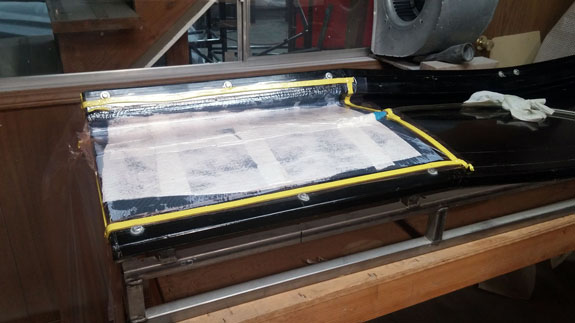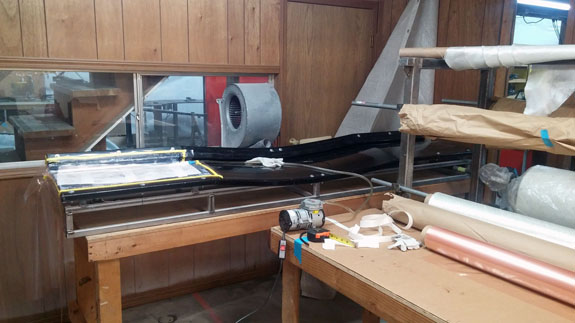 ---
3/9/17 Another update so soon? - well, lots is happening and this is a good place to talk about it because much (though not all) is D2 related right now. First, the trailer - the first thing was to determine whether we can achieve reasonable tongue weight (180-300 lb range). CAD says we can, but reality is the ultimate judge. So we got it to a point where a car can be loaded, and did so.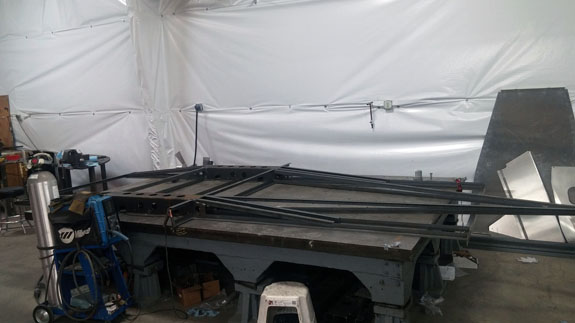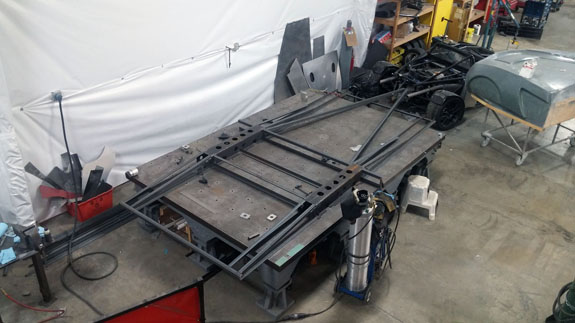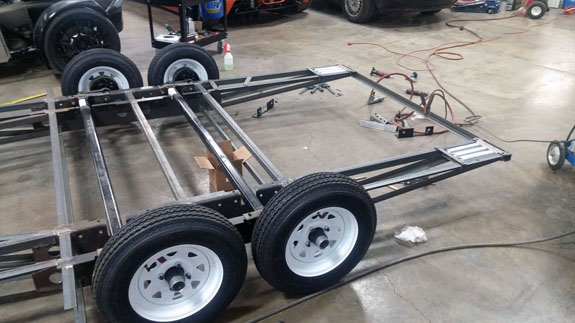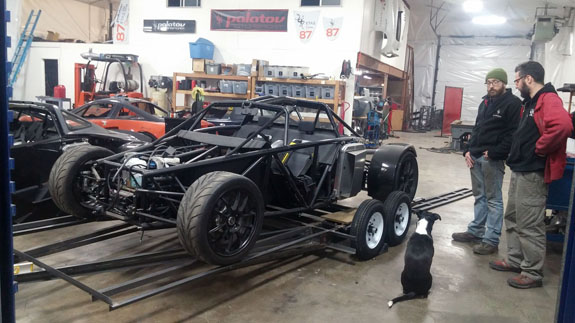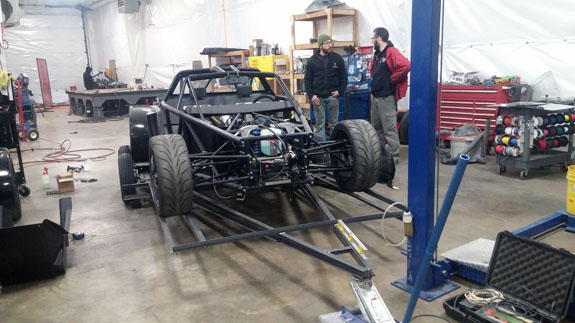 Just as a refresher, the reason we're doing this is that we want to make our cars more usable and hassle-free. If you're going to track your car, especially far from home, trailering is awesome. The freeway drone is much easier in a 'civilized' vehicle, and should anything go wrong you can still get back. Problem is, normal solutions involve buying a car trailer ($5-30K depending on how fancy you want to get) and something to pull it with ($10-60K). Then you have to find a place to store the whole rig when you're not using it, deal with maintenance and all manner of other hassles.
But our cars are light. And compact. So if you could have an enclosed trailer that you could park inside a single car garage spot and tow with your daily driver, that would make things a whole lot easier. Would also help if it didn't cost a whole lot. So this is why we're doing it. This particular trailer has a customer and the customer has very restrictive requirements. It has to be towable with a V6 RAV4 (3,500 capacity). It has to fit through a 92" wide garage door (car is 80"!). There is only 7' of vertical clearance and the car has to be loaded/unloaded by a single person while the trailer is in the garage. Available length is 214" (like a full-size sedan or SUV). And the trailer has to be able to carry a set of wheels/tires and at least two gas cans. Easy, right?
Well I'm not one to back away from a challenge and the customer has put good money down to say he's serious, so we're doing it. Initial tests are promising - the trailer is 90.3" wide overall and the car does fit on it. Clearances are tight but non-zero and as we say, clearance is clearance. There will be an electric winch with its own battery (and a circuit to recharge it from a 4-pin trailer harness). To help center the car as it's being loaded, I've come up with a 'roller pad'. When the wheels reach it, the car can be easily moved sideways if it's not dead-on. Not shown are features to prevent it from falling off, but they will be there :)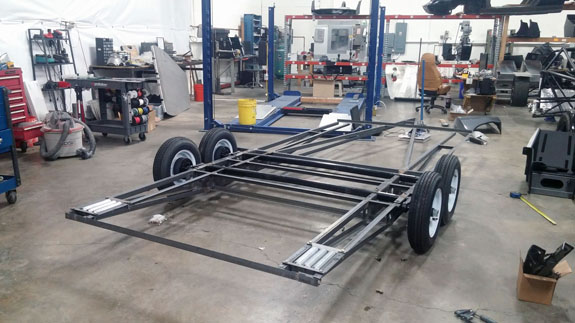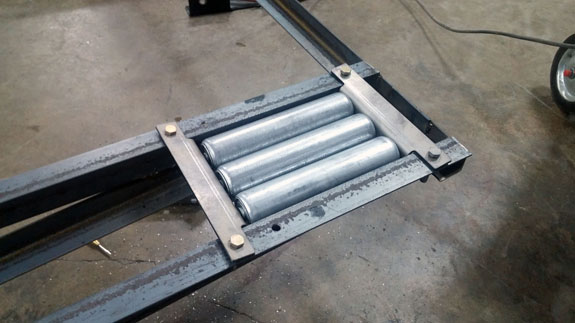 Worked pretty well while test-loading, though some details have to be worked through. The tongue weight is reasonable. Keep in mind there's no winch, battery or spare wheel set. Nor is there an enclosure yet. But we're in the ballpark, and one of the many advantages of using Torflex axles is that tongue weight increases with ball height so it's a simple (ish) adjustment. The generous departure angle gives options for rake. At least we have the means.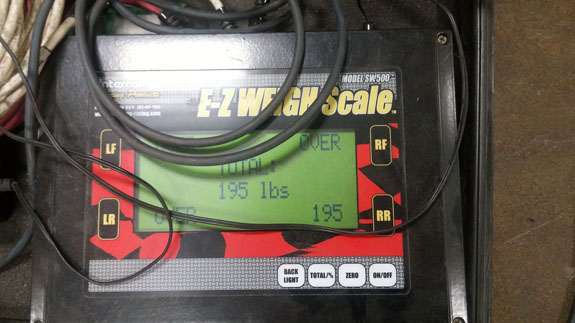 In other D2 news, we're moving along the composites learning curve. A few more test pieces made and a few more things learned. It's all about the process and the materials. We're getting there.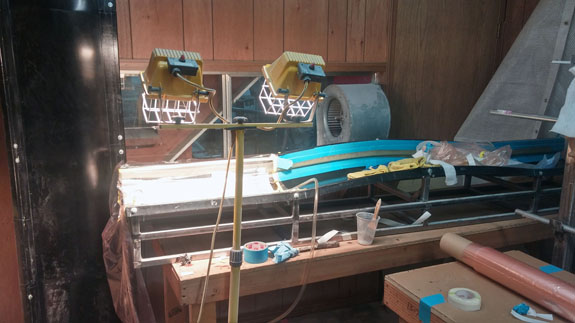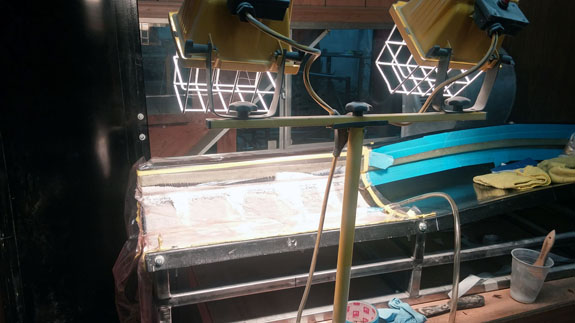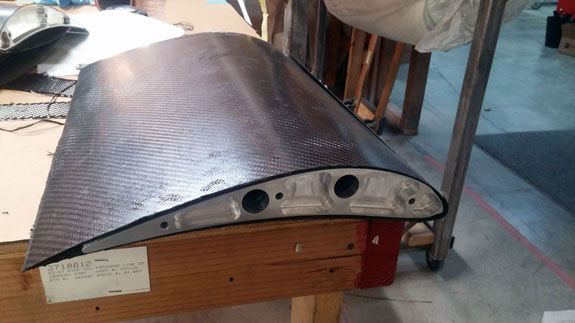 The new wing rib design has optional spar holes (we can either machine them open or leave them blocked) which facilitates the D2 front wing installation.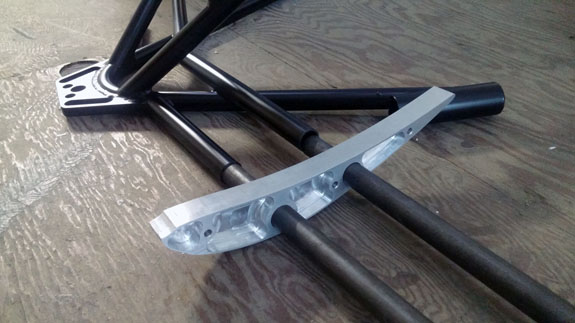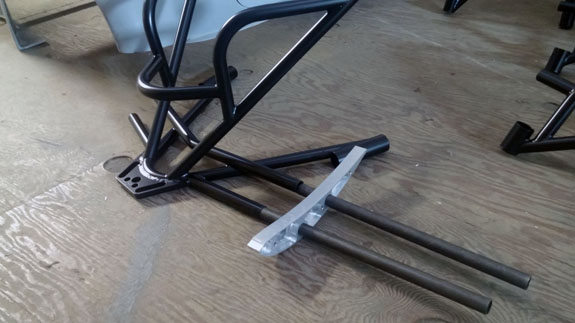 Yet another benefit of having machining (and other processes) inhouse - we can do what we need, when we need it. This is a big motivation for the composites stuff. We don't need it often, but when we do it has to be on our schedule and terms, not someone else's to whom we're just a low-volume customer. This is exactly why we brought machining in, and it's the reason we're still here today. Very literally wouldn't be otherwise.
Final item of the post is D2-derived, though not D2-applicable, yet. We use our GTX uprights on the D2 and recently, within a week of each other, two customers came to me looking for centerlock uprights for their existing cars that could handle a lot of power. GTX was a perfect jumping-off point and gave birth to the GTC (for 'centerlock'). Both applications are full-on race cars. One is the Enviate Hypercar, the other is a race team running an LMP style car with the latest generation of the Hartley V8 (which they have licensed and are putting into production, with the benefit of 10+ years of development). Both are high downforce, high power machines. My approach is the usual - utilize off-the-shelf stuff when appropriate, custom-make stuff when it provides an advantage. So the GTC is built around the ZR1 Corvette wheel bearings, modified for pin drive and adapted to a GTX-derived upright design.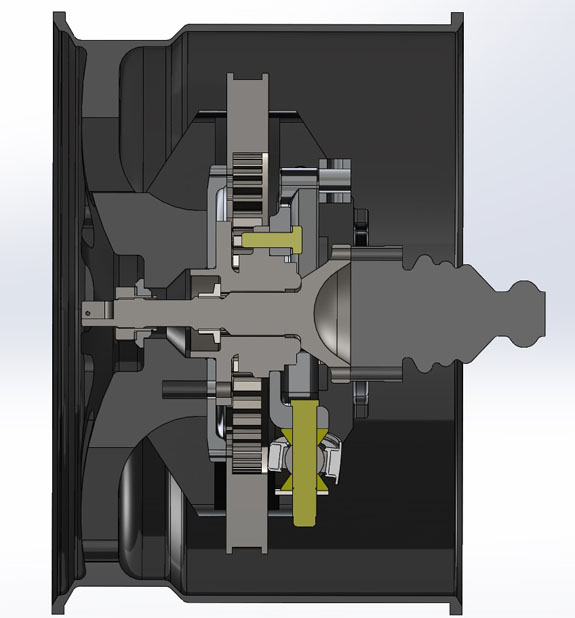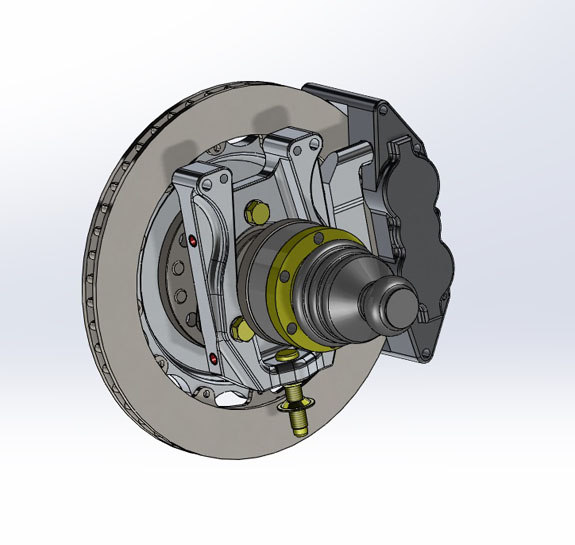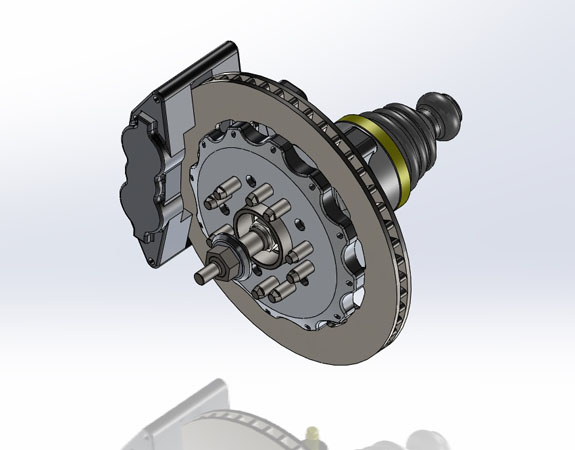 The first parts to be made are the longest-leadtime ones, due to the need to send them out for splining, then heat treat, then plating. It is the hubs themselves, made from high strength alloy steel. Each starts as a 47 lb billet and eventually becomes a ~4 lb part. The Fiat had its work cut out carrying 8 of the billets - like two big guys in the back seat!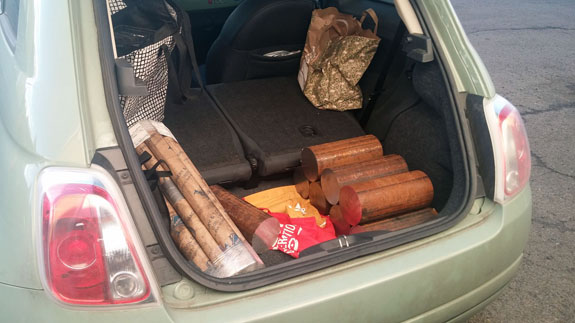 Figuring out how to hold this big a piece in our relatively small lathe was a challenge, as were all the thread-cutting operations (right-hand and left-hand). I'm lucky to have Tristan who can do all of that so all I have to worry about is how i'm going to drill the CV bolt holes using our relatively small mill :) The progress is neat to see.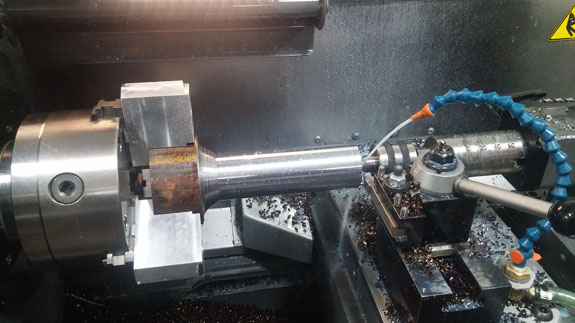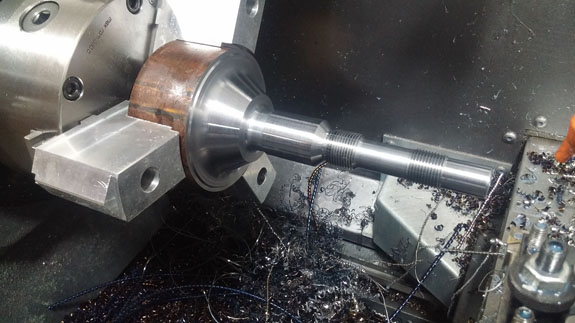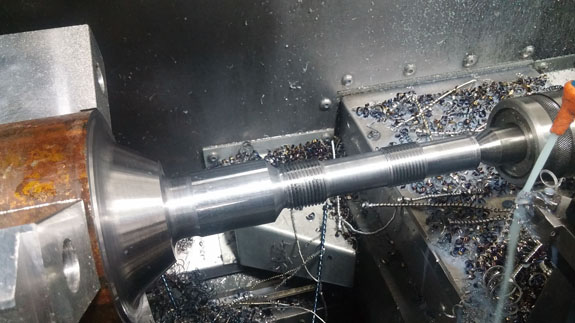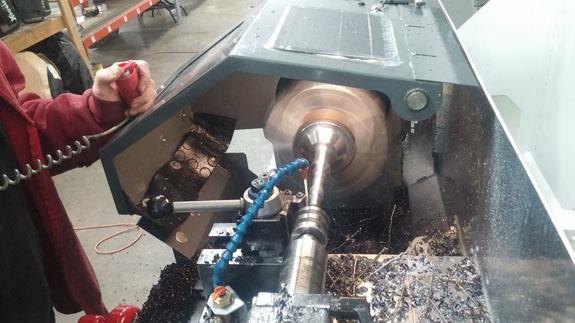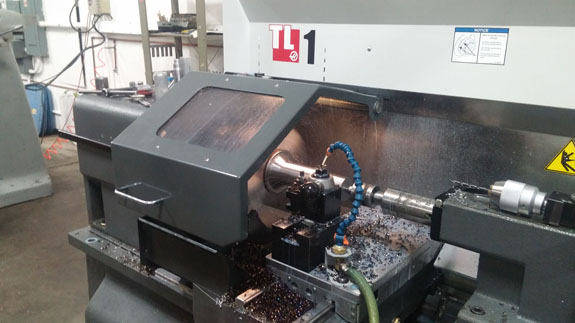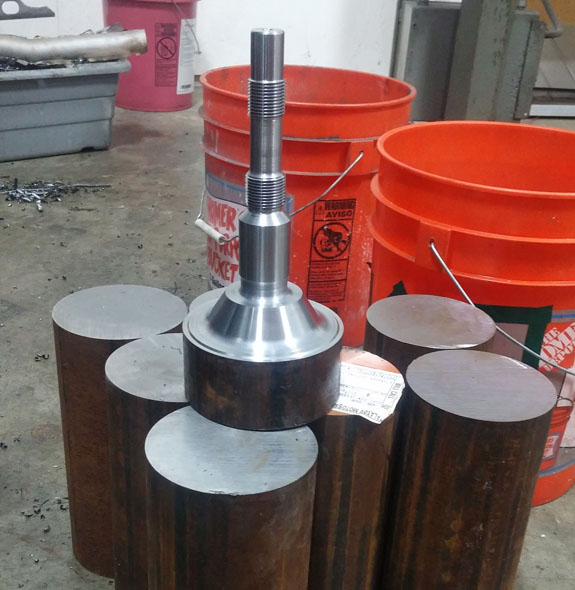 And so it goes. Much more, soon.
---
3/26/16 The built LS motor for our twin-turbo Pikes Peak D2 is finally here. It's a couple months behind schedule, and while this puts us exactly 2 months ahead of where we were with the turbo D1 last year, we have our work cut out for us. This is where we scramble.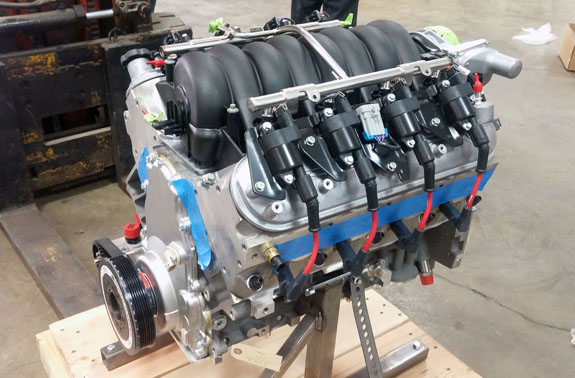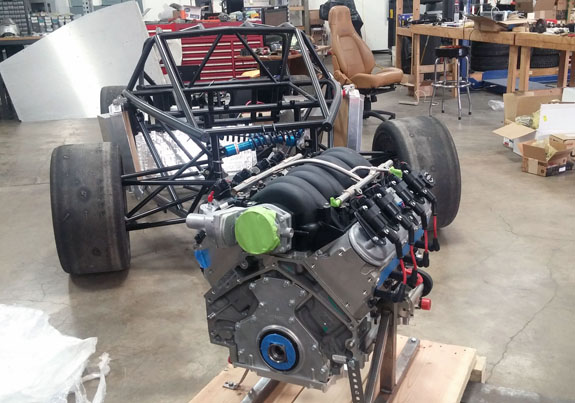 Like all our higher-performance versions, this car gets a Dailey drysump system with our own custom tank, oil cooler and all the fun plumbing.
The Mendeola sequential transmission had arrived a couple weeks ago.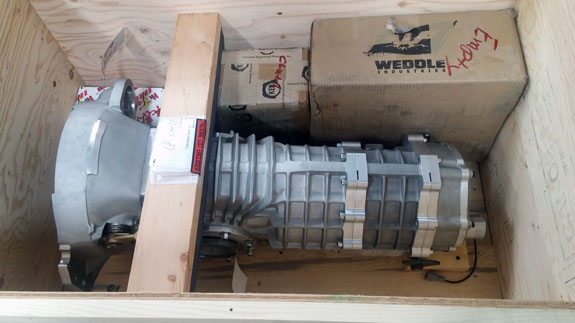 It didn't take us long to get both installed in the chassis - albeit without the transmission mount yet, which is still to be designed and made.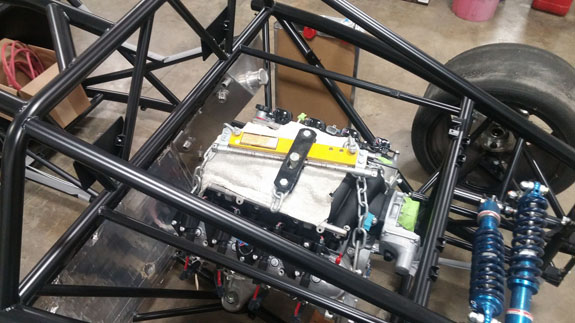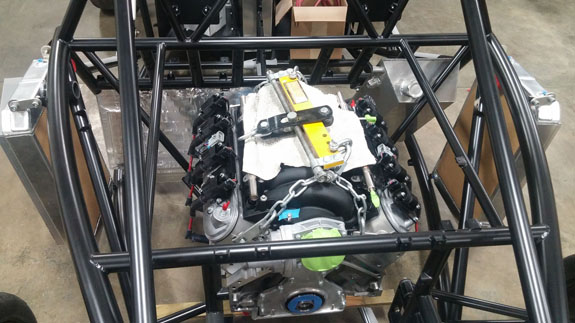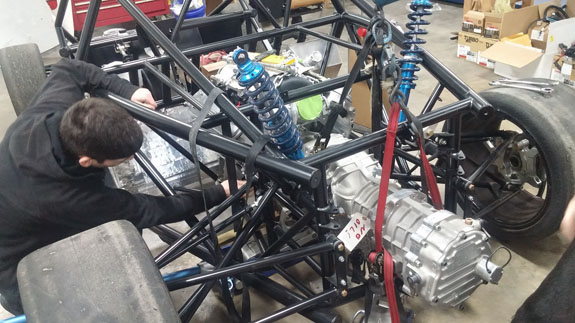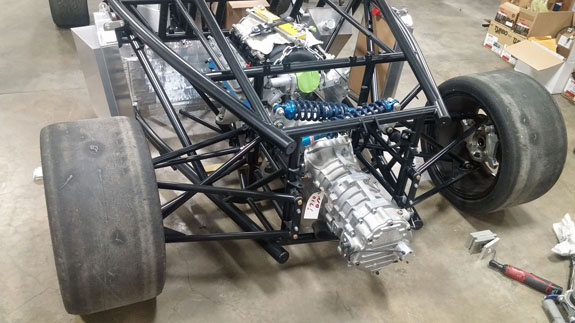 Without any of the systems there is a surprising amount of room around the motor. That will change. In the meantime, I rather like how the car looks without bodywork. Keep thinking we should have a 'Raw' model, with just a simple nose and tail cap. Would be cheaper and lighter than full-bodied versions, and probably more effective as a trackday car. Kind of an equivalent to a 'streetfighter' bike.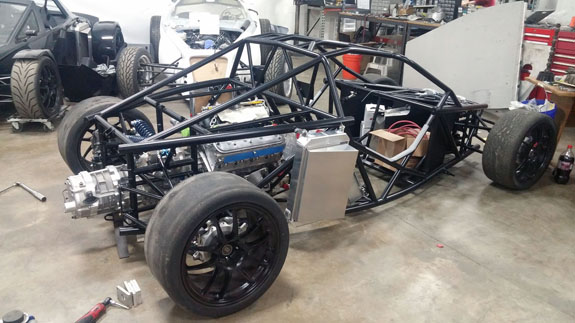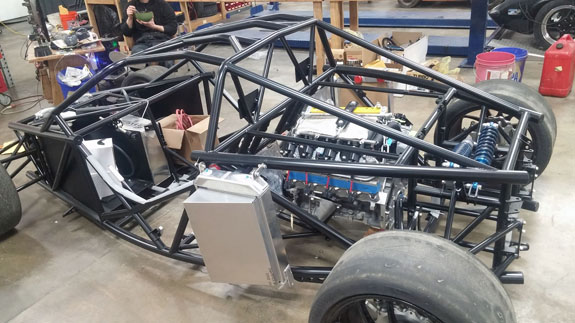 The turbos are here and I have a general idea of how it's all going to come together, but now the details have to be implemented.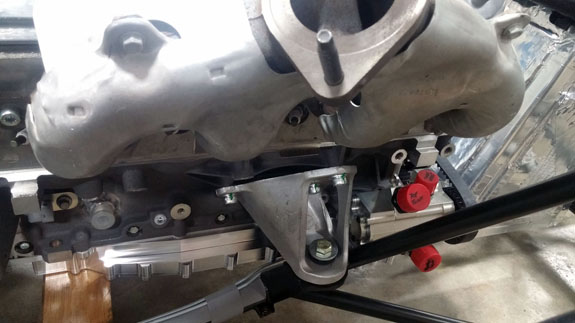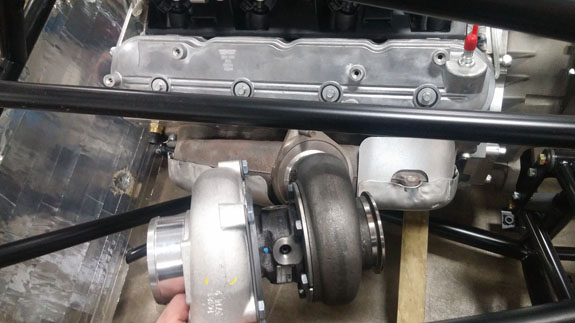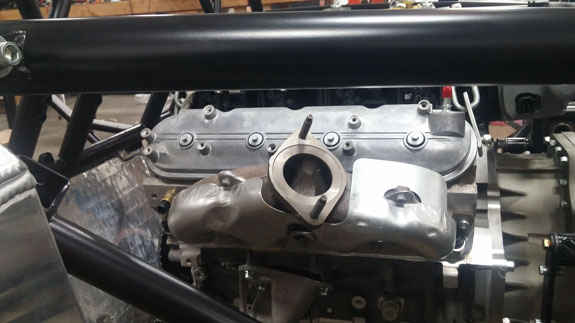 Other D2 related stuff is moving forward as well. The trailer is coming along. We've tested the winch for loading the car, which works great. also just got a TrailerValet which will be used to pull the trailer nose-in into a single car garage, to enable using the car and storing it on trailer without taking up extra space.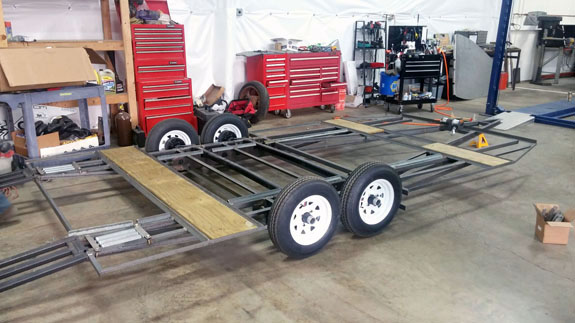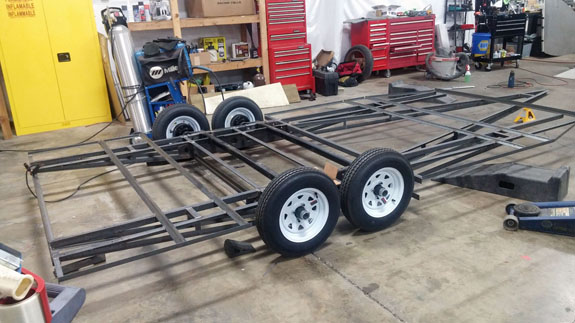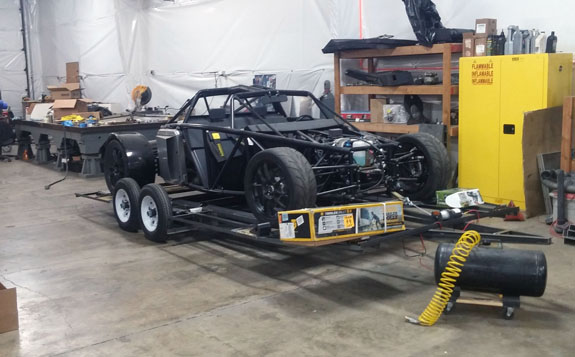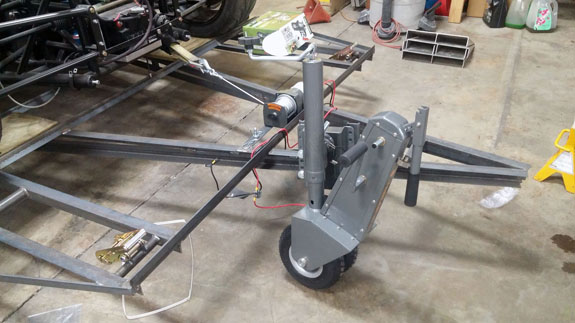 The GTC centerlock uprights are moving forward as well. These are a derivative of the GTX that is used on the D2 and we will eventually have a full upgrade package for the D2 customer who want to take their car a few steps further. It won't be cheap, but it will be the ultimate :) The pictuers show original Corvette bearing, it will be modified replacing the standard studs with 10 centerlock drive pins. But we can supply the uprights as shown, at a significantly lower cost than the centerlock version. The modularity allows lots of different geometries and brake packages.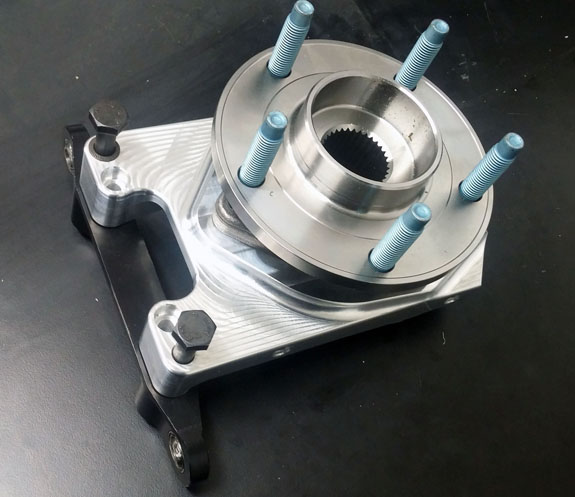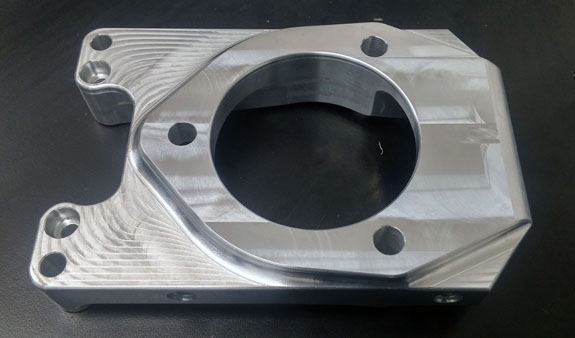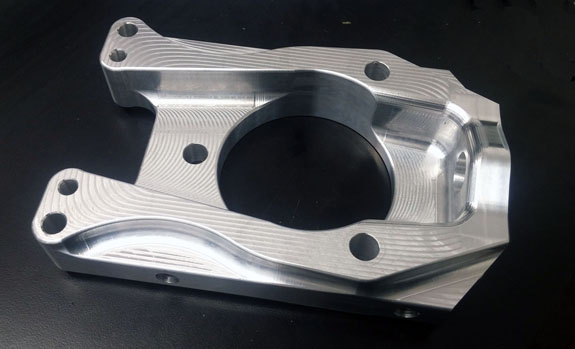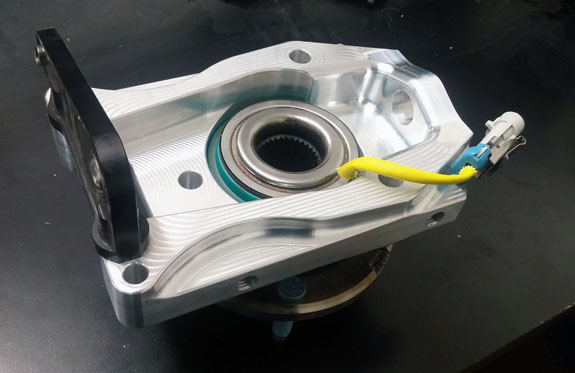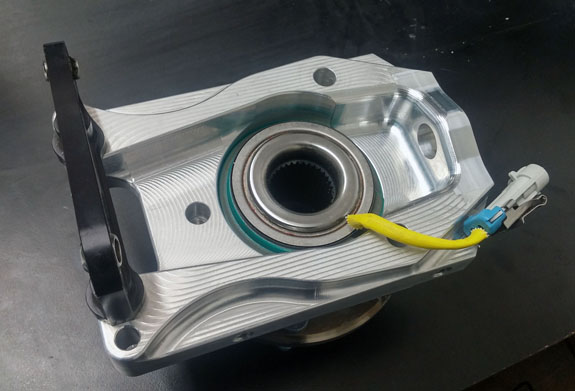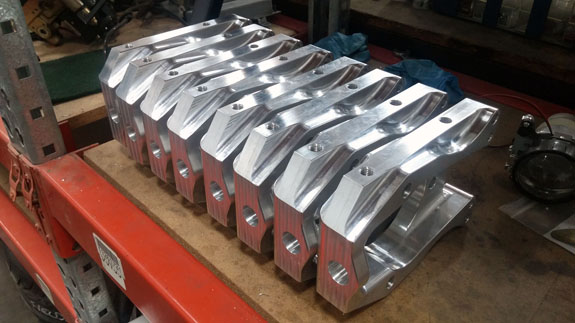 ---
Site Sponsors and Links:

- CMS Lap Timer - Advanced Track Timer App With Video Integration

Tire Rack - Tires, Wheels (use link when buying wheels/tires to support this site)
---