---
07/07/16 It's been a little over three months since the last D2 post but a lot has happened in that time. All activity has been on the Pikes Peak effort - the blog is now open to everyone so check it out. It was probably the hardest effort we've done so far, and that's saying a lot. We ran two cars and have two trophies to show for it, but even more importantly we've learned a great deal and can now apply the newly gained knowledge and experience to making all our cars even better.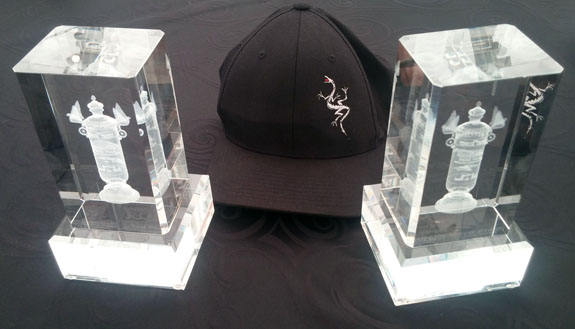 Unlike last year, we had no mishaps with boost controller and the engine worked well. The new bodywork, in roadster form, also worked as expected - aero was good and responded well to adjustments. Suspension changes including softer rear springs also helped in dealing with the bumps that were more severe than previous years.
Our one issue this time was a miscommunication on start time and consequent run with overheated tires due to tire warmers being set in anticipation of a cool down period that didn't happen. Still, with everything Jonathan posted a solid 10:04, a full 17 seconds faster than last year. This put him second in the Open class and third in the combined Challenge class. We now have lots of info and data to sort through which is good. At-speed photos courtesy of RockitWest Media.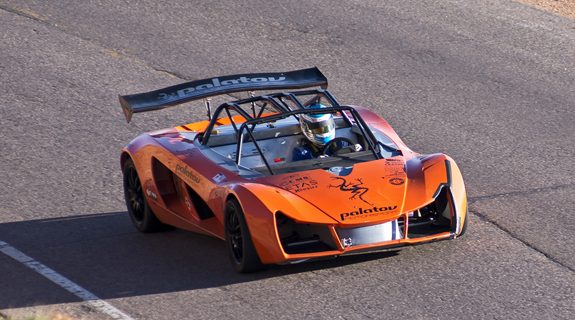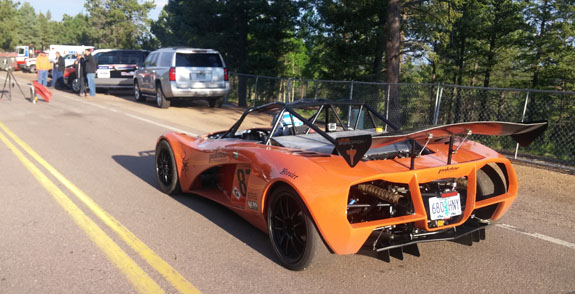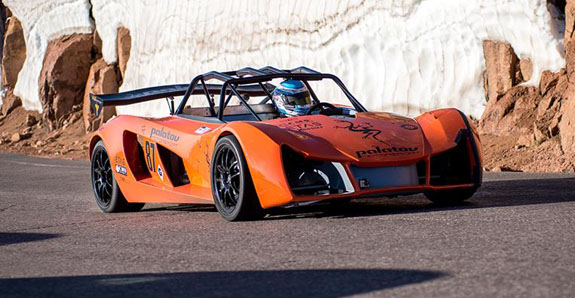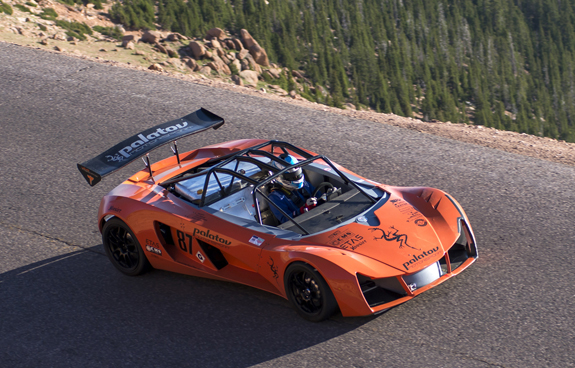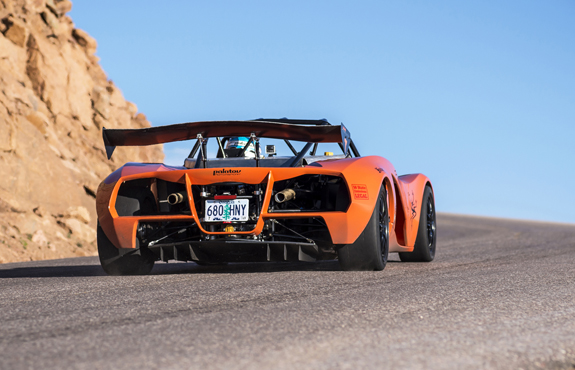 Below are some pictures of the bodywork before it got painted, in primer gelcoat. The two-tone color scheme is because different vendors did the panels in order to expedite the process. Looks cool that way, at least to me.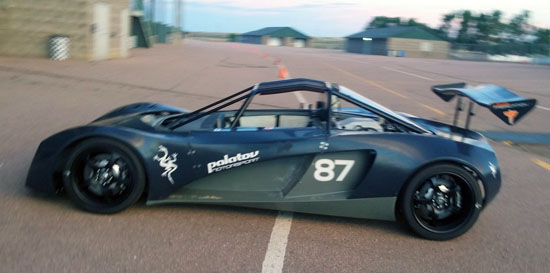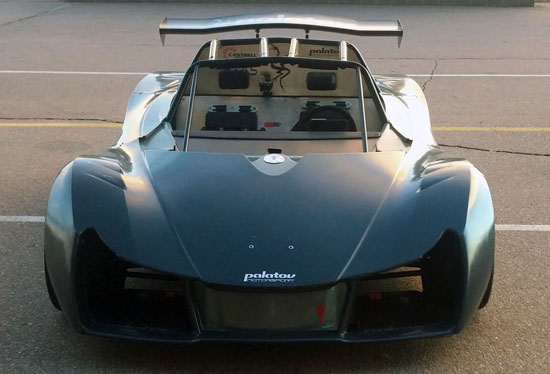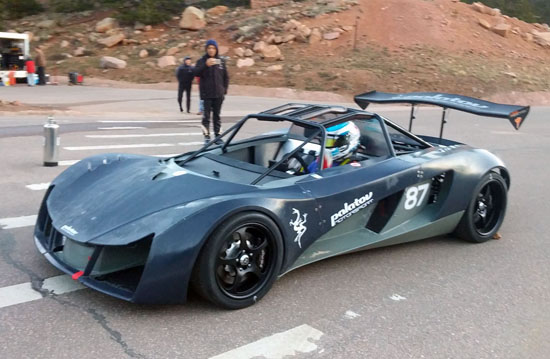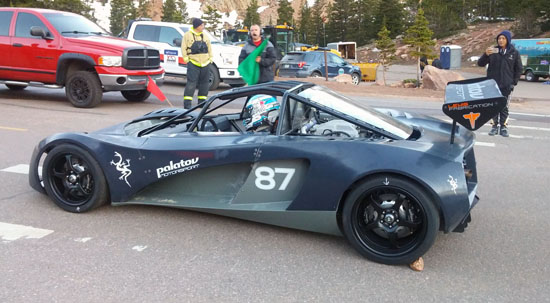 The new bodywork has been receiving a very positive response. The parts that are on the car are prototype pieces that were basically just made to stay on. We now have to go through and sort out all the production mounts, interface panels, trim procedures, fasteners, and so on. Still a lot to do before it's at full production quality, although as a raw track-only option it's almost there now.
The work on the canopy now continues, as well as work on a custom trailer for D2s and countless other projects. Our two interns got a dramatic start on the Mountain this year (and did extremely well!), now they're back to more mundane tasks like sanding.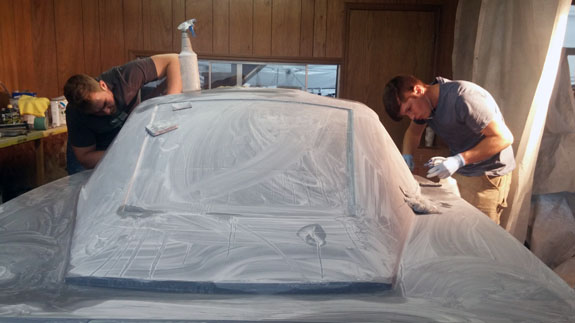 The Pikes Peak D2RS is now for sale, either as-raced or with additional upgrades and updates. Contact me if interested.
---
7/26/16 The next major step in D2 development is the addition of an electronic paddle shifter. It's still based on the Geartronics computer and paddles using some different pneumatic components. We have the system pretty well figured out in the D1/D4 platform, but this installation is a new configuration for us.
The biggest challenge is our requirement to use the stock GM ECU for emissions compliance. This means we have to use it as-is and can't mess with the internals or programming. It has an electronic throttle and we've already tested a blipper that 'fakes' the input to the computer. As a standalone it works well and we are now a dealer for the product. The problem is that the way blip magnitude and duration are set is different from what the Geartronics expects so we need to figure out how to make the two systems mesh together. Also, the much higher inertia of the big V8 (compared to superlight bike-based engines in our other cars) makes the response quite different.
A further challenge is that the gearbox in this particular car has higher than normal actuation force and the cylinder in current configuration can't always reliably overcome it. On the 24th we had a perfect test opportunity so it was a couple late nights getting the car fully outfitted in time to run it. This required mounting and wiring the paddles to the steering wheel, designing and machining a mounting bracket for the cylinder, installing all the pneumatic and mechanical parts, and then designing and making a wiring harness. The latter part was particularly fussy but I got it done.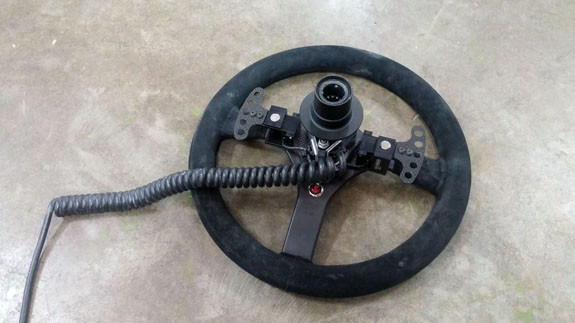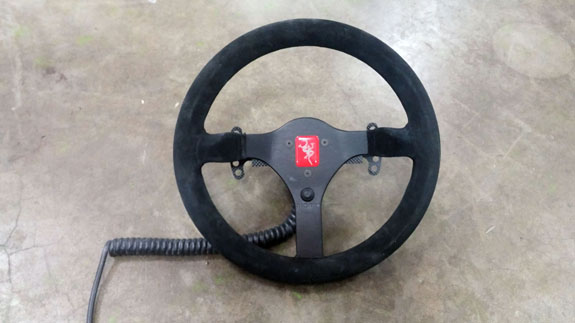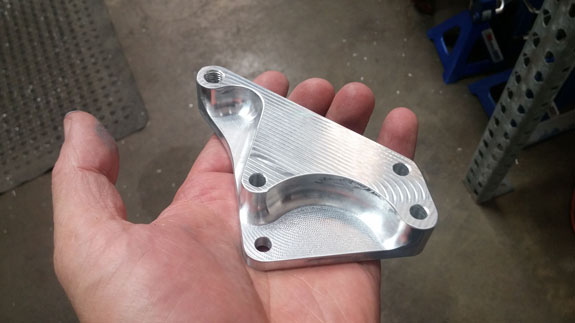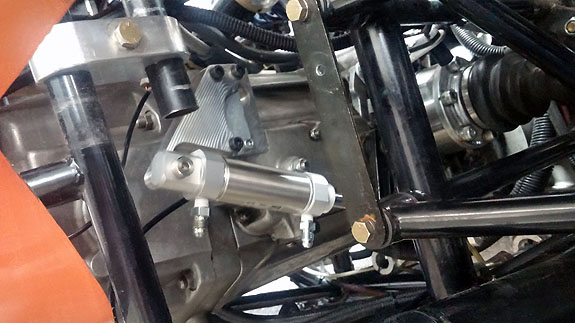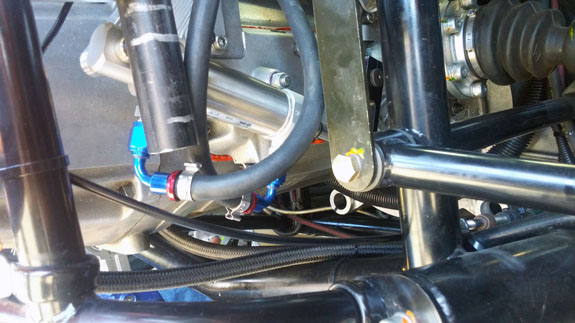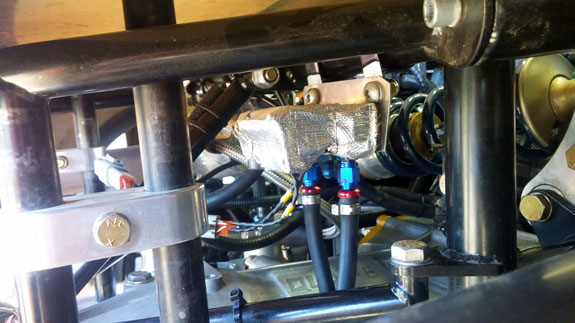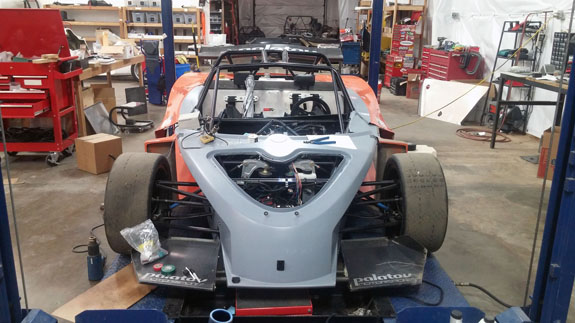 When all was done the system is able to select forward gears, but can't engage reverse. Not strictly necessary for track testing, but in order to set the basic calibration engaging reverse is a necessary step. Since the mechanical linkage had been disconnected, it took a while to find a way to do that manually. But, we got it done and Sunday headed out to the track.
Pete has owned this car for over two years now and has graciously allowed us to run it at Pikes Peak two times, but he hasn't yet driven it himself. This was a great chance for him to do that.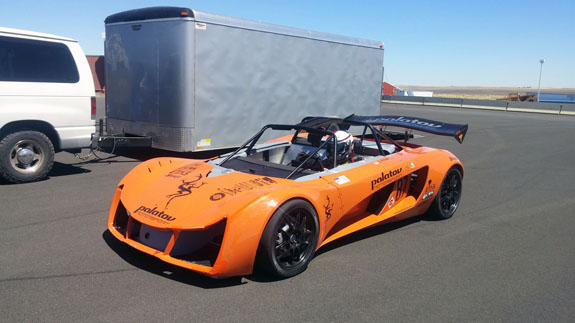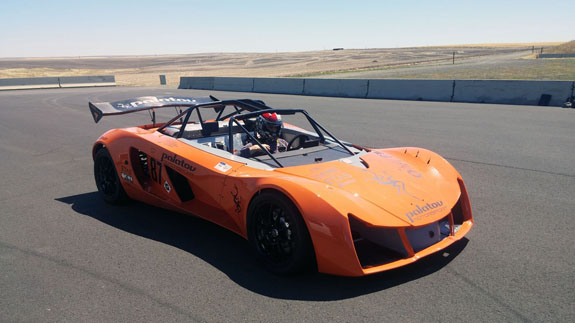 We quickly found that shifting was quite good when using the clutch, but the clutchless operation required some tuning. In order to do some of that I would have to recalibrate the blipper, and to do that I have to make wiring changes. So it will be done later. For now we just drove it using the clutch. It's definitely a FUN car! It continues to amaze everyone with how well it puts down its 660 hp. Pete was enjoying it, as well as everyone else who got a chance to drive - myself included.
Our plan is to continue refining the D2 and these are all steps in the right direction. We definitely have the performance part of the equation dialed, and the car is remarkably approachable while being crazy fast. Driven at 8/10ths it basically can do no wrong. Once the shifting is perfected it will be a track-ready supercar that regular trackday drivers can jump into and go fast, safely. And it will be usable on the street as well. Inevitably all the refinement is going to add to the price, so anyone who might be interested in getting in at the current lower cost and being part of the development process should jump in sooner rather than later.
In the meantime, we're moving forward.
---
08/03/16 Lots of projects happening and progress on the D2 is one of them. In order to further tune the paddle shifter I need to be able to drive it on the street, which means getting the lights mounted. For now we're figuring out something with what we have onhand - this is not the ultimate solution but it's a good first cut and we're learning a number of things as we go.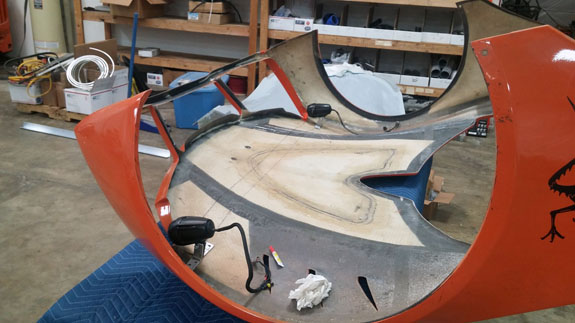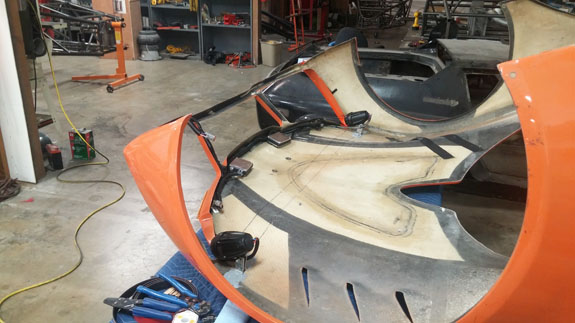 Once the lights are mounted, time to test them.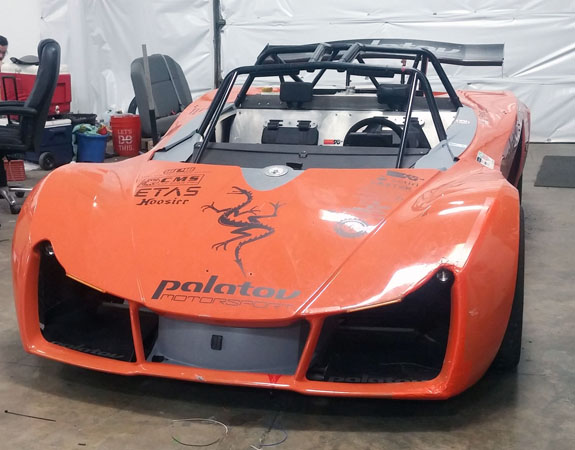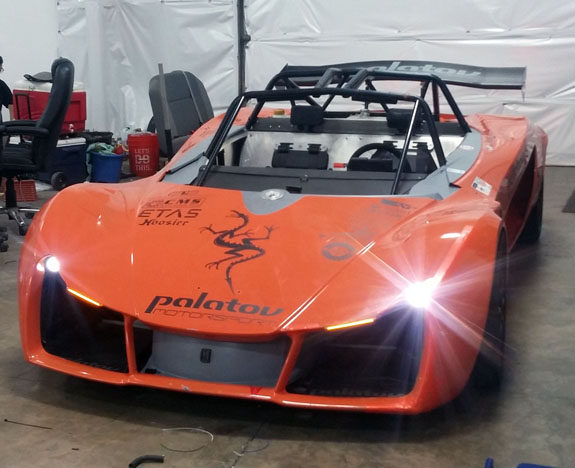 Not too bad for scavenged parts. Quite a few people have mentioned that they'd prefer some form of a grille in the large openings. The reason for the openings is aero and they work very well, so I don't want to obstruct them. But I do admit that *something* in there might be a good thing. So I did a quick mock-up. If I go this route the actual parts will be nice carbon pieces.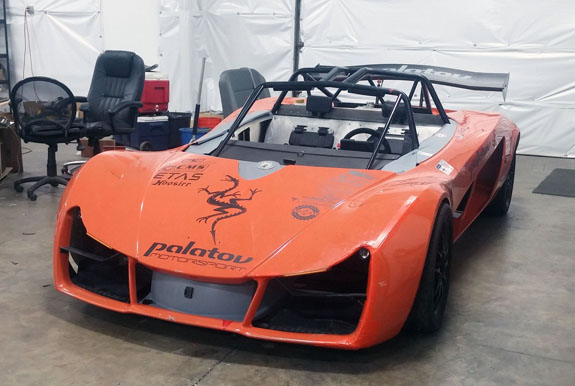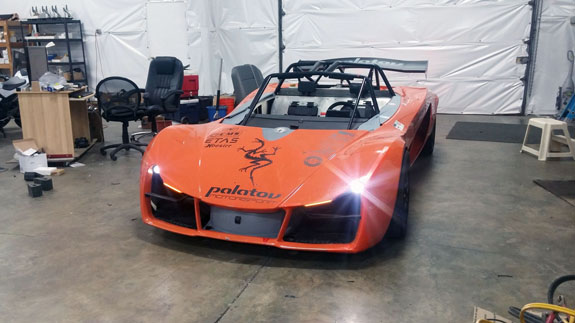 An improvement I think, and food for further thought and mockups. A similar treatment in the back seems to work also.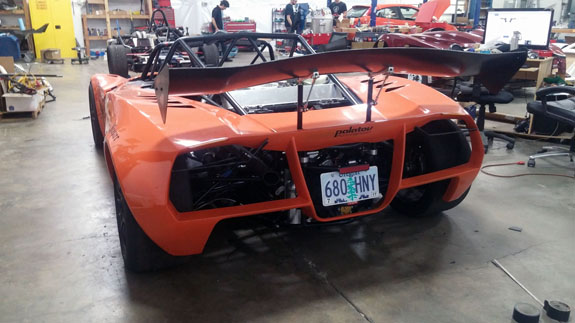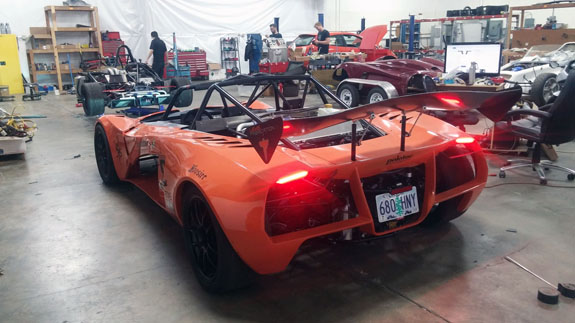 The length of the LED bars will be the first thing to tweak but at this point the lighting is still wide open. I expect a few revisions will happen before it's final. The good thing is that the bodywork provides lots of possibilities that can be very different.
Other items are progressing as well. The sanding and polishing on the canopy plug is moving along.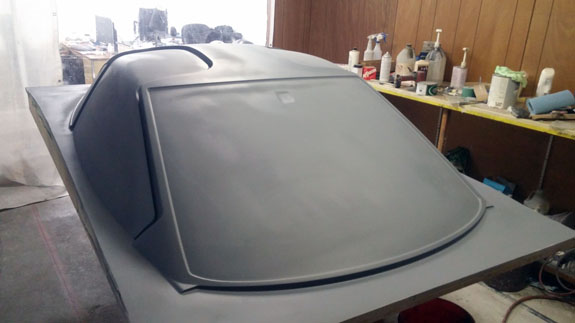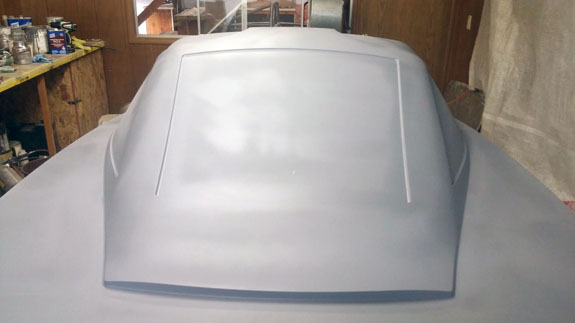 Now that the lights are on in a preliminary form, I can venture out onto the road for some testing. We'll see how it goes tomorrow.
---
08/07/16 Another test day at ORP - this one was primarily to let a potential customer try out a D4, but also an opportunity to test some changes to the D2 paddle shifter as well. Neil brought his D1 out to test some recent changes/fixes. Pretty cool to see the 'fleet' unloading from trailers in the morning.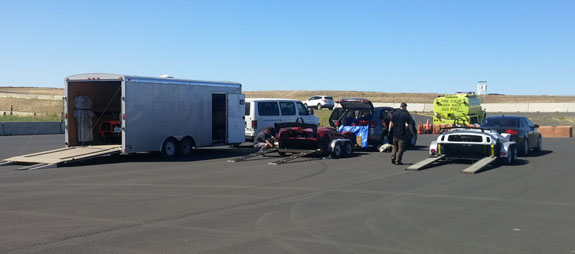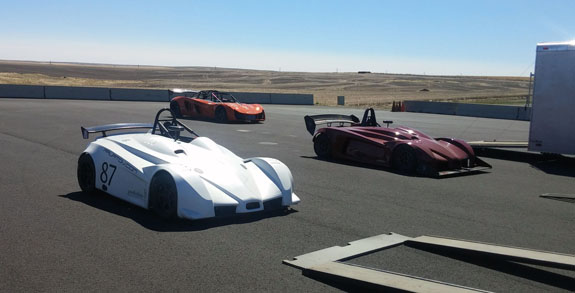 As part of the prep earlier we took apart the shift ratcheting mechanism on the gearbox and tweaked some things to make it work smoother. The detent ball had some wear so we replaced it with a new one and adjusted it for much less preload. Also extended the shift arm by welding on a section to give the cylinder about 20% more leverage.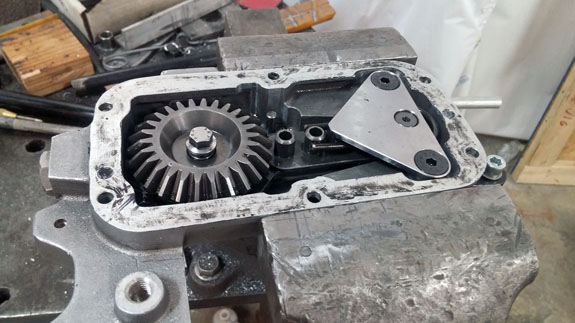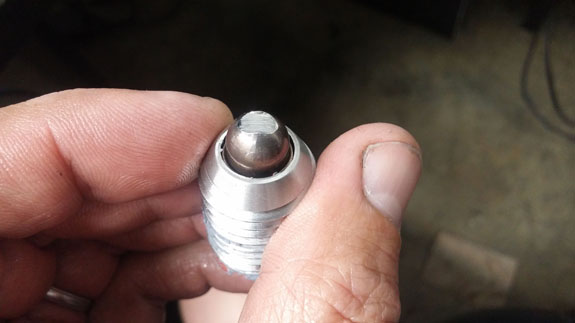 I also made a number of changes to the shift management software, and reduced the blip amount. The net result of all the tweaks is that it's pretty reliable now (although glitches still surface occasionally). Biggest problem is that the shifter still can't engage reverse so it will take some more tinkering. I'll try to do more of that in the next few days.
In the meantime we got some good pictures of the cars - there will be an additional post on that, once we have all of them and the video processed. Until then, below are some of the easy ones I took with my phone.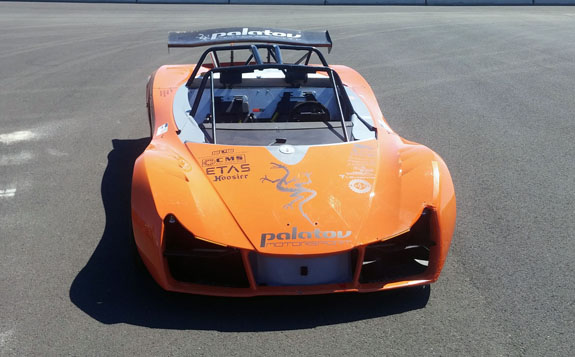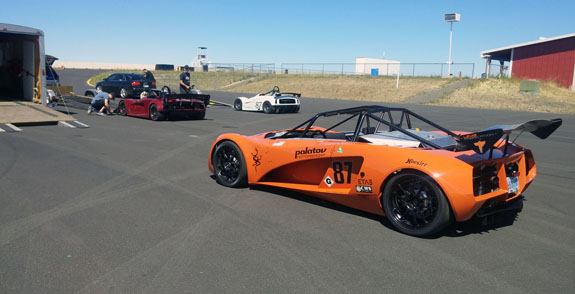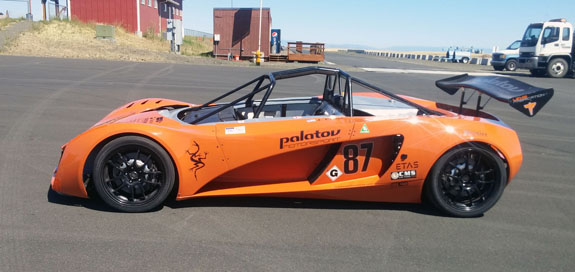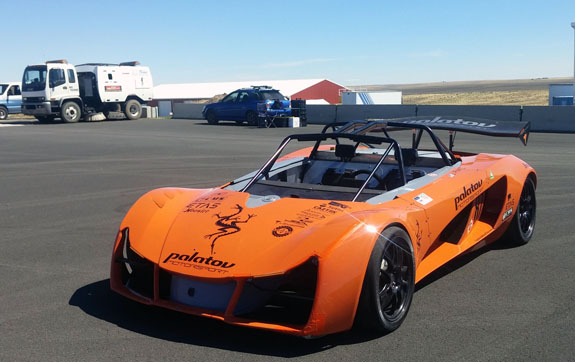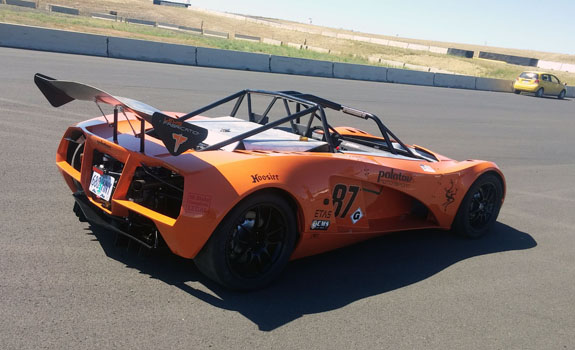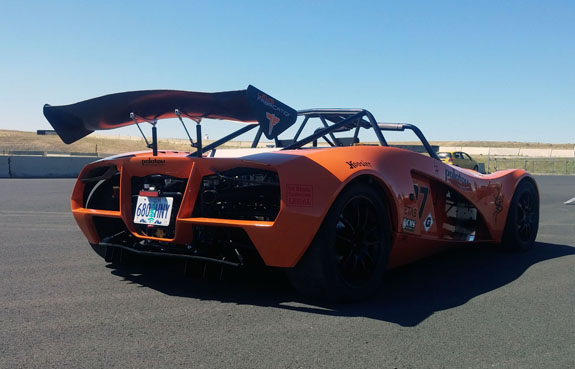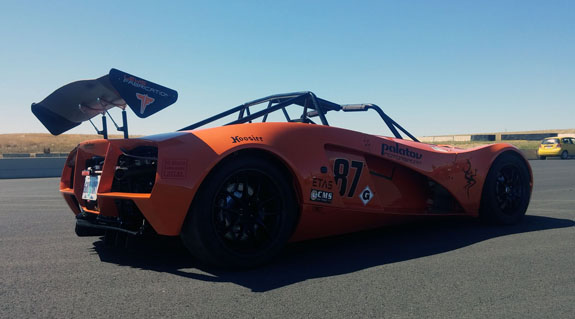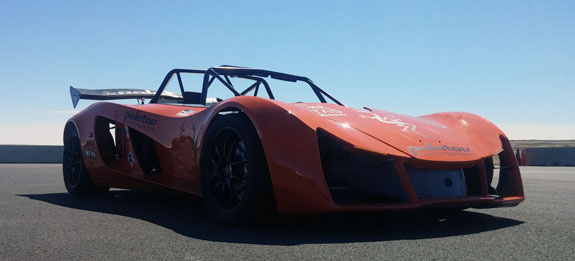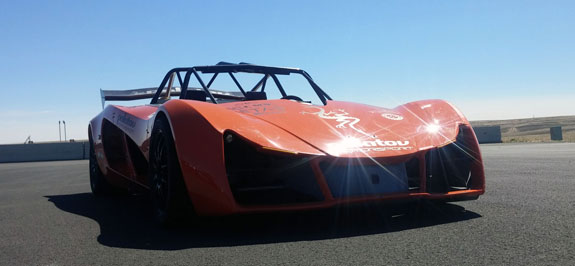 I've been thinking more about the turn signal/grille solution and it's coming together in my head. It would follow the mock-up parts you see above but more substantial and in carbon.
We are getting lots done but in a weird PTSD effect from Pikes Peak it feels like we should be going faster, that there's some do-or-die deadline we're about to miss. Which isn't far from the truth really as there are lots of projects that we need to be making more progress on. It's happening.
---
08/19 We are in the ongoing development phase. Lots of little things - new valves for the pneumatic shifter (they work better than old), new air cylinder (got one and didn't like it, got another one and will have it installed soon but back to original for now). Overall at this point paddle shifting is at 90% but not quite there yet. A week ago we took the car out to ORP to do more testing and give some demo rides at a private event. Neil was kind enough to do demo driver duty. People were impressed!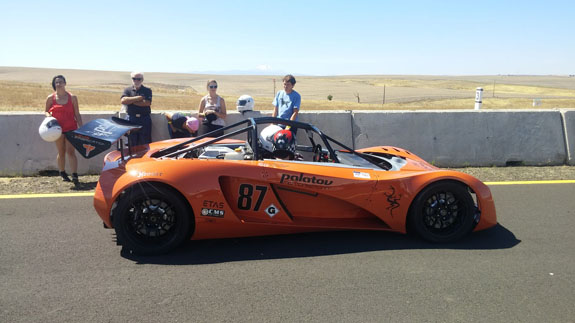 An example of small development steps - we've been having a problem wth the car burning up ignition wires. We've gone through three sets now, and putting heat shields on the wires didn't help. Nor did switching brands. So the next step is wrapping the headers (ceramic coating is not enough).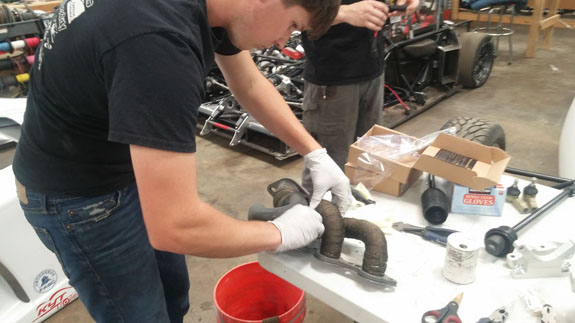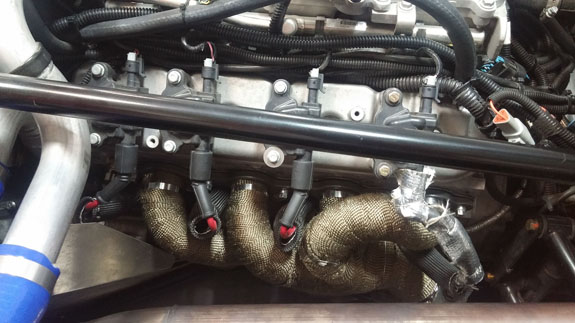 Fresh wrap always smokes so we pulled the car outside to get it broken in. A bit unnerving to see the smoke coming from the engine compartment, but it's all normal and was gone in a few minutes. We'll see if we have any more wire issues after this.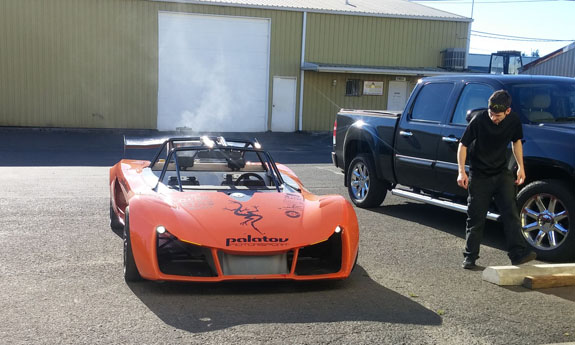 Other D2-related stuff is the progres on Sector111 Drakans - we are building another roller and 3 more to go.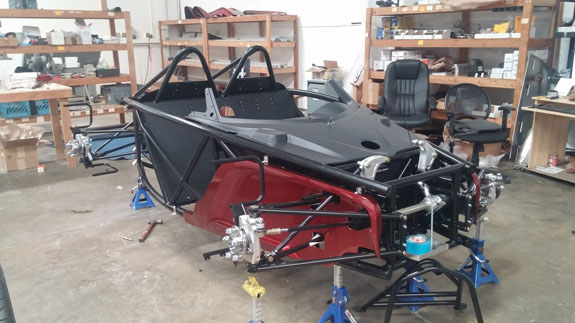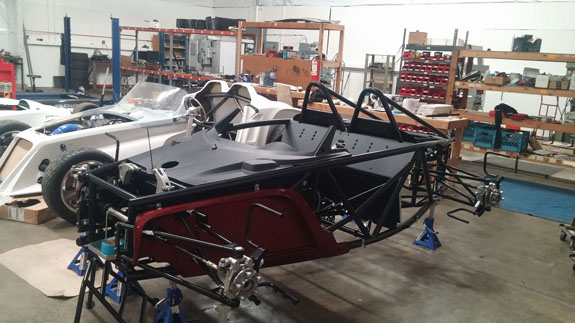 The next customer D2 frame is now done - at least to the point until we figure out the door opening and latching mechanisms. Which is proving to be a challenge, but a surmountable one. Lots of tricky geometry and of course have to make it manufacturable too.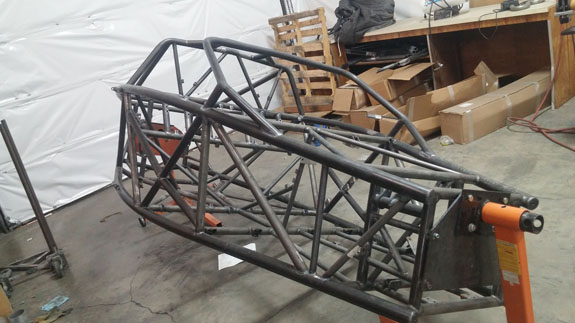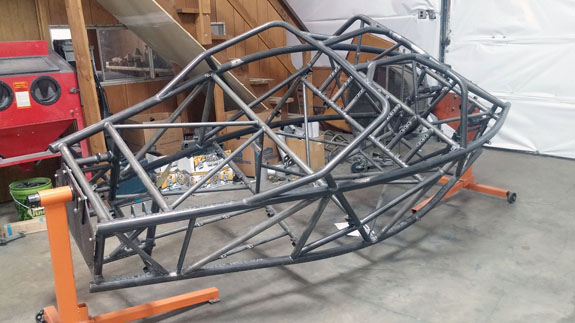 Other things are happening too - there will be posts on the other project blogs soon.
---
Site Sponsors and Links:

- CMS Lap Timer - Advanced Track Timer App With Video Integration

Tire Rack - Tires, Wheels (use link when buying wheels/tires to support this site)
---