---
08/09/14 A busy day. Started with a visit to Portland Cars and Coffee. Adam brought his D2 out as well, that makes it the first time two street-registered D2s congregated together. Good weather and good turnout. The cars generate a good deal of interest even in some exotic company.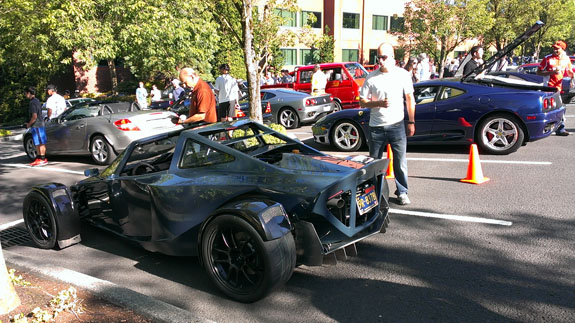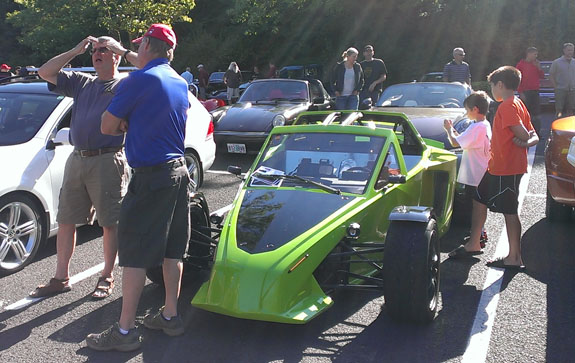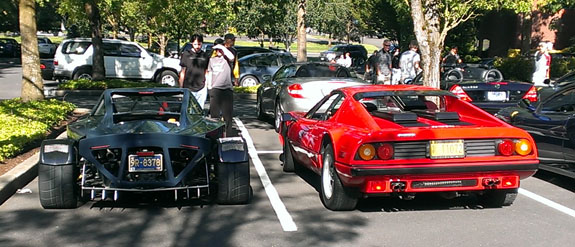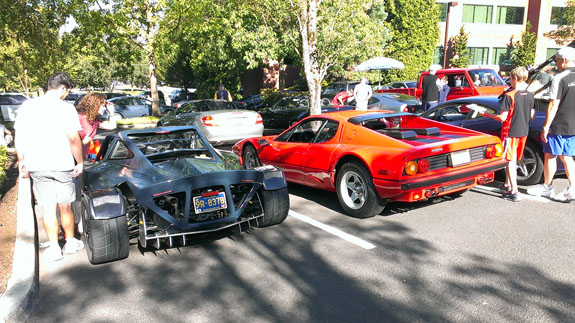 Straight from the event M and I drove 3 hours south to Redmond, Oregon, to visit the Lancair facility. They make high-tech kit airplanes. An impressive operation and after 30 years in business they're obviously much farther along than we are but at the same time we have a lot in common. Whenever either side talks about a set of experiences or challenges, the other's reply is 'yep, been there, can relate'. Many possibilities there. We'll see.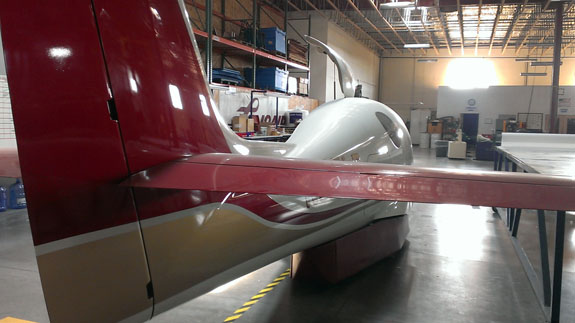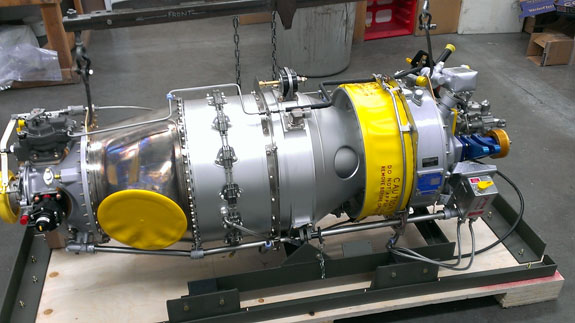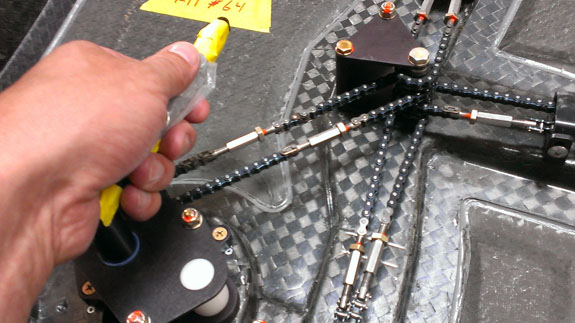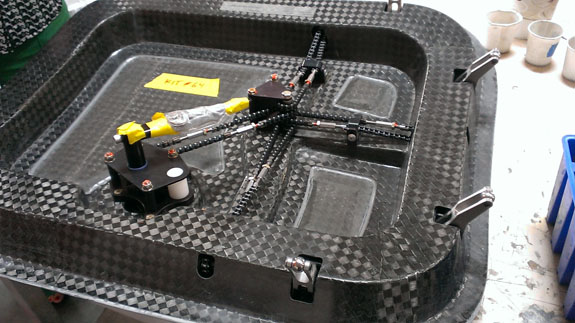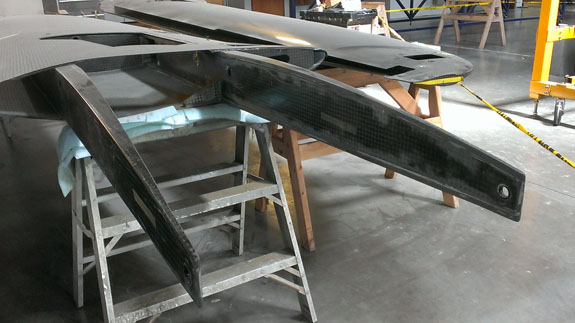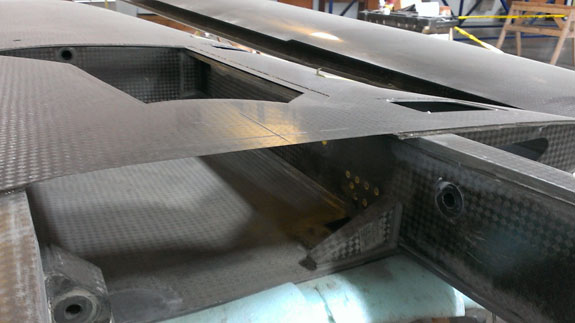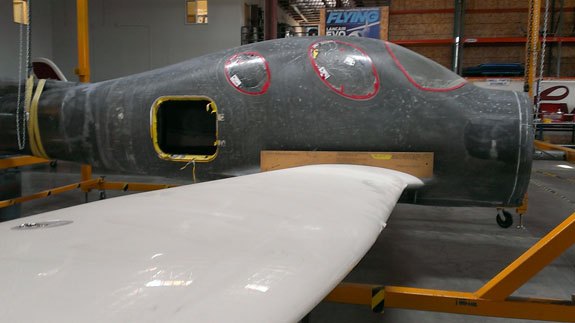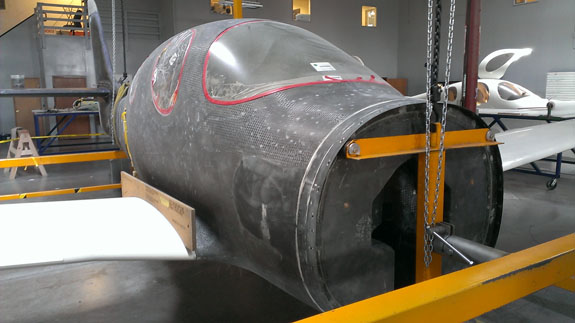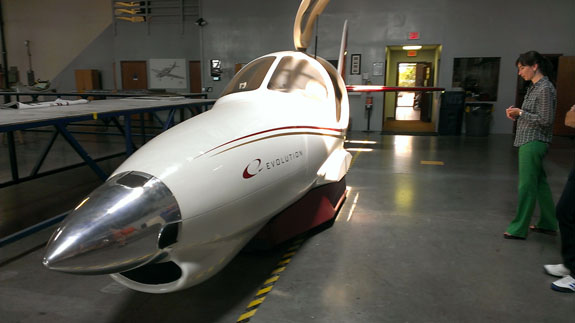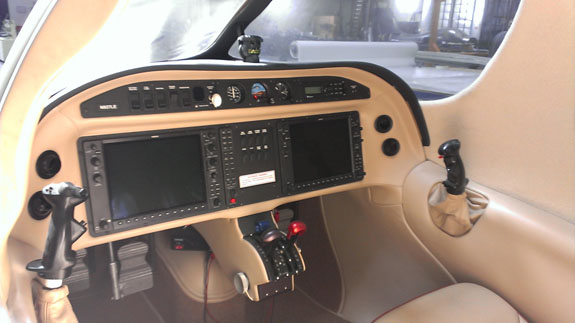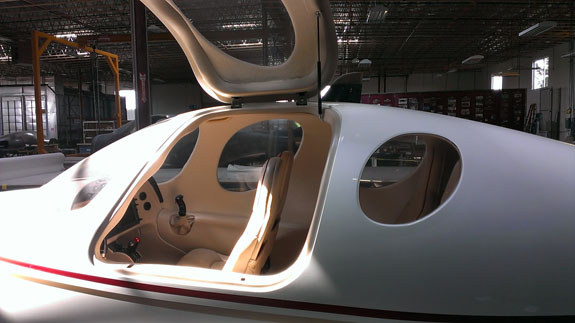 The trip itself was both a milestone (first road trip for me in a car I designed from the ground up) and educational. The amount of attention the car gathers is crazy - cellphone pictures and videos, people yelling across lanes to ask what it is. Motorcyclists wave to us as one of their own. When parked, people come over from across the street to take pictures. Driving a D2 around is an experience. Oh, and sunblock is essential.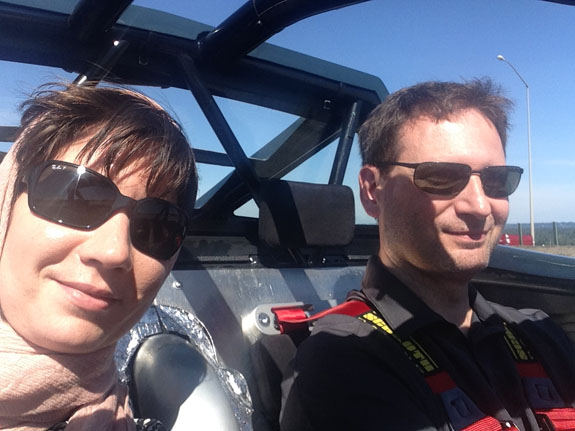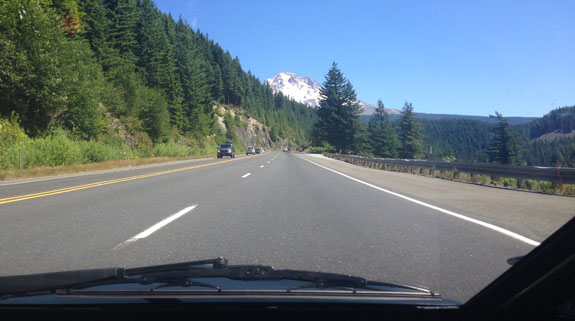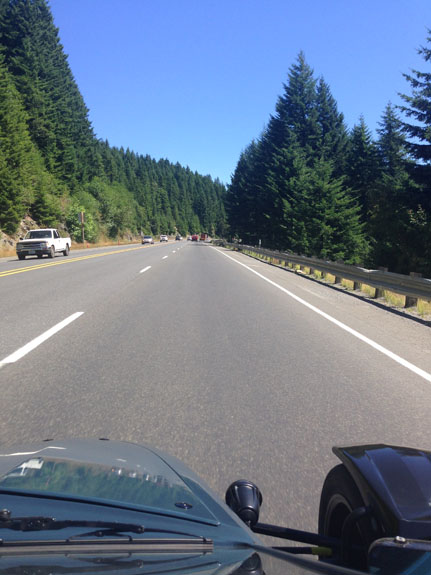 There is a huge contrast between available performance and what can actually be used on the street with any semblance of legality or even common sense. It's like walking around with a loaded shotgun and finger on the trigger - a twitch of a muscle can unleash all kinds of mayhem. I counted off a couple 'casual' acceleration bursts pulling out of a gas station and then in an industrial park later. One-thousand-one (shift) one-thousand-two - yep, that's roughly 70 mph from zero.
Being in the D2 for over 6 hours in a day is a bit tiring right now. Noise and heat are the two main areas I will need to address to make it a more practical tourer. Lots of good things too - the car tracks perfectly even on bumpy pavement, is not overly harsh ('firm' is how I would describe it) and generally very manageable on the street. Definitely more so than the Westie was and possibly better than the S190 Elise and Exige (weather protection aspect aside). Seats are good but could use more lumbar support, easily fixed. Ventilation and airflow need some attention. All of this will happen over the coming months, some sooner than others.
---
08/22/14 Couple D2 items this week. On Monday we did the first track shakedown of another D2. Quite a day for it, with 94F in the shade, but everything worked and temps stayed normal with oil at 210F and water at 220F. I really like this color, it brings out the car's shape in all light conditions.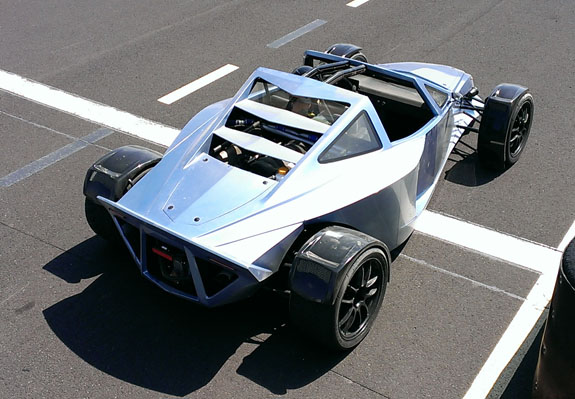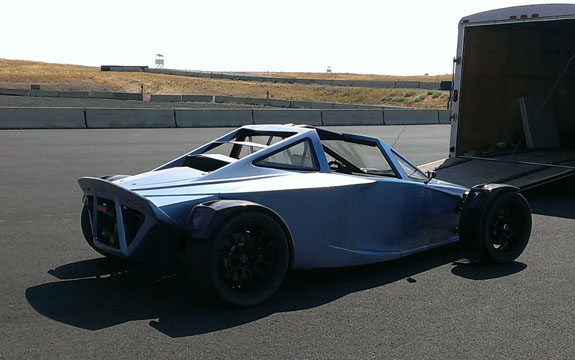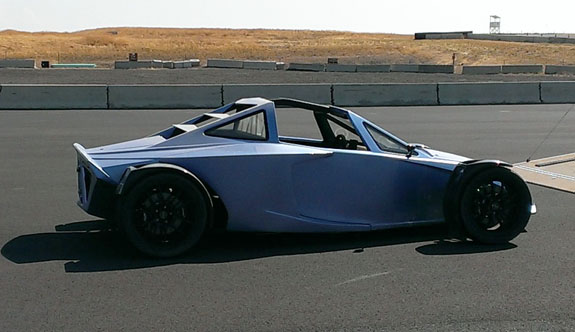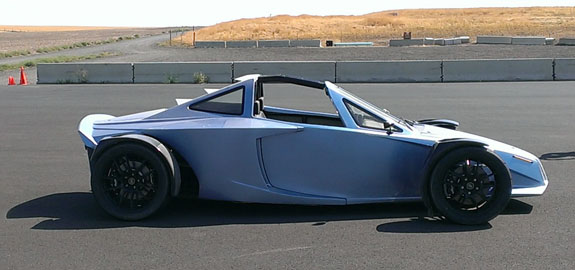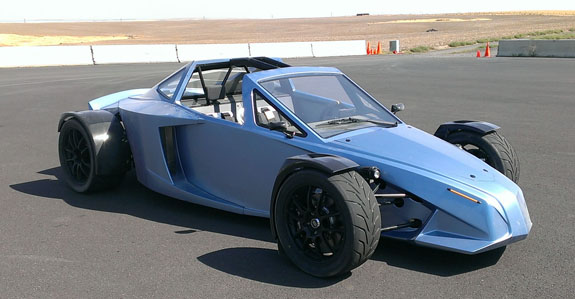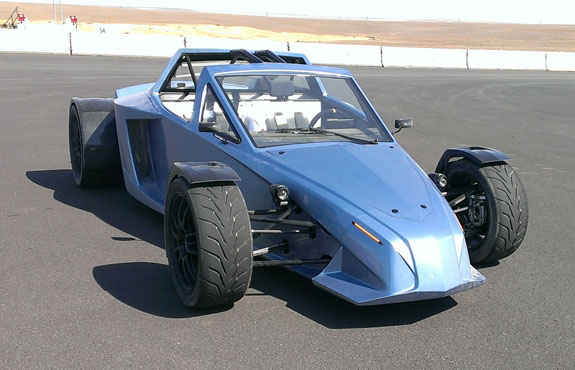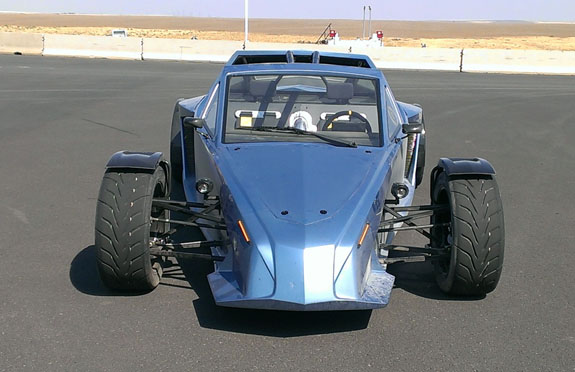 On Tursday we were back at the track for more testing. We trailered a D4 so that meant that M had to drive our demo D2 to and from the track (130 miles each way), picking up Jonathan from the airport on the way there and dropping him off on the way back.
We've made a few changes to better manage the heat and noise in the car and they are a definite improvement. Still have some work to do on both of those fronts but there's progress.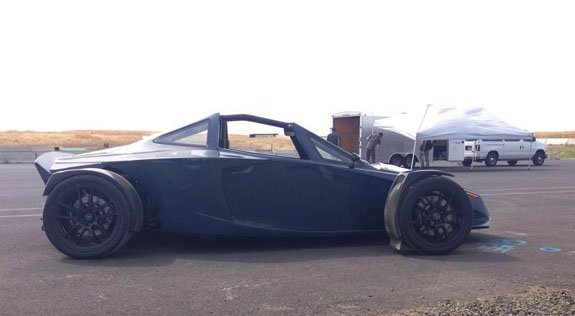 We arrived with Nitto NT01 tires mounted on the car. We got these because our standard R888s were backordered from Toyo. The two tires are supposed to be equivalent and even made in the same factory. But when Jonathan went out for a few recon laps the car was very loose and unpredictable. Tires are the only thing we chaged from last time handling-wise (well, diffuser too and we took it off just to confirm it's not a factor - it isn't). Looking at the tires the rears never got warmed through, all the heat is on the surface and the tread itself feels slippery to the touch, not sticky like a hot tire should be. My best guess is that the tire's internal construction is geared towards much heavier cars and in the 315 width just doesn't work on such a light vehicle.
Fortunately we had a set of mounted BFG R1s in the trailer and we put those on. After a lap Jonathan came in with a huge smile on his face - THIS is what the car should work like. OK, good to know. Of course the demo still being wet sump we had to watch g loads but it was FUN.
With the tire issue out of the way we put the diffuser back on and it does make a difference albeit a modest one. This is expected - CFD showed a change from about 50 lb lift to 30-40 lb downforce with the addition of the diffuser, and that's about what it felt like. On a 1,900 lb car it's not a lot. Essentially like taking a kid for a ride in the passenger seat. The real changes will come from the full aero package which is in progress. NO, the wing won't be THAT wide :) It will end at rear tire edges.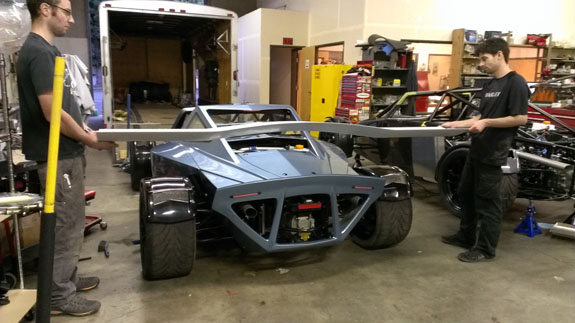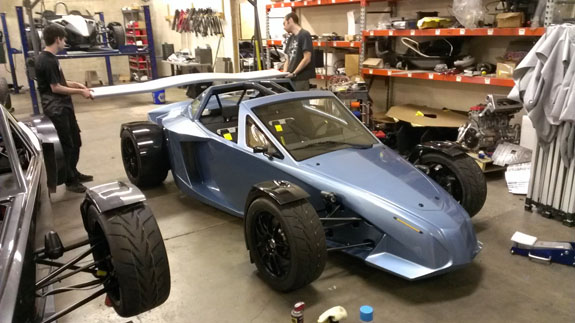 We also tested the D4 with its new suspension and will now do a set of D2 bellcranks based on what we learned from that, to see how the concept translates to another chassis. The goal is to create a suspension that works well both on the street and on the track without having to adjust settings. It's a tall order but the results are encouraging so far. I'm coming up with more sophisticated tools for geometry analysis in order to facilitate this. Solidworks is a great platform for that with the ability to tie dimensions to others through equations. Below is a relatively 'simple' 2D scketch for the Stiletto which has a layout suitable for that but in most cases the analysis really has to take place in 3D. It's a challenge but a fun one :)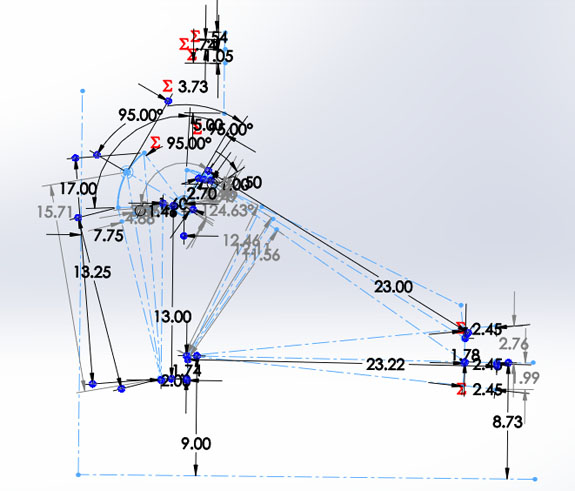 The last session in the D2 I got some much needed coaching from Jonathan. He basically confirmed what I knew but hadn't verbalized - I'm being very conservative, leaving too much track on corner exits and not using enough of the tires' capacity. About 70% was his assessment. Yep, I'm being a wimp :) It's a semi conscious, semi inituitive thing. Bottom line is that as long as we have Jonathan to do the at-the-limit testing there's no need for me to push the envelope since risks are way higher when I do it than when he does. All that said, I do look forward to when I can just focus on the task of improving my driving and exploring the limits. I think there's much for me to learn there not only as a driver but ultimately as a designer too. But in the meantime there's work to be done. We're on it with two more D2s and a D4 to deliver in the next few weeks.
---
08/27/14 Lots of things happening as usual, this post is about two of them. One is heat management. Basically there's a lot of heat coming into the cockpit from the engine bay. I've done a number of tests and experiments to determine how exactly that happens and what to do about it. It took that and a lot of staring at the frame and spinning the 3D model around on the screen. That's just what I do.
The big breakthrough was the realization of how engine bay airflow really works. I even did a CFD study to help me do that as well as preview the proposed fix (the picture is a bit messy, sorry, but it does tell me what I need to know).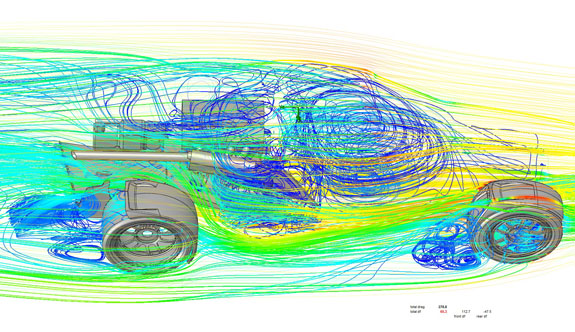 According to CFD my fix not only helps the heat but also reduces drag a bit and increases downforce - both of those things are due to altering the airflow above and behind the rear section of the car.
Armed with that data we proceeded to make test parts - first in CAD, then in cardboard, then in aluminum.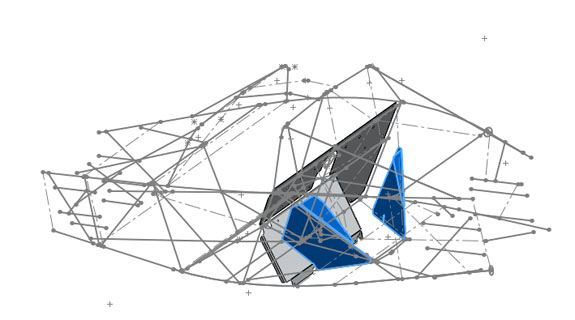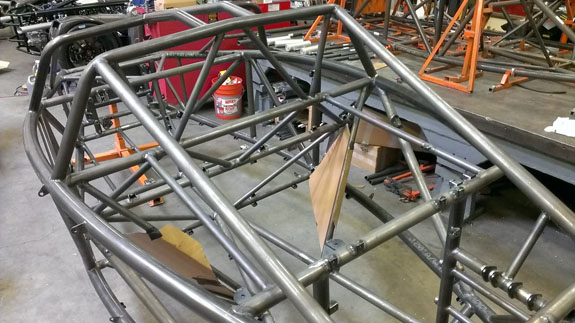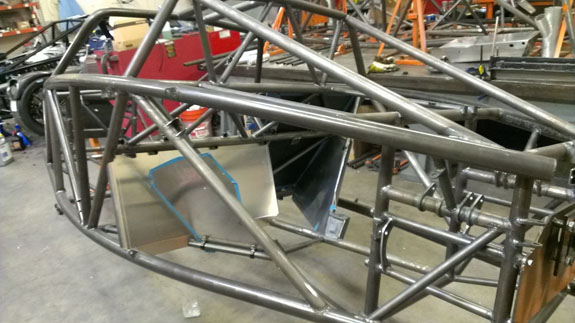 After this the aluminum panels were installed on our demo D2 (needs a name, really, now that I think about it). Today was the test, taking a couple freeway exits farher as a detour on the way home. The result is excellent - huge difference in the amount of heating of the seats and the intake tube, just as hoped for. Some heat still does sneak in so the work is not entirely done but it's a major step forward. Oh, and the rear cosmetic trim panel is finally done. Gives the interior a more finished look.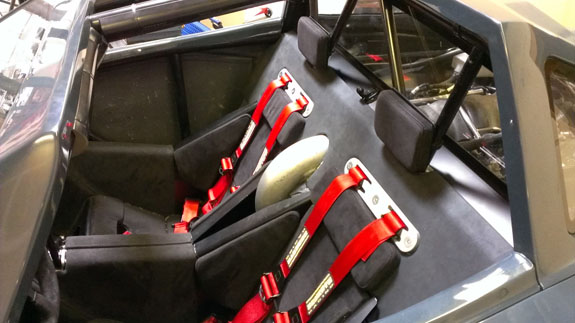 More steps on an already very long journey. It really does feel like we're getting somewhere though.
The other item is the progress on the wing. Mark is very procedure-oriented which is great to see. A lot of work goes into planning and setting up things beforehand. As we transition from R&D to manufacturing this is a very good thing for us to do more of. Always something to learn.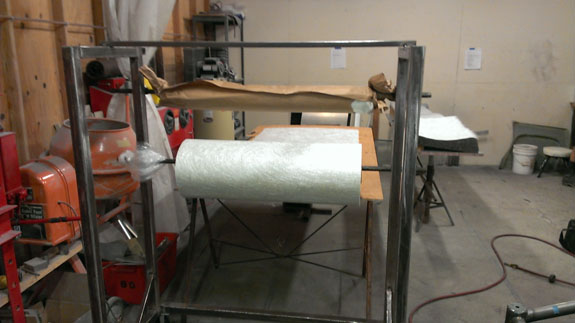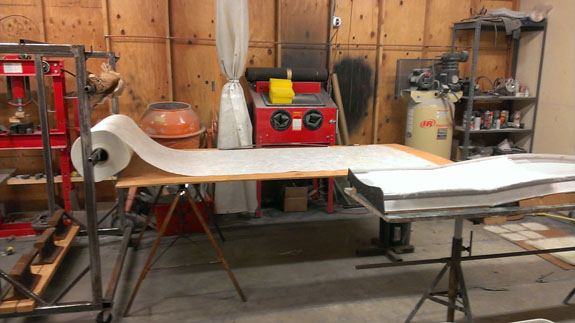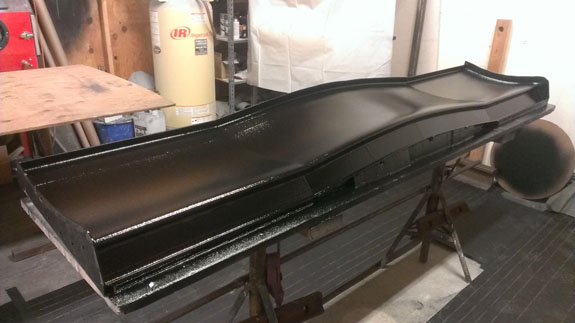 In the meantime Joe continues to have fun driving and autocrossing his D2 in California. Learning a few things there too.
---
09/02/14 Another shakedown test for a newly completed D2 at ORP yesterday. Brandon was here to do the initial testing of his new car. I trailered it while M drove out in our demo and Adam brought his D2 to join the fun. Seeing the two on the road was neat.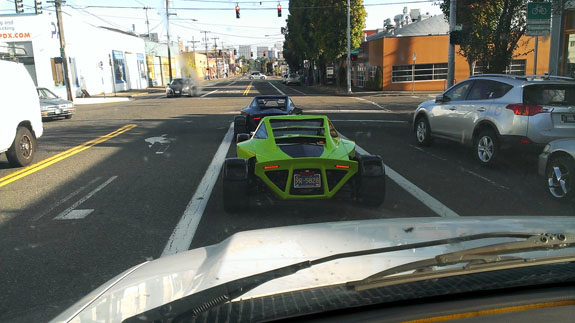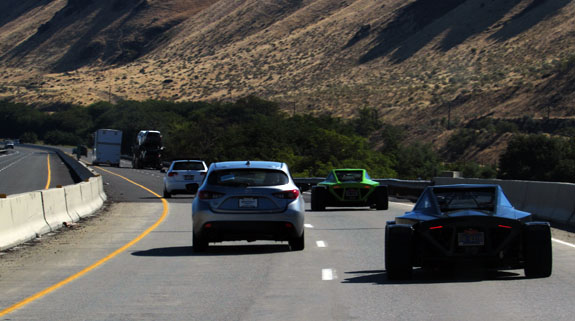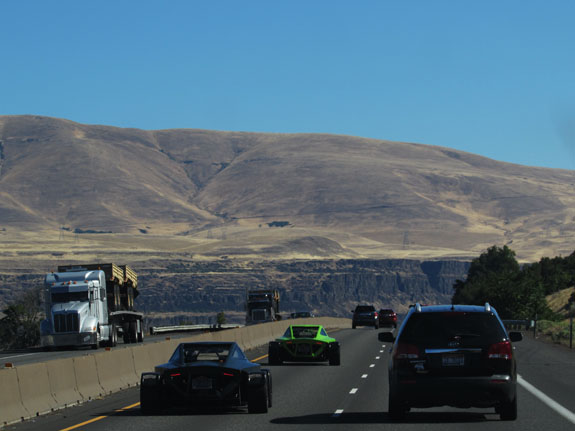 Unloaded at ORP, it was the first occasion when three D2s were on track at the same time so a few pictures were in order.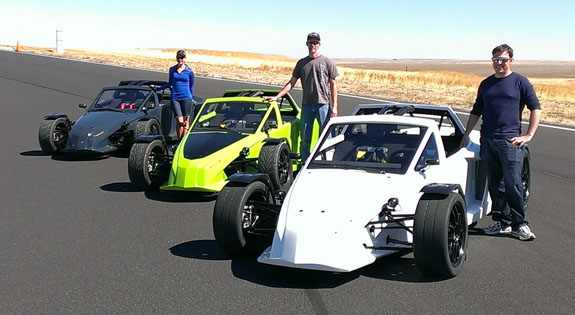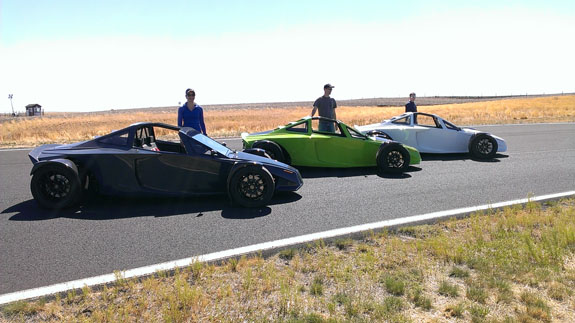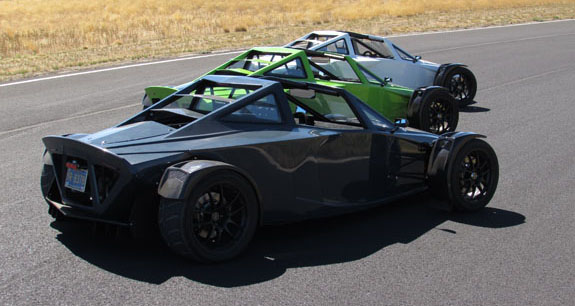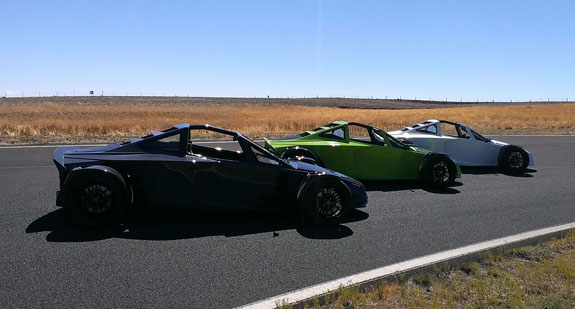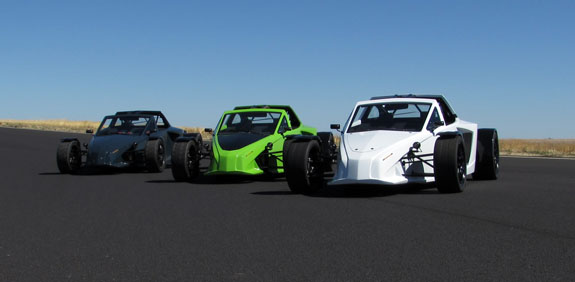 After picture-taking was out of the way it was time to get down to business. A few final checks and we're out on track. Slowly at first, then picking up the pace.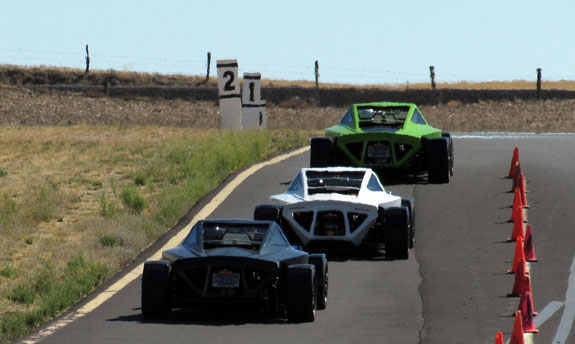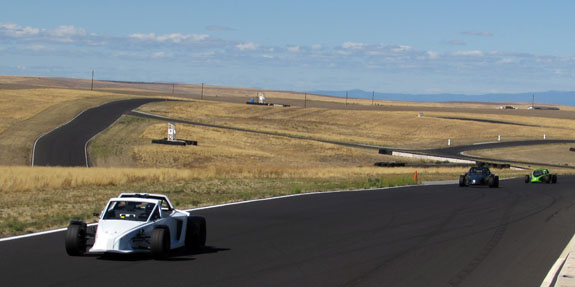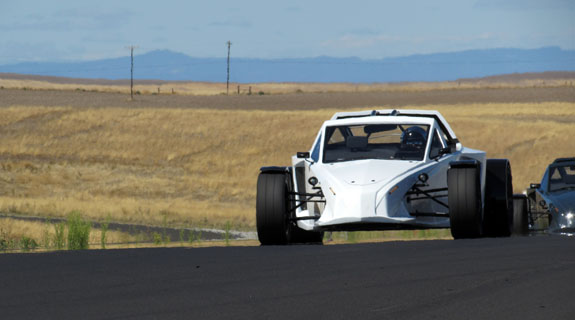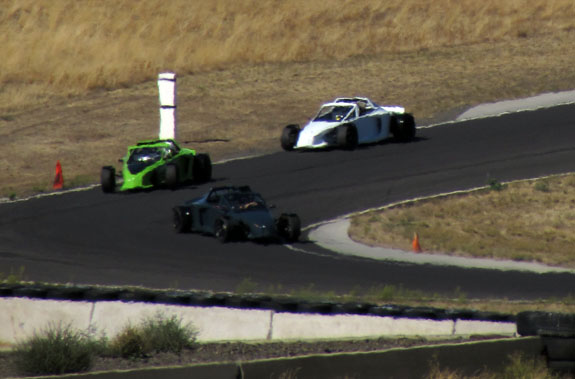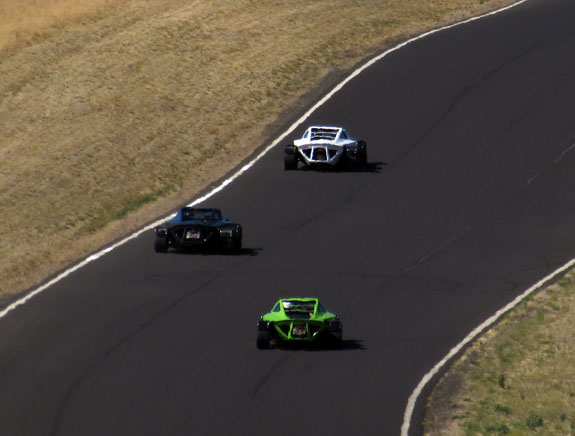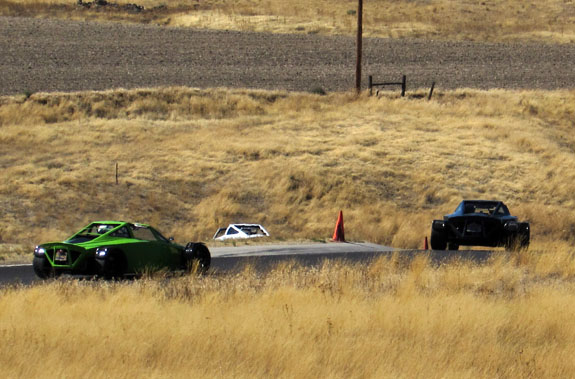 This is FUN :) As the day went on our confidence in the new car increased, along with Brandon's familiarity both with it and the very technical track. Here's a quick video of a couple laps. Still not pushing TOO hard but enough to be entertaining. The D2 would make an awesome spec racer. It's fun at many levels but to be really fast a driver has to be able to use the power and the cornering to the fullest. There's a lot of both (more than I personally can use) so those with the skill can really stand out.
All in all a great day. 3 hours of tracktime and everything worked well. Meanwhile back at the shop more progress. For noise reduction we've tried special paint on floor panels and while it works there are some issues. So the new approach that seems to be working well is aluminized rubber 'tape'.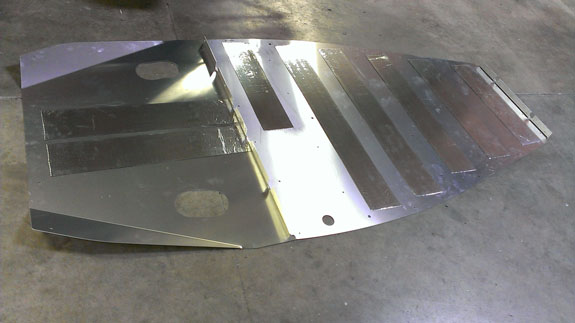 The few strips of the material transform floor panels from 'bells' that ring for many seconds after being tapped to sounding completely 'dead'. Makes a noticeable difference installed on a car so this is now standard, along with the heatshields that continue to show their effectiveness (Adam now has them on his D2 and has noticed a significant drop in both cockpit heat and intake air temps).
Also the wing mold is coming along. And lots of other things too.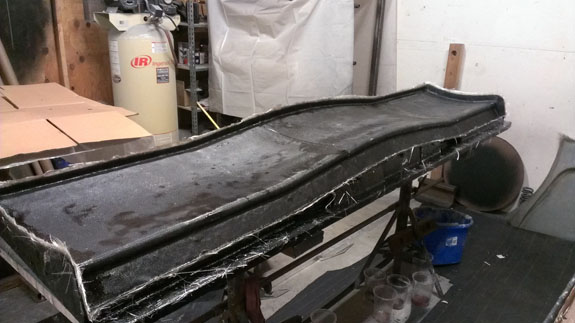 ---
09/23/14 As always there's an ongoing stream of activity on a variety of projects but all are incremental steps and not really enough for a post in and of themselves. Yesterday Karl arrived in town for his semi-annual visit and we are using the occasion for a few track outings. Today was basically a private customer test day at ORP. We are planning on a lot more of these going forward and attendance is included with every car purchase from us. Also marks a new milestone - now four D2s on track together.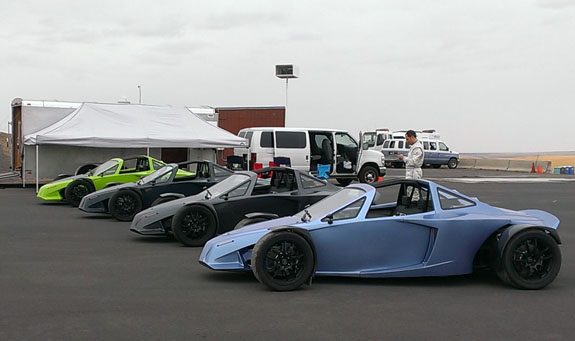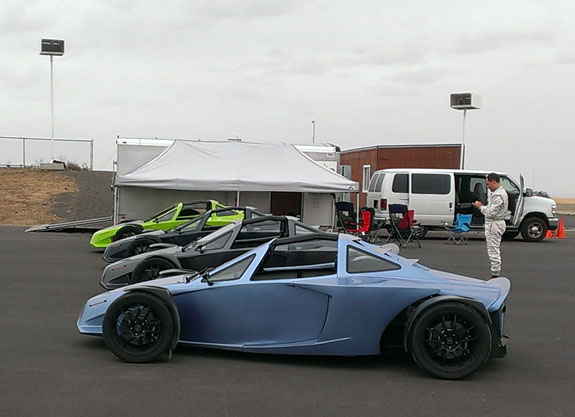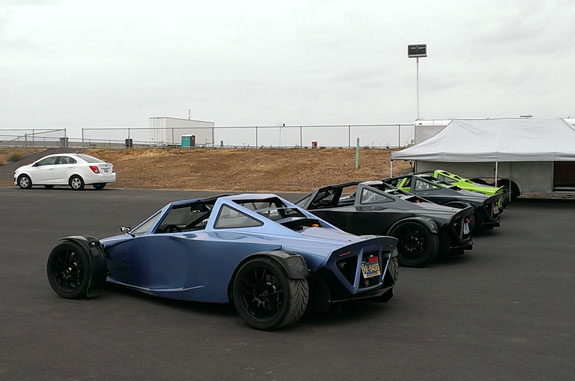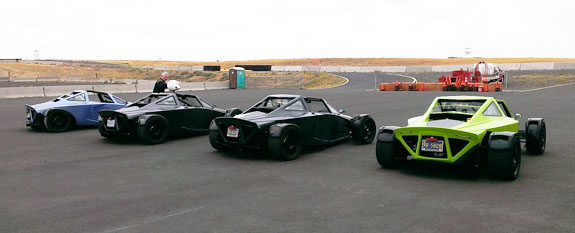 On the way there and while at ORP the weather was a nice overcast day, probably the most comfortable we've seen this season. On the way back the last hour was spent in darkness and a fairly substantial downpour. Gratifyingly, the cars stay dry as long as they're moving at anything over 40 mph. The interior picture shows the moisture distribution - some on the back window but the unoccupied passenger seat stayed totally dry. This is even with a few stops at lights and in front of the shop. The upholstery is a boat fabric so any water that does get on it causes no harm.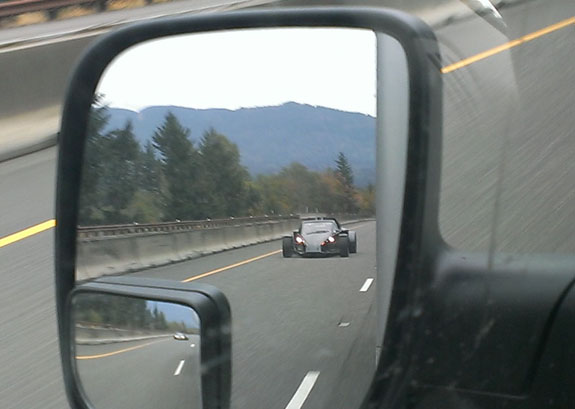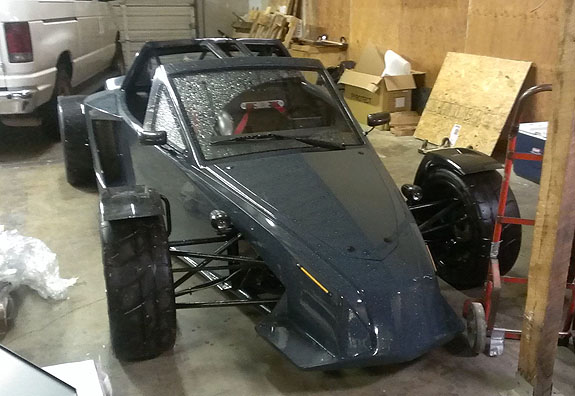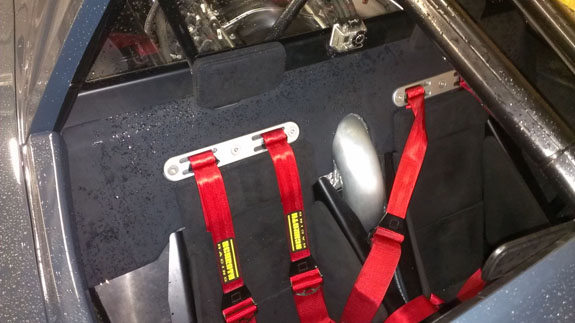 We are learning something with each outing. For Karl with months between visits the progress is especially visible - the car is quite different and improved from the last time he drove it. Several more upgrades are in the process of being made and will be tested soon. And as always everything we learn from one model is applied to all the others.
More soon.
---
10/10/14 Another test day at ORP. Actually our factory D2 made a trip to California recently, but it all went smoothly and as such, while fun, wasn't much to write about. Good thing really :) This time we were testing new suspension arms in the back. Not expecting much change from the modification itself, it's mostly intended to enable using larger outboard CV joints, but I was curious if I could tell a difference. Too curious - mind on the design while at the wheel, trying to provoke the car from first lap out on cold tires, and limited skill set as a driver.... Not the best combo.
So I ended up doing exactly what I tell everyone not to do, exactly in the spot where I tell everyone to be especially careful. Which is too much throttle at the wrong time, being behind the car and reacting instead of anticipating. M would have liked to kill me aferwards except for the fact she was happy I hadn't done it myself. Below is a visual of the result.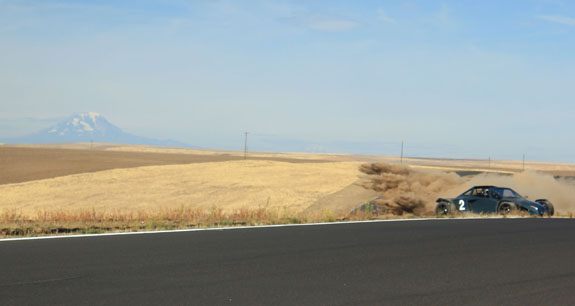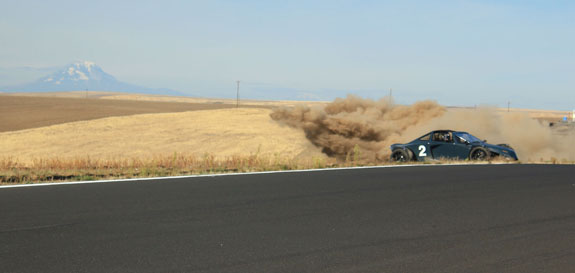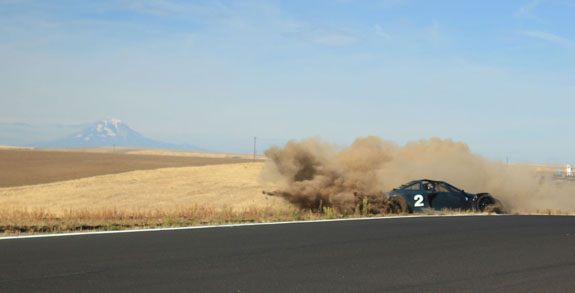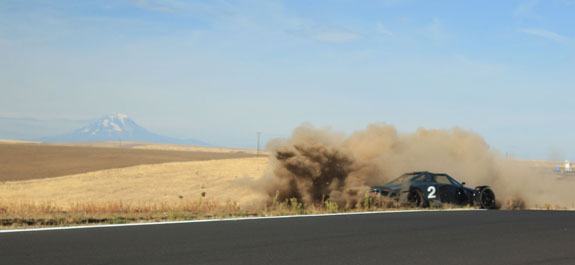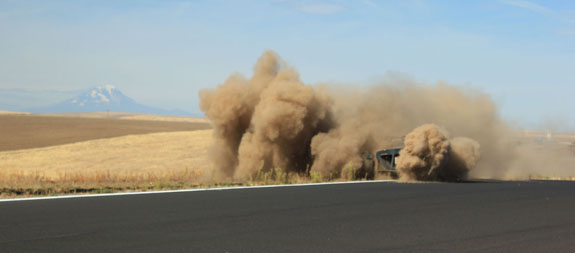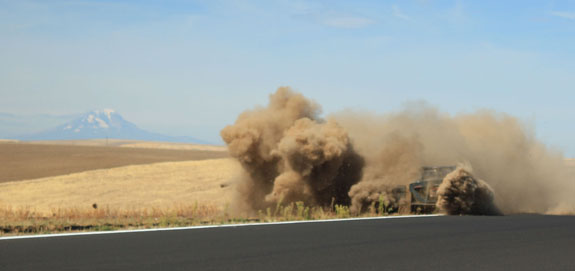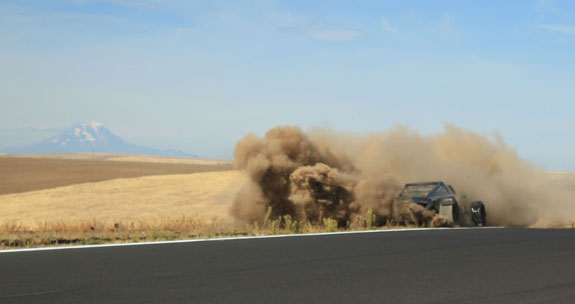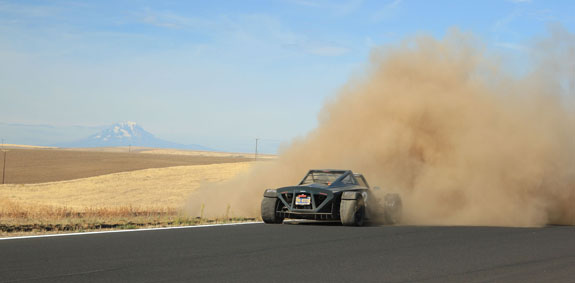 What's not visible in the picture is the concrete wall on the other side of the track with too many paint and tire marks. I've seen someone helicoptered from this very spot. It could have gone either way and while I'd like to claim I directed the car to this side rather than the other (I distinctly recall the thought process), if I were that much in control I wouldn't have spun in the first place. Kind of like people claiming they laid down a motorcycle to avoid crashing. Duh.
So while as an engineer I keep working to make improvements in user friendliness and accessability (decent progress there, more to be done), the fact remains that it's a 430hp, 1,900lb car. It demands respect. You can't just nail the throttle anywhere like you would in a Miata and expect to get away with it. Next time I give the orientation speech I should add 'do as I say, not as I do'.
On the plus side, the dust created some airflow visualisation opportunities for the D4 which we also brought out.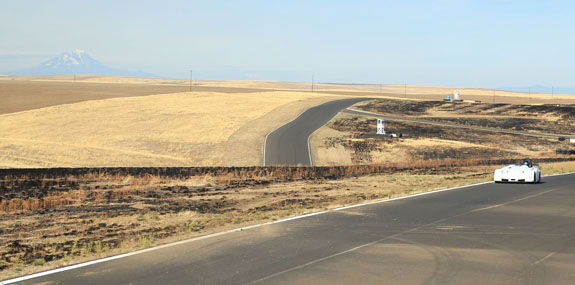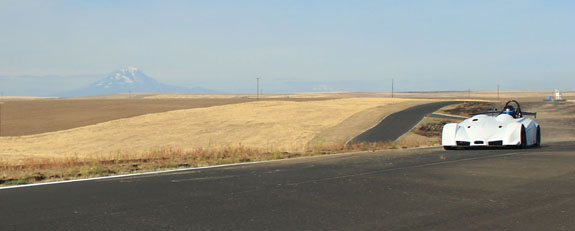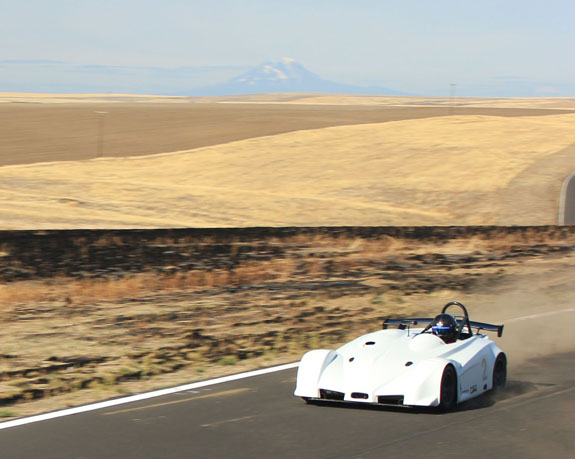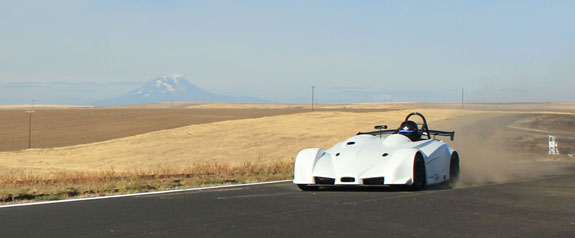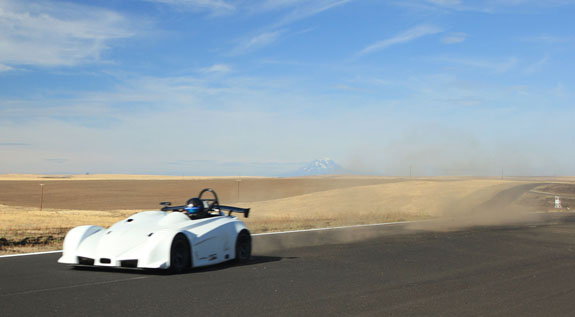 All in all new things were learned, old wisdom was reinforced and we're moving forward as always. A good day.
---
10/16/14 Continued refinement. That's what we're all about. We are currently doing a refresh on the D4 demo car (over 40 trackdays, about time) and in the process of doing so Tristan and I were reminiscing about what was done, when and why. The current production D4 really doesn't share anything but the engine with the first prototype. We've changed every single part and are in the process of doing it again. Why? Because at any given point, we want to be making the best car we know how. And as soon as we learn how to make it better, we do.
The D2 has been getting a number of updates recently as well. Some are just for manufacturability, others have to do with suspension and handling. The new bellcranks are on but a short drive on the street is not really the way to evaluate them. Goal is to get some tracktime in soon. The design follows the same philosophy as the recent D4 update and is showing a lot of promise. The reason I haven't posted pictures or details is that I'm contemplating filing for a patent on some specifics. Looking around I don't see anyone else being aware of the principles I'm applying and by looking at pictures of some very recent designs coming out of England, from supposedly experienced people, not everyone has an understanding of how bellcrank linkages actually work.
Stuff I can post - fortunately our electronic dash partners CMS Laptimer and Arcflash share our philosophy of constant improvement. The latest is a slew of updates - from support for CAN bus (so now the dash gets all the OBDII info from ECU) to improved 'street' mode with larger clock, better legibility on the gages and even a trip odometer. The picture below was sent to me by Adam (yes he does have 3,259 miles on his D2). The bluetooth OBD sender is what we've been using previously and it's been troublesome mostly due to connection issues with the dispay portion of the dash having to talk to two devices. Now everything works much smoother.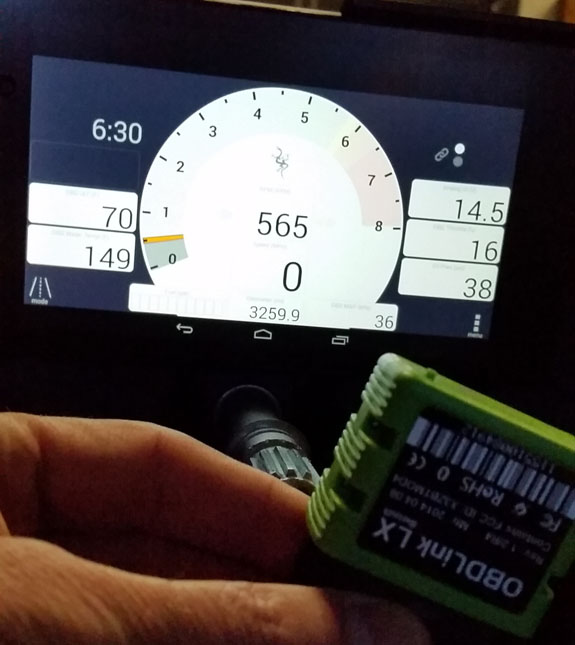 Other less exciting but important things: we're doing a lot in the transition from R&D to manufacturing. Checklists are a part of it, like the D2 frame welding checklist. We are also integrating everything into cloud-based data system that can be referenced from anywhere. Next step is integrating customers and dealers into it, with everyone having access to pertinent data about their car, a means of communications, progress tracking and all kinds of reference info using Wrike.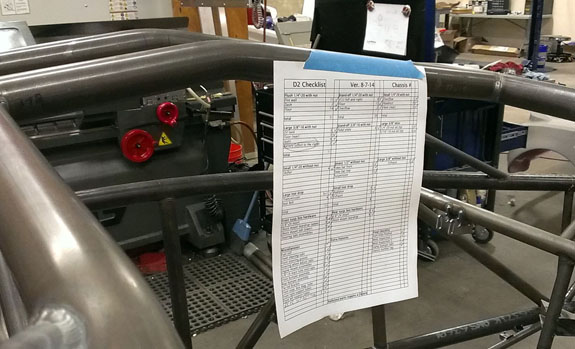 And of course I have to show off Mark's TIG welds on the chromoly frame :) Yes even the brackets are TIG welded.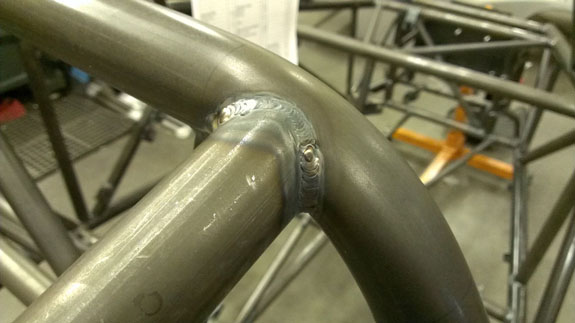 ---
Site Sponsors and Links:

- CMS Lap Timer - Advanced Track Timer App With Video Integration

Tire Rack - Tires, Wheels (use link when buying wheels/tires to support this site)
---