---
06/08/14 Lots going on, as usual. Much of it has to do with details - everything from supplier issues to design tweaks to fine-tuning. The recent crash has highlighted the need to make the D2 (and along with it our other cars) more user-friendly. Not everyone getting into the cars is going to have extensive and recent track experience, yet the cars' potential is way beyond what most people are used to. So how do we keep them safe while coming up to speed without 'dumbing down' the car? It's a fine line but afer many discussions with a number of people I know we can improve on what we have.
When I set out to design the cars we have now the goal was to push the limits, to break the rules and show what's possible. The D4PPS (running on half its engine!) put that in context at Pikes Peak two years ago. So, I can build fast cars. But as a business we have to build cars that ordinary enthusiasts can relate to, be comfortable in and enjoy - so they would want to own one. Honestly I'm still early on the learning curve for this. But I have great help.
First, I have gotten excellent feedback from our early customers. Just having the cars being used by different people in different kinds of scenarios is very educational. I do have to process the input into actionable info sometimes but generally we all have a good and open communications channel.
Second, a while back we connected with Jonathan Frost, a very capable and disciplined driver (he was set to drive our Pikes Peak entry this year until we had to postpone that effort for another year). Jonathan can readily put the car into a variety of conditions, observe what it does and report back in an effective way. This is way more efficient than me trying to play driver and engineer at the same time, especially since I'm only OK-ish as a driver and the cars are all much faster than I am.
Once we had the demo car back to running condition we all headed out to ORP for some testing. Adam drove his newly registered D2 130 miles each way to do some shakedown testing of his own (VERY cool to see it on the road!) and we trailered the company D2. Below are some pictures and here's a video of Jonathan at work.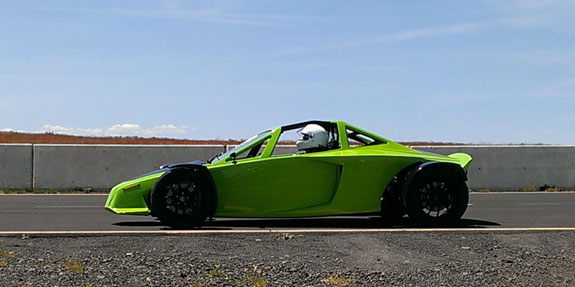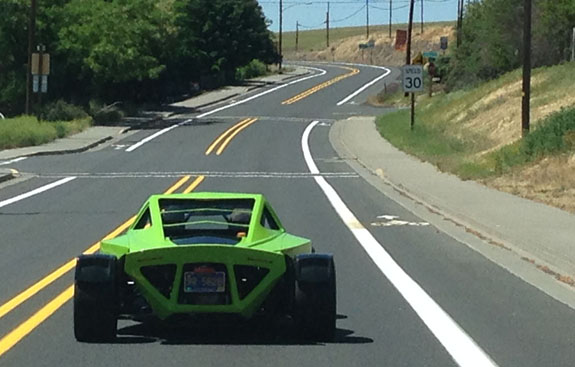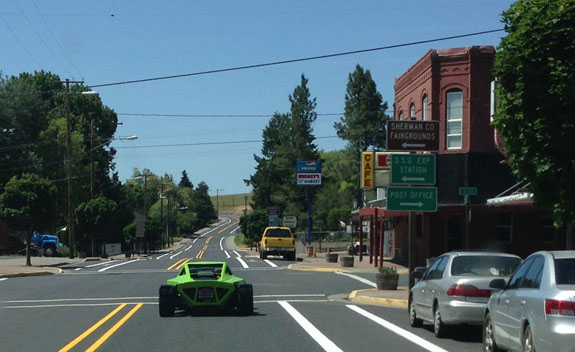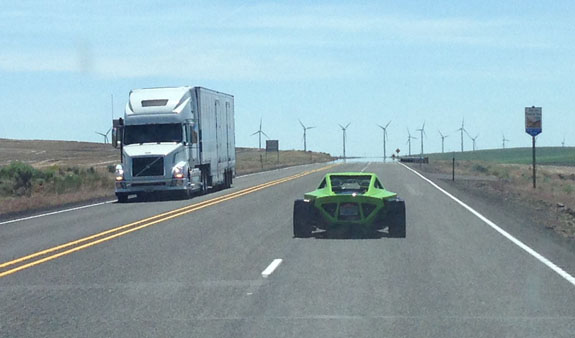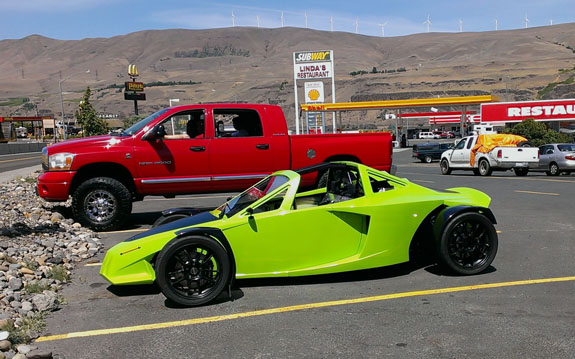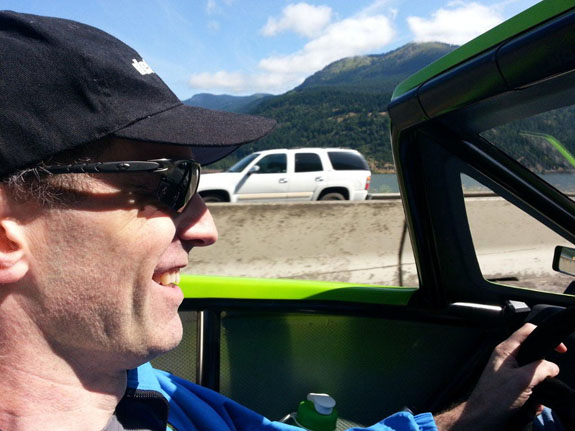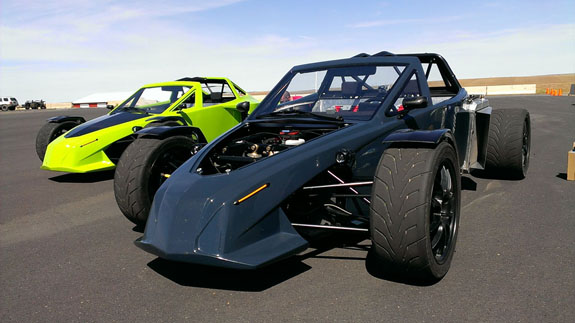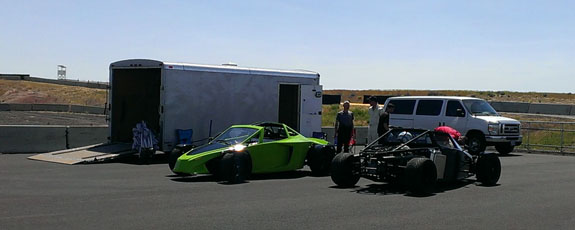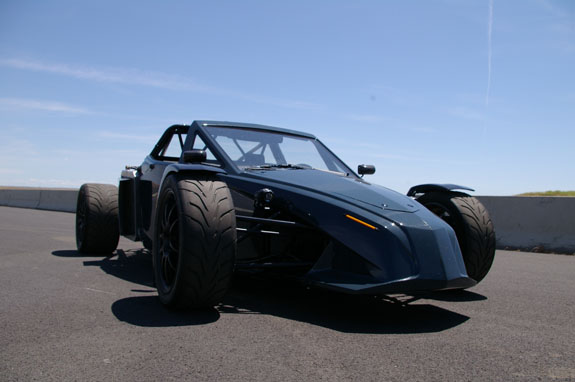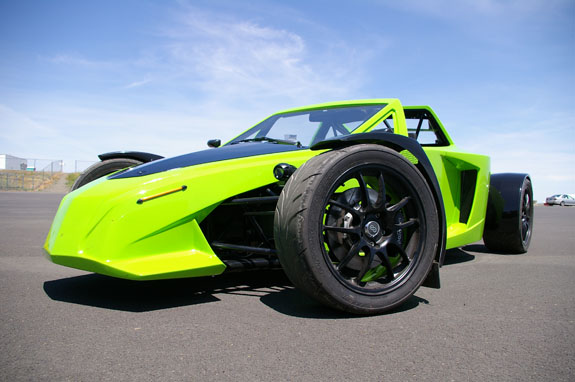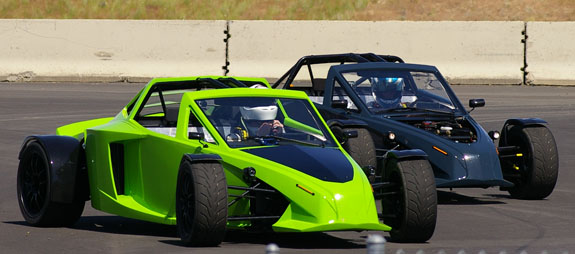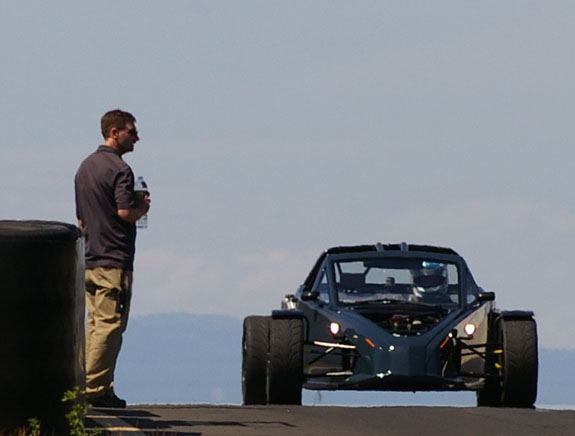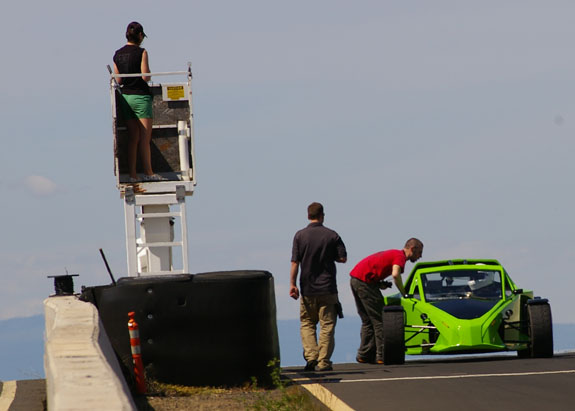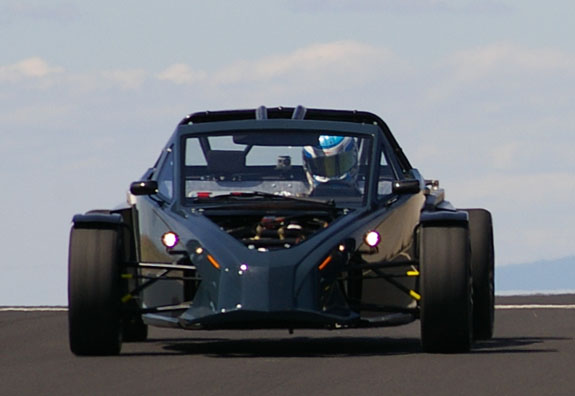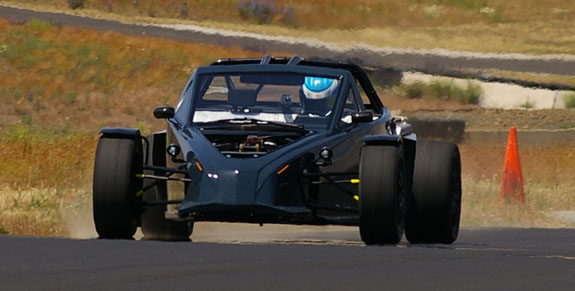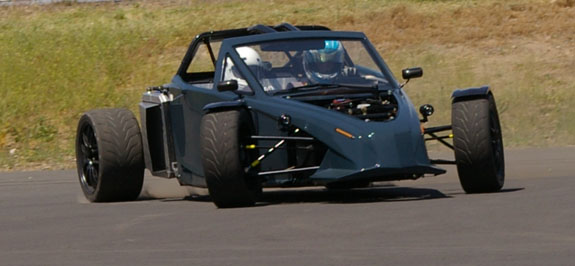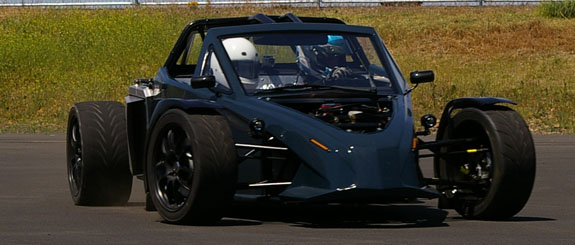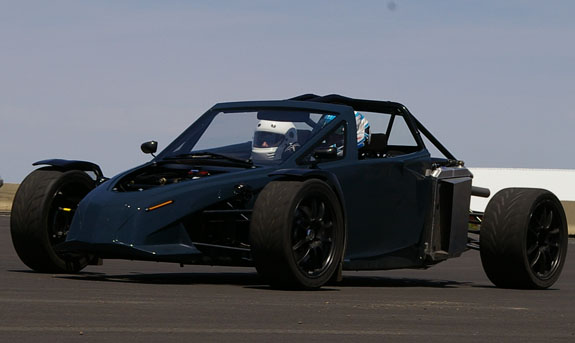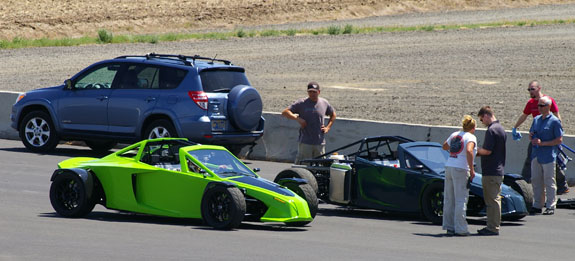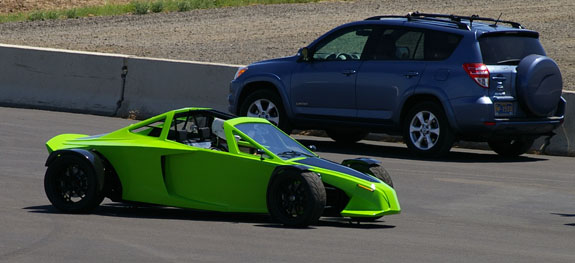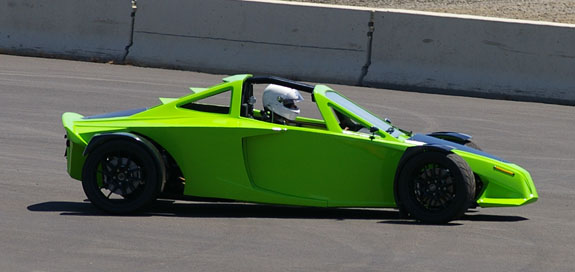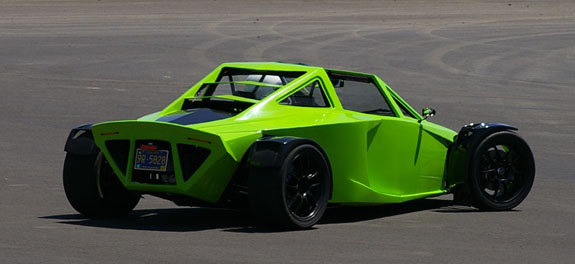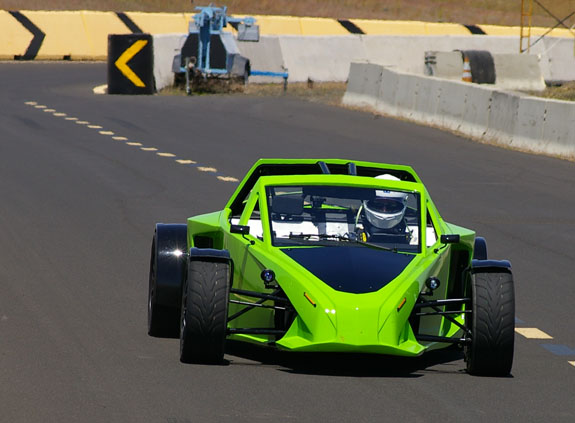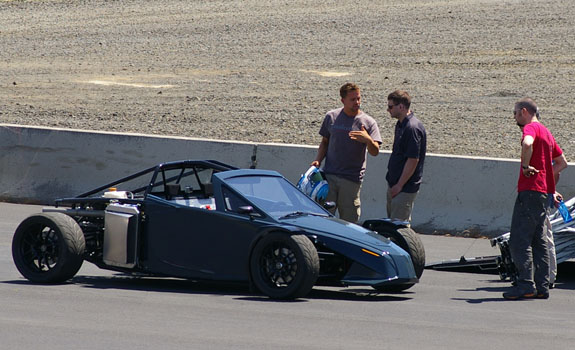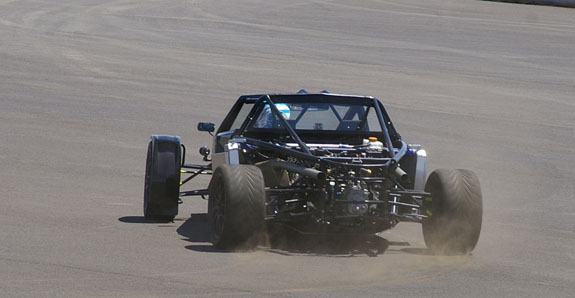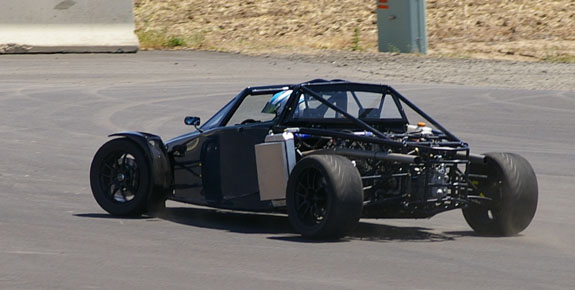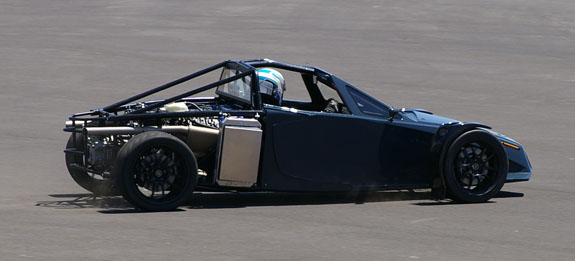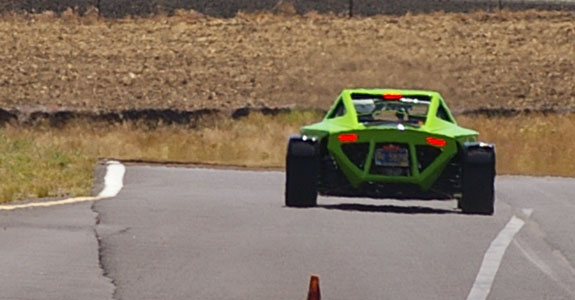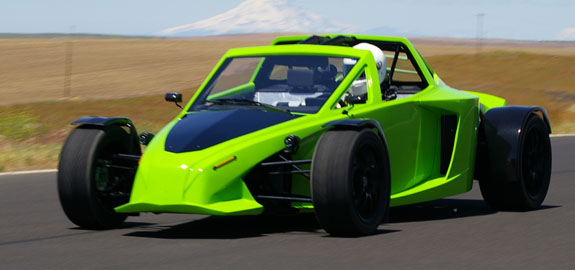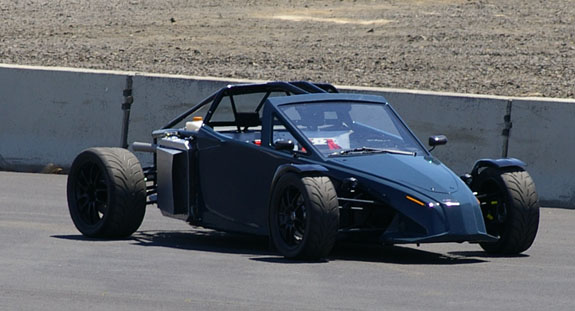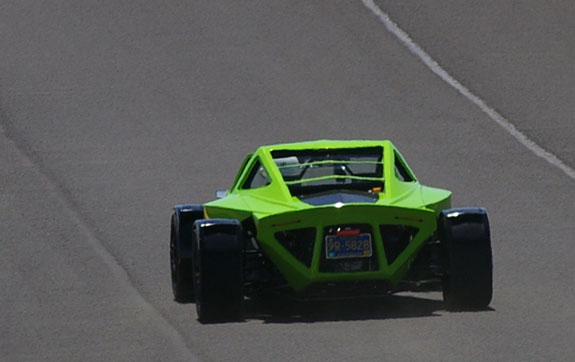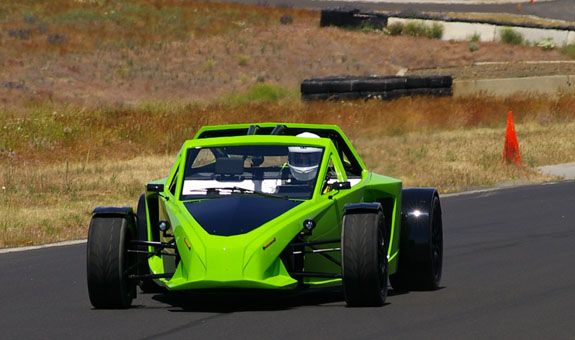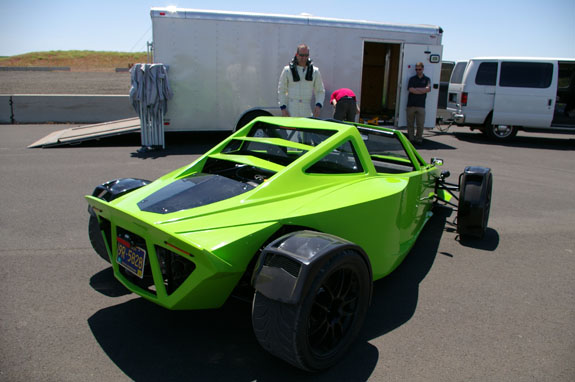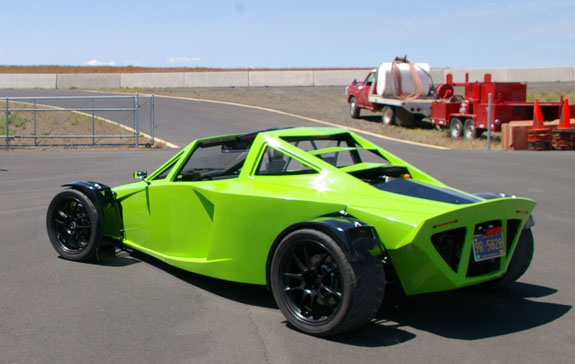 A number of different setups were tried, much was learned, and we have some work to do back at the shop.
In the meantime, Joe is having fun autocrossing his car and driving it to and from events. We're doing some ongoing support and udpates, for which I flew down there yesterday, but things are moving in the right direction and the changes we're making are helping him go faster and enjoy the car more. The latest set of changes helped him slice over 5 seconds from his time. Not FTD yet but it's coming.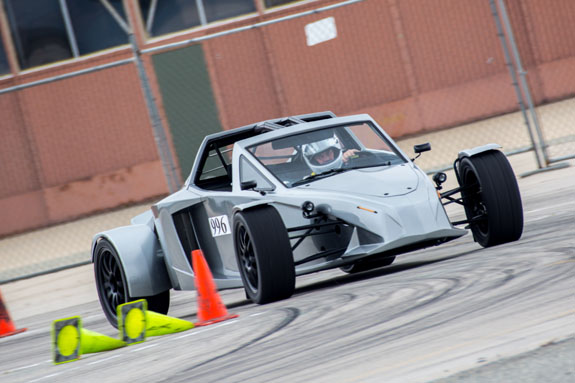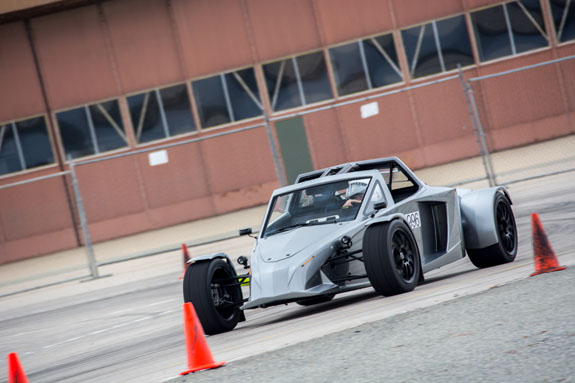 The second generation dash control boxes are here and installed on three of the cars. In addition to the dash, each D2 comes with a companion tablet that lets you download your data and video wirelessly from each run right there in the pits. You can then do full analysis, generate data-overlay video and upload any or all of this info right in the pits between runs.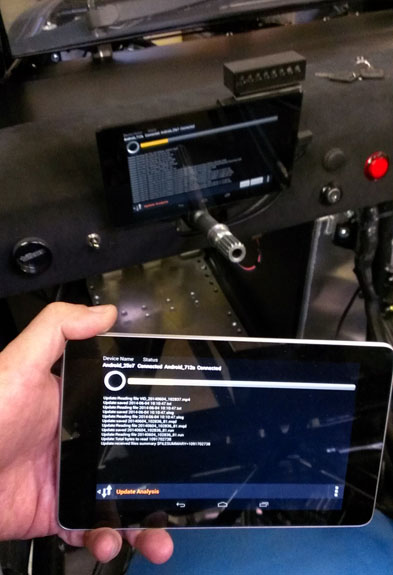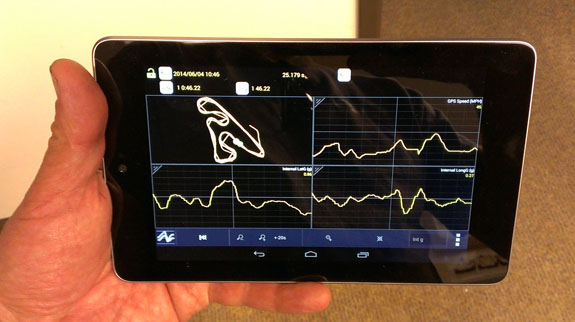 In other news we've received the foam cores for the wings. Next step is to combine them into a prototype wing, finish it out, figure out mounts, make molds and make production parts. The round cutouts are so we can easily insert tubular 'spars' for mounting and structure. The piece shown is only 48" wide, the full wing will be made up of a couple of these and will be wider of course (most likely as wide as the rear tires edge to edge which is 80").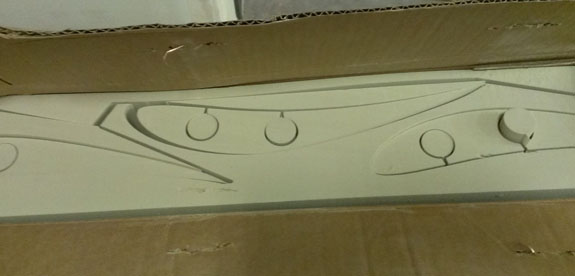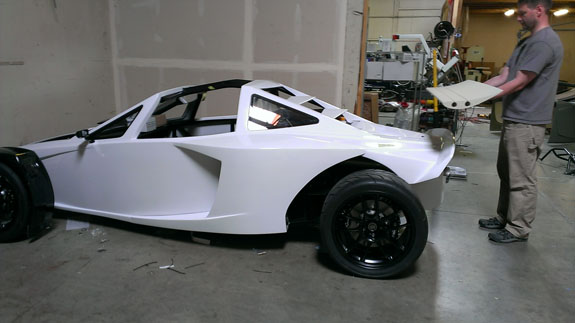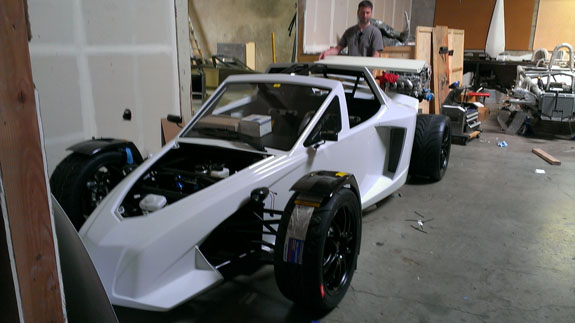 So, yeah, much happening, much more to come.
---
07/24/14 The most recent post was on the D4 page (and some time ago, I just realized) so the D2 one gets this update. In reality all the projects are moving forward and we have a couple new people onboard - Nick and Peter. They both have already been very helpful in tackling the giant backlog of tasks. This brings me to an announcement - at this point in the company's development we need to expand our resources and capabilities to meet current and projected demand. To do that we are looking for a few qualified investors who are also automotive enthusiasts and would like to participate in a high performance car manufacturing company. If you are (or know someone who may be) interested, e-mail me for details. Minimum investment amount is $200K.
Our demo car has been undergoing more testing with good results, both at ORP and Pacific Raceway. The former has a very smooth racing surface, the latter features 'a few bumps'. Running at both illustrated the usefulness of the dual-rate bellcrank settings, which alter the spring rate at the wheel by 30%. At ORP, the stiffer setting allowed the car to be pushed harder especially under braking and provided more immediate response to inputs. However at PR the stiff setup was very difficult to drive and intimidating. One very experienced driver went out on the stiffer setting and came back saying that the car requires an expert hand and is on the edge the entire time. I swapped to the softer setting (took me about 10 minutes by myself) and had him drive it again. The subsequent feedback was that the car is completely transformed and a lot more drivable. The clock backed it up - he went a full 4.5 sec faster! This despite tires having way too many heatcycles on them (over a dozen trackdays). Not bad for a 10-minute trackside adjustment.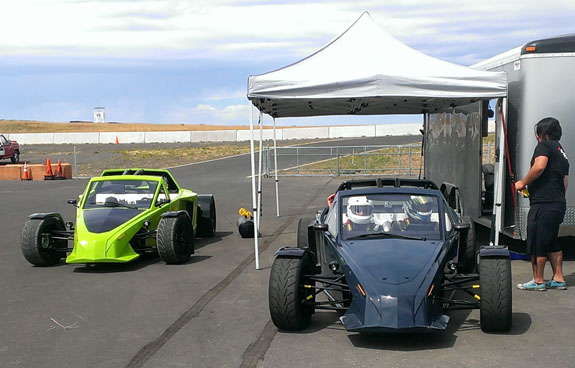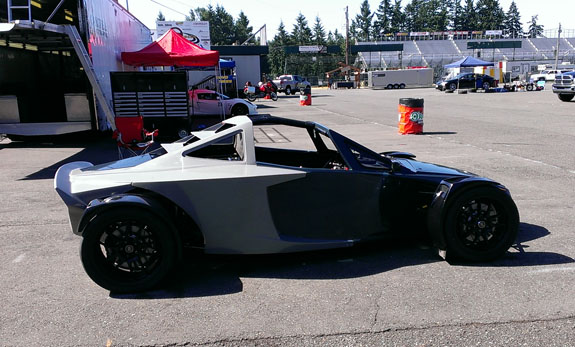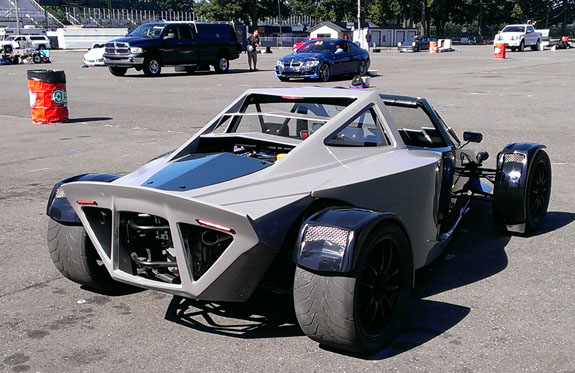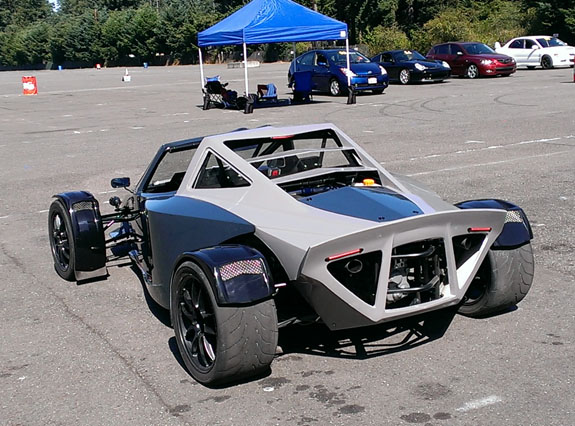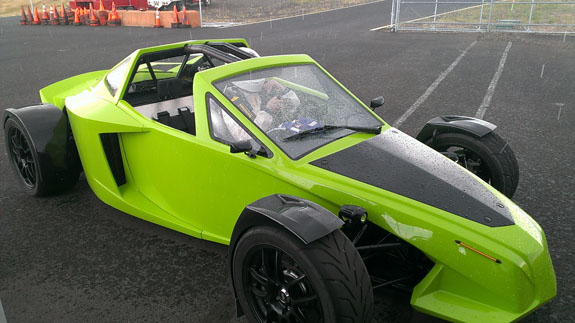 Speaking of tires, very pleased to see even wear especially on the 315 rears. They heatcycled out a while back but the R888 in this size have been backordered from Toyo. Can't wait any longer so today we're putting on a set of NT01s, we'll see how those compare. Supposedly made in the same factory.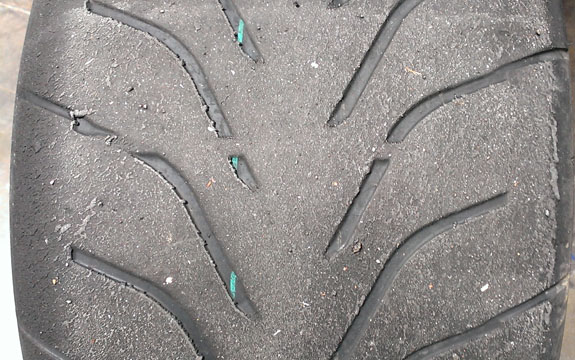 Also had an opportunity for a direct comparison with an Exige 240S (yes, it's Kermit from my past). Unsurprisingly the D2 is massively faster - same size, a bit less weight and twice the power and torque.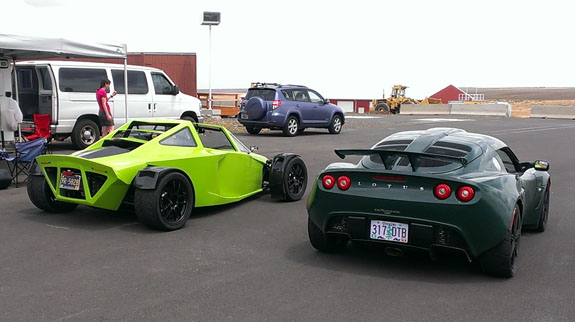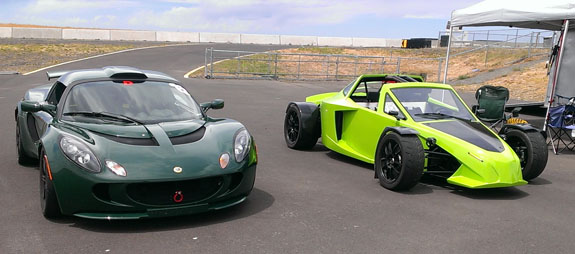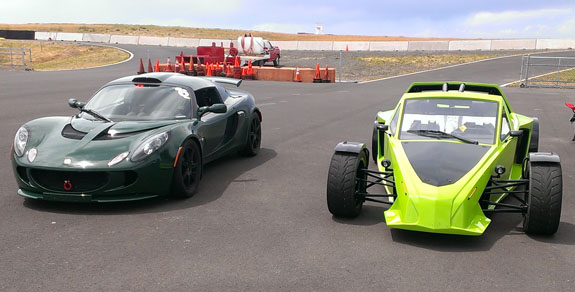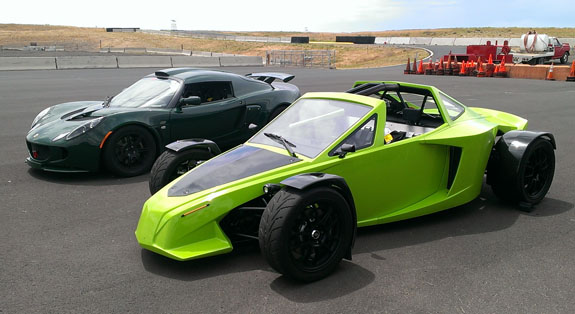 Some things are still an issue but we are getting them resolved. Glass is one, even the pieces we just installed on Adam's car are already delaminating. We'll have to swap those out when we have quality replacements.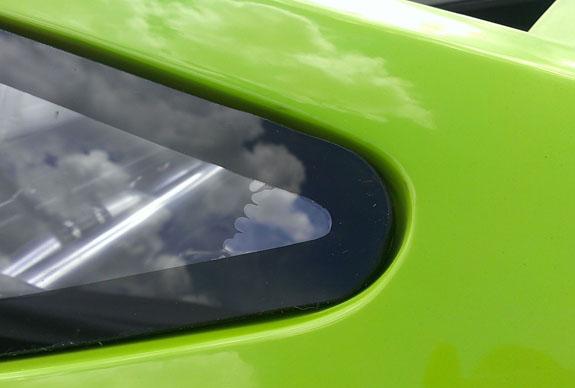 We ordered three sets from a different vendor (at much higher price unfortunately) and they just showed up today. Looks much better, we'll see how it works.
The new halfshaft CV boots have been holding up and now tested up to 150mph. Just have to get them in here now.
One of the backlogged items I finally got to work on is the diffuser. I've been running a lot of CFD at nights and have now settled on a design that is promising and should be manufacturable. Parts for initial 3 diffusers have been ordered. Testing will begin when they are here, a quick cardboard prototype confirms general fit and appearance in the meantime.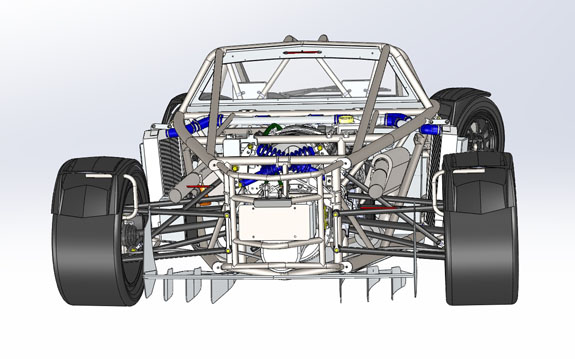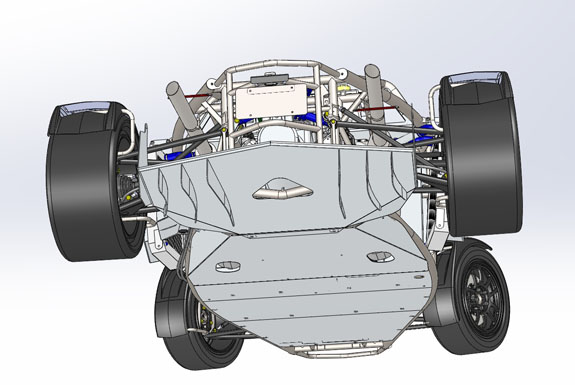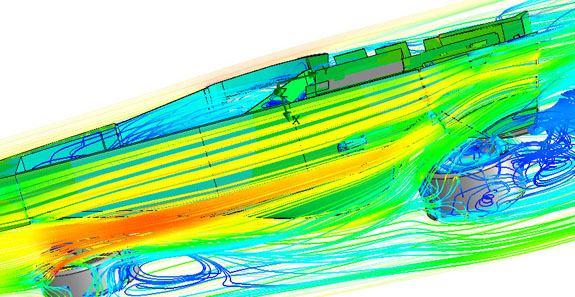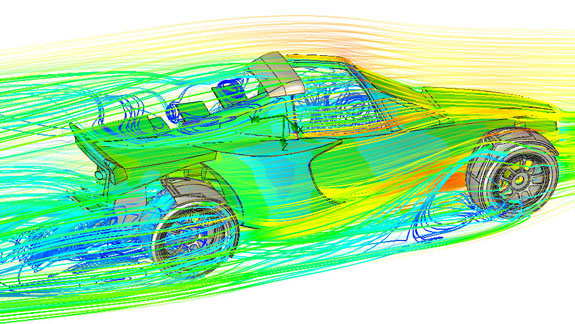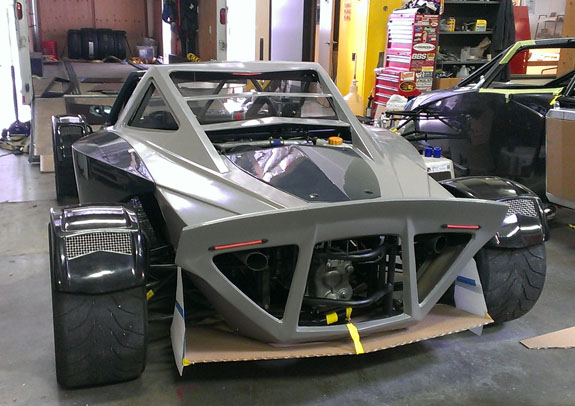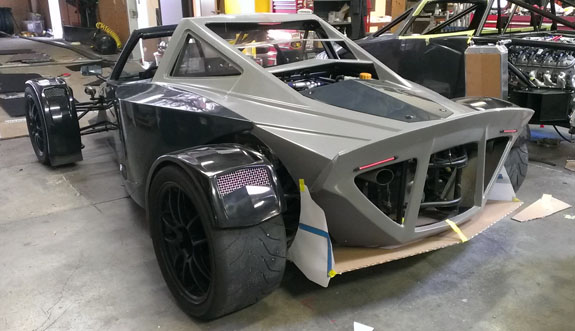 Front splitter is next on the list and should really complete the look. As it is the nose still looks a bit unfinished. Wings come after that, then gullwing doors and a whole lot of other stuff. All the while cars are being built.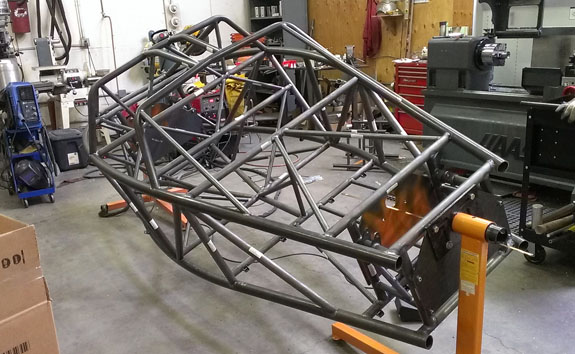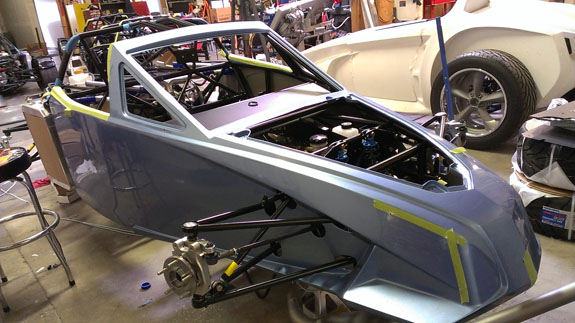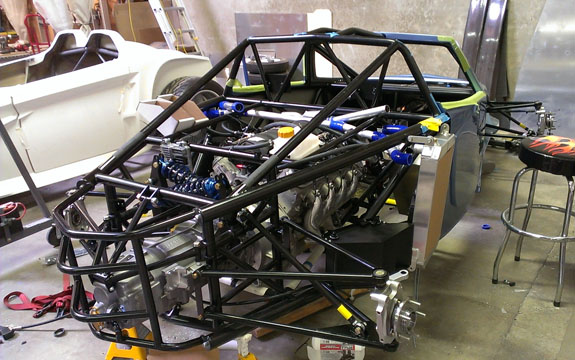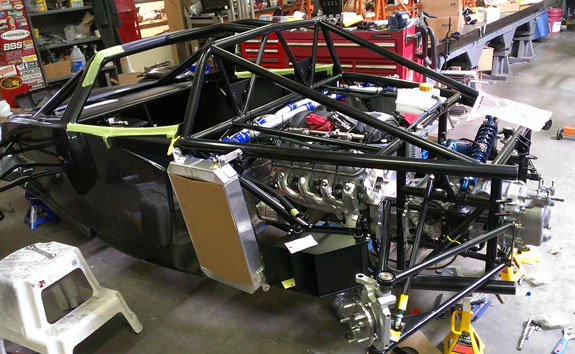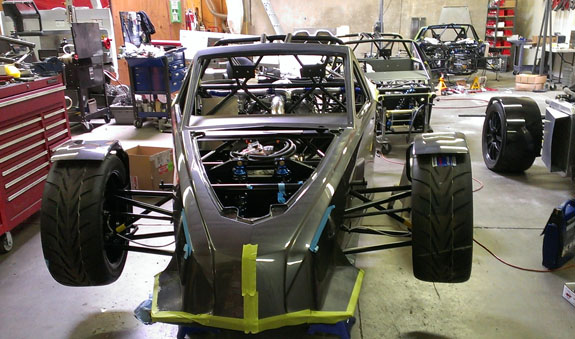 ---
08/06/14 A few developments, the D2 blog gets this update because many of them are on this front.
Yesterday we started another D2 for the first time and the car's owner was there to participate. I used to call this the 'Frankenstein moment' proclaiming it's alive, but it's gotten to be pretty routine around here. Still satisfying but feels more like just another step on the path and less of a milestone.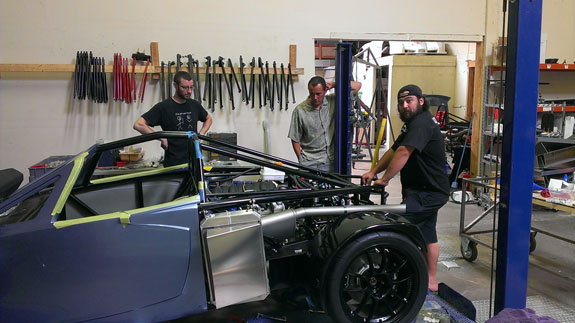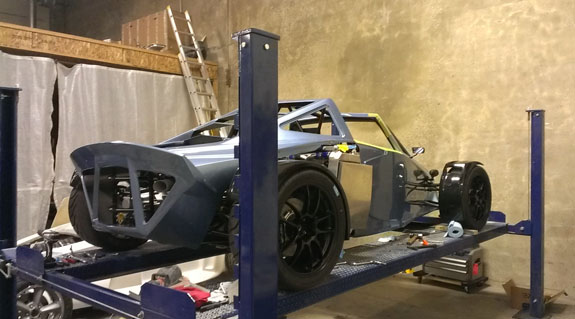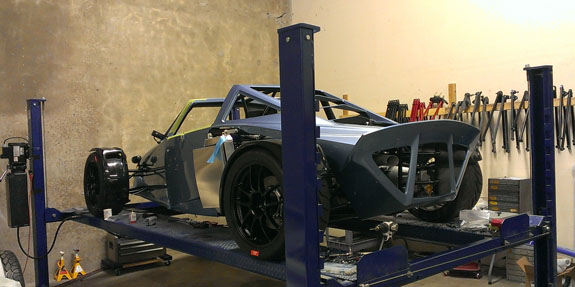 The diffuser first article parts have arrived and the first one has been installed on our demo. This'll do. Makes it look more finished and more aggressive, and according to CFD it's actually functional.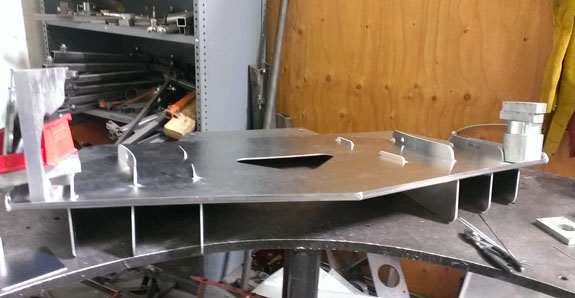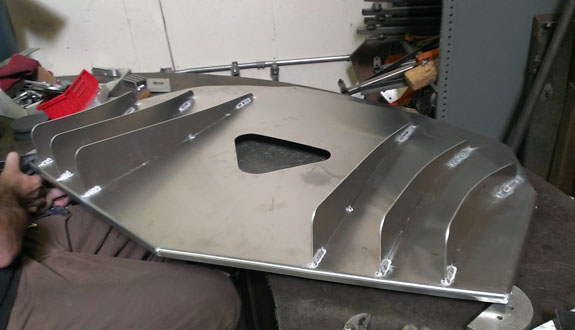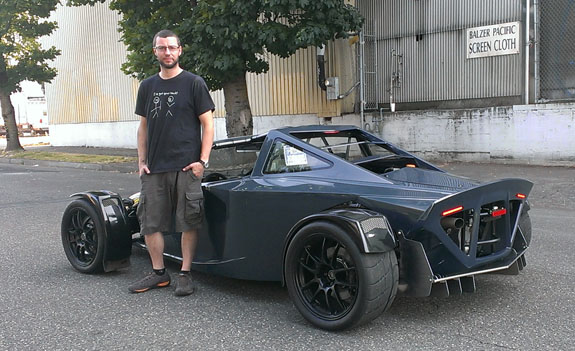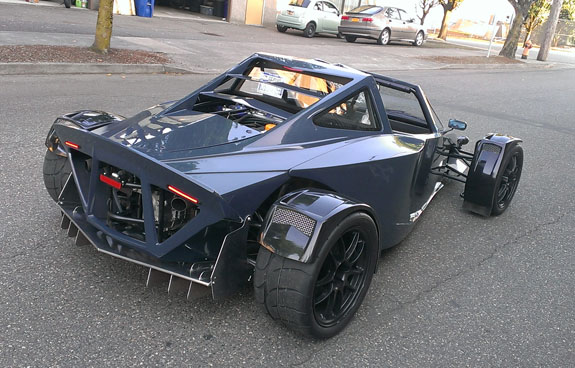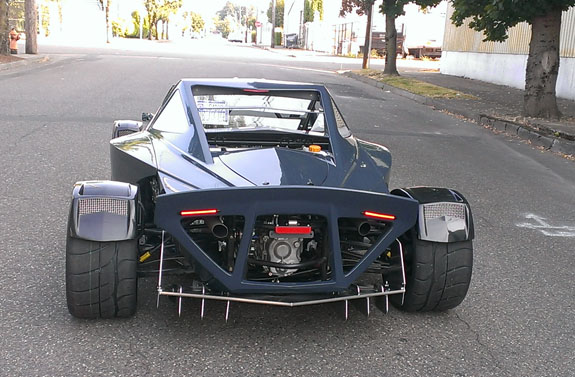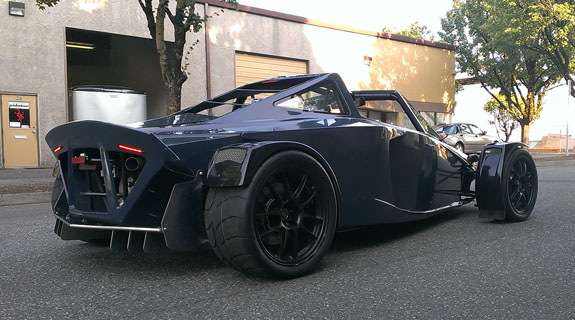 The last picture reminds me of a rendering I generated a long time ago.... We've come a ways since then but the essense is vision made real. That's what we do.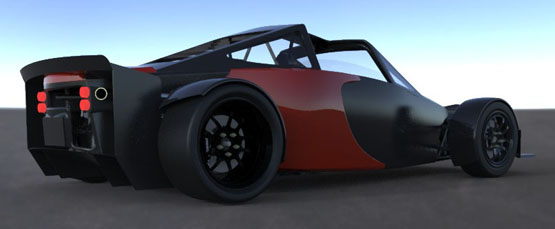 In other aerodynamic news the making of the plug for our new wing is well underway. We have a new resource that I'm very pleased with so far - Mark has a lot of experience with composites and worked for Burt Rutan and Lockheed Skunkworks, among others.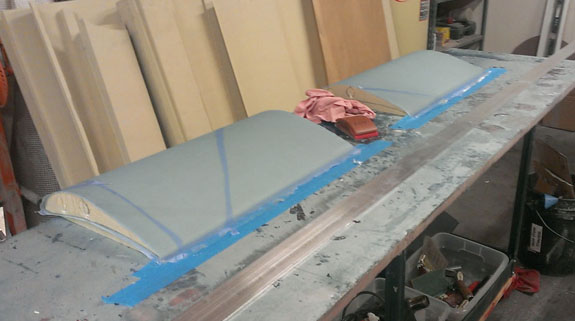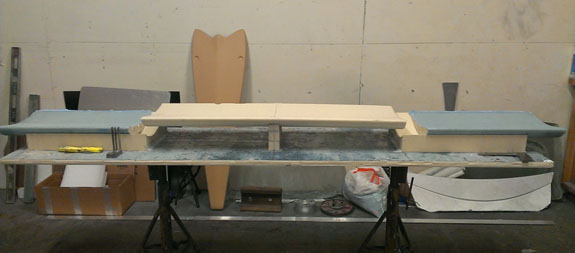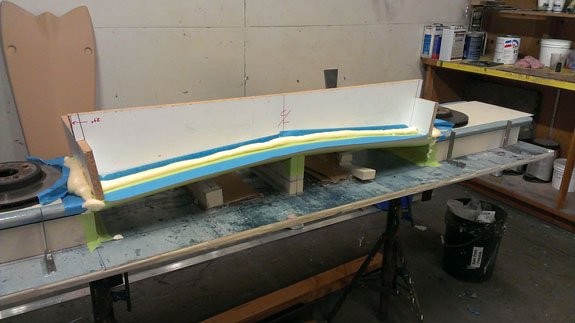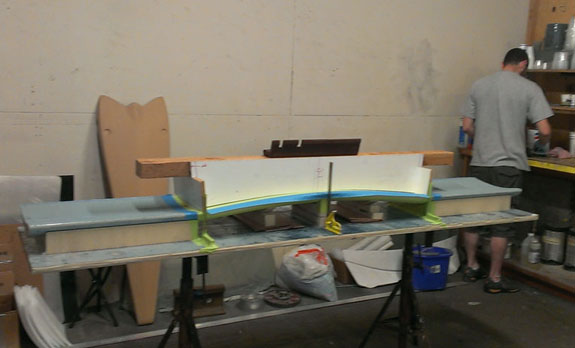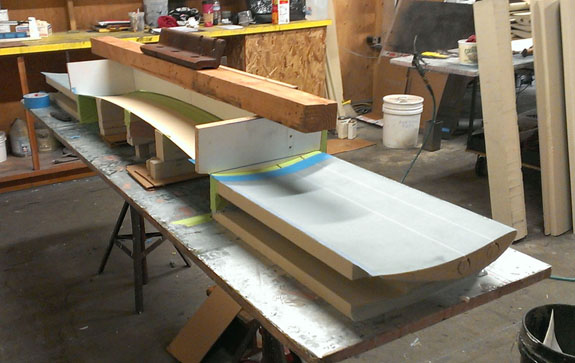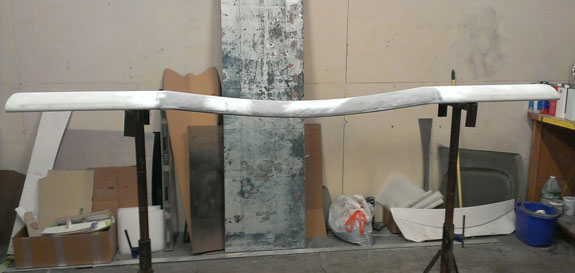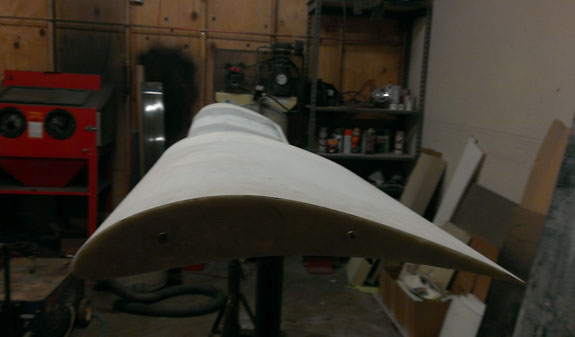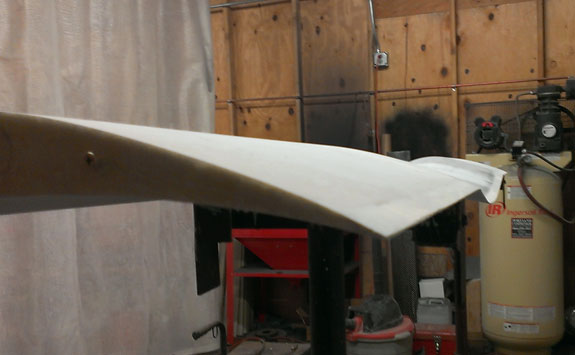 The actual parts will of course be narrower than this but it's good to have the mold capable of making parts larger than we need. The wings will be used on the D2, D1 and D4 and will eventually be sold separately as well. CFD shows about 200 lbs downforce from an 80" wide configuration at 100 mph at 10 degree angle of attack. This doubles to 400 lbs at 160 mph. The airfoil is an Eppler profile (originally targeted at gliders) that I selected specifically for the range of Reynolds numbers and lift coefficients prevalent on a racecar. The curve is both cosmetic and functional - gets the center section higher above the wake from cockpit while allowing ends to be at a more reasonable height and still operate in clean air.
Front splitter design is next. Other things are happening as well. The Stiletto suspension design has been updated with everything learned from the D2 and parts such as bellcrank components have been ordered from the laser cutting supplier. Interior paneling design is in progress. On the D4 front a lot of design and updates are taking place as well, I'll do a separate post on that soon. The turbo AWD car we're building is going to be quite the machine :) And now that we're driving the demo D2 on the road I am starting to look at refinements such as noise control, little usability tweaks such as storage, tool kit, more interior trim, and so on. So much work still ahead :)
---
Site Sponsors and Links:

- CMS Lap Timer - Advanced Track Timer App With Video Integration

Tire Rack - Tires, Wheels (use link when bying wheels/tires to support this site)
---